Low Carb Hot Pockets – tender, low carb dough filled with all your favorite pizza flavors. These hot pockets can be frozen after they are baked, then reheated in the oven. This recipe is low carb, gluten free, and a Trim Healthy Mama S Fuel.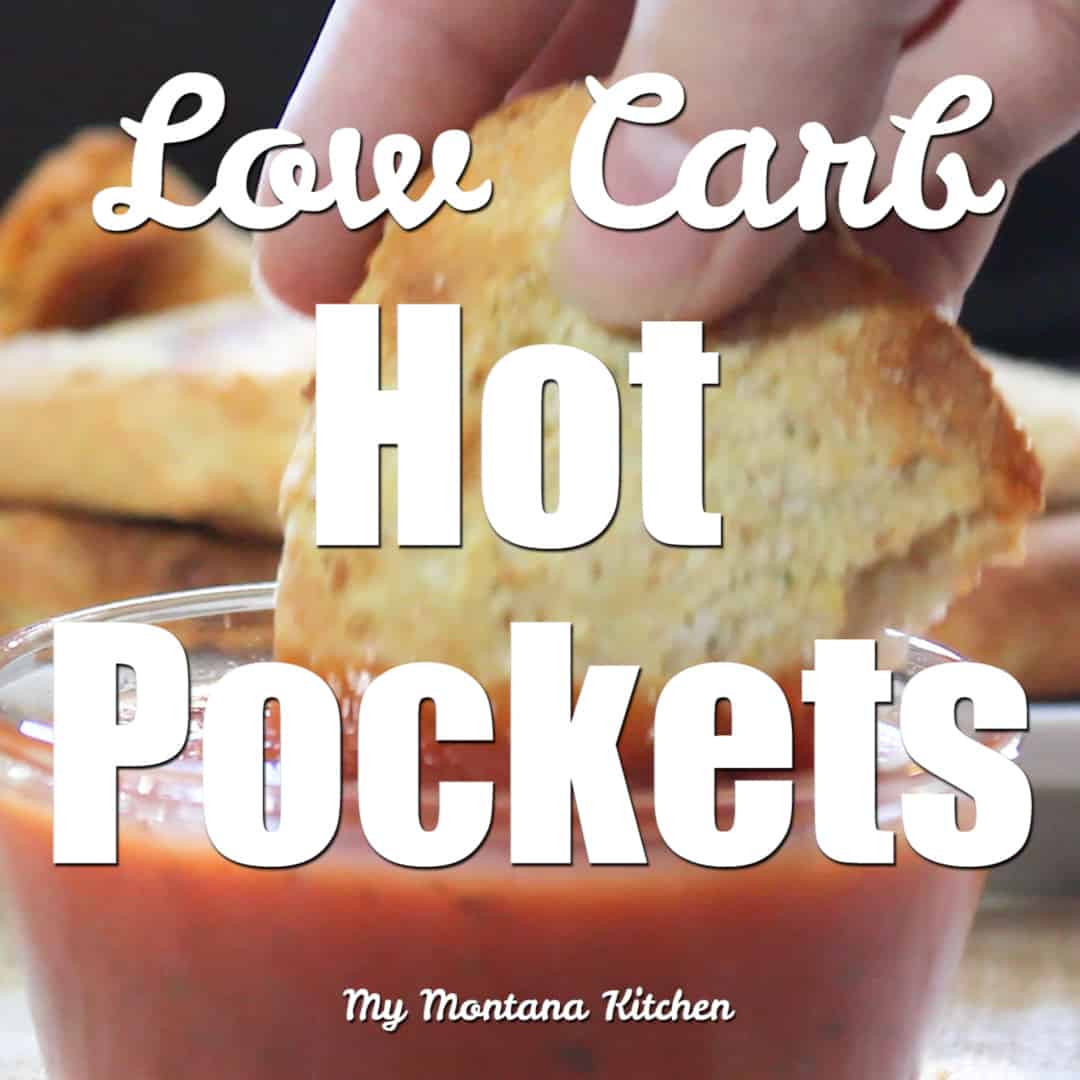 (This post contains affiliate links, which provide me with a small compensation when you purchase your products through my links. Thank you for your support!)
Those of you who follow me on Facebook may remember that I am in the middle of a 100 day no-cheat challenge. My family went away last weekend for a few days, and I knew that if I wanted to stay on-plan, I would have to plan ahead.
I am convinced that planning ahead is half (or more) of the battle when it comes to staying on plan! Planning ahead is crucial.
My family was planning to have pizza one night, so I whipped up these hot pockets. I may or may not have eaten one straight out of the oven (ok, I DID)! I cooled them, put them in a Ziploc baggie, and then re-heated them in the oven. They were perfect!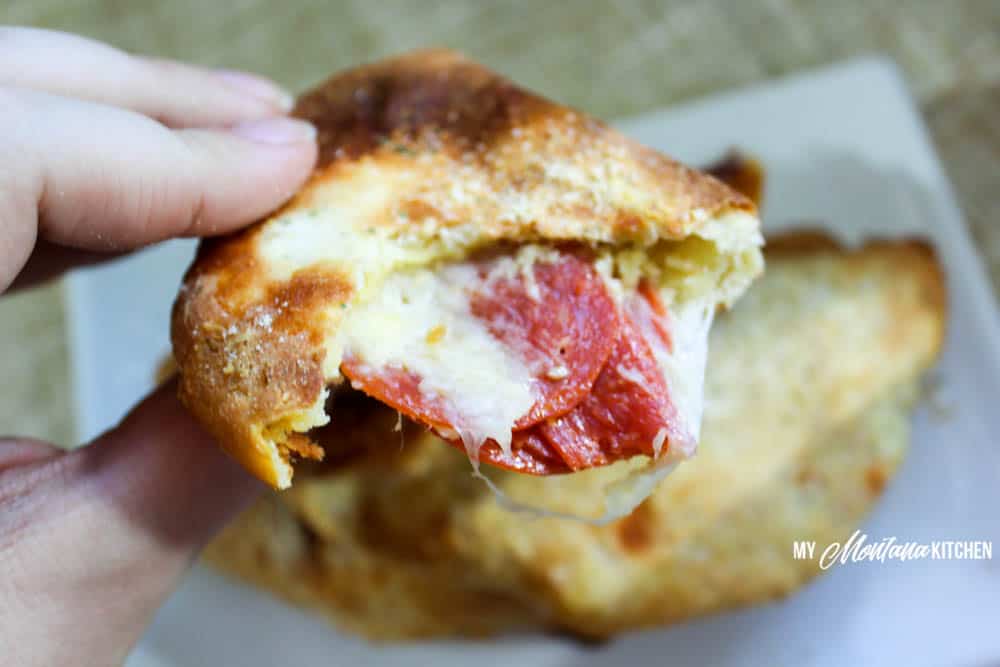 I'm quite sure that you could also freeze these after baking. Keep them in your freezer, then reheat in the oven! Can you imagine how awesome it would be to have your freezer stockpiled with these low carb hot pockets? Planning ahead at its best!
There are so many different flavor combinations! I've listed a few of them below. If you have another favorite flavor, leave me a comment and let me know!
Pepperoni & Cheese
Sausage & Cheese
Buffalo Chicken
Bacon & Egg
Spinach Artichoke
Broccoli & Cheddar (I tried this one – YUM)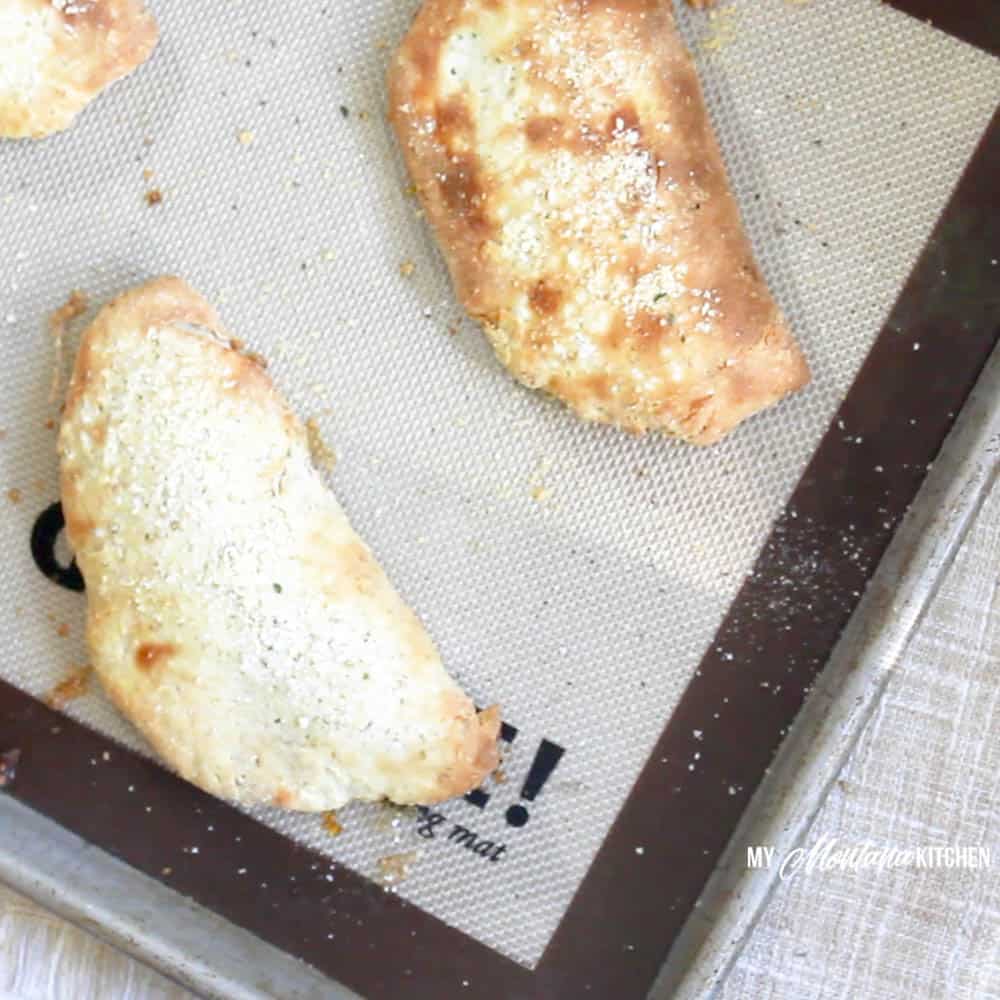 These hot pockets use a variation of the popular "Fathead" dough. I originally adapted that recipe to make Low Carb Stromboli. I wanted to replace some of the almond flour with Trim Healthy Baking Blend.
If you have never heard of the Trim Healthy Mama Baking Blend, let me explain a bit. This is a pre-mixed blend of low-carb flours that are perfect for baking! The Baking Blend consists of oat fiber, organic coconut flour, golden flax meal, blanched almond flour, collagen peptides, and glucomannan (organic konjac extract powder). And it is completely gluten free!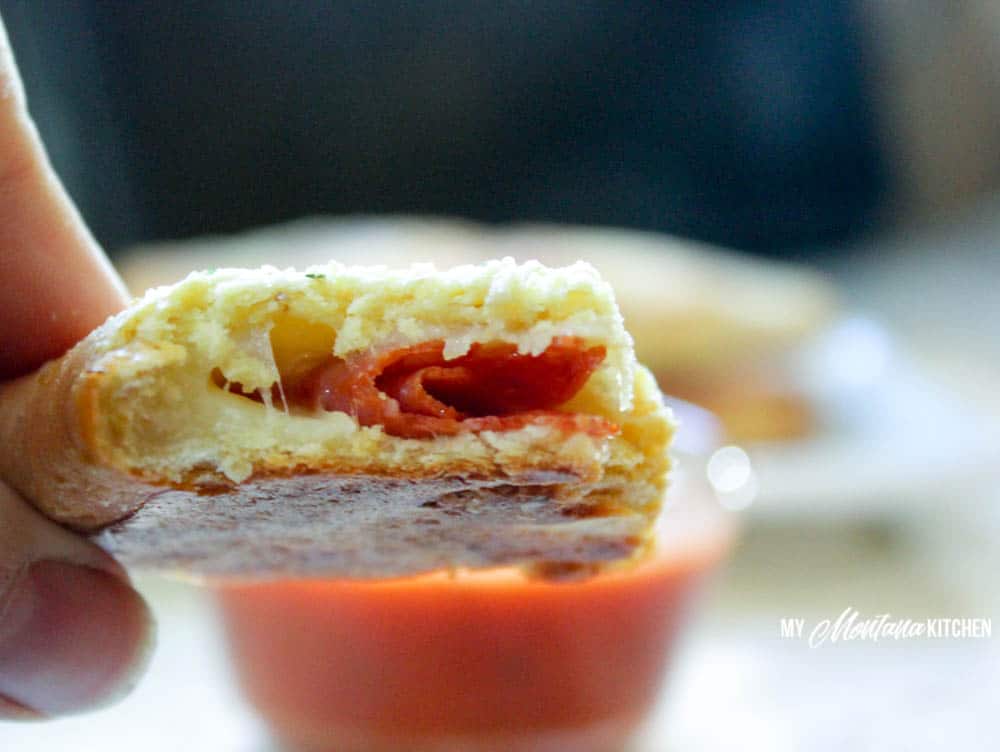 Compared to straight almond flour, the Baking Blend is much lighter in calories. Now, as a Trim Healthy Mama, I do not count calories (but I do try to keep from abusing them)! Almond flour has 648 calories per cup, compared to Baking Blend's 240.
Not only is it much lower in calories, but Baking Blend has a whopping 44 grams of fiber and 24 grams of protein per cup! (And only 4 net carbs)
You can see why I love this product! However, if you do not have the Baking Blend, you can use straight almond flour in this recipe. But I would encourage giving the Baking Blend a try!
So, what do you need for this recipe?
1 ½ Cups Shredded Mozzarella Cheese
2 Tablespoons Cream Cheese, Softened
1 Egg
1 Cup Trim Healthy Mama Baking Blend
2 Teaspoons Egg Whites
Filling of Choice (I used pepperoni and Mozzarella cheese)
To see just how easy these are to make, check out my video below.
Be sure to sign up with your email address so you can receive all my new recipes delivered right to your inbox! (Look for the sign-up box at the top of this post.) Also, be sure to follow me on Facebook, Pinterest, Instagram, and Twitter!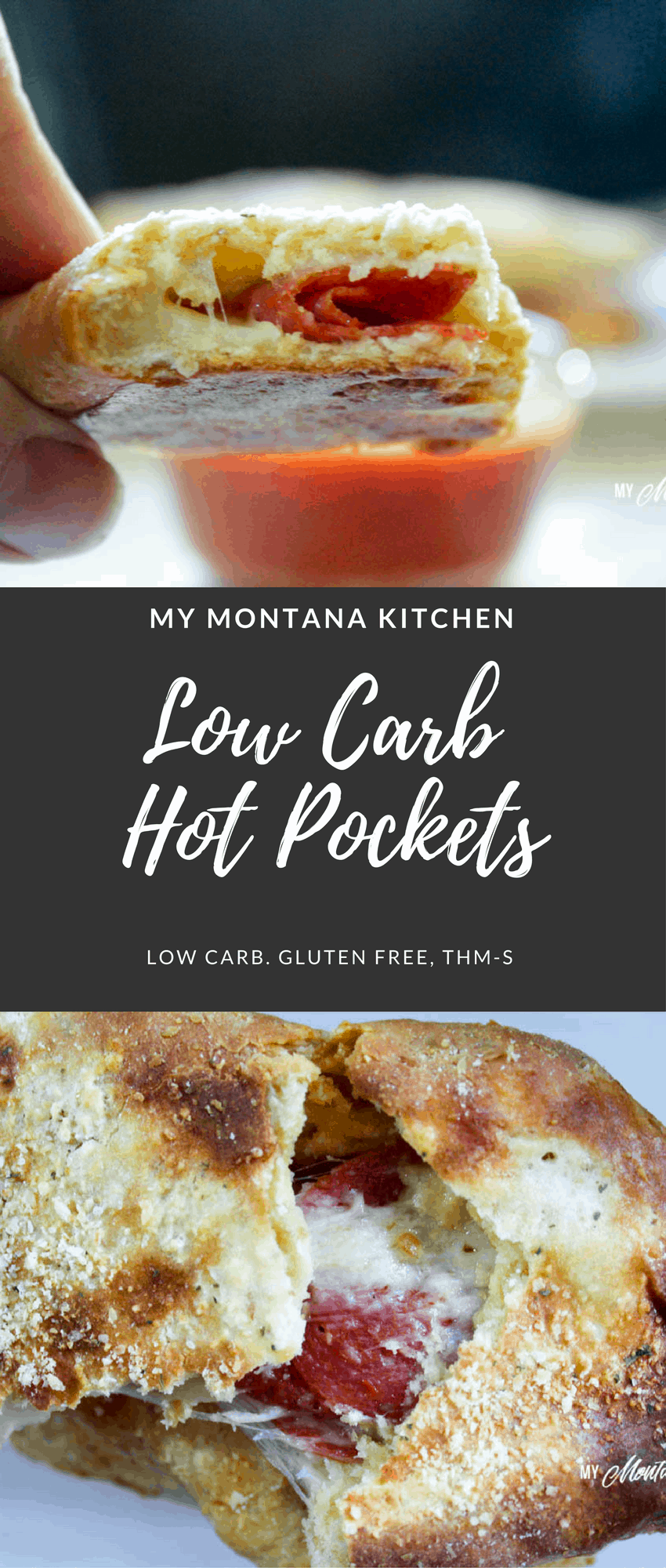 Ingredients
1 ½ Cups Shredded Mozzarella Cheese
2 Tablespoons Cream Cheese, Softened
1 Egg
1 Cup Trim Healthy Mama Baking Blend
Filling of Choice (I used pepperoni and Mozzarella cheese)
2 Teaspoons Egg Whites
Instructions
Preheat oven to 400.
In a large glass bowl, melt mozzarella cheese and cream cheese together.
Mix well, then add egg.
Mix again, then add baking blend.
Knead well with hands until you have a homogenous dough (It should be a very even consistency).
Divide dough into four balls.
Between two sheets of parchment paper, flatten each ball into a 6-8 inch circle.
Fill each circle with filling of your choice.
Fold circle in half and seal the edges (see video above for how-to).
Place on a cookie sheet covered with parchment paper or a baking mat.
Brush the tops with egg whites.
Bake for 12-15 minutes, or until tops are golden brown.
http://mymontanakitchen.com/2017/09/30/low-carb-hot-pockets/
This recipe is the property of My Montana Kitchen
Please note that nutritional information is calculated WITHOUT fillings. The filling will change the nutritional counts according to what you use.
Nutrition Facts
Amount Per Serving
Calories 224
% Daily Value
Vitamin C undefined%
Calcium 33%
Iron undefined%