All the flavors of a cheeseburger in an easy to hold roll. Hamburger, pickles, cheese, all your favorite hamburger toppings wrapped up in a low carb dough and baked until golden brown.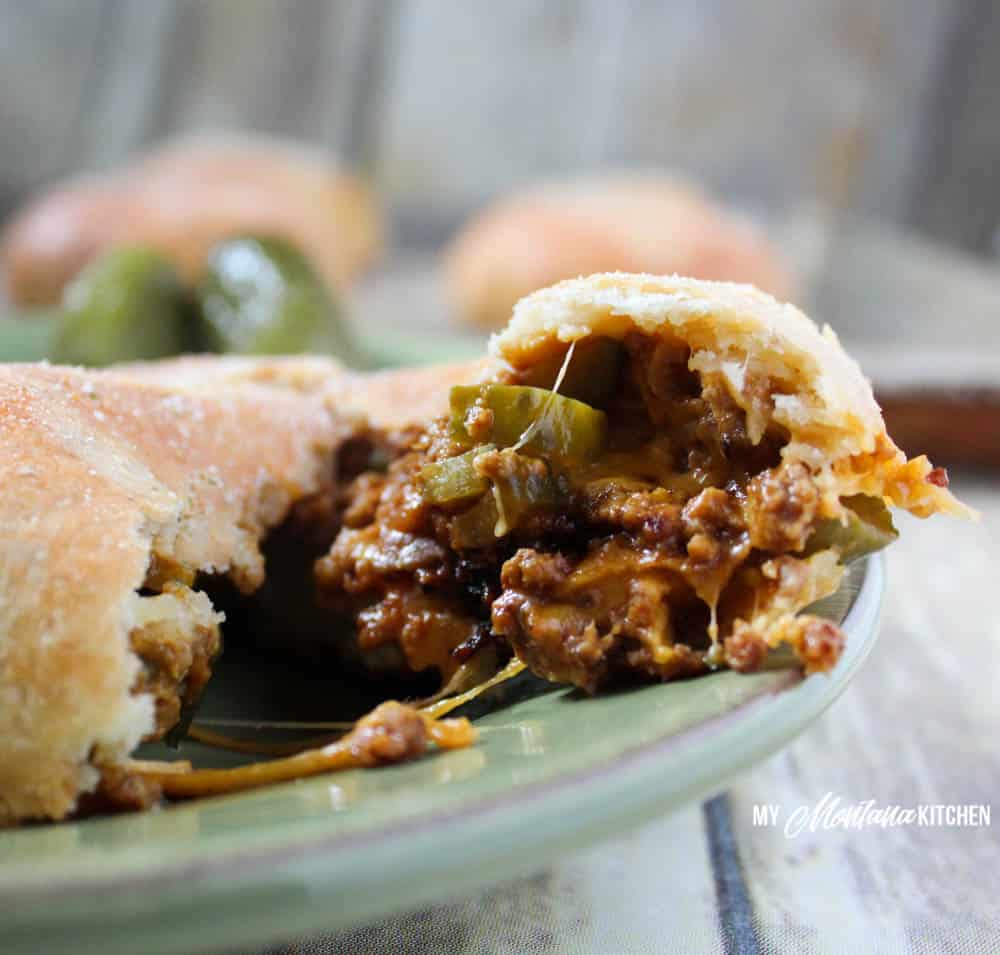 (This post contains affiliate links, which provide me with a small compensation when you purchase your products through my links. Thank you for your support!)
My husband and I are the boys dorm parents at a school in Western Montana. We have 7 Native American boys who live in our dorm (and love to eat). Seriously, have you seen how much teenage boys can eat?
We sometimes eat in the dining hall with them, and last Thursday they served these beautiful little creations called "Cheeseburger Buns." Basically, it was ground beef with hamburger toppings and cheese wrapped up in a roll. They looked so good, but I resisted!
I told my husband I was quite sure I could re-create a healthy version of those at home. So this last week, I accomplished that task!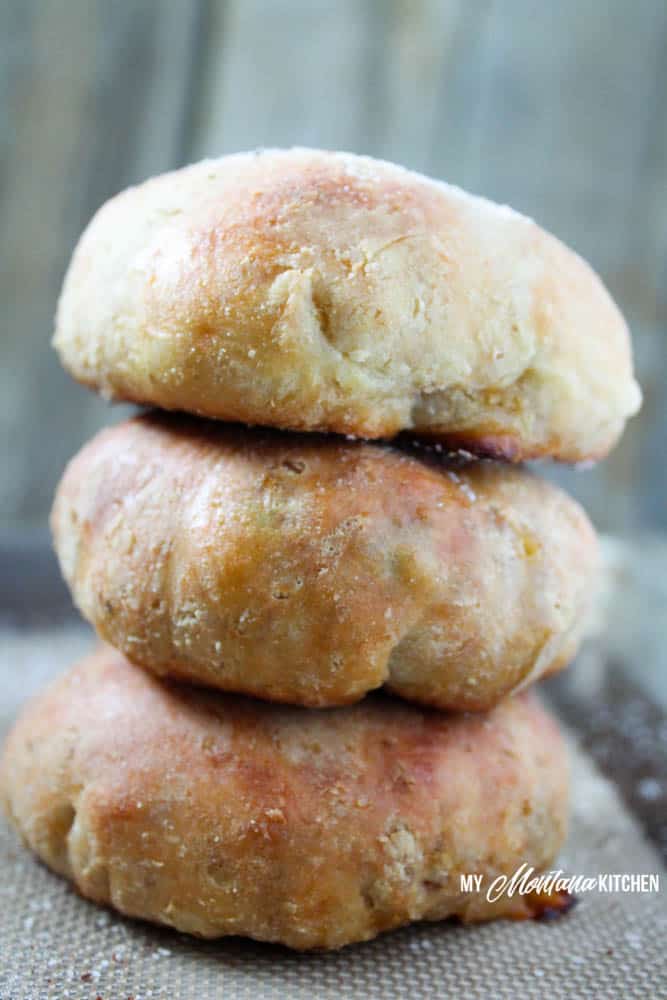 These are SO delicious! My husband and I both loved them. I re-heated one today (in the microwave) for lunch, and it was still wonderful. (Though I think it would have re-heated better in the oven.)
The dough for these uses my spin on the famous Fathead dough. I like to replace some of the almond flour with the Trim Healthy Mama Baking Blend. This reduces the calories greatly! But if you do not have the Baking Blend, you can use all almond flour.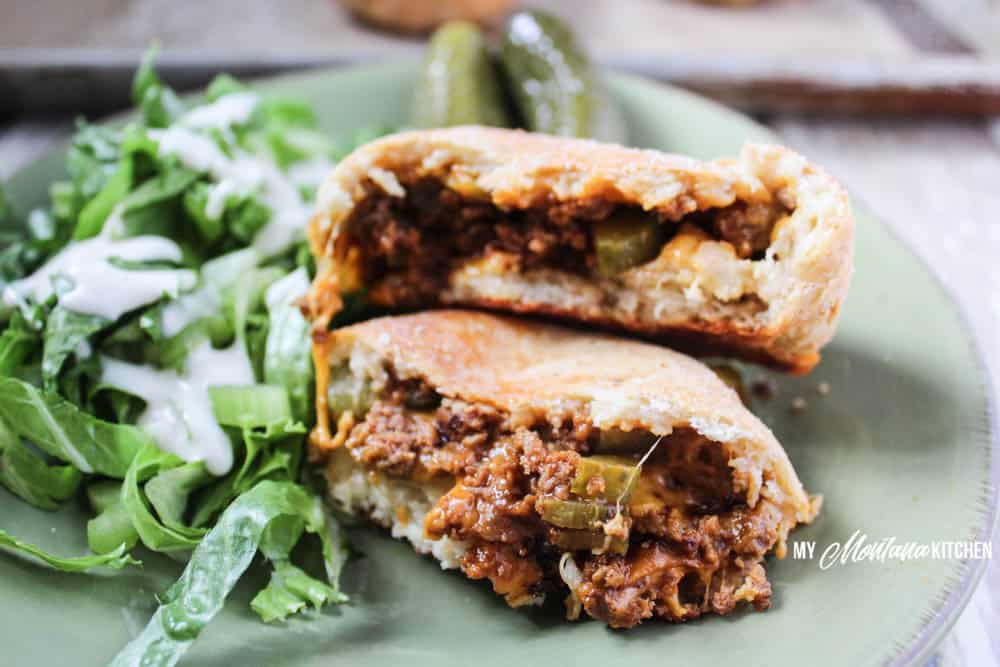 This recipe makes six cheeseburger buns, enough for a family of two or three for dinner. If you have a larger family, you may want to double the recipe. If you have leftover meat, you can use it in my Cheeseburger Salad recipe!
So, what do you need for these Cheeseburger Buns?
For the Dough
2 1/4 Cups Shredded Mozzarella Cheese
3 Tablespoons Cream Cheese
1 Egg
1 Cup Trim Healthy Mama Baking Blend
1/2 Cup Almond Flour
For the Filling
1 Pound Ground Beef or Venison
1/4 Cup Sugar Free Ketchup
2 Tablespoons Yellow Mustard
1/2 Cup Chopped Pickles
3/4 Cup Shredded Cheddar Cheese
Garlic Salt 
Be sure to sign up with your email address so you can receive all my new recipes delivered right to your inbox! (Look for the sign-up box at the top of this post.) Also, be sure to follow me on Facebook, Pinterest, Instagram, and Twitter!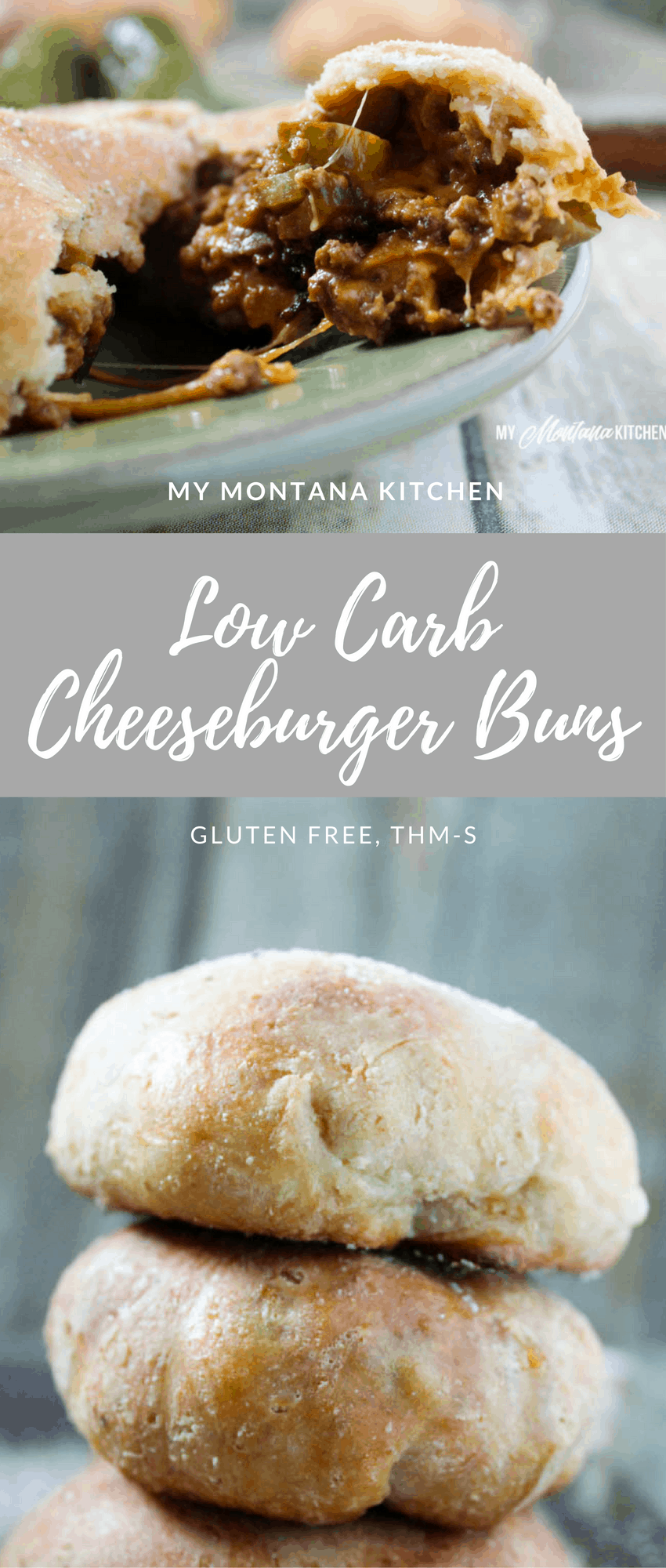 Low Carb Cheeseburger Buns
Ingredients
For the Dough

2 1/4 Cups Shredded Mozzarella Cheese
3 Tablespoons Cream Cheese
1 Egg
1/2 Cup Almond Flour

For the Filling

1 Pound Ground Beef or Venison
1/4 Cup Sugar Free Ketchup
2 Tablespoons Yellow Mustard
1/2 Cup Chopped Pickles
3/4 Cup Shredded Cheddar Cheese

Topping

Garlic Salt
Instructions
Preheat oven to 375.

Prepare Filling

In a skillet brown hamburger or venison.
Add ketchup, mustard, and pickles, and mix well.

Prepare Dough

In a large glass bowl, melt mozzarella cheese and cream cheese together.
Mix well, then add egg.
Mix again, then add baking blend and almond flour.
Knead well with hands until you have a homogenous dough (It should be a very even consistency).
Divide dough into six balls.
Between two sheets of parchment paper, flatten each ball into a 6 inch circle.
Place 1 Tablespoon of shredded cheese on each circle, then top with 2-3 Tablespoons of meat mixture, and 1 more Tablespoon of shredded cheese.
Fold the dough up over top of the mixture until it forms a roll.
Place seam-side down on a parchment lined baking sheet (or use a Silpat mat).
Sprinkle with Garlic Salt
Bake @375 for 20 minutes
http://mymontanakitchen.com/2017/10/16/low-carb-cheeseburger-buns/
This recipe is the property of My Montana Kitchen
Nutrition Facts
Amount Per Serving
% Daily Value
Vitamin C undefined%
Calcium 34%
Iron undefined%