We may earn money from the products/companies mentioned in this post. As an Amazon Associate I earn from qualifying purchases.
2 Minute Chocolate Truffles Recipe
A velvety, rich Chocolate Truffles Recipe - ready in two minutes or less!
While this recipe may not be a "true" truffle recipe, the texture is surprisingly the same. (But without the heavy whipping cream, sugar, and all the bother of tempering the chocolate.)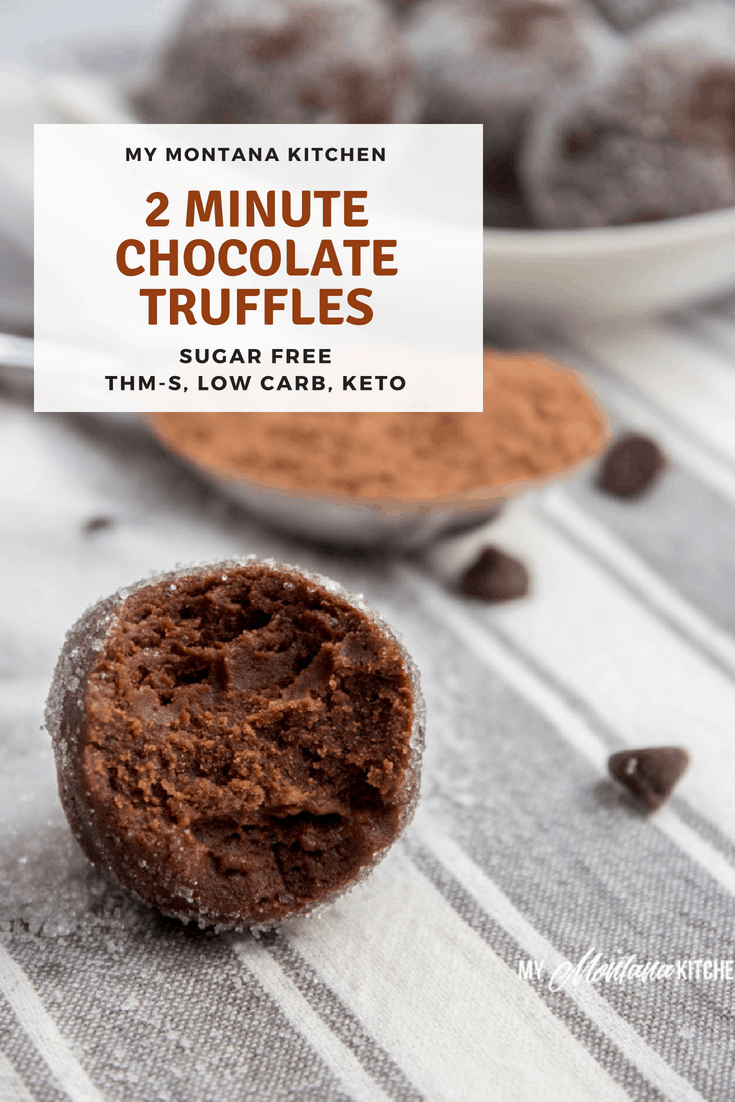 This recipe is a Trim Healthy Mama S Fuel, but is also low carb, keto friendly, gluten free, sugar free, and dairy free! (It also appears in the Trim Healthy Table Cookbook, published by Trim Healthy Mama!)
(We are a participant in the Amazon Services LLC Associates Program, an affiliate advertising program designed to provide a means for us to earn fees by linking to Amazon.com and affiliated sites. I am also an affiliate with Trim Healthy Mama. There are affiliate links used in this post.)
Who doesn't love a good chocolate recipe?
I've heard it said that women cannot live without chocolate. Could a woman live without chocolate? Yes, I'm sure she could, but why would she want to?
The good news is that as a Trim Healthy Mama, you don't have to live without chocolate! There are so many chocolate recipes available.
A few of my favorites are 2 Ingredient Fudge, Chocolate Cupcakes with Whipped Cream Cheese Frosting, and Triple Chocolate Fudge Cake.
If you do not like to cook or bake, there are even chocolate options available for purchase. Trim Healthy Mama now has their own chocolate bars (available in Milk or Dark), and they sell Sugar Free Chocolate Chips, too!
The Chocolate Chips are amazing - I've had to portion mine out so I don't fly through them! And both the Milk and Dark Chocolate bars are delicious - even my kids love them.
Another on-plan option is Lily's Chocolate. You can find these in a lot of natural foods stores, or you can order them online. My favorite bar is the Salted Almond Milk Chocolate Bar.
I am often asked where is the best place to buy Lily's Chocolate. Lucky Vitamin has the best price that I have found - $5.16 for a bag (and sometimes cheaper, when they run a sale).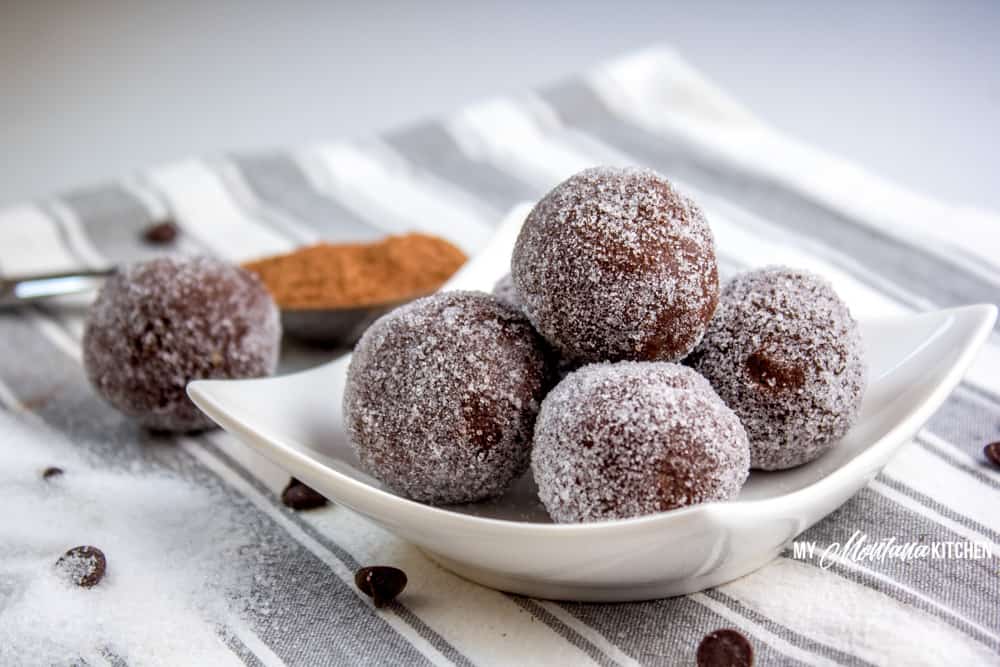 I will confess right now that I have a sweet tooth, so I am constantly looking for a dessert that is easy and FAST!
This recipe definitely falls into the fast category. It should take you about two minutes to whip everything together!
And while you're at it, you may want to make a double or triple batch to keep in your refrigerator!
Using Peanut Flour
Now, I mentioned at the beginning of this post that this recipe may not qualify as a "true" truffles recipe. That is because true truffles rely on a mixture of bittersweet chocolate and heavy cream.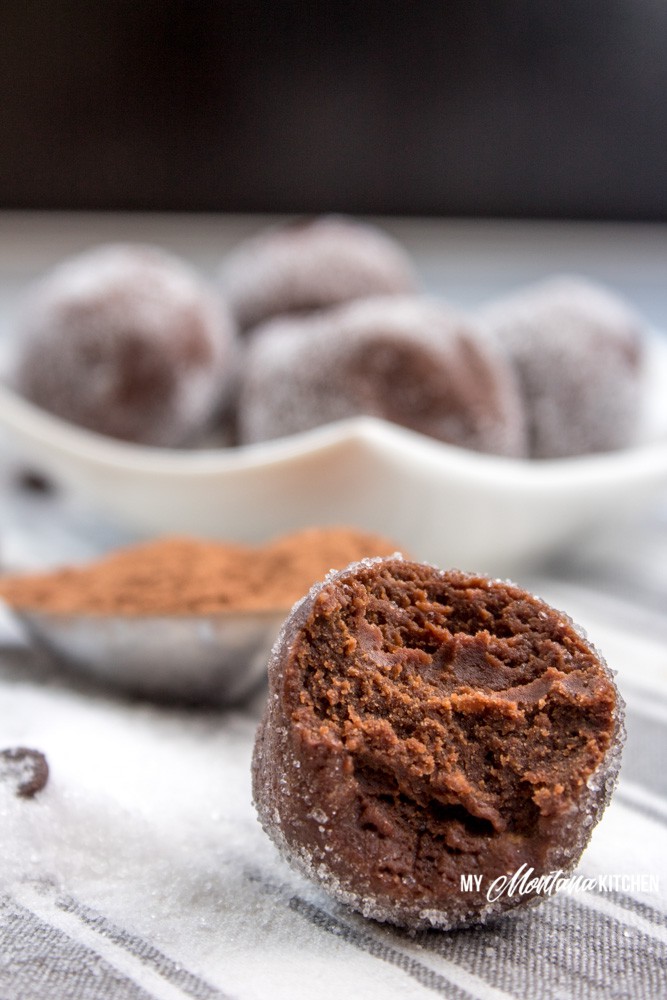 These truffles use neither of those (though you can add some sugar free chocolate chips if you want). The secret ingredient in these delicious little chocolate truffles is . . . peanut flour!
Peanut Flour is one of my new best friends! (One of my favorite recipes using peanut flour is this Fuel Pull Chocolate Peanut Butter.)
Peanut flour and cocoa powder are what give these truffles their velvety consistency - they are the perfect texture.
This recipe is so simple to make - not counting vanilla and salt, this recipe has exactly 5 ingredients.
And did I mention that is is dairy free?
Although this recipe only makes a small amount (about 2 truffles), they are so rich that you probably couldn't eat more than that. (Or maybe I underestimate your chocolate-eating ability!)
These 2 Minute Truffles are delicious and include a whole tablespoon of coconut oil. What a fun way to get in your daily dose!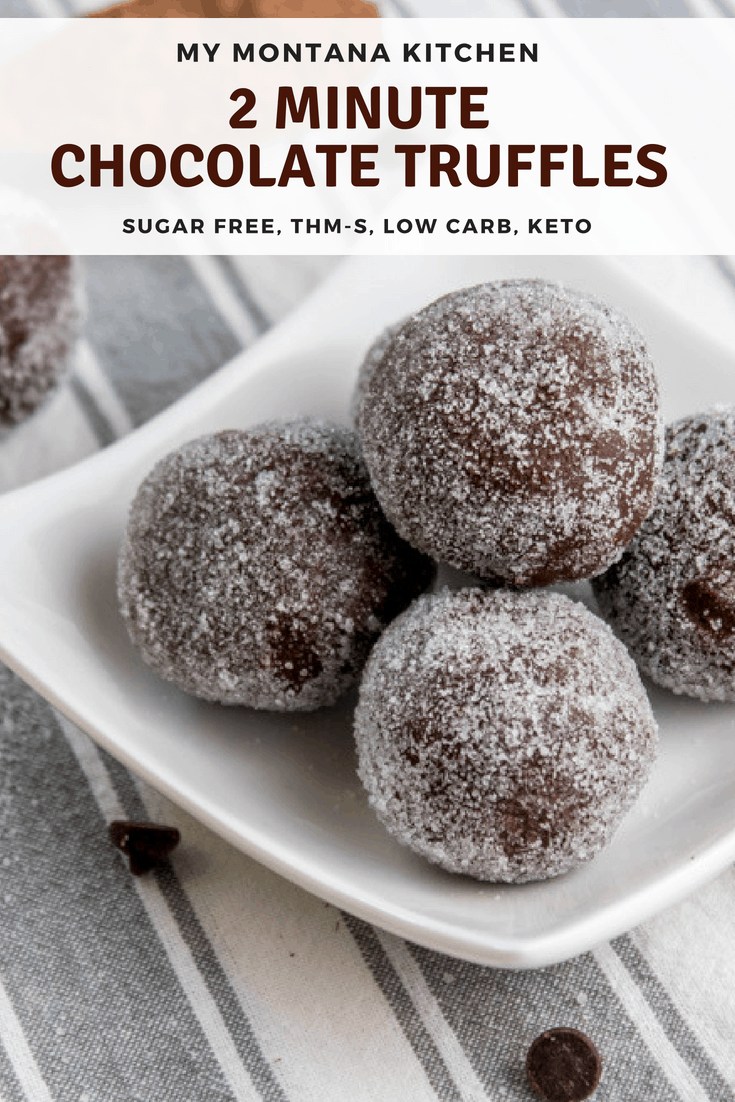 Normally, I make these chocolate truffles with refined coconut oil, so there is not coconut flavor. But occasionally I use the extra virgin coconut oil - the combination of coconut, chocolate, and peanut butter is surprisingly delicious! (You should try it!)
You certainly don't have to shape them into truffles to eat them. I usually eat mine straight out of the bowl with a spoon.
No judgement from me if you just stick your face in the dish and start licking. (You may want to consider using a spoon if there are other people nearby. But hey, if you are by yourself, go for it!)
These are simple enough that even your children could mix them up.
Or, if you like to plan ahead, mix up the dry ingredients and store them in little Ziploc bags. Then all you have to do is add the water and coconut oil!
The sugar free chocolate chips are completely optional, so if you do not have them, no problem! The truffles will still be velvety rich even without the chocolate chips.
If you want to be extra fancy, you could roll the truffles in granulated erythritol, unsweetened finely shredded toasted coconut, or even finely chopped nuts.
Ingredients for 2 Minute Chocolate Truffles
2 Tablespoons Peanut Flour
½ Tablespoon Gentle Sweet
½ Tablespoon Cocoa Powder
½ Tablespoon Lily's Chocolate Chips, optional
Dash of Vanilla
Dash of Salt
1 Tablespoon Refined Coconut Oil(Refined has no coconut flavor)
1 Teaspoon Water
I used a small cookie scoop to make mine into cute truffles, but feel free to eat it with a spoon. (It tastes like rich frosting!)
If desired, you can roll the truffles in granulated erythritol, unsweetened coconut, or chopped nuts.

If you aren't already,  be sure come over and follow me on Facebook, Pinterest, Instagram, and Twitter!
And if you make a recipe and absolutely love it, please leave a comment on my Facebook Page or tag me on Instagram (my_montana_kitchen_thm)! I love to see photos from my readers!
Oh, and you'll also love this easy Edible Peanut Butter Cookie Dough Recipe, so give it a try too!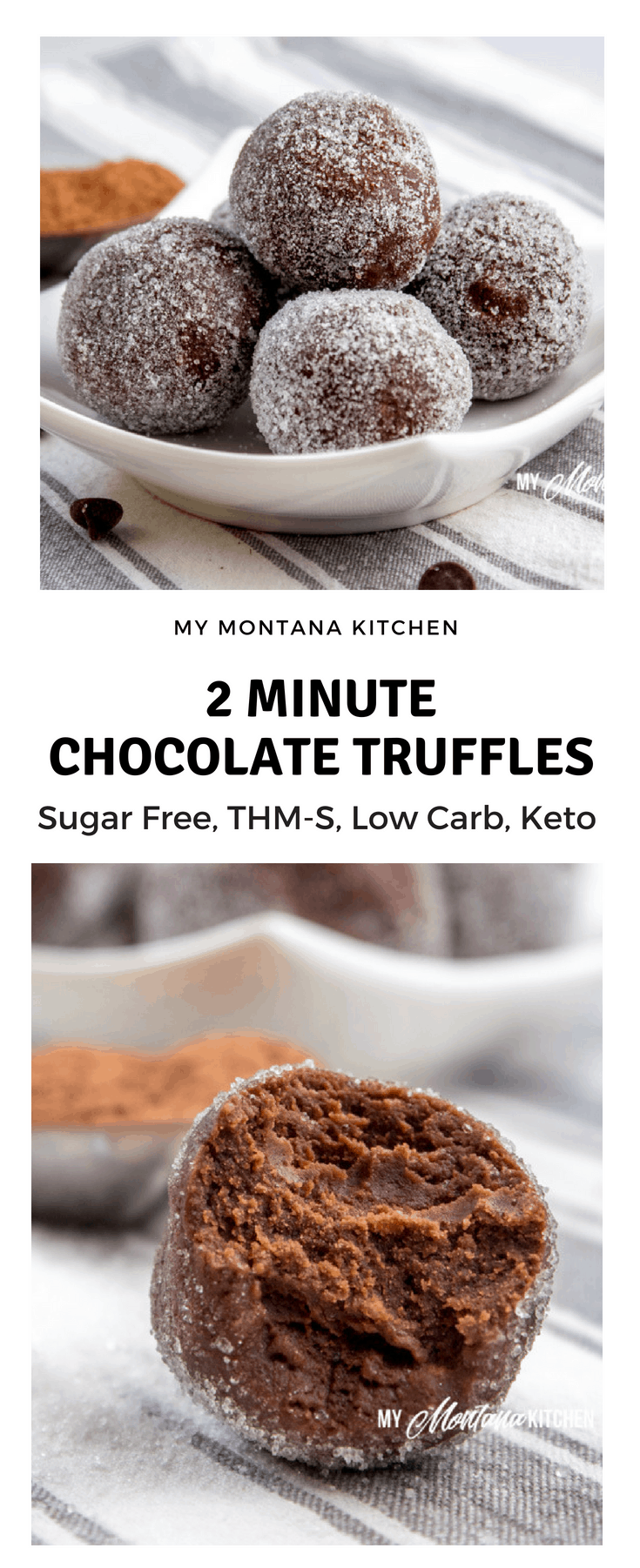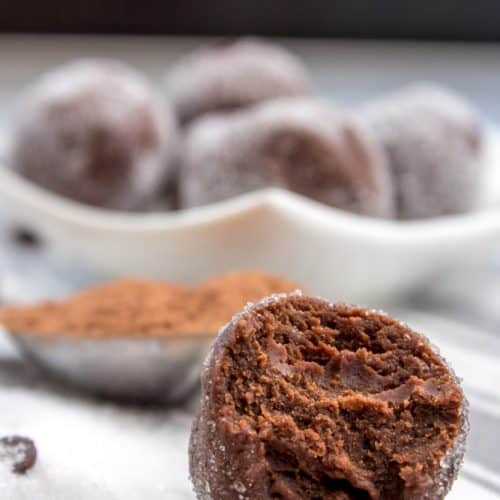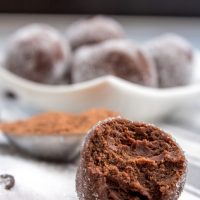 2 Minute Chocolate Truffles Recipe
If you need a quick sweet treat, try this 2 Minute Chocolate Truffles Recipe. Seriously, you can have a decadent, velvety, rich truffle in less than 2 minutes - and with NO guilt!
Print
Pin
Rate
Instructions
Place all ingredients in a dish, and stir to mix.

Shape into balls for truffles, or just eat with a spoon!
Notes
If you do not have the Gentle Sweet, you can use my Low Carb Powdered Sugar in equal amounts.
I used a small cookie scoop
to make mine into cute truffles, but feel free to eat it with a spoon. (It tastes like rich frosting!)
If desired, you can roll the truffles in granulated erythritol, unsweetened shredded coconut, or chopped nuts.
Nutrition
Serving:
1
Recipe
|
Calories:
193
kcal
|
Carbohydrates:
5
g
|
Protein:
5
g
|
Fat:
17
g
|
Fiber:
2
g
If you love Lily's chocolate, but cannot find them near you, would you consider using my affiliate link to order through Lucky Vitamin? They have the best price on Lily's Bars and Lilly's Chocolate Chips that I have found online. If you are interested, check it out here.