We may earn money from the products/companies mentioned in this post. As an Amazon Associate I earn from qualifying purchases.
A Christmas Giveaway from some of your favorite THM bloggers!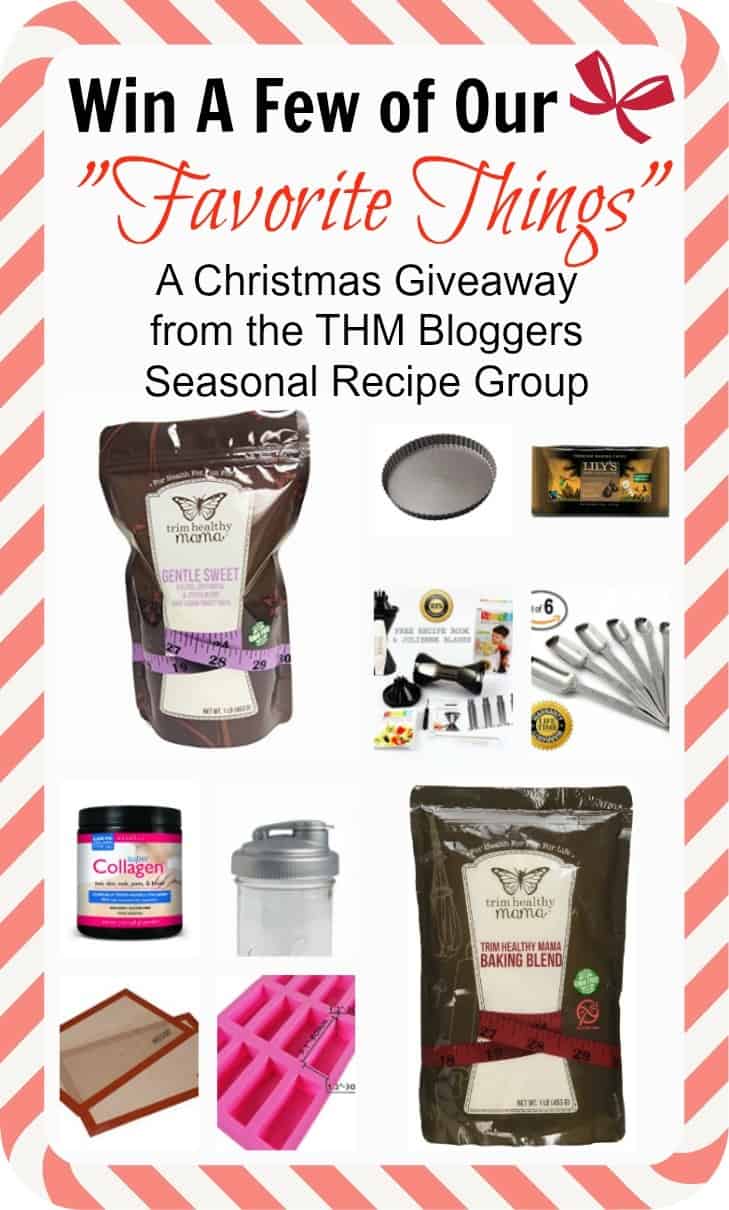 We thought it would be fun to give you a chance to win a collection of some of our favorite kitchen items and ingredients! At this time of year, everyone loves to give gifts, and we are no exception! This is a fun collection from 10 THM Friendly Bloggers and is connected with the THM Bloggers Seasonal Recipes Group (Unofficial). Be sure to check out the group - there are tons of Trim Healthy Mama Friendly recipes grouped by seasons. Right now, Christmas season recipes are abounding, so be sure to visit!
Here is a list of the items we are giving away (in no particular order)! One person will win ALL of these items! (Also, this post may contain affiliate links, which may provide me with a small compensation if you order through my link.)
Mrs. Criddle's Kitchen is giving a package of THM Gentle Sweet.
"I love the THM Gentle sweet! It's my sweetener of choice! I've tried NUMEROUS kinds but none have tasted as close to sugar as the Gentle Sweet!" ~ Sarah
Country Girl Cookin is gifting a set of silicone baking mats.
"I use these silicone baking mats all the time, from cookies to Perfect Pizza. They are no-mess, non-stick, easy to use mats. Takes the place of parchment paper! One of my favorite baking gadgets." ~ Rachel
Nana's Little Kitchen is giving a package of THM Baking Blend.
"I may be one of Trim Healthy Mama Baking Blend's biggest fans! I fell in love with the idea of having a more "flour-like" flour from the first time I heard of it and once I started using it there was no going back. I am so delighted to be able to share some of this wonderful product with you in this giveaway." ~ Teresia
"
Skirted Blues is providing a plastic canning jar lid with a handy pour spout. (Jar not included)
"I am not a fan of plastic storage containers. I love to store everything from GGMS to dry ingredients in them. These lids are great for using on jars with dry ingredients you want to be able to pour. I also use them when I make drink concentrate mixes to have on hand in the refrigerator!" ~ Ruth
Wonderfully Made and Dearly Loved is giving one of these beautiful silicone bar pans.
"I love using the silicone bar mold when I'm making on plan treats like Sugar Free Vanilla Cream Cakes as well as for hot dog buns and when making the praline protein bars from the THM Cookbook. The bars are just the right size for a single serving and these silicone pans store so easily." ~ Judy

The Healthy Milestone is providing this set of stainless steel measuring spoons.
"I love the shape and design of these spoons because they fit any container including those with narrow openings such as spice jars. They are stainless steel with very accurate measurements and dishwasher safe! The set contains 6 measuring spoons ranging in size from: 1/8 tsp, 1/4 tsp, 1/2 tsp, 3/4 tsp, 1 tsp, 1 TBSP." ~ Carey

My Fling With Food is giving away a container of Collagen.
"I love collagen because of how easy it is to take everyday. It's become an integral part of my daily coffee-making routine, and as an active person I've experienced firsthand the positive effects of collagen use." ~ Erin

Grassfed Mama is gifting this handy 
vegetable spiralizer.
"I love spiralizers because it makes satisfying meals so much easier!! You can make a fun side dish of sautéed squash or zucchini, or turn it into a main 'pasta' or Asian stir fry. Let your creative ideas run wild!" ~ Angela
My Table of Three is providing this beautiful tart pan.
"I love this tart pan because it is so easy to use and clean. The pan is perfect tool to make cheesecakes and savory quiche into beautiful dishes that will have your family and friends ready to eat! For inspirations you can check out my blog where I feature four recipes using my tart pan!"
And My Montana Kitchen (thats me!) is giving away Lily's Chocolate!
"I love Lily's chocolate! It is guilt free and tastes amazing, but unfortunately it is not widely available everywhere. I am fortunate enough to be able to by them locally at Natural Grocery. I especially love using the chocolate chips. Since they are sweetened with stevia, I use them in everything! I especially love them in my Chocolate Chip Cookies!" ~ Sarah
To enter this giveaway, click on the Rafflecopter widget below and follow the instructions. You will get one entry for visiting the THM Bloggers Seasonal Recipes Face Book page, and two additional entries for each Bloggers' Face Book page that you visit!
a Rafflecopter giveaway

Legal stuff: Giveaway ends December 12th, 2016 at 11:59 PM MST. Open to Residents of the US for free shipping. Winner must be a member of the Trim Healthy Mama Bloggers Seasonal Recipes Group on Facebook. Open internationally if you are willing to pay for the difference in shipping costs.  Prizes cannot be shipped to PO Boxes.  Winner will be selected randomly through rafflecopter. The winner will be emailed and notified on my Facebook page. Winners have 48 hours to respond before a new winner is selected. My opinions are my own and were not influenced by any form of compensation.  Facebook, Twitter and Instagram are in no way associated with this giveaway.  By providing your information in this form, you are providing your information to me and me alone.  I do not share or sell information and will use any information only for the purpose of contacting the winner.