We may earn money from the products/companies mentioned in this post. As an Amazon Associate I earn from qualifying purchases.
This quinoa salad with broccoli is the perfect way to cook quinoa! It's loaded with flavor and easy ingredients and is a great recipe to make any time of the year.
This easy gluten-free recipe is not only simple to cook but it's loaded down with delicious texture and flavors.
When it comes to quinoa salad recipes, this one will be at the top of your list. This is one salad vegan fans will love!
As written, this recipe is a THM:E fuel as well!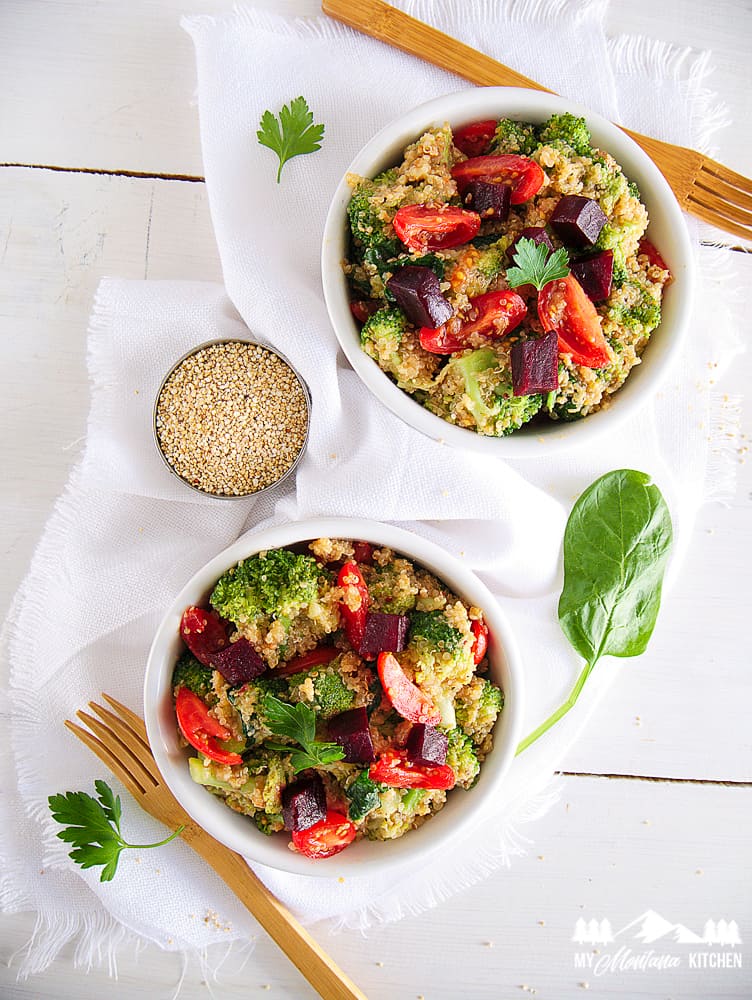 How hard is it to make this roasted broccoli quinoa salad?
Trust me when I say that it's not hard at all. All you need is a little meal prep and a large bowl to get this quinoa broccoli salad ready to enjoy.
It's a fair statement to say that the hardest part of this roasted broccoli quinoa salad recipe is being patient and not devouring it all!
Do you need to rinse quinoa off before using it?
The simple answer is no, you don't need to rinse your quinoa before cooking it.
However, I do recommend that you give it a quick rinse to remove any bitterness that might be lingering. It takes two seconds and makes all the difference in the world.
It is best to use a fine mesh strainer to drain quinoa.
How do you make sure quinoa is cooked through?
The best way to know if your quinoa is cooked is simply by looking at it. It will look almost like it has "popped."
Another way to tell if the quinoa is done is by checking the texture. The grains should be nice and fluffy, and not at all crunchy.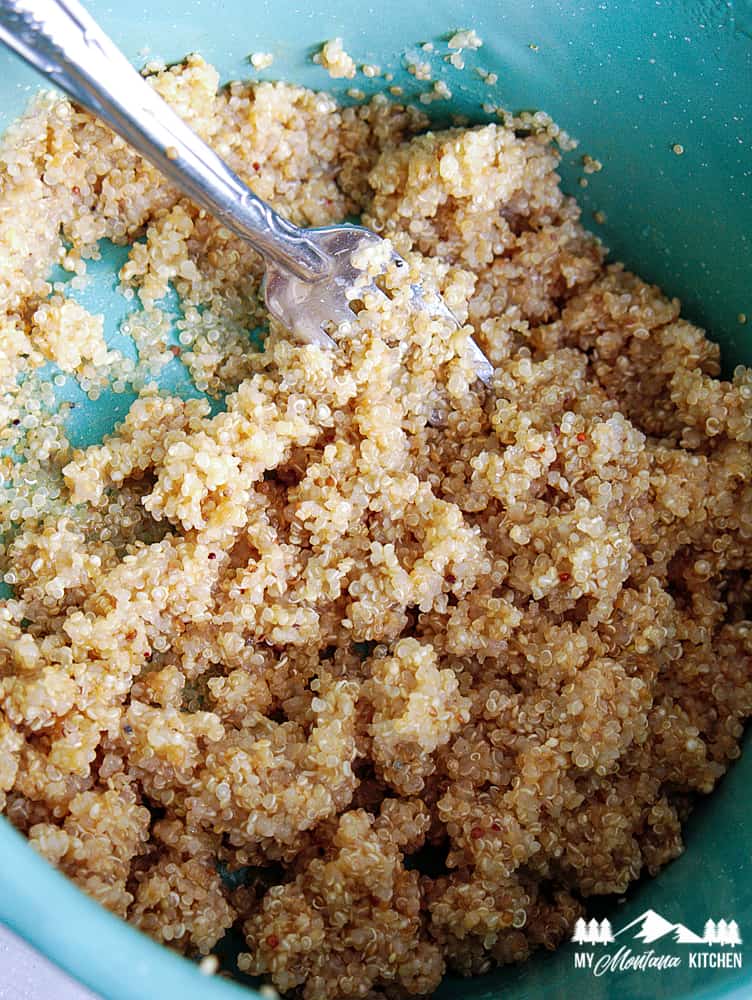 Is quinoa salad better hot or cold?
For the best flavor and taste of this delicious dish, it's best to serve it fresh and cold.
There's nothing like eating real food that takes minimal prep time - but you can definitely serve it warm or at room temperature if you like!
How long does quinoa salad last?
Once you add in the broccoli florets and other vegetables, you need to eat it within 3-5 days of making it. It also needs to be kept chilled in the fridge.
What is the best way to store this salad?
This salad will last in the fridge for up to four days. I recommend storing it in a covered container so that the quinoa doesn't dry out.
If you want to meal prep this salad ahead of time, I recommend cooking the quinoa and roasting the broccoli ahead of time. Then, when you're ready to eat, simply combine everything together and enjoy!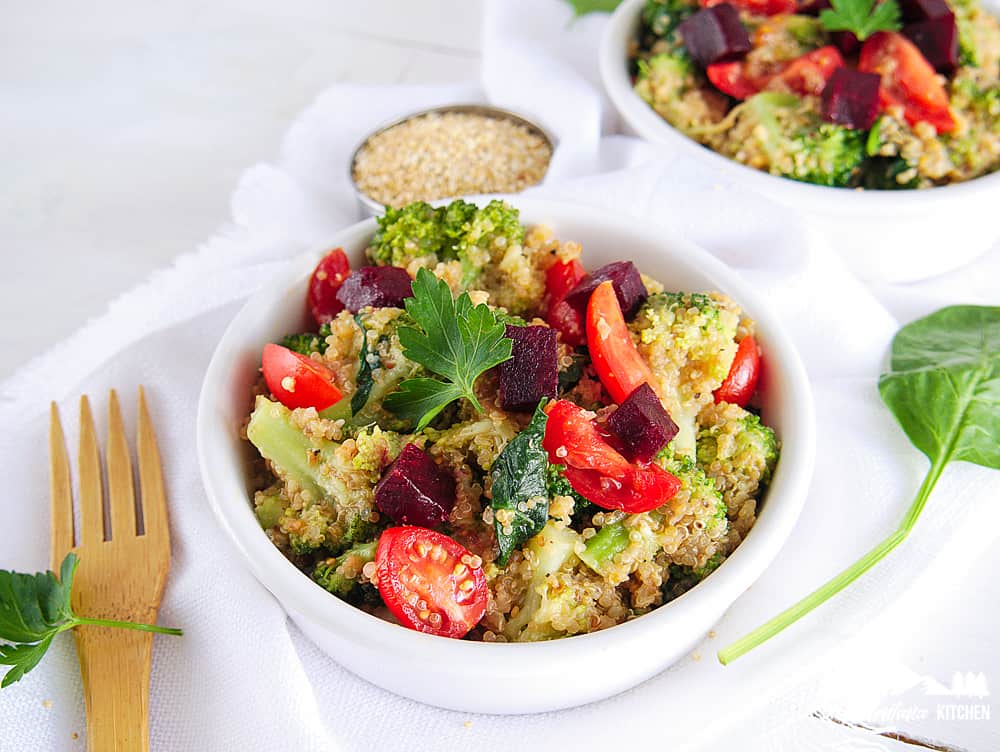 What can I add to this roasted broccoli quinoa salad?
The great thing about this salad is that it's easily customizable. Here are a few ideas of what you could add:
grilled chicken
roasted sweet potatoes
a sprinkle of feta or Romano cheese (if you use too much, it could become a THM:XO)
a sprinkle of sunflower seeds (keep to a garnish amount to avoid a THM:XO)
diced avocado (would make this salad a THM:XO)
chopped nuts (sliced almonds, pecans, or walnuts would be great - would make it a THM:XO)
unsweetened dried cranberries or golden raisins
fresh herbs (basil, oregano, parsley, or thyme would be nice)
a simple vinaigrette (balsamic, apple cider vinegar, or red wine vinegar would be good)
Do I have to use the beets?
No, you don't have to use the beets if you don't want to. They add a beautiful color and additional nutrients to the salad.
However, if you're not a fan of beets, feel free to leave them out.
Is quinoa healthier than rice?
A lot of people like to eat whole foods for the health benefits, and I agree.
Quinoa is great for vegan options, and for those following the Trim Healthy Mama style of eating.
It's a complete protein, meaning it has all the essential amino acids your body needs.
It's also relatively low in calories and has a good amount of fiber.
When it comes to wild rice, white rice, or brown rice vs quinoa, quinoa does have more added fiber which is a great added benefit.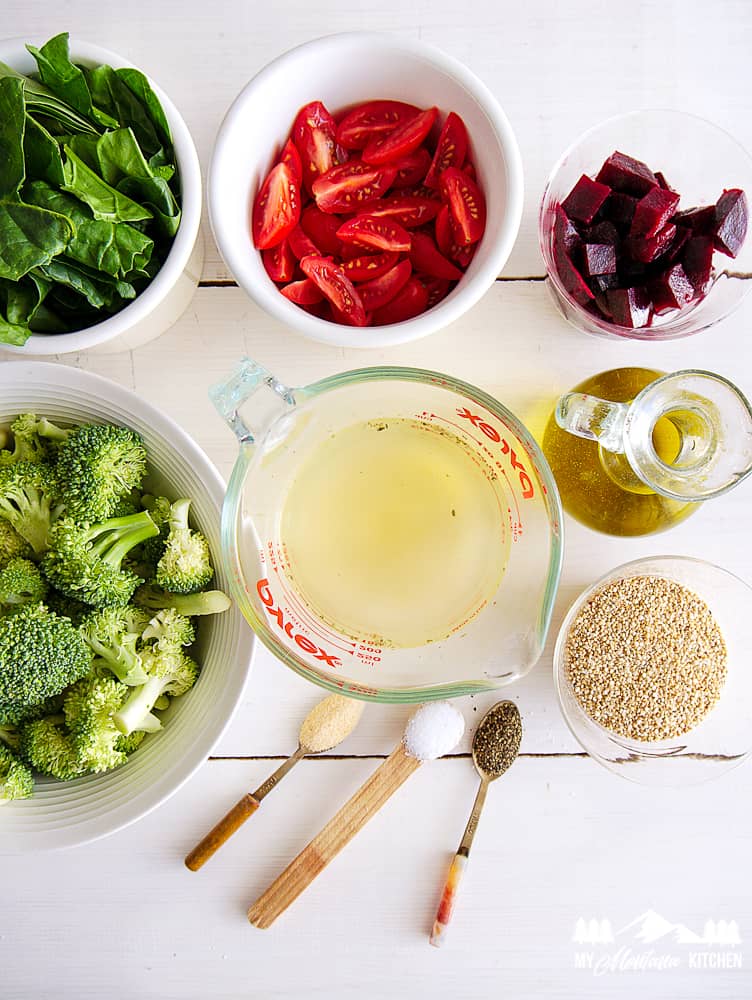 Is quinoa high in carbs?
Quinoa broccoli salad isn't a low-carb food, per se, but it is full of healthy carbs - and perfect for your Trim Healthy Mama E meals!
This salad is a good recipe to make when you're wanting to reduce fat while still adding some extra protein to your daily diet.
Variations for Roasted Broccoli quinoa salad
There are options for cooking this quinoa broccoli salad - and that's a good thing!
The first is how you cook the broccoli. You can roast the broccoli in the oven or on the stovetop with a spritz of olive oil or in a medium saucepan by boiling it.
If you want to add some heat, you can add crushed red pepper, red pepper flakes, or chili pepper to taste.
If you want to cook your quinia in the Instant pot, go for it. This is a great way to good this recipe fast - just be sure to check the package directions.
To make quinoa in your Instant Pot, simply add equal parts rinsed quinoa and water to the liner, process at manual pressure for one minute, then natural pressure release for 10 minutes.
Don't forget that fresh herbs are a great addition. you can add fresh dill, salt and pepper, fresh cilantro, and even fresh parsley to the top of the salad - or even to your own small bowl.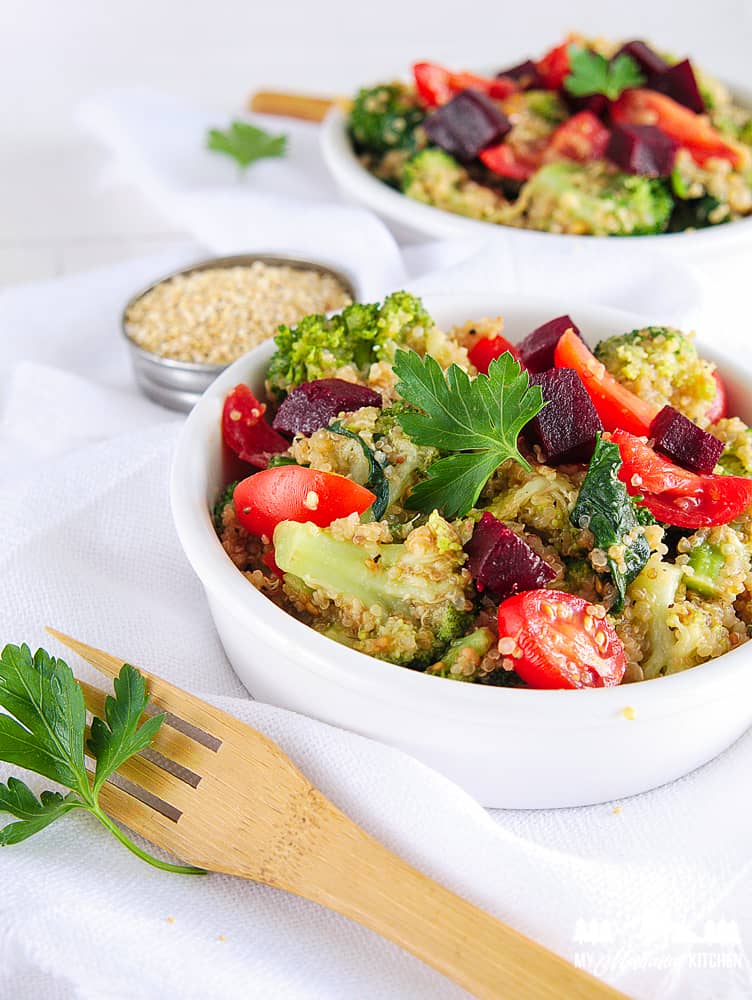 Do you add a dressing to this salad?
This is one of those recipes that you don't need to add an extra dressing. Just mix all the ingredients and let the salad sit for a few minutes to mesh together in flavor.
If you want to add more salt, more black pepper, or even more fresh lemon juice, you can easily do so and then gently stir. (I think adding fresh lemon or lime juice would be delicious!)
Some people may also want to up the garlic powder or add a bit more kosher salt as well.
If someone is adamant that they need a creamy dressing, that can always be something that they add to their own bowl of salad.
Can I use frozen or fresh broccoli?
It's my opinion that fresh is best. But, since you're going to be cooking it, fresh or frozen will work fine.
You're going to love this delicious dish! It's the perfect flavor and taste for any time of the year!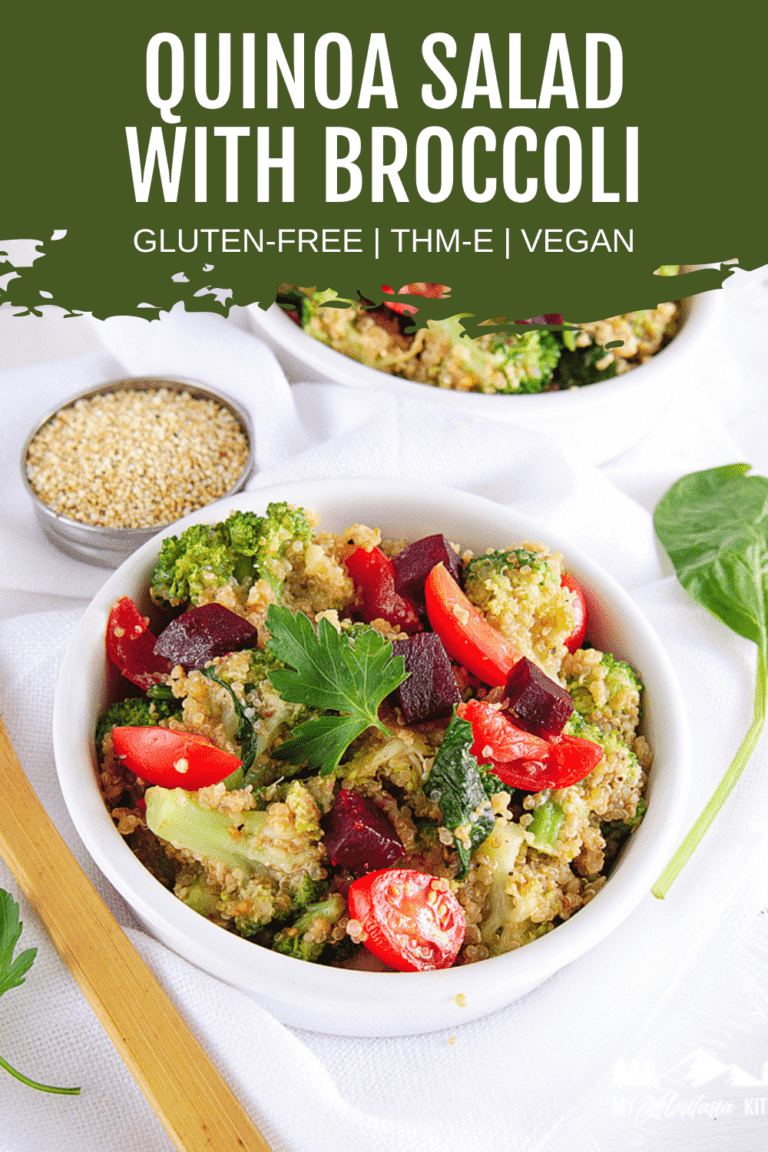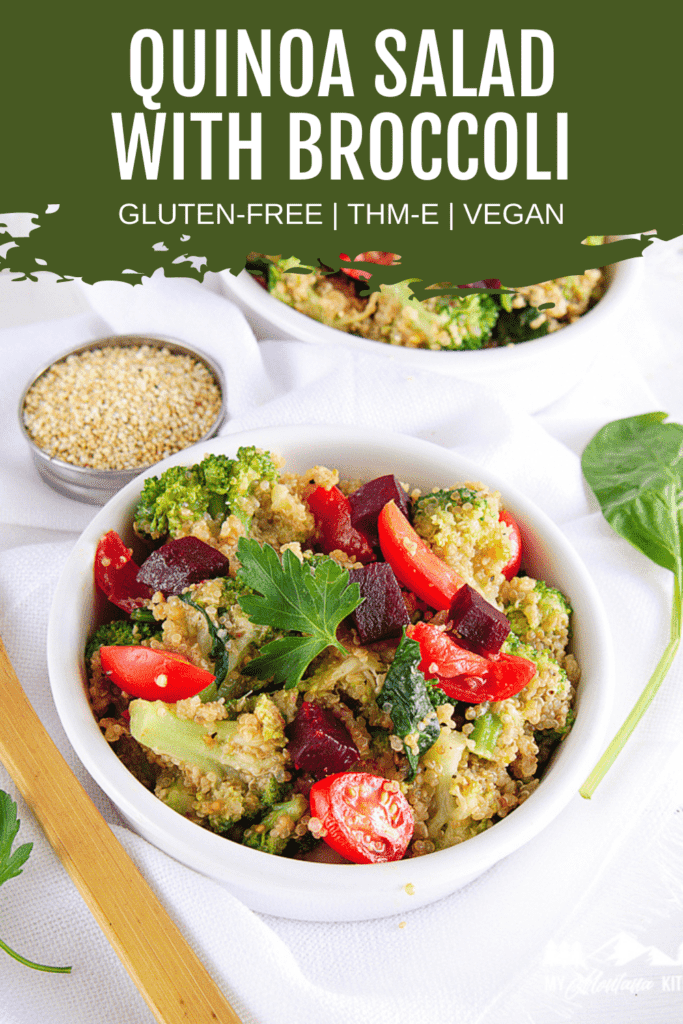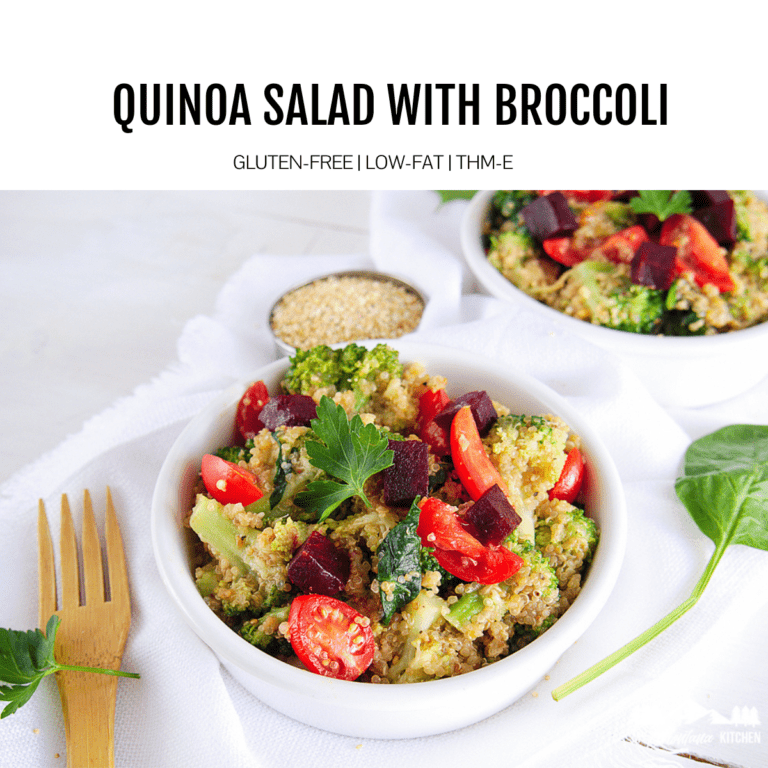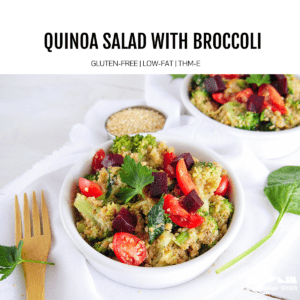 Quinoa Salad with Broccoli
A super easy quinoa dish that may be served cold, at room temp or warm. Enjoy it as a salad or as a side dish. This is a recipe that's loaded with good-for-you ingredients!
Print
Pin
Rate
Ingredients
1/2

Cup

Dry Quinoa

3/4

Cups

Low-Sodium Vegetable Broth Or Water

2

Cups

Small Bite-Size Broccoli Florets

1.5

Heaping Cups

Baby Spinach

, torn into small pieces

1

Cup

Grape Tomatoes

, cut into halves

1/2

Cup

Steamed Beets

, cut into small chunks (optional)

1

Tablespoon

Olive Oil

1/4 to 1/2

Teaspoon

Garlic Powder

1/4

Teaspoon

Black Pepper

adjust to taste

1/2

Teaspoon

Sea Salt

(or Kosher Salt) adjust if using salty broth
Instructions
Rinse quinoa in cold water and allow to sit in very fine mesh strainer for 5 minutes to strain off as much water as possible.

Place quinoa in a pot and pour in the broth or water and give it a good stir.

Over medium-high heat bring to a boil, turn heat down to low and simmer until quinoa has absorbed all of the liquid, about 10 to 15 minutes.

Turn heat off, cover and allow to sit for another 5 minutes.

While quinoa is cooking, in a large pan sauté the broccoli in the olive oil just until tender.

Add the quinoa to the pan and stir until combined; sprinkle in garlic powder, salt and black pepper and stir again until well combined, then sauté for another 3 minutes.

Mix in the baby spinach. Turn heat off and allow the spinach to wilt for a couple of minutes.

Place the cooked quinoa into a large serving dish and mix in the tomatos.

If desired, sprinkle with steamed beets before serving.

Enjoy at room temp or allow to chill in the fridge before enjoying.
Nutrition
Serving:
1
Serving (1/4 of Recipe)
|
Calories:
152
kcal
|
Carbohydrates:
22
g
|
Protein:
5
g
|
Fat:
5
g
|
Fiber:
4
g