We may earn money from the products/companies mentioned in this post. As an Amazon Associate I earn from qualifying purchases.
BBQ Chicken Keto Sliders is a flavorful and easy chicken slider recipe. Best of all, we cut out the excess carbs making this an easy and satisfying keto sliders recipe.
This recipe is also gluten free, and a Trim Healthy Mama S Fuel!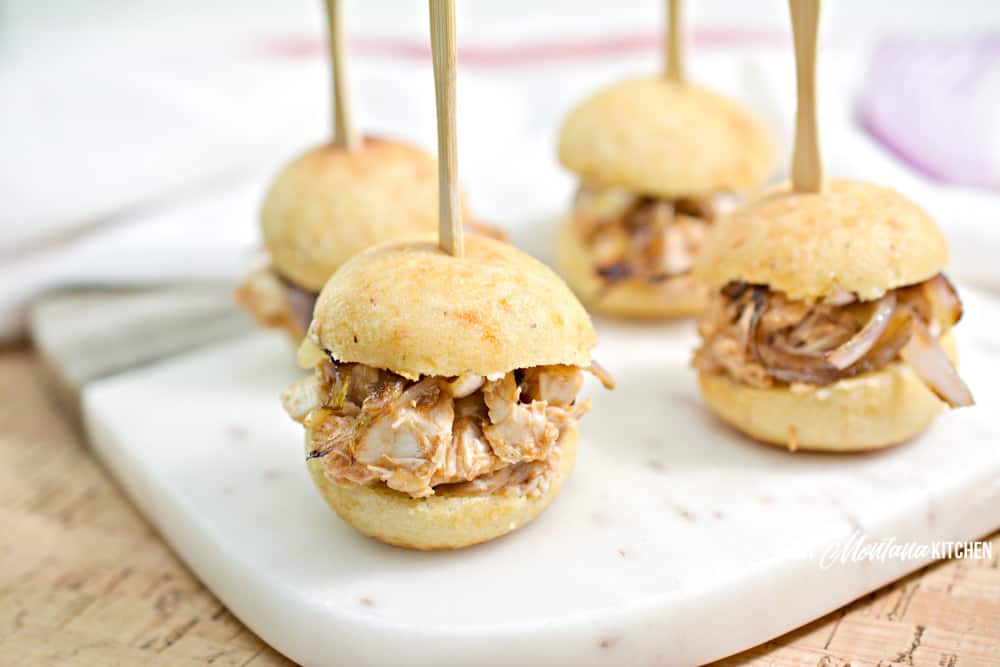 Keto Sliders
Whether you serve these keto sliders up for an appetizer or main meal, you will walk away feeling satisfied.
This chicken slider recipe uses a keto-approved bread and then the chicken filling is low carb as well, using a sugar-free barbeque sauce.
What Bread To Use For Keto Chicken Sliders
For this recipe, you will make a homemade bread that is transformed into sliders. To do this, you will use mozzarella cheese, almond flour, and a few other basic ingredients.
This chicken recipe is so easy to make, and you will enjoy the flavor it brings to these slider sandwiches.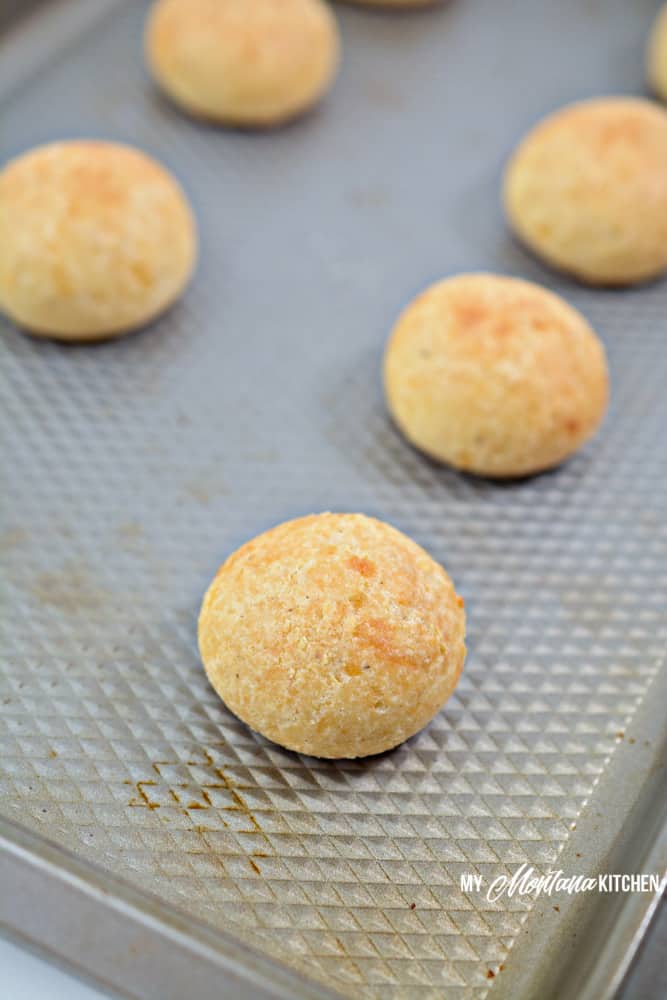 How Many Net Carbs Are In These Sliders
You will find that this recipe has 2 net carbs per slider. This chicken slider keto recipe makes 8 mini sliders.
Now if you swap out an ingredient or make larger sliders you will need to adjust the net carbs per slider.
How To Make BBQ Keto Chicken Sliders
First, you will start by making up the dough for the buns. Start by melting your cream cheese and mozzarella.
Once it is melted you will begin to incorporate it with the dry ingredients. Add in eggs one at a time and mix until well incorporated.
Toss the dough in the freezer to help it become easier to manage.
Shape dough into 8 buns, bake accordingly to the recipe below.
While buns are cooking, saute onions in a skillet. Once they are done, remove and toss in your chicken until it is warm.
Add barbeque sauce to the chicken. Put some meat mixture in each bun, toss back in the oven to heat, and then serve.
You will find the full instructions are listed in the printable recipe below.
What To Serve With Sliders
Low Carb Coleslaw | Here is a low carb side dish that is crisp and full of fresh flavors. This is one of my favorite coleslaw recipes.
Marinated Cucumbers | This cucumber recipe is crazy simple to make and loaded with flavor in every bite. Whip this up for any meal you plan to serve.
You can pair this recipe with almost anything. From your favorite sides to something simple and quick. Get creative and find the perfect side dish to go with your barbeque chicken sliders.
What If I Don't Have Rotisserie Chicken For Slider Recipe
If you don't have rotisserie chicken on hand, you can cook up chicken and shred it. I loved using leftover chicken for this recipe, to make it feel like a whole new meal.
Just make sure to not overly season the chicken, that way the sliders don't take on different flavor components from the spices used.
An easy way to shred your chicken is to use meat claws. If you don't have the claws, you can use two forks and use it to pull the chicken. Smaller pieces is best so you can easily bite without it being too much.
If you like canned chicken you could use that as well. I prefer to cook and shred my own or pick up a rotisserie chicken at the grocery store.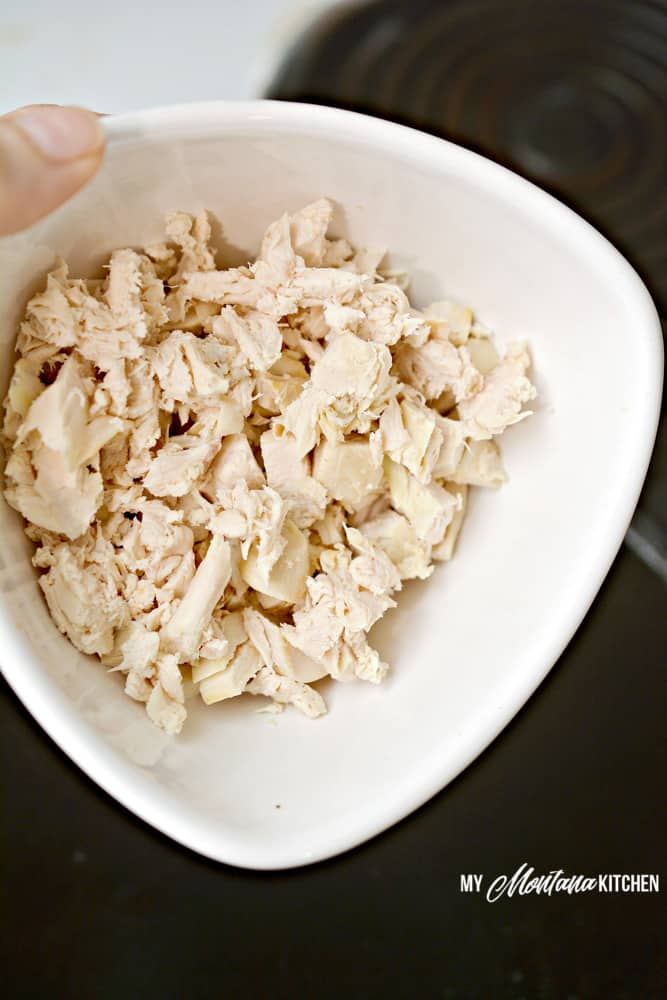 Can I Use Homemade Sugar-Free BBQ Sauce
Of course. If you have a recipe you enjoy using, you are more than welcome to use a homemade barbeque sauce. (My favorite sugar free barbecue sauce is here!)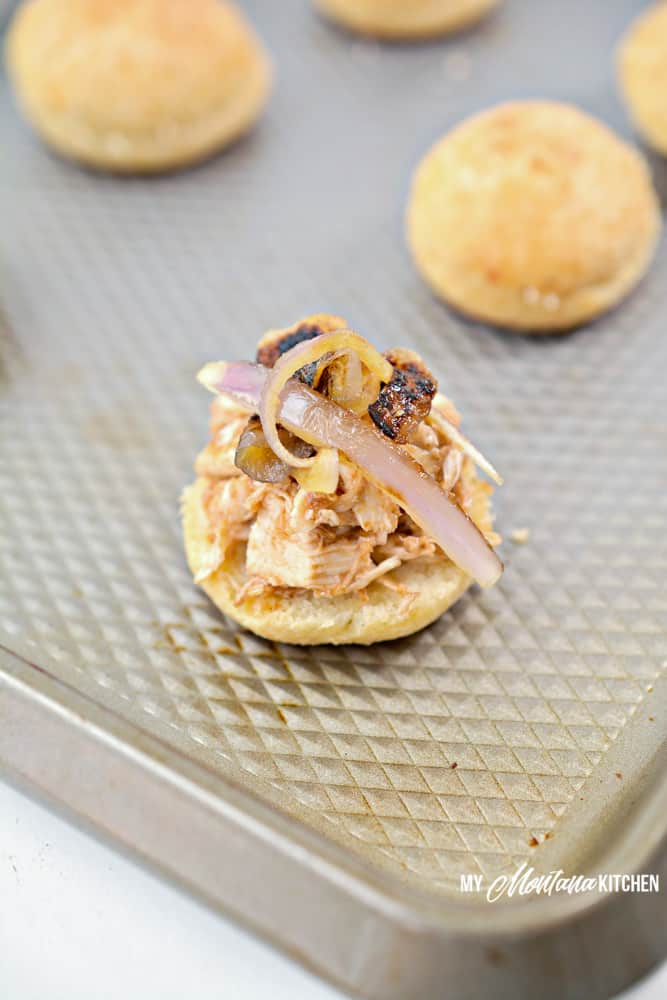 How To Store Leftover Mini Keto Sliders
If you have leftover mini sliders, you can store them in the fridge in an airtight container. These chicken sliders will stay good in the fridge for up to three days.
The bread on this recipe will get a little soggy as it sits in the fridge. It is best to eat these freshly cooked, or a day or two after.
Or, if you don't think you will eat all of them right away, just assemble as many as you will eat at a time. That way your bread will stay fresh.
If you are a fan of chicken, you will love this perfectly seasoned bbq chicken recipe.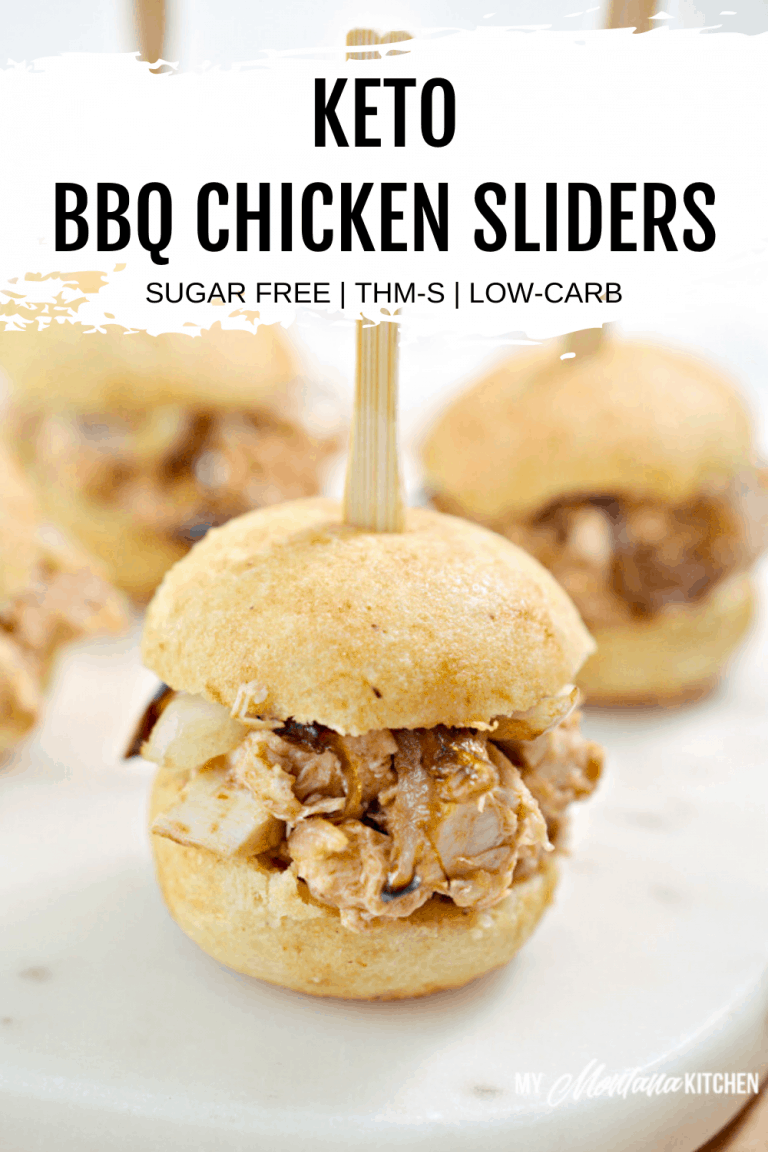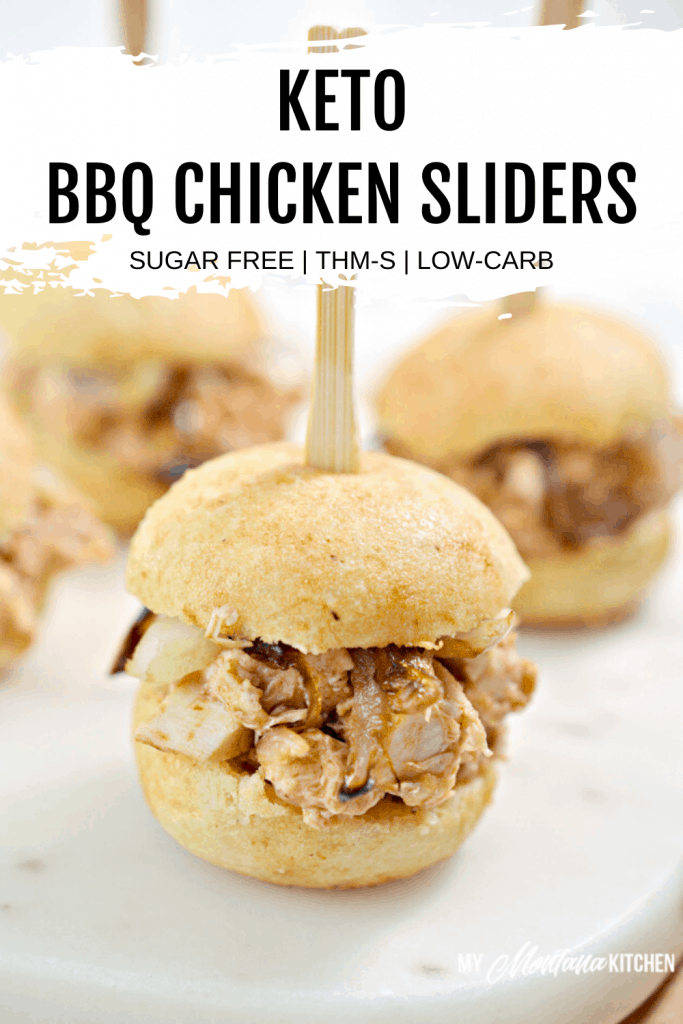 Yield: 8 Sliders
Keto BBQ Chicken Sliders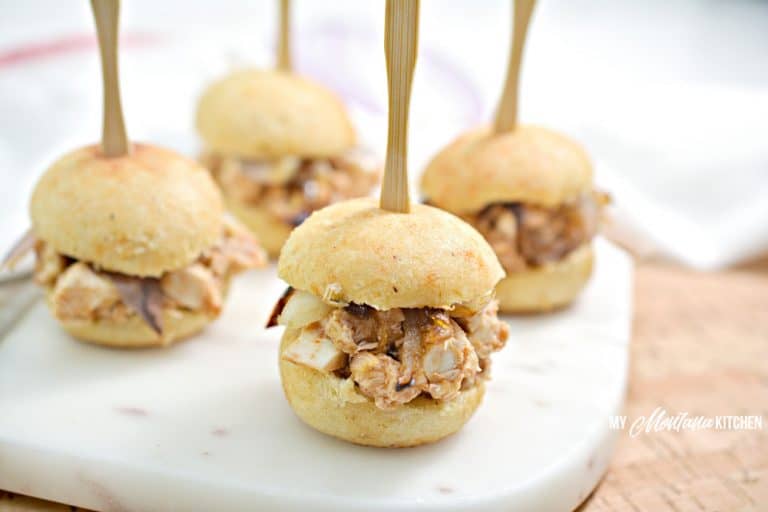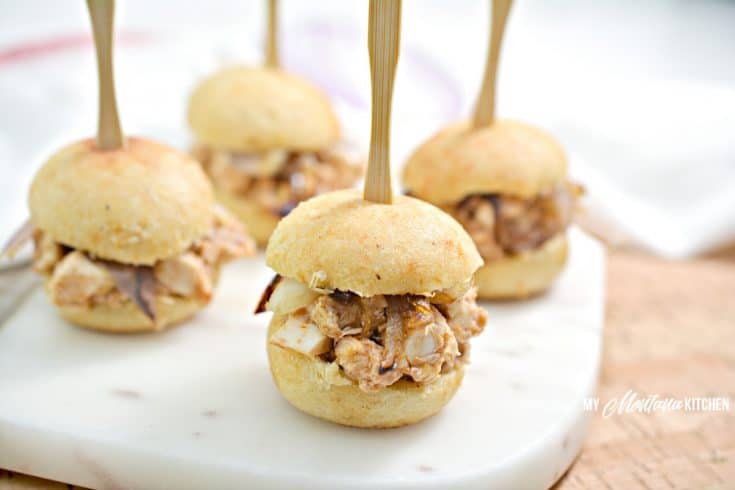 BBQ Chicken Keto Sliders is a flavorful and easy chicken slider recipe. Best of all, we cut out the excess carbs making this an easy and satisfying keto sliders recipe.
Additional Time
10 minutes
Ingredients
For the Bread:
¾ Cup Mozzarella Cheese, shredded
1 Ounce Cream Cheese
1 Egg White
For the Filling:
1 Cup Rotisserie Chicken, shredded
¼ Red Onion, sliced thinly
Instructions
Preheat the oven to 350 degrees.
In a microwave safe bowl, combine the mozzarella and cream cheeses. Heat for 30 seconds at a time until the cheeses are completely melted and well blended. Be careful not to overcook.
Mix the almond flour, cajun seasoning and baking powder together in a bowl, and add the dry ingredients to the cheese mixture. Knead the dough with your hands to incorporate the dry ingredients completely.
Add the egg to the dough, and blend until smooth and creamy.
Place the dough in the freezer for a bit to set. This will make the dough easier to handle later.
Form the dough into 8 equal balls, the size of small slider buns.
Bake the slider buns for 15 minutes, or until they are browned and cooked through.
Let the buns cool and then slice in half.
Heat the olive oil in a skillet over medium high heat on the stove.
Add the sliced onion to the skillet, and saute until softened to your liking. Remove the onions and set aside.
Heat the chicken up in the skillet, and stir in 2 tablespoons of sugar free bbq sauce.
Place a serving of chicken on the bottom of each slider bun, and top with some of the sauteed onions.
Put the top of each slider back on, and secure with a toothpick before serving.
Nutrition Information
Yield
8
Serving Size
1 Slider
Amount Per Serving
Calories

129
Total Fat

9g
Saturated Fat

2g
Trans Fat

0g
Cholesterol

11mg
Sodium

309mg
Carbohydrates

3g
Fiber

1g
Sugar

1g
Protein

8g