We may earn money from the products/companies mentioned in this post. As an Amazon Associate I earn from qualifying purchases.
You'll love the taste and flavor of this Beef Enchiladas Stuffed Zucchini! Simple, easy and low carb. Plus, it works great as a Trim Healthy Mama S Recipe!
Switch dinner up tonight with this beef recipe idea that uses zucchini to lighten up your favorite beef enchiladas using delicious ingredients that are healthier for you than traditional options.
You wouldn't think that zucchini could be paired so well with beef enchiladas, but I'm here to share a delicious recipe that shows how much zucchini really can handle in the kitchen.
This meal will keep you full longer and be devoured by the whole family.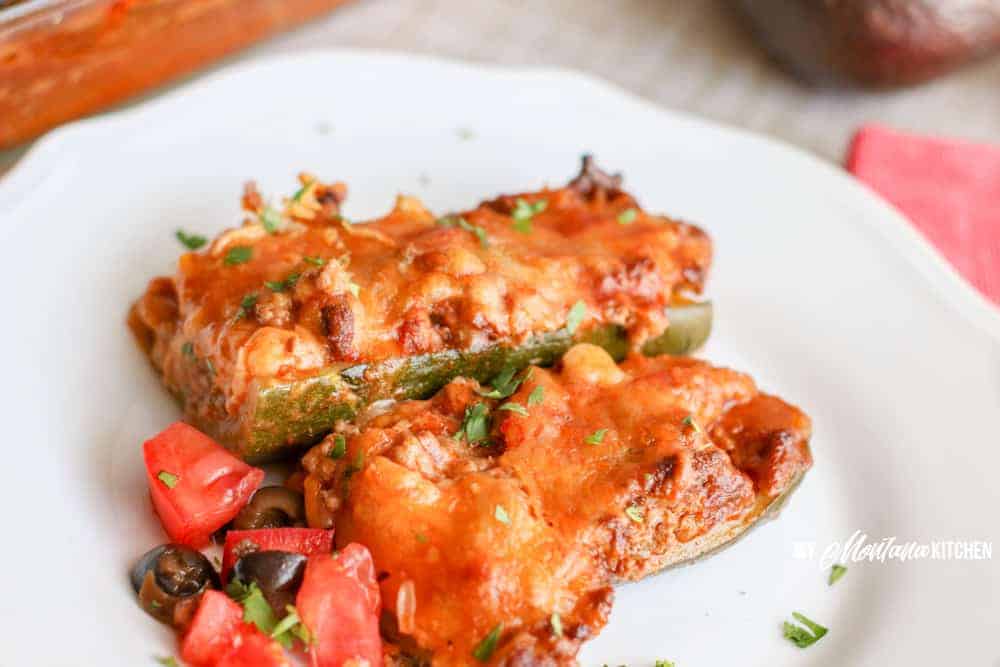 Beef Enchiladas Stuffed Zucchini
Making this scrumptious meal is super easy. The step by step instructions below will show you want to do to create the best Beef Enchiladas Stuffed Zucchini for dinner or a potluck gathering.
The ingredients list is simple and easy enough for any budget to accommodate.
Is Zucchini Good to Eat?
You may think this is a silly question - but really - is zucchini good? I prefer zucchini over yellow squash, although I do enjoy both. (I especially enjoy squash in my Cheesy Low Carb Squash Casserole!)
This delicious summer squash has a thin, edible green layer and works well in many summer meal ideas.
Since you can enjoy zucchini cooked or raw, many people wonder if zucchini is good to eat. This summer squash is indeed good to eat and provides many nutrients such as Vitamin C and Vitamin A.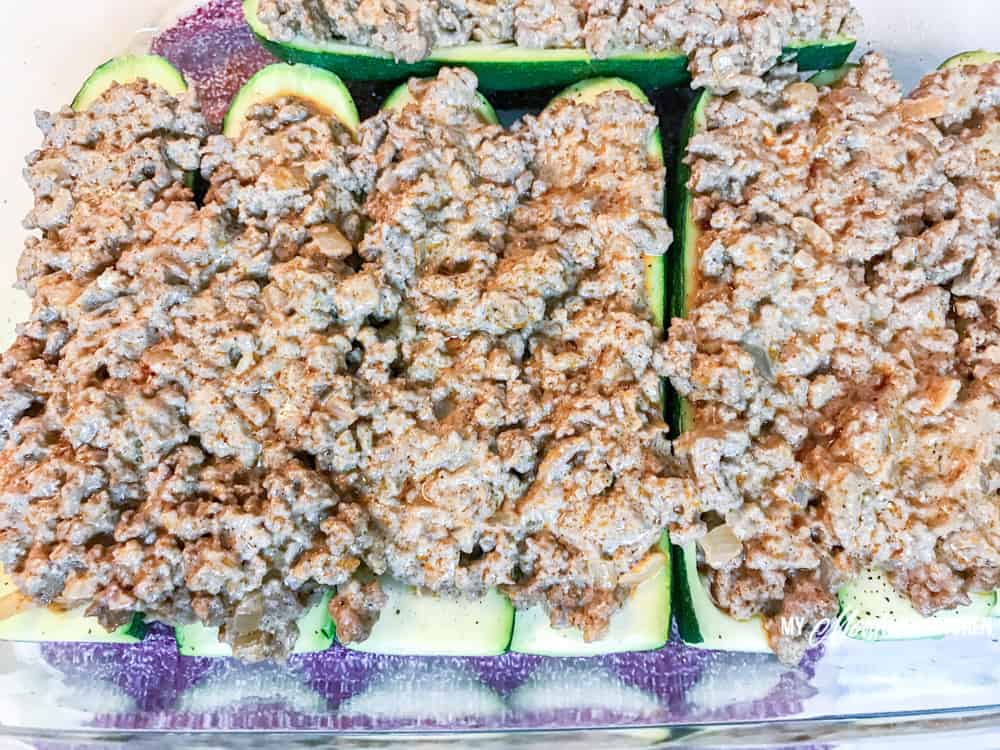 Is Zucchini Healthier Raw or Cooked?
It's normal to wonder whether zucchini is healthier for you raw or cooked because most vegetables do lose some nutritional value when cooked.
Since most of the weight of zucchini is water, boiling it down will remove some of the water content.
Cooked zucchini tends to lose more protein than carbohydrates when it's boiled as well.
This is why I love these beef enchiladas stuffed zucchini; we don't boil the zucchini first so it won't lose as many nutrients as it can when boiled.
Can you make beef enchiladas with other squash?
Yes. You can make these Beef Enchiladas Stuffed Zucchini Boats using spaghetti squash. The spaghetti squash is a much larger in size than zucchini so it will have to be baked longer, and will require a little extra prep time.
You are going to love these Beef Enchiladas Stuffed Zucchini boats as they're lighter, tastier and easier to make.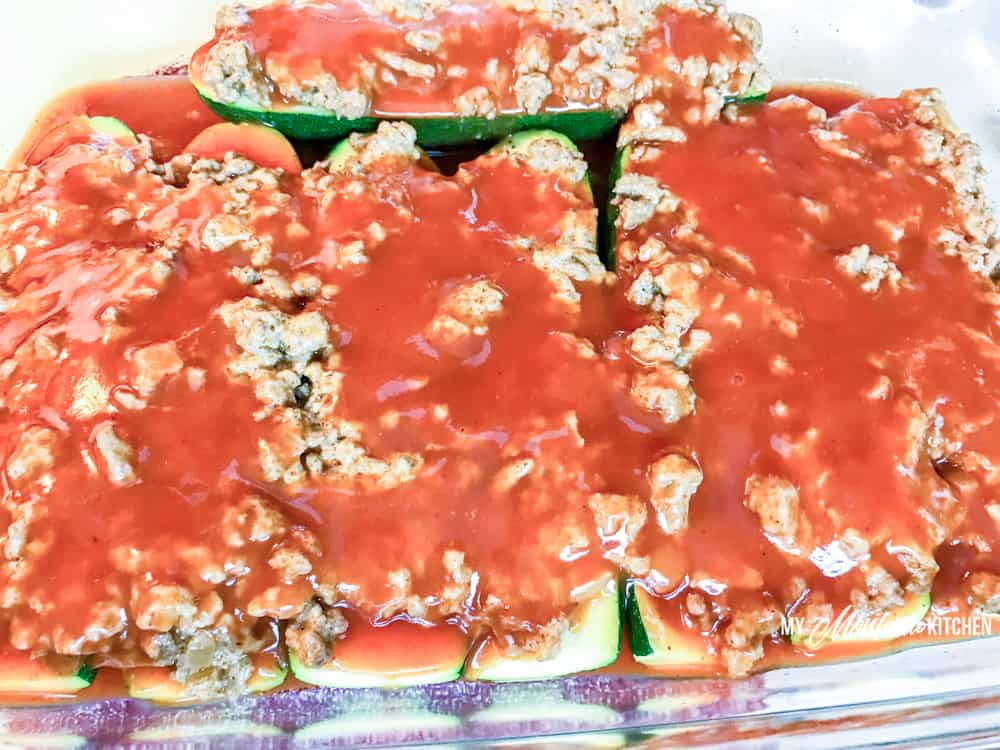 How do you make enchiladas in the oven?
Gather up the ingredients for these Beef Enchiladas Stuffed Zucchini boats and preheat the oven to 400 degrees Fahrenheit.
Once all your preparation work and stovetop steps are completed, you'll make these enchiladas in the oven by baking them for about 10 -15 minutes.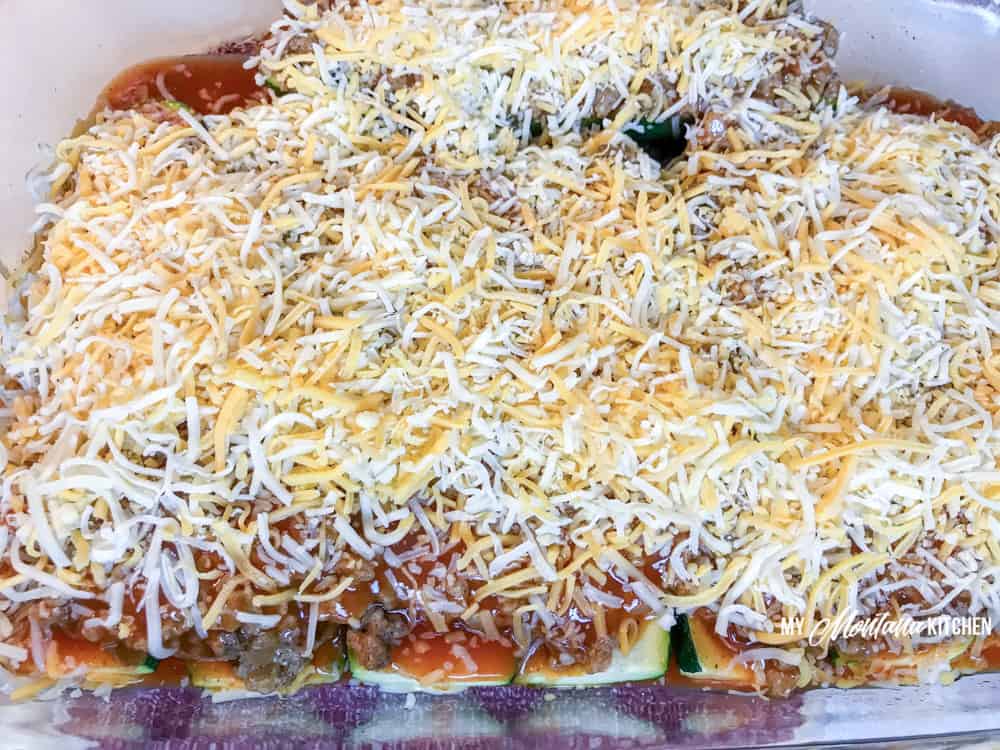 What cheeses can I use in Beef Stuffed Zucchini?
While my recipe calls for 1 cup of shredded Colby jack cheese, you can opt to use a Mexican blend shredded cheese option or go with your favorite flavor shredded cheese.
I think Colby jack cheese provides just the right flavor combination for the beef enchiladas and zucchini, but switch it up to match your taste preferences!
You can also prepare these beef enchiladas stuffed zucchini beforehand, freeze them wrapped up in aluminum foil and bake at a later date.
That's the beauty of casserole-style dishes like this one, you can easily prep for meal planning and bake later in the week without disrupting the delicious flavorful combination of beef enchiladas in zucchini boats.
Are enchiladas unhealthy?
These Beef enchiladas really are a healthy treat option but when you opt to use zucchini instead of tortillas. That way you're cutting down on some of the unhealthy parts of an enchilada.
What is the difference between red and green enchilada sauce?
As you can see my beef enchiladas stuffed zucchini calls for red enchilada sauce, but many people want to know what the difference between red and green enchilada sauce is when it comes to making your own beef enchiladas at home.
Green enchilada sauce is typically made from a mixture of green chilis and green tomatillos along with onions, garlic, and other spices.
Red enchilada sauce is typically made from a variety of red chilies, as well as onions, garlic, and other spices.
This is why there's a slight flavor difference between red and green enchilada sauce, and you'll typically see red enchilada sauce used in your beef enchiladas or chicken enchiladas.
It's super easy to make your own Enchilada Sauce at home, too, making these Beef Enchiladas Stuffed Zucchini affordable for any family budget.
This is truly a budget-friendly meal idea that will fill everyone quickly, quite possibly leaving extras for leftover night.
If enchiladas are a go-to for you, then you'll also want to try my Green Chile Chicken Enchiladas, and Instant Pot Salsa Verde Chicken!
How to Make Beef Enchiladas Stuffed Zucchini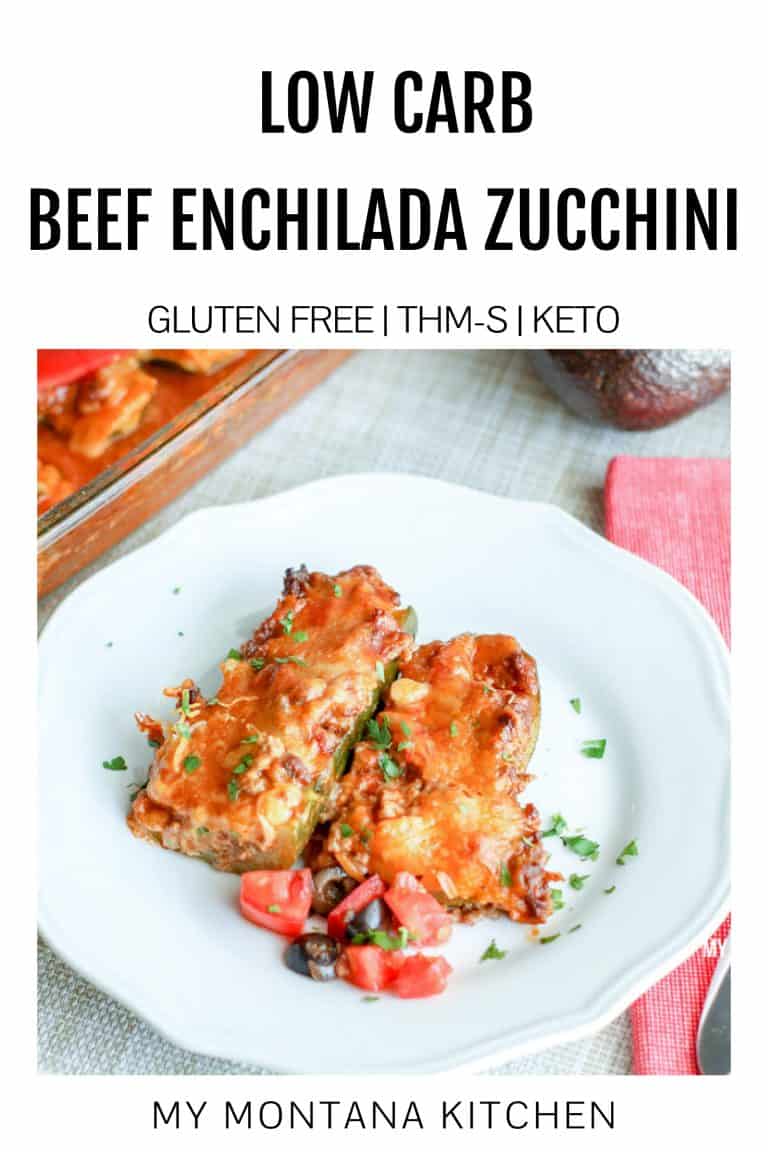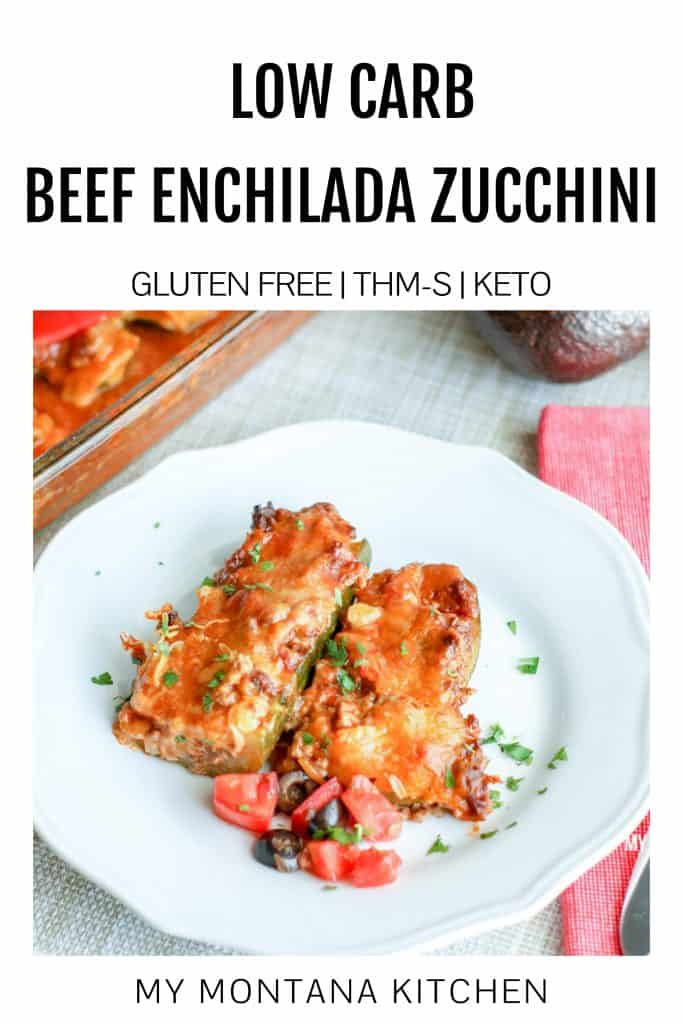 Yield: 33
Beef Enchiladas Stuffed Zucchini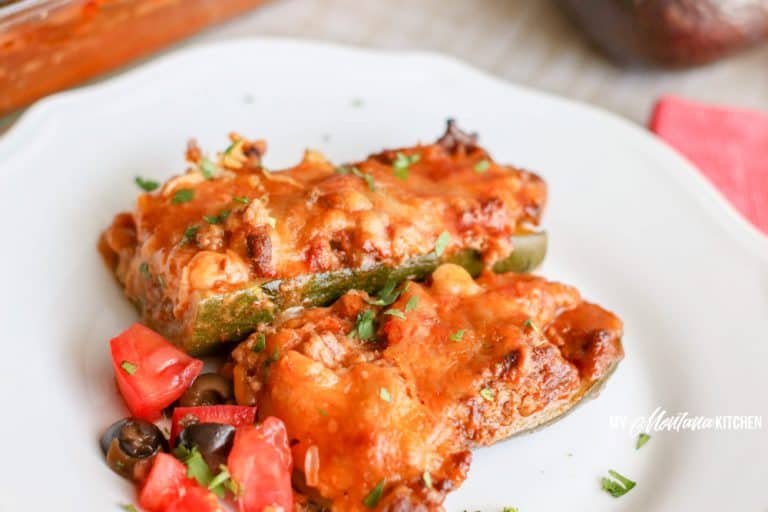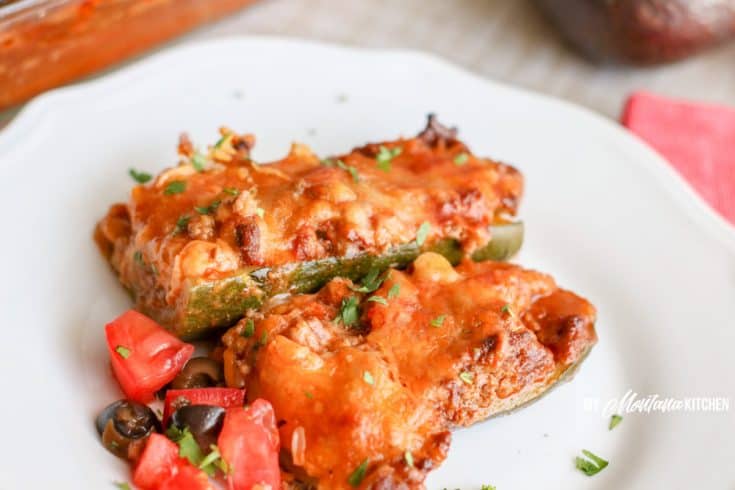 You're going to love this simple recipe of Beef Enchiladas Stuffed Zucchini!
Ingredients
3 Zucchini
1 Pound Ground Beef
1 Onion, diced
1 cup shredded colby jack cheese
​
Instructions
Preheat oven to 400 degrees.

Slice zucchini in half lengthwise and scoop the seeds out of the middle with a spoon. You will want to leave about ½ inch along the outside creating a "boat."

In a large skillet, add ground beef and diced onion. Cook until the beef is browned and the onion is soft. Drain.

Return to skillet and add taco seasoning as well as 1 cup of the enchilada sauce. Bring to a simmer and remove from heat.

Spoon the mixture into the hollowed zucchini boats.. Pile extra mixture on top until the boats are overflowing slightly. Add the remaining enchilada sauce over the top and add a layer of cheese.

Bake for 15 to 20 minutes until the cheese is melted and zucchini is tender.

Notes
Recommended Products
As an Amazon Associate and member of other affiliate programs, I earn from qualifying purchases.
Nutrition Information
Yield
3
Serving Size
2 "Boats"
Amount Per Serving
Calories

539
Total Fat

36g
Carbohydrates

12g
Net Carbohydrates

9g
Fiber

3g
Protein

42g