We may earn money from the products/companies mentioned in this post. As an Amazon Associate I earn from qualifying purchases.
A one-pot dinner or quick lunch that is Fuel Pull (both low carb and low fat)!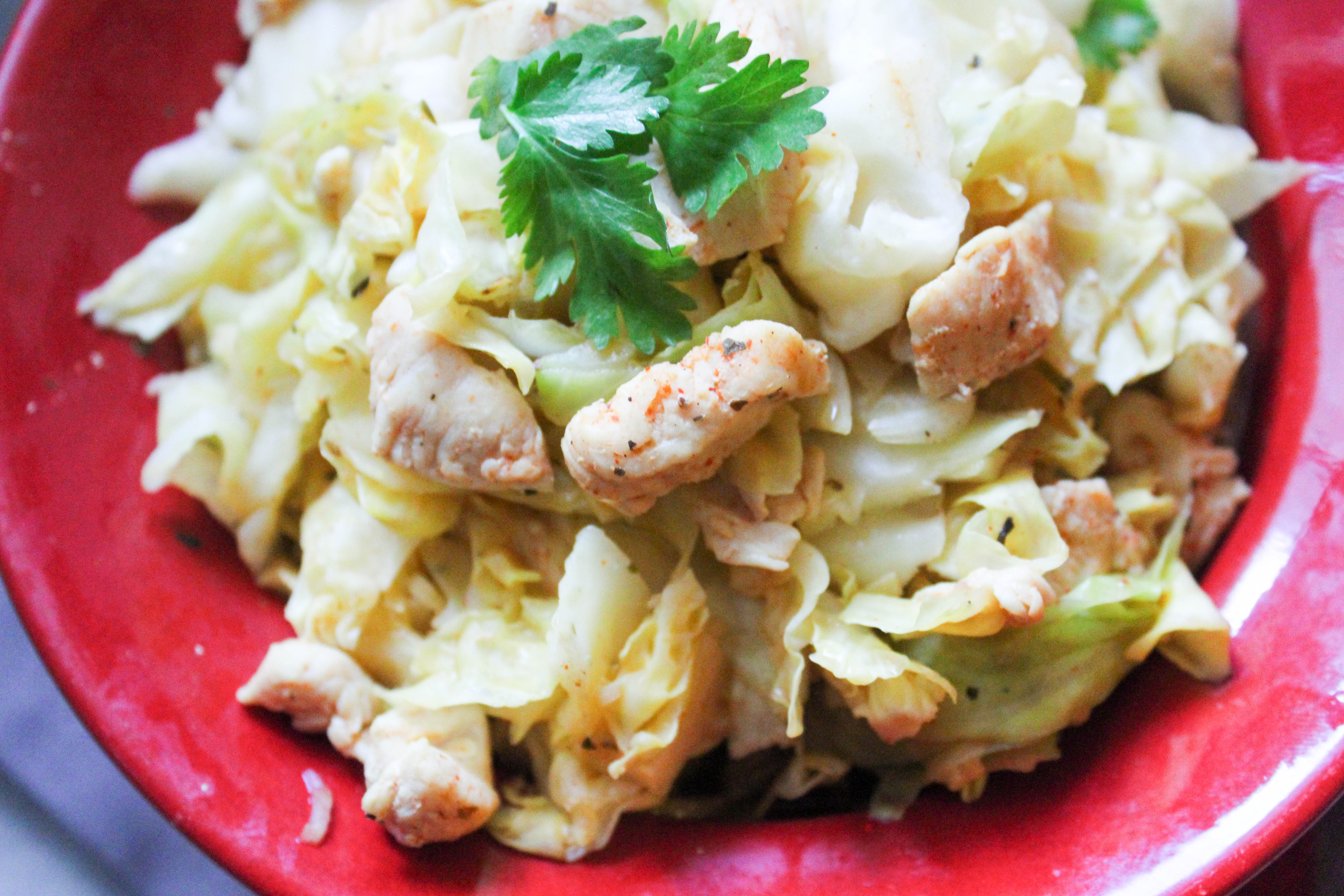 Ok, so you, my readers are in for a treat! This recipe comes from my husband! Truly! He made this for lunch last week and I think we've already had it 4-5 times! Really - its that good! Usually I am the recipe creator, but he provides me with inspiration on a regular basis. But this time, he was all on his own!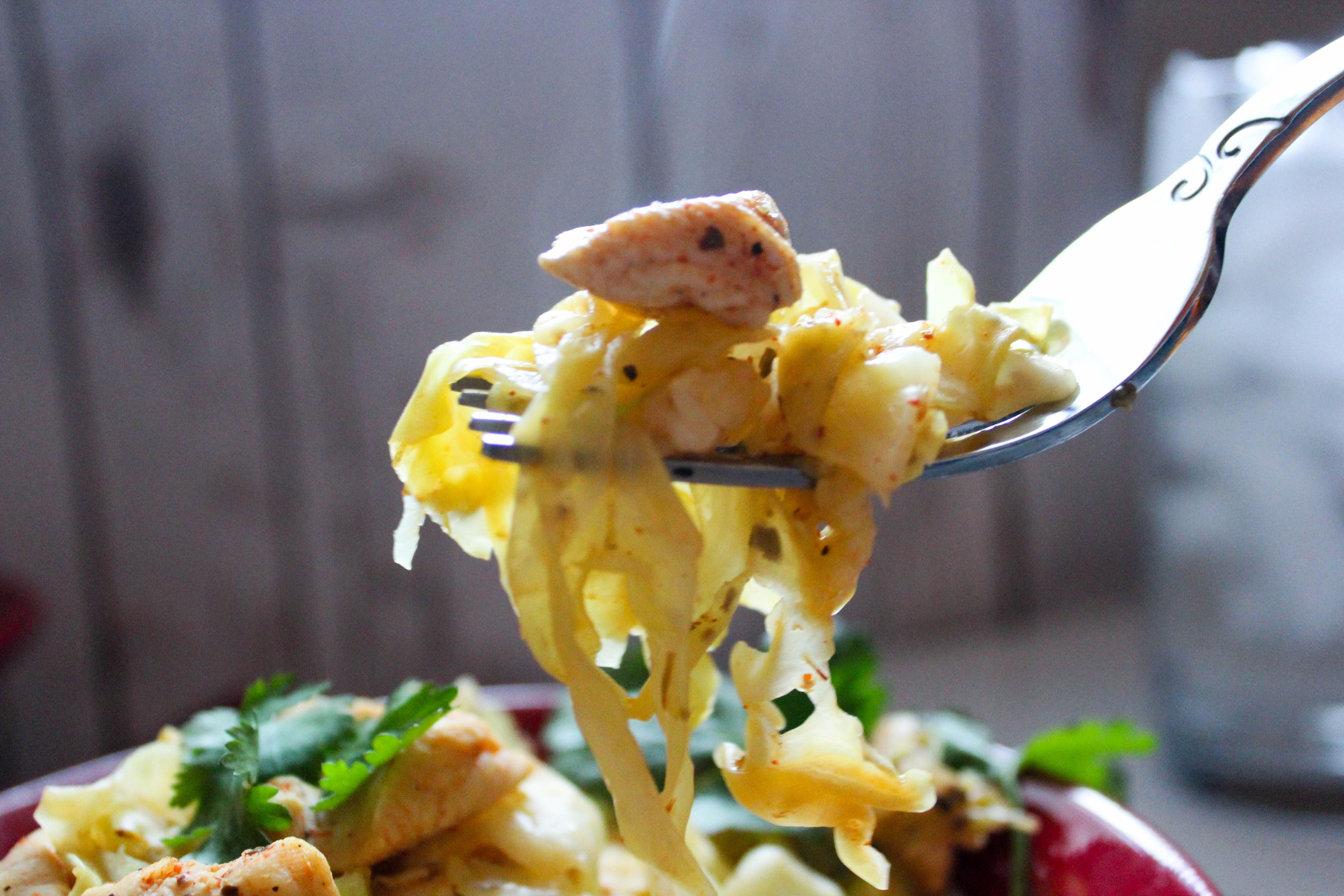 This is so easy, and it takes less than 30 minutes to make. Besides the chicken and cabbage, all you need are some spices and seasonings. You could certainly add other ingredients if you want. As written, this recipe is a Fuel Pull (low in both carbs and fat). Feel free to add shredded carrots to make it an E, or top with some full fat sour cream to make it an S.
I like to sprinkle crushed red pepper on top of mine, but it has some heat to it already, so use caution! If you do not like heat, feel free to adjust the spices to suit your tastes. Another great addition is fresh cilantro. I just add some snipped cilantro to the top of my bowl, but you could add it when you are cooking it as well. It really adds a nice pop of flavor.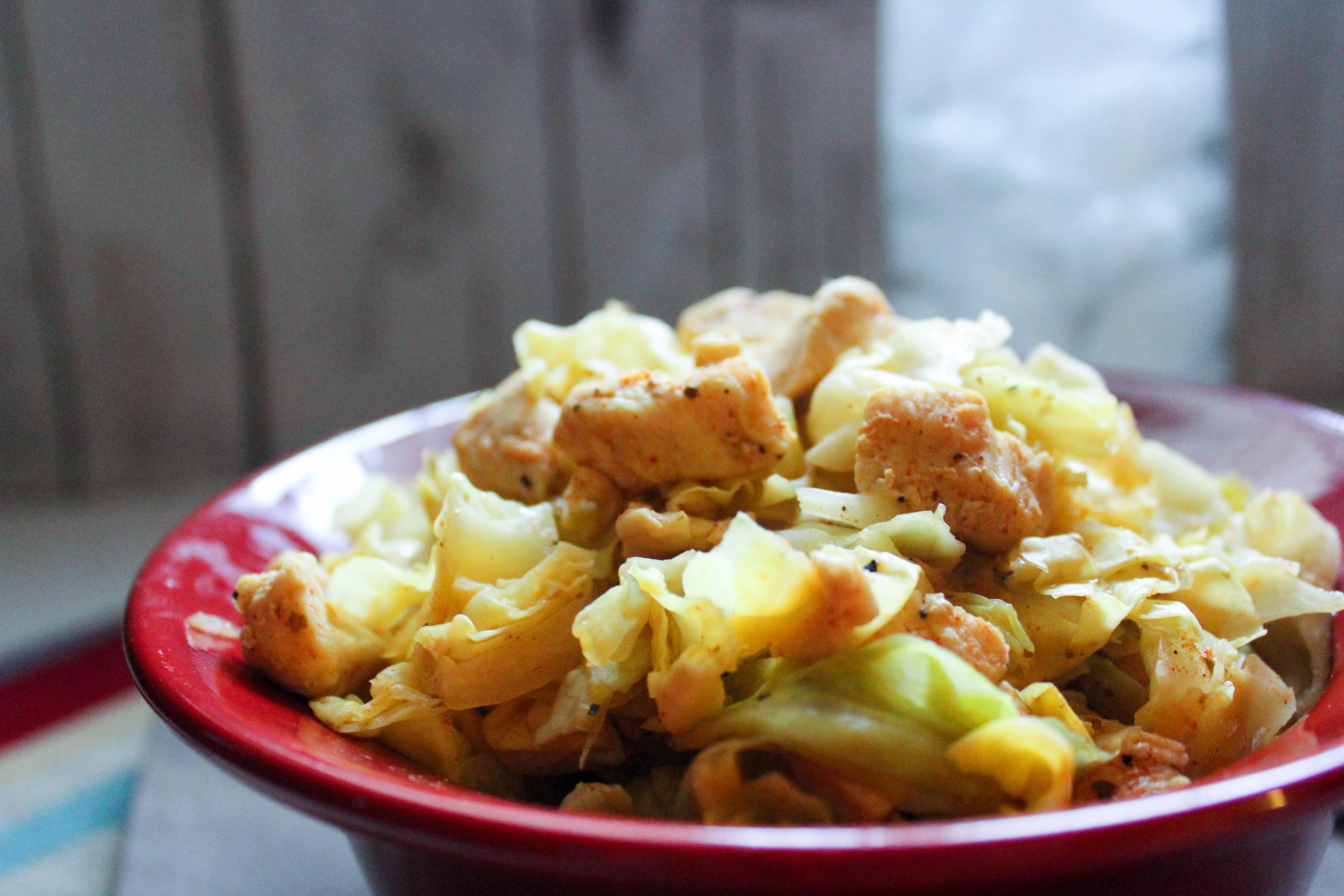 Since I often get stuck in the rut of having "S" meals all the time, this is a welcome dish to add to my weekly menus! It is easy enough to make for lunch, and I love the fact that it is FP. I'm sure most of us could stand to add a few more FP's into our rotations!
So, what do you need for this recipe?
1 Pound Boneless Skinless Chicken Breast
10 Cups Chopped Cabbage (1 medium head)
2 Tablespoons Yellow Mustard
2 Teaspoons Creole Seasoning
1 Teaspoon Smoked Paprika
1 Teaspoon Garlic Salt
1 ½ Teaspoon Italian Seasoning
1 Teaspoon Chili Powder
½ Teaspoon Liquid Smoke
¾ Cup Water
Most of those spices and seasonings you probably already have in your cupboard!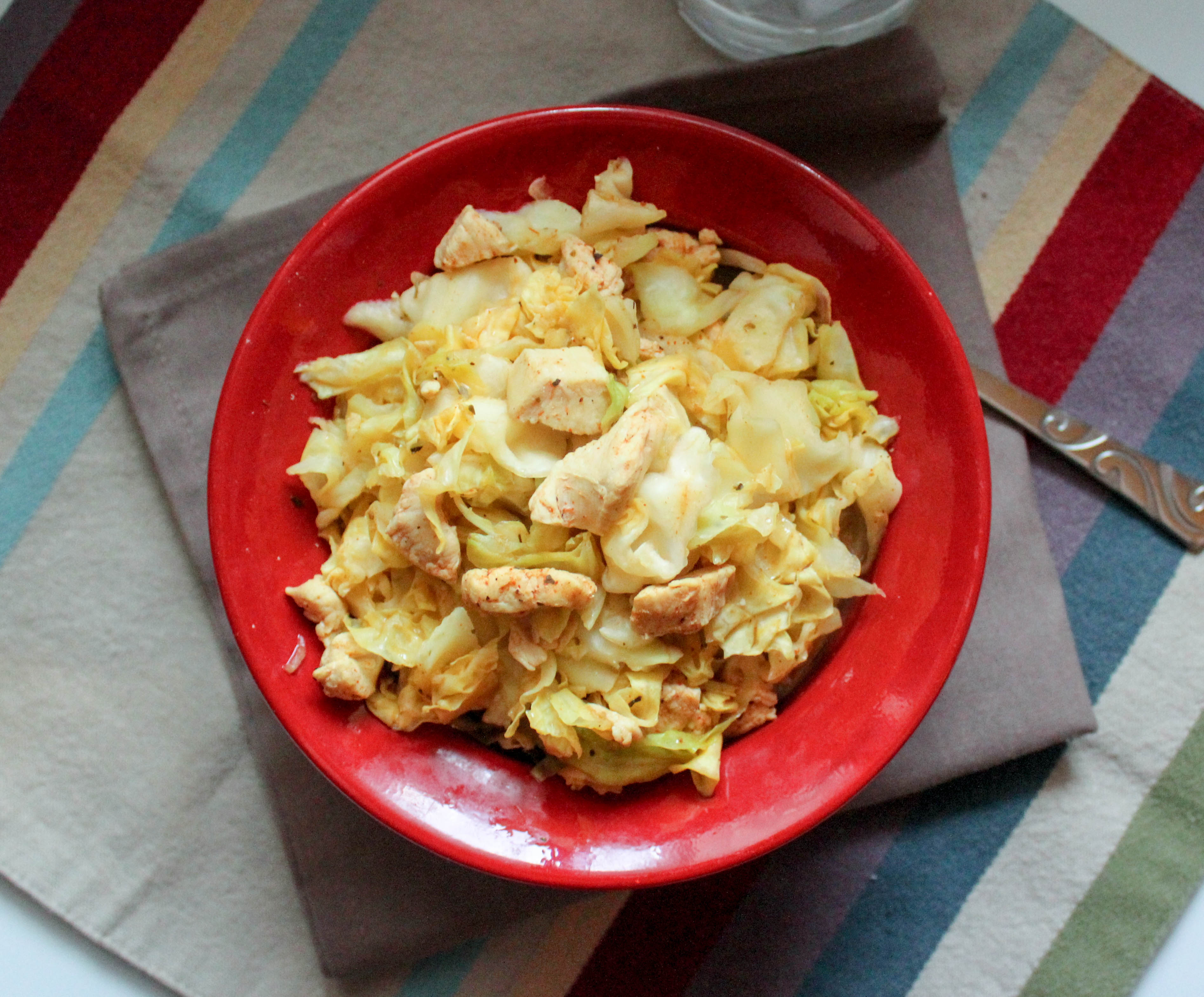 This post contains affiliate links, which provide me with a small compensation when you purchase your products through my links. Thank you for your support!
Be sure to sign up with your email address so you can receive all my new recipes delivered right to your inbox! (Look for the sign-up box on the right sidebar if you are on a desktop, or at the very bottom of this post if you are using a mobile device.) Also, be sure to follow me on Facebook, Pinterest, Instagram, and Twitter!

Instructions
In a large skillet, brown chicken.

When chicken is cooked through, add chopped cabbage, all seasonings, and water.

Stir, while allowing to cook for 5-10 minutes, or until cabbage is wilted to your desired tenderness.
Notes
Calories - 160
Fat - 2 grams
Carbs - 13.4
Fiber - 5.9
Net Carbs - 7.5
Protein - 24.1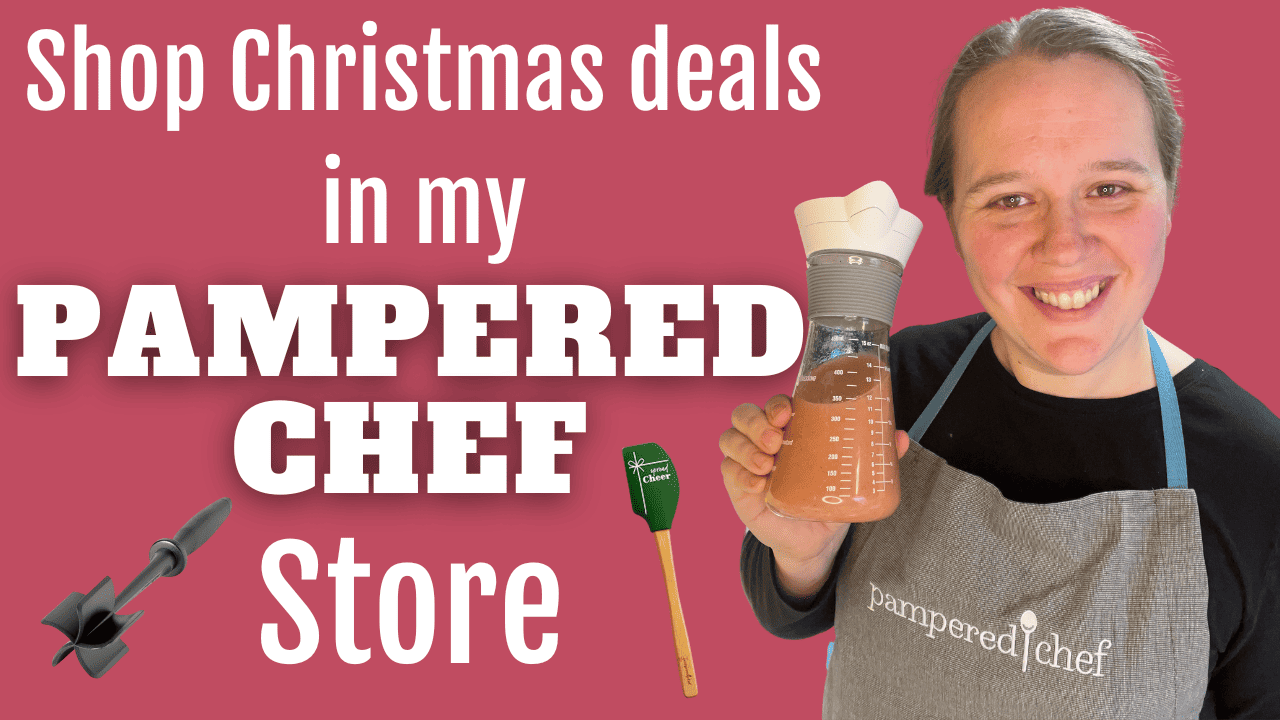 Did you know the Trim Healthy Mama Sisters have a new cookbook that will be released this Fall? You can pre-order your copy by clicking on the link below!
Trim Healthy Mama: The Trim Healthy Table: More Than 250 Healthy, Delicious Recipes from Our Kitchen to Yours
Reader Interactions