We may earn money from the products/companies mentioned in this post. As an Amazon Associate I earn from qualifying purchases.
Cherry Kefir Smoothie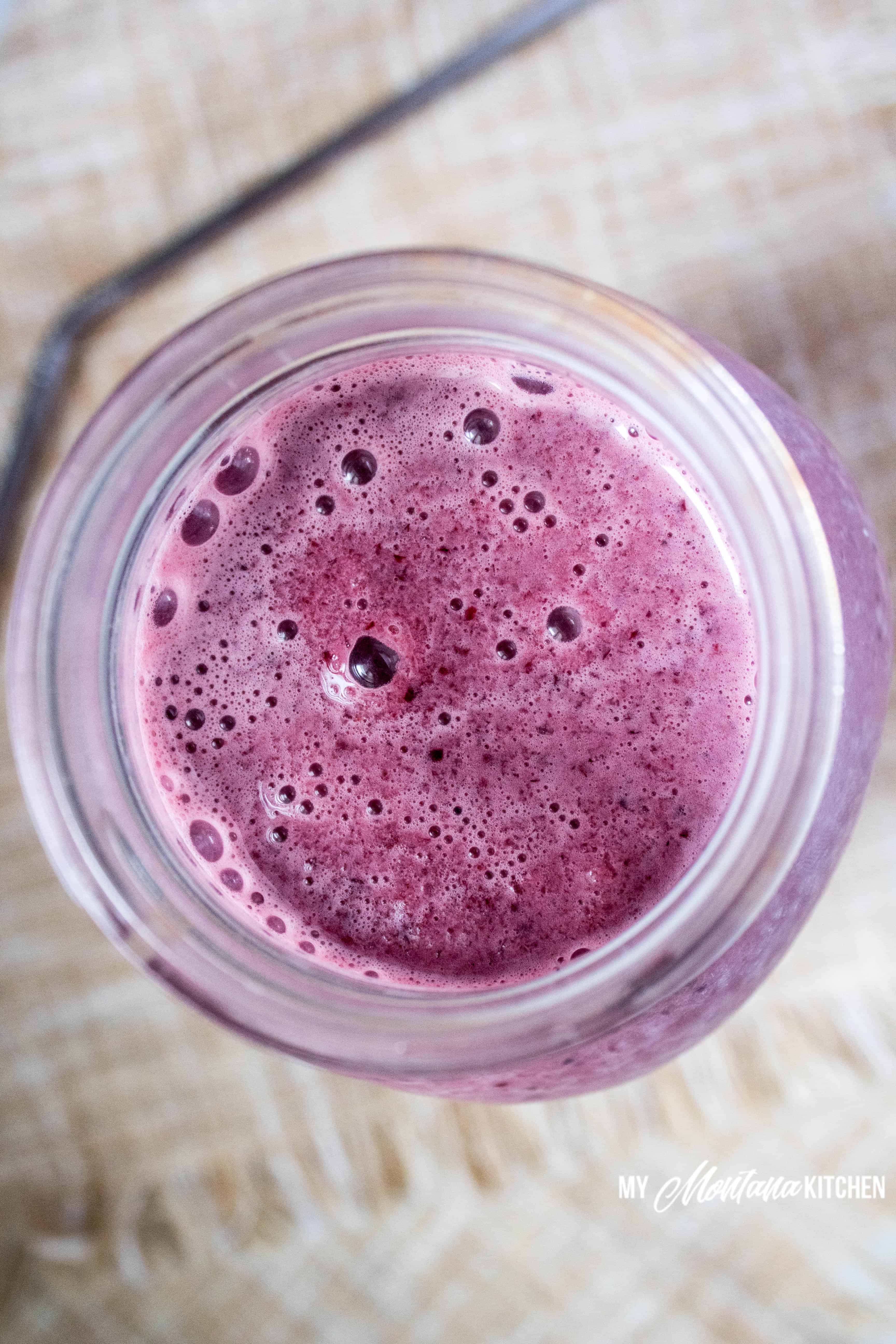 A refreshing low fat smoothie made with double fermented kefir and flavored with sweet ripe cherries.
Kefir is my new thing. I tried it back in the fall of last year - ordered some grains from Amazon, and made kefir for a few weeks before I killed my grains. Oops! We went away for a weekend and I forgot to put my grains in the refrigerator to slow the fermentation process. When we returned, my fledgling grains were gone.
I threw everything out and figured "oh well, that's the end of my kefir!" Fast forward to Christmas vacation. We flew back to Ohio to visit family, and my best friend asked me if I wanted some of her kefir grains. Well, yes, I did! (And as a fun side note - my grains originally came from my friend, Rachel, who blogs THM recipes at Country Girl Cookin.)
My friend gave me the grains and I packed them carefully (in their bag with milk) in a small plastic container for our flight home. Little did I know it would take 3 tries at the airport before we would FINALLY leave (long story - our vacation ended up being few days longer than we had planned)!
After all of that, I wasn't sure if my grains would have survived, but they did! And they have done marvelously!
I really think it helped that the grains were already well-established when they were given to me.
I have made gallons of kefir since then, and I've even started a few other families on campus with their own kefir grains!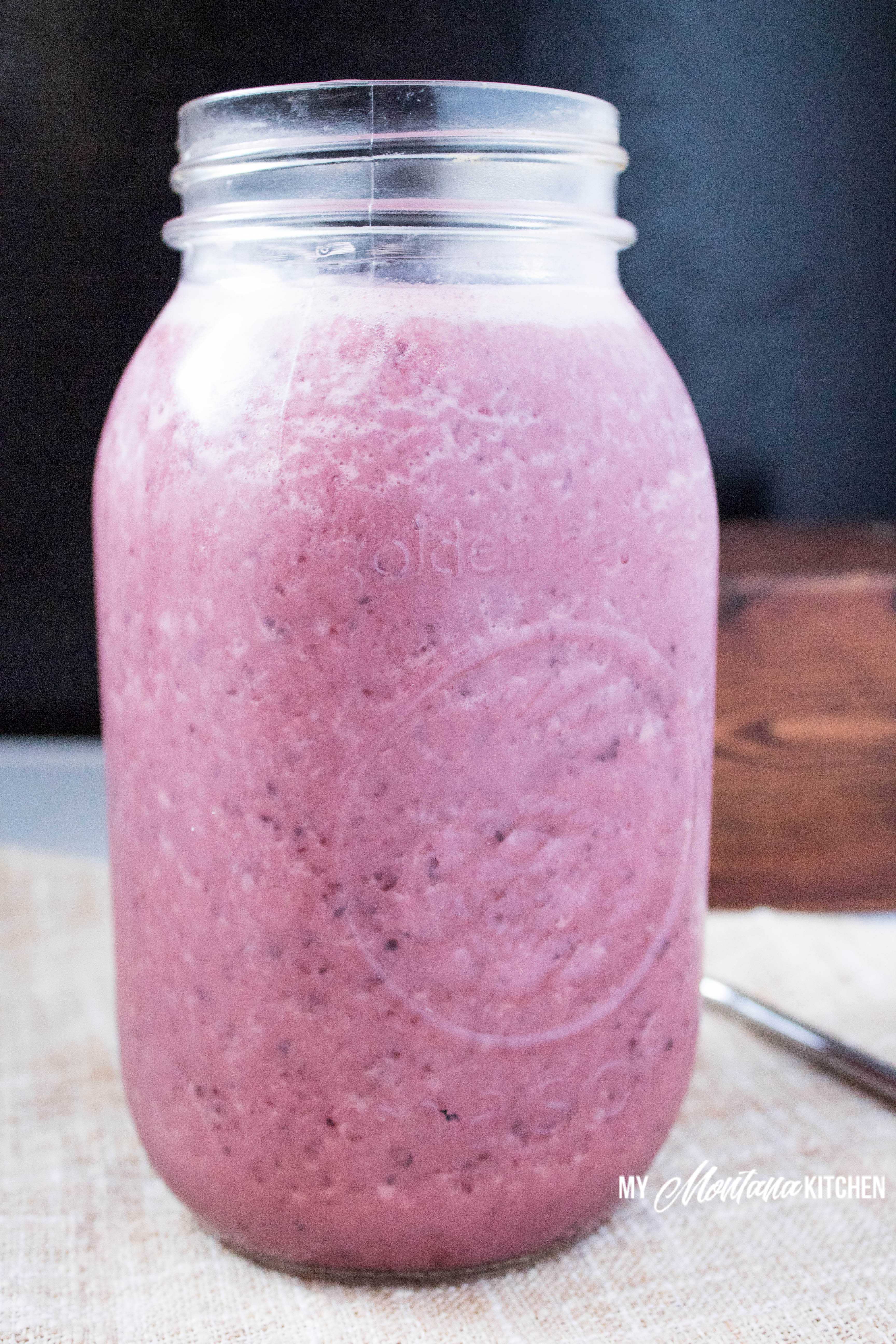 Two of my dorm boys have started drinking kefir every day! If I am going to be away, they ask that I leave some for them! I'm happy to oblige - kefir is bursting with so many benefits!
Now, you may be asking, exactly what is kefir, and what ARE the benefits of a kefir smoothie?
Kefir is a cultured dairy product that has high levels of probiotics - around 30 different strains of probiotics! The word "kefir" comes from the Turkish word, "keif," which means "good feeling." (See my source here.)
According to Dr. Axe, here are several key benefits to kefir:
Boosts immunity

Helps increase bone strength

May fight cancer

Supports digestion and fights IBS

Improves allergies

Heals skin issues

Improves lactose intolerance sypmtoms
For more information, and to see his awesome infographic, check out Dr. Axes's post about kefir.
To see exactly how to make it, check out my How to Make Kefir video!
For Trim Healthy Mamas, kefir can be different fuel types depending on several different factors. You can buy kefir in the store - both low fat and full fat varieties.
Or you can make it yourself at home using kefir grains. Your kefir can be made with either whole milk or skim milk. And the fuel type changes if you double ferment your kefir, since the double fermentation reduces the carbs and natural sugars even further. Below, you will see the breakdown of fuel types.
Low-fat store bought or homemade (using skim milk) kefir - E
Double-fermented low-fat store bought or homemade (with skim milk) kefir - FP
Full fat store bought or homemade (with whole milk) kefir - XO*
Double-fermented full fat store bought or homemade (with whole milk) kefir - S
* A note from an admin about the XO - "Technically, the XO options for kefir are not quite a full XO, but past FP/S limit on carbs."
To double ferment your store-bought kefir, simply leave it (unopened) on your counter for 24 hours, then place in your fridge.
Whew! I hope that didn't confuse you too badly! I usually buy skim milk to use for my kefir. I always do a double fermentation, so I have FP kefir to use in my shakes and kefir smoothies. For this recipe, you will want a low fat kefir or the FP kefir option, since we are adding cherries (a carb source) for an E fuel.
You can add any fruit to this kefir smoothie, but I love the cherries. And did you know that sweet red cherries promote the production of melatonin, which helps you sleep? This would be an awesome evening snack!
So, what do you need for this Cherry Kefir Smoothie?
1 Cup Double Fermented Low Fat Kefir (made with skim milk)
½ Cup Unsweetened Almond Milk
1 Cup Frozen Sweet Cherries
2 Tablespoons Gentle Sweet
2 Teaspoons Baobab Powder (optional)
1 Cup Ice (optional, I like it better without the ice)
A quick note about the photo above - if you make the recipe exactly as stated above, it does not quite fill a quart jar - more like ¾ of the way full. To make a full quart you can add more kefir or unsweetened almond milk.
If you love smoothies, then you'll want to look at these 10 Low Carb Smoothie Recipes for more recipe inspiration!
Be sure to sign up with your email address so you can receive all my new recipes delivered right to your inbox! (Look for the sign-up box at the top of this post.) Also, be sure to follow me on Facebook, Pinterest, Instagram, and Twitter!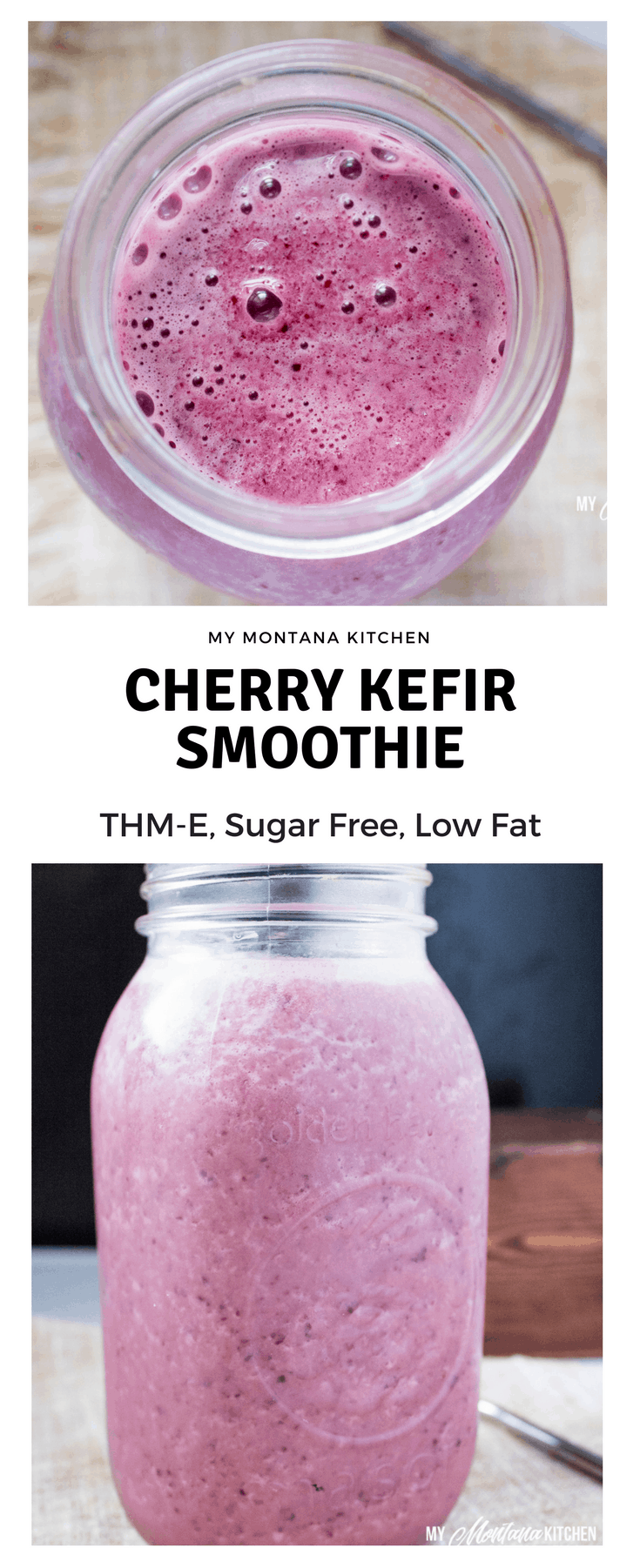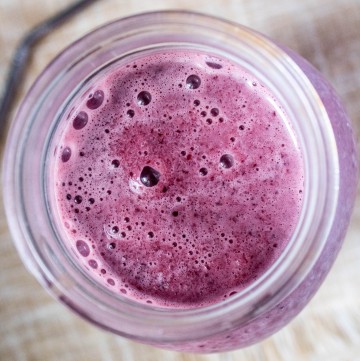 Ingredients
1

Cup

Double Fermented Low Fat Kefir

made with skim milk

½

Cup

Unsweetened Almond Milk

1

Cup

Frozen Sweet Cherries

2

Tablespoons

Gentle Sweet

2

Teaspoons

Baobab Powder

optional

1

Cup

Ice

optional, I like it better without the ice
Instructions
Place all ingredients in a blender and blend well until all ingredients are combined.
Video
Notes
I personally omit the ice in my smoothie.
You can use any fruit in place of the cherries, but that may change the fuel type, as well as the nutritional information. 
You can use store-bought low-fat kefir, but it will increase the carb count. 
Nutrition
Serving:
1
Recipe
|
Calories:
188
kcal
|
Carbohydrates:
26
g
|
Protein:
10
g
|
Fat:
1
g
|
Fiber:
7
g