We may earn money from the products/companies mentioned in this post. As an Amazon Associate I earn from qualifying purchases.
Creamy garlic chicken with garlic Alfredo sauce is a rich, creamy, savory treat that's easy enough to make for a busy low carb weeknight dinner, but so delectable it can easily be served for a special occasion meal.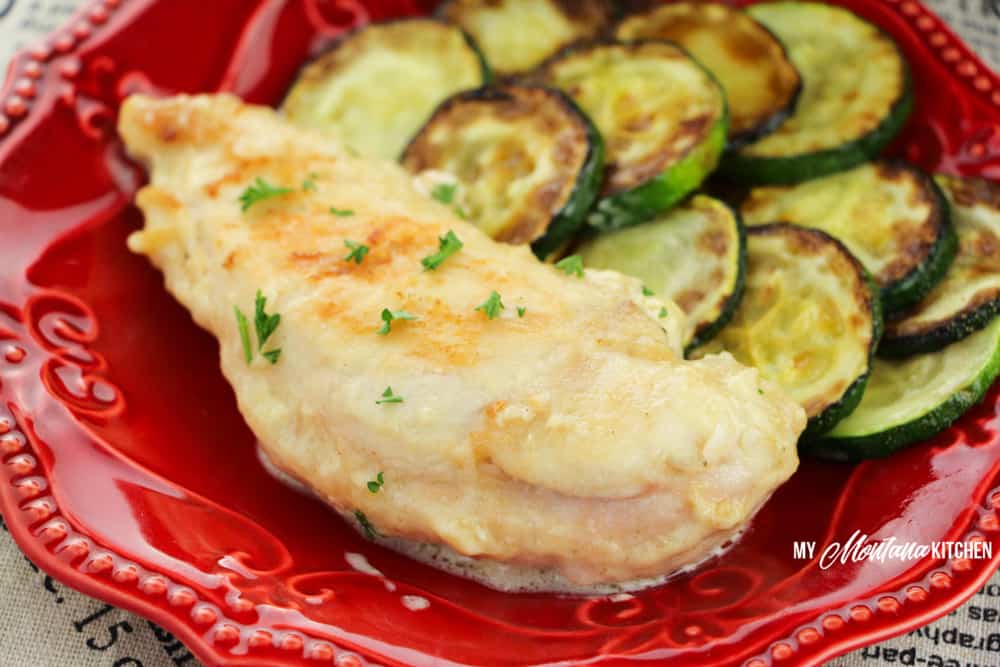 The best way to cook with a clove of garlic is to cook with ten of them...which is exactly what you're about to do.
This healthy creamy garlic chicken dinner is going to make your mouth water while you're cooking it; it smells amazing and tastes even better.
There's just something magical that happens when you pair garlic and cream together; it's really one of our favorite pairings here in My Montana Kitchen.
The Best Low Carb Garlic Chicken
This low carb garlic chicken comes out so crispy, you'd think it was dredged in flour and deep fried in saturated fat. But it's healthy! And the creamy sauce is so rich and smooth, you'd never know there's no flour-based roux to start with.
So how do you make this chicken in creamy garlic sauce?
Make A Low Carb Breaded Chicken Cutlet
The first step is breeding the chicken. To keep this a trim and healthy meal, you're going to use low carb Baking Blend instead of traditional flour. (For an alternative, see the recipe card below.)
Add some salt and pepper to your baking blend, then dredge the chicken in it. This will be your batter or breading.
You don't want to skip this step, as the baking blend will help seal the juice in the chicken and keep your meat tender and moist.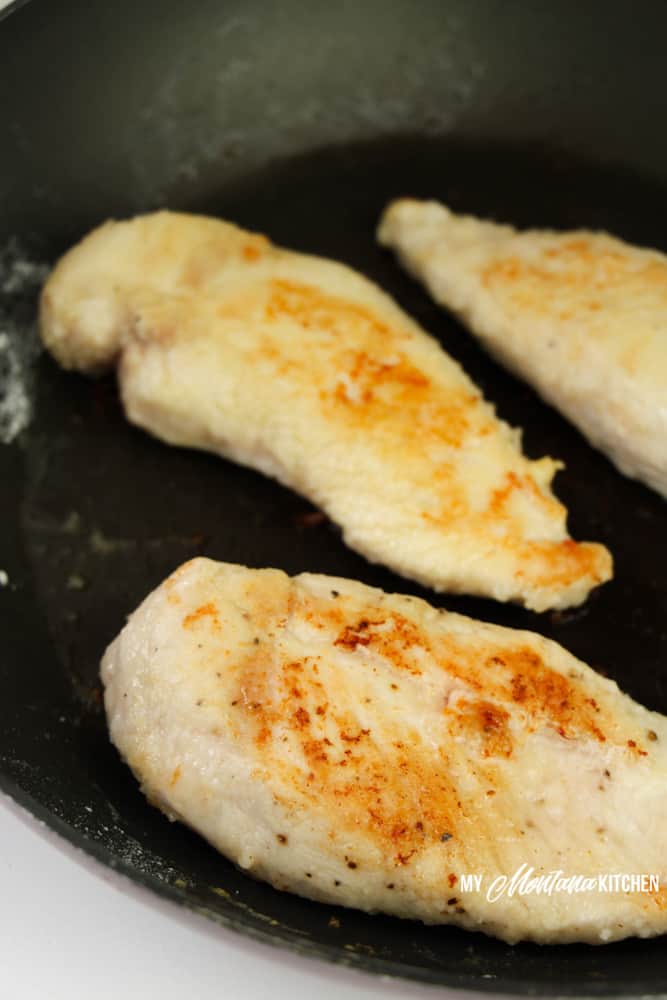 The Best Way To Fry Low Carb Battered Chicken
How do you get that authentically crisp, fried chicken if you're not using traditional batter techniques?
The secret is using a mix of coconut oil and butter in your skillet. The coconut oil will give you that crispy finish on your breaded cutlet, and the butter will give it that melt in your mouth flavor.
You'll cook them for about 3 minutes on each side. You'll know it's been enough time by the gorgeous golden brown color your batter will turn.

Low Carb Garlic Cream Sauce
My family loves anything with Alfredo sauce. Our traditional low carb Alfredo sauce recipe with a hint of garlic is delicious, but this garlic parmesan sauce is also pretty amazing and can be used in any Alfredo recipe you fancy.
The savory garlic, both minced and crushed, adds so much flavor it's amazing! It's also very healthy for you.
You can use regular chicken broth or bone broth in it. The chicken will give it a milder flavor, but bone broth has a host of health benefits and will also taste great.
You can make it from scratch at home in your slow cooker or Instant Pot or you can buy all natural bone broth by the carton.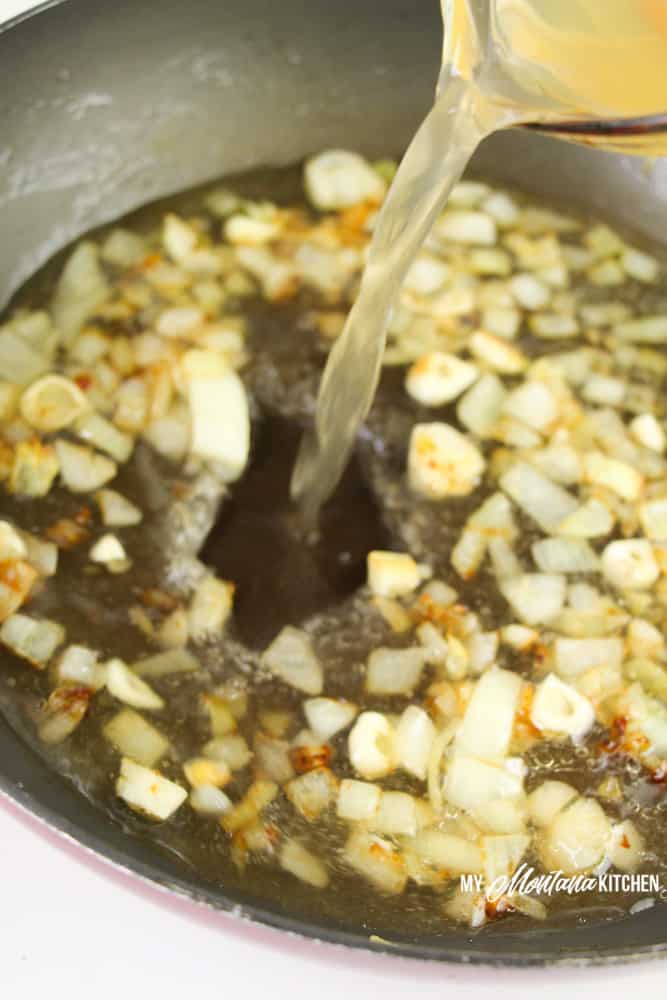 How To Make Low Carb Garlic Alfredo
To make your creamy garlic Alfredo sauce recipe, you're going to use the same skillet you just finished frying the chicken in; this really helps add to the flavor.
Add the rest of the coconut oil and butter called for in the recipe, and heat it. Cook your diced onion until it's translucent and the scent is turning sweeter. This should take approximately three minutes.
Next, add your freshly minced garlic and sauté it for one minute. That's just enough time to start to turn it golden and really release the flavor.
Now add your broth. Simmer gently for five minutes, stirring it occasionally.
After you've simmered your broth, it's time to add the cream. Pour it in slowly, stirring continuously as you do so to heat it quickly and keep the texture smooth.
After about three minutes, it's time to add your parmesan cheese. Whisk it consistently until the cheese melts into the cream base, almost as if it's dissolved. Your sauce will naturally thicken as this happens; keep stirring for three minutes.
Once your sauce is set, add the fried chicken cutlets back in and heat them through. This last step should take two to three minutes, tops. Garnish with some fresh parsley and you've got a delicious creamy garlic chicken you'll want to swoon over.
Serving Garlic Parmesan Chicken
This creamy garlic sauce and chicken would be delicious served over zucchini noodles, like my Italian zoodles with chicken and parmesan.
Serving it with spaghetti squash (also easy to cook, and a great combo with this recipe) is another delicious way to enjoy it.
It would be good over sautéed squash, with bell peppers, or even Dreamfield's Pasta.
If you have any leftovers of the sauce, store it in an airtight container for up to 5 days in the fridge or keep it in the freezer. When reheating it, stir it frequently so it doesn't separate.
It's best to only add enough chicken to the sauce for each meal and to store them separately. The chicken is best heated in the skillet or oven for crispness before adding to the sauce.
HOW TO MAKE THIS LOW CARB CREAMY GARLIC CHICKEN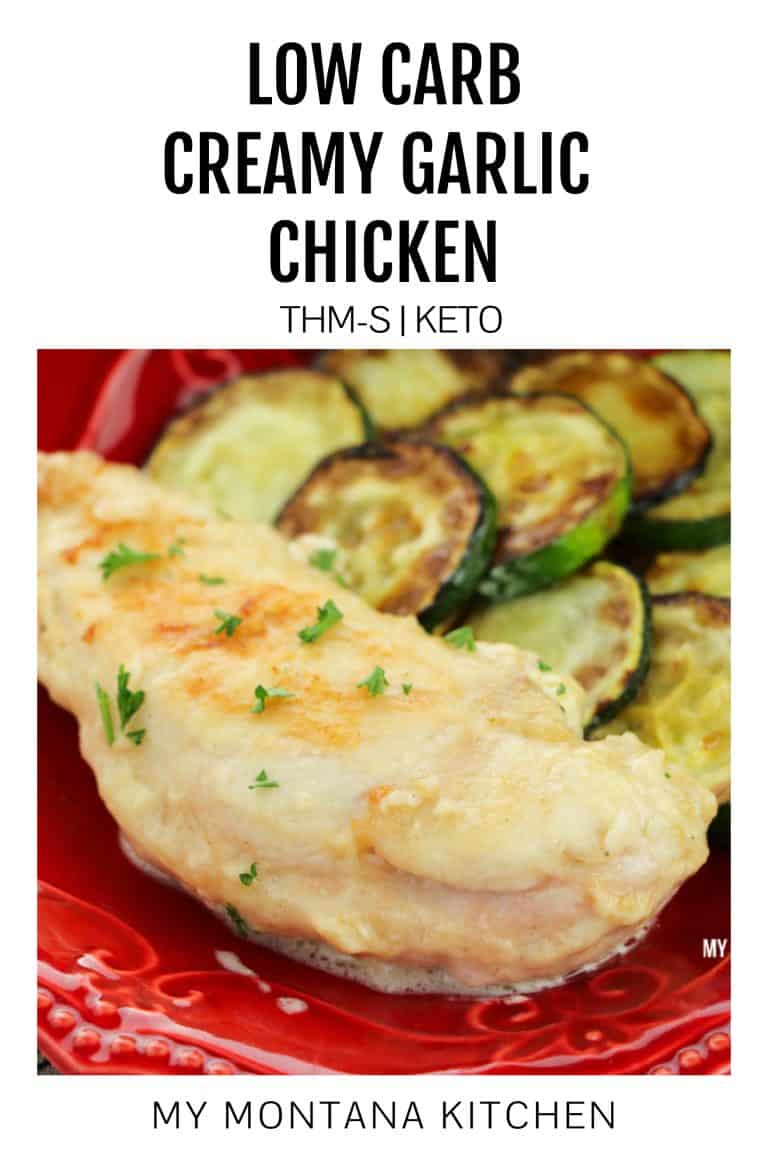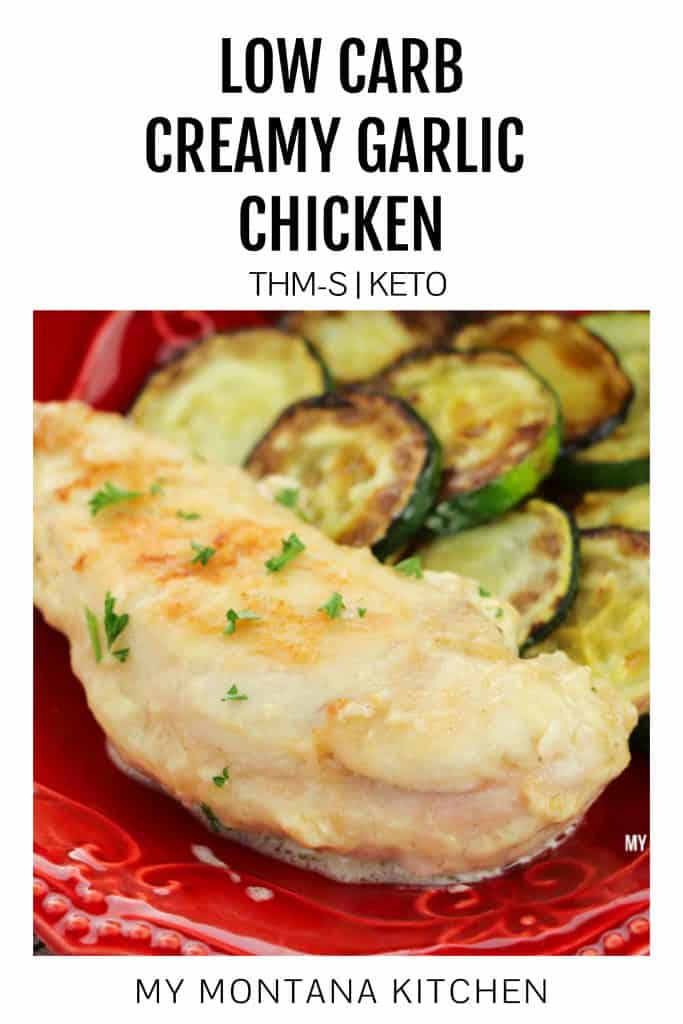 Yield: 4 Servings
Creamy Garlic Chicken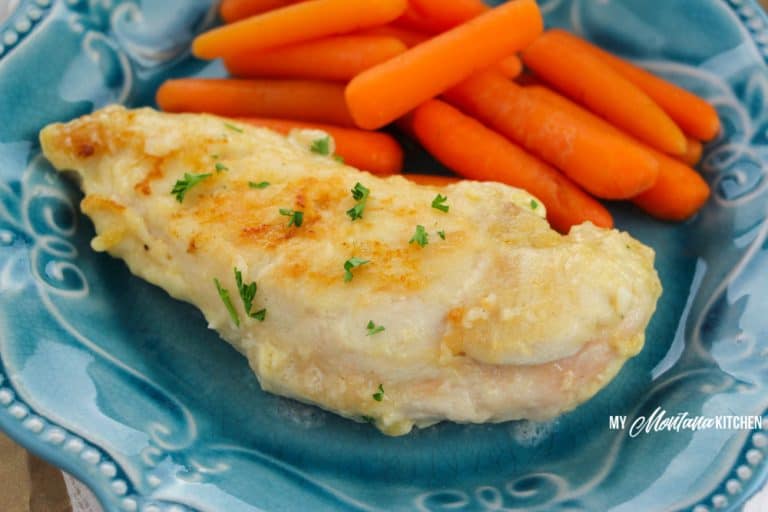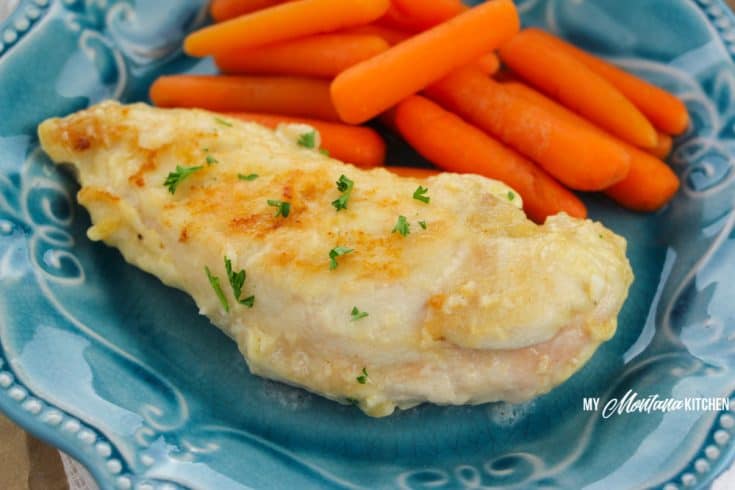 Creamy garlic chicken with garlic Alfredo sauce is a rich, creamy, savory treat that's easy enough to make for a busy low carb weeknight dinner, but so delectable it can easily be served for a special occasion meal.
Ingredients
4 Chicken Breasts (boneless, skinless)
Salt and pepper
2 Tablespoons Butter
1 Small Onion, Minced
10 cloves garlic, 5 chopped and 5 crushed
1 Cup Heavy Whipping Cream
Parsley, optional garnish
Instructions
In a medium skillet over medium heat, heat 1 Tablespoon coconut oil and 1 Tablespoon butter.

In a shallow dish, combine the Baking Blend, salt and pepper.

Dredge the chicken breasts in the Baking Blend and set aside.

Once the butter is melted, add the chicken breasts to the skillet and cook until browned on each side, about 3 minutes per side.

Remove the chicken from the skillet and add remaining oil and butter.

Add the minced onion, stirring occasionally, and cook until translucent, about 3 minutes.

Add the garlic and saute for 1 minute before adding the broth.

Cook for 5 minutes, then add the heavy cream. Cook for 3 minutes, then add the Parmesan and whisk well to dissolve the cheese in the cream mixture, about 3 minutes.

Add the chicken back to the skillet to heat through, about 3 minutes.

Serve chicken with a garnish of the garlic parmesan sauce and a sprinkling of parsley.
Notes
Recommended Products
As an Amazon Associate and member of other affiliate programs, I earn from qualifying purchases.
Nutrition Information
Yield
4
Serving Size
¼ of Recipe
Amount Per Serving
Calories

608
Total Fat

44g
Carbohydrates

9g
Fiber

6g
Protein

49g