We may earn money from the products/companies mentioned in this post. As an Amazon Associate I earn from qualifying purchases.
A crispy, crunchy chicken and cheese quesadilla that is full of flavor!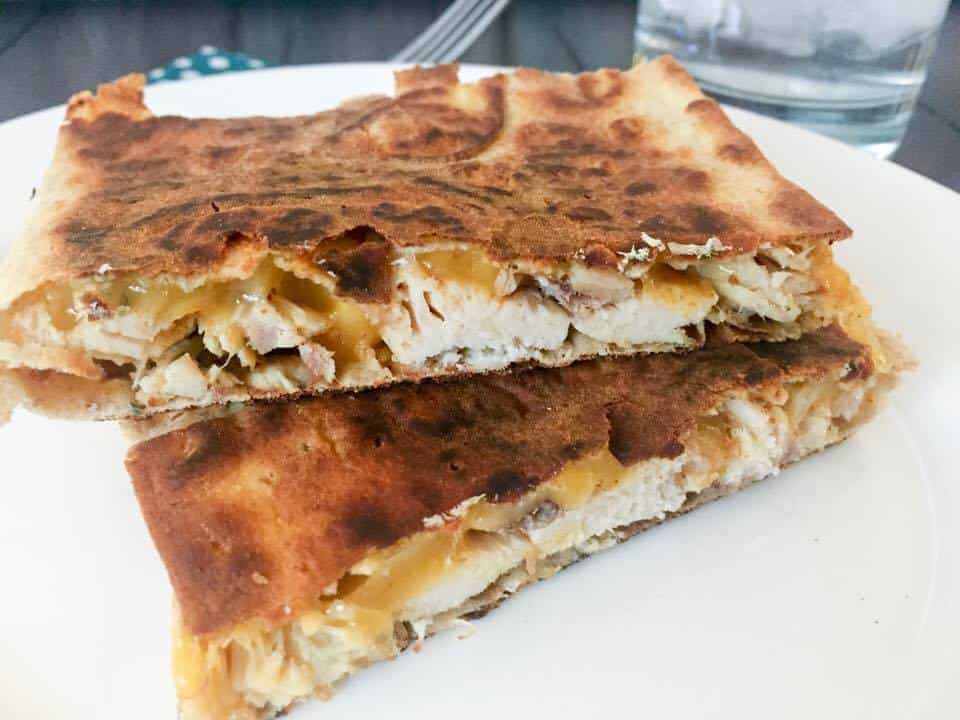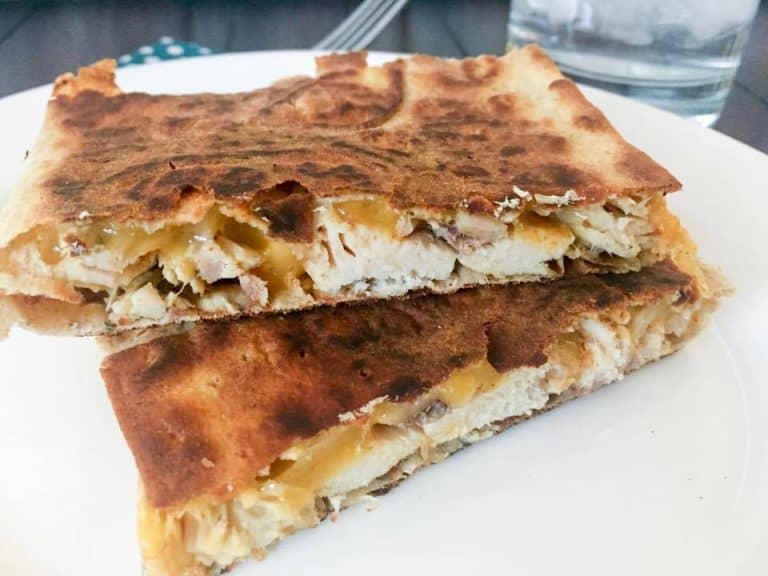 We have discussed before my lack of planning for meals. There are some great THM bloggers who regularly post menus for the week and for the month. I must admit, I am a bit jealous of them - I feel like I am hardly ever prepared! I know I could do better, and maybe that will be one of my coming New Years resolutions! I do so much better staying on plan when I have planned ahead.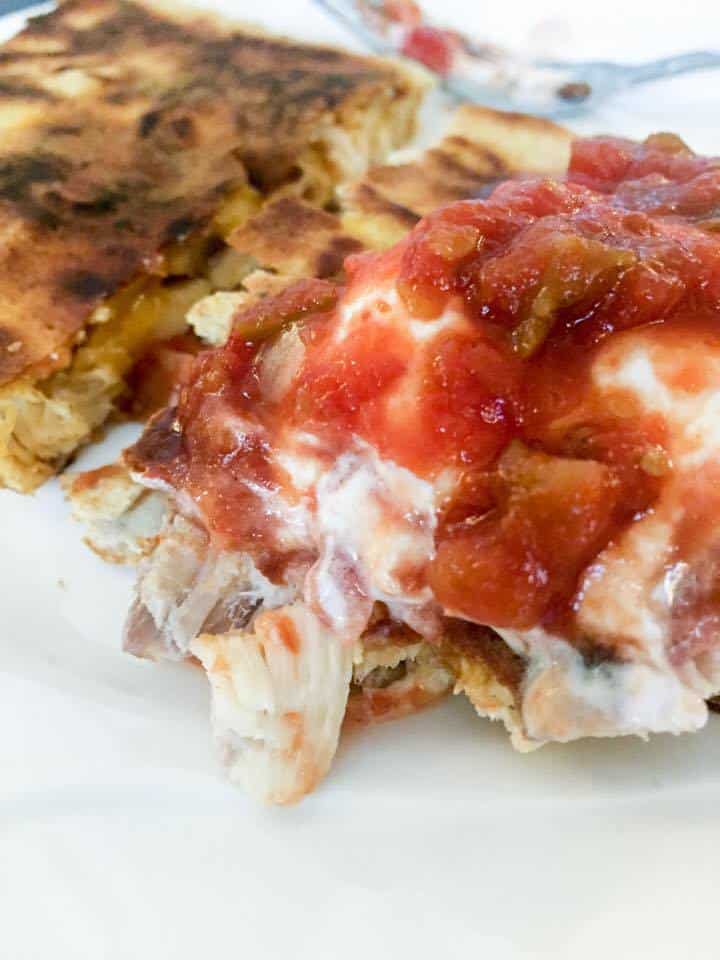 One day earlier this week I found myself standing in front of my open refrigerator trying to decide what to have for lunch. I spied some leftover roasted chicken from our supper the evening before, and my precious package of St. Joseph's Lavash Bread. Things started clicking, and in less than 10 minutes I had this yummy quesadilla! (Note: I say precious, because I cannot find them anywhere in the West! My Mom sends them to me from Ohio - she really loves me! Thanks Mom!)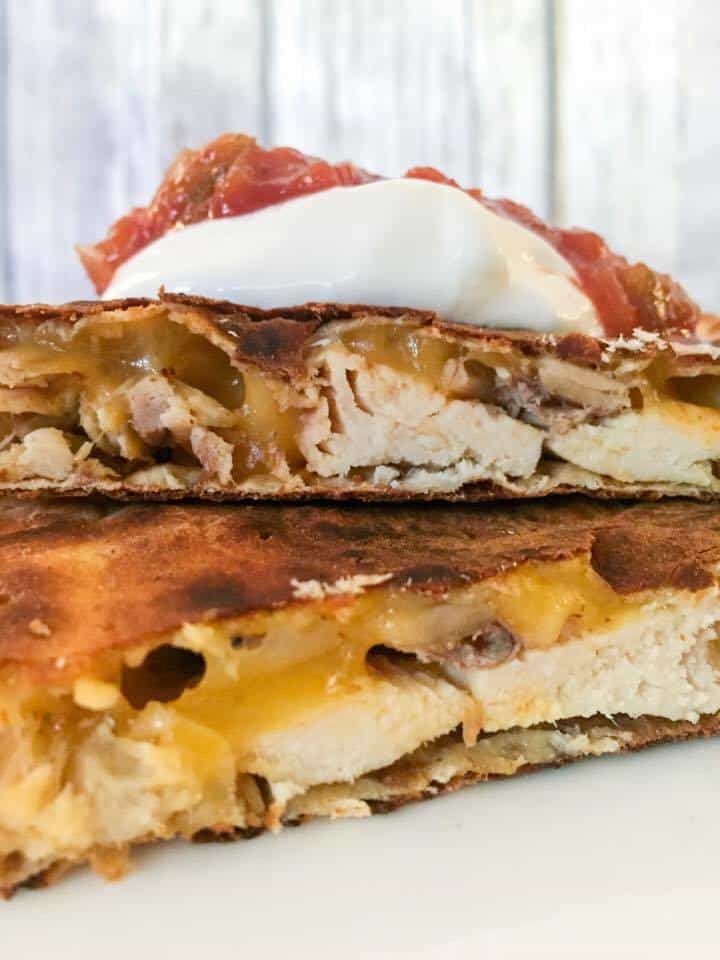 I was so hungry I almost scarfed it down immediately, but I thought to take some photos first. Then, I sat right in the floor at my coffee table where I took the photos and ate it immediately! (Ha! A peek into the life of a food blogger!) I'm telling you, I was hungry, and this hit the spot! I made one today for my husband and he agreed that it was quite delicious!
I feel a bit silly posting this as a "recipe" since I don't even have true measurements! Really, its just a little of this and a little of that - many of you probably already make something similar! This would be a good way to use all the leftover turkey from Thanksgiving! Most importantly, it is quick and easy!

Ingredients
1/2

Joseph's Lavash Bread

can also be found at many WalMarts

1/2

Cup

Shredded Cooked Chicken or Turkey

1/4 - 1/3

Cup

Shredded Colby Jack Cheese

Sprinkle of Garlic Salt

Sprinkle of Taco Seasoning

Coconut Oil Spray
Instructions
Lightly spray a non-stick skillet with coconut oil and turn to medium heat.

While pan is heating, place your chicken (or turkey) and shredded cheese on one half of your 1/2 Lavash.

Sprinkle with garlic salt and taco seasoning.

Fold over and fry in skillet, flipping to brown on both sides.

Serve with salsa and sour cream.
Notes
If you do not have access to the Lavash bread, you could simply use a low carb tortilla.
This post contains affiliate links which provide me with a small commission when you make a purchase through those links. The profits go to the support of my family and this blog. Thank you!