We may earn money from the products/companies mentioned in this post. As an Amazon Associate I earn from qualifying purchases.
There's no need to miss chips on your low-carb journey. These low carb chips will satisfy your need for crispy, crunchy chips every time without all the extra carbs!
HOW TO MAKE LOW CARB TORTILLA CHIPS
There are so many recipes for amazing low-carb dips out there these days; there are savory dips like Avocado Salsa and sweet ones like this Chocolate Chip Cookie Dough Dip…but there aren't that many things to actually dip in them.
While celery, carrots, and broccoli may work in salsa, sometimes you just want some good low carb chips. (And it would be awesome to have something to dip in nacho cheese!)
Keto Chips
Enter these absolutely delicious keto tortilla chips.
This is a great recipe for Trim Healthy Mamas, those eating keto, or anyone looking to cut carbs.
You can make them salty, savory, or sweet, too! Seriously, they're the perfect low-carb snack and are sure to solve any chip cravings you may have!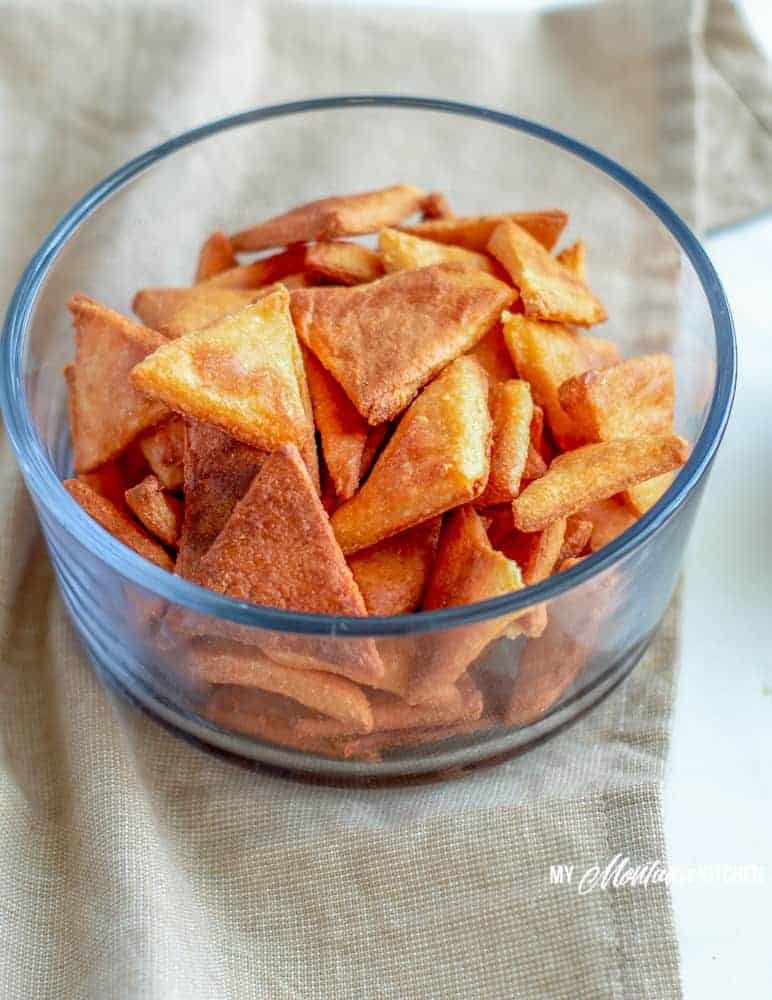 WHAT INGREDIENTS ARE IN HOMEMADE KETO TORTILLA CHIPS?
So what do you need to make these yummy low-carb snacks? 3 simple ingredients you already have on hand and your seasoning of choice. That's right…super simple!
Mozzarella cheese
Almond flour
Egg
Spices (for this savory version you'll use garlic powder and paprika – you could also use onion powder or chili powder).
You might have noticed the similarity to fathead dough here.
Mozzarella cheese makes a great base for many doughy low-carb recipes because of its mild flavor.
In fact, it's what is used in these classic low-carb cheeseburger buns and as the crust for these super-popular pizza cups.
I've generally found that it is best to shred your own cheese. Pre-shredded cheese can have added fillers, and the shredded cheese may not melt as well.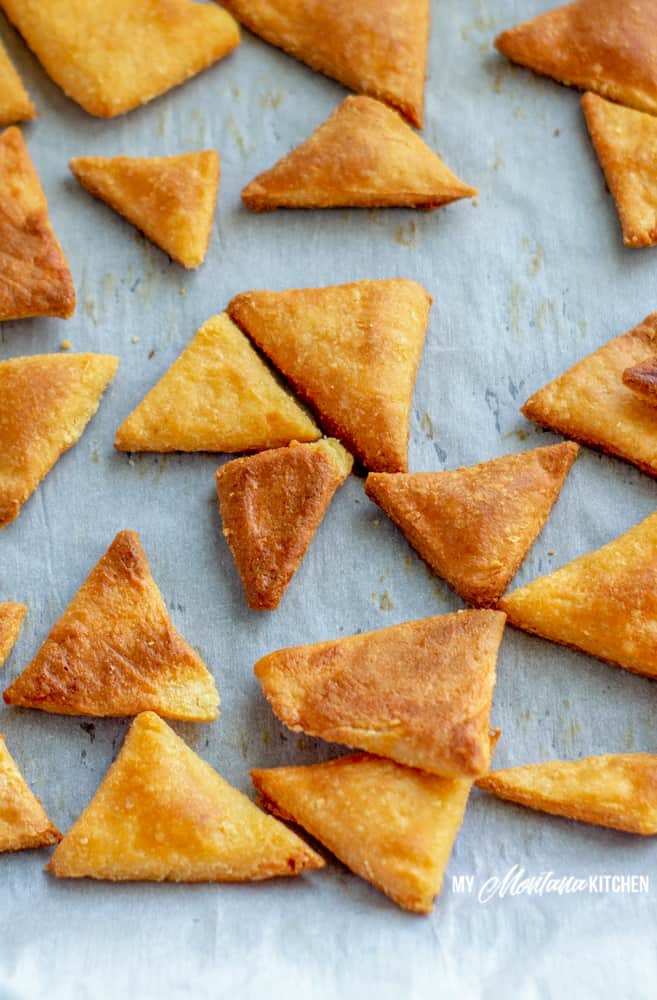 MAKING LOW CARB CHIPS
So how do you go about making these chips? It's simple.
In fact, it's way easier than making traditional chips, in my experience.
These plain chips are super easy! Even if this is your first time making keto chips, you'll be able to pull it off.
MAKING YOUR LOW CARB CHIP DOUGH
The first step is mixing your dry ingredients together: the flour and spices. (Blanched almond flour works best, instead of almond meal)
Then, beat an egg and combine it with the dry ingredients. The mixture will be crumbly and you'll likely have some clumps; as long as it's well combined, don't stress it.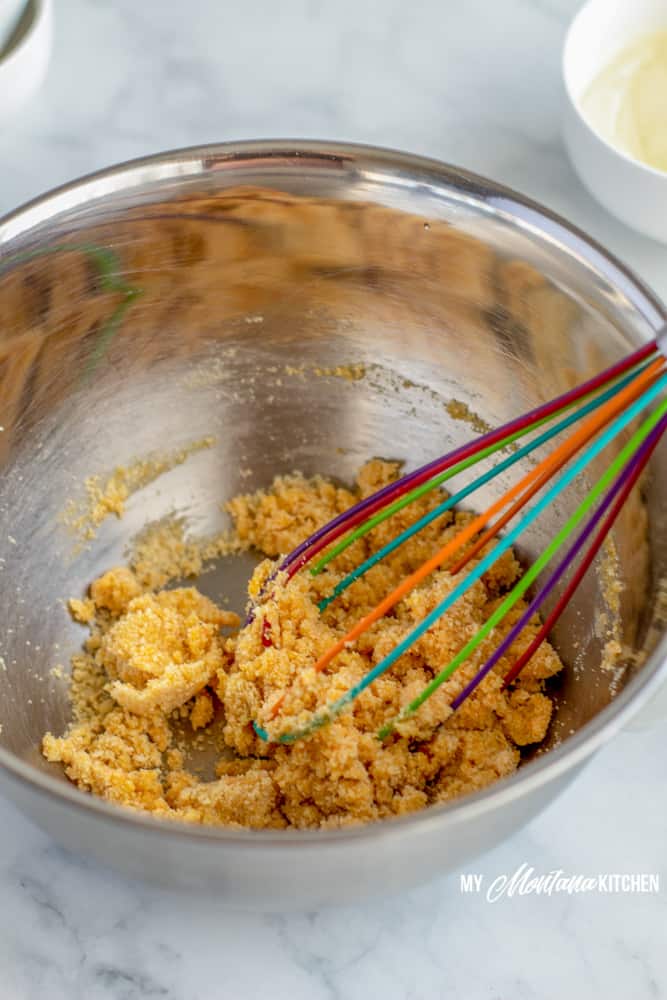 Next step, melt mozzarella: in a separate microwave-safe bowl, add your mozzarella cheese. You're going to microwave it for 40-60 seconds until it's melted. (Cheddar cheese will not work as a substitution.)
Do not overcook it; you're not making cheese crisps, you're prepping the cheese for dough.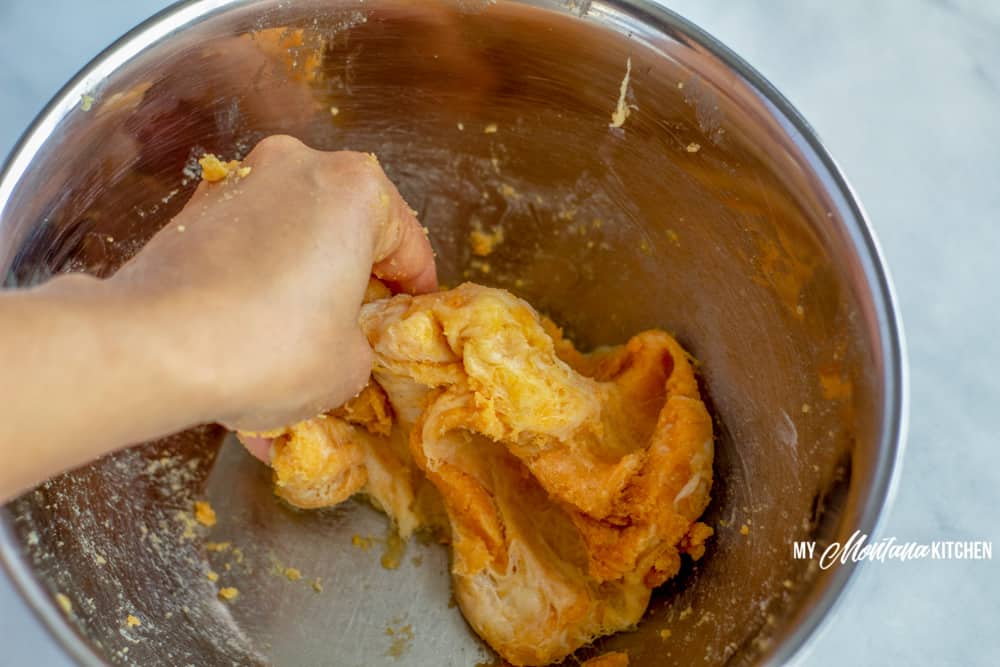 Next, combine the melted mozzarella with your crumbly mix and knead it with your hands until it's well combined.
If the dough looks uniform, you're good. If it's still not mixed well and it's getting hard, go ahead and microwave it for another 20 seconds to soften it up (just don't do more than that because you don't want it to start cooking!).
Once you've gotten it all combined and the dough looks consistent (it will be a thick dough), use your hands to roll it all together into a ball.
SHAPING LOW CARB CHIPS
Now you're ready to make your dough into chips ready for cooking!
Place the dough ball between two pieces of baking paper (parchment paper) and press it flat. Using a rolling pin (or if you don't have one, a round glass or large can), continue to roll it flat.
Stop when the dough is a consistently flat sheet, about 2 mm thick.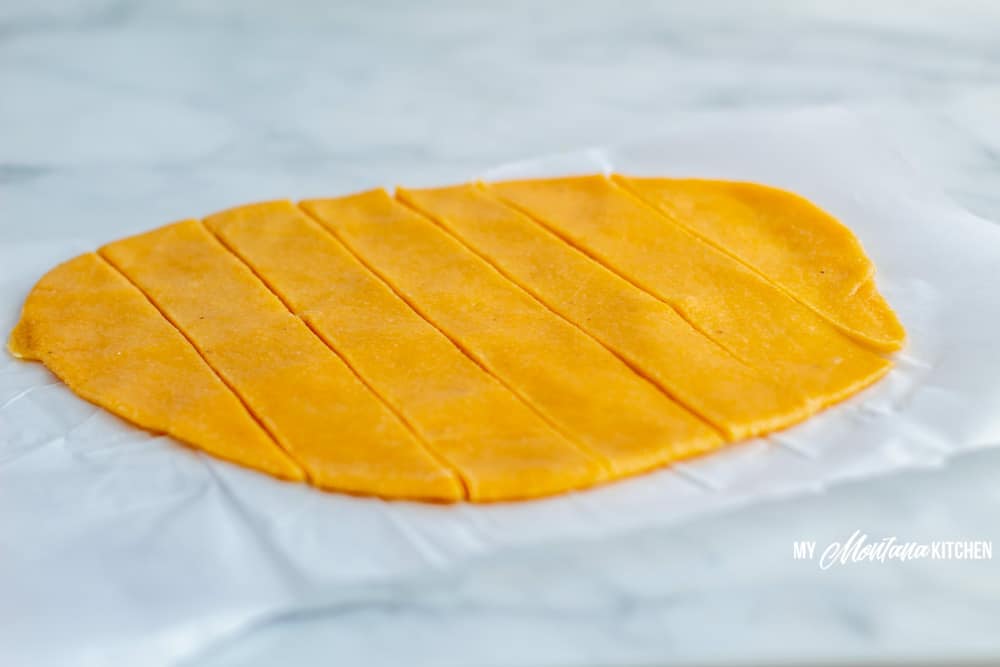 Using a sharp knife or pizza cutter, cut dough into ribbons, 1.5-2 inches wide, and then make diagonal cuts to create triangular shapes.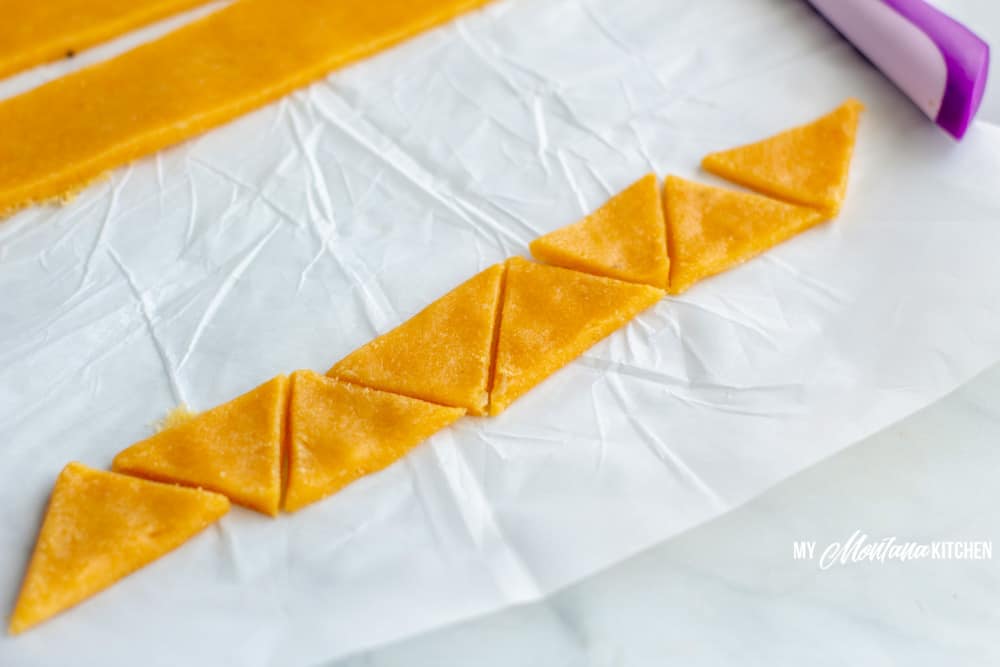 COOKING YOUR CHIPS TO MAKE THEM CRISPY
The cooking process has two steps: baking them until golden brown and broiling - no deep frying required!
You'll bake them on a parchment-lined baking sheet and then broil them for 2 extra minutes to make them crispy and golden brown. That's all, see? Simple!
That's all, see? Simple!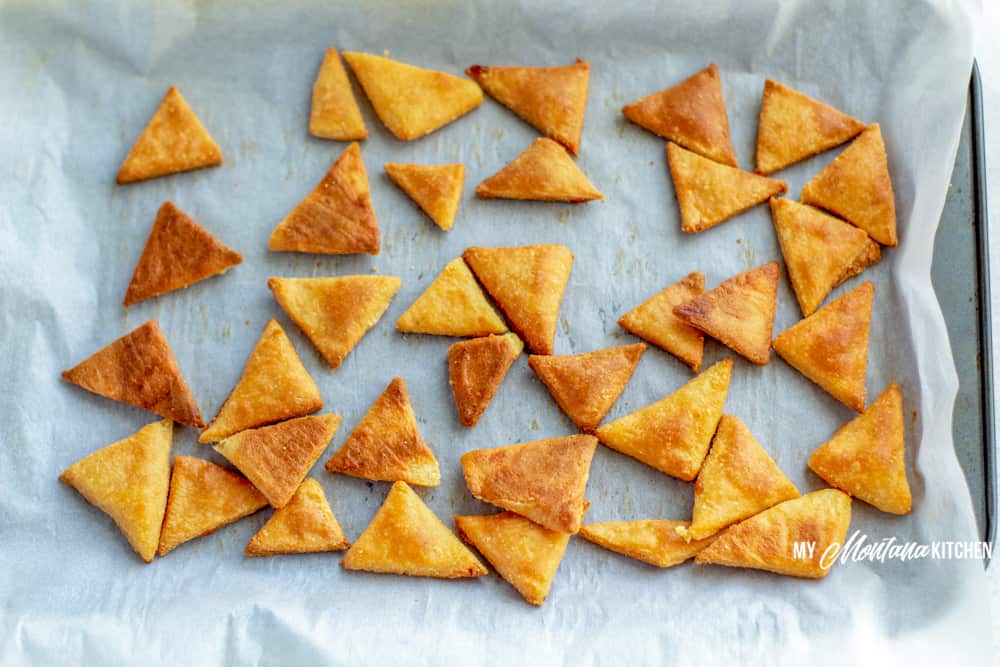 WHAT IF I DON'T USE A MICROWAVE?
No worries, you can just gently melt the shredded mozzarella in a non-stick skillet or pan on the stovetop.
The same for if you need to warm the dough because it gets tough. Just use low heat and beware of scorching.
WHY ARE MY CHIPS SOFT?
One reason your chips may be soft is that you've not baked them for long enough.
Or, they may not be thin enough.
You want a maximum thickness of 1/16-inch.
Another reason why chips don't crisp up is that you are not flattening them in the right way. Make sure the dough is flattened evenly.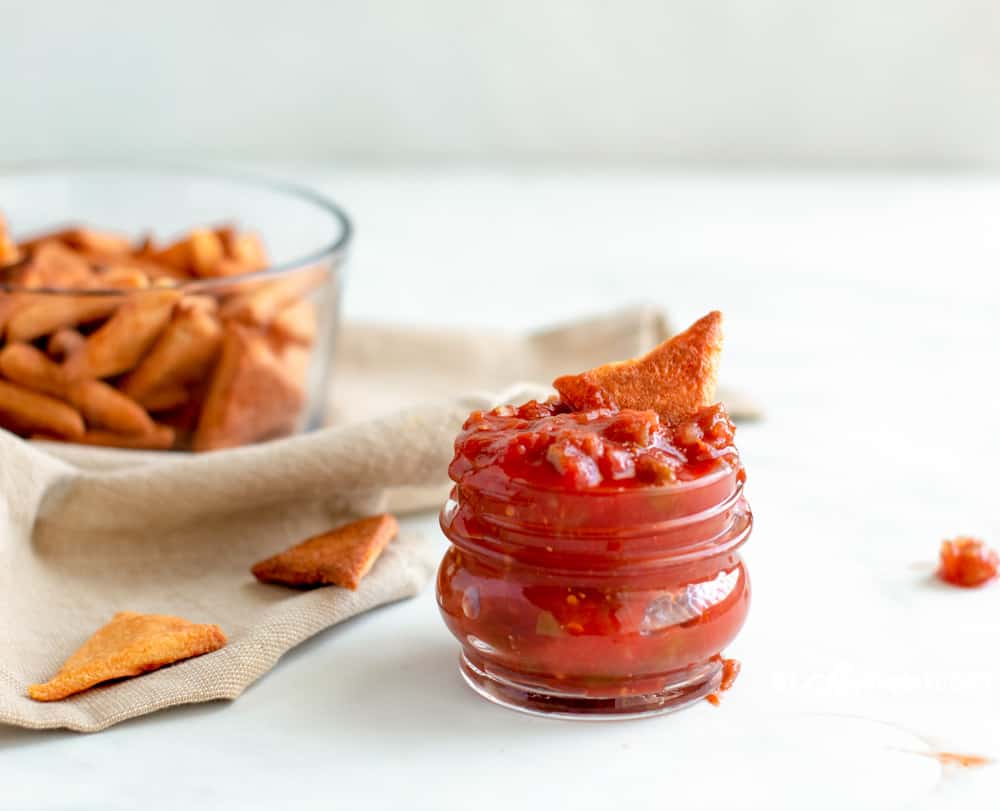 CAN I USE AN AIR FRYER?
Please follow the directions for your particular machine.
Generally speaking, you should be able to bake your homemade keto chips for 8-10 minutes at 180 C / 350 F.
Then allow them to cool completely.
HOW TO ENJOY YOUR HOMEMADE CHIPS EVEN MORE
While this recipe calls for paprika and garlic powder, the flavor variations are endless.
As is, it's good with so many things; this cheese dip is awesome with some sliced jalapenos and tomatoes on top for keto nachos.
They are great with traditional salsa, sour cream, or avocado salsa.
Sprinkling in True Lime and adding the teensiest hint of cayenne pepper to amp up the heat and south-of-the-border flavor is another way to make this keto tortilla chip recipe extra tasty.
You can even squeeze fresh lime juice on top of your crispy chips for amazing flavor!
You could use some low-carb powdered sugar and cinnamon for a sweet chip, perfect for a cheesecake dip or cookie dough dip. Sometimes a sweet crispy chip is just the thing, and these dips really take them over the top!
These delicious chips aren't just good with your favorite low-carb dip, either.
Hot dips such as chicken parm dip, pizza dip, or spinach dip are amazing with these crispy keto tortilla chips!
Holiday parties, game nights with friends, and afternoon treats just got even tastier.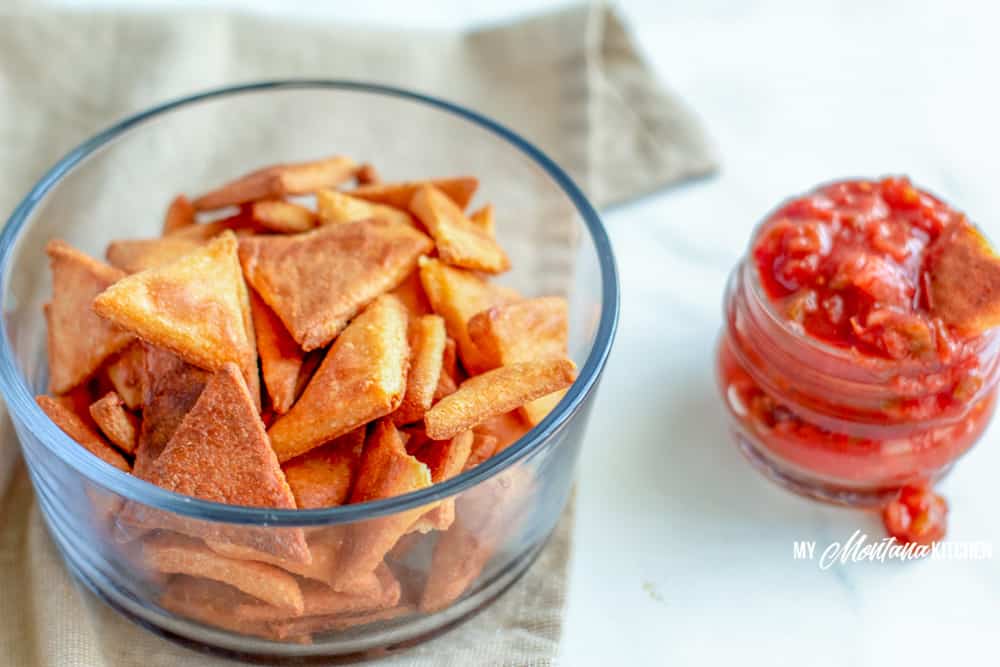 HOW TO STORE YOUR HOMEMADE CHIPS
The nice thing about these chips is that you can make them up ahead of time and enjoy them for several days.
Simply bake them, let them cool completely, and then store them in an airtight container.
They are fine at room temperature for several days. If you refrigerate them they could get soggy, so I don't recommend it.
OTHER KETO CHIP OPTIONS
What other foods can be used as a substitute for chips on a keto diet?
There are many different foods that can be used as delicious keto-friendly snacks!
The following are some examples of what these keto friendly chips may be.
Pork rinds are the perfect zero carb chips and essentially the perfect treat for keto.
HOW TO MAKE PEPPERONI CHIPS IN THE MICROWAVE
Pepperoni is a high-fat food high in protein and low in carbs.
And pepperoni chips are probably the simplest keto-chips around - plus they can double as protein chips.
They are an excellent low-carb & gluten-free substitute to regular chips.
Pepperoni (or even Salami) can be transformed into crispy and crunchy pepperoni chips perfect for dipping.
Just place the pepperoni slices on a paper towel and microwave for about 30 seconds.
Your "chips" will become crunchy as they cool!
How easy is that?
ARE TORTILLA CHIPS KETO?
No, regular tortilla chips are not keto-friendly.
Tortilla chips are not keto-friendly because they are generally made from wheat flour or a corn product, which is naturally high in carbs.
But I have good news - the recipe shared at the bottom of this post is a keto tortilla chips recipe!
These Keto Chips are crispy and crunchy, holding their shape perfectly.
They're a great low-carb substitute for tortilla or corn chips.
They make great snacks for guacamole, salsa, or an easy appetizer.
Some store-brand chips like Quest chips (the tortilla variety) or Siete Tortilla chips may be lower in carbs than other brands but they still have a few less than stellar ingredients.
These keto chips are the best low-carb alternative to traditional tortilla chips and you're sure to love them!
WHAT KIND OF CHIPS ARE GOOD FOR KETO?
You need to avoid chips made mostly out of starchy vegetables like corn, wheat, and potatoes.
There are not a lot of options for store-bought keto chips, so it's great that you're here for the recipe below that will show you how to make them at home!
Plus, these chips have low net carbs per serving! There is only 1 net carb per serving!
ARE THERE ANY NO CARB CHIPS?
Well, if you count pork rinds as chips then YES!
But it can be difficult to find other zero carb chips that can be purchased at the grocery store!
(And I don't know of any low-carb potato chips - it seems that would be a misnomer - since potatoes are pretty high in carbs!)
WHAT CHIPS HAVE LOW CARBS?
If you want to buy chips that are low in carbohydrates, you need to read the ingredients and make sure they do not contain any sugar, starch, or grains.
One product that has become increasingly popular in the last few years is Parmesan crisp snacks.
These make a great crunchy, salty keto chip snack - that can be a decent replacement for chips, plus they are naturally low in carbs!
You can make your own version at home with this 3 Ingredient Cheesy Crackers recipe!
I hope you've enjoyed learning how to use low-carb chips as a substitute for traditional tortilla or potato chips.
In order to get started with your own low-carb chips, we recommend making our easy recipe below.
This is an easy solution for anyone who wants to eat fewer carbs but still enjoys a crunchy chip!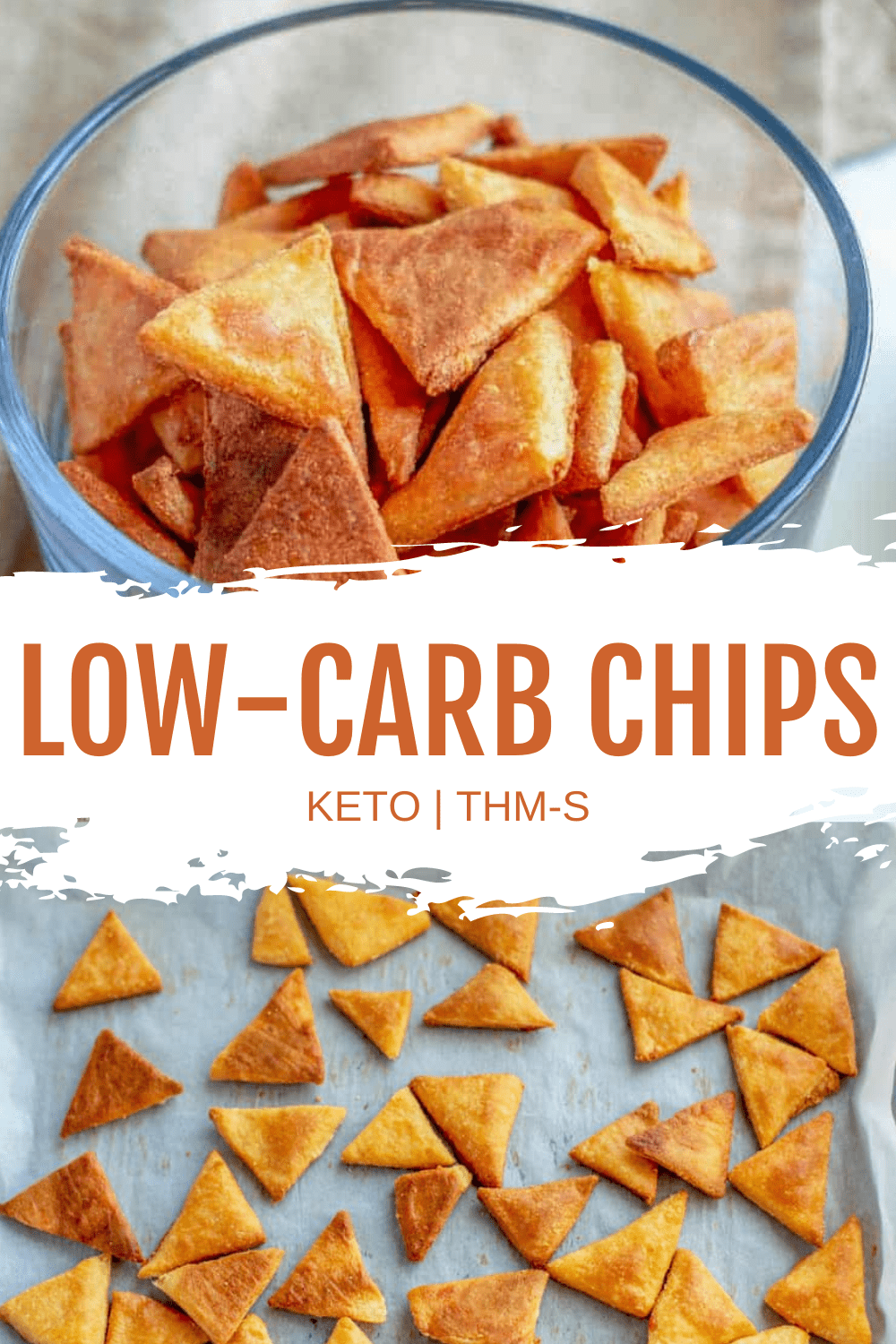 Yield: 9 Servings
How to Make Low Carb Tortilla Chips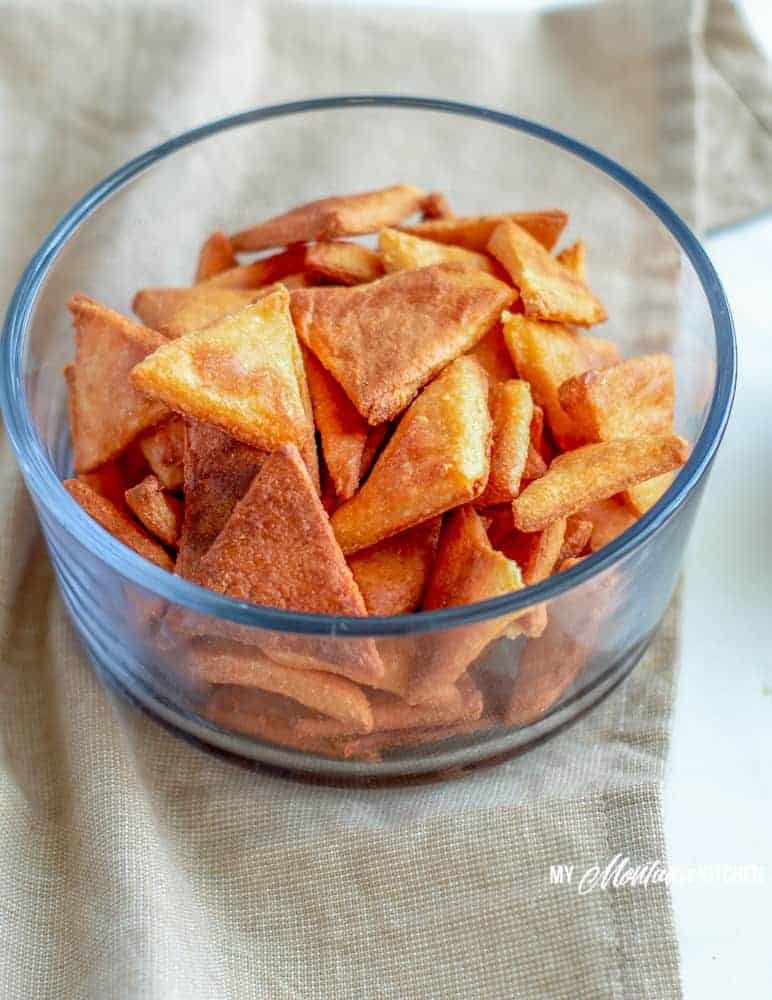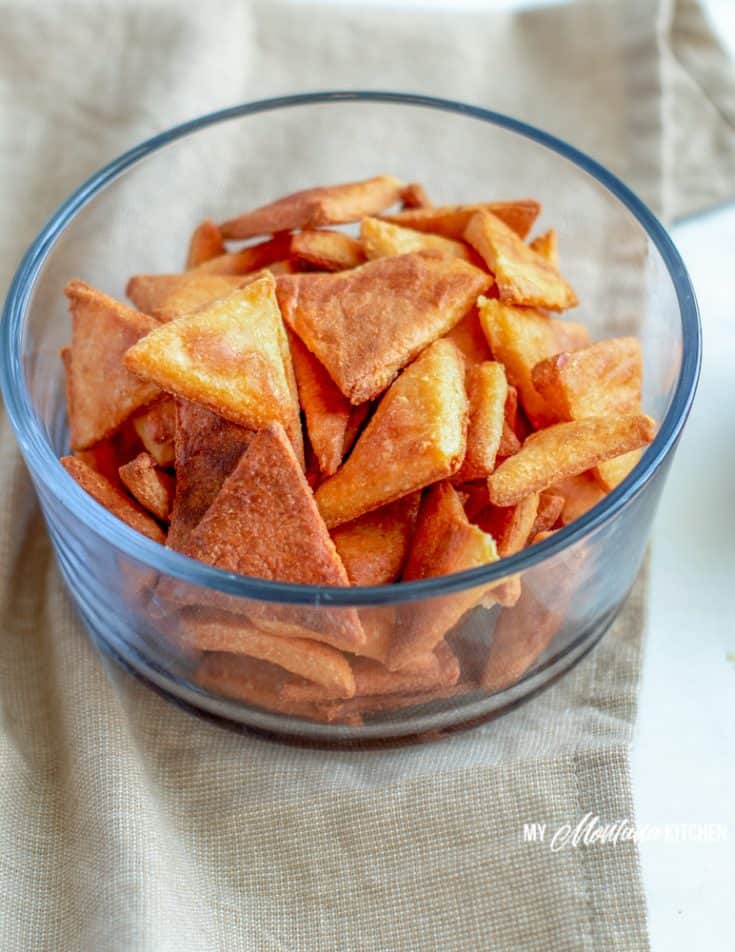 There's no need to miss chips on your low carb journey. These keto tortilla chips will satisfy your need for crispy, crunchy chips every time without the carbs usually associated with snack chips.
Additional Time
2 minutes
Ingredients
1 Cup Shredded Mozzarella Cheese
1 Large Egg
Instructions
Preheat the oven to 390F.
Line a baking sheet with parchment paper.
In a medium bowl mix almond flour, paprika, and garlic powder, whisk until well combined, set aside.
In a microwave safe bowl, add mozzarella cheese and microwave for 40- 60 seconds or until cheese has melted.
Add egg to dry ingredients, whisk well, (it's ok if there are clumps).
Add melted cheese to dry ingredients and egg mixture and knead with your hands until well combined.
Make a ball with the dough and place it between two sheets of parchment paper.
Start to flatten with your hands, then continue with a rolling pin until it is completely flat, and it has about 2mm thickness.
Using a knife, cut lines about 1.5 inches wide, then cut triangles out of the line by cutting in a zig-zag motion until you have done the same with all the dough. (See photo below for a visual.)
Carefully place chips on the baking sheet - slightly apart from each, bake for 10 minutes then broil on low for another 2 minutes or until golden.
Remove from the oven let them cool for a couple of minutes and serve with salsa or your favorite dipping sauce.
Notes
Recommended Products
As an Amazon Associate and member of other affiliate programs, I earn from qualifying purchases.
Nutrition Information
Yield
9
Serving Size
1
Amount Per Serving
Calories

140
Total Fat

11g
Trans Fat

0g
Carbohydrates

2g
Net Carbohydrates

1g
Fiber

1g
Protein

8g
Nutritional Information may vary depending on ingredients used.