We may earn money from the products/companies mentioned in this post. As an Amazon Associate I earn from qualifying purchases.
If you've been wondering how to make authentic chimichangas low carb and healthy, this is the chicken chimichanga recipe you've been waiting for. Simple and quick, this easy low carb Mexican recipe is made in your air fryer and won't disappoint your Mexican food cravings. Plus, this recipe is a great Trim Healthy Mama S Fuel!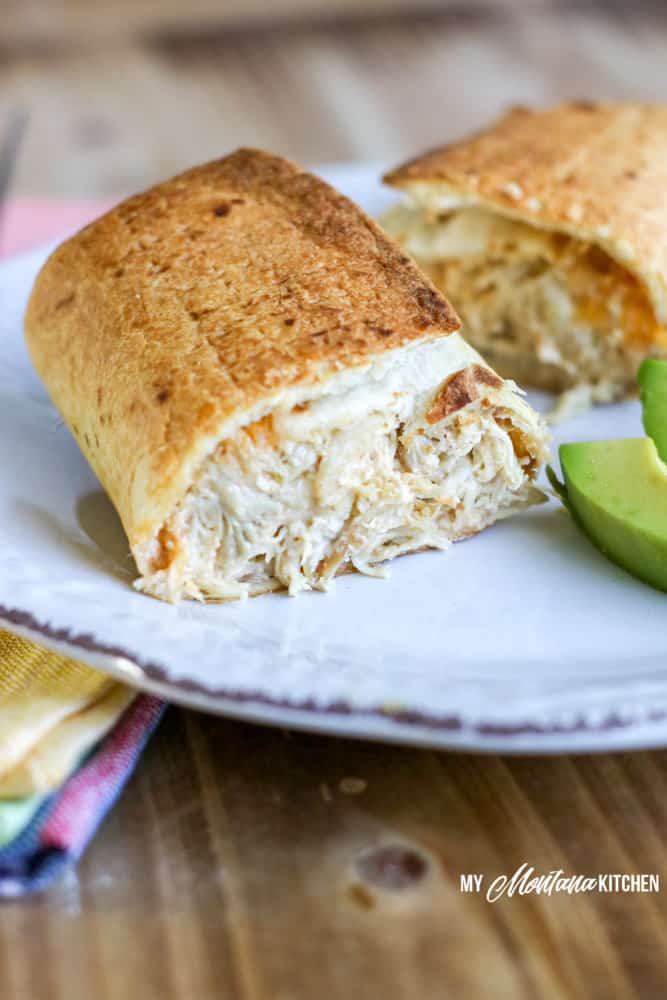 Chimichangas are deep fried burritos and classic Tex-Mex amazingness. Sadly, that usually means they are completely off limits for you if you are working to create healthier habits and trim down.
But not anymore!
This chicken chimichanga recipe is the ultimate low carb Mexican food, filled with rich flavors wrapped up in a satisfyingly crispy shell.
I can hear you now: But Sarah, fried food isn't healthy, and you have to fry a chimichanga...and use a tortilla.
You're right, you really, really do. After all, that crunchy shell is what makes your chicken chimis amazing! That is why an air fryer is going to be one of your best friends when it comes to making healthy, low carb deep fried recipes.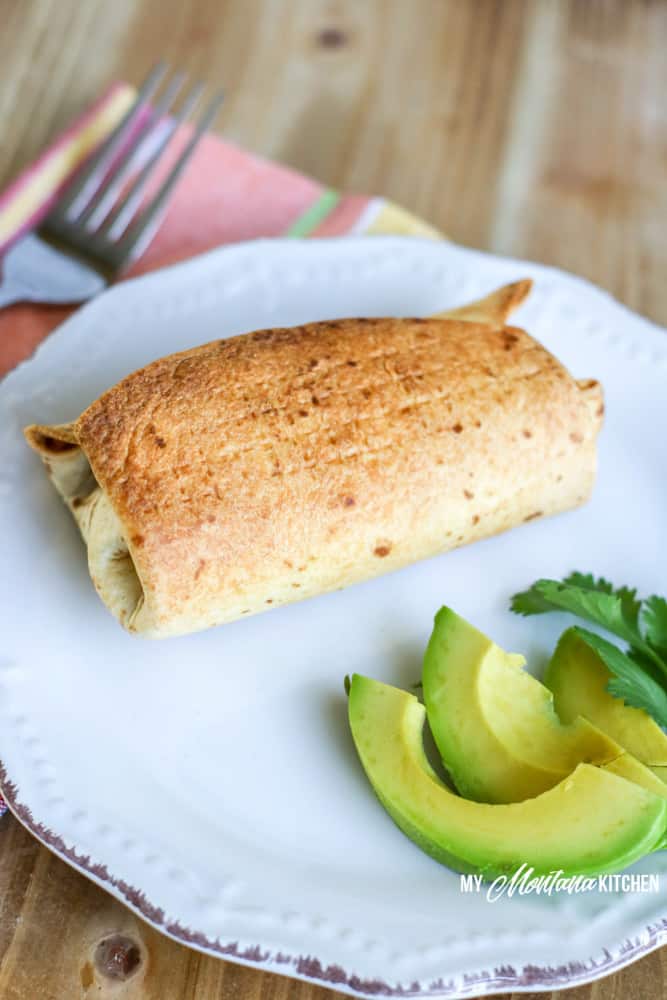 What Ingredients Do You Need For Low Carb Chimichangas?
The first thing you need is low carb tortillas. You can buy them or make them from scratch.
Next up is your chicken. This recipe uses shredded chicken thigh meat, but really any leftover chicken or shredded meat will work. The dark meat is more moist and flavorful than shredded chicken breast will be, however, so I do recommend it.
You'll also need some taco seasoning, and this homemade taco seasoning recipe is healthy, low carb, and simple to make. It's great to mix up and keep at the ready.
Cream cheese, a bagged Mexican cheese blend, and your chimichanga garnishes of choice (hello, my lovely avocado, tomato, lettuce, sour cream, and salsa!) are the last of your needed ingredients.
I do recommend making these in the air fryer with which you'll need a little oil, but if you don't have an air fryer that's okay - there's a tip for that below!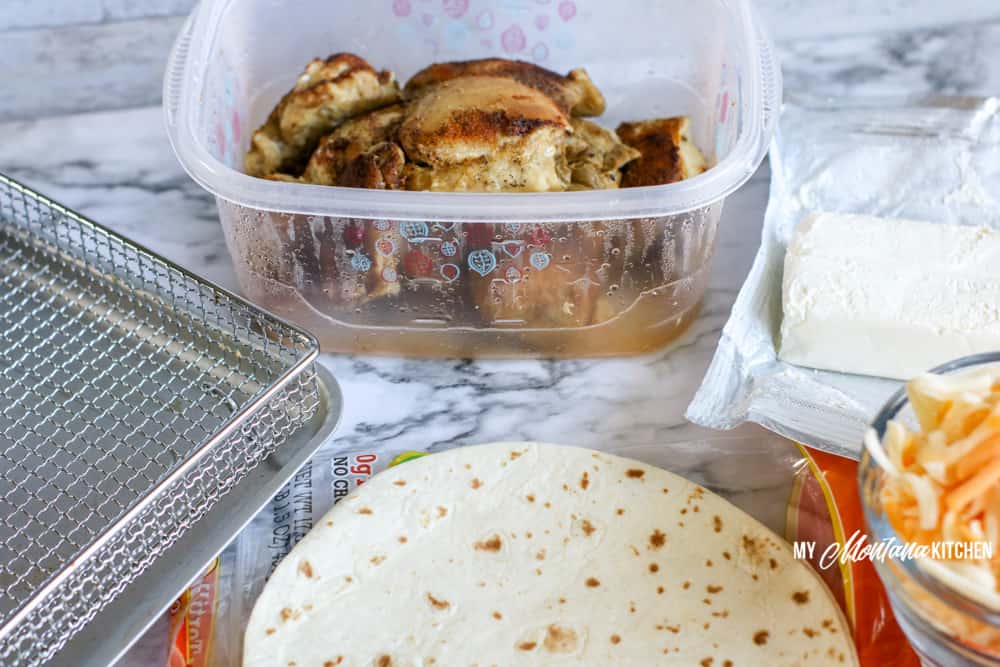 How To Make Low Carb Chimichangas
If you've enjoyed chimichangas in a Mexican restaurant before, chances are that they seemed a little fancier than your average taco. While that's totally true, they aren't hard to make.
All you need to do is combine cream cheese, shredded cheese, your Taco Seasoning, and shredded meat together and then roll it all up in your low carb tortilla shell.
Brush a light layer of oil over all the sides and then cook in your air fryer for 4 minutes. After 4 minutes, flip it over and cook them another 4-8 minutes until you've reached your desired chimichanga crispness. Low carb chimichangas in less time than it takes to drive to your favorite Mexican restaurant and place your order!
Tips For Rolling Up Your Low Carb Chicken Chimichangas
One part of the process that might get you hung up if you're new to making burritos and chimichangas is how to roll up the burrito.
The first step is to not overfill your wrap. You want about half a cup of your chicken filling in the middle of your low carb burrito wrap. It will be in a line from left to right across the center of your tortilla, but not all the way to the ends; it will take up a little more than the center third.
Next, pull the bottom up and over the filling, and pull it tight creating a little roll.
Then, fold the left and right sides in and continue to roll up your burrito. Voila, all done!
Here's a simple video so you can see it in action:
What If I Don't Have An Air Fryer?
Buy one! Okay, okay, that's probably not the answer you were looking for. If you don't have one already, this recipe can be made in one of two ways.


You can put a little bit of coconut oil in your skillet and fry it gently on each side. If you do it this way, cook it with the open side down first so that it cooks closed and will stay that way when you flip it with the tongs. Don't have the heat up too hight, or they will burn.
Another option that will give it some crisp, but not quite as much, is to bake them in the oven. You can still gently coat all sides with oil and then put fold sides down on a cookie sheet. Bakes 7 minutes or so on each side in a 350 degree oven.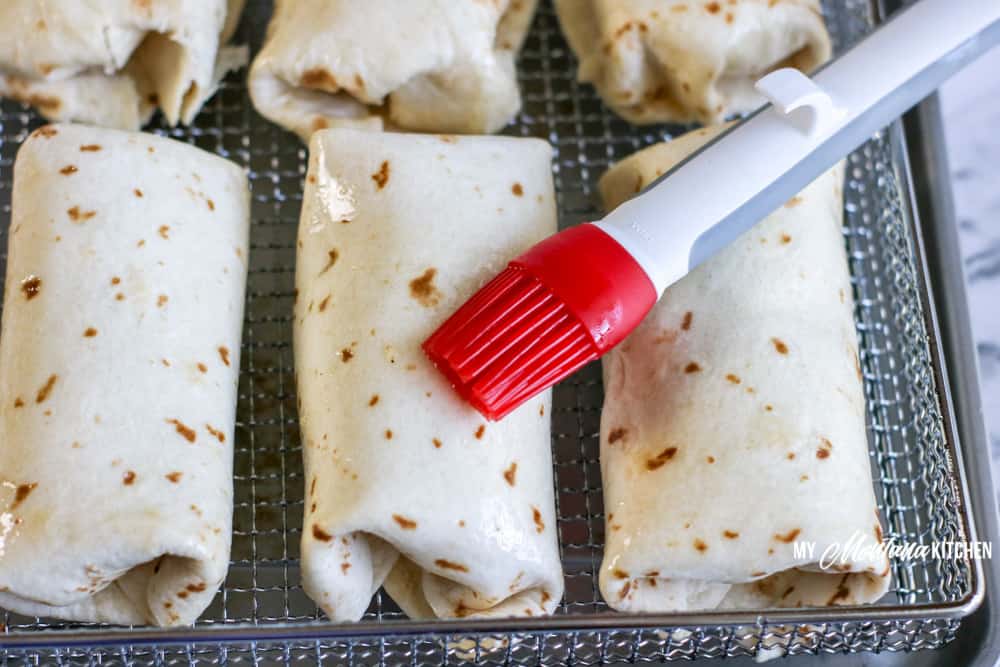 Tips For The Tastiest Low Carb Mexican Food
The great thing about converting your favorite Mexican recipes (like chicken chimichangas!) into low carb Tex Mex meals is that it's really not that hard.
While tortillas and tortilla chips are a big part of Mexican food, it's pretty easy to convert the recipes without sacrificing any flavor.
The first thing to remember is that the seasonings you use matter. That's why I suggest this homemade taco seasoning recipe, which is not only keto compliant, but totally authentic in flavor.
Next up is to not be afraid of the cheese! The combo of cream cheese and a Mexican blend really makes this taste like what you'd get if you were eating out. One of the perks of low carb and keto eating is not stressing over cheesy indulgences.
And lastly, capitalize on the garnishes. These chimichangas will taste so good with your favorite homemade salsa, diced avocados, perhaps a sprinkle of black olives, cilantro, and sour cream...or whatever your favorites are.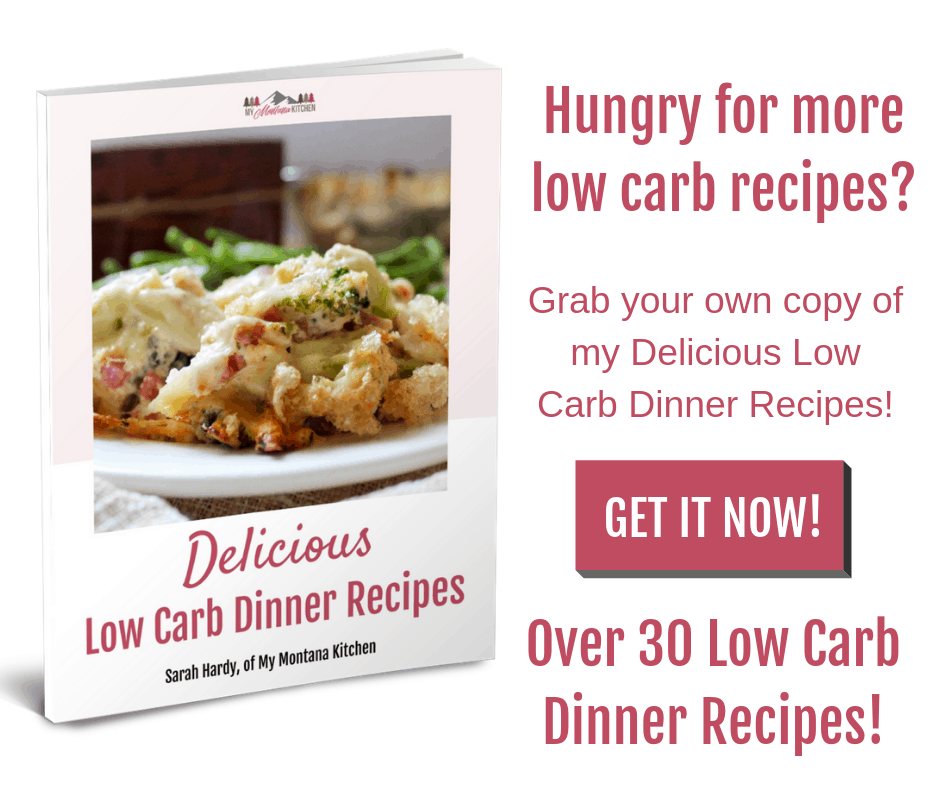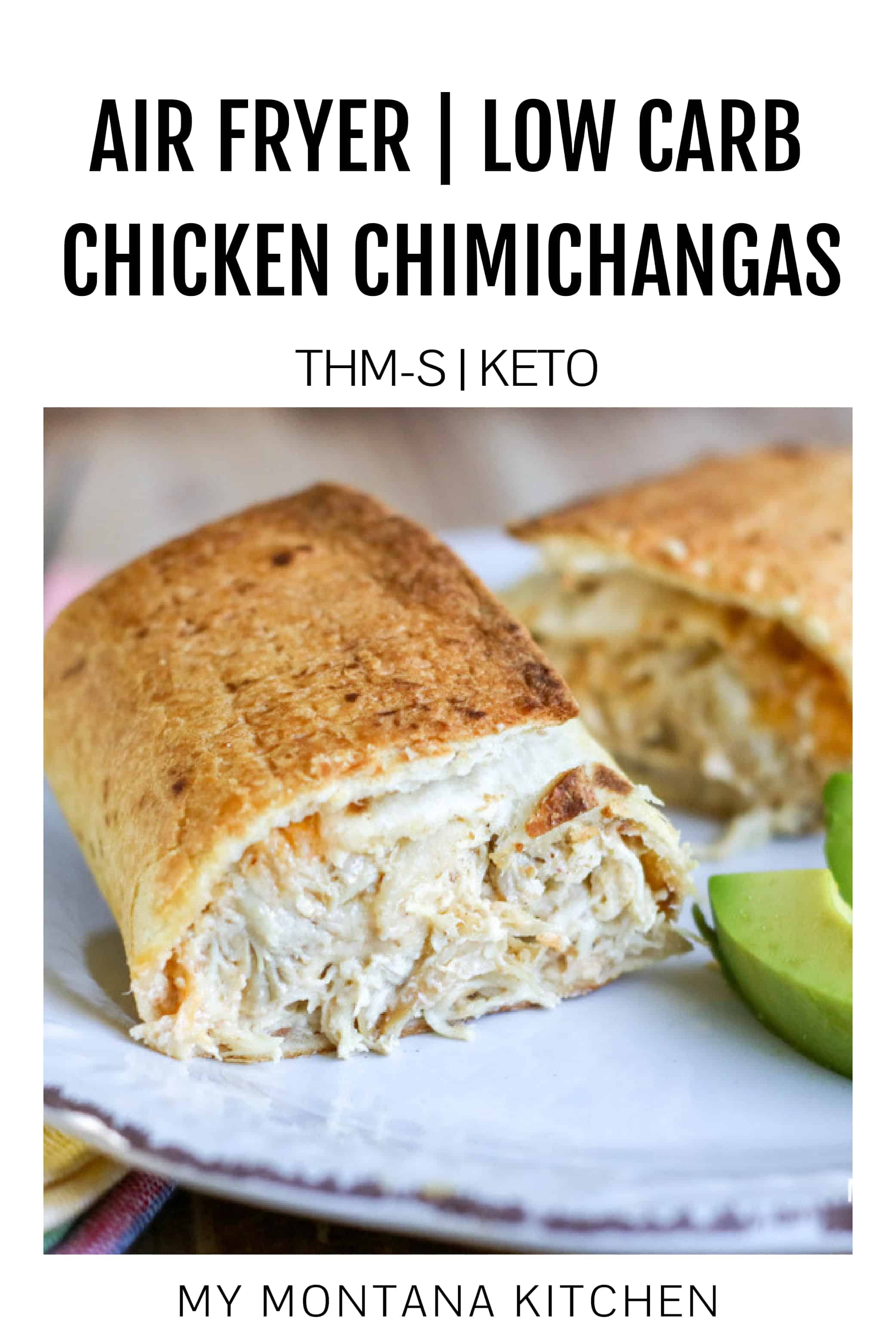 Yield: 6
Air Fryer Chicken Chimichangas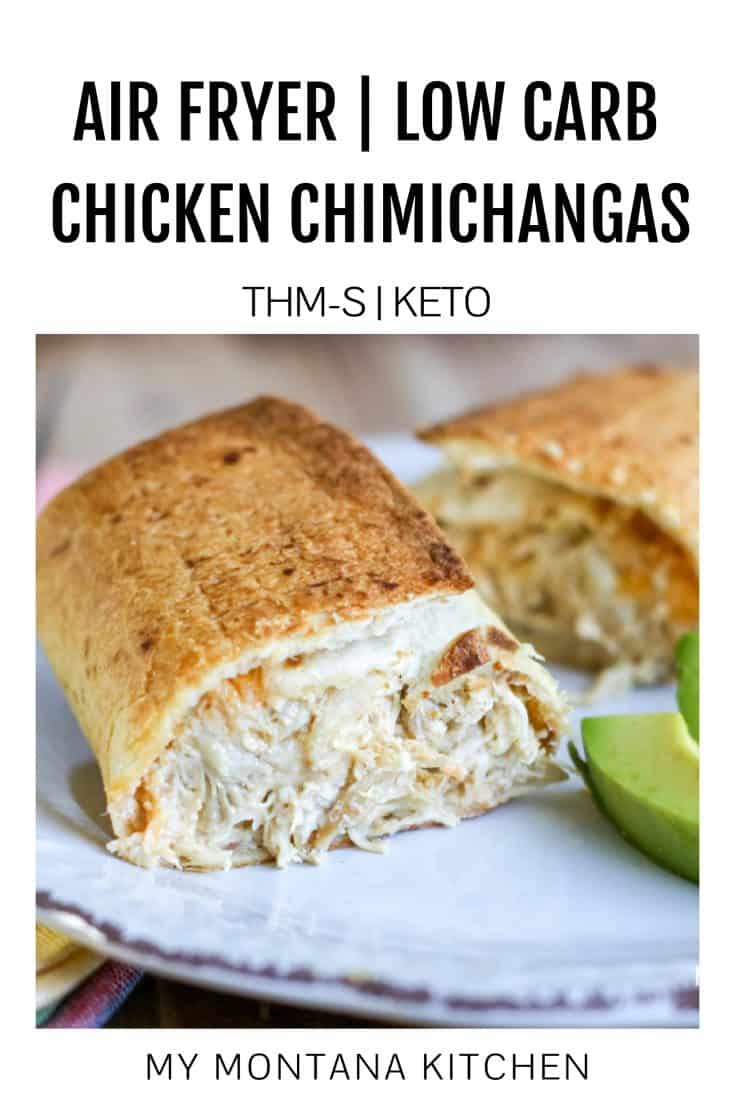 If you've been wondering how to make authentic chimichangas low carb and healthy, this is the chicken chimichanga recipe you've been waiting for. Simple and quick, this easy low carb Mexican recipe is made in your air fryer and won't disappoint your Mexican food cravings. Plus, this recipe is a great Trim Healthy Mama S Fuel!
Ingredients
2 Pounds Boneless, Skinless Chicken Thighs, cooked and shredded
1 Tablespoon Taco Seasoning (see cook's notes)
1 (8 ounce) Package Cream Cheese, softened
2 Cups Shredded Mexican Blend Cheese
1 Tablespoon Olive Oil or Olive Oil spray
Instructions
Preheat air fryer to 360 degrees.

Shred the chicken thighs.

Blend together the chicken, cream cheese, shredded cheese, and seasoning (if needed).

Scoop approximately ½ cup chicken mixture into the center of each flour tortilla. Press down.

Fold tortilla over filling by first folding the sides in and then rolling the chimichanga like a burrito.

Brush olive oil over all sides of each chimichanga or spray evenly with olive oil. Place in air fryer basket with the seam side down.

Cook in air fryer about 4 minutes before flipping and cooking for another 4 to 8 minutes.

Serve with avocado, extra cheese, sour cream, salsa or your favorite toppings.
Notes
Cook's notes: Chicken can be cooked with the seasoning. If chicken is cooked without the seasoning, mix in the seasoning when adding the cheeses to the chicken.
If you do not have an air fryer, you can fry the chimichangas in a skillet in a thin layer of refined coconut oil.
You may have more chicken mixture than can fit into your tortillas. Save the remaining chicken mixture to eat with celery for lunch, or eat it over salad.

Recommended Products
As an Amazon Associate and member of other affiliate programs, I earn from qualifying purchases.
Nutrition Information
Yield
6
Serving Size
1
Amount Per Serving
Calories

456
Total Fat

29g
Saturated Fat

12g
Trans Fat

0g
Unsaturated Fat

16g
Cholesterol

225mg
Sodium

535mg
Carbohydrates

4g
Net Carbohydrates

3g
Fiber

1g
Sugar

1g
Protein

47g
Nutrition information may vary depending on products used.