We may earn money from the products/companies mentioned in this post. As an Amazon Associate I earn from qualifying purchases.
Perfectly roasted Brussels Sprouts glazed with a sweet maple flavored vinaigrette.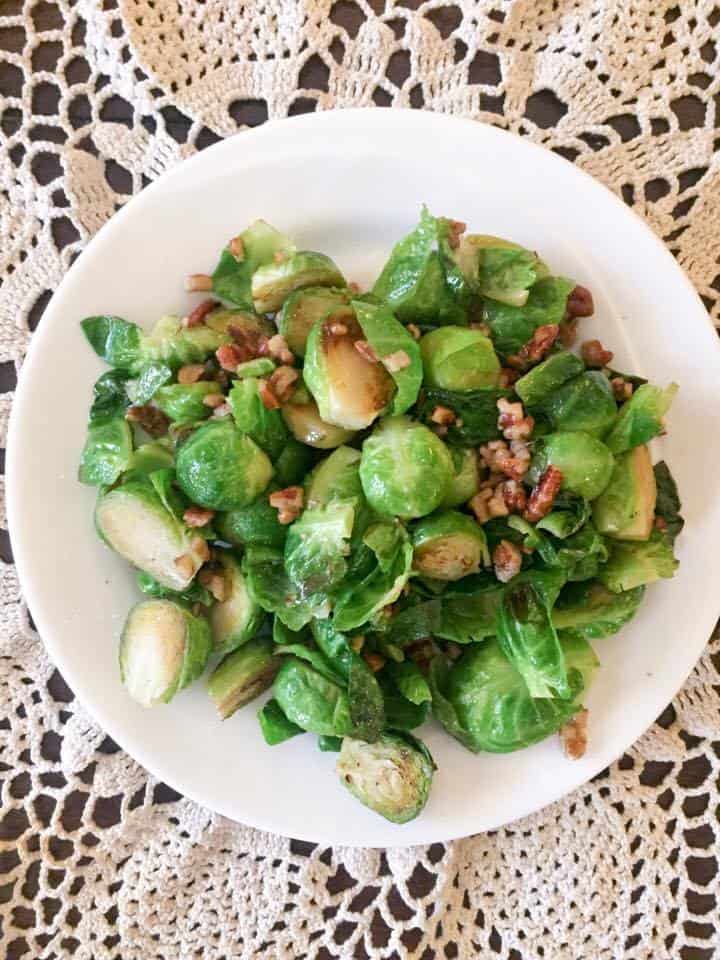 Let me just tell you something plainly - I love Brussels Sprouts! Many people wrinkle up their nose at them, thinking they taste like cabbage, but I am not of that opinion. They are in the same family, but they have their own distinct flavor.
Brussels Sprouts supposedly first appeared in Europe during the 13th century, so they have been around for quite a while. They were originally very popular in what is now Brussels, Belgium, which is probably how they received their name. If you have never seen how Brussels Sprouts grow, you are in for a surprise. They grow on a tall stalk, with lots of "buds" (the sprouts) sprouting off the sides. My kids were amazed when we saw them at our local Farmers Market this summer. They are so fun!
Unfortunately, I am the only one in my household that truly enjoys Brussels Sprouts, so I don't make them very often. Sometimes I will roast a pan of them for lunch and eat my fill!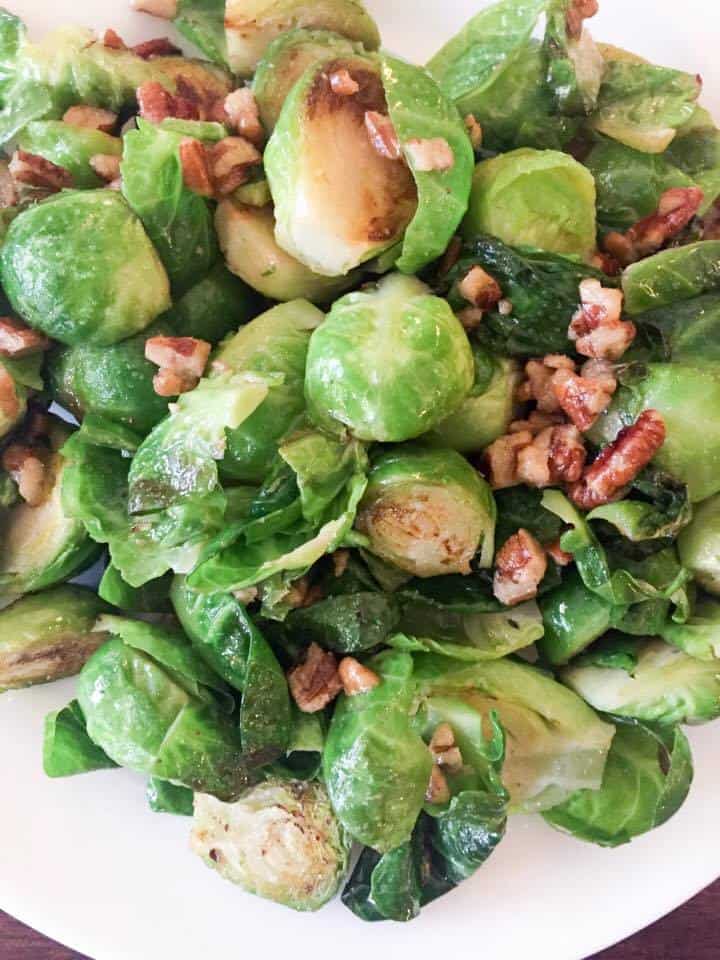 These are a perfect side dish for Thanksgiving, and they can be prepped ahead of time so all you have to do on the day is roast them! Pre-Trim Healthy Mama
, I would have used real maple syrup to glaze them, but in this recipe I used a good quality Maple Extract
to give the flavor I wanted. If you want more of a maple flavor, you can up the amount of extract you use. The pecan pieces can be omitted if you want, but I think they add a nice festive crunch, and they look pretty, too.
This recipe uses 1 pound of fresh Brussels Sprouts, which makes one cookie sheet tray full. If you are cooking for a large crowd, you may want to double the recipe.

Instructions
Preheat oven to 350.

In a small bowl, combine olive oil, maple flavoring, apple cider vinegar, stevia, and salt and pepper.

In a larger bowl, or a large Ziploc bag, toss Brussels Sprouts with dressing.

Pour onto a baking sheet and bake for 15-20 minutes, stirring once or twice to prevent the nuts from burning.
This post contains affiliate links which provide me with a small commission when you make a purchase through those links. The profits go to the support of my family and this blog. Thank you!