We may earn money from the products/companies mentioned in this post. As an Amazon Associate I earn from qualifying purchases.
Whether you're preparing treats for a gathering or just want to munch on something sweet (hey, we won't judge), these Red Velvet Keto Truffles are a perfect choice.
They're rich, creamy, and chocolatey, but not so rich that they're "too much." These make a great Trim Healthy Mama S fuel treat!
In a word, these delicious little bites are just perfect.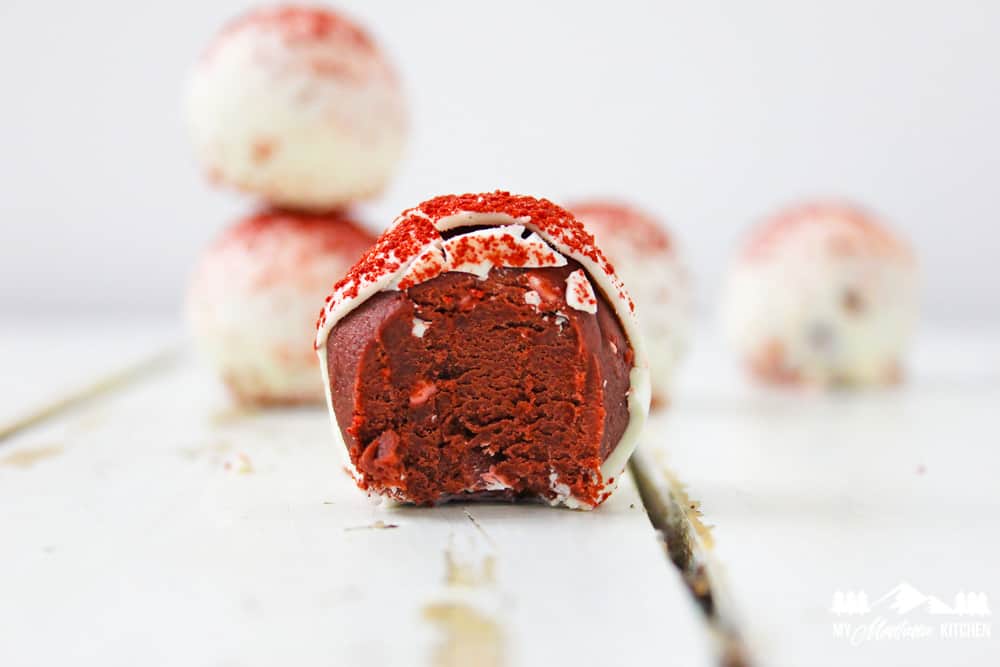 Many truffles are loaded with sugar to deliver the sweet taste we all know and love. Not these!
Simple ingredients like cream cheese and butter bring the delectable texture, while chocolate protein powder and a bit of Gentle Sweet deliver glorious chocolate flavor.
Whether you make them for a special occasion or a late-night treat, you can enjoy them any time. Promise!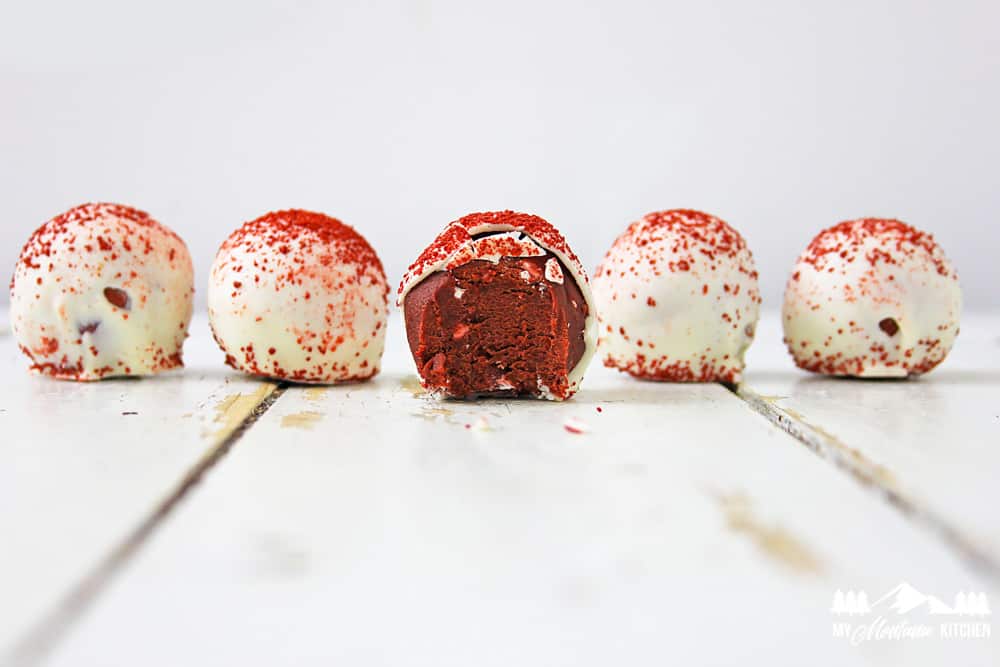 What is Red Velvet?
You've probably heard of red velvet, but what is it?
According to food historians, red velvet cake came about during the Victorian era.
At that time, "velvet" was a term used to make people think of fluffy, rich texture and luxurious taste.
The crimson color originally came from a chemical reaction between buttermilk, vinegar, and cocoa.
During food rations in World War II, some of these ingredients were not readily available.
To keep the vivid color, many home cooks used a bit of boiled beetroot juice as a natural food color agent. As food dyes became available during the mid-20th century, it became popular to add a few drops of red food coloring to the batter.
You can certainly use regular food coloring if you like, but I HIGHLY recommend a natural alternative ( you can find some great options here).
Or you can order these awesome natural food colors from Amazon!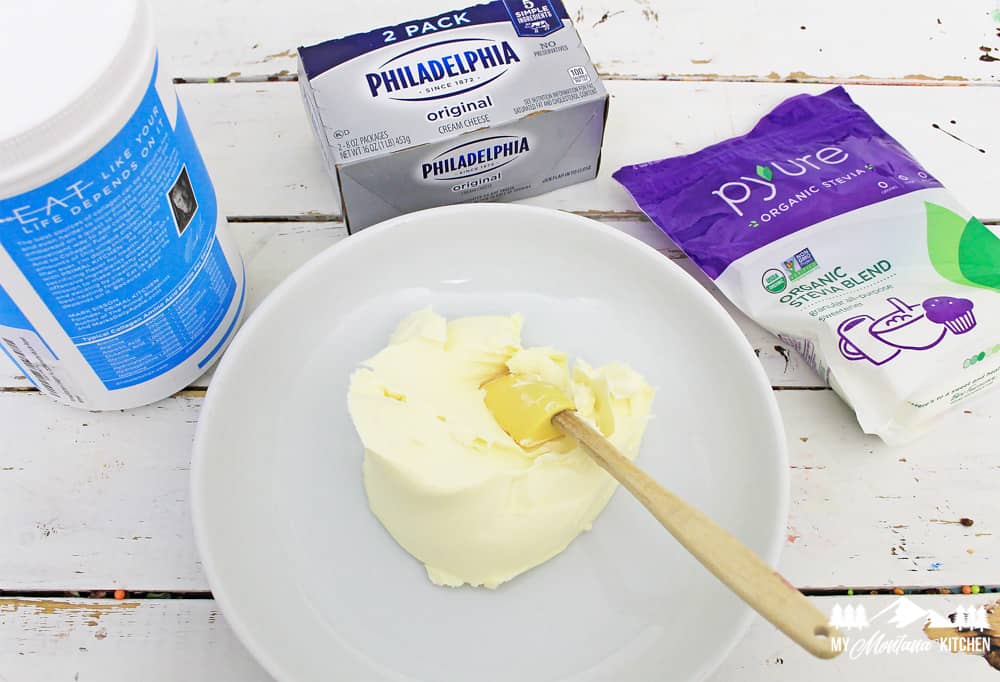 Is Cream Cheese Healthy?
Cream cheese isn't the healthiest ingredient on earth, but it sure is delicious, and works great for a healthier dessert alternative!
It's not necessarily something you want to eat a lot of every day; however, its ability to add rich flavor and amazing texture to just about anything it touches works very well in this white chocolate truffle recipe.
You'll find a lot of different types of cream cheese available, including full-fat, light, whipped, fat-free, and Neufchatel.
For this truffle recipe, I definitely recommend the full-fat version.
It will bring the depth of flavor that you expect from red velvet truffles, and it's a terrific low-carb ingredient.
The light version won't have the same rich flavor, and fat-free cream cheese is full of chemicals that try to substitute for the real ingredients. (Not a great choice.)
Whipped and Neufchatel are not going to stand up well to the rich texture of a truffle, but if you want to opt for a lighter option it will still work.
Making a Red Velvet Truffle
These truffles have three basic layers: the creamy truffle filling, the white cocoa butter coating, and the red sprinkles.
First, make the sprinkles by mixing ¼ cup of erythritol with a few drops of your food coloring of choice.
You don't want the sweetener to be a liquid, so don't go too heavy with the red coloring; a few drops will do. (Again, if you want a natural alternative, check out the options in the recipe card.)
In a separate bowl, mix the cream cheese, butter, and Gentle Sweet until they're creamy.
(Pro tip: this process is much easier if you let the cream cheese and butter come to room temperature!)
Add the chocolate protein powder and vanilla, mixing until everything is smooth. Once this mixture is ready, add a few drops of the food coloring. Mix this in and you're ready to go!
Working quickly, take about a tablespoon of the mixture and roll it into a ball, setting it on a parchment-lined baking sheet. Keep rolling truffle balls until all the mixture is used. Place the baking tray in the freezer for 30 minutes to set the truffles.
When the 30 minutes is up, melt the cocoa butter in the microwave in 10-second intervals, stirring each time. (This is the cocoa butter I use and recommend!) As soon as it's ready, take the baking sheet out of the freezer.
Dip each semi-frozen truffle into the cocoa butter, coating it completely. It's easiest to do this with a spoon – that way you don't end up with cocoa butter all over your fingers! Once each truffle is coated, set it back on the tray. Sprinkle all the truffles with a bit of red Stevia to decorate them.
Quickly place the truffles on the baking sheet back in the freezer for at least 4 hours (preferably overnight) to set the cocoa butter. Once they're set, they can be stored in an air-tight container and eaten whenever you like!
I hope you enjoy these delicious little treats, whenever you choose to indulge - I know I will!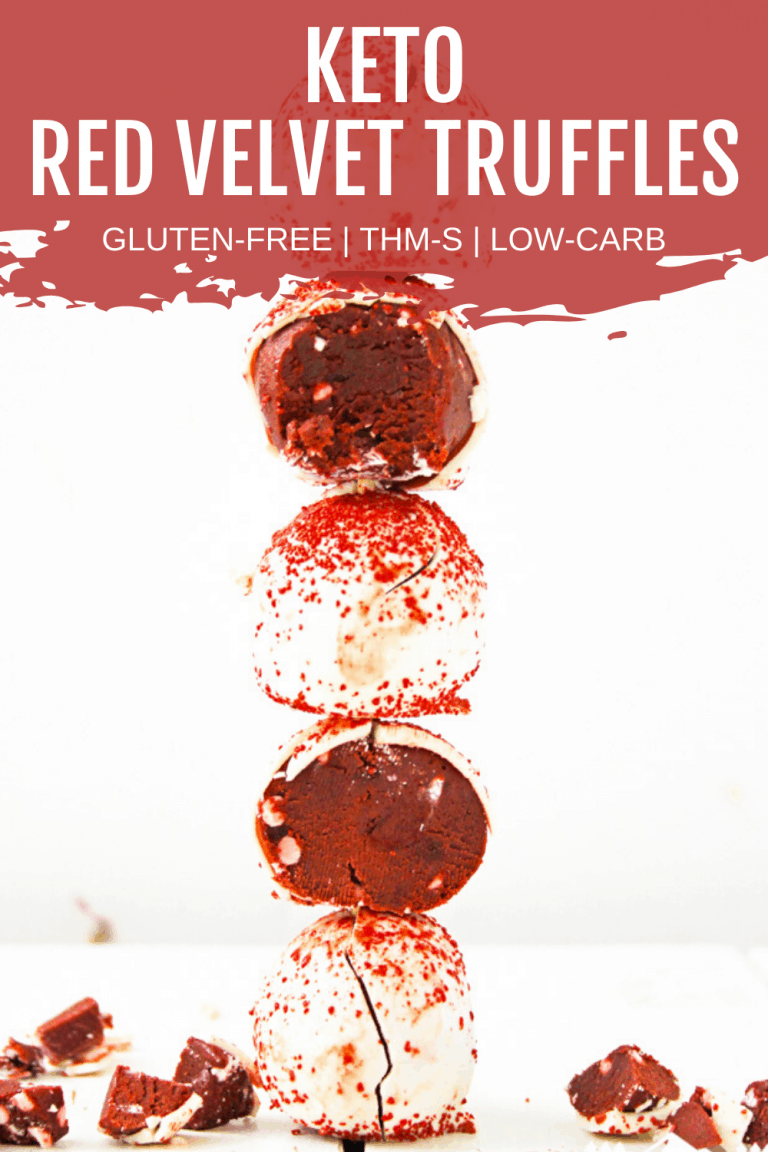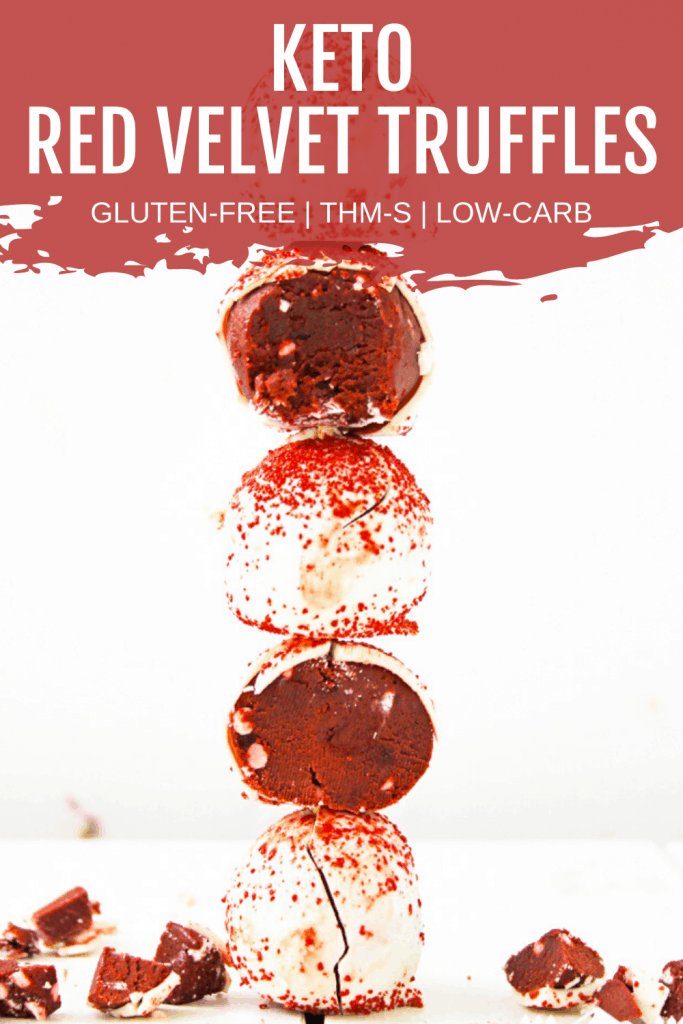 Yield: 16
RED VELVET KETO TRUFFLES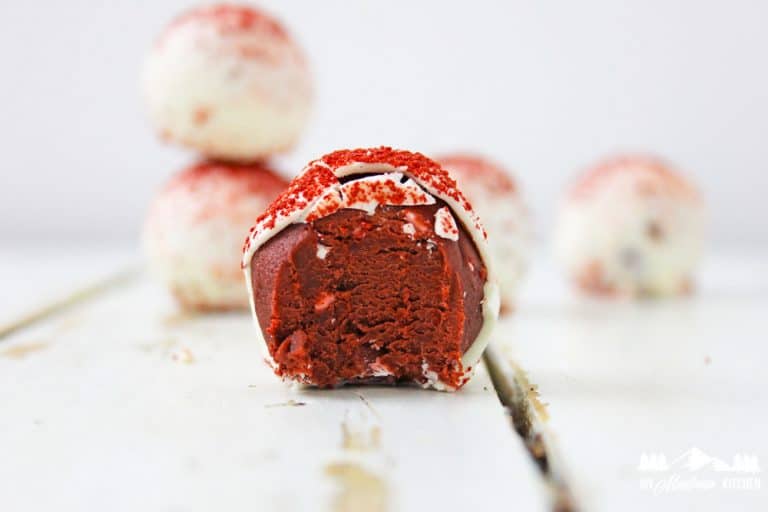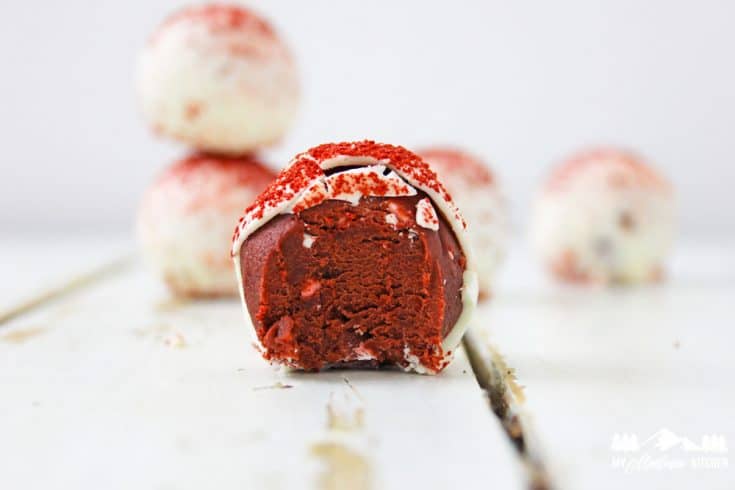 These Red Velvet Truffles are so delicious, easy to make, and everyone will love them.  They're great for a special treat at a party, a buffet table, or a midnight snack. No matter when you serve them, you can't go wrong.  You can make several batches, or double or triple this recipe if you're serving a crowd. These are sure to become a favorite. 
Additional Time
4 hours
30 minutes
Total Time
4 hours
50 minutes
Ingredients
8 Ounces of Cream Cheese, - softened
3 Tablespoons of Butter - softened
5 Tablespoons Gentle Sweet (or 2.5 Tablespoons of Pyure)
8 Ounces Cocoa Butter - melted
1 Teaspoon Vanilla Extract
8 drops of Red Food Coloring
RED SUGAR FOR DECORATION (OPTIONAL):
1/4 cup of Erythritol
Instructions
Line a cookie sheet with parchment paper, and set aside. Place 1/4 cup of erythritol in a shallow dish, add several drops of Red food coloring and mix until desired shade of red is reached, and set aside.
In a mixing bowl, add the softened cream cheese, butter and Gentle Sweet, and stir until light and fluffy.
Add the chocolate protein powder and vanilla, and mix until smooth.
Add the drops of food coloring, and stir until the food coloring is blended into the cream cheese mixture. Take about a tablespoonful of the mixture, and roll into balls, and place on the parchment-lined cookie sheet; continue until all the mixture has been rolled into balls, place in the freezer for 30 minutes.
Place the cocoa butter in the microwave in a microwave-safe bowl, and melt at 10-second intervals, until the butter is melted and smooth when stirred.
Dip the balls into the cocoa butter, and place back onto the parchment paper-lined cookie sheet. When all balls have been dipped, sprinkle with red erythritol and place the cookie sheet into the freezer to set the cocoa butter.
Leave in the freezer for at least 4 hours to completely set, or overnight for best results in an airtight container.
Notes
NOTE:  If you prefer the Truffles a little darker or lighter in color, adjust the food coloring to suit your desired shade of red. (Please note that in the photos red food coloring was used for a vibrant color - using natural food coloring may result in a less vibrant red.)
If you don't have Gentle Sweet, you can use equal amounts of my Low Carb Powdered Sugar.
Or, you can use half the amount and use Pyure.
Nutrition Information
Yield
16
Serving Size
1 Truffle
Amount Per Serving
Calories

263
Total Fat

28g
Saturated Fat

16g
Cholesterol

27mg
Sodium

63mg
Carbohydrates

1g
Protein

3g