We may earn money from the products/companies mentioned in this post. As an Amazon Associate I earn from qualifying purchases.
Sugar Free Coffee Creamer
Sweet and creamy, this sugar free coffee creamer is bursting with health benefits. There are 13 grams of protein in each serving, making this great for a snack!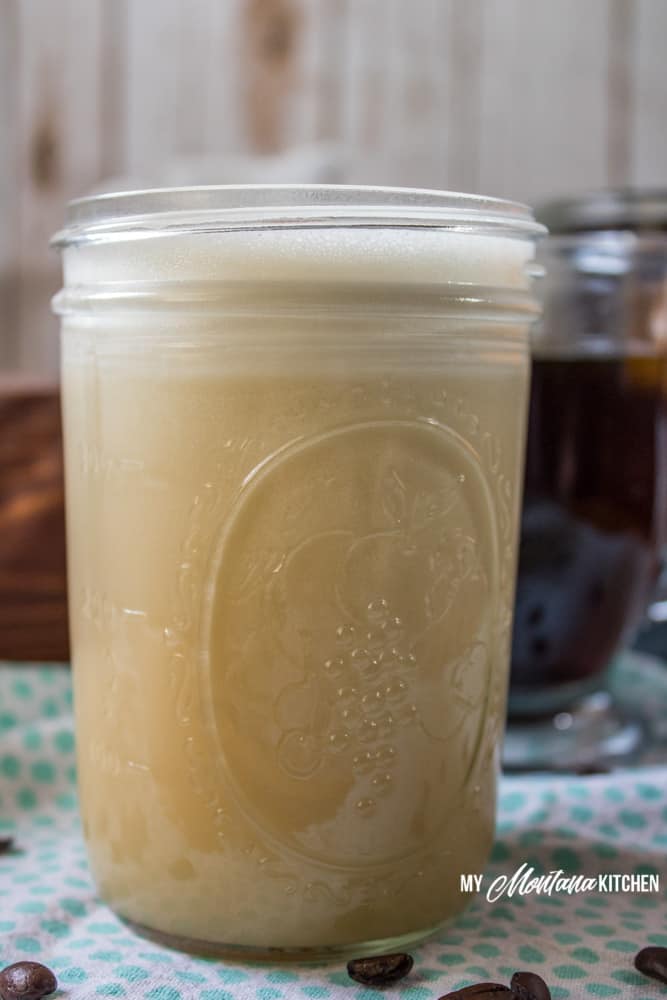 (We are a participant in the Amazon Services LLC Associates Program, an affiliate advertising program designed to provide a means for us to earn fees by linking to Amazon.com and affiliated sites. I am also an affiliate with Trim Healthy Mama. There are affiliate links used in this post.)
This recipe is low carb, lower fat, sugar free, and can easily be made dairy free. As written, this recipe is a Trim Healthy Mama Fuel Pull.
I cannot take credit for the creation of this recipe. This sugar free coffee creamer recipe comes to you from the kitchen of my mother-in-law.
She has been following Trim Healthy Mama for over 2 years and has had great success maintaining her weight loss.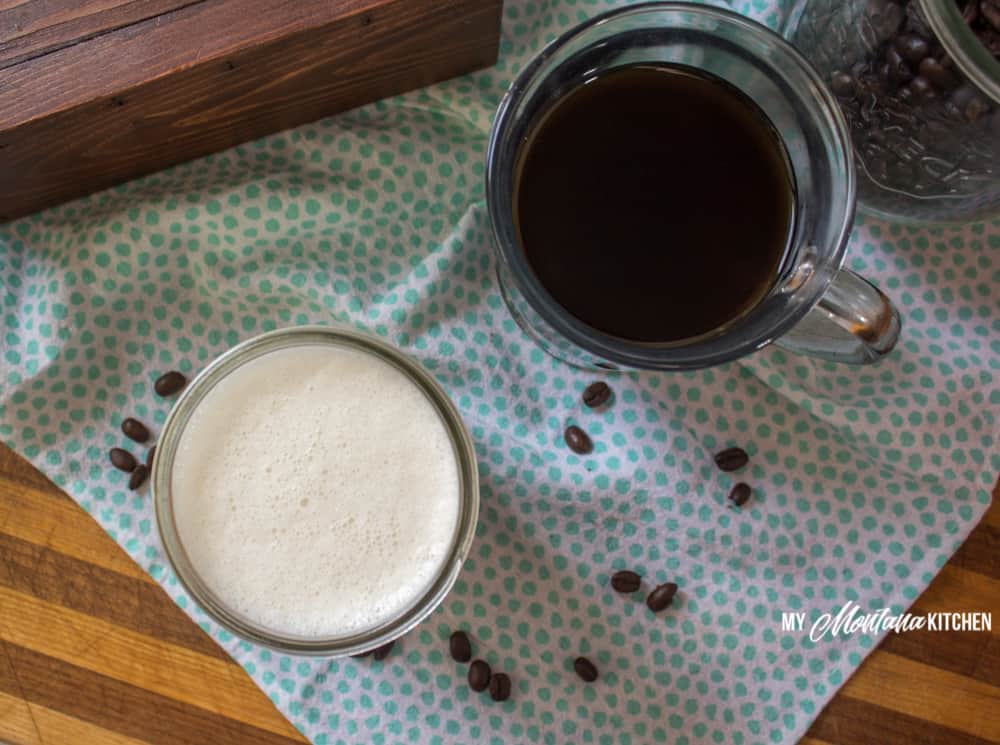 Her and her husband travel at times, and she was wondering how to still be able to make her delicious coffee every morning without having to take bags and bottles of extracts, powders, and sweeteners with her.
She decided to mix everything together in a blender, and voila! This sugar free coffee creamer was created.
She was staying with me this past week, so I had her make a batch of creamer. I knew as soon as I tasted it that I had to share it with my readers!
If you struggle to drink coffee without flavored creamer, this may be a helpful solution for you! While this creamer is not exceptionally sweet, it has great flavor.
Now you can leave the sugar free coffee mate behind and enjoy something that has some real benefits!
And while this recipe is not a 0 calories coffee creamer, 2 Tablespoons only has 46.5 calories!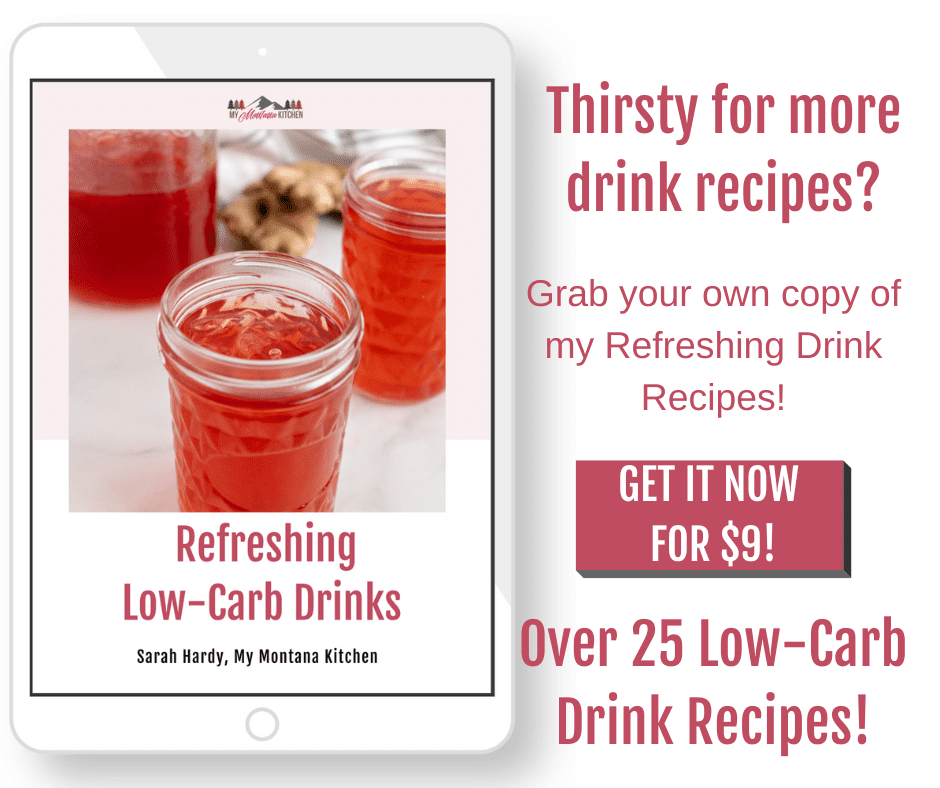 Coffee Creamer Alternatives for Diabetics
This sugar free coffee creamer recipe does not contain any added sugar, and should be able to be used by diabetics. (However, I am not a health professional, so be sure to follow your doctor's instructions.)
If you would like a sweeter creamer, check out my other two coffee creamer recipes. (Both are sugar free, low carb, and a bit sweeter than this one!)
Peppermint Mocha Coffee Creamer
Is drinking coffee creamer bad for you?
Coffee creamer is a dairy product often used as a substitute for milk or cream in coffee. While it may be lower in fat than some other options, most coffee creamers are still high in calories and sugar.
Additionally, it can contain unhealthy trans fats. Therefore, drinking coffee creamer regularly can lead to weight gain and an increased risk of heart disease.
If you are looking for a healthier alternative to coffee creamer, try using the recipe for sugar-free coffee creamer below!
In my pre-Trim Healthy Mama days, I was a self-confessed coffee creamer addict. I would have three of four varieties in my refrigerator at all times.
After quitting sugar, I found that I do not even enjoy the regular coffee creamers anymore.
In fact, I don't even care for sweet coffee anymore. I prefer to drink my coffee with a splash (ok, 2-3 Tablespoons!) of half and half.
If you are like me and do not care for sweetened coffee, this recipe can still work for you!
You see, this creamer contains collagen, protein powder, and MCT oil - all great supplements that can help your health! You do not have to sweeten the creamer.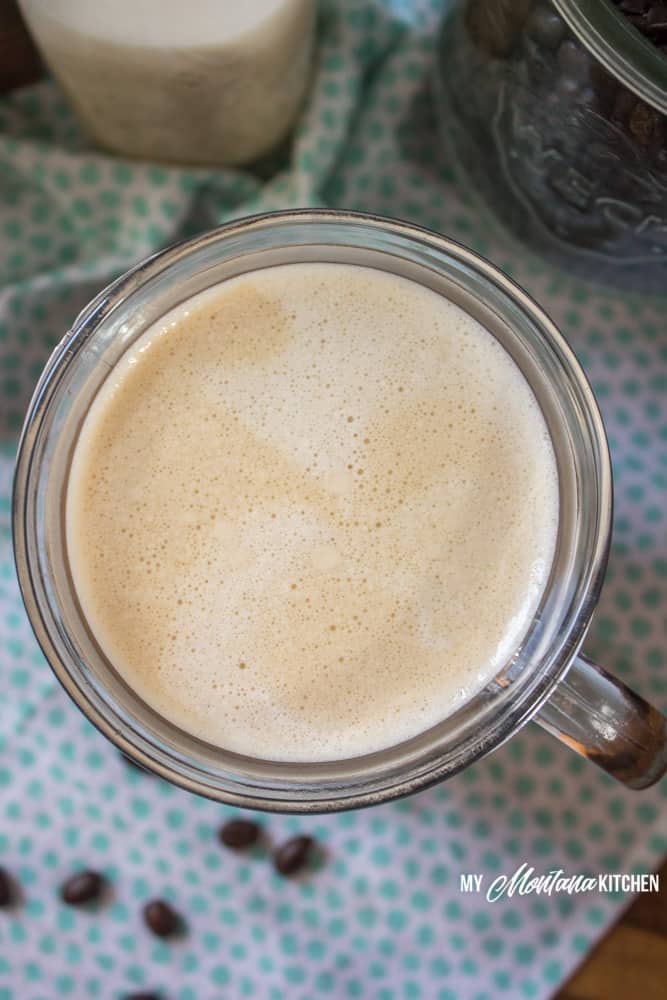 But I cannot tell you how handy it is to have all of these ingredients pre-blended. In the morning, in my "I-can't-hardly-open-my-eyes" state, all I have to do is open the fridge, pull out my creamer, and pour.
No more mixing, measuring, or using the blender! (I actually just used a spoon to stir in my collagen, and a milk frother to mix in my MCT oil.) But now I do not even have to do that!
This is great news for people who often travel! You can mix up this creamer and take it with you wherever you go!
Perhaps my favorite thing about this creamer is the fact that one serving has 13 grams of protein! That is pretty good for coffee!
I do not eat breakfast as soon as I get up (I know, how awful - just confessing), but I do drink coffee right away. Using this creamer allows me to get some protein in my body as soon as I get up in the mornings!
If you are dairy free, you can easily use a dairy free protein powder in place of the Pristine Whey, or simply use more collagen in place of the whey protein.
If you like flavored coffee creamers, simply add 2 teaspoons of your favorite extract. My favorite creamer used to be Chocolate Caramel. I can't wait to make this with the Chocolate Pristine Whey and caramel extract!
We have already tried making this with caramel extract and it was great.
If you prefer your coffee to be more creamy, you can add heavy cream or half and half to the creamer recipe. (This will, of course, change the nutritional information.)
You will also notice that the serving size for this recipe is ¼ cup - that is a whopping 4 Tablespoons of creamer - so there is no need to feel deprived!
I cannot wait to see what flavor combinations you guys create in your own kitchens! Please let me know so I can try them too!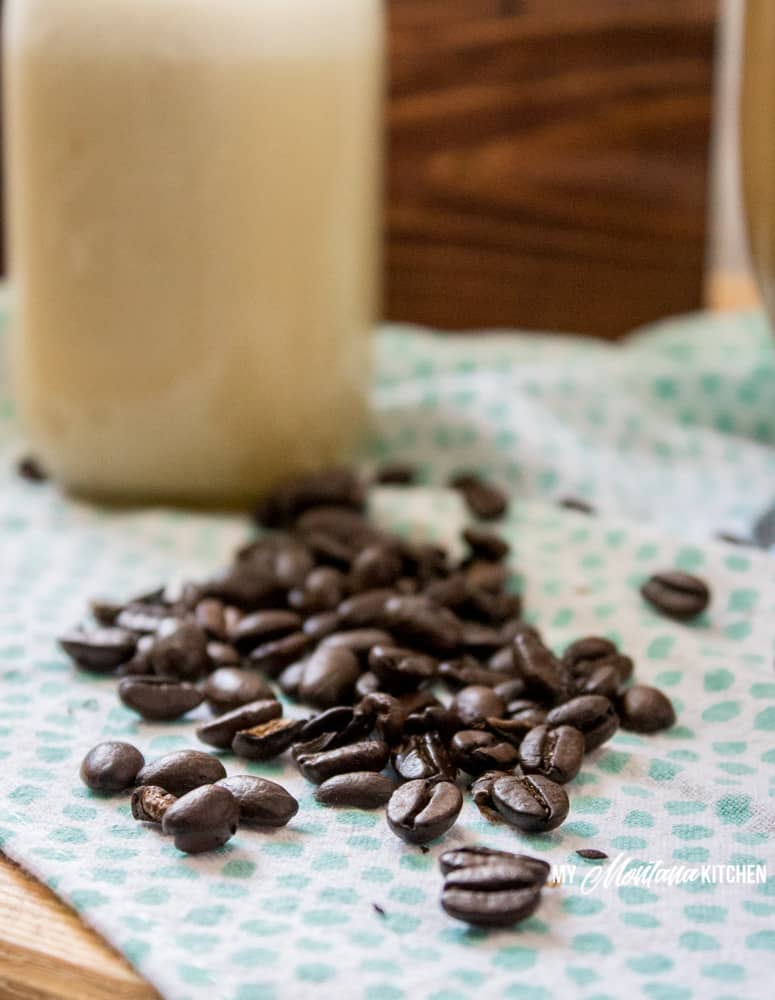 I love to use Custom Collagen, and I always order the 5 pound box from Amazon. It is the best value I have seen anywhere for ordering collagen!
Collagen is a pure protein source (and Custom Collagen comes from pure, pasture-raised, grass-fed beef). It has no flavor, which is one of the reasons I love it!
Collagen is great for your joints, your hair, nails, and skin! My husband and I both noticed a difference in our joints when we began using it consistently!
And one more product that I love - NOW brand has flavored MCT oils! I have only tried the Vanilla Hazlenut, but I want to try their Chocolate Mocha flavor as well!
Either of these MCT oils would work great in this coffee creamer!
MCT oil helps to increase your metabolism - which makes it a great way to start your day!
So what do you need for this Sugar Free Coffee Creamer Recipe?
1 Cup Hot Water
4 Scoops Collagen (½ Cup)
3 Scoops Pristine Whey Protein Powder (¾ Cup)
¼ Cup Gentle Sweet (or my Low Carb Powdered Sugar)
2 Tablespoons MCT Oil
1 Tablespoon Vanilla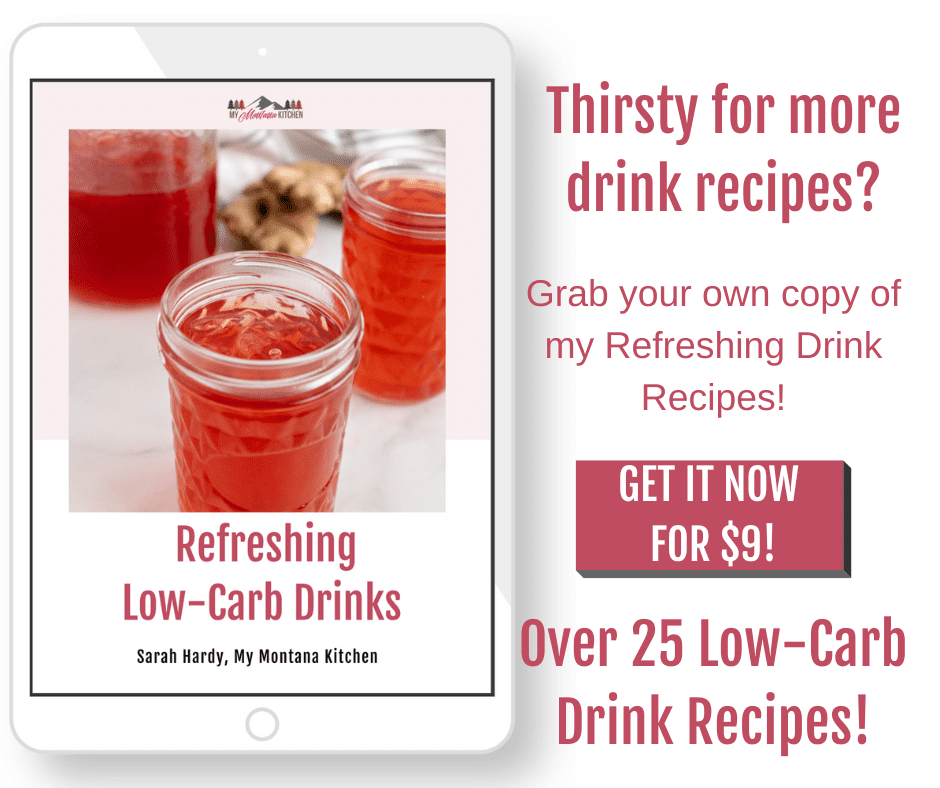 Be sure to sign up with your email address so you can receive all my new recipes delivered right to your inbox! (Look for the sign-up box at the top of this post.)
Also, be sure to follow me on Facebook, Pinterest, Instagram, and Twitter!
If you make a recipe and love it, please leave a comment on my Facebook Page or tag me on Instagram (my_montana_kitchen_thm)!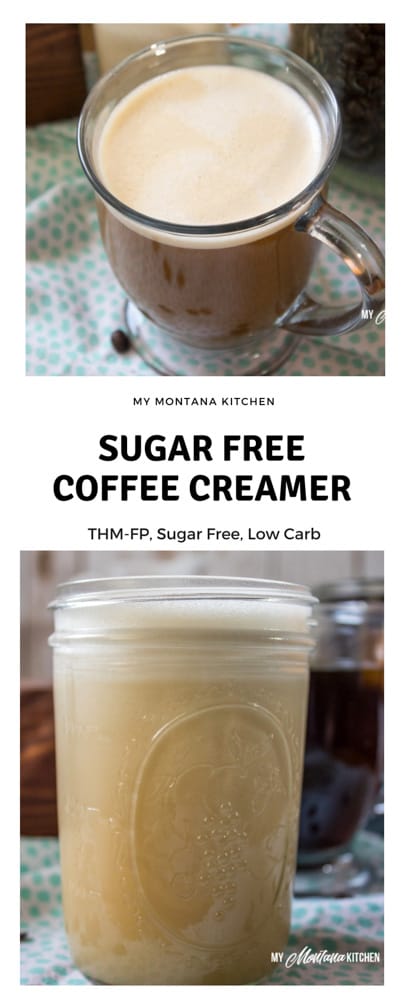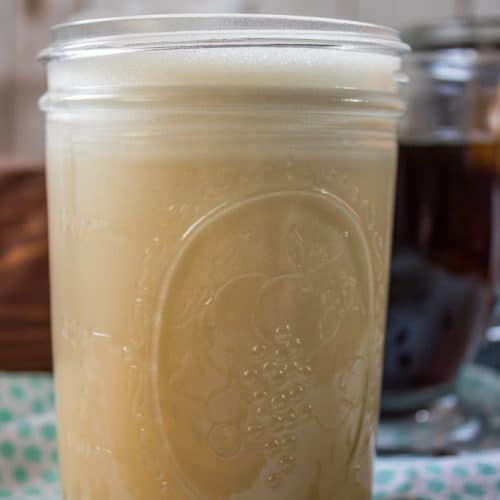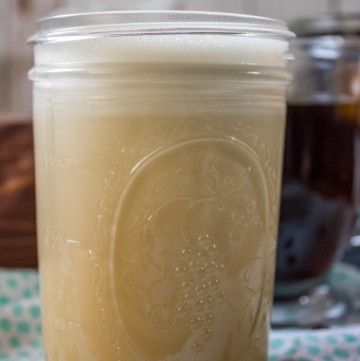 Sugar Free Coffee Creamer
Sweet and creamy, this sugar free coffee creamer is bursting with health benefits. There are 13 grams of protein in each serving, making this great for a snack!
Print
Pin
Rate
Instructions
Pour hot water into a blender.

Add all other ingredients to blender and blend well, for about 10 seconds.
Video
Notes
*Very Important* Make sure to place the hot water in your blender first, then the powders and extracts. If not, the powders may clump.
Please make sure to follow your blender's instructions for blending hot liquids.
If you do not have Gentle Sweet, you can use my Low Carb Powdered Sugar in equal amounts.
If you do not have Pristine Whey Protein, you can substitute your favorite protein powder.
If you do not have collagen, you can either use more protein powder in its place, or simply omit it (but realize that the nutritional facts will be different.)
If you like flavored coffee creamers, add 2 teaspoons of your favorite extract when blending!
If you like your coffee more sweet, simply add a bit more Gentle Sweet.
Feel free to add half and half or heavy cream to this creamer to make it more creamy (but I encourage you to try it as-is first!). (Adding cream would change the nutritional information.)
As written, this recipe is a Trim Healthy Mama FP!
Nutrition
Serving:
0.25
Cup
|
Calories:
93
kcal
|
Protein:
13
g
|
Fat:
4
g