We may earn money from the products/companies mentioned in this post. As an Amazon Associate I earn from qualifying purchases.
Sparkling Raspberry Soda
A light, fizzy, refreshing drink that is sugar free and low carb!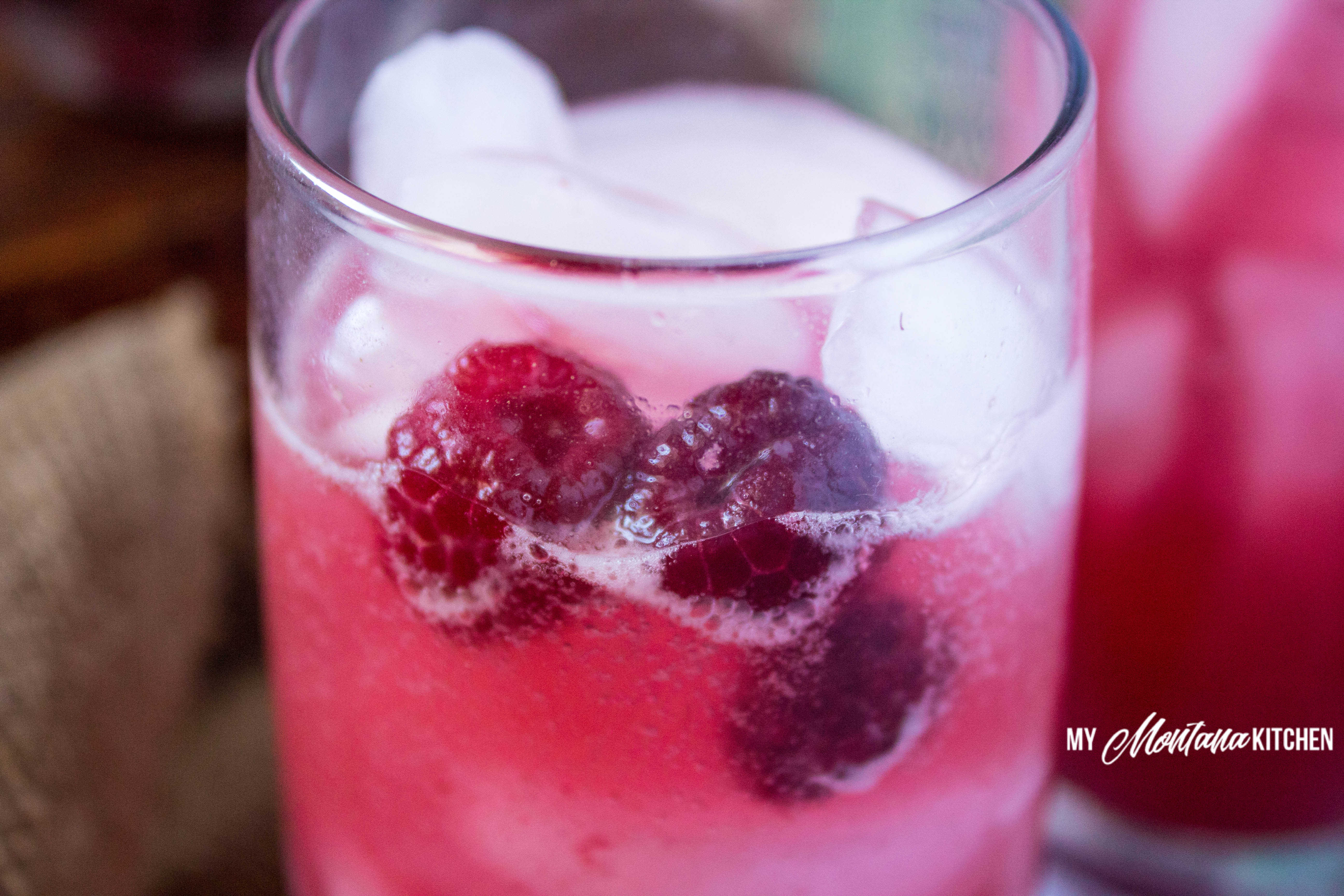 (We are a participant in the Amazon Services LLC Associates Program, an affiliate advertising program designed to provide a means for us to earn fees by linking to Amazon.com and affiliated sites. There are affiliate links used in this post.)
All right . . . do I have any Southerners that read my blog? More specifically, any East Tennessee people? People who say "Knoxvull" and "Merville" (Maryville)? If so, perhaps you would understand my consternation at naming a recipe "soda."
Truly! It goes against everything within me! Where I grew up (in East Tennessee), we always called any soft drink "Coke." This thoroughly confused my husband when we first met. We asked him if he wanted a coke, and when he replied yes, we asked him what kind. Did he want Dr. Pepper, Pepsi, or Sprite? Poor guy . . . he was very confused! He soon learned that whenever we asked him that question he needed to ask what flavors we had. Ha!
He grew up calling it soda - I have since learned that the United States is quite divided on what they call soft drinks - pop, soda, soda pop, or in my case, Coke!
Of course, cokes (sodas) are full of unhealthy sweeteners - whether that be high fructose corn syrup or artificial sweeteners. But this Raspberry Soda is sweetened only with stevia and erythritol. Plus, you get a boost of Vitamin C from the raspberries!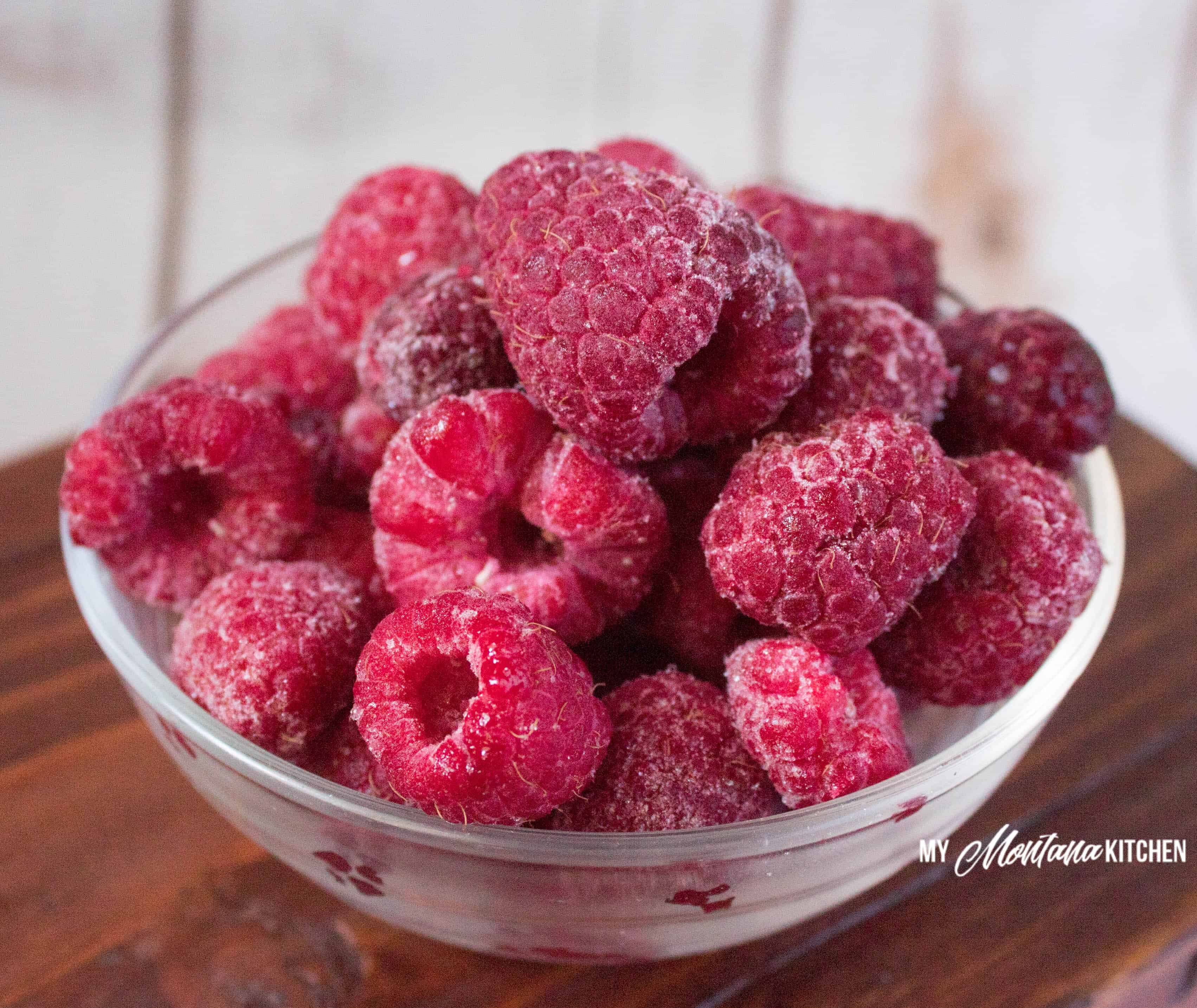 Benefits of Raspberries
Not only do raspberries contain a good dose of Vitamin C, but they are also good for your skin, and are high in antioxidants! Raspberries, (especially raspberry leaf tea) are good for women's health as well. They can help with menstrual problems, and help produce milk in lactating women. These are a great little powerhouse of nutrition!
Unfortunately, fresh raspberries are quite expensive in Montana at this time of year. So I have been using frozen raspberries, and they taste just as good when blended with other ingredients. (Maybe I will post my raspberry kefir smoothie soon.)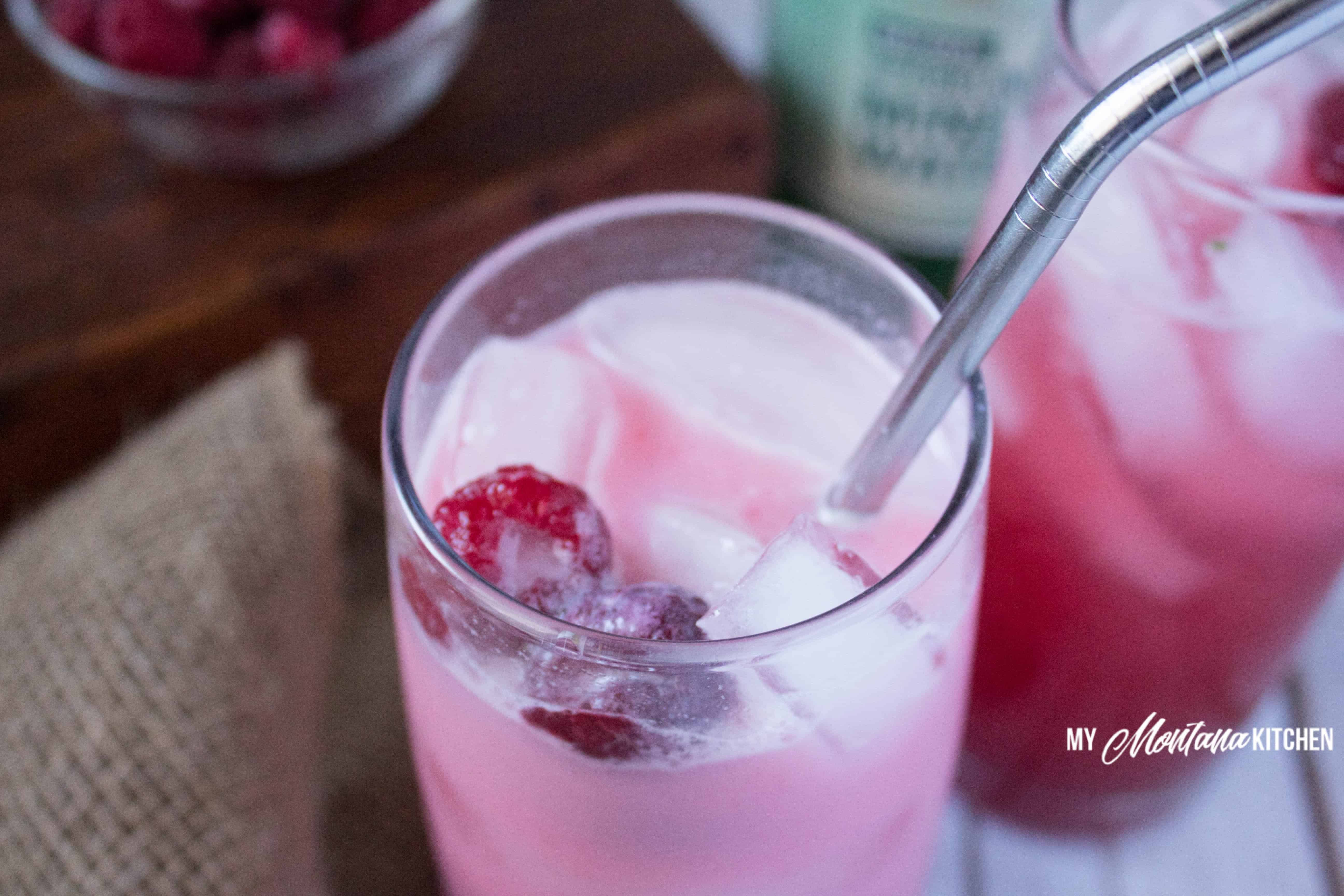 It is also super easy to make these into Raspberry Cream Sodas. Now, I will admit, I have never had a fruity cream soda - but I tried this today and it was quite delightful! (Just add 2 teaspoons of half & half to each glass when you mix them up!)
For this Sparkling Raspberry Soda recipe, I made a simple "syrup" from the frozen raspberries, then added that to Sparkling Mineral water. The syrup will stay fresh in your refrigerator for up to a week, so you can keep it handy and mix up a drink whenever the craving strikes! The syrup will make 5 glasses of Sparkling Raspberry Soda.
When I mixed mine up, I also added 1 "doonk" (1/32 of a teaspoon) of stevia to each glass, because I didn't feel it was sweet enough for my taste buds. So if it does not seem sweet enough to you, don't be afraid to "own" it - thats what I do!
Ingredients Needed
So, what do you need for these Sparkling Raspberry Sodas?
2 Cups Frozen Raspberries
1 Cup Water
2 Tablespoons Super Sweet (Or you can use Pyure, which is available at most Walmarts)
Sparkling Mineral Water
I used a fine mesh sieve to strain my syrup and remove the seeds. I have a set of three, that are similar to those listed below.
If you like a hint of lime with your raspberry soda, check out this awesome recipe from my friend Taryn, at Joy Filled Eats. See her Single Serve Raspberry Soda Recipe here! (I did not even know she had this recipe - I stumbled across it on Pinterest after I had already been thinking about this post! I bet the lime really kicks it up a notch!)
Be sure to sign up with your email address so you can receive all my new recipes delivered right to your inbox! (Look for the sign-up box at the top of this post.) Also, be sure to follow me on Facebook, Pinterest, Instagram, and Twitter!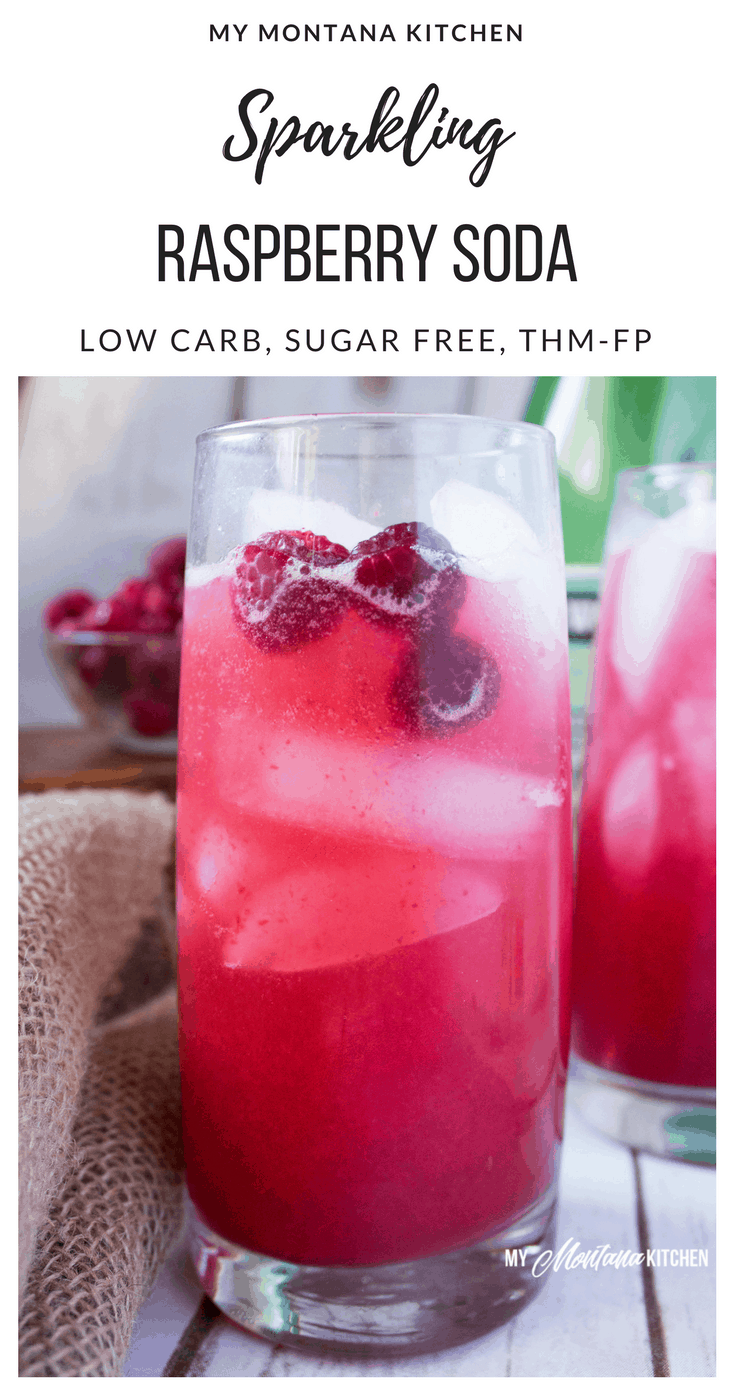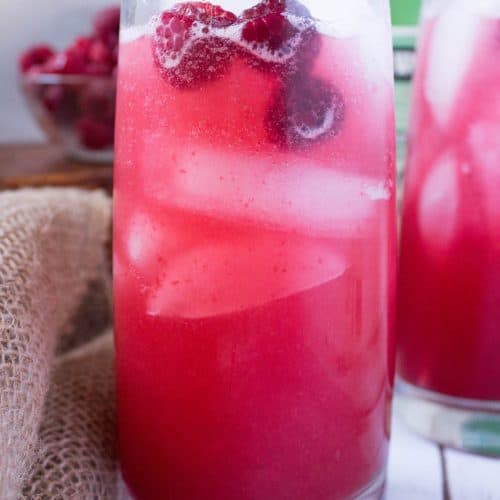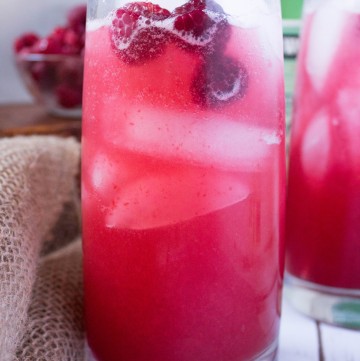 Ingredients
2

Cups

Frozen Raspberries

1

Cup

Water

2

Tablespoons

Super Sweet

Or you can use Pyure

Sparkling Mineral Water
Instructions
In a microwave safe bowl, microwave frozen raspberries, water, and Super Sweet for 2-2.5 minutes, or until berries break down into a sauce.

Place in a blender and blend thoroughly.

Using a fine sieve, press raspberry mixture through, straining out all the seeds.

Store syrup in an airtight container in refrigerator until ready to use.
Assembling Sodas
In a glass, mix 3 Tablespoons syrup with 1 "doonk" (1/32 teaspoon) of stevia (if extra sweetness is desired).

Pour 1 cup of sparkling mineral water over ice and stir well.
Notes
If you do not have the Trim Healthy Mama Super Sweet Blend, you can use an equal amount of Pyure. Pyure is also available at most Walmarts.
This drink is a FP for Trim Healthy Mamas, but is not an all-day sipper as the raspberries are a fuel source. Enjoy with a snack or a meal, but do not sip on it all day.  
Nutrition
Serving:
3
Tablespoons Syrup
|
Calories:
26
kcal
|
Carbohydrates:
6
g
|
Protein:
1
g
|
Fiber:
3
g
|
Vitamin C:
17.3
mg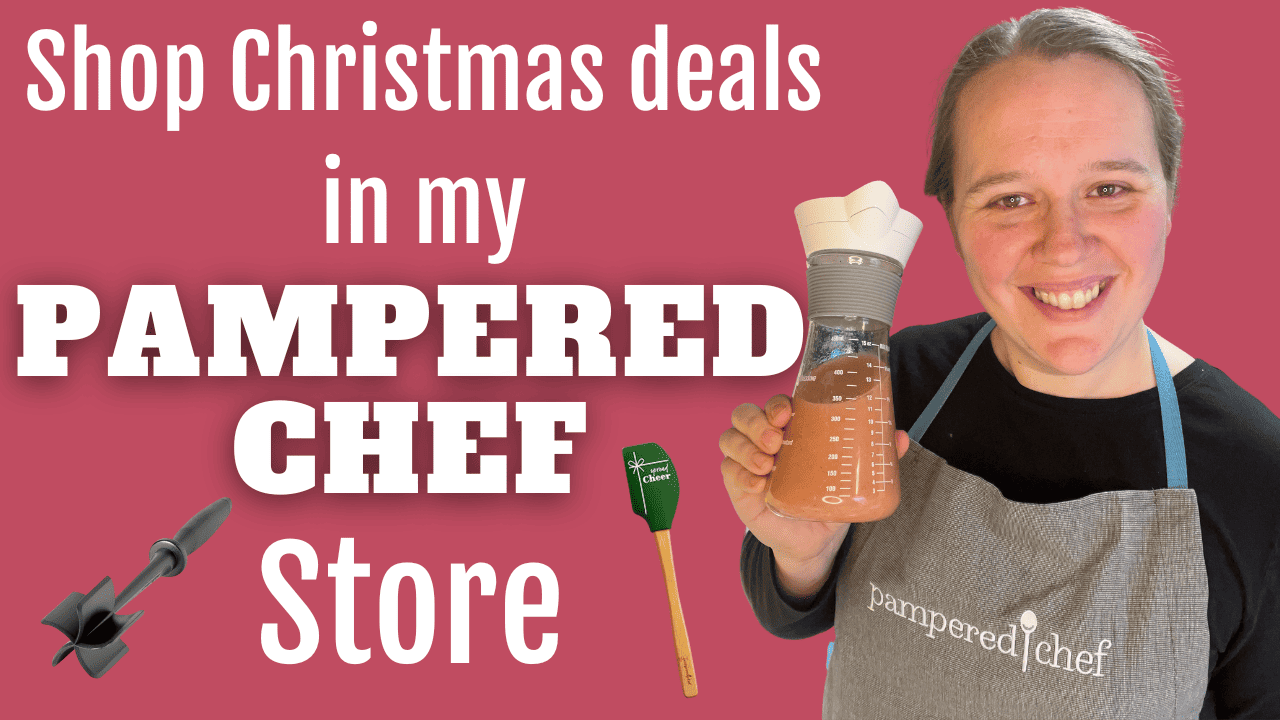 Reader Interactions