We may earn money from the products/companies mentioned in this post. As an Amazon Associate I earn from qualifying purchases.
An easy baked oatmeal with a syrupy peach sauce baked underneath a chewy oatmeal crust. This recipe is low fat, sugar free, gluten free (if using gluten free oats), and a Trim Healthy Mama E Fuel.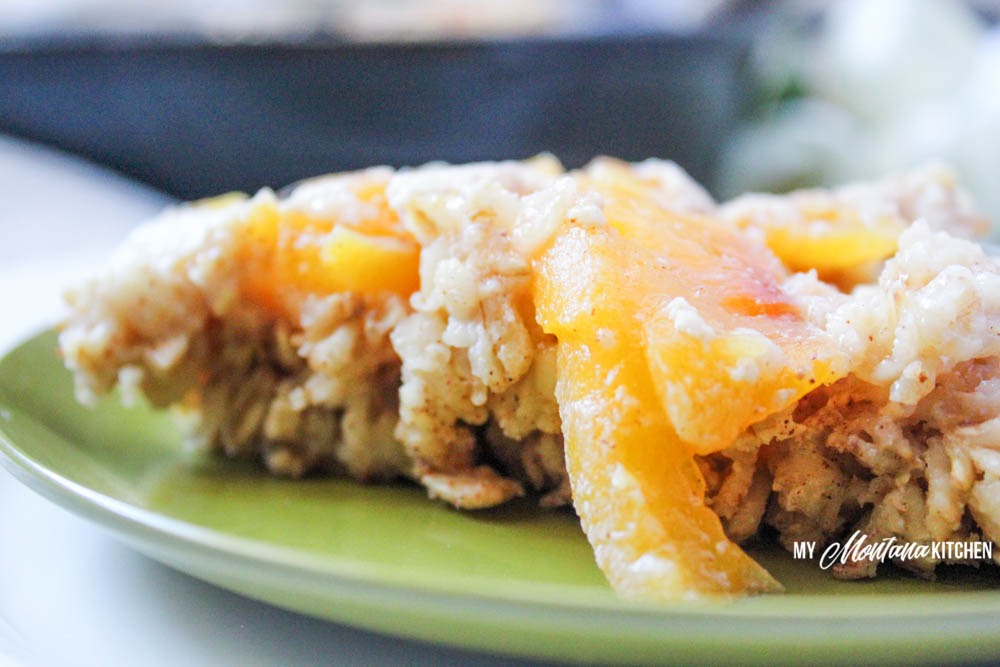 (This post may contain affiliate links, which provide me with a small compensation when you purchase your products through my links. Thank you for your support!)
I admit that I don't eat enough E meals. If you are a Trim Healthy Mama, you know what I am talking about. It just seems so much easier to make those decadent, luscious S meals and desserts. Notice I said it "seems" easier. It really isn't hard to get those E's in, but I'm just in a rut. (There, I said it!) If you are unfamiliar with THM, "E" meals are healthy carb and protein based, using such healthy carbs as oatmeal, sweet potatoes, beans, lentils, and quinoa (and others). (For more information on THM, check out their website.)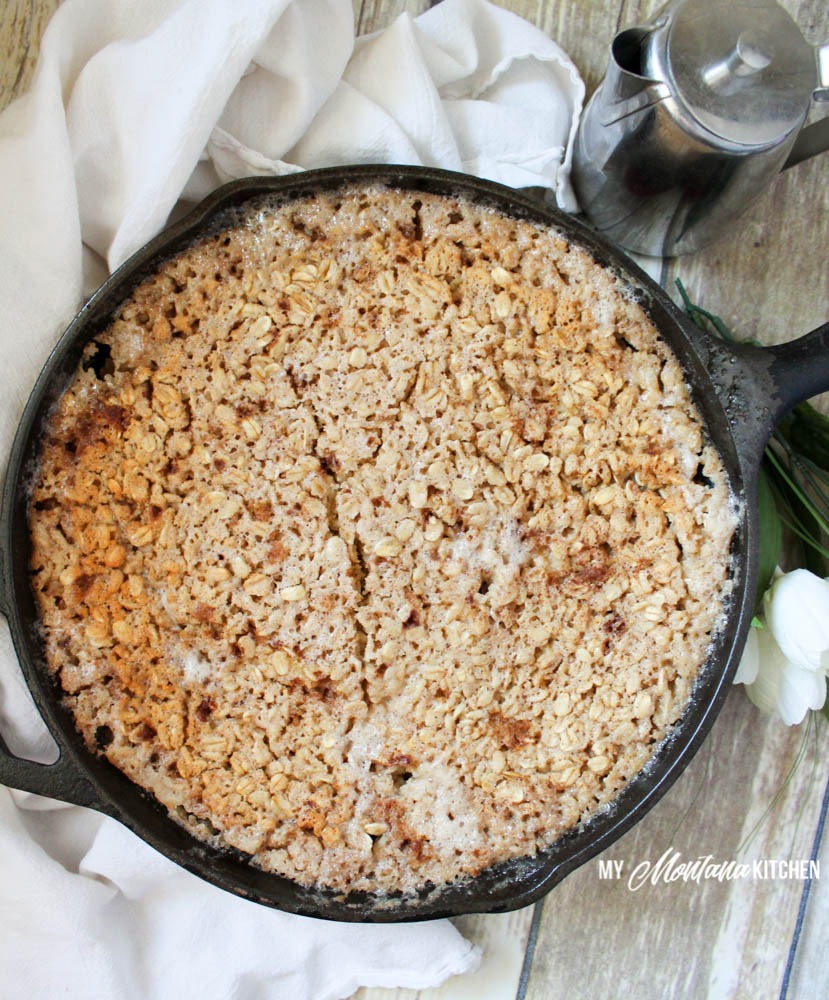 I love to eat E's for breakfast. The Trim Healthy Pancakes are one of my absolute favorites! I like to layer them with sweetened Greek Yogurt and my easy 2 Ingredient Peach Sauce for a decadent breakfast! I am also a fan of baked oatmeal. I love to make up a big batch so I have leftovers in the fridge to eat throughout the week.
This recipe was inspired by an upside down pineapple oatmeal I had at my mother-in-laws this summer. My sister-in-law layered fresh pineapple in the bottom of a cast-iron pan and baked oatmeal on top. It was delicious! I did not have fresh pineapple last week, but I did have frozen peaches! Fresh peaches would also work great in this recipe!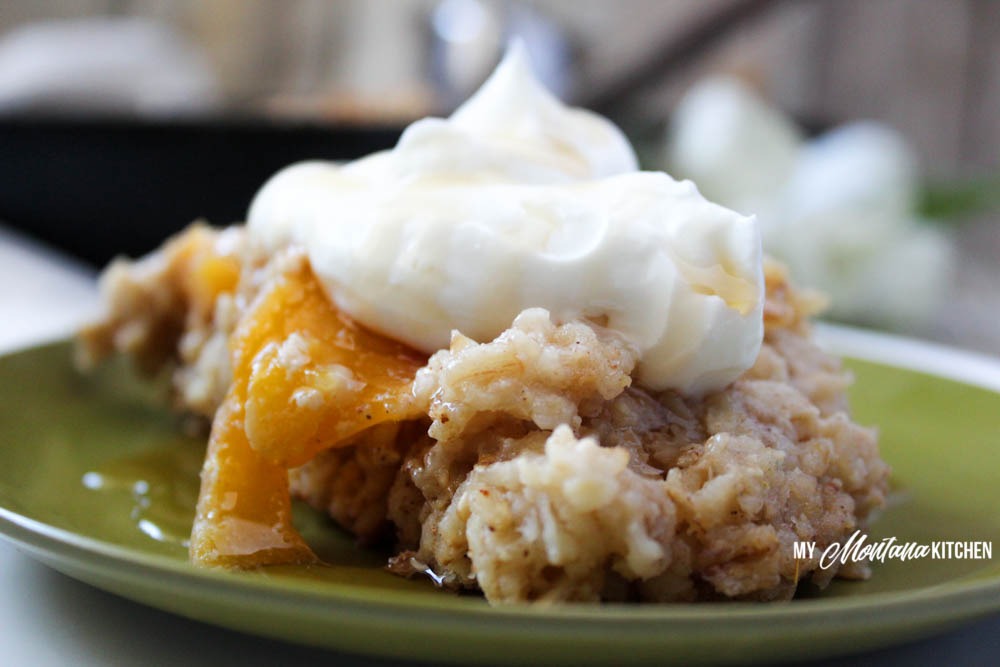 I topped this oatmeal bake with my Copycat 000 Yogurt Recipe, and a drizzle of sugar free maple syrup. I added some collagen coffee, and I had plenty of protein for a rounded E meal that gave me energy for my day!
I added whey protein to the oatmeal bake for a bump in protein, but that is not absolutely necessary. If you do not use whey protein, this recipe uses No Special Ingredients!
If you love peaches, check out my Single Serve Healthy Peach Crisp recipe!
So what do you need for this delicious oatmeal bake?
1 Pound Frozen Peaches
1 ¼ Cups Xylitol, Divided
¾ Teaspoon Cinnamon
2 Cups Old Fashioned Oatmeal (Uncooked)
⅓ Cup Whey Protein
2 Teaspoons Baking Powder
½ Cup Plain Greek Yogurt
1 Cup Unsweetened Almond Milk
¼ Teaspoon Salt
Be sure to sign up with your email address so you can receive all my new recipes delivered right to your inbox! (Look for the sign-up box at the very top of this page.) Also, be sure to follow me on Facebook, Pinterest, Instagram, and Twitter!
Have you seen my ebook? "My Top 10 Low Carb Dessert Recipes." Click the link to check it out!

Ingredients
1

Pound

Frozen Peaches

1 ¼

Cups

Xylitol

Divided

¾

Teaspoon

Cinnamon

2

Cups

Old Fashioned Oatmeal

Uncooked

⅓

Cup

Whey Protein Powder

2

Teaspoons

Baking Powder

½

Cup

Plain Greek Yogurt

1

Cup

Unsweetened Almond Milk

¼

Teaspoon

Salt
Instructions
Preheat oven to 350.

In a large bowl, combine frozen peaches, ¼ cup xylitol, and ½ teaspoon cinnamon. Toss to coat.

Pour peaches into a greased 12 inch cast iron skillet.

In another bowl, mix all remaining ingredients.

Pour oatmeal mixture over peaches.

Bake for 50-55 minutes, or until center is set and no longer jiggles.
Nutrition