Sugar free applesauce – yes, you can have delicious, homemade applesauce at home! A perfect fall treat! This recipe is low fat, sugar free, and a Trim Healthy Mama E Fuel.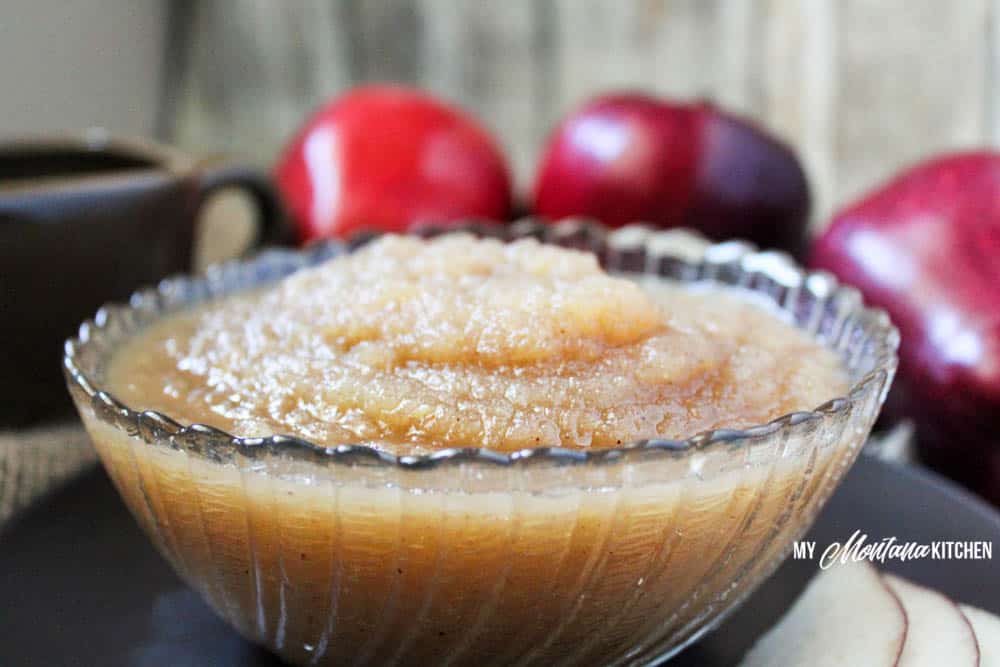 (This post contains affiliate links, which provide me with a small compensation when you purchase your products through my links. Thank you for your support!)
I fear that pumpkin often steals the show in the Fall. Now, don't get me wrong – I LOVE pumpkin! You only need to check out a few of my other recipes to see that. I have recipes for Pumpkin Pie, Pumpkin Muffins, Pumpkin Bars, Pumpkin Energy Bites, and even Pumpkin Pecan Protein Bars!
I will not deny that I love pumpkin, but apples are a perfect fall food as well. Something about a good crisp apple reminds me of cool air, crunching leaves, and the scent of fall. How about you?
Towards the end of the summer I bought a box of "seconds" apples at the local Farmers Market. These are apples that didn't quite make the cut – they have irregularities or spots. But they were perfect for making applesauce!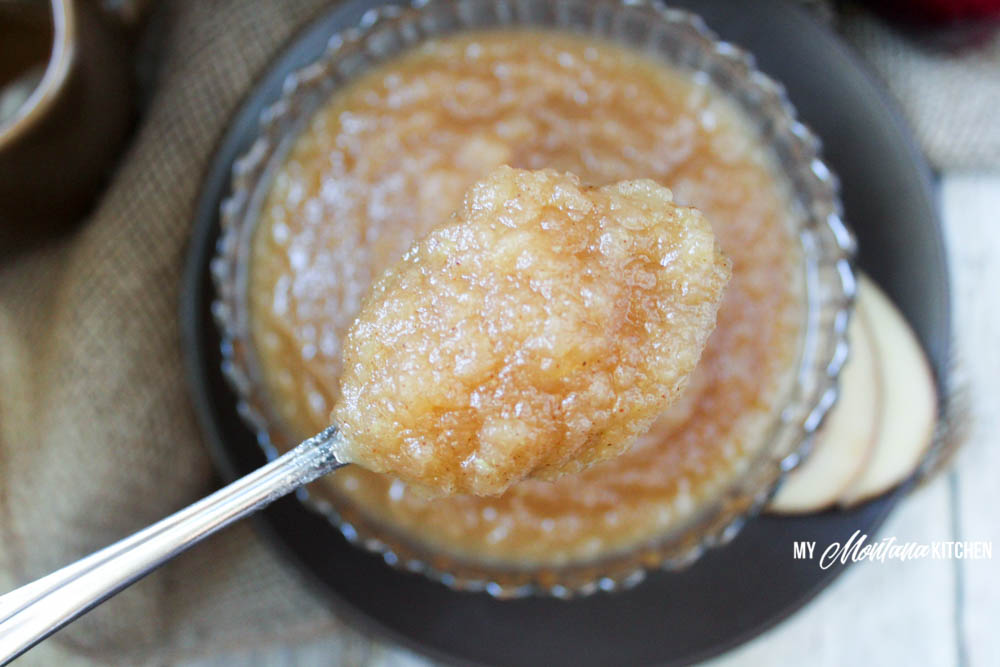 And just let me say . . . homemade applesauce does not even COMPARE to store bought! It just does not, so don't even try! Once you taste the homemade variety, you will never want to go back!
I'm sure you could can this applesauce if you have a large amount of apples. However, I am not sure of all the proper processing.
This recipe can be made on the stove top, or in your Instant Pot! (Have I ever mentioned how much I LOVE my Instant Pot?) Just put all the ingredients in your Instant Pot Liner and set it for twenty minutes at manual pressure!
For Trim Healthy Mamas, this is an E fuel. I love to have it for breakast or a quick snack with some low-fat cottage cheese. The cottage cheese adds a nice bump of protein! (If I am eating it for breakfast, I usually pair it with collagen coffee.)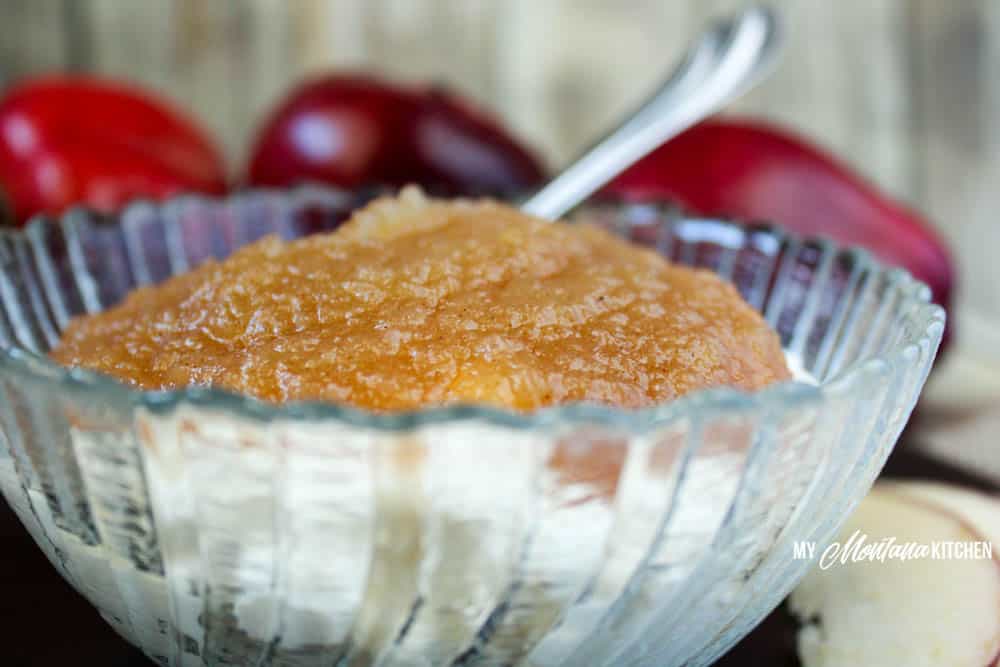 I also usually warm up the cottage cheese and applesauce together. I know, I know, call me strange if you must! But I just love warm applesauce – comfort food! You can also use this sugar free applesauce as a topping for Trim Healthy Pancakes!
So, what do you need for this recipe?
8 Cups Peeled Chopped Apples
3/4 Cup Xylitol (or your favorite on-plan sweetener)
1 Teaspoon Cinnamon
Be sure to follow me on Facebook, Pinterest, Instagram, and Twitter!
Also, be sure to use the form below to sign up with your email address so you can receive all my new recipes delivered right to your inbox!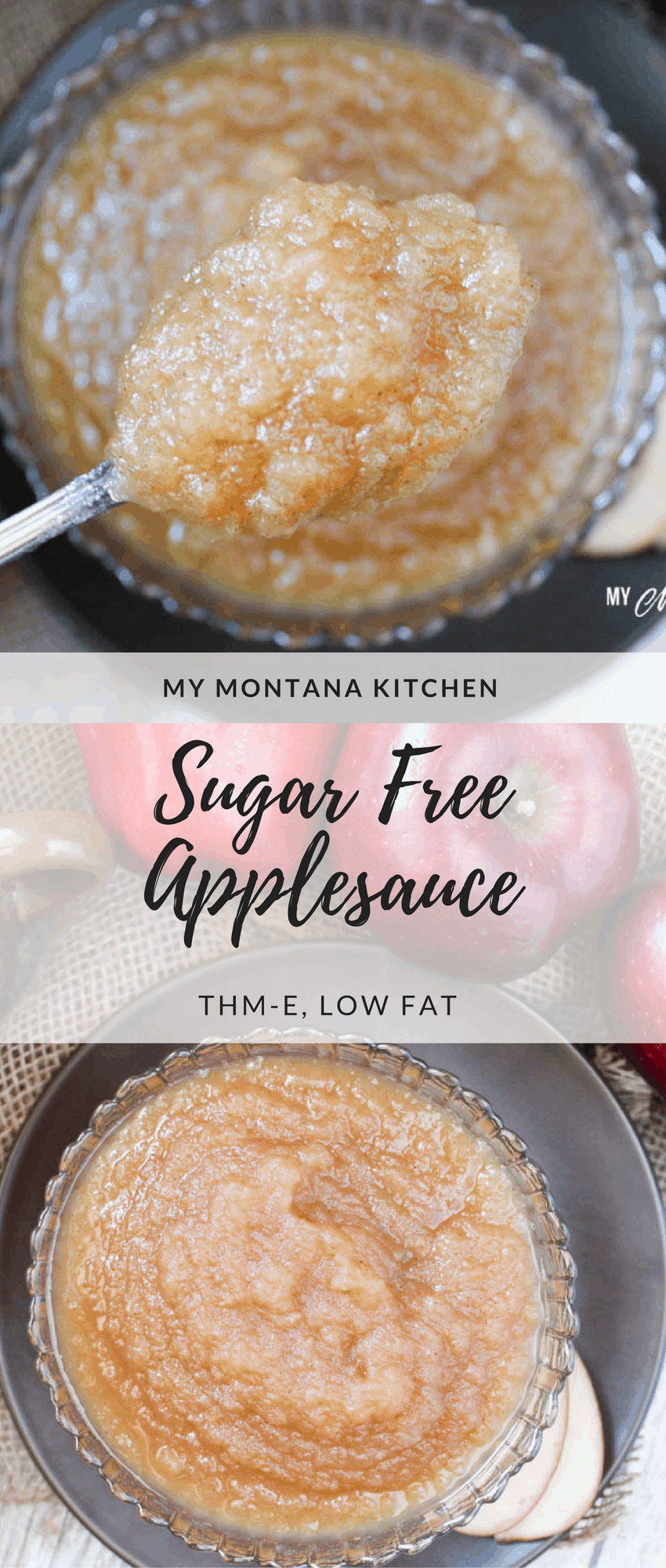 Sugar Free Applesauce (THM-E)
Ingredients
8 Cups Peeled Chopped Apples
3/4 Cup Xylitol (or your favorite on-plan sweetener)
1 Teaspoon Cinnamon
Instructions
Stovetop Method

In a large pot, combine all ingredients and cook over medium heat for 35-40 minutes. The apples will soften and begin to break down as they cook.
When apples are completely softened, mash with a hand masher (such as a potato masher), or transfer to a blender and blend until smooth.

Instant Pot Method

Place all ingredients in your Instant Pot Liner and add 1/2 cup water.
Close lid and seal vent.
Set to manual pressures for 20 minutes, then allow a Natural Pressure Release.
Stir with a spoon, and enjoy your applesauce!
Notes
If you do not like to use Xylitol, you can use 6 Tablespoons of Pyure.
http://mymontanakitchen.com/2017/10/07/sugar-free-applesauce-thm-e/
This recipe is the property of My Montana Kitchen