We may earn money from the products/companies mentioned in this post. As an Amazon Associate I earn from qualifying purchases.
Fried pork chops are classic comfort food, and I've got a recipe you and your family will love.
These easy keto pork chops are juicy, delicious, and super easy to make!
These air fryer pork chops are a Trim Healthy Mama S fuel, as well as keto-friendly, gluten-free, and low-carb.
There are few things better than a perfectly done pork chop…that's where the air fryer comes in!
With this wonderful gadget, you'll never have to worry again about dried-out pork chops or long cooking times.
These boneless pork chops are done quickly and come out great every time, making deliciously tender meat that may become a family favorite dish!
These get better, though – there's also a yummy parmesan crust to add even more amazing flavor!
The parmesan cheese coating serves a few different purposes – not only is it just plain delicious (and gorgeous), but it also helps to lock the juices in. You won't even miss the brown gravy!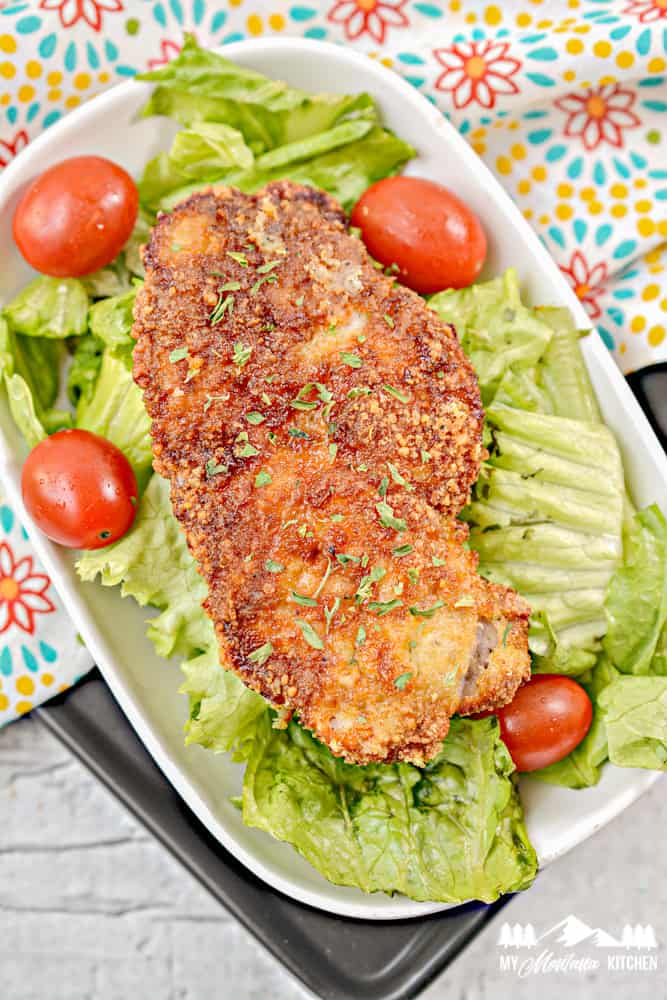 Air Fryer Keto Pork Chops
As many of us know, fried pork chops seem like they should be an easy dish, but they're often not.
Because boneless pork chops are such a lean meat, it dries out easily.
Pan-frying and oven baking this cut of meat doesn't do it any favors. The air fryer really is the perfect tool to use!
Because your air fryer is basically a convection oven, it offers you both a quick cooking time and a cooking method that won't dry out your pork chops.
It's also a fantastic way to get the parmesan crust "just right!"
Speaking of the crust, there's no reason to miss out on crusted or breaded dishes when you're on a Keto or low-carb, or Trim Healthy Mama diet.
This recipe is flour-free but completely delicious!
Can You Cook Frozen Pork Chops in the Air Fryer?
One question often asked is if you can cook frozen foods in the air fryer, especially foods that need to be cooked through like pork or poultry. The answer is yes!
Frozen or partially-frozen chops cook up easily in the air fryer.
I recommend you add a few extra minutes to the cooking time, but when you're in a rush, the convenience is worth it.
This brings me to another common question:
How long should I fry pork chops?
You'll find a lot of answers to this, depending on the cooking method and thickness of the pork chops. This can get a bit confusing!
To make it easy, this recipe has a cook time of 15-20 minutes.
I'd suggest sticking to the 15-minute time range for half-inch thick, fully thawed boneless chops, flipping halfway through.
If your pork chops are thick-cut chops or frozen, increase the time by a few minutes.
The good thing about this cooking time is that it's almost completely hands-off!
The air fryer does the work for you, allowing you to get your sides ready or just chill with your family for a bit.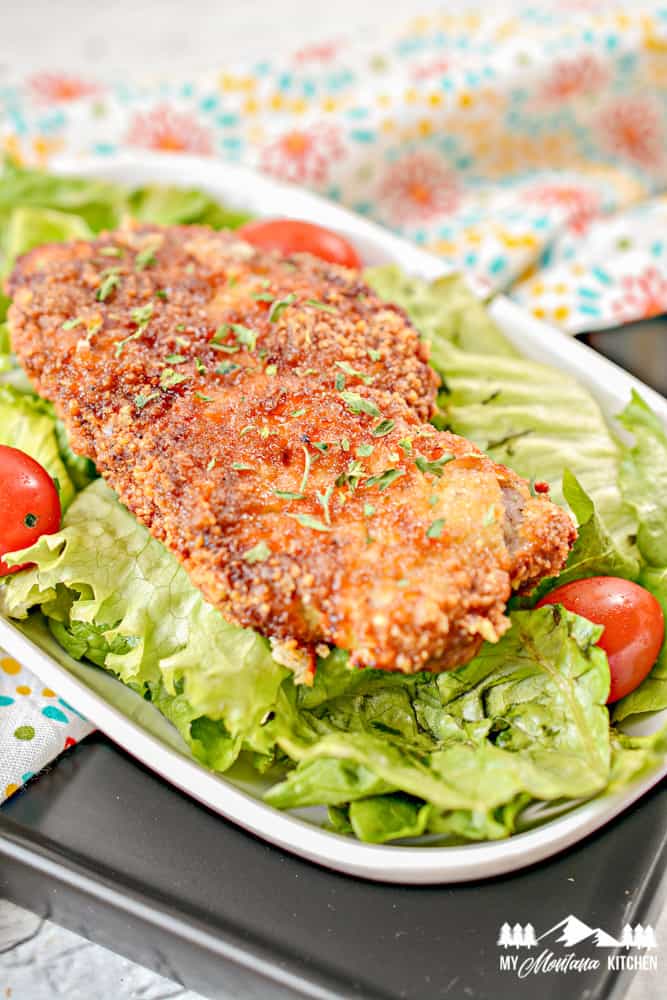 How to make Parmesan Pork Chops
This recipe is pretty straightforward and easy to follow. Let's go over it quickly:
Preheat your air fryer to 350 degrees F (if required - it's not always necessary).
Season both sides of each pork chop with salt, pepper, and garlic powder to your liking.
Whisk the heavy cream and egg together in a shallow bowl until it becomes smooth.
In a separate bowl, mix the pork rind crumbs and grated parmesan.
First, dip each pork chop into the egg mixture. Then, coat the chops with the parmesan mixture and add pork chops to the rack in the basket of your air fryer.
Cook the pork chops for 15-20 minutes. Turn them over halfway through so they cook evenly. Check that they're done by using a meat thermometer to see if the internal temperature is at least 145 degrees.
Sprinkle with fresh parsley or fresh thyme, if desired.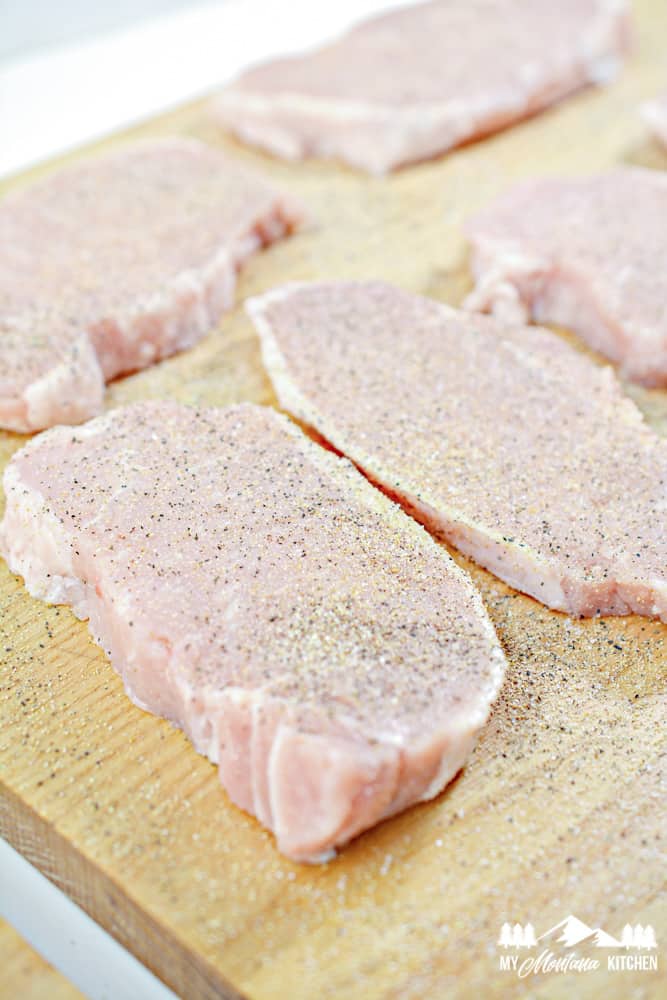 What Temperature Should Pork Be Cooked At?
This recipe is fairly forgiving, but it's still important not to overcook the meat. Cooking it at too high of a heat or for too long will result in dry, tasteless pork.
For the best results, cook these chops at 350 degrees for 15-20 minutes until they register an internal temperature of 140 to 145 degrees on a meat thermometer. (It will continue to cook a bit as it rests.)
Bringing the pork to this temperature is important, as undercooked pork isn't safe to eat.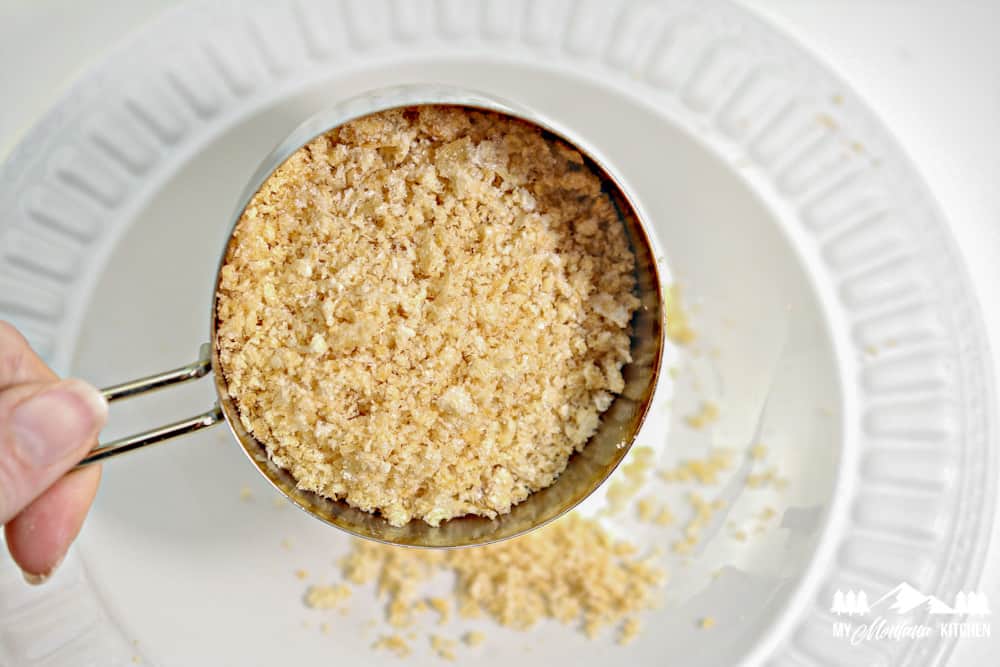 Can You Stack Meat in an Air Fryer?
Technically, you can stack meat in an air fryer, but I really wouldn't recommend it.
Because air fryers cook with convection heat, it's important to let the air circulate around the entire surface of these delectable parmesan breaded chops.
Doing so will give you even cooking results and a crust you won't want to wait to dig into!
If you need to cook more chops than will fit in one layer in your fryer, I suggest cooking them in batches.
They cook up pretty quickly while you're preparing your side dishes and getting everything ready.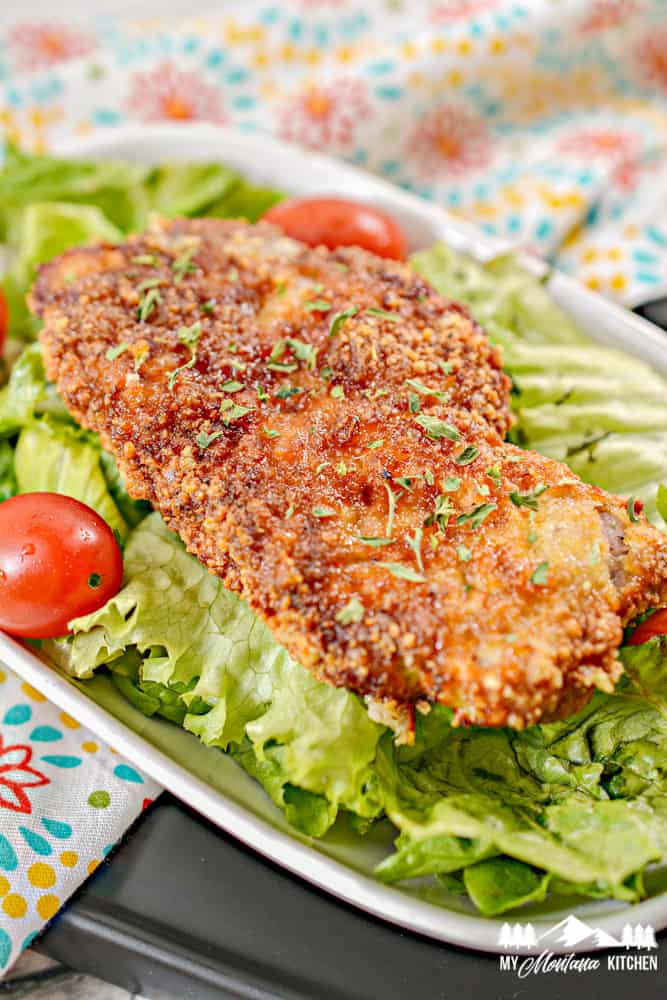 Other Frequently asked questions:
How do you get the crust to stick to pork chops?
The key to getting the breading or crust to stick to pork chops is to use an egg wash.
An egg wash is simply a beaten egg that you brush over meat before adding the breading. It acts like glue, helping the breading to adhere.
To make this recipe even easier, you could use mayo in place of the egg and whipping cream. It has a similar effect and is one less step!
Are pork chops Keto-friendly?
Yes, these parmesan-crusted pork chops are definitely Keto-friendly!
Each serving has only 3 grams of carbs, making them a great option for a quick and easy weeknight meal. Everyone loves juicy pork chops!
Can I use bone-in chops?
Absolutely! If you prefer bone-in chops, you can definitely use them in this recipe.
Just keep in mind that they will take longer to cook through.
Can I make this recipe with chicken breasts?
Absolutely! While I haven't personally tried it, I believe this recipe would work great with chicken breasts.
I would recommend cooking them for a bit longer since they are usually thicker than pork chops.
You could also try using a thinner cut of chicken, such as cutlets. They would cook up quickly and be super juicy!
What other flavor options can I use for the pork chop recipe?
The possibilities are endless when it comes to flavors for these pork chops!
There is already garlic powder and parmesan, but if you want to take it to the next level,
here are a few ideas to get you started:
Italian: Add some Italian seasoning to the breading for a delicious flavor.
Cajun: For a bolder flavor, use Cajun seasoning instead of salt and pepper.
Smoky: Add a touch of smoked paprika to the breading for a smoky flavor.
Onion: Add onion powder to the breading for a pop of flavor.
Serving Parmesan Crusted Air Fryer Pork Chops
You really can't go wrong with whatever you choose to serve with this keto pork chops recipe, but Roasted Broccoli and Cheesy Cauliflower Rice are delicious options.
They're both easy to whip up while the fried pork chops are cooking! Steamed green beans with garlic cloves and lemon butter are always great as a keto side dish, too!
More keto pork recipes
If you love pork chops and would like to try a different pork chops recipe, try my Pork Chops with Mushroom Cream Sauce!
It's almost like a smothered pork chops recipe with a heavy whipping cream sauce - all made in a cast iron skillet. The cream sauce helps keep the pork loin chops super juicy! It's just as family-friendly and is full of low-carb yumminess. Enjoy!
You may also like:
Instant Pot Pork Tenderloin - You can now use your Instant Pot to make a comforting dish like pork tenderloin that is perfect for any occasion, whether it's a quick weeknight dinner or an extravagant family gathering.
Asian Lettuce Wraps - Are you looking for an easy low-carb meal? Look no further than these filling Asian Lettuce Wraps made with ground pork. Full of a variety of flavors, you won't be able to resist this low-carb pork recipe!
Bacon Wrapped Grilled Pork Chops - a delicious grilled pork chop recipe. Tenderloin chops wrapped in bacon and grilled to juicy, delicious perfection. There's a lot to love about this dish - no unusual ingredients and it's really easy!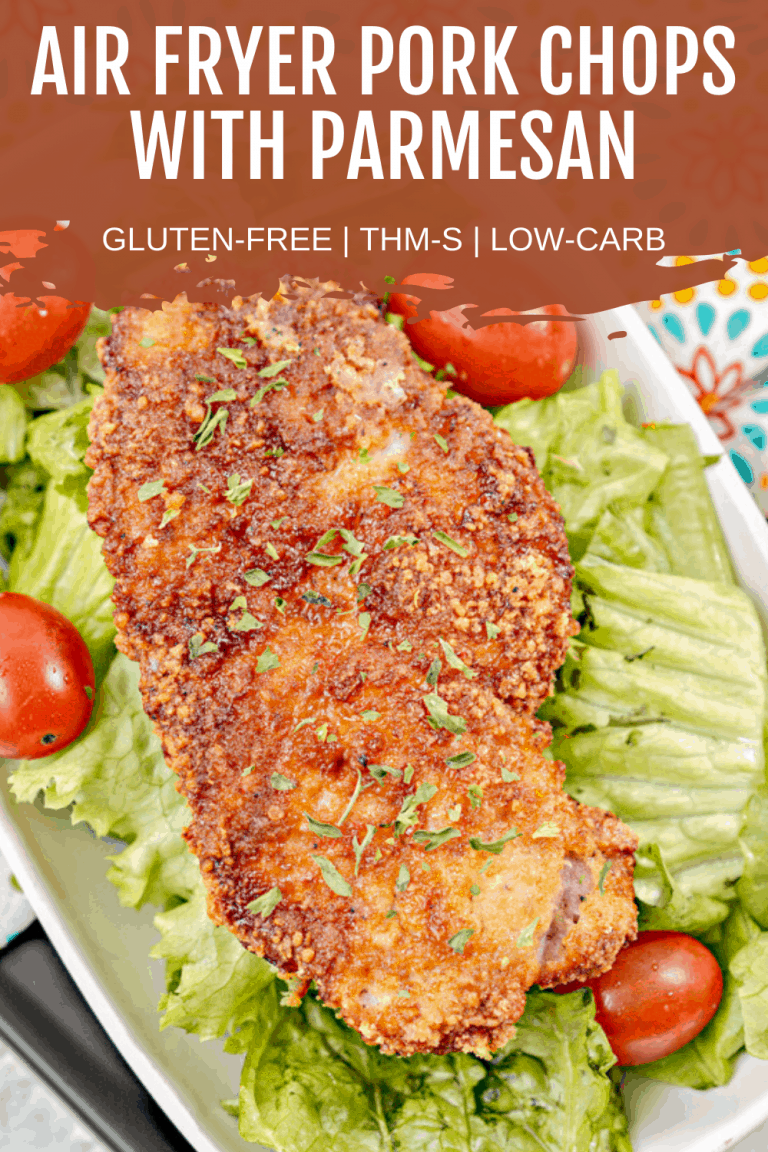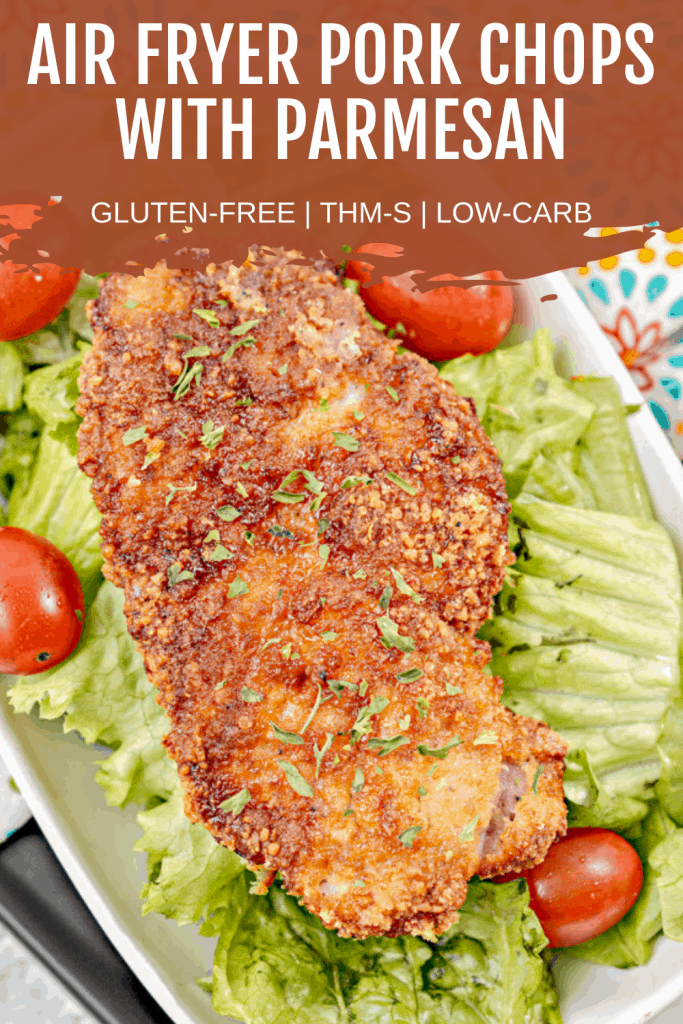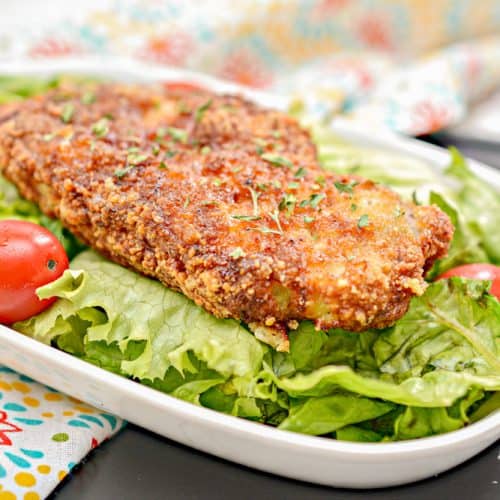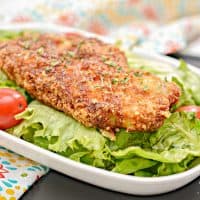 Air Fryer Pork Chops with Parmesan
These low carb pork chops are juicy, delicious, and super easy to make in your air fryer.
Print
Pin
Rate
Ingredients
6

Boneless Pork Chops

about 1/2 inch thick

1

Cup

Pork Rind Crumbs

about 2 ounces

3/4

Cup

Parmesan Cheese

grated

Salt, Pepper, and Garlic Powder

to taste

1

Egg

2

Tablespoons

Heavy Whipping Cream
Instructions
Preheat your air fryer to 350 degrees if required.

Season both sides of each pork chop with salt, pepper and garlic powder to taste.

In a shallow bowl, whisk together the heavy whipping cream and egg until smooth

In another bowl, combine the pork rind crumbs and grated parmesan, mixing well to combine.

Dip each pork chop into the egg mixture, and then coat with the parmesan mixture.

Cook the pork chops for 15-20 minutes on a rack in the air fryer or until they reason an internal temperature of at least 145 degrees. Turn the pork chops halfway through cooking.
Notes
NO AIR FRYER
If you do not have an air fryer, you can lay these pork chops on a baking rack set on a cookie sheet. Bake at 350 for 25-30 minutes, flipping halfway. Bake until internal temperature reaches 145 F.
Nutrition
Serving:
1
Pork Chop
|
Calories:
328
kcal
|
Carbohydrates:
3
g
|
Protein:
37
g
|
Fat:
17
g