We may earn money from the products/companies mentioned in this post. As an Amazon Associate I earn from qualifying purchases.
Delicious, juicy pork tenderloin. It's one of those comforting dishes that you can serve for a weeknight dinner or a special family gathering. And now, it's easier than ever to prepare in your Instant Pot!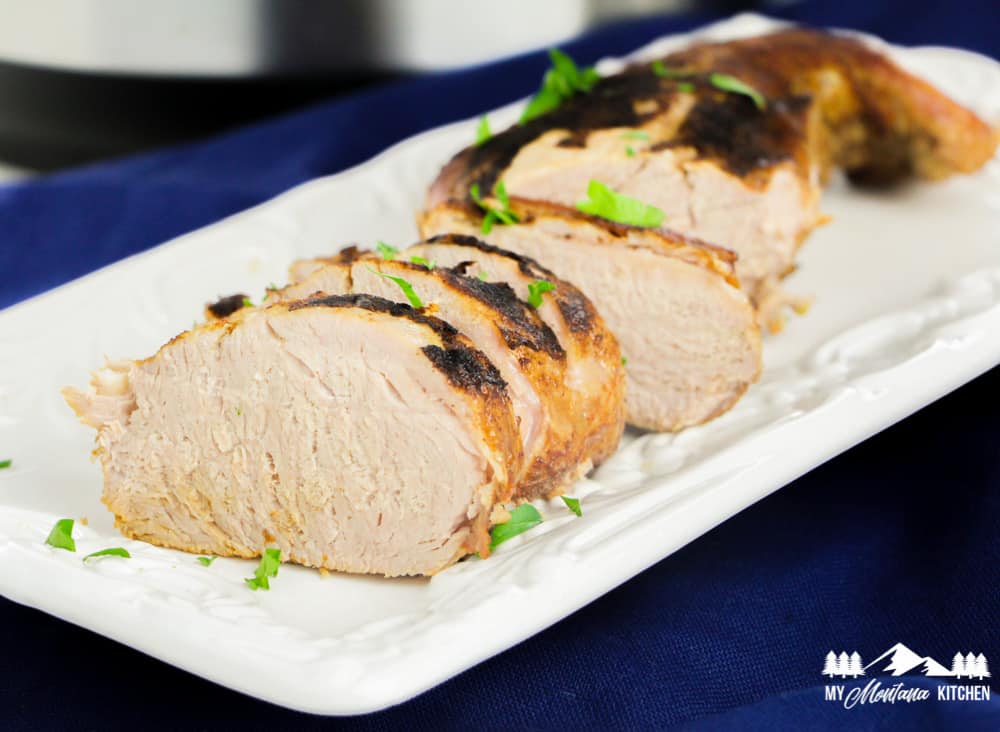 Traditionally, pork tenderloin is prepared in the oven; while this method isn't difficult, it is time consuming – and it can easily cause the pork to dry out.
Pork is a very lean meat, which makes it perfect for pressure cooking!
And of course, Instant Pot Pork Tenderloin is very low in carbs! This recipe is a fantastic choice for those following a Keto or low-carb diet, and it's also great for THM.
Is Pork Loin the Same as Pork Tenderloin?
This is a question I often see, and the answer is "no."
Pork loin is cut from a pig's back and tends to be large and flat. This is the cut that pork chops are cut from, but it's also often used as a roast. It benefits from long, slow cooking, as it has a lot of connective tissue that must be broken down. Because of this, pork loin is a great choice for pulled pork.
Pork tenderloin, on the other hand, is a different cut altogether. It's a smaller muscle found right by the backbone. Because the tenderloin doesn't have much marbling or connective tissue, it does wonderfully with a short cooking time at a high temperature.
Bring on the Instant Pot!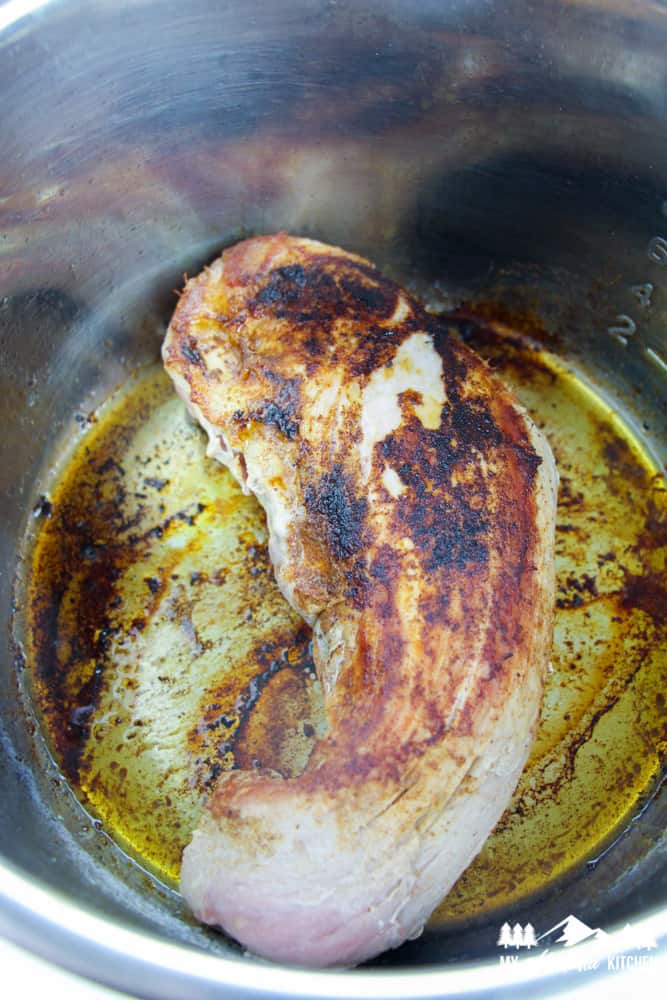 Can Pork Tenderloin Be Used for Pulled Pork?
Technically, I guess it can…but that doesn't mean it should.
Pulled pork is made by cooking a larger, marbled cut of meat low and slow until it's pull-apart tender. However, tenderloin just can't stand up to that cooking method – it dries out.
My advice? Use a pork loin or other large cut for pulled pork and serve the tenderloin as it's meant to be served – in tasty, glorious medallions.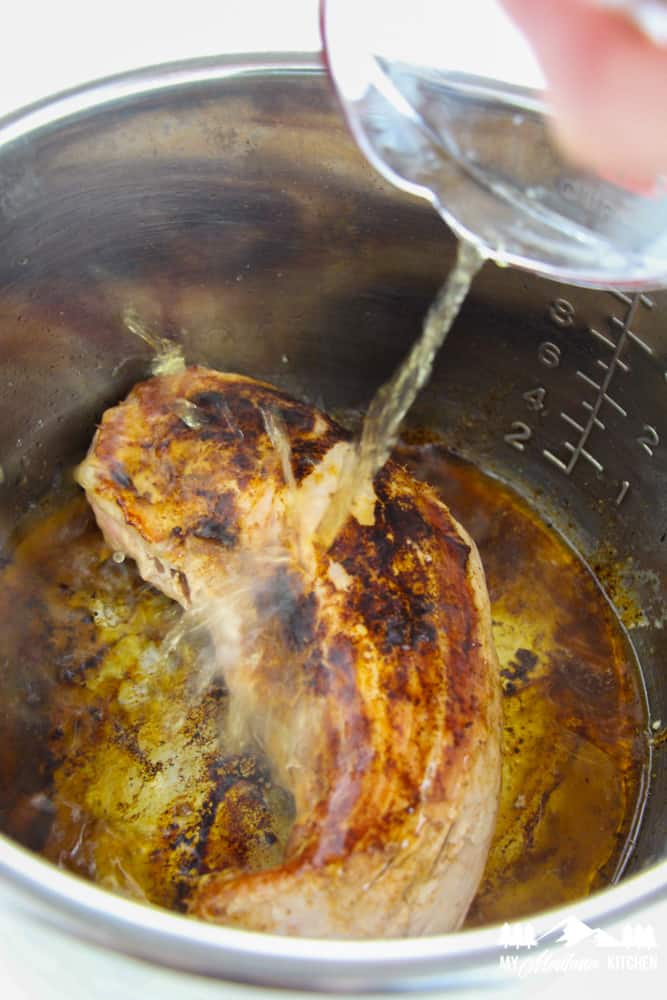 Preparing the Recipe
This recipe is simple, but oh, so delicious! It uses a few herbs and spices that work together well to bring out the flavor of the tenderloin, and the apple cider vinegar adds just enough of a "zing" to tie it all together.
Another fun fact – the apple cider vinegar will also help your tenderloin stay, well, tender!
Preparing this dish is incredibly easy, but it tastes like you spent hours slaving over it.
First, dry the tenderloin on all sides with a paper towel. This is important – the dry surface will sear more quickly, trapping all of those wonderful juices (and flavor) inside.
Turn your Instant Pot on with the "Saute" setting and start heating the oil.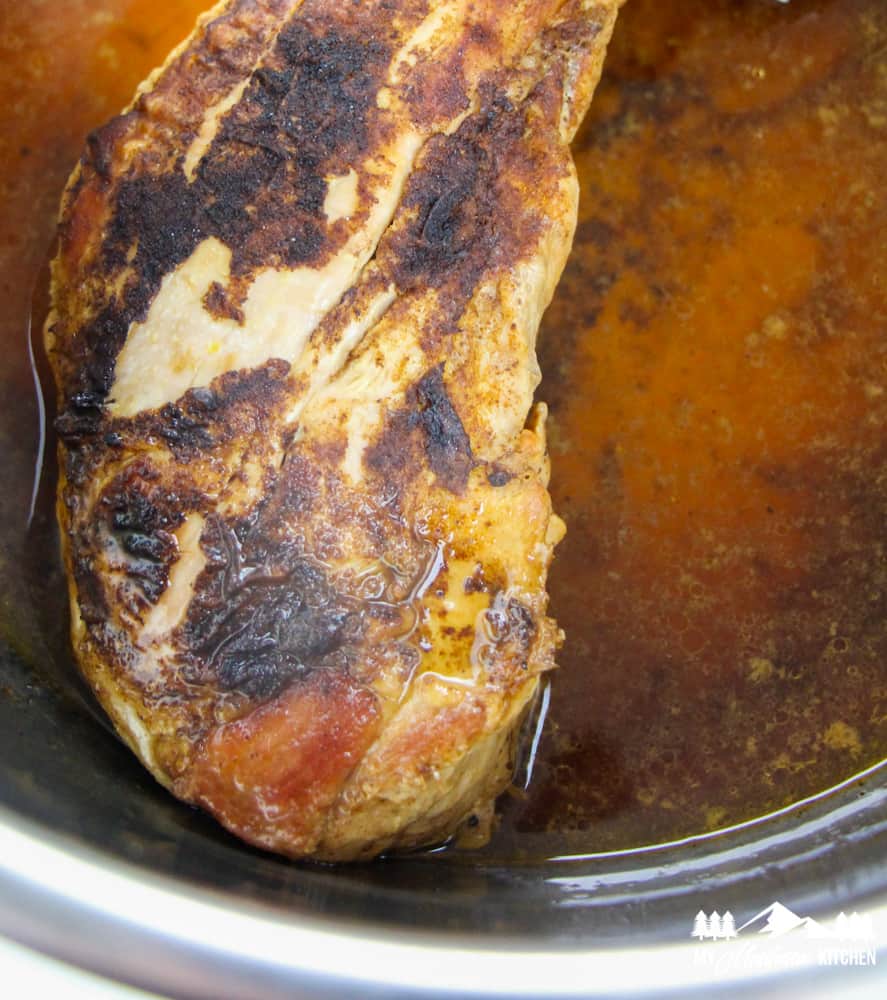 Meanwhile, season it with your herbs and spices. You may find it helpful to mix them all together first so that the seasoning is even, rather than having little pockets of garlic or paprika.
After that, set the tenderloin gently in the Instant Pot, being careful not to splatter any of the hot oil. Let it sear for a few minutes on each side to lock that beautiful flavor in.
Then, pour in the apple cider vinegar, turn off the Saute function, and secure the lid. Program your Instant Pot and you're ready to go!
When the timer goes off, be sure to do a Natural Release for at least 8-10 minutes. (When you quick release meats, they tend to dry out.)
Serve it up and enjoy!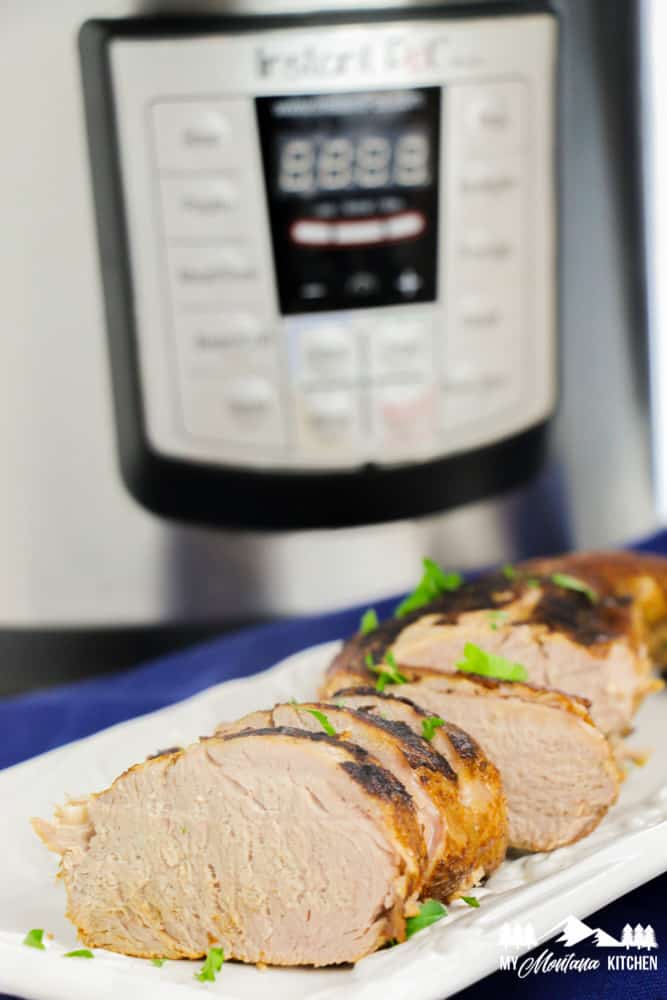 What Should I Serve with Instant Pot Pork Tenderloin?
To me, this is the fun part!
There are so many great side dish options for this recipe.
If you'd like to add some color to the plate (in a way that your kids will love), my Easy Cheesy Peas are a fantastic choice. Even your pickiest eaters will dig right in!
Of course, if you'd like the best of both worlds (and choices that are super low in carbs), whip up some Cheesy Cauliflower Rice and Oven-Roasted Broccoli. Both dishes are easy to prepare (on the stovetop and in the oven) while your pork tenderloin is cooking. Best of both worlds!
I hope your family loves this dish as much as we do. It's sure to be part of your regular rotation!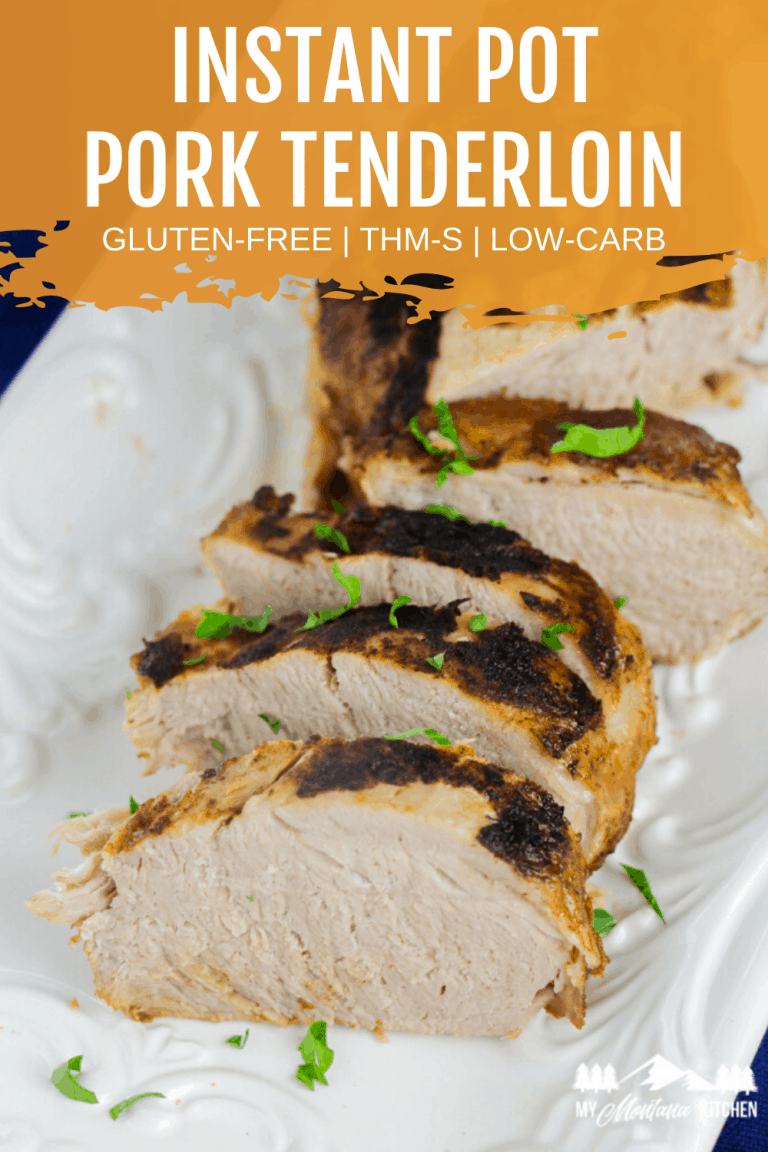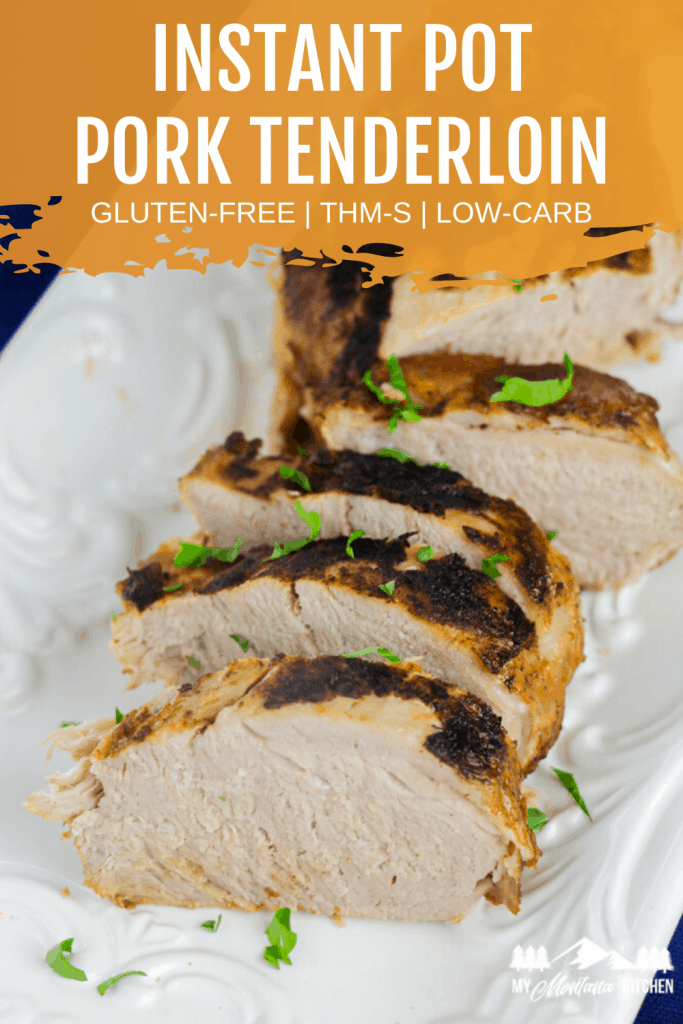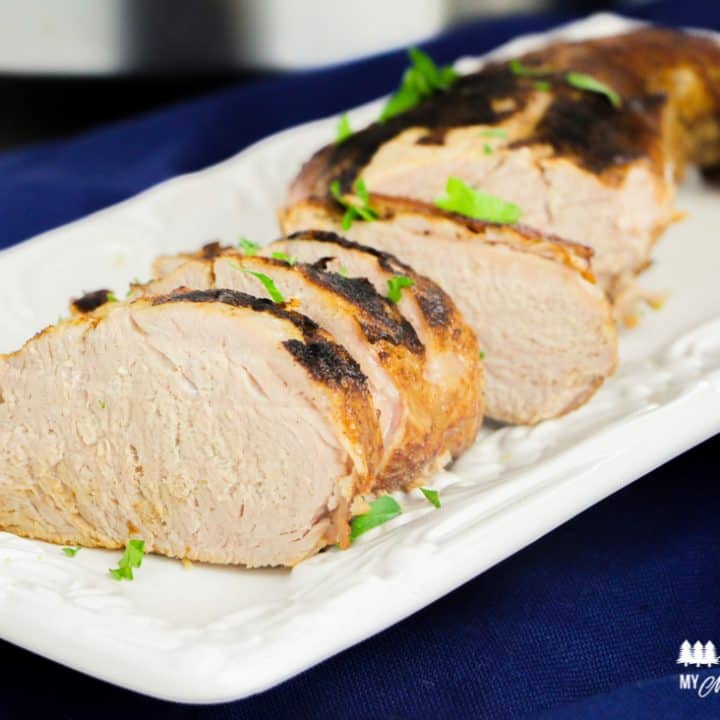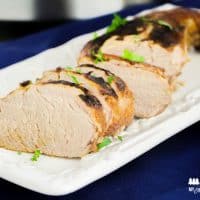 Instant Pot Pork Tenderloin
Delicious, juicy pork tenderloin. It's one of those comforting dishes that you can serve for a weeknight dinner or a special family gathering. And now, it's easier than ever to prepare in your Instant Pot!
Print
Pin
Rate
Ingredients
3

lb

Pork Tenderloin

2

teaspoon

Dehydrated Garlic

1

teaspoon

Onion Powder

2

tablespoon

Paprika

Salt and pepper, to taste

3

tablespoon

Olive Oil

½

cup

Apple Cider Vinegar
Instructions
Pat dry your pork tenderloin and season with dehydrated garlic, onion powder, paprika, salt and pepper.

Place oil in the Instant Pot and set to saute.

Add the pork tenderloin when the oil is hot and brown on each side, about 3-4 minutes each before flipping.

Once the pork tenderloin is browned all over, turn off the saute mode and add ½ cup apple cider vinegar.

Secure the lid and cook on meat setting for 30 minutes.
Nutrition
Serving:
1
/8 of recipe
|
Calories:
285
kcal
|
Protein:
44
g
|
Fat:
11
g