We may earn money from the products/companies mentioned in this post. As an Amazon Associate I earn from qualifying purchases.
A perfectly crispy low-carb crust with jalapeno infused cream cheese, smoky bacon, mozzarella and cheddar cheeses, and fresh jalapeno slices. This recipe is low carb, gluten free, and a Trim Healthy Mama S Fuel.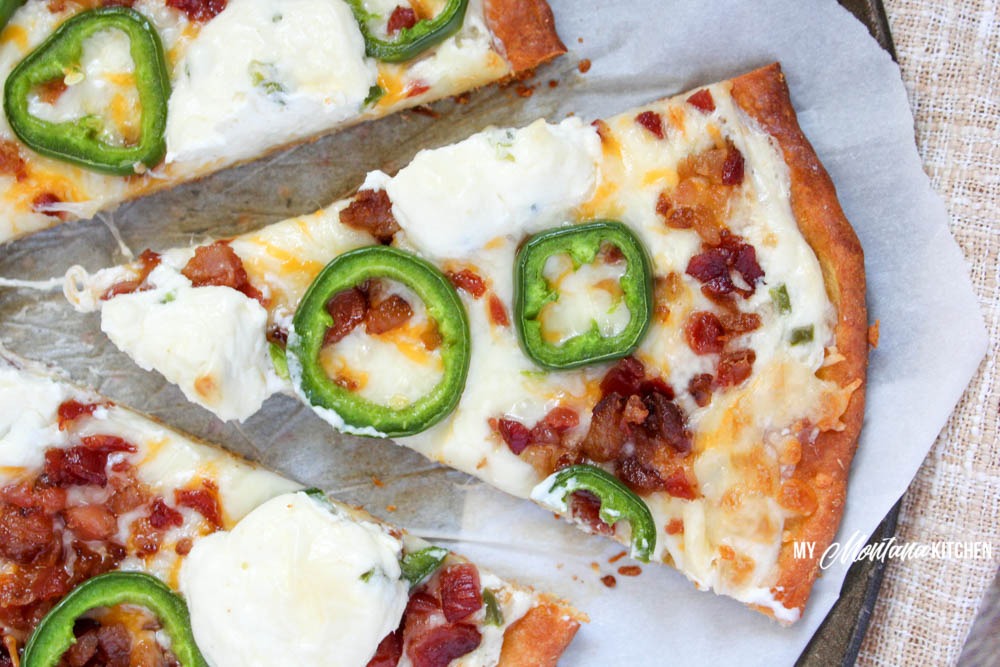 (This post may contain affiliate links, which provide me with a small compensation when you purchase your products through my links. Thank you for your support!)
Yesterday, my family and I visited Glacier National Park with some of our family. On the way home we stopped at a MacKenzie River Pizza Company, a local Montana pizza company. One of the pizzas we ordered was the Jalapeños Popper Pizza. I knew as soon as I tasted it I knew that I wanted to make a Trim Healthy Mama, low carb version!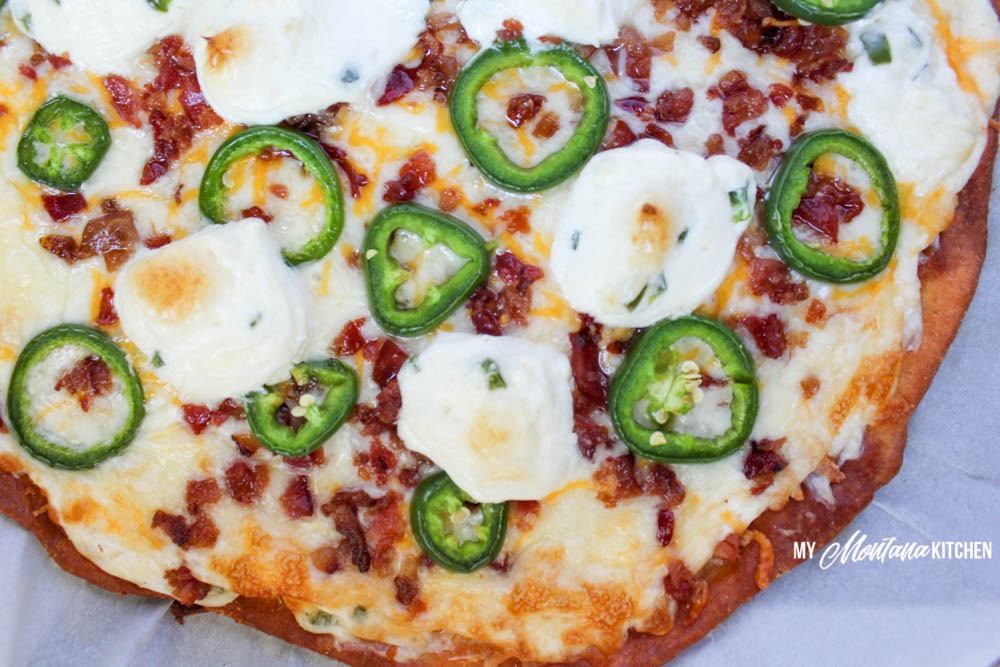 I didn't wait around - this morning I was in my kitchen! This pizza tastes just as good as the one at the restaurant! My husband whole-heartedly approved this recipe. He went so far as to say he would not miss "regular" pizza when he was eating this one! Score! It is always a happy thing when the husband and children like healthy recipes!
I know people will ask "how hot is this?" I don't have a complete answer for that. A lot of it will depend on how hot your individual Jalapeños are. You can also try to remove all the seeds to cut down on the heat. I did not think it was very spicy, but I removed most of the seeds. The flavors are delightful!
And check out the crust on this pizza! It is very sturdy, almost crispy (which I like). You can definitely pick it up with your hands and hold it like "regular" pizza.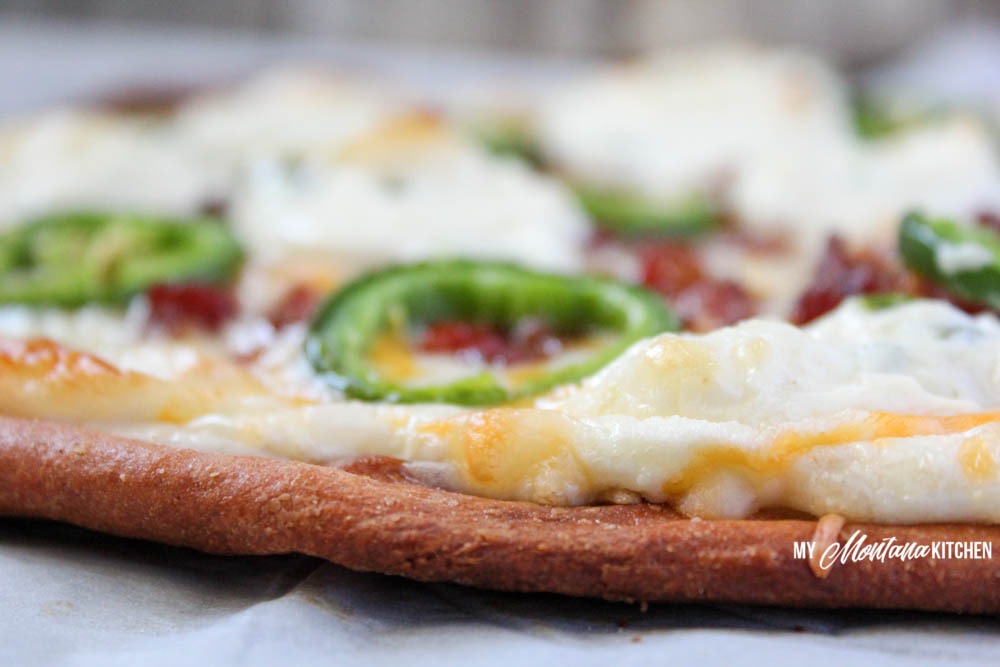 The "sauce" is a Jalapeño infused cream cheese mixture. Then there are delightful little dollops of the cream cheese on top of the pizza as well. That really takes it over the top in my opinion. I'm in love with this pizza!!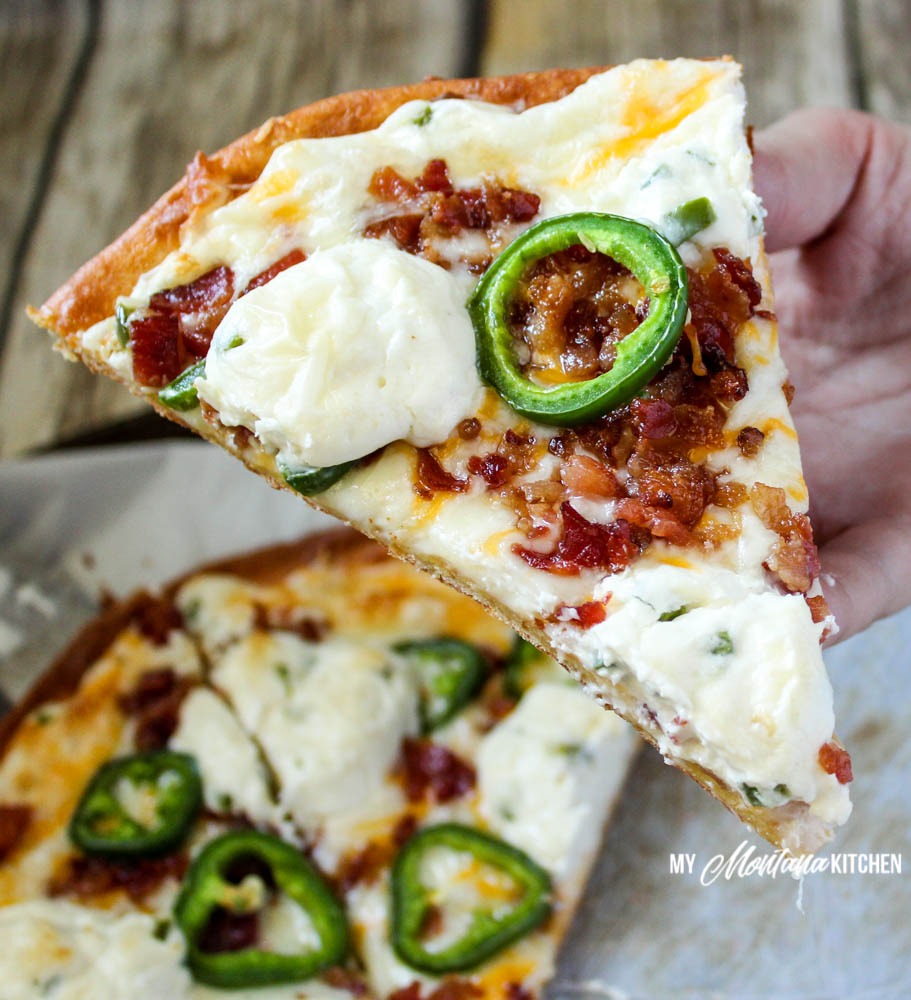 Is your mouth watering yet? You need to go and make this pizza! This will be a recipe that sons and husbands will love! So, what do you need for this recipe?
1 Recipe Low Carb Stromboli Dough (I omitted the Italian seasoning)
12 Ounces Softened Cream Cheese
2 Tablespoons Diced/Minced Jalapeños
1/2 Teaspoon Onion Powder
1/2 Teaspoon Garlic Powder
1 Cup Shredded Mozzarella Cheese
1/2 Cup Shredded Cheddar Cheese
1/2 Cup Bacon Pieces
2 Jalapeños, Sliced
If you enjoy jalapeños, be sure to check out my Bacon Wrapped Buffalo Jalapeño Poppers!
Be sure to sign up with your email address so you can receive all my new recipes delivered right to your inbox! (Look for the sign-up box at the very top of this page.) Also, be sure to follow me on Facebook, Pinterest, Instagram, and Twitter!
Have you seen my ebook? "My Top 10 Low Carb Dessert Recipes." Click the link to check it out!

Ingredients
1

Recipe Low Carb Stromboli Dough

I omitted the Italian seasoning

12

Ounces

Softened Cream Cheese

2

Tablespoons

Diced/Minced Jalapeños

1/2

Teaspoon

Onion Powder

1/2

Teaspoon

Garlic Powder

1

Cup

Shredded Mozzarella Cheese

1/2

Cup

Shredded Cheddar Cheese

1/2

Cup

Bacon Pieces

2

Jalapeños

Sliced
Instructions
Preheat oven to 400.

Prepare Low Carb Stromboli dough.

Between parchment paper, roll dough into a large circle.

Bake for 10 minutes.

Mix softened cream cheese with 2 Tablespoons diced/minced jalapeños, onion powder and garlic powder.

Spread 2/3 of cream cheese mixture onto baked pizza crust.

Top with mozzarella and cheddar cheese, bacon, and sliced jalapeños.

Drop small mounds of remaining cream cheese mixture on top of pizza.

Bake for 14 minutes, or until cheese is bubbly and beginning to turn golden.
Notes
For your safety, please wear gloves when cutting the jalapeños.