We may earn money from the products/companies mentioned in this post. As an Amazon Associate I earn from qualifying purchases.
This dish is a healthier take on traditional Chicken Lo Mein. It's quick to make, flavorful, and light!
This recipe takes the classic Chinese dish and gives it a healthy twist by using fresh veggies like broccoli and carrots. The result is still just as satisfying but without all of the guilt!
Not only is this a lower-carb dish, but it is also Trim Healthy Mama S or E friendly (see notes in the recipe card)!
You can use any type of low-carb noodle you like, such as konjac noodles, spaghetti squash, or even zucchini noodles if you're looking for something gluten-free or paleo-friendly.
Add some flavor with your favorite sauces such as soy sauce, oyster sauce, or vinegar to make this delicious keto lo mein recipe!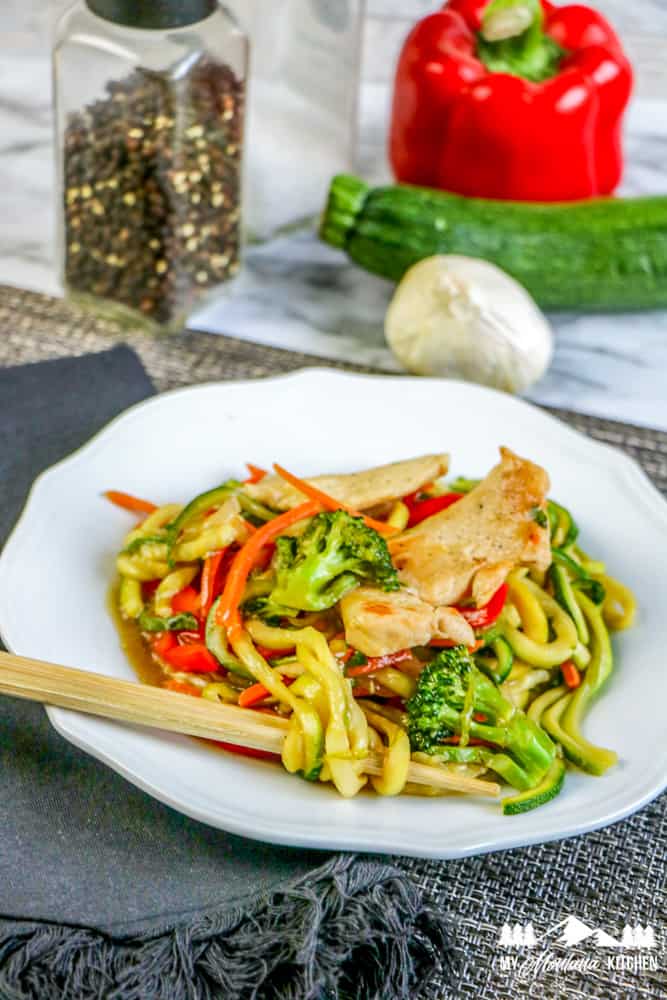 What is Chicken Lo Mein?
"Chicken Lo Mein" is a dish that consists of noodles tossed with meat or vegetables in a thick sauce.
The dish probably traces its origins to China (although it is not found in classic Cantonese cuisine), but there are many recipes for Chicken Lo Mein throughout Asia.
Chow Mein vs. Lo Mein
Chinese cuisine is one of the oldest and most diverse cuisines in the world. This means that there are many different styles of Chinese food – which can be confusing at times.
It's not always clear what type of dish will be served because each region has its own specialty dishes, cooking methods, and regional differences.
Many Chinese dishes are influenced by different regions or countries throughout Asia, but the following five cuisines are common throughout China:
Beijing-cuisine
Cantonese
Huaiyang
Shandong
Sichuan
Many common varieties of noodle dishes are Cantonese. They typically include protein and vegetables but can be served in a savory or sweet sauce.
Chow mein – is often made with soy sauce, sesame oil, vegetables, and meat or seafood options, includes fried noodles.
Lo mein – which means "tossed noodles" in Cantonese, is a popular dish that consists of a simple sauce and various proteins or vegetables served over a bed of thin egg noodles.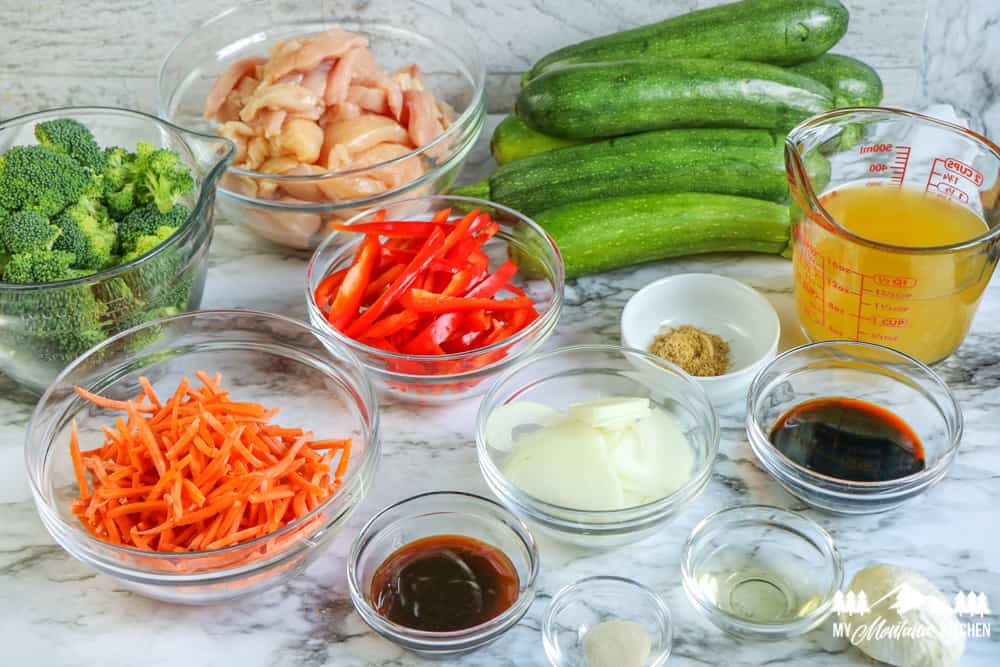 What is lo mein sauce made of?
Lo mein sauce is typically made with soy sauce, vinegar, and broth.
There are other recipes that add other ingredients such as sugar, ginger, wine, and cornstarch.
For this healthy Chicken Lo Mein recipe, we are using the following ingredients:
Boneless, skinless chicken breast
Olive oil
Broccoli florets
Red bell pepper, cut into thin strips
Carrots
Onion
Zucchini
Chicken broth

Garlic cloves
Liquid aminos
Oyster sauce
Rice wine vinegar
Ginger
Xanthan gum, for thickening
Tips and Tricks for making the best faux lo mein ever!
1. Use small cut vegetables to give more surface area on the pan for quicker crisp-tenderization
2. Add xanthan gum to the sauce to thicken it
3. Use spices! There are so many options, try something new with your next batch of faux lo mein! I think adding garlic, ginger, red pepper flakes, and cumin for an Indian-inspired faux lo mein would be fabulous!
4. Combine cooked/drained vegetables to the mix and add in while cooking for a more evenly combined dish
5. Try adding mushrooms, red pepper flakes, or other vegetables from your fridge to create extremely personalized faux lo mein!
6. Coat meat in a marinade before cooking to add flavor throughout
7. Try your lo mein with chicken, beef, pork, shrimp, or even sprouted tofu!
8. Add the sauce last and let it reduce to create a thicker sauce.
What is Chicken Faux Lo Mein?
Chicken Faux Lo Mein is a low-carb version of a popular Chinese dish.
It contains ingredients such as zucchini "noodles", red bell pepper, broccoli, and tender pieces of pan-fried chicken breast with a savory sauce.
It's perfect for those who enjoy delicious Asian dishes but want to keep their carb intake in check.
How to make Chicken Faux Lo Mein?
First, we'll need to prepare the vegetables and chicken for your dish.
1. Prepare the vegetables: Chop up all of the vegetables into small pieces. Cut zucchini noodles with a spiralizer.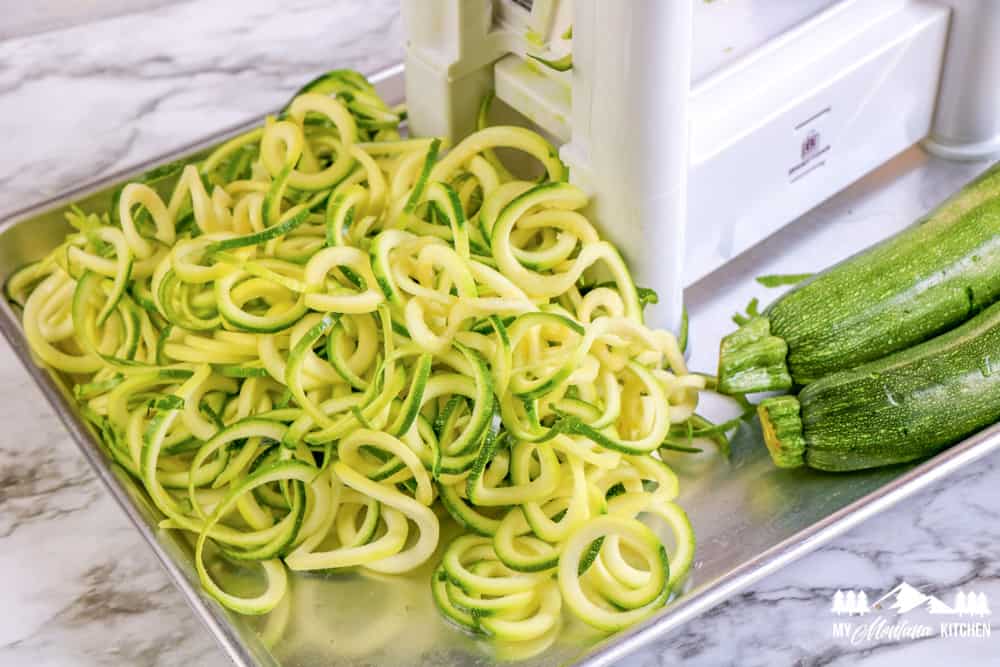 If you don't have a spiralizer, you can use a julienne peeler or cut the zucchini by hand into very thin strips.
2. Cut chicken: Season with salt and pepper to taste and coat in olive oil. Heat pan on medium-high heat and add 1 tablespoon of olive oil once hot. Cook for 2 minutes on each side until golden brown.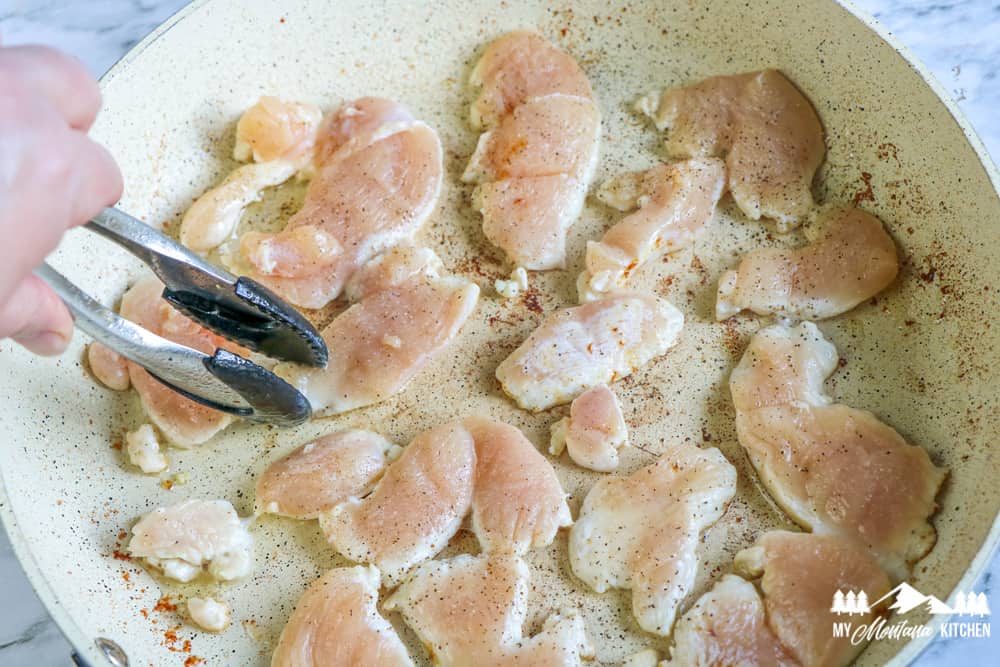 3. Prepare the sauce: To prepare the sauce, simply combine all of the sauce ingredients and mix well with a whisk.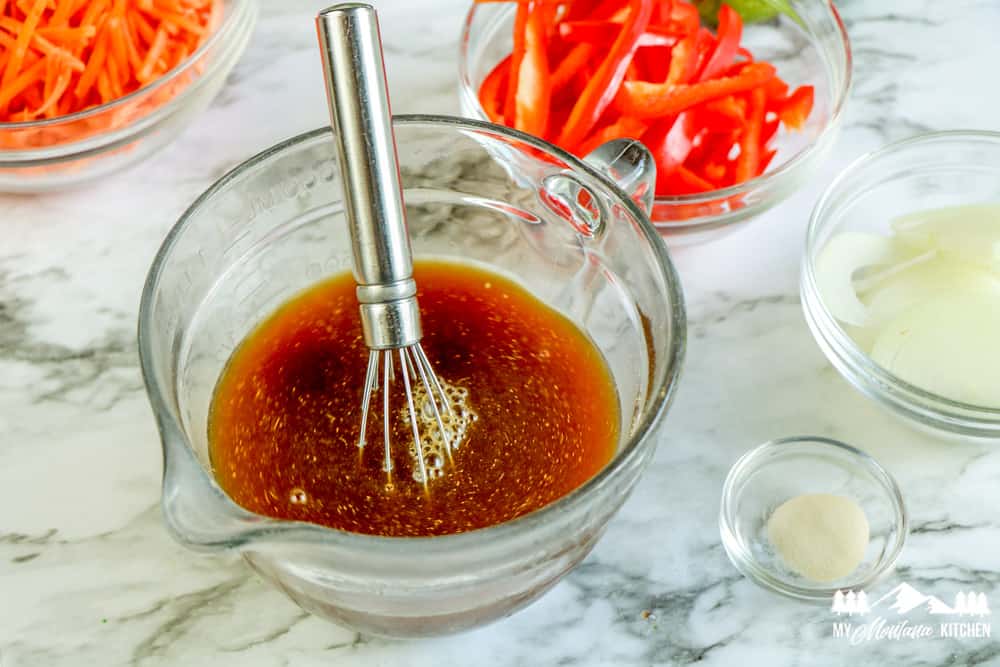 4. Prepare the zucchini noodles: Using paper towels, remove excess water from noodles.
Add 1 tablespoon of olive oil to the pan and let it heat for 30 seconds until hot. Add zucchini noodles, broccoli florets, carrots, red bell pepper, and onions, stirring constantly for 2 minutes until tender-crisp.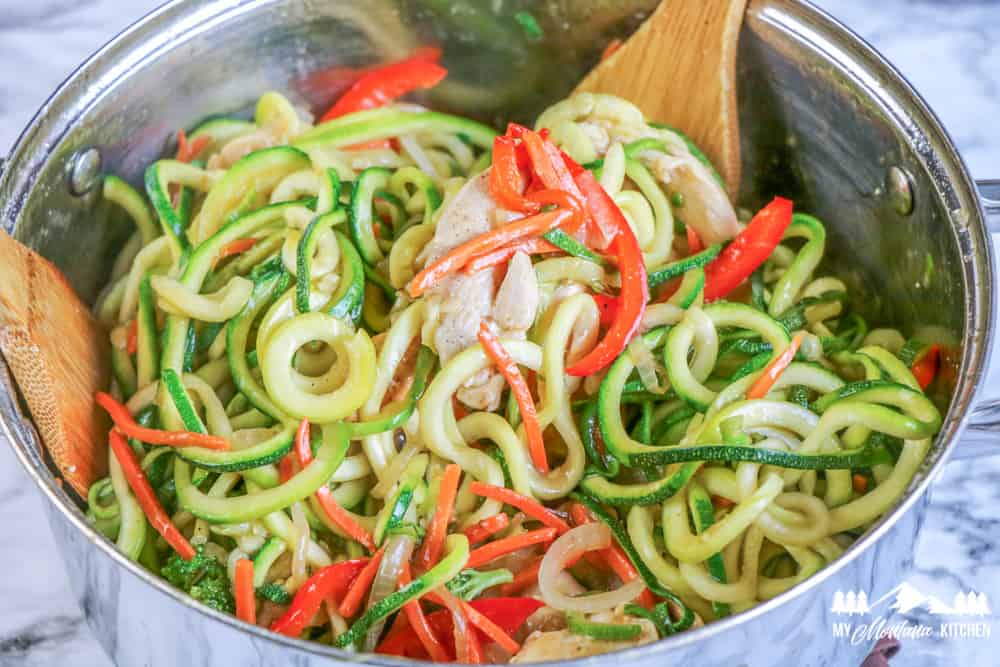 5. Finish the dish: Add sauce and stir well. Turn off heat and add the chicken back to the pan with vegetables. Stir well and serve!
Other questions about ingredients for lo mein
What is Oyster Sauce?
Oyster sauce is a popular Asian condiment that adds a savory, slightly sweet flavor to dishes.
It's made from oysters and soy sauce with added seasonings such as sweetener and salt.
There are different brands out there, but this one has the least amount of sugar and carbs.
There is some added sugar, so please be aware of that.
Real oyster sauce truly gives the best flavor, but if you want to use a substitute, see below.
What can I use in place of oyster sauce and fish sauce?
There are many different options for substituting fish sauce and oyster sauce. I recommend using a soy sauce alternative, such as Coconut Aminos, Unsweetened Soy Sauce, or a gluten-free tamari sauce.
Fish sauce is a bit tricky to substitute because so few sauces have the correct taste, but you can try adding in soy sauce, coconut aminos, or miso paste.
You can even mix soy sauce and Worcestershire sauce together to give a little bit of that flavor.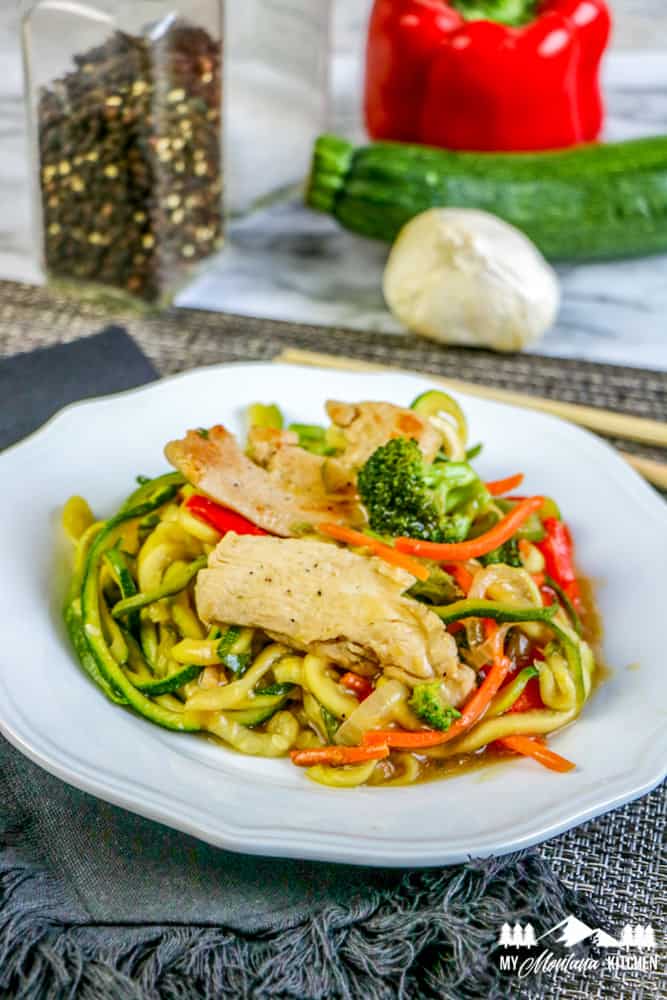 What is Liquid Aminos?
Liquid aminos is a soy sauce alternative that has the same savory flavors as soy sauce but without the added salt and preservatives.
It's made from non-GMO soybeans, water, and sea salt.
I like to use it in recipes where I want additional flavor but I don't want to add more salt/soy sauce.
What is Xantham Gum?
Xanthan gum is a very common thickener in gluten-free and low-carb diets. It's commonly used as a thickening agent in salad dressings, sauces, and gravies.
If you want to enjoy the flavors of your favorite Chinese dish but not worry about carbs, this recipe is perfect for you.
Other Keto Chinese Recipes to enjoy
Keto Chinese Chicken & Broccoli
P.F. Changs Copycat Asian Lettuce Wraps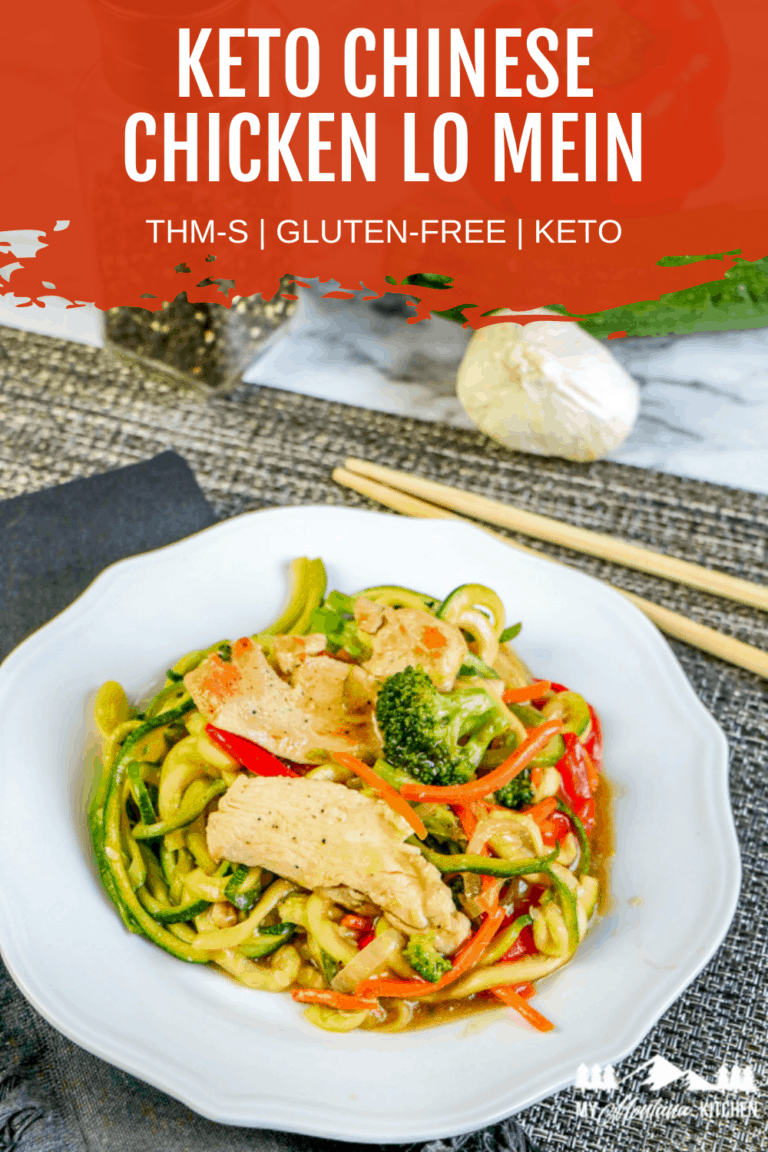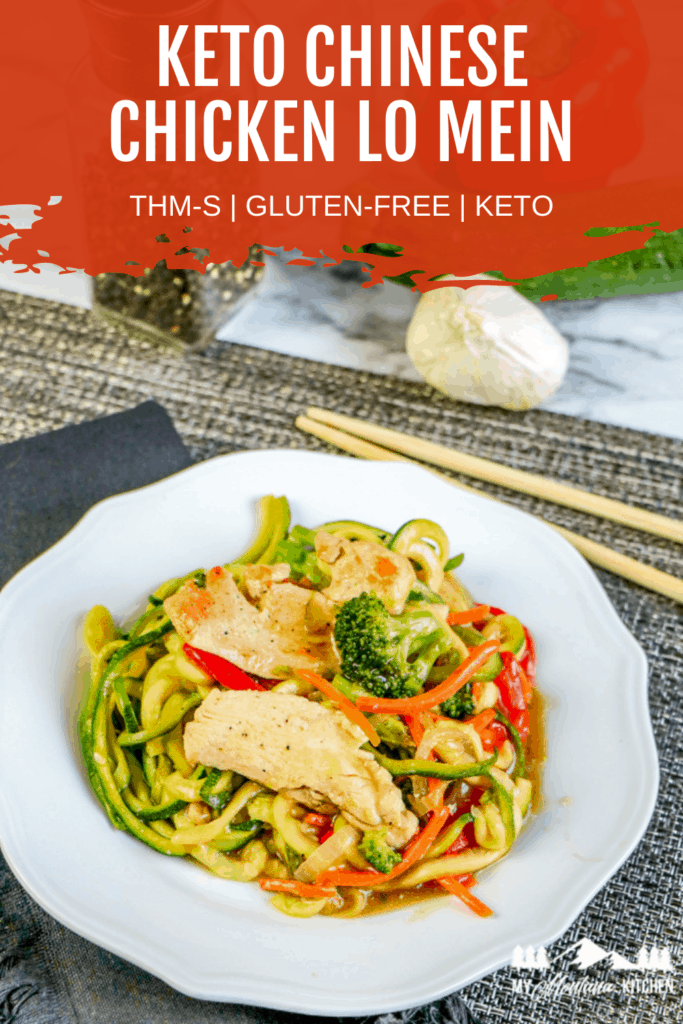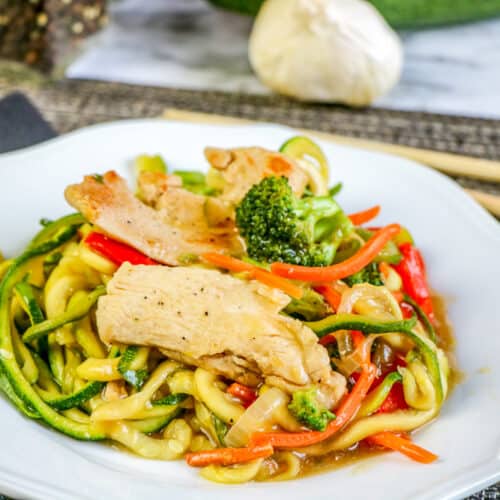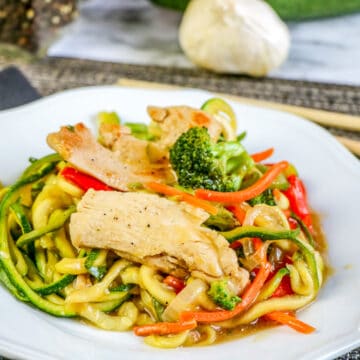 Healthy Chicken Lo Mein Recipe
A keto Chinese food recipe that's not only delicious but also healthy! This zucchini noodle lo mein dish is made with zucchinii noodles, chicken, and tons of vegetables.
Print
Pin
Rate
Ingredients
3 to 4

Boneless Skinless Chicken Breast,

cut into thin strips

2

Tablespoons

Olive Oil

4

Cups

Broccoli Florets

1

Red Bell Pepper

cut into thin strips

1/2

Cup

Carrot Strips

julienned

1

Medium Onion

cut into thin strips

5

Medium Zucchini

spiralized
For the sauce:
1 ½

Cups

Low Sodium Chicken Broth

4

Garlic Cloves

minced

¼

Cup

Liquid Aminos

3

Tablespoons

Oyster Sauce

optional – you can also just use additional Liquid Aminos

1

Tablespoon

PLUS 1 Teaspoon Rice Wine Vinegar

1

Teaspoon

Ground Ginger

½ to 1

Teaspoon

Xanthan Gum

for thickening
Instructions
Season the chicken with salt and pepper as desired.

In a large (12 inch or larger) skillet, wok, or dutch oven over medium-high heat, add 1 tablespoon of the olive oil and part of the chicken. Brown the chicken on both sides and cook through until done.

Repeat with the remaining chicken, adding oil if needed. Remove the chicken from the skillet but keep warm.

Add the remaining oil and the vegetables to the skillet.

Cook until the vegetables begin to soften, about 2 to 3 minutes.

Whisk together the sauce ingredients.

Pour over the vegetables and bring to a boil.

Add the chicken and toss together to coat in the sauce.
Notes
There is some added sugar in oyster sauce, so please be aware of that.
If you want to use a substitute, see below.
What can I use in place of oyster sauce and fish sauce?
There are many different options for substituting oyster sauce. I recommend using a soy sauce alternative, such as Coconut Aminos or a gluten-free tamari sauce.
You can even mix soy sauce and Worcestershire sauce together to give a little bit more flavor.
_______________________________
Trim Healthy Mama Friendly Tips
THM's will probably want to steer clear of the oyster sauce because of the sugar, but you can use the substitutes listed above, or just use additional liquid aminos.
As written, this would be a Light S fuel (because of the olive oil).
If you reduce the olive oil to 1 Tablespoon total, you can easily use this dish in an E setting. 
Nutrition
Calories:
135
kcal
|
Carbohydrates:
6
g
|
Protein:
18
g
|
Fat:
3
g
|
Fiber:
2
g