We may earn money from the products/companies mentioned in this post. As an Amazon Associate I earn from qualifying purchases.
Beautiful wedge salads loaded with your favorite toppings for a delicious entree or a side to any meal.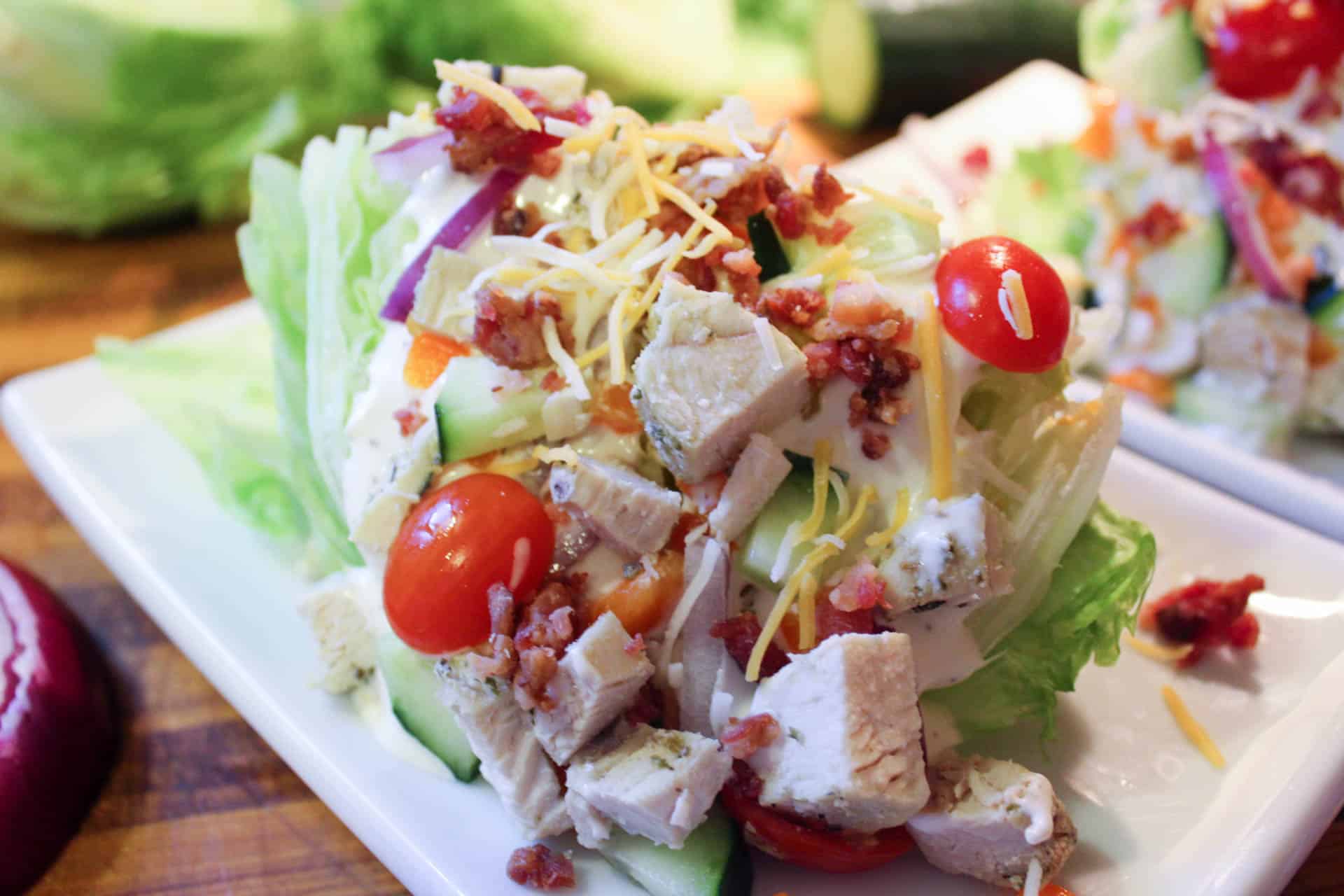 Okay, so I cringe to really even call this a recipe. However, I thought it would be fun to show how you can eat a salad in an "out of the norm" way!
My husband and I were recently at a restaurant and I ordered a Wedge Salad. It came drenched in bleu cheese dressing, which was not entirely bad. But, . . . I am not a lover of bleu cheese. I can handle a little bit, but this was a bit much. I think many wedge salads do use bleu cheese, but I wondered why not use Ranch instead?
So here you go. If you are tired of eating plain ole' "boring" salads, mix it up a little bit. Serve these gorgeous wedge salads to your family and see what they say. My 9 year old thought it was great fun to eat a salad like this!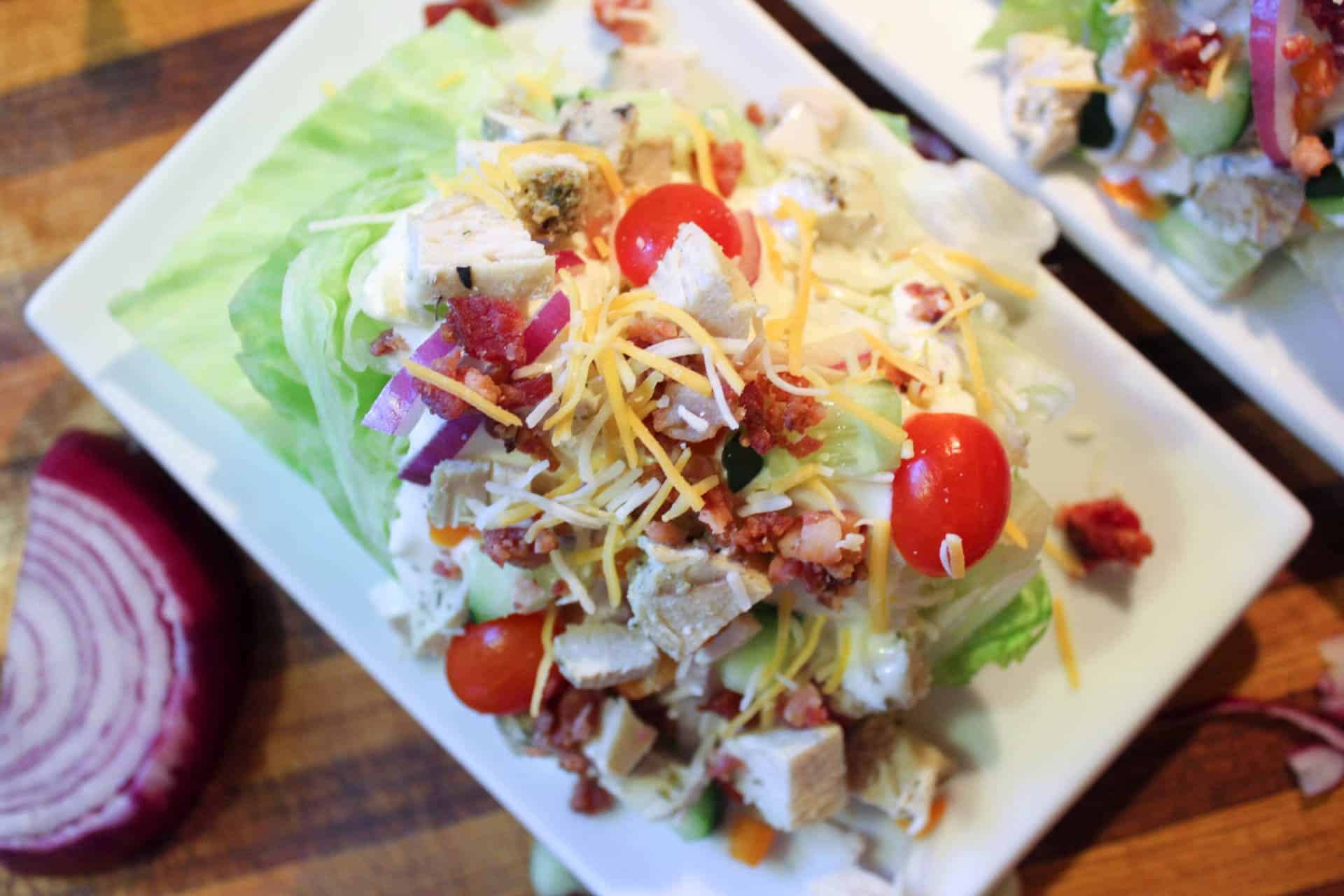 The topping ideas are endless. I used some cooked chicken breast that I had on hand, but you could use steak, pulled pork, or even ham. Just use whatever suits your fancy. The vegetable toppings are endless as well. I used cherry tomatoes, purple onion, cucumber, and colored peppers. I also topped it with some shredded cheese and real bacon bits. It was amazing!
I have been doing my best to eat more leafy greens. Now, I know iceberg lettuce does not have the same nutritional profile as spinach or darker leafy greens, but it is a fun way to switch it up once in a while!
The first step to making these is to core your lettuce. I usually just hit the bottom of the head (the core) on the counter a few times and it pops right out. For an easy 30 second tutorial on how to do this, check out this video. Then, simply cut your head of lettuce into 4 wedges. (Simple tutorial here.)
Drizzle your dressing on first, then add your toppings and enjoy!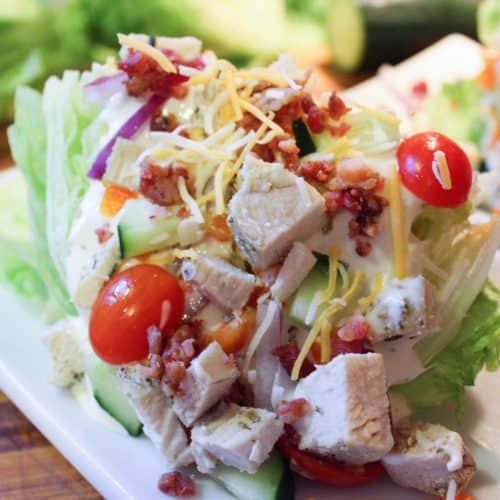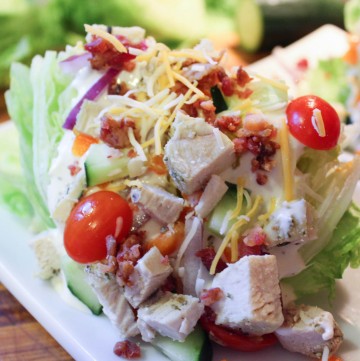 Ingredients
1

Head Iceberg Lettuce

2

Cups

Chopped Meat

Chicken, Steak, Ham, etc.

Dressing of Choice

Vegetable Toppings of Choice

Onions, Peppers, Tomatoes, Cucumbers, Broccoli, Zucchini, etc.

Shredded Cheese

optional

Real Bacon Bits

optional
Instructions
Wash and core lettuce.

Chop into four wedges.

Drizzle dressing on each wedge.

Add toppings, and enjoy!
Notes
If you use enough protein, this could be your main entree. Or you, could back the toppings down a little and serve it as a side!
Nutrition
Be sure to sign up with your email address so you can receive all my new recipes delivered right to your inbox! (Look for the sign-up box on the right sidebar if you are on a desktop, or at the very bottom of this post if you are using a mobile device.) Also, be sure to follow me on Facebook, Pinterest, Instagram, and Twitter!
This post contains affiliate links, which provide me with a small compensation when you purchase your products through my links. Thank you for your support!