We may earn money from the products/companies mentioned in this post. As an Amazon Associate I earn from qualifying purchases.
This easy chicken with bacon and cheese couldn't be any easier! Juicy and tender chicken smothered in melty cheese and crispy bacon. This is a recipe that comes together in 5 minutes, and it makes a great weeknight dinner recipe!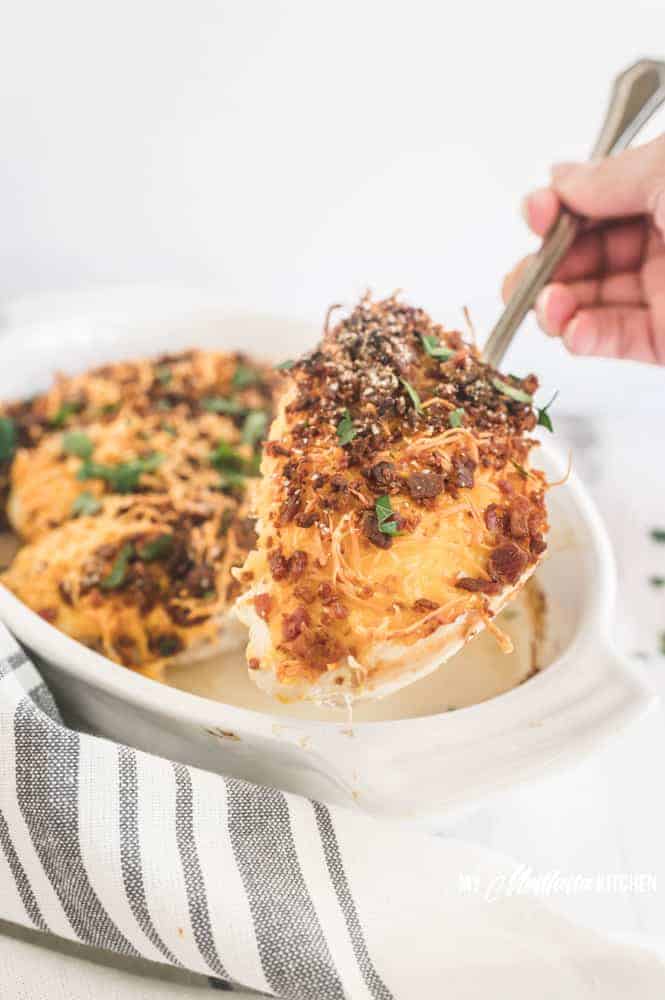 How to Cook Chicken Breast with Bacon
I'm all about easy dinner ideas, and this chicken bacon recipe is just about as easy as it gets!
Simply layer all the ingredients in your baking dish and pop it in the oven. Really, that's all! (Can you believe how simple that is?)
Now you have some time to sit down and put your feet up!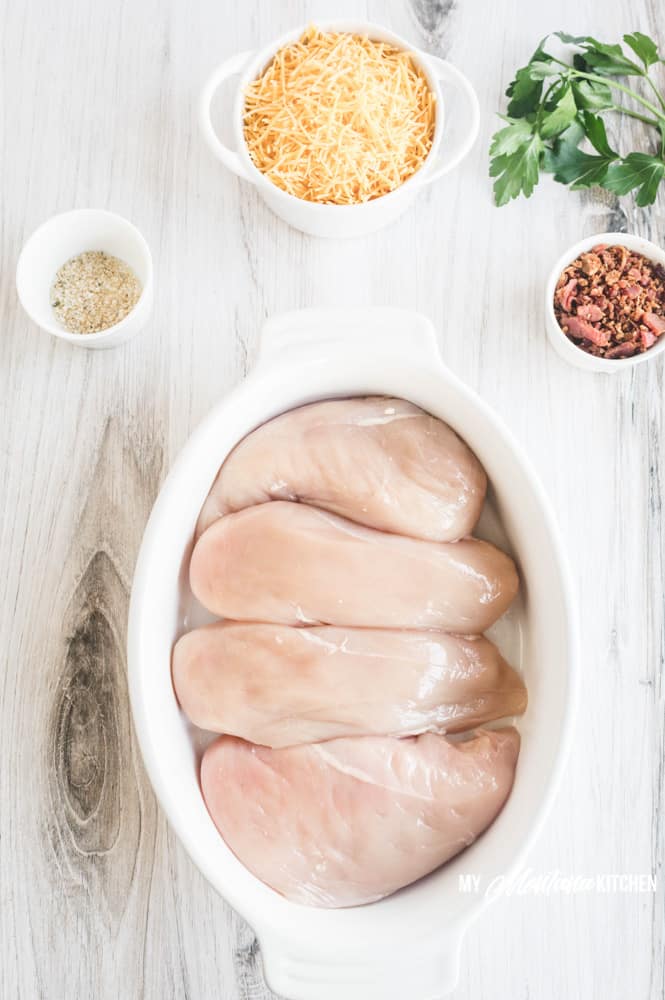 Can I Cook with Frozen Chicken?
Yes, you absolutely can use frozen chicken in this recipe! In fact, that is how I have usually made this dish.
Simply take the desired number of chicken breasts from your freezer, place them in your pan, sprinkle with toppings and place in the oven.
It is important to note that frozen chicken usually takes about twice as long to cook as thawed chicken.
The best way to know when your chicken is done is to use a digital or analog meat thermometer to measure 160 to 165 degrees Fahrenheit. When your chicken has reached this temperature at the thickest part, it should be done.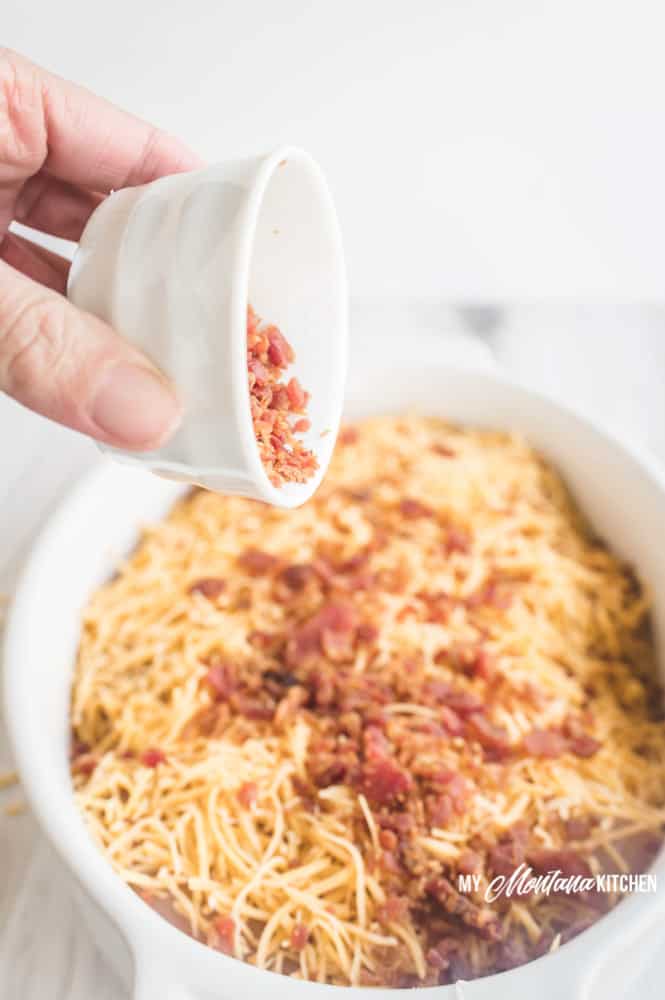 How Can I Defrost Chicken Quickly?
But suppose you wish to defrost your chicken quickly so it doesn't take as long to bake. You can certainly use the defrost button on your microwave, if you have one.
But you can also easily thaw the chicken in a bowl of hot water. Run a bowl of hot tap water (around 140 degrees).
Place the frozen chicken in the water, and stir every little while (this keeps pockets of cold water from forming). Your chicken should be thawed in less than half an hour!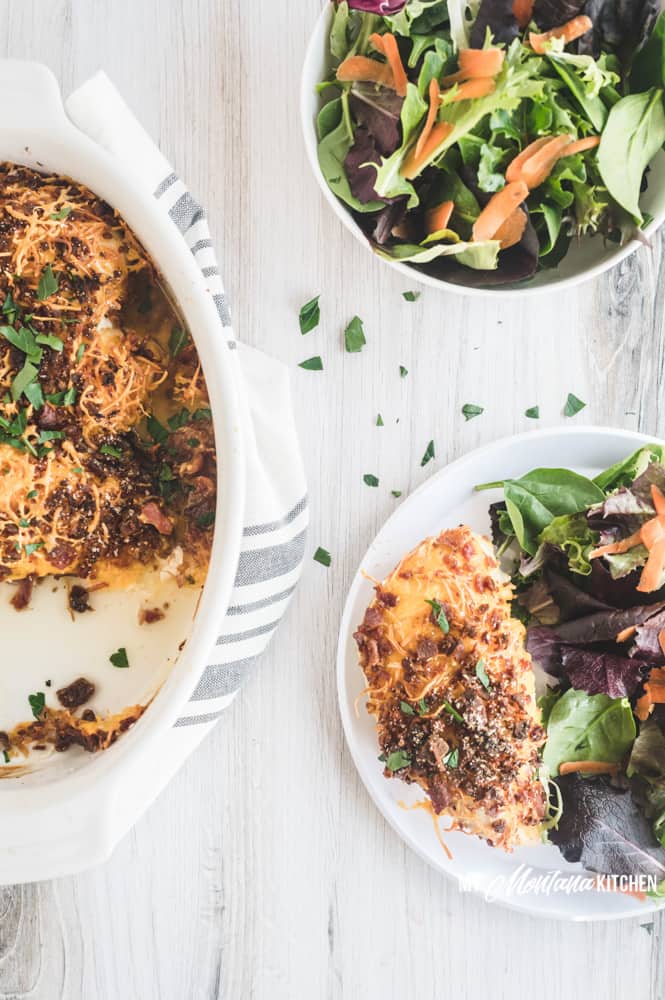 How to Make Cheesy Bacon Chicken
First of all, you want to preheat your oven. Then grab your 2 qt or 9×13 baking dish. Lay the chicken breasts (fresh or frozen) in the bottom of the pan.
Sprinkle the bacon, cheese, and garlic salt on top of the chicken breasts. That's really all there is to it! See, so easy! (You could even put all the ingredients in your crockpot, and cook on low all day long!)
I have cooked mine straight from frozen and it was still not quite finished after about an hour. I would recommend allowing 1.5-2 hours cook time to make sure it is adequately cooked.
All that being said, the prep part is only 5 minutes, but it will take a while to bake if you use frozen chicken. I love dishes that you can put in the oven and forget!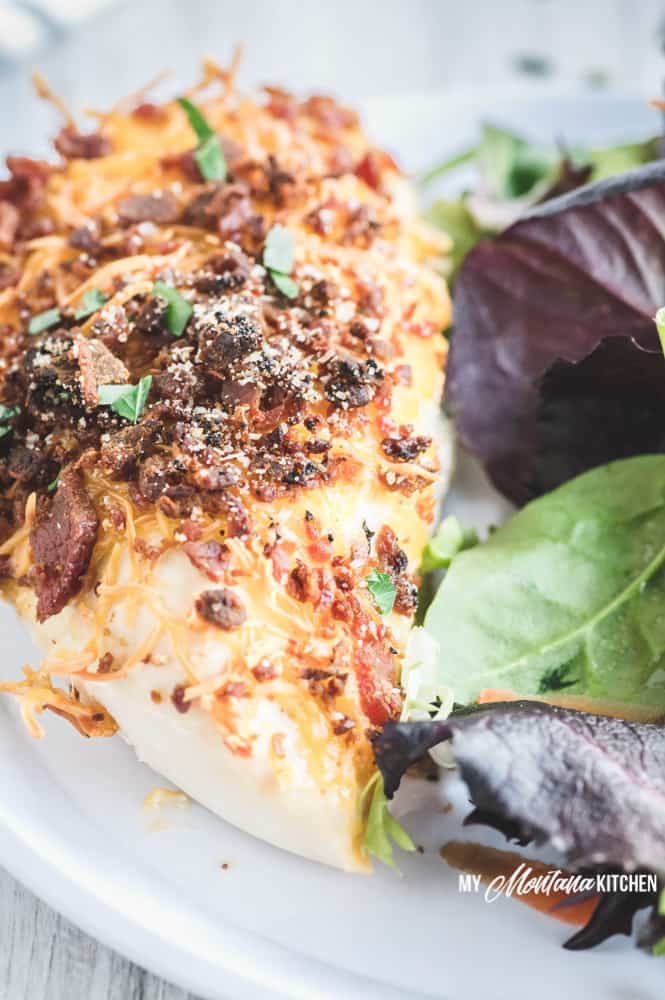 Chicken and Bacon Recipes for Dinner
You can easily transform this basic dish into several different dinner ideas.
Sprinkle a can of green chiles over the chicken breasts before topping with the bacon and cheese for a Green Chile Chicken and Bacon bake!
Spoon a little bit of salsa on top of the chicken breast, and use taco seasoning in place of the garlic salt for Cheesy Chicken and Bacon Taco bake!
Add some sliced jalapeños and use Pepper Jack Cheese to add some heat to the original recipe!
Other Chicken and Bacon Recipes
Bacon Wrapped Chicken Sheet Pan Dinner
Bacon Wrapped Chicken with Jalapeño Cream Sauce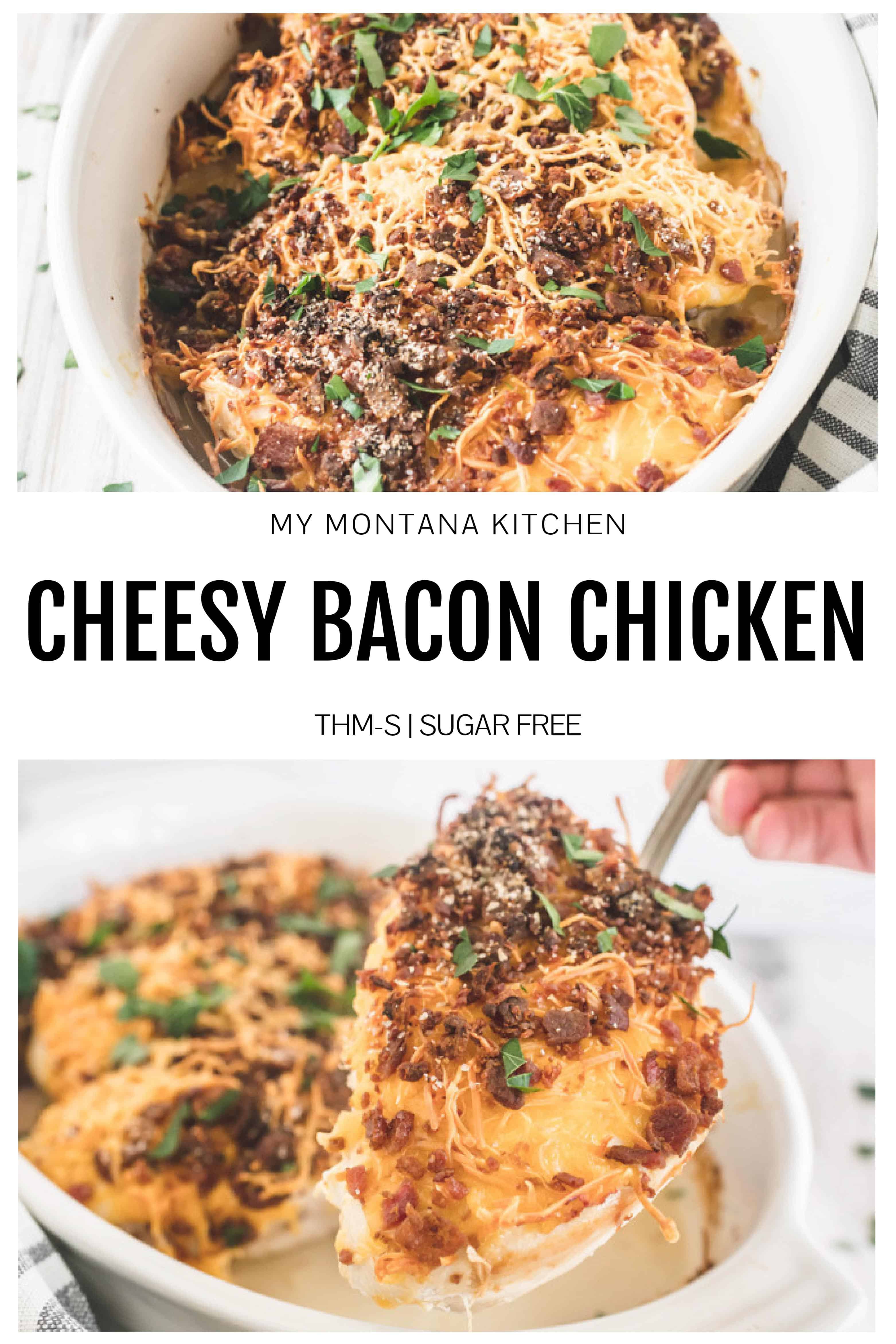 Easy Chicken Bacon Recipe with Cheese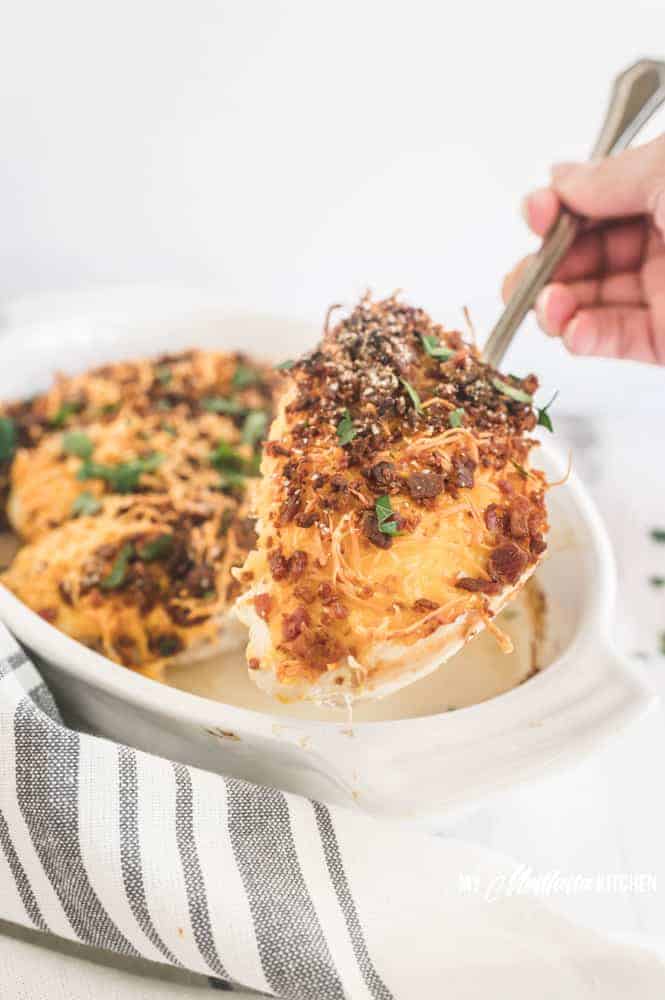 You won't find a chicken recipe easier than this easy chicken bacon recipe with cheese.
Ingredients
4 Medium Chicken Breasts, (about 1.5 Pounds)
1 Cup Shredded Cheese
1/2-3/4 Cup Bacon Pieces
Instructions
Preheat oven to 350.
In a 2 quart dish, place thawed chicken breasts.
Top with cheese and bacon.
Sprinkle with garlic salt.
Bake, uncovered, for approximately 40 minutes, depending on the thickness of your chicken breasts.

The cook time will vary a large amount according to how thick the chicken breasts are and whether or not they are frozen.Â

If you cook them from frozen, I would recommend allowing 1.5 - 2 hours of bake time.

I would recommend using a Meat Thermometer to make sure the chicken is an internal temperature of 160-165.
Recommended Products
As an Amazon Associate and member of other affiliate programs, I earn from qualifying purchases.