We may earn money from the products/companies mentioned in this post. As an Amazon Associate I earn from qualifying purchases.
Cheesy Potato Casserole (Low Carb)
A delicious, creamy low carb side dish that tastes remarkably like the old standby cheesy potato casserole! (And no, its not cauliflower - promise!)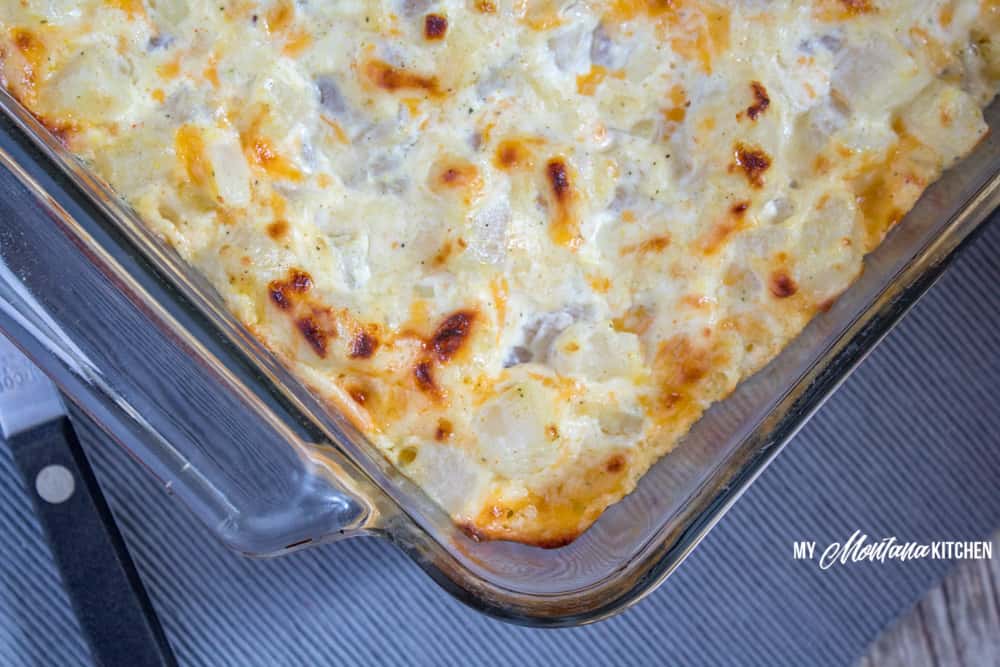 (We are a participant in the Amazon Services LLC Associates Program, an affiliate advertising program designed to provide a means for us to earn fees by linking to Amazon.com and affiliated sites. I am also an affiliate with Trim Healthy Mama. There are affiliate links used in this post.)
This recipe is also low carb, gluten free, grain free, and a Trim Healthy Mama S Fuel.
The first time I ever had Cheesy Potato Casserole we were visiting friends in Florida, and I was probably about 13-14 years old.
I remember my Mom asking the lady for her recipe, and it traveled back home with us, where my Mom put it into our own recipe collection.
After that, the classic potato casserole dish was often a part of our Sunday afternoon Dinner tradition! And I did not complain one bit - it was absolutely delicious!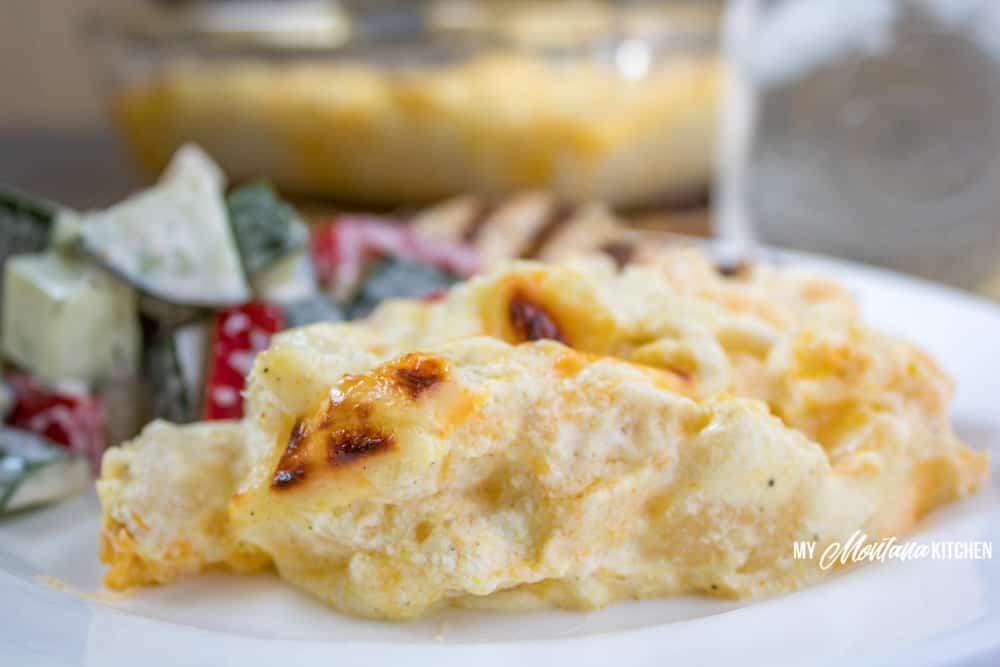 However, white potatoes + cream of "something" soup + piles of cheese and sour cream created a problem.
First of all, if you are a Trim Healthy Mama, you know we separate our fuels (carbs and fats), so this dish is a colossal clash in fuels! (Not to mention all the questionable ingredients in the "cream something" soup!)
So, I had to look somewhere else to get the "potato feel." White potatoes simply would not work. I remembered a LOOOOOONG time ago when I first began eating healthy, I had read that you could sometimes use daikon radish in place of potatoes.
I wasn't sure I had ever even seen a daikon radish, much less cooked with one! For those of you who feel the same way, you can see the photo below to see what a daikon radish looks like. They rather look like a long white carrot!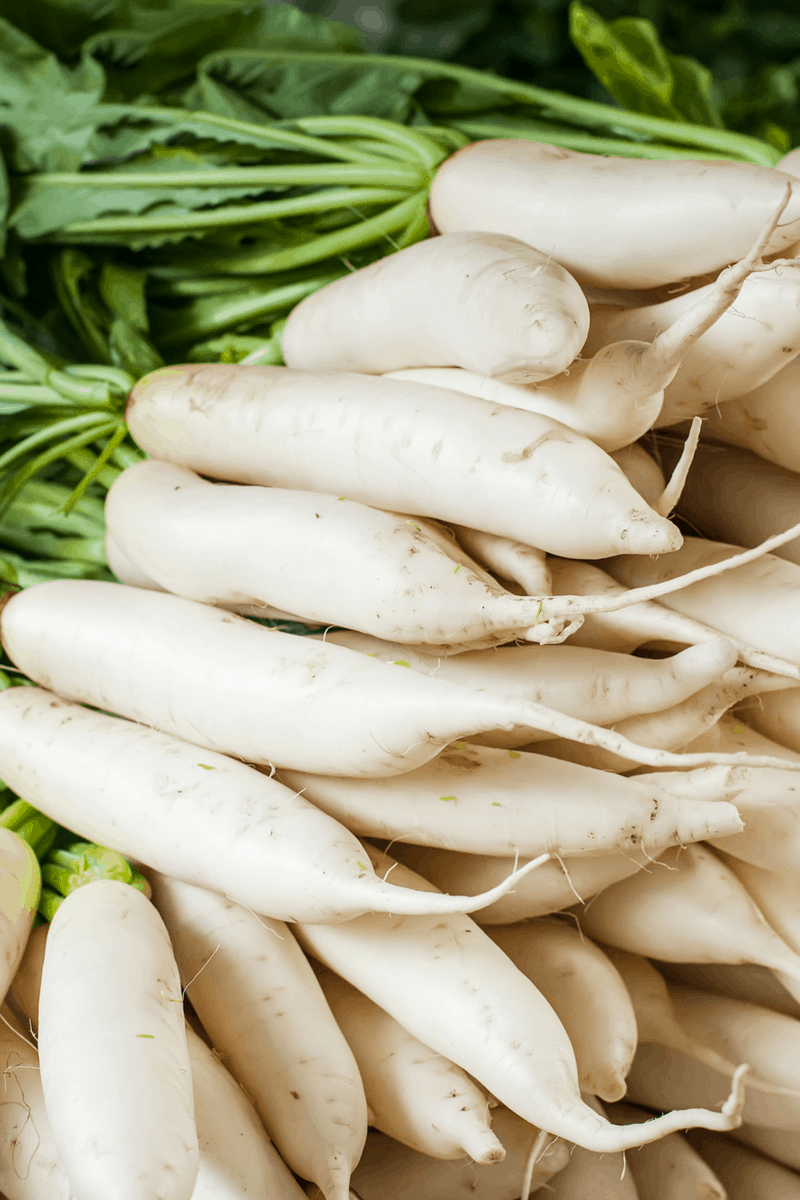 Since it is a part of the radish family, it has a bit of a natural "zing" to it, but I have found that peeling the outer skin removes a lot of the "bite." Also, boiling in salted water and rinsing seems to help as well!
In the past I have used jicama to make low carb french fries, and while I think they taste amazing, they take 20 - 30 minutes of frying! (That can be a bit time consuming.) Maybe next I would like to try using a daikon radish and see how that works!
Now, you may be wondering where you can purchase daikon radishes? I bought mine at Cash and Carry - a pack of two for around $3.50. One large radish makes an 8x8 casserole dish, so the two radishes made two dishes for me. I think that is a very reasonable price.
I do not believe that my local Walmart sells daikon, but I think other chain grocery stores probably would.
Daikon radishes are very widely used in Japan - in fact, nearly ⅓ of Japan's vegetables in weight come from the daikon radish! (See more radish facts and nutrition here!) I believe they are often pickled (now there's an idea)!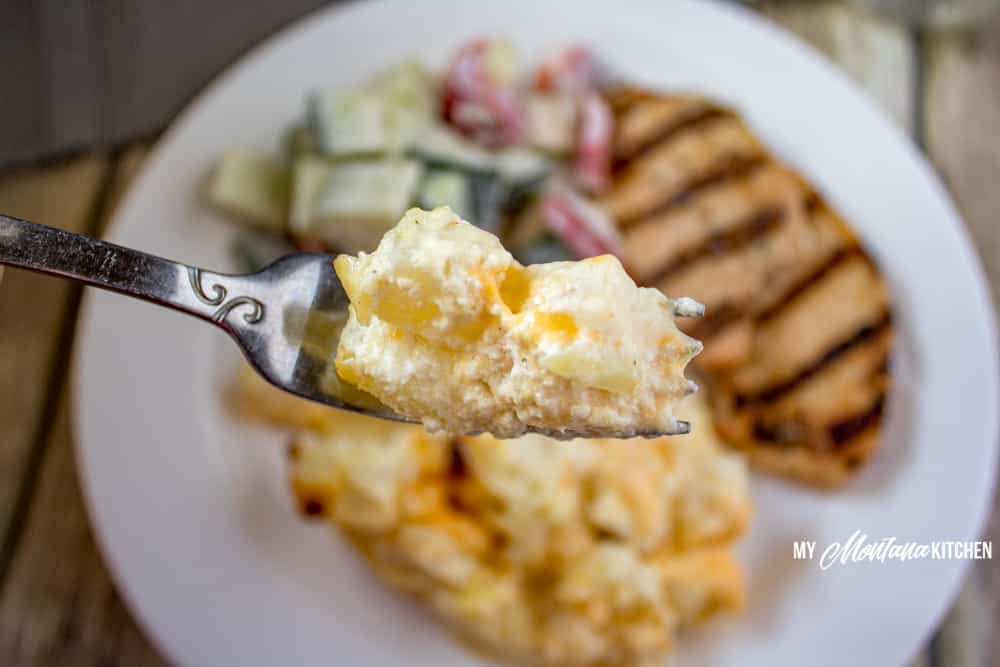 My husband and I both loved this Cheesy "Potato" Casserole. While it does not taste 'exactly' like potatoes, I think it is quite close! Definitely much closer than any cauliflower dish I have tried!
One of my blogging friends, Briana also has a mock potato casserole recipe, but her recipe uses turnips! You can see her Cheesy Party Potatoes recipe here!
And if you need more ideas on how to use your new-found daikon radishes, check out the recipes below!
Low Carb Scalloped Daikon Radishes
So, what do you need for this Cheesy Potato Casserole?
5 Cups Peeled and Diced Daikon Radish
Water, for boiling the radish + salt
¼ Cup Diced Onion
1 Tablespoon Trim Healthy Bullion (or your favorite bullion powder)
4 Ounces Cream Cheese, Softened
1 Cup Sour Cream
2 Cups Shredded Cheese (Sharp Cheddar is great)
Be sure to sign up with your email address so you can receive all my new recipes delivered right to your inbox! (Look for the sign-up box at the top of this post.) Also, be sure to follow me on Facebook, Pinterest, Instagram, and Twitter! If you make a recipe and love it, please leave a comment on my Facebook Page or tag me on Instagram (my_montana_kitchen_thm)!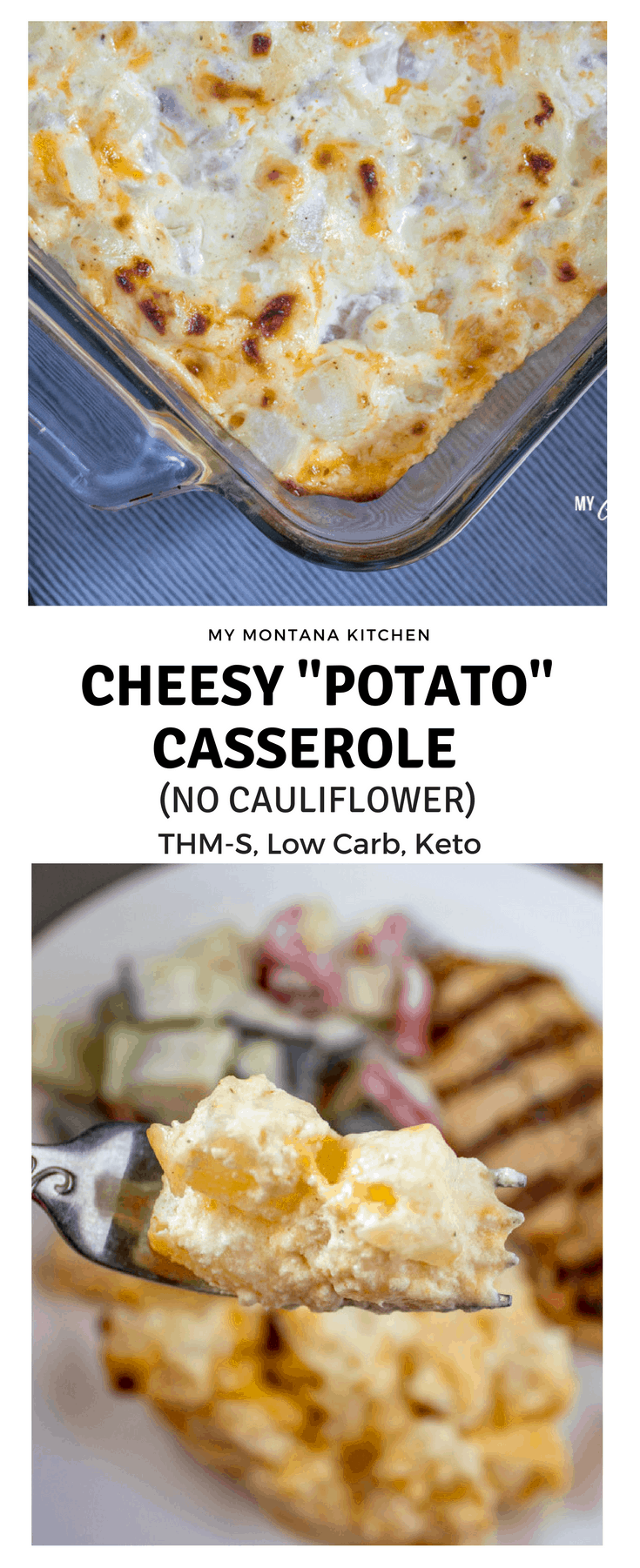 Ingredients
5

Cups

Peeled and Diced Daikon Radish

Water

for boiling the radish + salt

¼

Cup

Diced Onion

1

Tablespoon

Trim Healthy Bullion

or your favorite bullion powder

4

Ounces

Cream Cheese

Softened

1

Cup

Sour Cream

2

Cups

Shredded Cheese

Sharp Cheddar is great
Instructions
Preheat oven to 375.

Place peeled and dished radishes in a medium pot, and fill with enough salted water to cover the radishes.

Boil for 25 - 30 minutes, or until radishes are easily pierced with a fork.

Drain well, and rinse with cold water.

Place drained radishes in a bowl, add remaining ingredients and mix well.

Place into an 8x8 baking dish and bake for 30 minutes.

Broil for another 1-3 minutes, watching carefully so as not to burn the top.
Notes
It is very important that you peel the radish completely. The peeling has a "woody" texture.
Nutrition
Calories:
277
kcal
|
Carbohydrates:
8
g
|
Protein:
10
g
|
Fat:
23
g
|
Fiber:
2
g