We may earn money from the products/companies mentioned in this post. As an Amazon Associate I earn from qualifying purchases.
Cilantro Lime Cauliflower Rice
This Cauliflower Rice recipe can be made in minutes on your stovetop, and is filled with fresh cilantro and lime for a bright and fresh flavor. Using frozen cauliflower rice makes this dish a breeze.
This recipe is low carb, keto friendly, gluten free, grain free, and can be used as a Trim Healthy Mama S Fuel or as a Fuel Pull (with a few tweaks).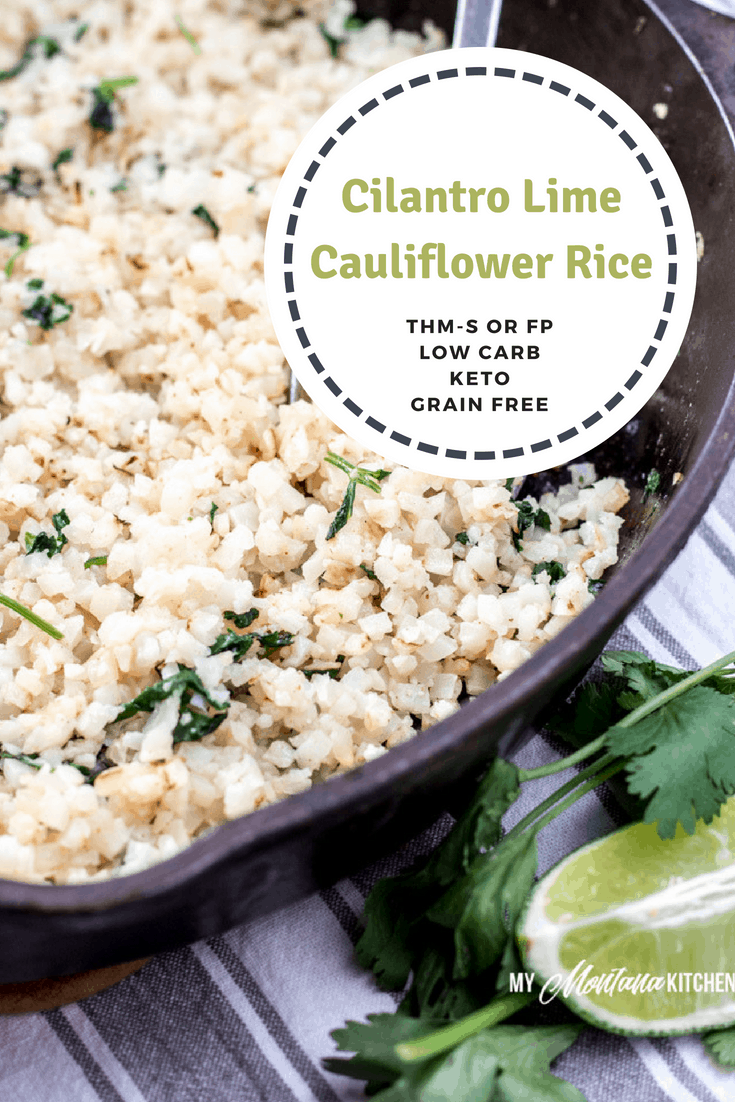 The first time I remember tasting cilantro lime rice was when we ordered takeout from a Chipotle restaurant in Cincinnati, Ohio. (That was also my first Chipotle experience - but definitely not my last!)
The fresh flavors were amazing, and I have always loved the flavor of fresh lime. There is nothing that compares. (It is so bright and refreshing.)
I have always been one to love cilantro as well. Now, I know there is quite the debate about cilantro. Some people think it tastes like soap (some of my family members included), but as it turns out it is a hereditary thing!
So, if you don't enjoy cilantro, you could still use this recipe to make lime rice. Maybe add some chili powder, extra cumin, fresh garlic, and diced jalapeños. That would be amazing, too!
When I made this recipe, I paired it with the Succulent Barbacoa Beef (page 108 in the Trim Healthy Table Cookbook). I also made a blender guacamole (recipe coming soon), fresh cucumber salsa, and we made "burrito bowls."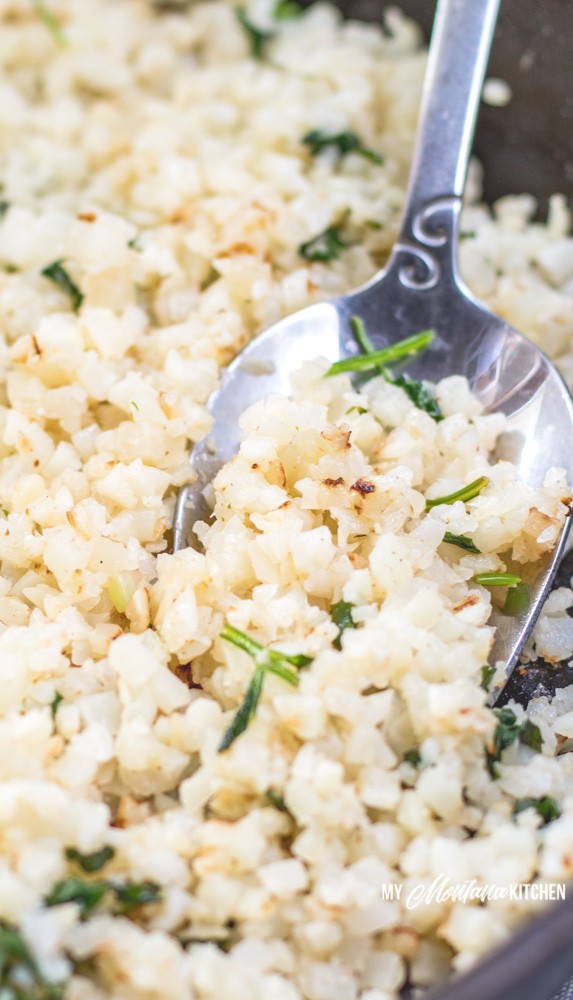 If you don't have the Trim Healthy Table Cookbook, you can check out this recipe for Barbacoa Beef made in the Slow Cooker.
I filled the bottom of my bowl with this Cilantro Lime Cauliflower Rice, then layered on the Barbacoa Beef, cucumber salsa, blender guacamole, shredded cheddar cheese, and sour cream. It was SO delicious!
You could easily use this Cilantro Lime Cauliflower rice to stuff low carb burritos, or enjoy it on top of lettuce as part of a taco salad.
A Note for Trim Healthy Mamas
As written, this Cauliflower Rice recipe is an S, because it contains 2 Tablespoons of butter to saute the cauli-rice.
However, if you wanted to keep the cauli-rice as a FP, you could dial back the butter to 1-2 teaspoons, and add a bit of water to help cook the rice.
And of course, if you wanted an E fuel, you could use the same seasonings in brown rice (but the cooking method will be different).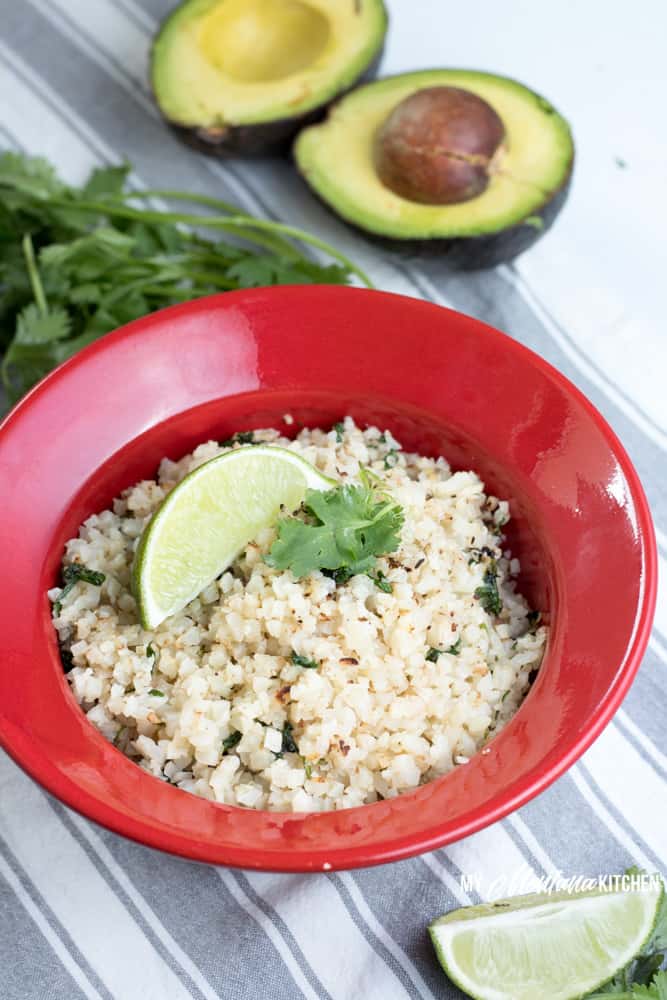 Using Frozen Riced Cauliflower
When I first began my journey to healthy eating, pre-riced cauliflower was non-existent. If you wanted to make cauliflower rice, you had to buy a head of cauliflower and grate it yourself.
I don't have to tell you that grating a head of cauliflower is not the easiest job in the world, and not the safest, either! My knuckles were in constant danger, if you get what I mean . . .
Because of this, I rarely did it - it was just too much work!
But now . . . now we have frozen riced cauliflower right at our fingertips, and it makes low carb or Trim Healthy Mama Cooking so much easier!
There are so many different varieties of the frozen cauli-rice. I've seen varieties with mushrooms, with peas and carrots, and even with asparagus!
If you live in a part of the United States that is blessed to have an Aldi grocery chain, I hear they sell cauliflower rice there (much cheaper than other grocery stores).
Sadly, there are no Aldi stores in Montana, so I do most of my shopping at Costco and Walmart. But I am willing to pay a little extra for the convenience of pre-made cauliflower rice (and my knuckles thank me)!
Using the pre-riced frozen cauliflower makes this recipe a cinch to make. Literally open the bag, pour it in a pan, add a few more ingredients, then stir for a few minutes and it will be ready! It really couldn't be any more simple!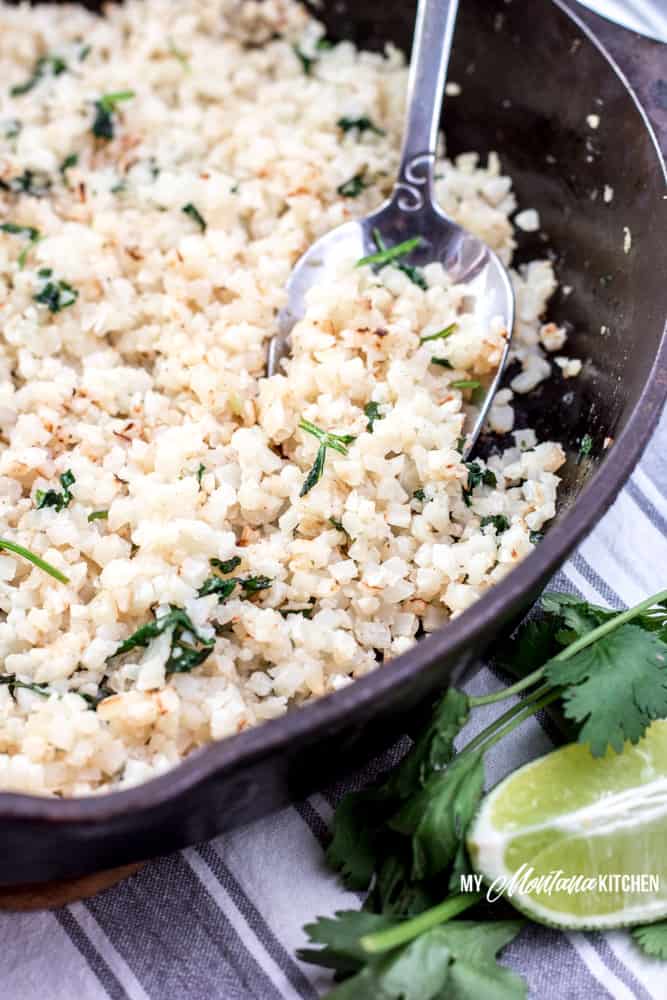 You can have a healthy, low carb Cilantro Lime Rice on your supper table in less than 15 minutes!
And this Mexican Cauliflower Rice is pretty simple, too!
Or make another one-dish meal with these Keto Beef Bowls (full of flavor)!
If you pair it with the Barbacoa Beef made in your slow cooker, you can have supper on the table in mere minutes! (My kind of meal!)
This recipe only uses one bag of pre-riced cauliflower, and I count the entire recipe as two servings. This works great for my husband and I, and my kids can enjoy the brown rice with all the cheese and sour cream they want for a healthy Crossover.
But it you want more than two servings, feel free to double the recipe. The leftovers keep well in the refrigerator for up to a week, and make a great base for lunches throughout the week!
Ingredients Needed for Cilantro Lime Cauliflower Rice
2 Tablespoons Butter
1 12 Ounce Bag Frozen Riced Cauliflower
½ Cup Finely Chopped Fresh Cilantro
¼ Teaspoon Cumin
1 Teaspoon Garlic Salt
½ Fresh Lime, Squeezed (about 1- 1½ Tablespoons)

If you aren't already, be sure come over and follow me on Facebook, Pinterest, Instagram, and Twitter!
And if you make a recipe and absolutely love it, please leave a comment on my Facebook Page or tag me on Instagram (my_montana_kitchen_thm)! I love to see photos from my readers!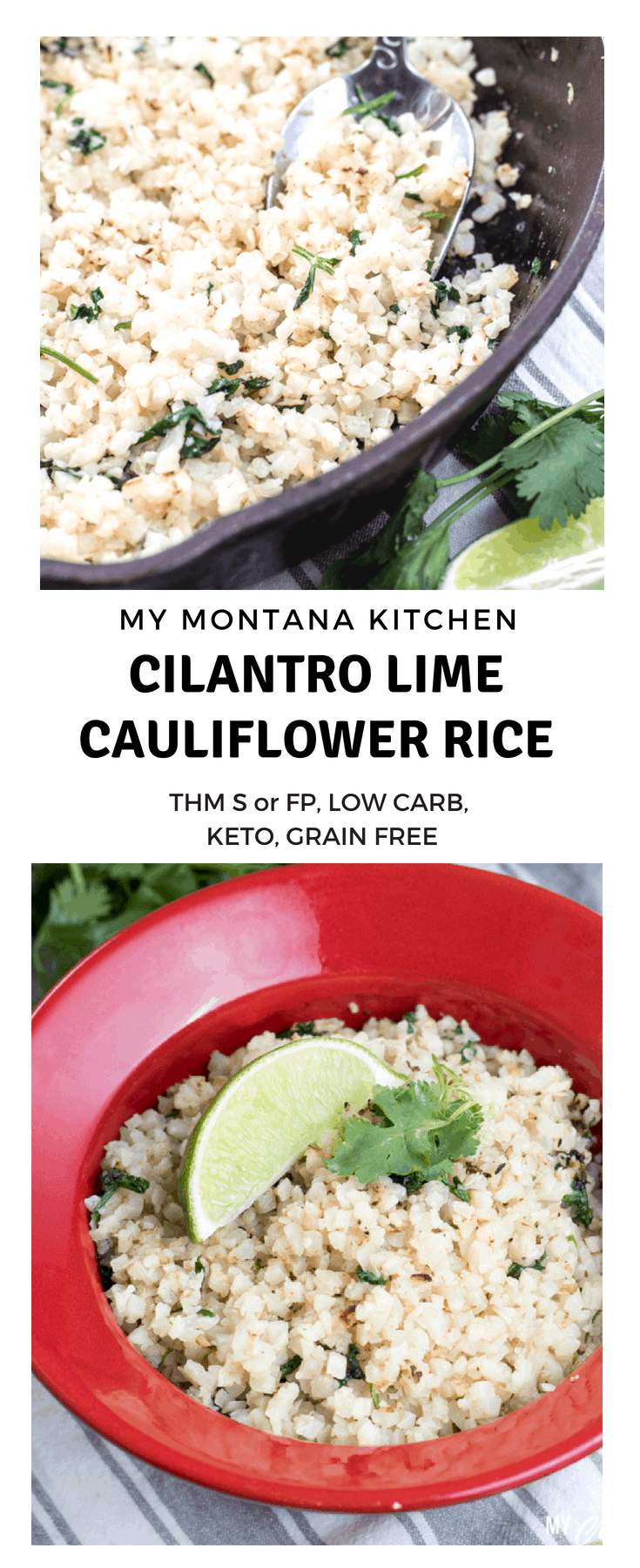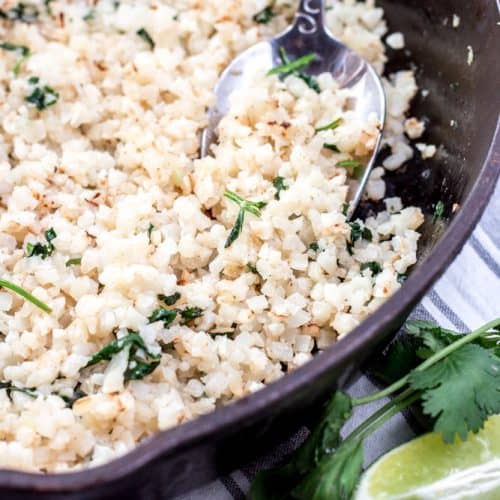 Cilantro Lime Cauliflower Rice
This Cauliflower Rice recipe can be made in minutes on your stovetop, and is filled with fresh cilantro and lime for a bright and fresh flavor. Using frozen cauliflower rice makes this dish a breeze.
Print
Pin
Rate
Ingredients
2

Tablespoons

Butter

1

12 Ounce

Bag Frozen Riced Cauliflower

½

Cup

Finely Chopped Fresh Cilantro

¼

Teaspoon

Cumin

1

Teaspoon

Garlic Salt

½

Fresh Lime, Squeezed (about 1- 1½ Tablespoons)
Instructions
In a skillet, melt the butter and saute the riced cauliflower until beginning to turn tender.

Add the remaining ingredients and continue to cook over medium-low heat until completely tender. Serve with additional fresh lime, if desired.
Notes
Just a note: The 9 carbs you see listed in the nutritional information are primarily from the cauliflower. As a Trim Healthy Mama, the carbs in non-starchy vegetables do not count toward suggested carb limits in FP and S fuels.
Nutrition
Serving:
0.5
Recipe
|
Calories:
147
kcal
|
Carbohydrates:
9
g
|
Protein:
4
g
|
Fat:
12
g
|
Fiber:
4
g