We may earn money from the products/companies mentioned in this post. As an Amazon Associate I earn from qualifying purchases.
Are you looking for a salad dressing that's both flavorful and healthy?
This zesty and refreshing lime vinaigrette recipe is perfect for drizzling over salads, marinating vegetables or chicken, or even using it as a dipping sauce for seafood.
To me, there's not much that smells better than fresh lime! Nearly every time I slice into one, I have to smell it—it's so clean, tangy, and refreshing!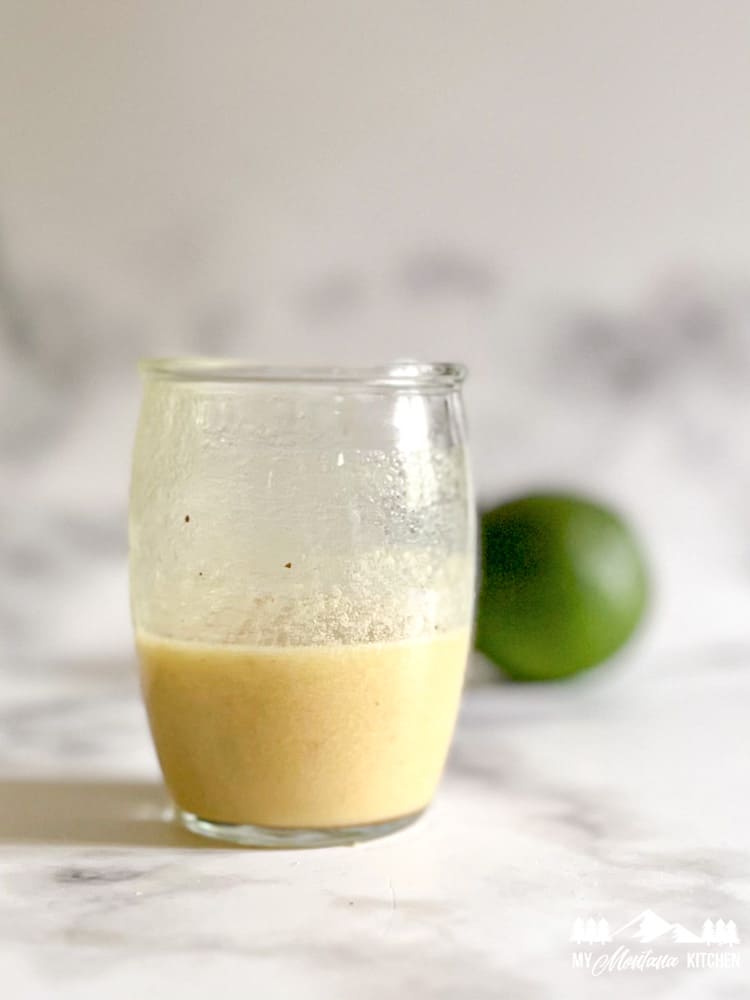 Why you should make your own salad dressing
Making your own homemade salad dressing is healthy, cost-effective, and customizable.
You can avoid all the bad ingredients in store-bought salad dressings while adding healthy ingredients you can feel good about in your own kitchen!
Avocado oil (can also use extra virgin olive oil - both are anti-inflammatory)
Lime juice (freshly squeezed is best)
Dijon mustard (a good source of antioxidants)
Garlic powder (good for your immune system)
Sweetener (I used Gentle Sweet)
Salt & pepper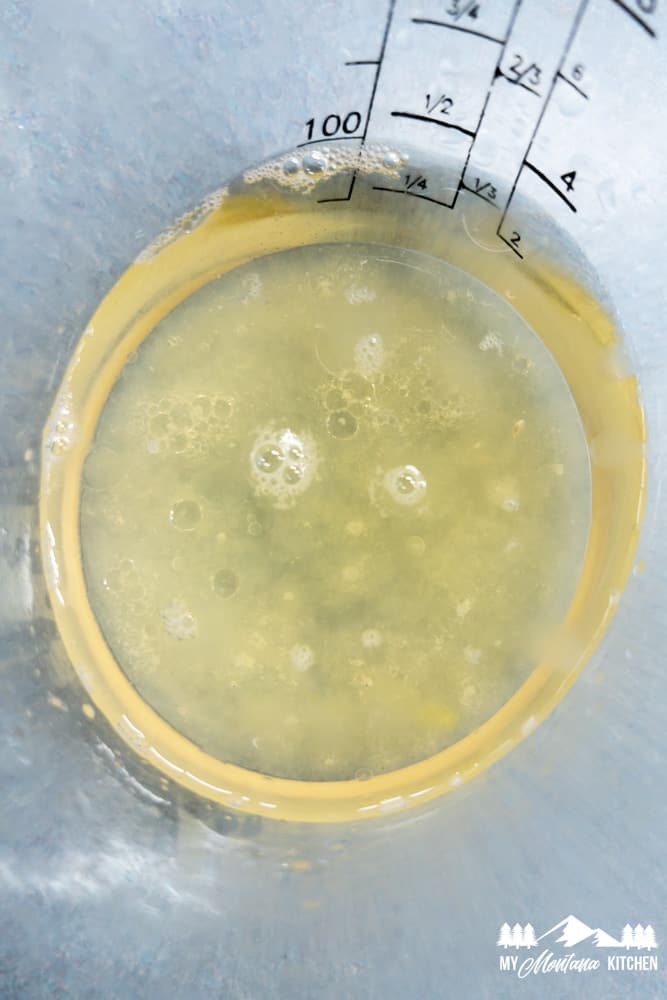 How to make Lime Vinaigrette in 2 easy steps
First, gather all your ingredients and place them in a small bowl (or blender, if using the blending method).
Second, blend the ingredients together to make your healthy lime vinaigrette recipe!
I used a handheld milk frother, and it worked perfectly. But I will admit that my handheld frother is pretty powerful! If you'd like to try it out for yourself, you can buy a similar one here on Amazon!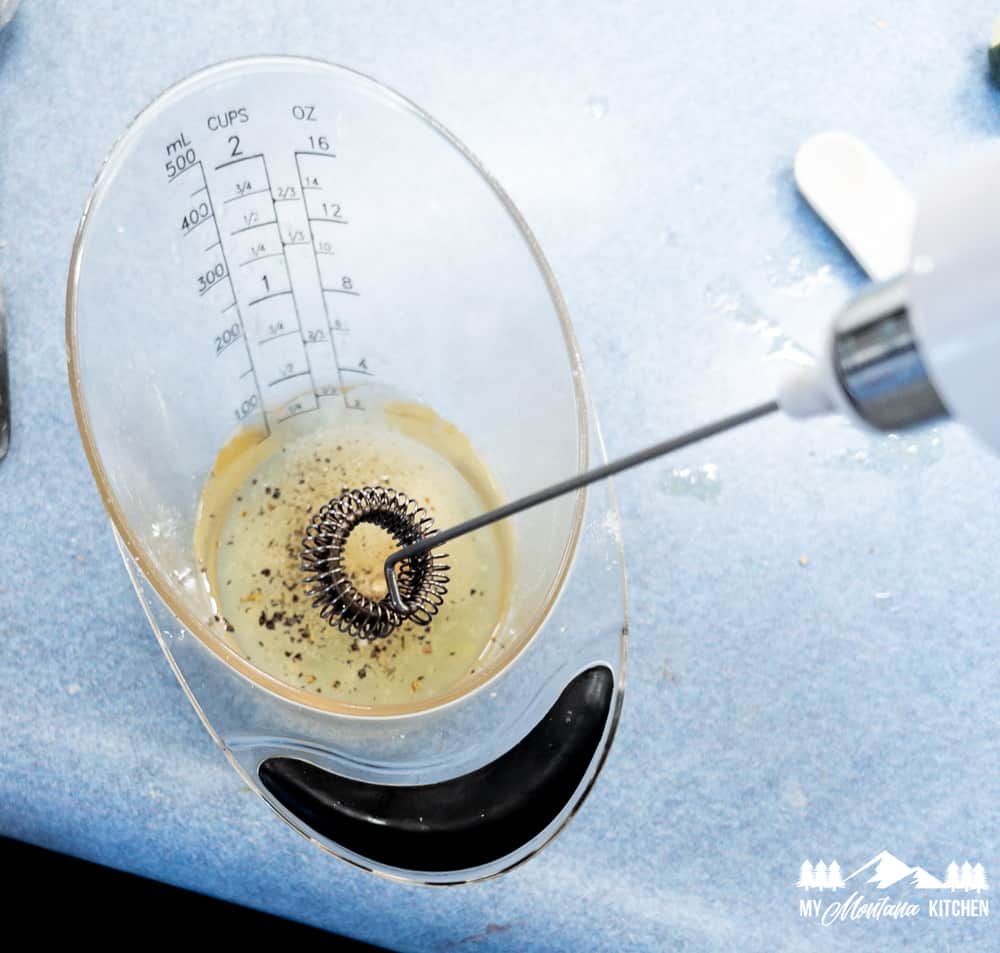 If you don't have a powerful handheld frother, you can mix all your ingredients together in a blender or food processor.
Please keep in mind that you may need to double or triple the recipe to have a large enough quantity to blend in a blender.
Customize your Lime Dressing with these flavorful options
Honey Lime Vinaigrette
Adding honey to your lime vinaigrette can give it a touch of sweetness that balances out the acidity of the lime juice.
Honey naturally has antibacterial and anti-inflammatory properties. Simply replace the sweetener with honey in this recipe.
Cilantro Lime Vinaigrette
If you're a fan of Mexican or Tex-Mex cuisine, you might enjoy a cilantro lime dressing variation of this dressing recipe. Simply add a handful of chopped cilantro to the basic recipe and add a touch of cumin.
If using this method, you'll likely want to use a blender for mixing instead of the handheld milk frother I used.
Cilantro lime vinaigrette would also be great drizzled over this cilantro lime cauliflower rice!
Jalapeno Lime Vinaigrette
Jalapeno lime is another flavorful variation that will add a spicy kick to your dishes.
To make it, simply add some diced jalapeno peppers to the basic recipe, along with a pinch of cumin and/or smoked paprika for extra depth of flavor.
Again, you'll likely want to use the blender for this version.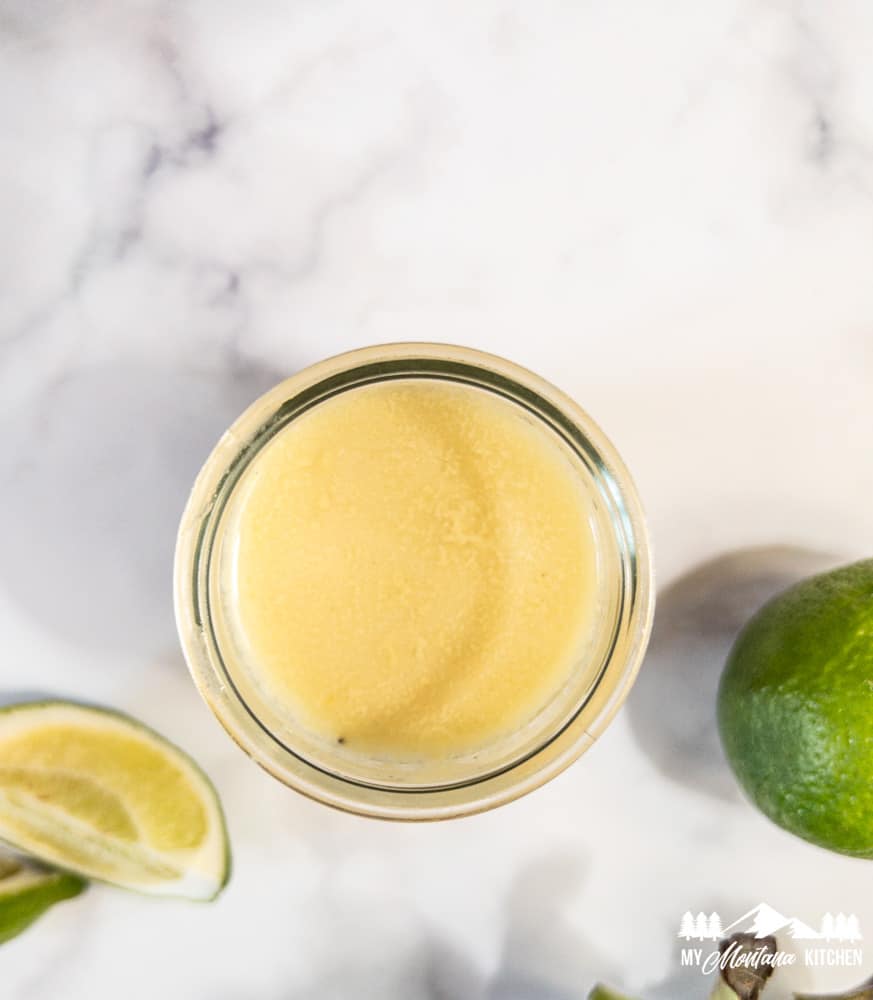 3 delicious serving suggestions to use Lime Vinaigrette in your kitchen
Salad dressing
Ok, this one is a little of a no-brainer and the most obvious way to use it! I love a good homemade salad, and the bright and tangy flavor of this recipe pairs well with a variety of greens, vegetables, and proteins.
Try tossing it with mixed greens, sliced avocado, cherry tomatoes, and grilled chicken or shrimp for a refreshing and satisfying salad.
Marinade
Lime dressing can also be used as a marinade for meats, poultry, or seafood. Its acidity can help tenderize the meat while infusing it with flavor.
Simply marinate your protein of choice in lime vinaigrette for at least 30 minutes before grilling or baking.
Dipping sauce
This healthy lime dressing can be used as a sauce to top off your favorite dishes. Try drizzling it over grilled fish, roasted vegetables, or grilled chicken for an extra burst of flavor.
You can also mix it with some Greek yogurt or sour cream for a creamy and tangy dipping sauce - perfect for these low-carb breaded chicken tenders!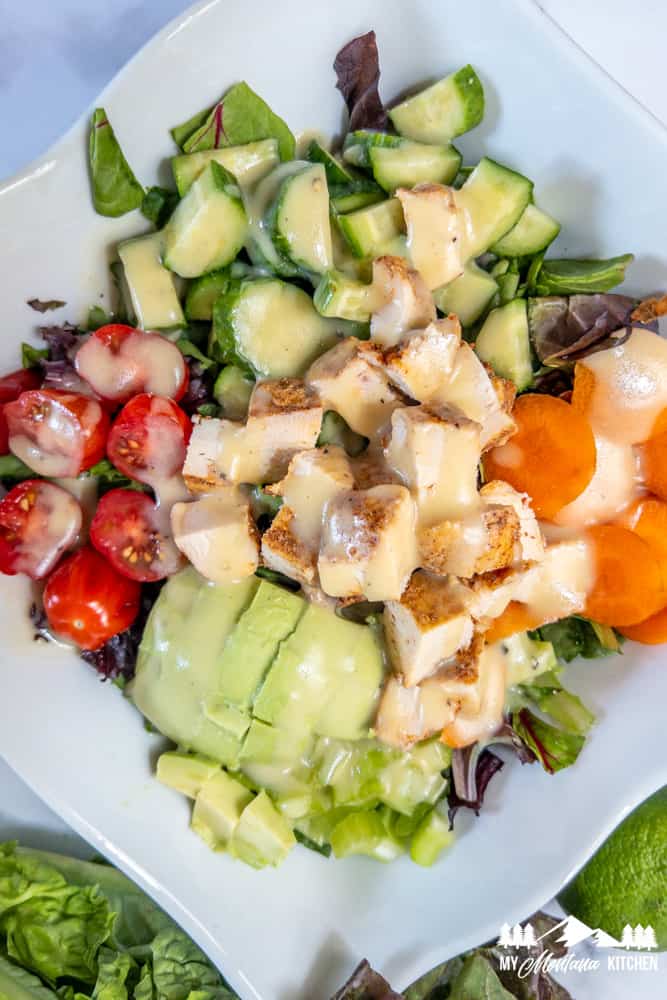 Frequently asked questions:
Does a vinaigrette always have vinegar?
Traditionally, a vinaigrette dressing is made by whisking together oil and vinegar. However, the definition of vinaigrette has evolved over time and can now include a variety of acidic liquids, such as lemon juice or lime juice, in place of vinegar.
So, while it often includes vinegar, it is not a strict requirement.
How to store and use leftover Lime Vinaigrette
You can keep it in a jar or airtight container in the fridge for up to a week. Just give it a good shake before using it again, as it may tend to separate.
More healthy dressing recipes: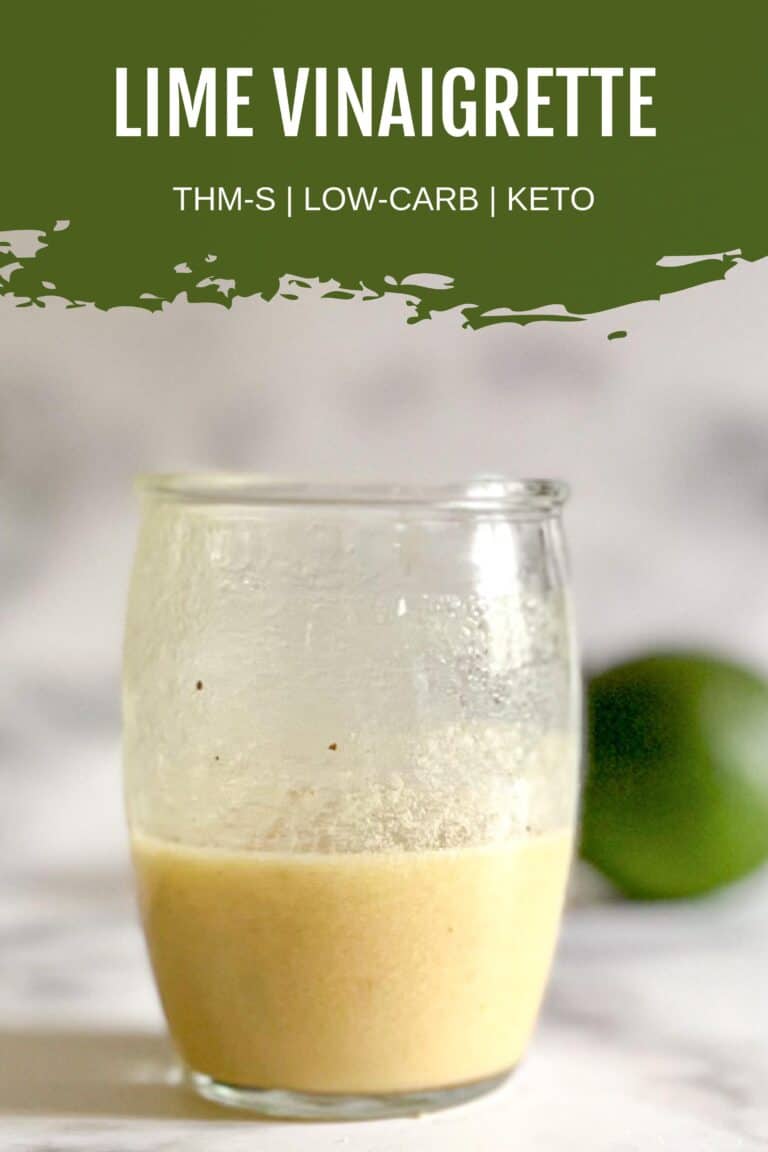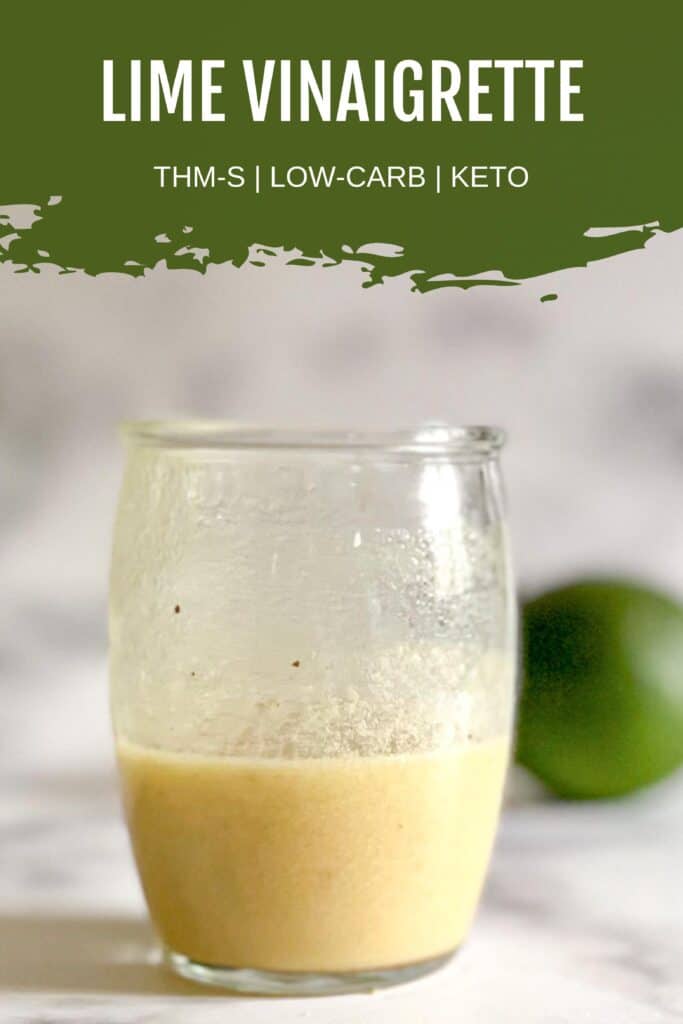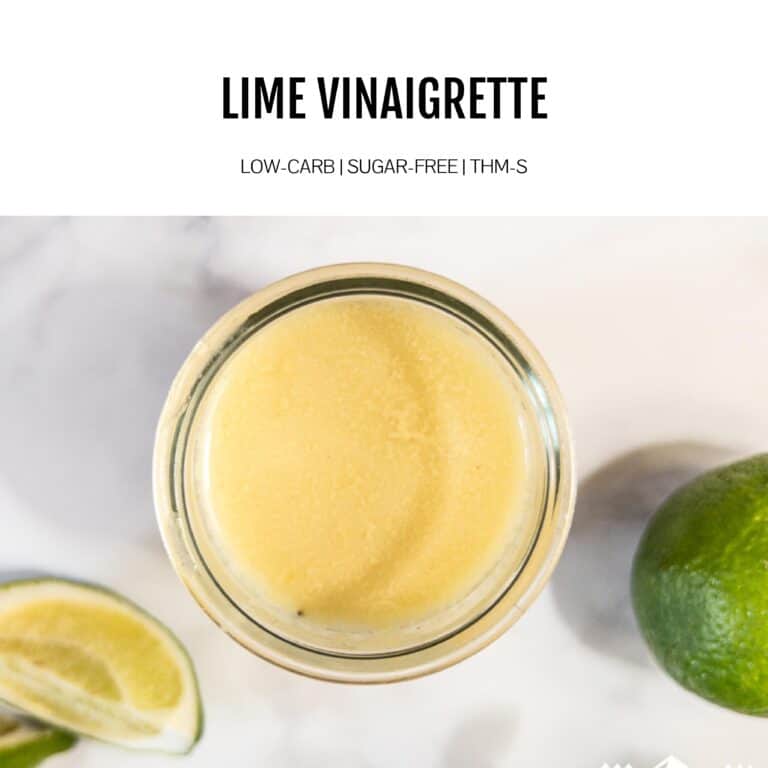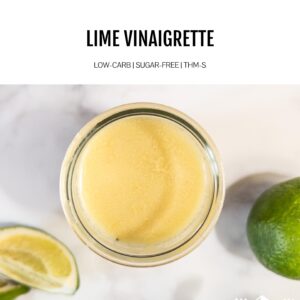 Lime Vinaigrette Recipe
This zesty and refreshing dressing is perfect for drizzling over salads, marinating vegetables or chicken, or even using as a dipping sauce for seafood.
Print
Pin
Rate
Instructions
Add all of the ingredients to a small bowl.

Using a powerful handheld milk frother, blend the ingredients together until they are completely emulsified.

Give the dressing a taste and adjust the balance of sweetness, acidity, and tanginess to your liking.

Use the lime vinaigrette immediately, or store it in an airtight container in the refrigerator for up to one week.
Notes
If you don't have a handheld milk frother, you can put all the ingredients in a mason jar, close the lid, and shake until blended well.
You can also double or triple this recipe and blend it in a blender.
After sitting, the dressing may separate, but this is fine. Just give it a good shake and it will be ready to use.
Get more dairy-free salads, dips, and sauces here!
Nutrition
Serving:
0.25
Cup
|
Calories:
256
kcal
|
Carbohydrates:
3
g
|
Fat:
27
g