We may earn money from the products/companies mentioned in this post. As an Amazon Associate I earn from qualifying purchases.
Indian Fry Bread Recipe (Low Carb)
Deep fried low carb dough fried to a golden brown, then topped with all your favorite taco toppings for an Indian fry bread taco! This recipe is low carb, keto, gluten free, and a Trim Healthy Mama S Fuel.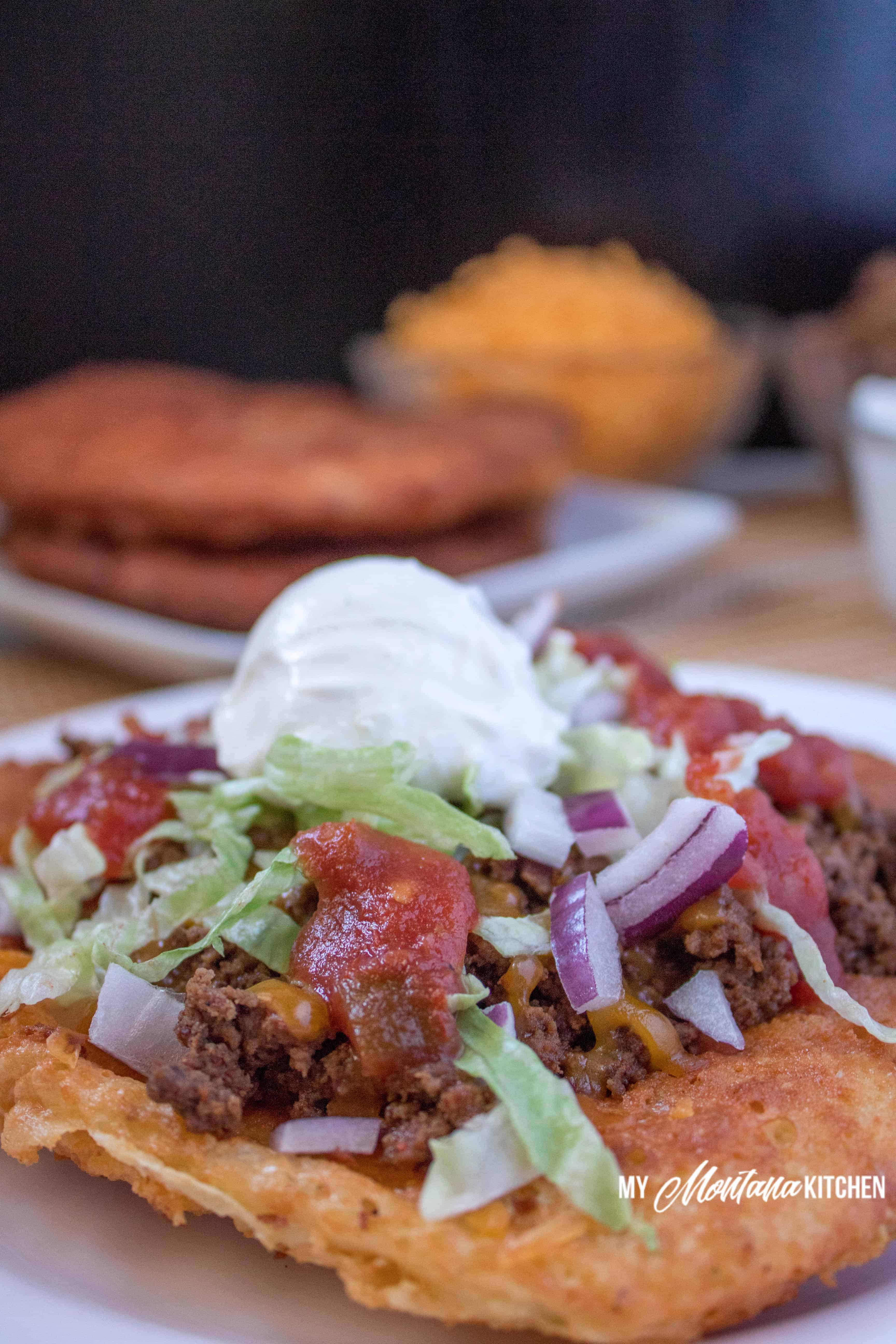 (We are a participant in the Amazon Services LLC Associates Program, an affiliate advertising program designed to provide a means for us to earn fees by linking to Amazon.com and affiliated sites. There are affiliate links used in this post.)
My husband and I work at a school for Native Americans in Western Montana. (You can see more about Northwest Indian Bible School here.) We are the boys dorm parents (as I have mentioned in other posts), so I feed hungry teenage boys OFTEN! (If you have spent much time with teenage boys, you know they are always hungry!)
All of my boys love fry bread, and it is a traditional part of their culture. They simply laughed at my attempt to "health-ify" their traditional food, and I had to admit, it was a tall order.
At the school where we work, we have Indian Taco Sales once a month or so. People from the community come onto our campus and buy these Indian Tacos. They have gained quite a reputation in the community, and people love them! I usually treat myself to a taco (but not always).
I have always said in the past that Indian Fry Bread is one of those things that cannot be "THM-ified." (Or made low-carb) I just couldn't see how you could replicate the dough. But last week, one of my dorm boys wanted to make Navajo fry bread (which is a different recipe than we use for the taco sales).
The Navajo way of making fry bread (at least by his Grandma), is to use only flour, baking powder, salt, and water. He didn't measure anything, but went by the "feel" of the dough. He and his brother made the dough into flat circle shapes and we fried them in hot oil.
That got me to thinking . . . if all I needed was flour . . .
I tried to make it with just Baking Blend to start with, but that was a fail (not because of the Baking Blend, but because it needed more to bind it together).
Then my mind turned to the popular "fathead" dough, so I tried that next. That worked MUCH better, but I cooked it too long, and it tasted like burnt cheese (which tastes good, but . . . ).
I ended up adding more almond flour to the dough and fried it for only about 20 seconds on each side. That worked wonderfully! Now, it does not taste "exactly" like Indian fry bread, but it was close enough for me! Especially when I piled taco toppings on the top!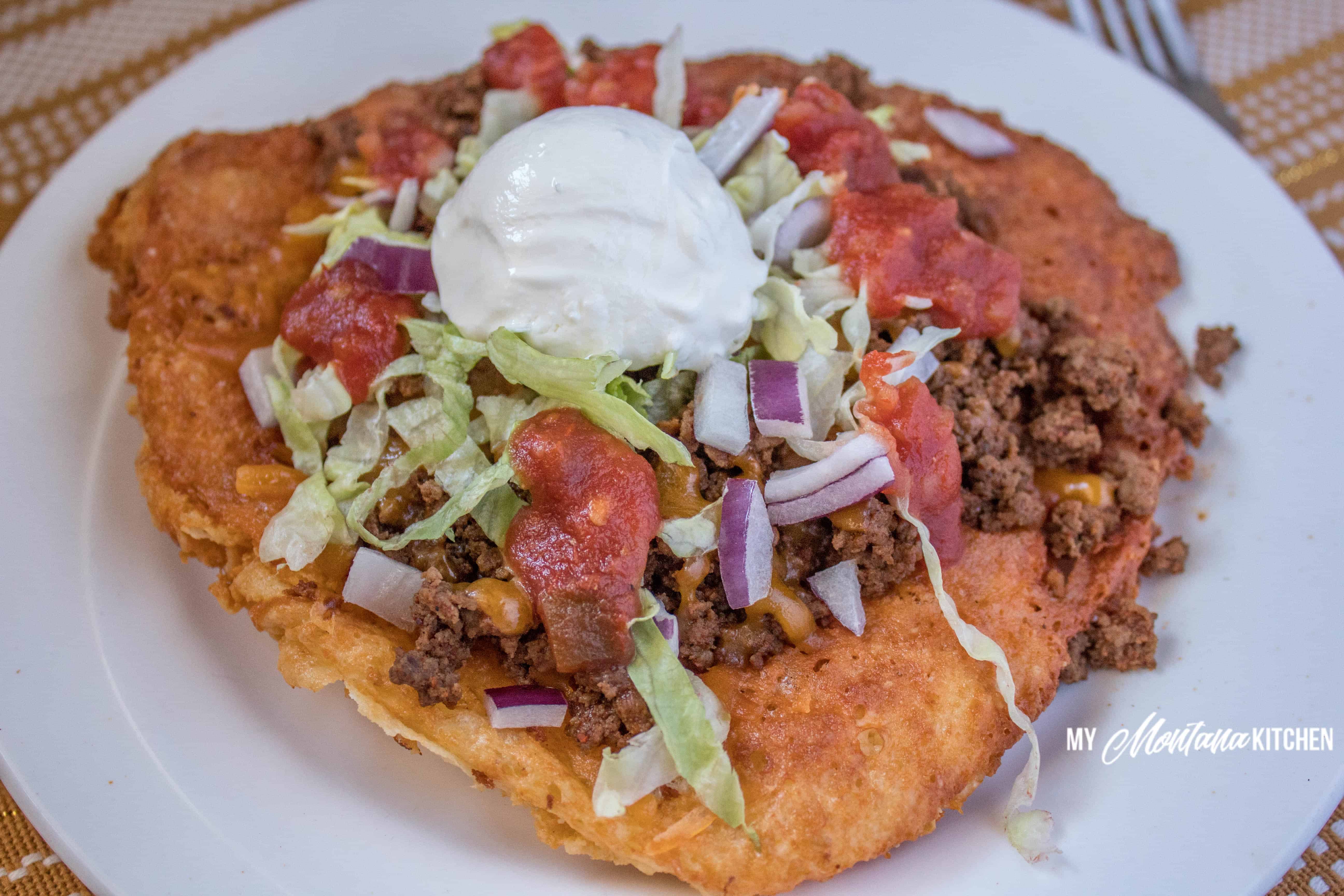 The key to making these work is to NOT overcook them. They really only need about 20 seconds of frying on each side. They are a bit flimsy to work with, so I recommend using a pair of long tongs. That way you can have a grip on the entire fry bread to flip it over in the pan. And yes, they are a bit greasy, but that's the way fry bread is supposed to be!
So, what do you need for Low Carb Indian Fry Bread?
1 ½ Cups Shredded Mozzarella Cheese
2 Tablespoons Cream Cheese
1 Egg
1 Teaspoon Baking Powder
1 Cup Almond Flour (or you can use Trim Healthy Mama Baking Blend)
1 ½ Cups Refined Coconut Oil (for frying)
Be sure to sign up with your email address so you can receive all my new recipes delivered right to your inbox! (Look for the sign-up box at the top of this post.) Also, be sure to follow me on Facebook, Pinterest, Instagram, and Twitter! If you make a recipe and love it, please leave a comment on my Facebook Page or tag me on Instagram (my_montana_kitchen_thm)!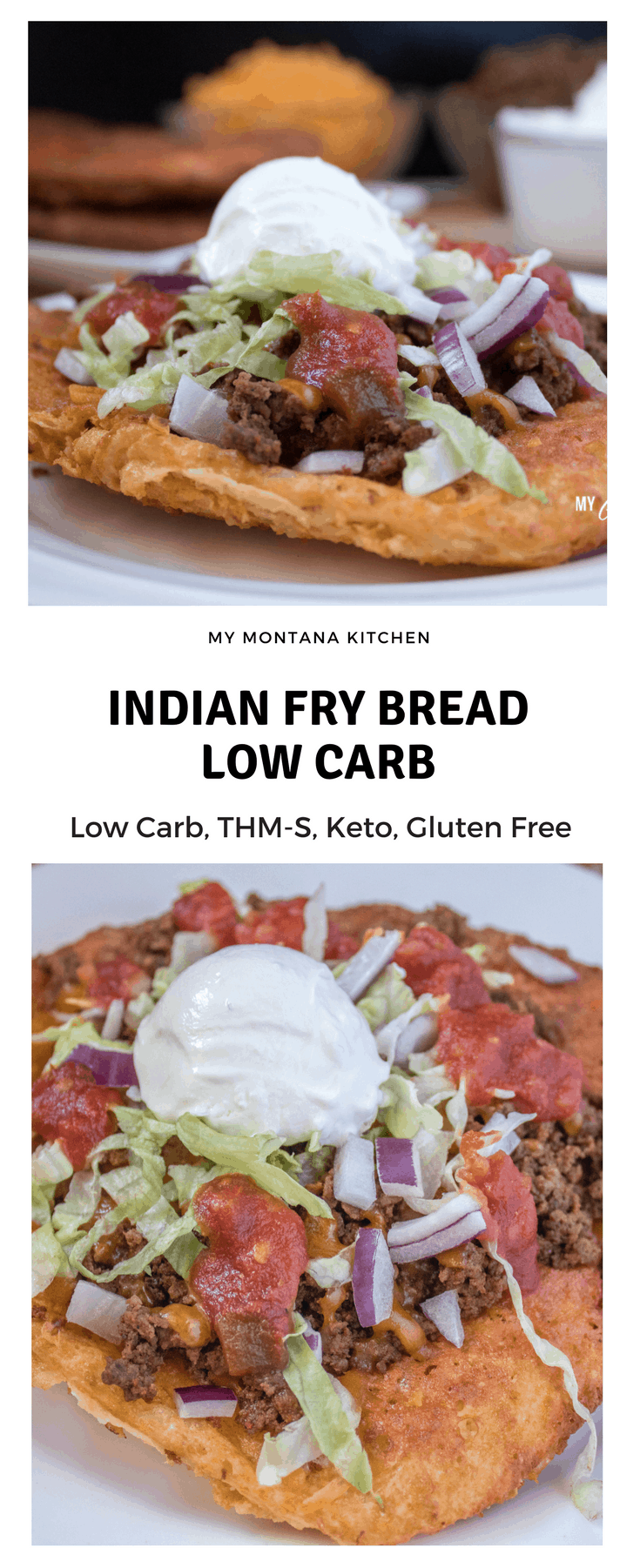 Indian Fry Bread (Low Carb)
Deep fried low carb dough fried to a golden brown, then topped with all your favorite taco toppings for an Indian fry bread taco!
Print
Rate
Instructions
Heat coconut oil in a frying pan over medium-low heat.
Make the Dough:
In a large microwaveable bowl, melt mozzarella cheese and cream cheese.

Stir will, then add egg and baking powder and stir again.

Add almond flour, ¼ cup at a time, stirring well after each addition. (You should have an even, homogenous dough. You may have to knead it with your hands a bit.)

Turn dough onto parchment paper and divide into four balls.

Flatten each ball between parchment paper and roll into a 6-8 inch circle with a rolling pin.
Fry the Dough:
When the oil has heated, fry dough (one at a time) for about 20 seconds, then flip and fry 20 seconds on the other side. The bread should be a light golden brown color.

Remove from oil and drain on paper towels.

Serve with all your favorite taco toppings for an Indian Fry Bread Taco!
Notes
(These fry breads are best when eaten immediately after cooking.)
Nutritional information is for fry bread only (not toppings).
Nutrition
Serving:
1
Fry Bread
|
Calories:
589
kcal
|
Carbohydrates:
7
g
|
Protein:
18
g
|
Fat:
55
g
|
Fiber:
3
g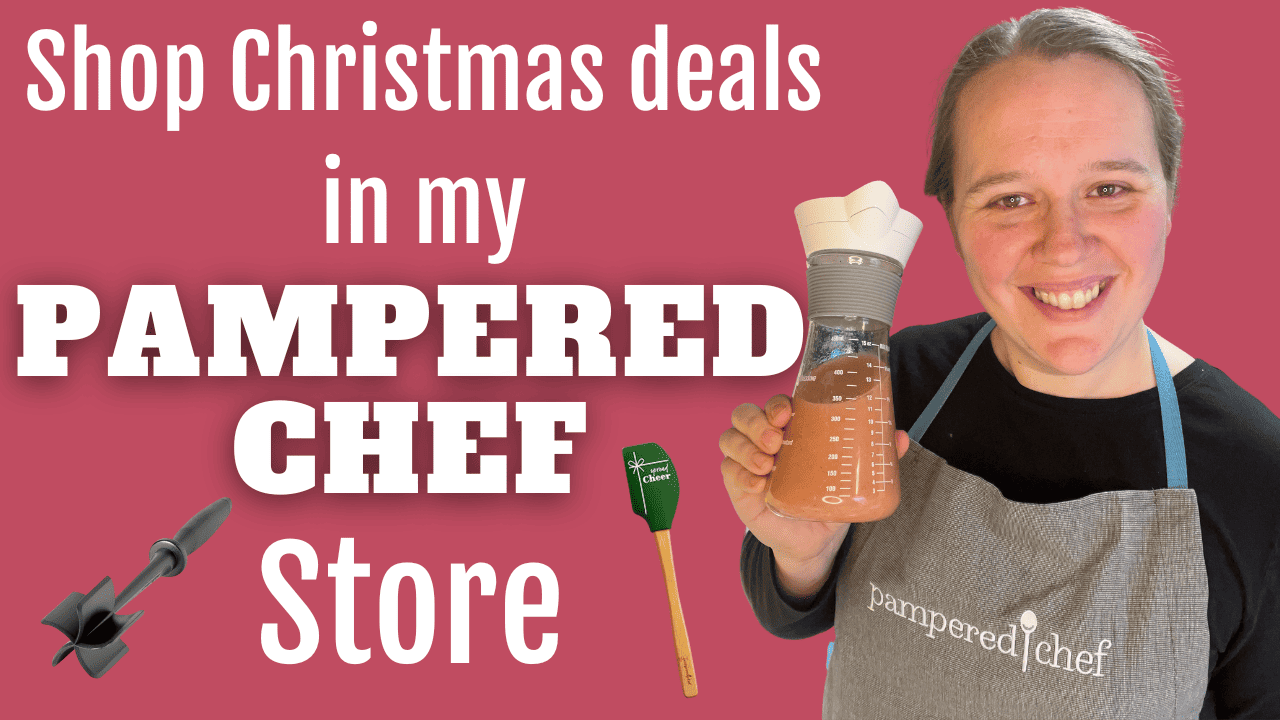 Reader Interactions