We may earn money from the products/companies mentioned in this post. As an Amazon Associate I earn from qualifying purchases.
Keto Garlic Cheese Biscuits make the perfect side to compliment your main dish. These keto biscuits are so easy to make and are not made with fathead dough like most. A coconut flour biscuits recipe that will stand out from all the other recipes you have tried. These also make a great Trim Healthy Mama S Fuel!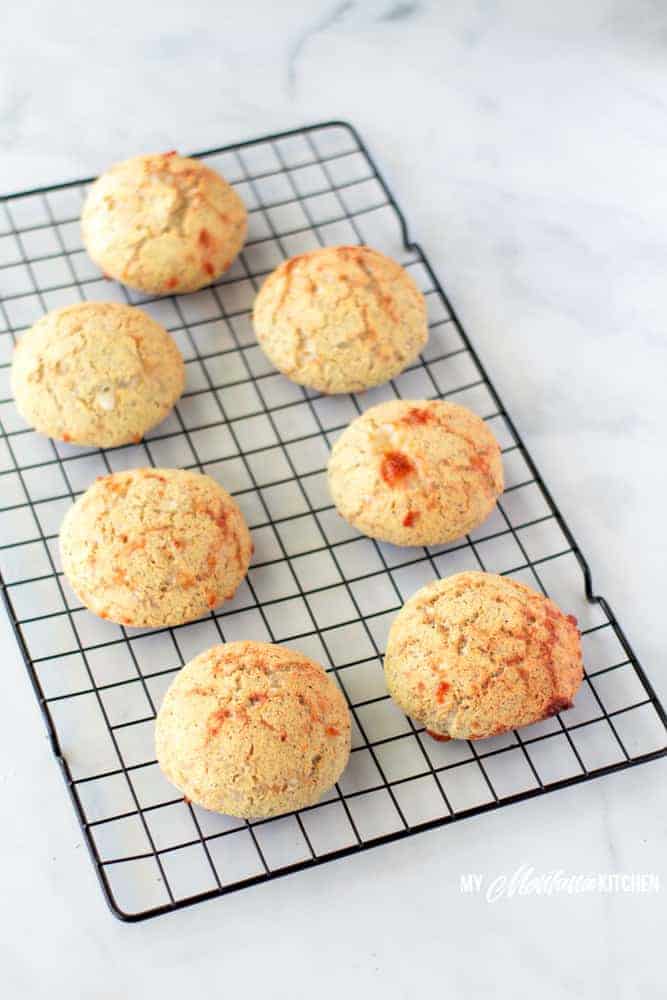 Sometimes the biggest hurdle on a keto/low-carb diet is giving up all things bread. Now, if you are a Trim Healthy Mama, you know you can still have sprouted bread as an E fuel, but sometimes you just want a good "S" bread to dip in your decadent soups!
Well, if you can agree to that, realize you don't have to say goodbye forever.
Learn how to make bread, low-carb biscuits, and other baked good in a keto-friendly way. These low carb biscuits taste amazing, so whip them up and dive in.
Keto Garlic Cheese Biscuits
I use mozzarella cheese which adds a nice cheesy flavor to these biscuits without being too overpowering. Whip these up any day of the week for the family (or guests) and enjoy.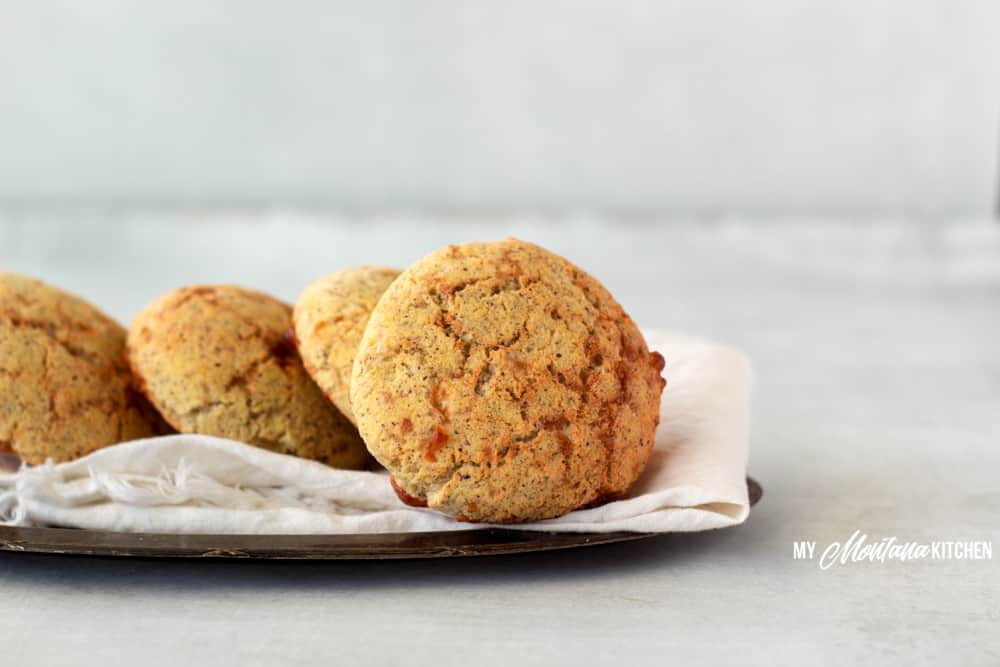 Does Coconut Flour Taste Like Coconut
Slightly, but coconut flour is very subtle and mild. You might get a small taste of coconut if you are searching for it but for the most part, no it will not have a strong coconut flavor like you would imagine it to have.
Why Do You Use Coconut Flour In These Keto Biscuits
Coconut flour is perfect for making biscuits. The reason being is coconut flour offers a really light texture.
The cheese biscuits will be light, fluffy, and tender, just as you would hope they would be. The flour doesn't weigh them down, like other low carb flours.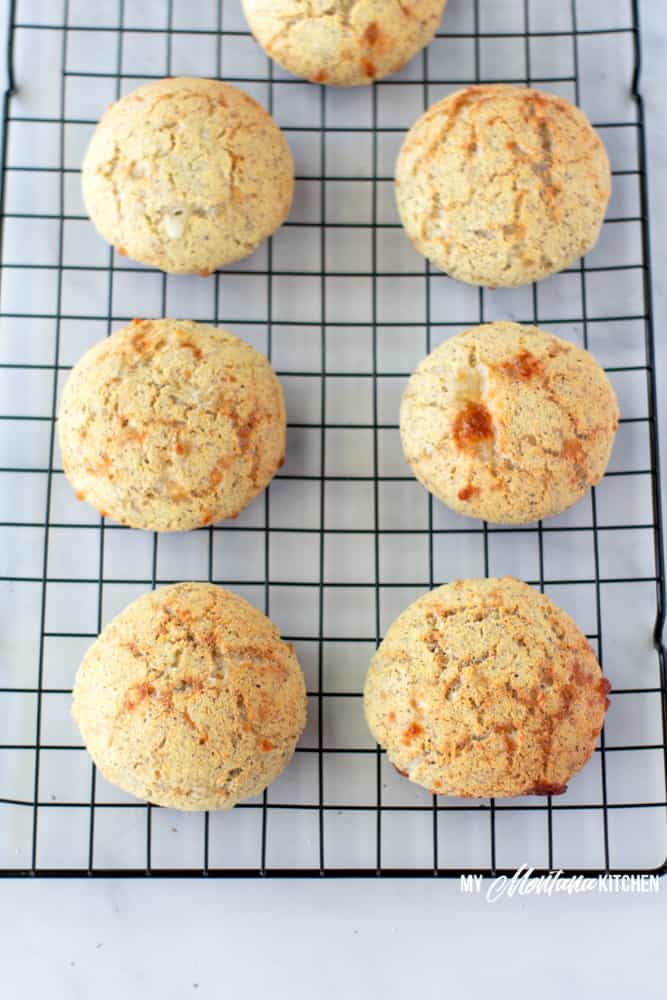 Are Keto Biscuits With Coconut Flour Hard to Make
Many find that coconut flour raises more issues than most other flours. The reason for this is because it absorbs the moisture differently than a classic flour.
But I have found this recipe isn't that hard to master. And the shape doesn't have to be perfect on the biscuits, so make and enjoy!
What Type of Cheese Is Best For Biscuits
When making keto biscuits pretty much any variety of cheese goes. I wanted a more mellow cheese flavor so I reached for mozzarella.
But American, Provolone, Sharp Cheddar, all would be great. The sharp cheese would give you more of that Red Lobster cheddar bay biscuit flavor paired with the garlic.
The provolone would mimic the mozzarella for a more subtle flavor.
I do find with any cheese you use, grating it off a block of cheese will give you a fresh flavor, texture, and just be better overall, compared to bagged cheese.
How To Make Keto Garlic Cheese Biscuits
You will start by preheating your oven and then lining a baking sheet with parchment paper. Then in a bowl, you will work at sifting all your dry ingredients.
Now grab a new bowl and begin mixing up your wet ingredients, whisk for a minute, and allow the texture to become creamy.
Then add in your dry ingredients with the wet, along with the cheese. I find a rubber spatula works great at this step.
Then you will wet your hand with water and oil, to prevent the dough from sticking to your hands. Work the dough into balls and flatten them slightly and place on parchment paper.
Bake until they are golden brown, then broil for a crisp texture. Allow them to cool for 10 minutes then serve. Delicious!
How To Store Keto Biscuits
You will want to store any leftover biscuits in the fridge. This will offer the best quality.
Then when you want to reheat your biscuits you can use a toaster oven or regular toaster to get that fresh out of the oven texture and taste.
(Or opt to eat them chilled or heat in the microwave.)
What To Serve With Keto Biscuits
Creamy Tomato Soup | If you are a fan of tomato soup give this recipe a whirl! It is incredibly creamy, flavorful, and delicious down to the last drop.
Low Carb Chili | Dip your biscuits right into this chili and enjoy the savory flavor pairing. A low-carb chili that will warm your bones and fuel your body.
Creamy Garlic Chicken | I love a good chicken recipe and this one is pretty simple to make. A creamy sauce that you can soak up the sauce with your fluffy biscuit.
If you are looking for new items to add to your menu, give these keto garlic cheese biscuits a try! I think you'll love them!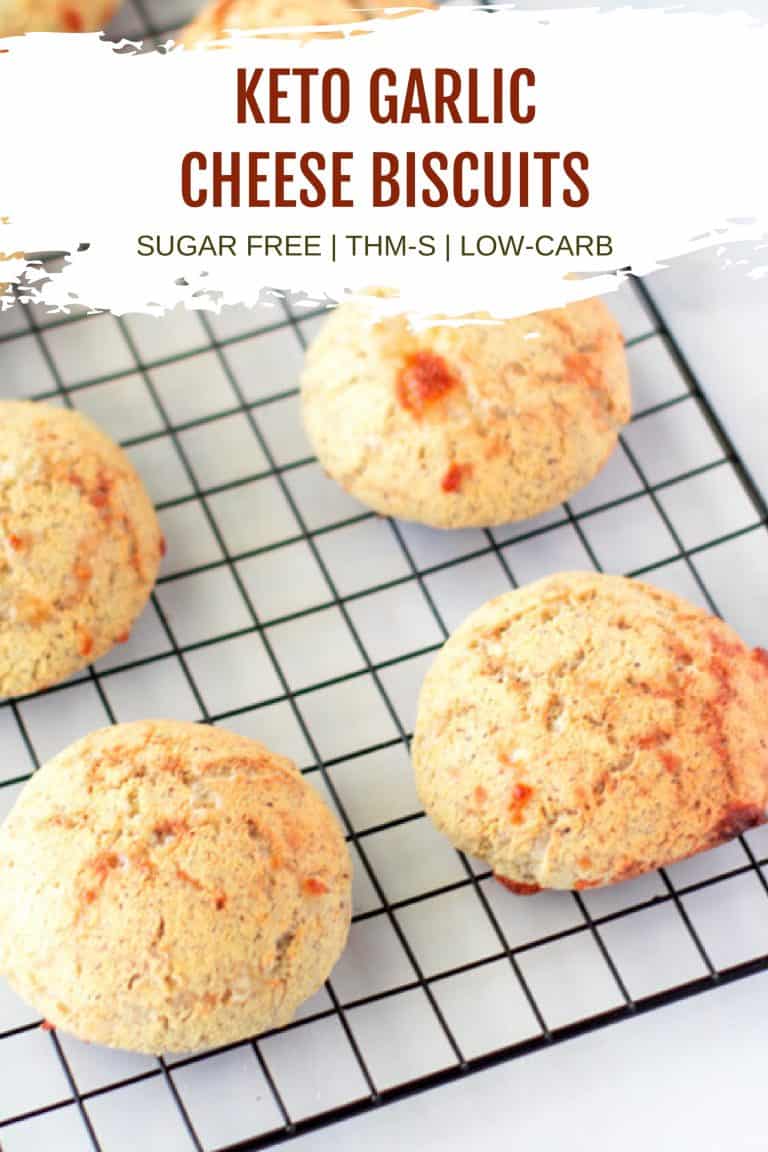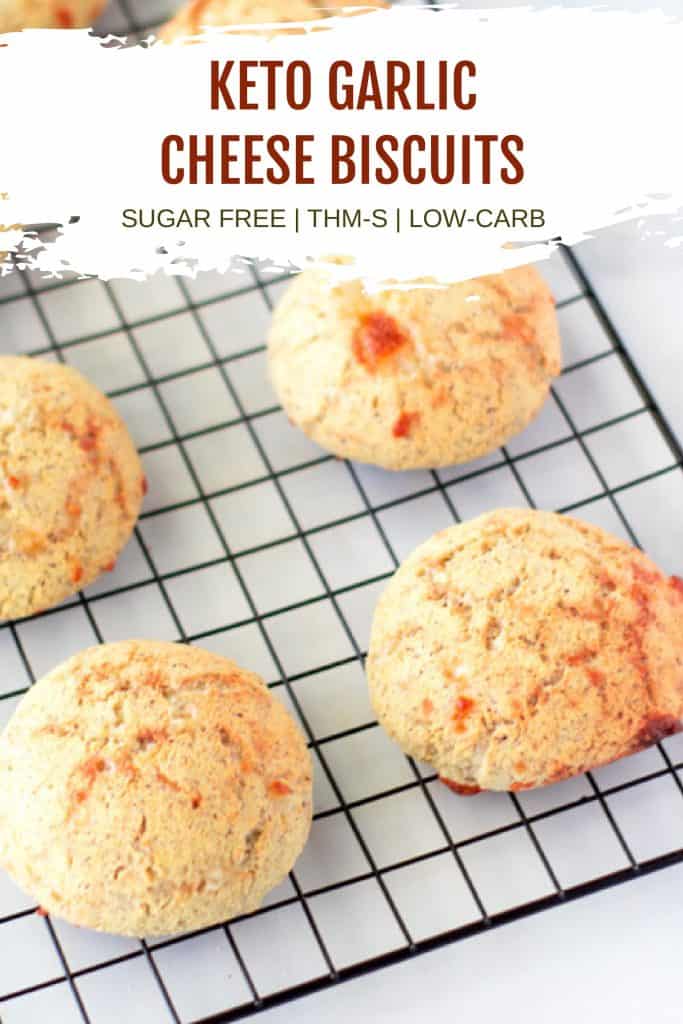 Yield: 7
Keto Cheesy Garlic Biscuits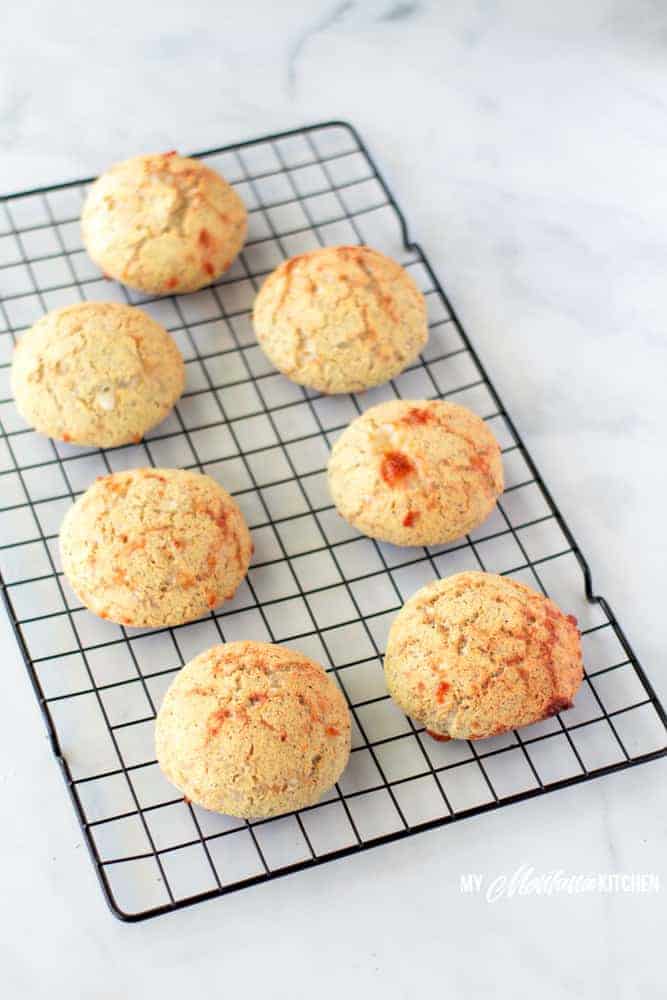 These savory garlic keto biscuits are both quick and simple! Made with coconut flour (not almond flour or fathead dough) these easy low carb biscuits are made cheesy with the additions of mozzarella (or cheddar).
Ingredients
1 Teaspoon Baking Powder
½ Teaspoon Garlic Powder
Pinch of Salt
5 eggs
1 Cup Unsweetened Almond Milk
4 Tablespoons Butter, Melted
1 Cup Shredded Mozzarella Cheese
Instructions
Preheat the oven to 375 F and line a baking sheet with parchment paper, then set aside.
In a medium-size bowl, use a strainer to add and sift dry ingredients ( coconut flour, psyllium husk, flaxseed meal, baking powder, garlic powder, and salt).
Whisk dry ingredients until well combined.
In a separate bowl add wet ingredients (eggs, almond milk, and butter)
Mix for about one minute, until well combined and creamy.
Add dry ingredients to wet, and also add the cheese, then combine them all together with a rubber spatula.
Wet your hands with water or oil and make 7 balls of the same size.
Flatten them a little and place them on the parchment paper previously prepared.
Bake for 30 minutes or until the edges are golden, broil on high for 1-2 minutes, then remove from the oven.
Place them on a cooling rack, and allow to cool for 10 minutes.
Serve warm preferably.
Nutrition Information
Yield
7
Serving Size
1 Biscuit
Amount Per Serving
Calories

233
Total Fat

16g
Carbohydrates

11g
Net Carbohydrates

3g
Fiber

8g
Protein

11g