We may earn money from the products/companies mentioned in this post. As an Amazon Associate I earn from qualifying purchases.
Low Carb Blueberry Muffin in a Mug
Sweet, tender, and bursting with blueberries, this Low Carb Blueberry Muffin in a Mug can be in your hands in less than 5 minutes! (And, you don't even have to turn on your oven!)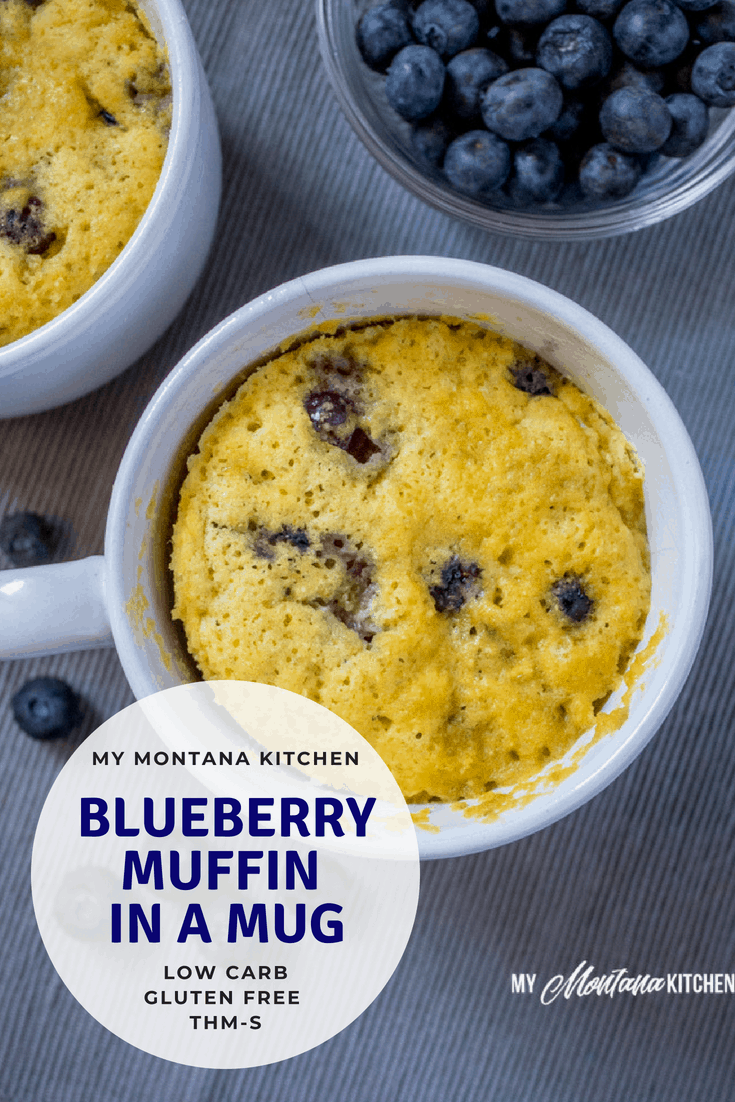 Blueberries are in season in many parts of the country, so why not take advantage of seasonal produce and make this delicious blueberry muffin? (Only have frozen blueberries? No problem! See below for how to use frozen blueberries instead of fresh.)
Not only is this Blueberry Muffin in a Mug low carb (only 8 net carbs per serving), it is also dairy free, gluten free, full of fiber, and a Trim Healthy Mama S Recipe.
(We are a participant in the Amazon Services LLC Associates Program, an affiliate advertising program designed to provide a means for us to earn fees by linking to Amazon.com and affiliated sites. I am also an affiliate with Trim Healthy Mama. There are affiliate links used in this post.)

Benefits of Blueberries
Blueberries are high in antioxidants (higher than blackberries and strawberries).
Great for weight loss (1 cup of blueberries is low in calories but has over 3 grams of fiber).
May improve memory and cognition – they are good for your brain!
Because of their high antioxidant content, blueberries can help reduce inflammation.
Supports digestion (that high fiber content is good for your digestive tract)!
One serving has 36% of your suggested daily value of Vitamin K!
(See more information about blueberries from my source.)
Easy Blueberry Muffin Recipe
I hear requests over and over again from my readers . . . we need easy recipes that do not require a lot of ingredients.
BINGO! This recipe fits that perfectly – only a handful of ingredients and it takes less than 5 minutes to make. The greatest amount of time will probably be spent pulling the ingredients out of your pantry!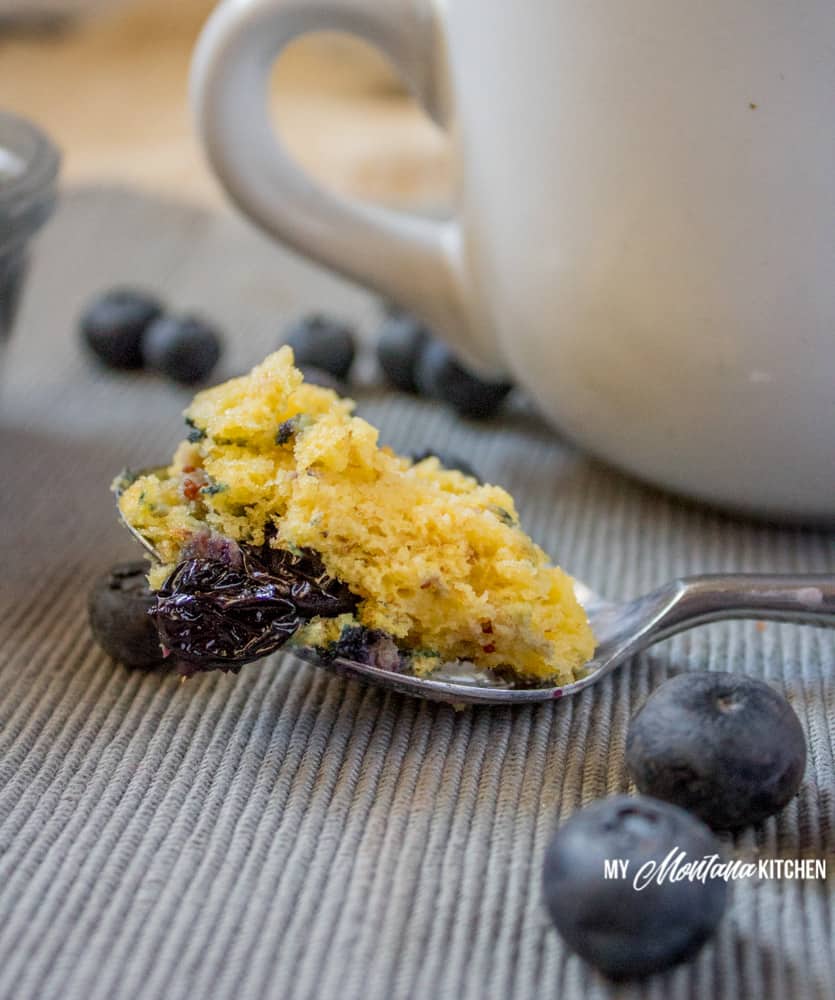 In a hurry to get out the door in the morning? Need a quick afternoon snack? This single serve Blueberry Muffin is perfect for you!
If you are a Trim Healthy Mama, you probably already have all of the ingredients needed for this recipe right in your cupboard.
And don't worry, if you are not a THM (or if you do not use special ingredients), I have some substitutions below just for you!
And thanks to wholesome, clean ingredients, this muffin has 13 grams of protein all on its own.
But if you feel you need more protein, you can pair this muffin with some cottage cheese or Copycat Vanilla 000 Yogurt and berries.
(Or pair it with a Salted Caramel Collagen Coffee – I love this flavored collagen powder!)
Personally, I love the fact that this muffin is a single serving. I can whip one up in less than 5 minutes, and enjoy a delicious, guilt free treat!
However, if you want to make more than one, it is easy to mix up two mugs at a time, then just cook each one for 70 seconds.
Baking a Low Carb Blueberry Muffin in the oven
I know some people do not use a microwave, so if you want to bake this muffin in the oven, you can pour it into a greased ramekin or oven safe bowl, and bake for approximately 10-15 minutes at 350 degrees.
I'm sure there will be requests for a larger batch of blueberry muffins that can be baked in the oven, so I will add that to my list of recipe tests.
(If you want to make a larger batch of muffins now, check out these Blueberry Muffins with Crumb Topping from my friend Taryn, at Joy Filled Eats. Don't they look amazing?)
But for now, I'm loving the fact that I can make a "baked" treat without turning on my oven!
If you want, you can eat this muffin while it is still warm, but I prefer to let mine cool a bit before I dig in. I have tried it both ways, and found I personally like it best at room temperature.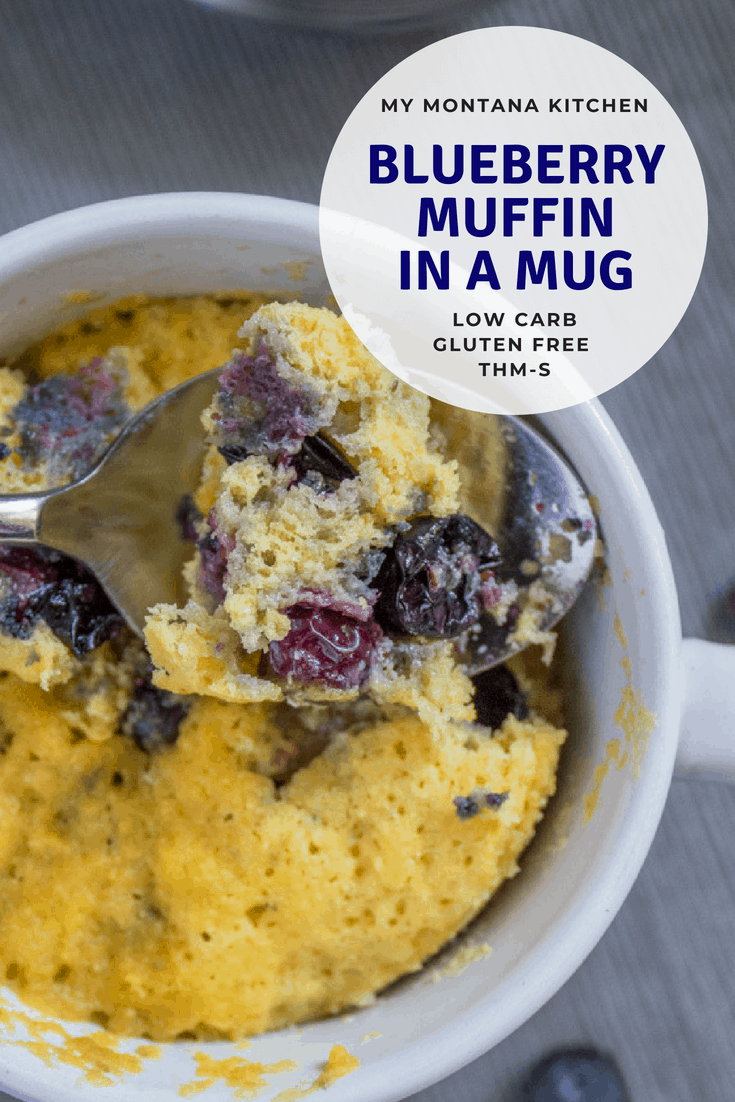 To frost or not to frost?
I debated whether or not I should add a frosting or glaze, but I decided to just leave it simple. If you do want something to go on top, you can make a simple glaze of ½ Tablespoon of Gentle Sweet and ½ teaspoon of water.
Or if cream cheese is more your thing, mix 1 Tablespoon of softened cream cheese with ½ Tablespoon of Gentle Sweet and a dash of unsweetened almond milk.
If you love the lemon/blueberry combo, you could add in a touch of lemon zest to brighten up the flavor of this low carb muffin.
(Random fact: Personally, I do not like lemon flavor – not even lemonade! That is why you will not likely find many lemon-based recipes here on my My Montana Kitchen!)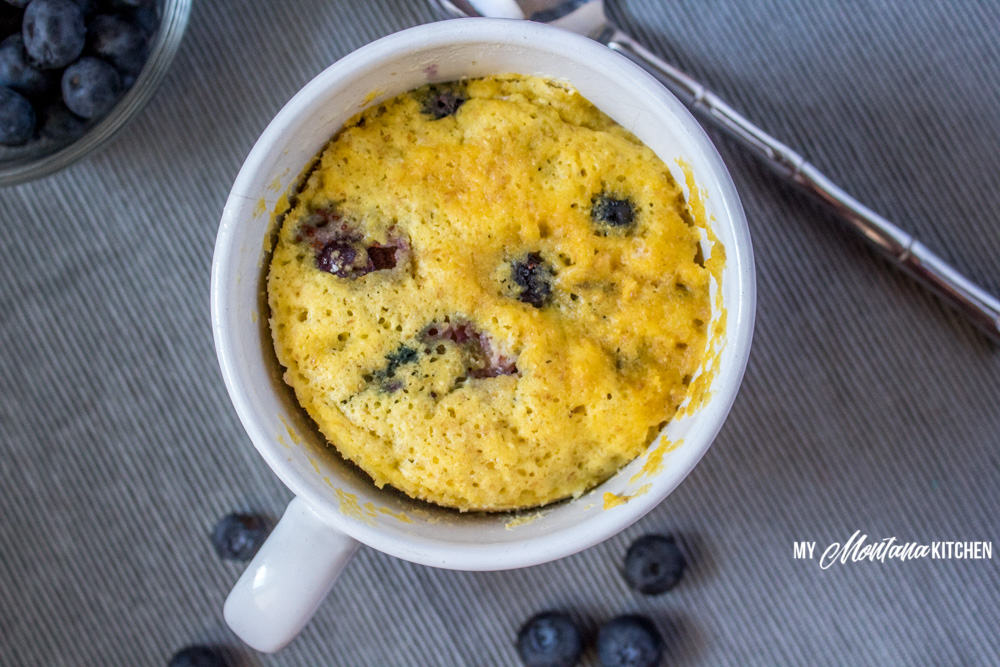 Recipe Substitutions
If you do not have access to fresh blueberries, I believe you could use frozen just as well. However, frozen blueberries can sometimes turn the batter purple, so just be aware of that!
Trim Healthy Mama Baking Blend is a great product to keep on hand for low carb baking, but if you do not have it, you can use a blend of equal parts almond meal, coconut flour, and flax meal.
Gentle Sweet is by far my favorite low carb sweetener, but my Low Carb Powdered Sugar measures the same, and works great in this muffin.
Or you can use half the amount of Pyure in place of the Gentle Sweet. Pyure can be found at most Walmarts and grocery stores.
Ingredients needed for Low Carb Blueberry Muffin in a Mug
1 Egg
1 Tablespoon Coconut Oil
1 Teaspoon Vanilla Extract
2 Tablespoons Gentle Sweet
½ Teaspoon Baking Powder
Dash of Mineral Salt
¼ Cup Trim Healthy Mama Baking Blend
¼ Cup Fresh Blueberries

If you aren't already,  be sure come over and follow me on Facebook, Pinterest, Instagram, and Twitter!
And if you make a recipe and absolutely love it, please leave a comment on my Facebook Page or tag me on Instagram (my_montana_kitchen_thm)! I love to see photos from my readers!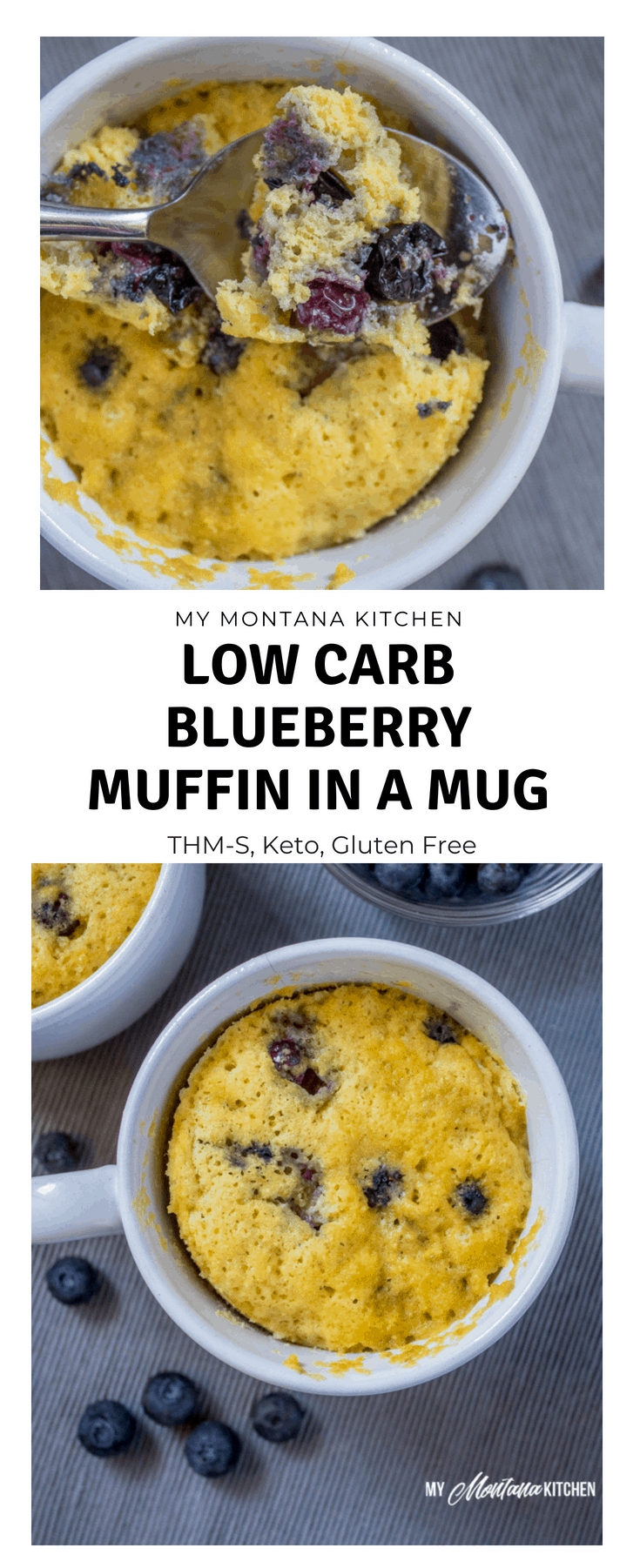 Low Carb Blueberry Muffin in a Mug
Sweet, tender, and bursting with blueberries, this Low Carb Blueberry Muffin in a Mug can be in your hands in less than 5 minutes! (And, you don't even have to turn on your oven!)
Print
Rate
Instructions
Spray a large mug with coconut oil spray.

Add egg and whisk well.

Add remaining ingredients and mix until well incorporated.

Microwave for 70 seconds, then enjoy.
Notes
If you do not have Gentle Sweet, you can use my Low Carb Powdered Sugar in the same amount, or Pyure in half the amount.
You can use an equal mix of almond flour, coconut flour, and flax meal in place of the Baking Blend.
And if you want to bake it in the oven, pour into a greased oven safe ramekin or oven safe bowl and bake at 350 degrees for 10-15 minutes.
Nutrition
Serving:
1
Recipe
|
Calories:
345
kcal
|
Carbohydrates:
18
g
|
Protein:
13
g
|
Fat:
22
g
|
Fiber:
12
g
Tried this recipe?
Mention @my_montana_kitchen_thm