We may earn money from the products/companies mentioned in this post. As an Amazon Associate I earn from qualifying purchases.
All the flavors of your favorite appetizer on a thin crusted, low carb pizza! Chicken, hot sauce, ranch (or bleu cheese) dressing, celery, and lots of melty cheese. This recipe is low carb, gluten free, and a Trim Healthy Mama S Fuel.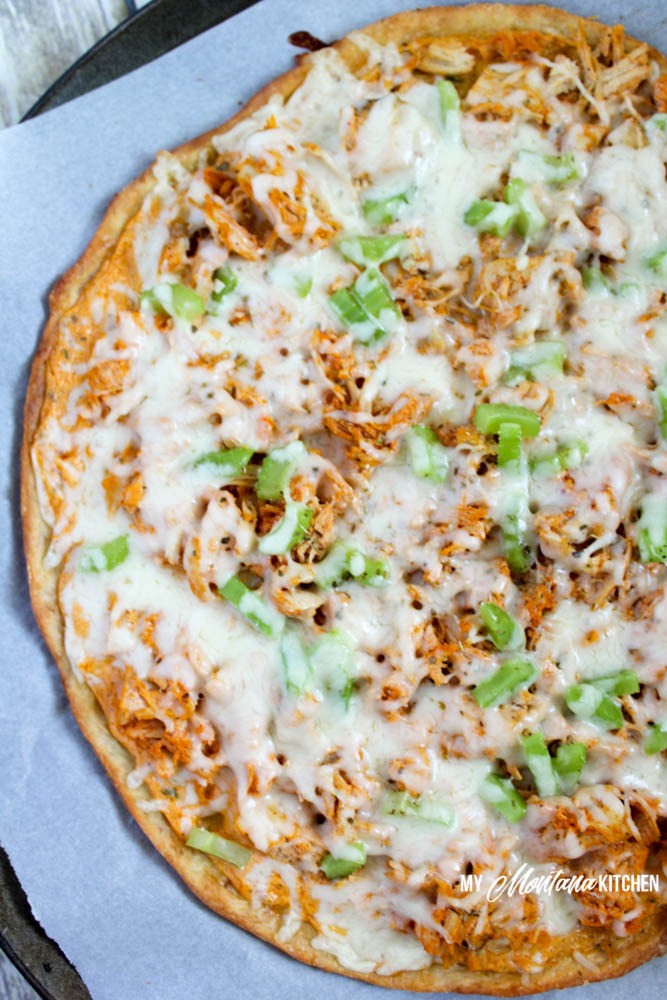 (This post may contain affiliate links, which provide me with a small compensation when you purchase your products through my links. Thank you for your support!)
Pizza. Everyone loves it! Ok, correction. Most people love it. I have known the occasional person who disliked pizza because it was too much cheese. In my book, that is unfathomable! Is there really such a thing as too much cheese? I think not!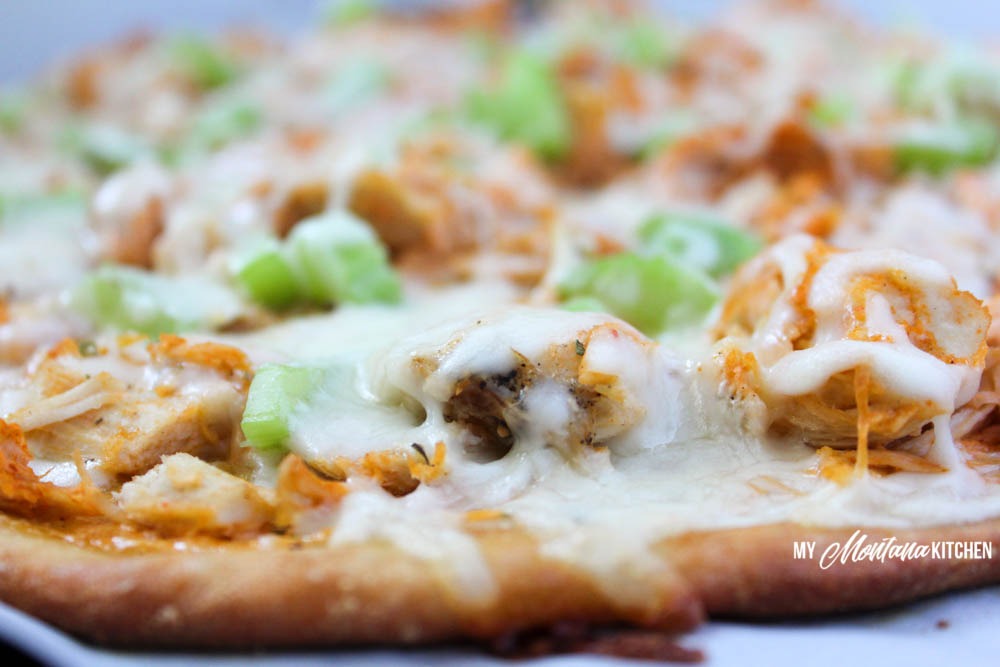 If you have followed my blog for any length of time, you may know that I love "Buffalo" flavored food. (Especially low carb hot wings!) When my husband and I first got married, we lived in New York state, just a few hours south of Buffalo. That is where the wing craze originally began! I remember seeing pictures of their Wing Fest in the local newspaper. They were "bobbing" for wings in kiddie sized pools of Bleu Cheese dressing! Seriously! Now, while I do not think I would ever go that far, I do love a good hot wing! So why not put all those flavors on pizza, which I also love? It will be the best of both worlds!
I used Ranch dressing as a base for this pizza, but if you prefer Bleu Cheese, feel free to use that instead! As for the celery, it adds a nice flavor profile, but if you are not a celery fan, then you can leave it off. My husband especially liked the celery on this pizza. It gives it an unusual (but delicious) twist!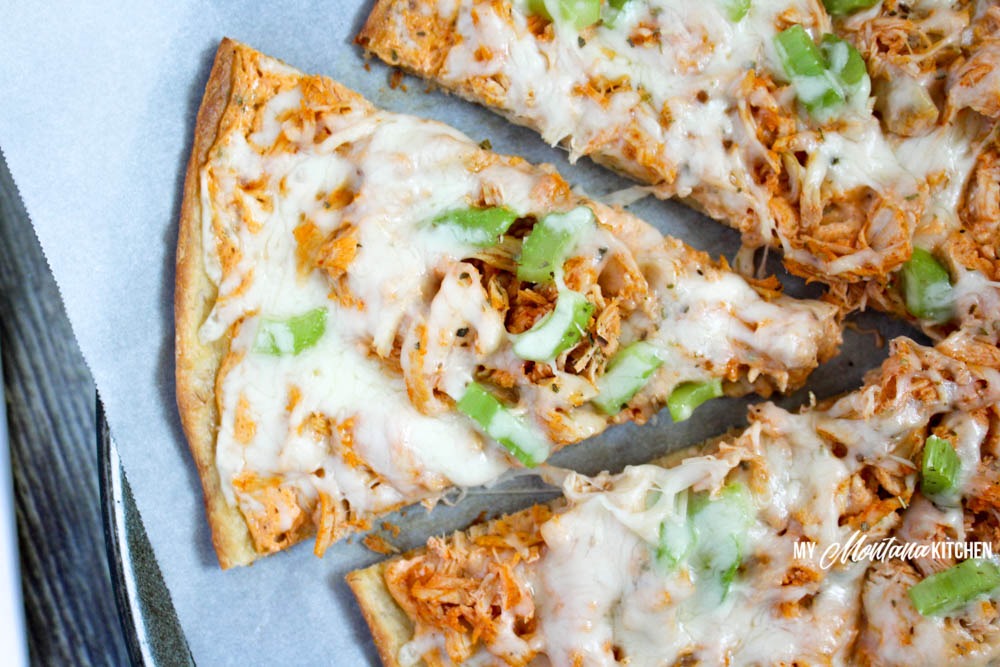 As for the Ranch I used, I used this Homemade Ranch Dressing. I am in love with this stuff! I seriously think I could DRINK it! Of course, you can use your own favorite recipe, but I highly recommend you try this dressing at least once! It is the best Ranch I have ever tasted!
If you like a more traditional flavor for pizza, you'll enjoy this Pizza In a Bowl!
If pizza is your thing, be sure to check out my other pizza recipes:
Low Carb Pizza Muffin in a Mug,
If you cannot find anything in that list to satisfy your pizza craving, comment below and let me know what pizza you would like to see!
So, what do you need for this pizza?
1/4 Cup Homemade Ranch Dressing (or your favorite dressing)
3 Tablespoons Hot Sauce (Divided)
2 Cups Cubed or Shredded Cooked Chicken
2 Cups Shredded Mozzarella Cheese
1/4 Cup Sliced Celery
1 Teaspoon Dried Oregano
Be sure to sign up with your email address so you can receive all my new recipes delivered right to your inbox! (Look for the sign-up box at the very top of this page.) Also, be sure to follow me on Facebook, Pinterest, Instagram, and Twitter!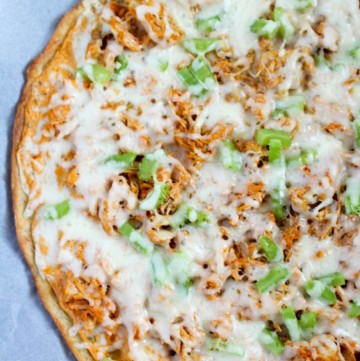 Ingredients
1/4

Cup

Homemade Ranch Dressing

or your favorite dressing

3

Tablespoons

Hot Sauce

Divided

2

Cups

Cubed or Shredded Cooked Chicken

2

Cups

Shredded Mozzarella Cheese

1/4

Cup

Sliced Celery

1

Teaspoon

Dried Oregano
Instructions
Preheat oven to 375.

Prepare Stromboli Dough.

Between two pieces of parchment paper, roll dough into a large circle on a pizza pan.

Remove top parchment and prick dough all over with a fork (to keep dough from bubbling).

Bake in preheated oven for 10 minutes.
For Sauce
Mix 1 Tablespoon of hot sauce with 1/4 cup ranch dressing.

Spread over pizza crust.
For Chicken
Mix 2 cups chicken with 2 Tablespoons of hot sauce.
Assemble Pizza
Sprinkle 1/2 cup mozzarella cheese over sauce.

Spread chicken over pizza, and top with remaining mozzarella, celery, and sprinkle with oregano.

Bake for 10 more minutes.
Notes
This pizza is very mild. If you want it spicier, feel free to use more hot sauce. (I used the Chalula brand, which is very mild. A different hot sauce may yield a different heat.)