We may earn money from the products/companies mentioned in this post. As an Amazon Associate I earn from qualifying purchases.
Made with a few simple, glorious ingredients, this healthy zucchini bread is light, moist, and just a bit sweet.
It's made with coconut flour, making it a great choice for anyone on a Keto or low-carb diet, and it's THM-friendly as well. It's also naturally gluten-free!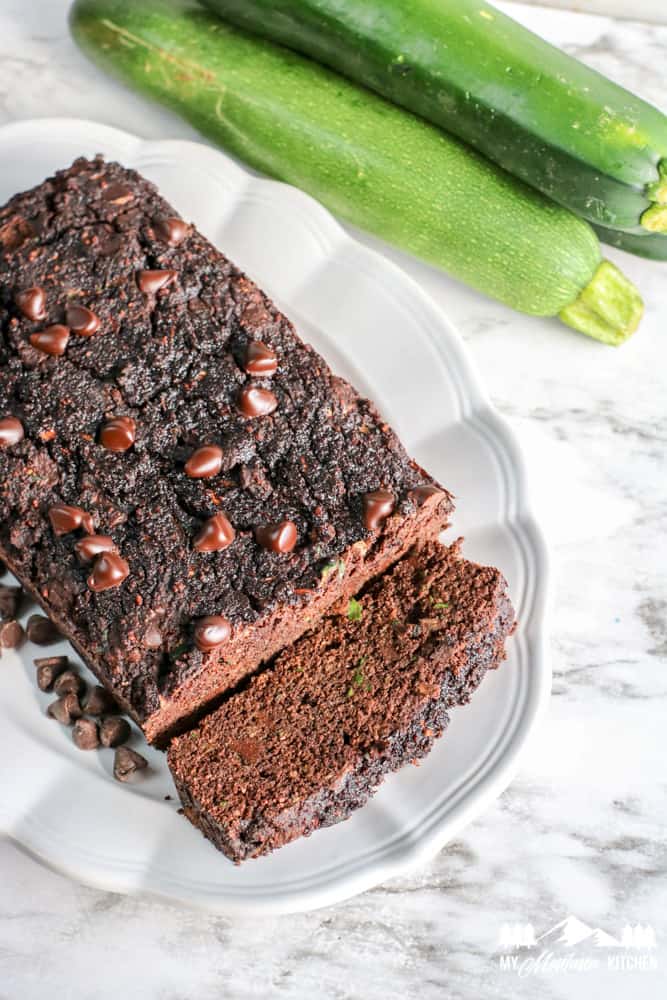 This Chocolate Zucchini Bread makes a delicious breakfast, snack, or light dessert – and it's low carb!
Pretty soon, we're all going to be overrun with fresh zucchini, which is a great problem to have – but the question remains, what do you do with it all? My friend, I have the answer.
Whether you purchase or grow your zucchini, this recipe is a must. Try it for yourself and let me know!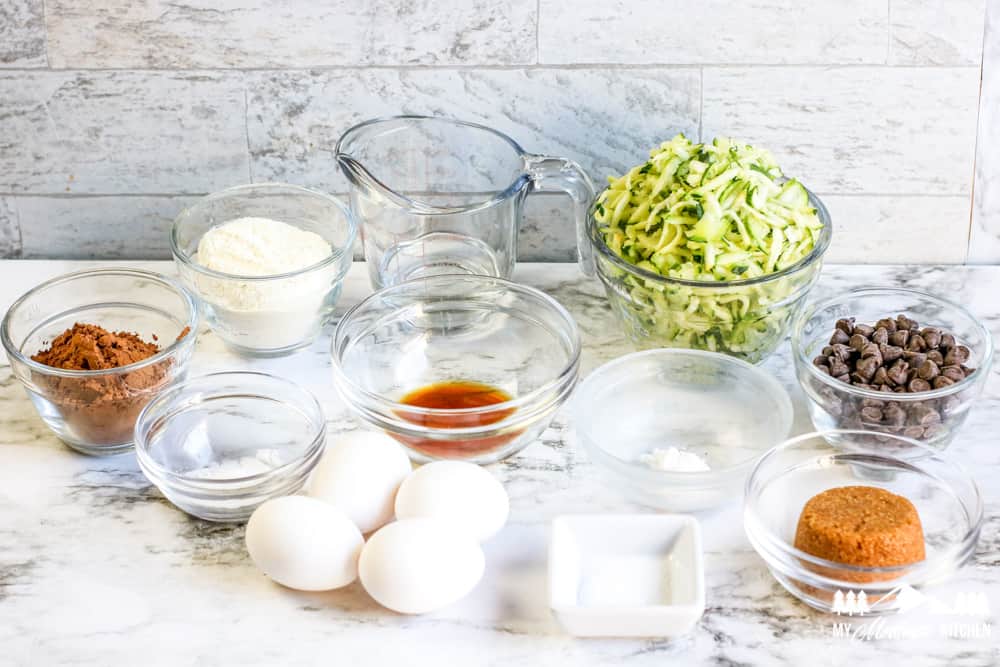 Can You Taste the Zucchini in Zucchini Bread?
This is a great question. The answer is no – you can't taste it!
Zucchini doesn't really have a very pronounced taste to begin with, and baking it brings out a bit of sweetness.
During the baking process, the zucchini itself sort of melts into the bread. You almost can't even tell it's there, but it adds an incredibly moist, light crumb to the bread. If you've never tried it, you're in for a treat!
Zucchini is low in carbs and has a lot of health benefits. It's an excellent source of vitamin A, and it also contains vitamin C, potassium, and magnesium.
This means that it's strong in nutrients that support your vision and immune system. It's also high in antioxidants and may support a healthy heart.
In addition, it's just plain delicious in this recipe. Who could say no to that?
Does Zucchini Need to Be Peeled for This Bread?
While you do want to grate the zucchini, there's really no reason to peel it. Doing so adds in an unnecessary step and honestly, it removes a lot of the nutritional value.
Do you remember your mom telling you "the healthy part is in the peel?"
Well, it's true. The peel holds a lot of the nutrients! Once it's baked into the bread, it all just sort of melds together.
You'll never know it's in there, but by leaving the peel on, you'll save time and add vitamins to your diet.
The one caveat to this: you'll want to use smaller to medium sized zucchini for this recipe.
It's tempting to get the absolutely gigantic ones at the store (especially when they're on sale), but the huge ones tend to be watery with bitter skin. Instead of lovely, moist bread, you'll end up with a soggy mess.
Which leads me to the next question…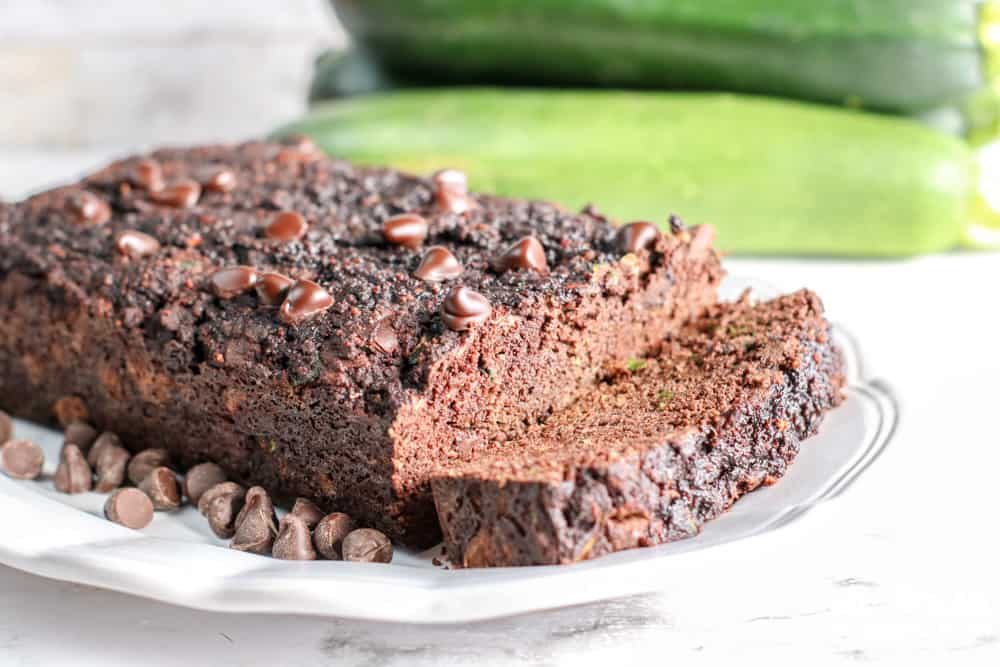 How Do You Keep Zucchini Bread from Getting Soggy?
Aside from using small to medium zucchini, the best way to keep your chocolate zucchini bread from getting soggy is to store it in an airtight container or wrap it tightly for up to three days. This will keep it from going stale.
If it's going to be around for more than three days, it's a good idea to keep it in an airtight container in the refrigerator.
If you happen to have a bumper crop, you can make several loaves at a time and freeze the extra.
When you're in the mood for a bit of summer, just grab one out of the freezer, defrost it, and you've got a lovely, fresh chocolate zucchini loaf ready to enjoy!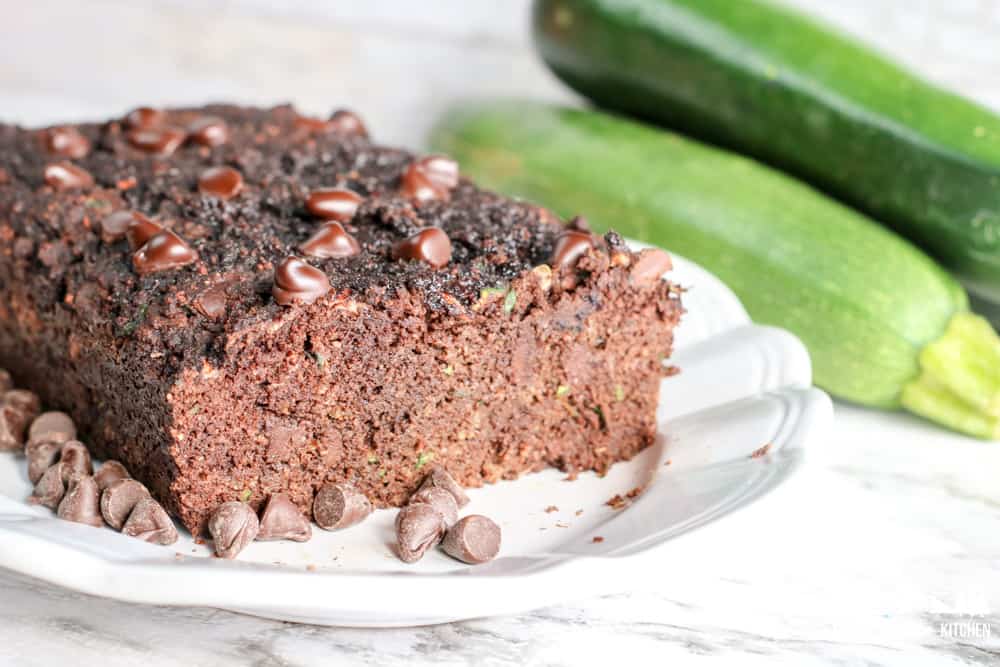 Why Did My Zucchini Bread Collapse?
Like most quick breads, zucchini bread will collapse or sink in the middle for a few different reasons. The most common factor is too much moisture – and because zucchini is high in water content to begin with, this can be a real issue.
The easiest way to prevent this from happening is to squeeze the extra water from the grated zucchini before putting it in the mixture.
To do this, just place it in a few layers of paper towel, roll it up, and squeeze. You'll likely be surprised at the amount of water that comes out!
Once the extra water is gone, add the shreds to your batter mixture. You'll still get that melt-in-your-mouth texture, but without the center collapse!
A quick bread can also collapse because the pan is overfilled.
It's tempting to put as much batter as possible into the bread pan – this loaf really is that good – but because it's a quick bread, it needs the structure of the pan too keep from sinking.
If you leave about a half an inch to an inch between the top of the batter and the top of the pan, you'll give the bread plenty of room to rise.
I'd love to hear what you think – do you love this bread as much as we do? Comment and let me know!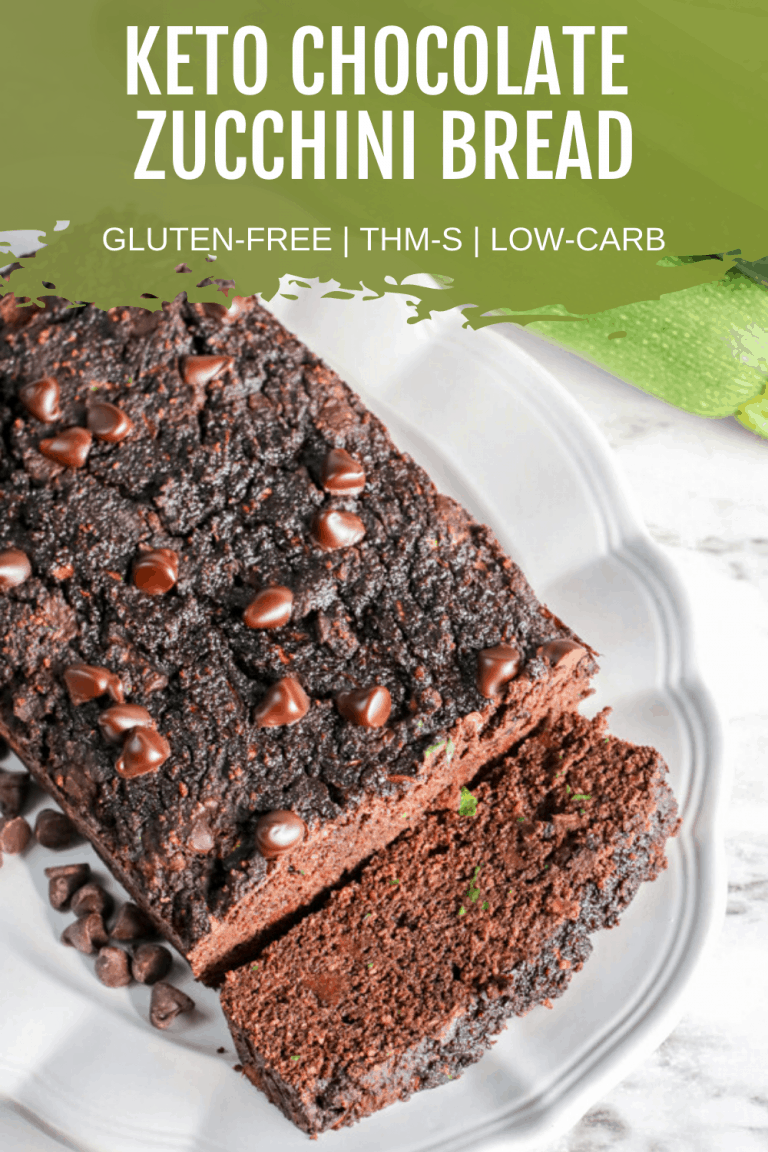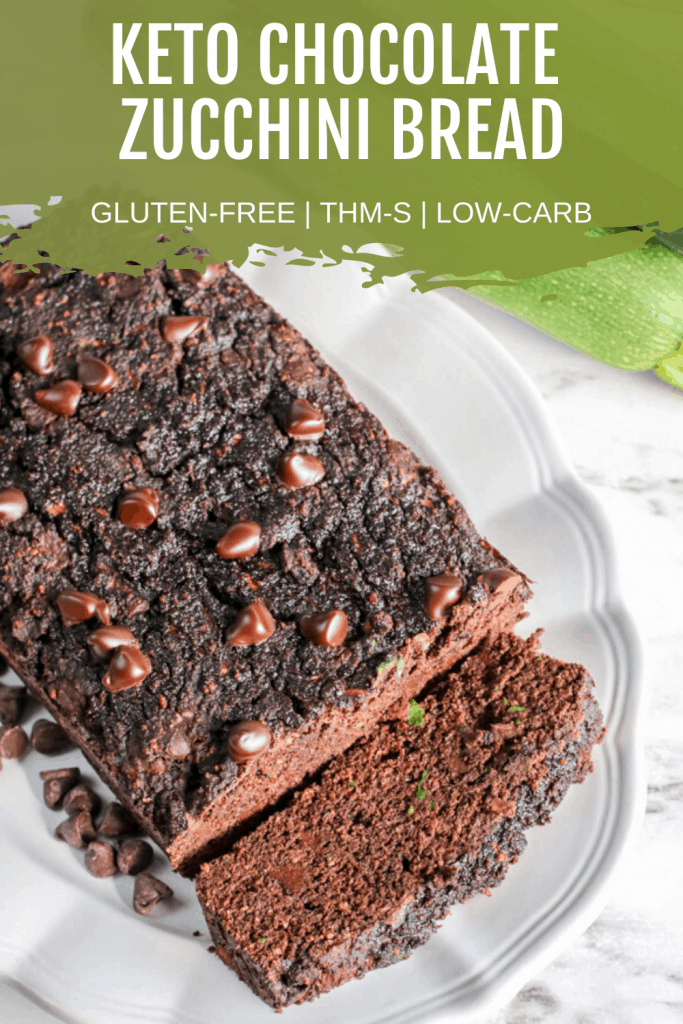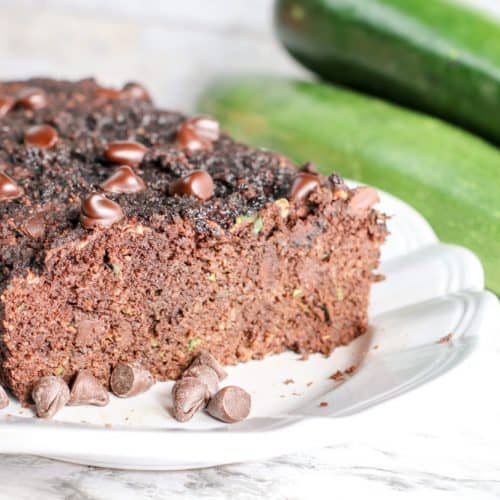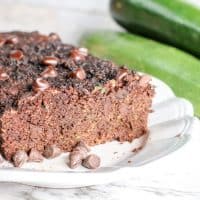 Keto Chocolate Zucchini Bread
Made with a few simple, glorious ingredients, this healthy zucchini bread is light, moist, and just a bit sweet.
Print
Pin
Rate
Instructions
Preheat oven to 350 degrees. Prepare a loaf pan with parchment paper.

Mix together dry ingredients: coconut flour, cocoa, baking powder, baking soda, brown sugar substitute, and salt.

In a separate mixing bowl, mix together zucchini, coconut oil, eggs, and vanilla.

Combine the wet and dry ingredients. Stir in chocolate chips.

Transfer batter to prepare baking pan. Smooth evenly.

Bake for 45 to 55 minutes until a toothpick inserted in the center comes back with only a few moist crumbs. Allow to cool in the loaf pan for 15 minutes before removing from the pan and cooling completely on a wire rack
Nutrition
Serving:
8
g
|
Calories:
375
kcal
|
Carbohydrates:
9
g
|
Protein:
6
g
|
Fat:
36
g
|
Fiber:
4
g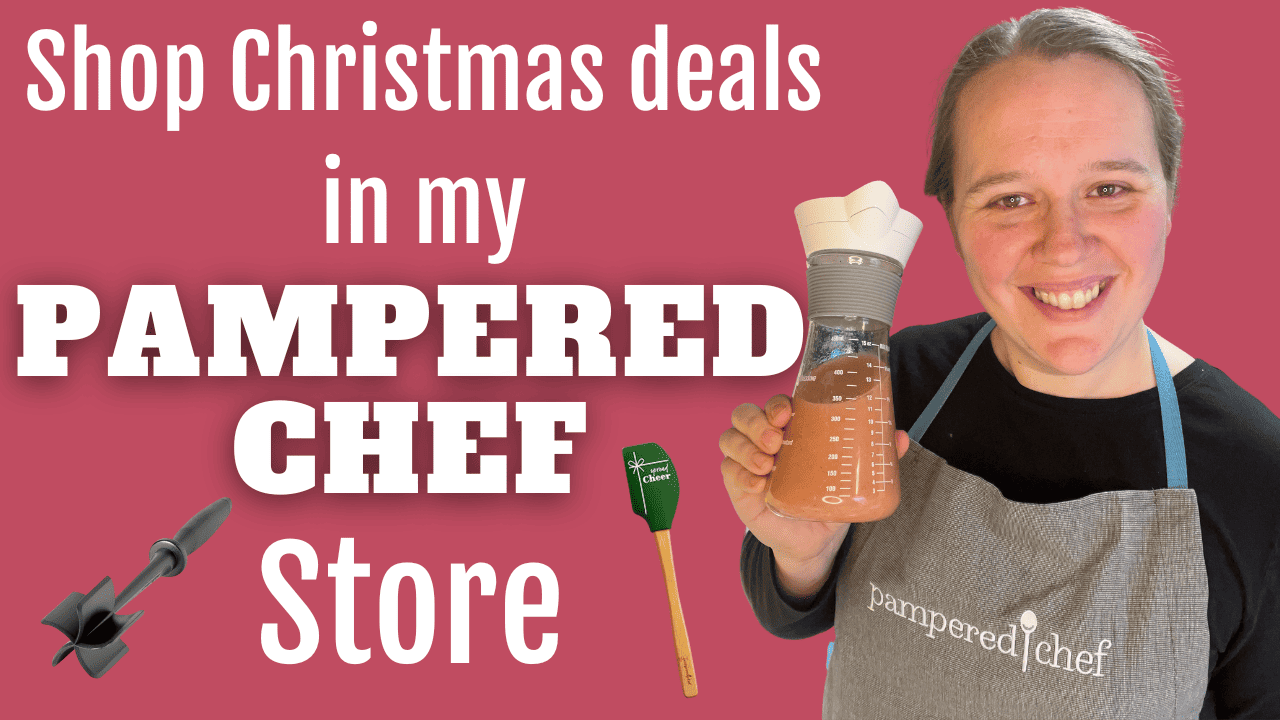 Reader Interactions