We may earn money from the products/companies mentioned in this post. As an Amazon Associate I earn from qualifying purchases.
Try this sugar-free brown sugar recipe that comes together in minutes! This low-carb brown sugar alternative is perfect for low-carb baking keto recipes, THM treats, and even keto diet goodies. If you have a sweet tooth, this is a great recipe for your low-carb journey and also a healthier alternative to regular sugar.
If you've gone from eating your favorite, regular comfort foods to a low-carb lifestyle, chances are you've missed brown sugar and the flavor and texture it adds to your baked goods.
After all, nothing flavors chocolate chip cookies (or pecan pie or even traditional BBQ) quite like it!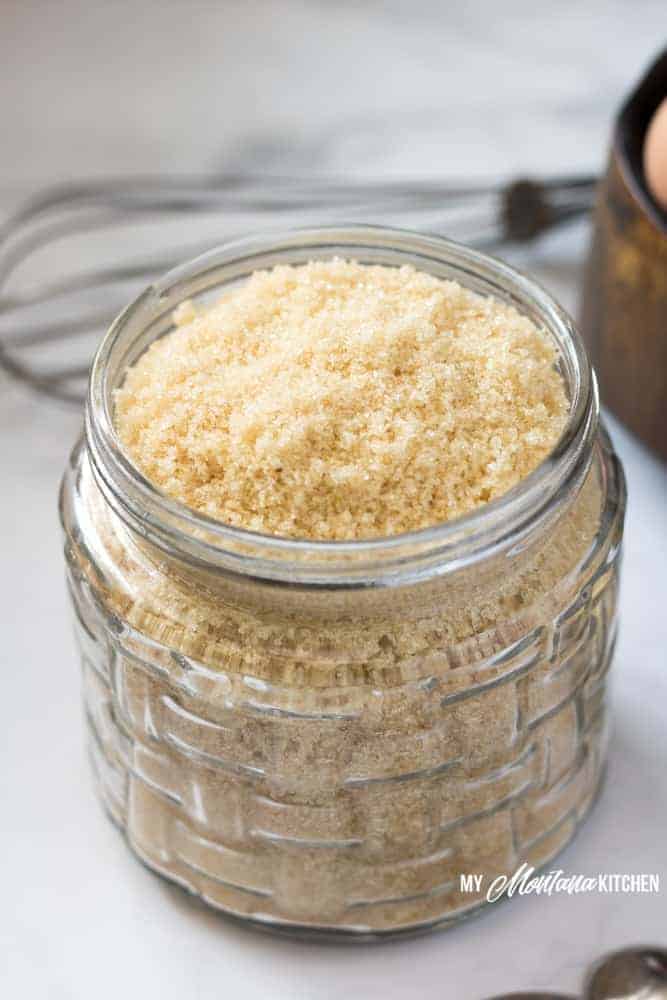 How Can I Make Low Carb Sugar Free Brown Sugar?
All you need to make your own low-carb sugar-free brown sugar are a few ingredients and some arm power to mix!
Read the full post below to get all the tips, tricks, and answers to your questions!
Regular Brown Sugar
Brown sugar gets its flavor from the molasses that is still a part of it.
Unlike white sugar, it's not been completely refined and that small percentage of molasses leaves a richer, smokier flavor than plain sugar.
Sadly, though, it's still sure to spike your blood sugar and add up to major carbs in a recipe.
What's a trim healthy, low-carb-loving lady to do?
Is there Sugar-Free Brown Sugar?
These days, there are plenty of companies that offer alternatives to brown sugar.
They are wonderful but sometimes expensive.
And what if someday you're mixing up a batch of low-carb Chocolate Chip Cookie Bars and realize you have no brown sugar substitute?
Never fear, you can make it yourself with the right ingredients.
IS THERE A BROWN SUGAR SUBSTITUTE?
The good news is that there is a sugar-free brown sugar substitute available…and you can make it at home in minutes!
By using the sugar-free sugar alternatives you already have on hand and some blackstrap molasses, you can have a brown sugar substitute perfect for low-carb baking, bbq sauce, or any other recipe you've been wanting to make.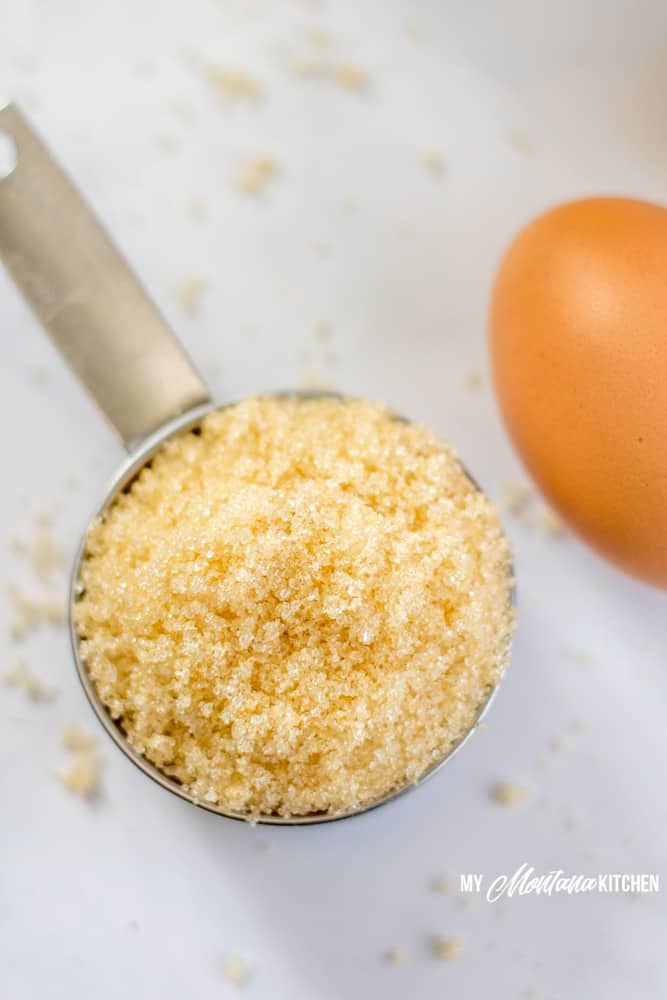 HOW TO MAKE LOW CARB SUGAR FREE BROWN SUGAR
You're not going to believe how simple this is, either.
To make your low carb, sugar-free brown sugar alternative all you do is combine your sugar-free sweeteners in a mixing bowl and add some blackstrap molasses.
While there are several low-carb brown sugar substitutes available these days, this low-carb brown sugar recipe alternative is my favorite for baking because it uses a blend of low-carb sweeteners for the most authentic flavor.
All you do is combine xylitol, erythritol, and pure stevia extract together in a large bowl and mix them together well.
Next, add molasses and use a fork to mix in the blackstrap molasses.
Make sure you mix it thoroughly so there's no clumping and it's a lovely golden brown color.
This will take a little bit of time and give your arm a good workout!
Voila! You've got yourself some deliciously sweet sugar-free brown sugar to use without the carbs.
ARE THERE CARBS IN THIS BROWN SUGAR ALTERNATIVE RECIPE?
Yes, but it's a negligible amount. Like barely there.
1 teaspoon of blackstrap molasses has 13 grams of carbohydrates in it.
However, spread over the entire recipe, that is only 1/2g net carbs per 2 TB serving of your sugar-free brown sugar substitute.
As you can see, this is a low-carb, keto-friendly option that will give you brown sugar flavor and texture without the high glycemic impact of traditional store-bought brown sugar.
There are only .15 grams of sugar per serving as well, so it is still a great option!
WHAT ARE THE BEST INGREDIENTS FOR LOW-CARB BROWN SUGAR?
As stated, to make this low-carb sugar-free brown sugar recipe at home, you need xylitol, erythritol, stevia, and blackstrap molasses.
However, there are lots of options for those ingredients and some are better than others.
The best prices on both xylitol and erythritol can be found on Amazon. (See the recipe card below for links to the products I use.)
They have a great flavor and a fabulous price point, so going with them is a win/win.
When it comes to pure stevia extract, the choices may seem overwhelming…but not all choices are created equal.
The best flavor I've found yet is the Trim Healthy Mama pure stevia extract powder.
It has zero aftertaste. None.
While there are other options, this is the one I strongly recommend because it gives the best flavor.
I've been using it for years now, and it has no bitter aftertaste – just a gentle sweet flavor.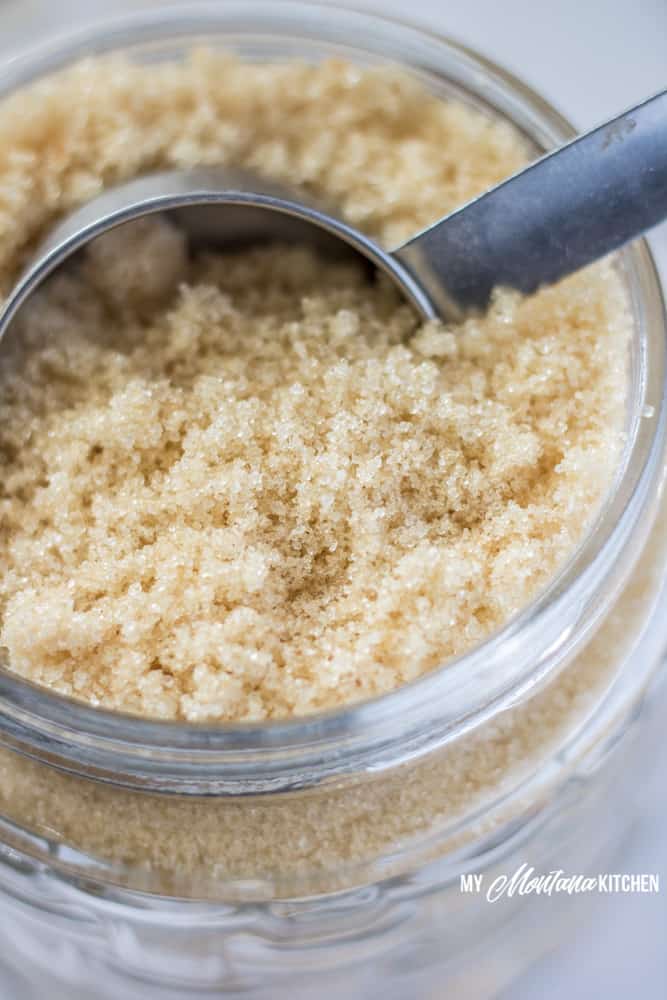 Is Molasses keto-friendly?
Traditional brown sugar is easily made at home by mixing sugar with molasses.
Molasses is not keto-friendly due to its main source in sugar-derived carbohydrates.
Molasses has a distinct flavor and is maybe a bit less refined than pure sucrose. It provides a strong, full-bodied flavor that enhances many baked goods.
But unfortunately, using a lot of molasses can still cause sugar issues.
The good news is that you can make a wonderful brown sugar blend at home with just a little molasses, and it tastes just like "real" good brown sugar.
Two tablespoons of this keto brown sugar with molasses contain just 1/2 a gram of carbs.
How to make your own brown sugar substitute without Molasses?
Yes, you can definitely make a keto brown sugar substitute without molasses.
Making brown sugar at home is super easy, and if you don't wish to use regular molasses or black strap molasses, you can use one of the options below!
You can use either maple extract or caramel extract depending on what your taste preferences are.
Caramel extract provides a more complex flavor with hints of spice and molasses, with no carbs or calories.
Adding caramel extract can give your keto brown sugar substitute an even more "realistic" taste.
Just start with a small amount and then you can adjust to add more if needed.
How to make homemade brown sugar
Normally, to make homemade brown sugar, you would add molasses to table sugar (regular sugar).
In this particular recipe, we are using natural sugar alternatives to enjoy low-carb, sugar-free brown sugar!
What is a healthy alternative to brown sugar?
Honey, maple syrup, and agave nectar are all alternatives to regular brown sugar.
But the problem is that these liquid sweeteners still spike your sugar levels.
Using sugar alcohols like xylitol and erythritol, plus a good quality stevia extract and a tiny bit of blackstrap molasses gives a great brown sugar sub that is perfect for baking!
AND . . . it doesn't spike your blood sugar!

What is Keto Brown Sugar Substitute?
Keto brown sugar is made by combining natural sugar alternatives and either blackstrap molasses or caramel or maple flavoring.
The best part is that you can adjust the sweetness to your preference to make the perfect healthy brown sugar substitute.
Is Brown Sugar substituted?
It's also great to know that you can easily make your own sugar-free brown sugar from scratch using ingredients you probably already have at home.
If you use the sugar-free sugar alternatives you have on hand and blackstrap molasses, you can create brown sugar substitutes that are great for low-carb baking and sauces, and syrups.
How can I make Keto Brown Sugar darker?
Dark brown sugar is naturally darker and has a more robust flavor.
If you want to make a darker sugar-free brown sugar, then you may want to add a bit of yacon syrup.
How can you store homemade Brown Sugar Substitute?
I keep my own brown sugar substitute in a plastic container with a close-fitting lid. But you can also easily store it in a sealed mason jar.
I've not had any trouble with my sugar-free sweetener getting hard, like regular light brown sugar sometimes does.
How long does homemade brown sugar last?
As long as you keep your brown sugar substitute in an air-tight container, it should last for up to 6 months.
Can you freeze Keto Brown Sugar?
Keto Brown Sugar can easily be frozen like any regular granulated sweetener.
However, it is much easier to store brown sugar at room temperature than to try to remember to take out the brown sugar to thaw before you need to use it.
Can I use different ingredients for this recipe?
Can I use monk fruit sweetener?
Yes, you can actually use any sugar substitute you wish and this recipe should still turn out.
For example, xylitol is very dangerous for dogs, so if you have fur babies, I would recommend using straight erythritol, stevia, and molasses, or opting for another sweetener like monk fruit.
Can I use strait Erythritol?
Yes! You can use 3 cups of erythritol to 1 teaspoon black strap molasses.
As a bonus, erythritol has zero calories! Erythritol is considered a sugar alcohol.
Can I use THM Gentle Sweet?
No, Gentle Sweet would not be a good choice of sweetener for this recipe because it is a powdered form of sweetener.
You need a granulated sweetener for this healthy brown sugar substitute.
Gentle Sweet would simply clump and make a big mess since it is in powdered form, so your best bet for this recipe is a granulated sweetener.
Can I use Super Sweet?
Yes, you can use Super Sweet in this recipe – I would recommend using 1 cup of Super Sweet and adding 1/4 teaspoon of molasses. (Super Sweet is a Trim Healthy Mama sweetener blend made of erythritol and stevia.)
Can I use sugar-free maple syrup?
I have not personally tried this method, but I do believe you could add a bit of sugar-free maple syrup to your granulated sugar substitutes and mix it well with a fork to substitute brown sugar.
Trim Healthy Mama Brown Sugar
This brown sugar sub can be used by Trim Healthy Mamas in all of their favorite recipes!
It is especially good on top of sweet potatoes or oatmeal!
Can coconut sugar be used to replace brown sugar?
Yes, in most instances coconut sugar makes a good substitute for light brown sugar. However, coconut sugar can still raise blood sugar in some instances, so it is not the best choice for those trying to keep their sugar levels down.
Trim Healthy Mamas can use coconut sugar, but it is not recommended for use very often, or if you are in weight-loss mode.
That's why this sugar-free brown sugar sub is so great! You can enjoy your favorite treats any time!
USING YOUR BROWN SUGAR ALTERNATIVE IN RECIPES
You can make this up as needed, or make a batch in advance and keep it in a mason jar in your cabinet.
It's so easy to make up that there's no need to make up a ton and have it at the ready, but it's nice to have on hand for a quick recipe if you need it.
It's also delicious stirred into a cup of coffee as an occasional treat (you're welcome!).
But my all-time favorite way to use this sugar-free brown sugar? Chocolate Chip Cookies. The brown sugar substitute gives such a great flavor and texture to them that traditional sugar substitutes fall short of.
And pssst…in case you didn't realize it, you can use this in place of Sukrin Gold, Lakanto Golden, or other store-bought brown sugar recipe alternatives, too!
CONVERTING REGULAR RECIPES TO LOW CARB WITH BROWN SUGAR
You can easily use this brown sugar sub in all your recipes that call for real brown sugar.
If you have a regular recipe and you just want to switch out the regular brown sugar for your homemade sugar-free brown sugar, you're not going to do it equally.
I repeat, do not just swap them out, cup for cup.
It's best to start with just a little more than half of what the recipe calls for, taste test it, and tweak from there.
This homemade brown sugar alternative is a bit sweeter and you may not need as much as when using real sugar.
RECIPES WITH BROWN SUGAR ALTERNATIVE
Now that you have a low-carb brown sugar on hand, you're probably eager to get started using it! Here are some fabulous recipes to try: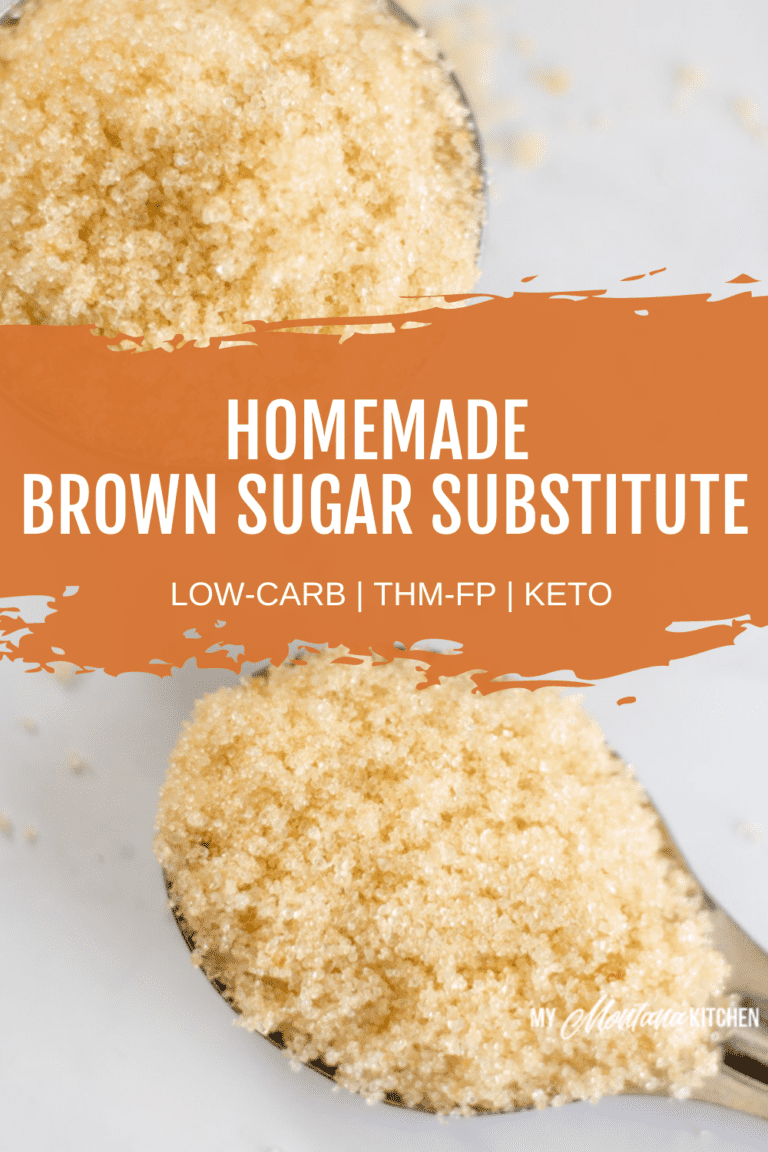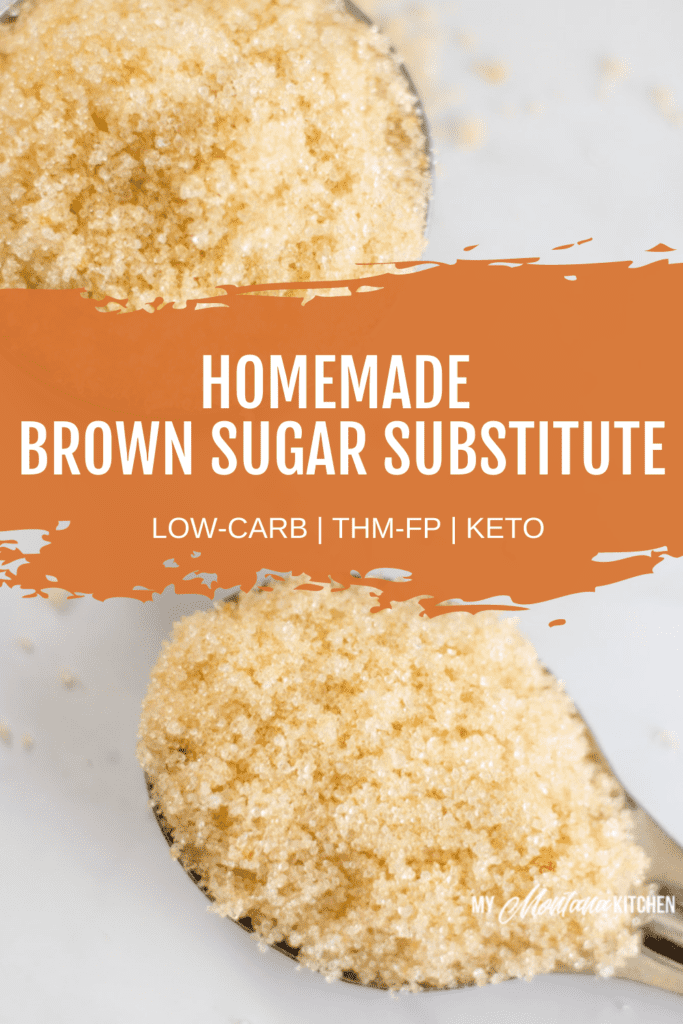 Yield: 3 Cups
Sugar Free Brown Sugar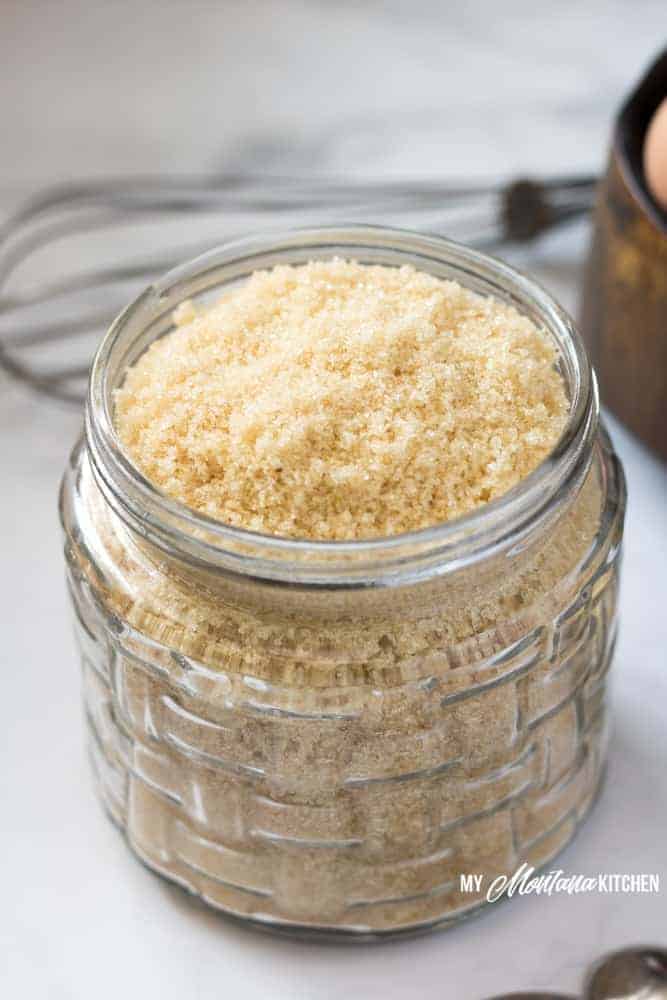 Try this sugar free brown sugar recipe that comes together in minutes! This low carb brown sugar alternative is perfect for low carb baking, THM treats, and even keto goodies.
Ingredients
Instructions
Mix Xylitol, Erythritol, and Stevia together in a large bowl.

Add Molasses and stir well, using a fork to blend the molasses into the granulated sweetener until there are no lumps. (This should turn the granulated sweetener a lovely golden brown color.)
Notes
There are 13 carbs in the 1 teaspoon of Blackstrap Molasses. Spread out over the entire recipe, that adds only 0.5 gram of carbs to each serving (2 Tablespoons). This is a very negligible amount.
I do realize that technically this recipe is not completely "sugar free." The 1 teaspoon of unusulphered blackstrap molasses adds 0.15 grams of sugar per 2 Tablespoons.
PLEASE NOTE: Xylitol is extremely dangerous to dogs, so please use caution.

Recommended Products
As an Amazon Associate and member of other affiliate programs, I earn from qualifying purchases.
Nutrition Information
Yield
24
Serving Size
2 Tablespoons
Amount Per Serving
Calories

23
Total Fat

0g
Saturated Fat

0g
Trans Fat

0g
Unsaturated Fat

0g
Cholesterol

0mg
Sodium

0mg
Carbohydrates

16 - 16 grams of sugar alcohols = 0 net carbsg
Fiber

0g
Sugar

0.15g
Protein

0g