We may earn money from the products/companies mentioned in this post. As an Amazon Associate I earn from qualifying purchases.
Dense, fudgy brownies topped with a creamy layer of peppermint cheesecake. This is the perfect marriage of chocolate and peppermint for a chocolate Christmas dessert.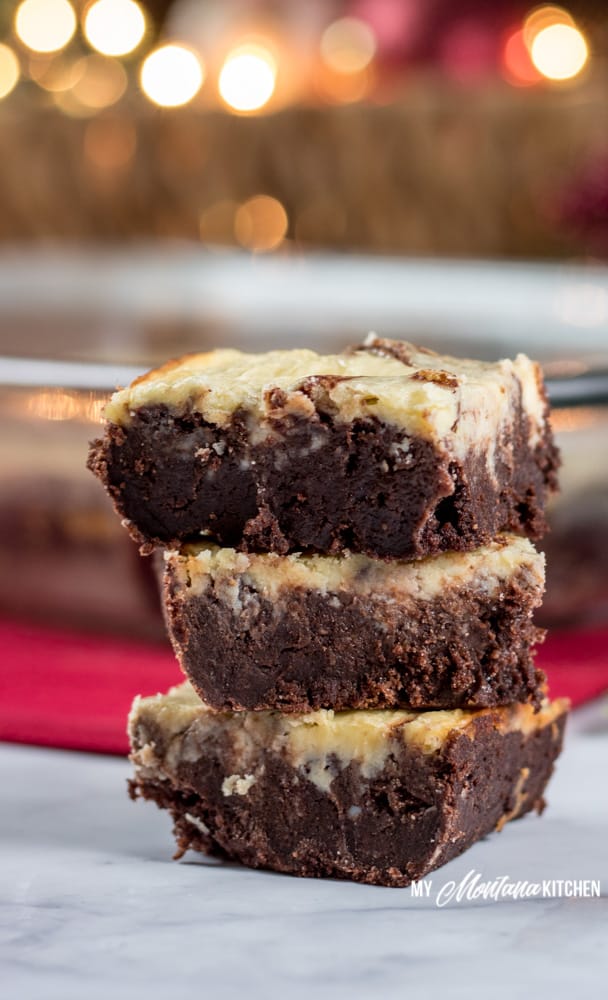 Peppermint Cheesecake Brownies
This recipe is low carb, sugar free, gluten free, and a Trim Healthy Mama S Fuel.
Surely I am not the only female who considers herself a brownie snob. I have tried multitudes of low carb, sugar free brownie recipes, but sadly, I have been disappointed by most of them.
That is, UNTIL NOW! You guys, these Fudgy Brownies topped with Peppermint Cheesecake are amazing. I'm not even kidding!
These make an amazingly easy Christmas dessert.
Peppermint Christmas Recipes
I love chocolate - I love chocolate and peanut butter.
I love chocolate and bacon.
I love chocolate and nuts.
I love chocolate and peppermint! And that is where this recipe comes in. (For the record, I DO NOT like chocolate and orange. Random fact!)
Christmas is the season of the year when we turn to peppermint. I'm not sure why we relegate certain flavors to seasons, but nonetheless the Christmas season is when peppermint reigns!
If you want a truly decadent treat, you need to mix up some of this Peppermint Mocha Coffee Creamer to enjoy with your brownies. (You could even top it off with Peppermint Whipped Cream!)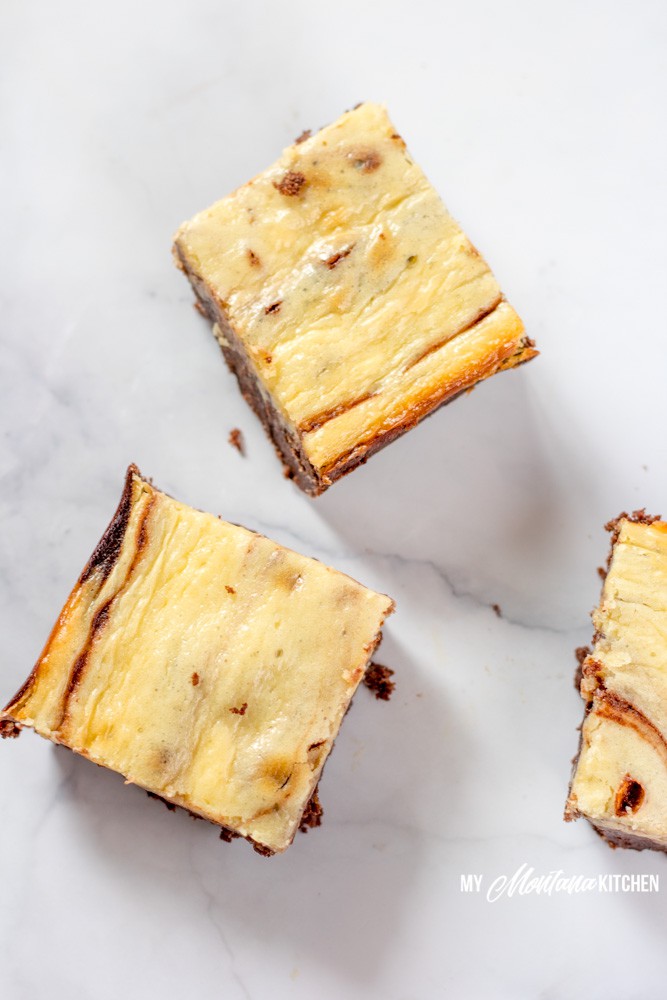 Ingredients needed for Low Carb Peppermint Cheesecake Brownies
Double batch of Low Carb Brownies (minus the chocolate chips and pecans)
Cream Cheese
Gentle Sweet (or my Low Carb Powdered Sugar)
1 Egg
Heavy Cream
Peppermint Essential oil (or extract - see below for more information)
How to make Sugar Free Peppermint Cheesecake Brownies
The recipe below makes 24 brownies, using a 9x13 pan. You need a double batch of low carb brownies to do this.
However, if you only need a small amount, you can use a single recipe of the brownies, and halve all of the ingredients for the cheesecake layer. (But, . . . I really recommend making the larger batch because . . . well, because BROWNIES!)
They freeze very well (in fact I enjoy eating them straight out of the freezer)!
Making this chocolatey Christmas dessert is super simple. (See below for full ingredients and instructions.) Mix up the brownies and pour them into your prepared pan.
In a separate bowl, mix up the cheesecake ingredients. Pour the cheesecake mixture over the top of the brownie batter, then use a knife to gently swirl the two batters together.
All that's left is to bake, cool, and eat!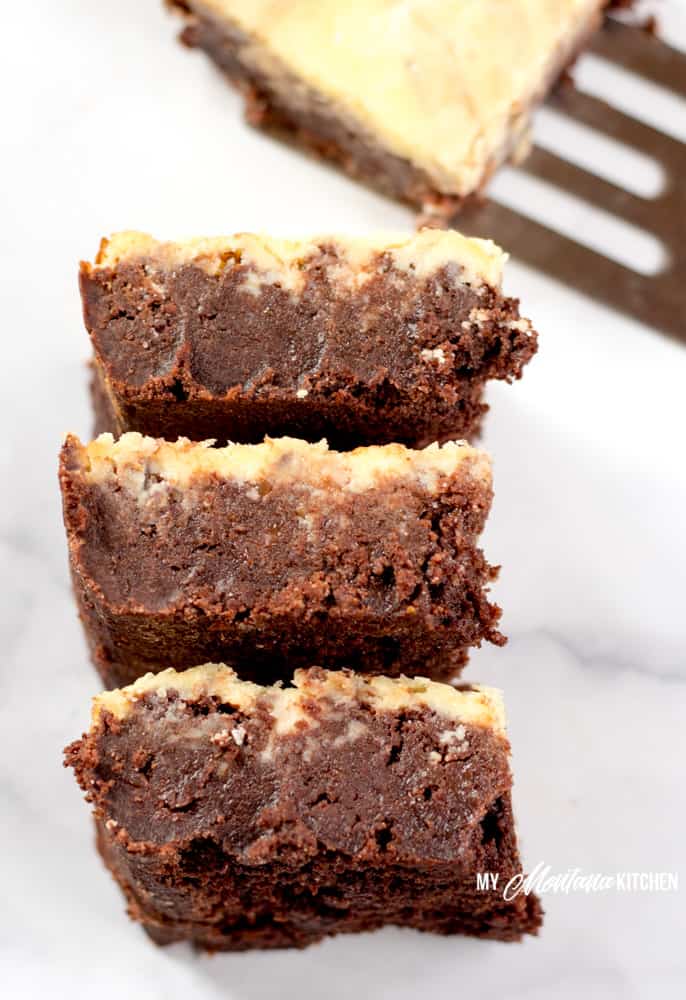 These low carb brownies are great to take to a Holiday party, add to your low carb Christmas Cookie trays, or just to stash in your refrigerator when you need a sweet treat! (I may or may not have eaten these for breakfast a couple times this week!)
These Peppermint Cheesecake Brownies are definitely better AFTER they have chilled in the refrigerator.
I tried them immediately out of the oven, and they were good, but much BETTER after they had completely chilled. (They tasted even better the next morning when I had them for breakfast! Wink, wink)
Using Peppermint Oil or Extract
I chose to use peppermint essential oil (DoTerra) because of the strong, clean flavor, but you can certainly use extract in place of the oil if you are uncomfortable with ingesting essential oils.
(I know there can be great debate about whether or not it is safe. I do not wish to argue about it - I do choose to use it, but peppermint extract would also work here!)
See the recipe card below for how to use peppermint extract in place of the essential oil.
If you love brownies as much as I do, you will want to check out all of my other brownie recipes!
A rich, fudgy brownie, topped with a cream cheese layer, decadent chocolate pudding, and topped with a generous amount of homemade whipped cream. This is my all-time favorite low carb, sugar free dessert!
Peanut Butter and Chocolate – a classic combination of flavors that has been tantalizing taste buds for decades! Combine peanut butter and brownies, and you have a show-stopping dessert that you can easily whip up in less than 30 minutes!
Low Carb Brownies with Chocolate Chips and Pecans
Rich and fudgy, these Low Carb Brownies with Chocolate Chips and Pecans melt in your mouth.
Low Carb Peanut Butter Swirl Brownies
A rich and fudgy brownie topped with a swirl of peanut butter cheesecake.
Be sure to sign up with your email address so you can receive all my new recipes delivered right to your inbox! (Look for the sign-up box at the top of this post.)
Also, be sure to follow me on Facebook, Pinterest, and Instagram, so you can see more delicious, healthy recipes!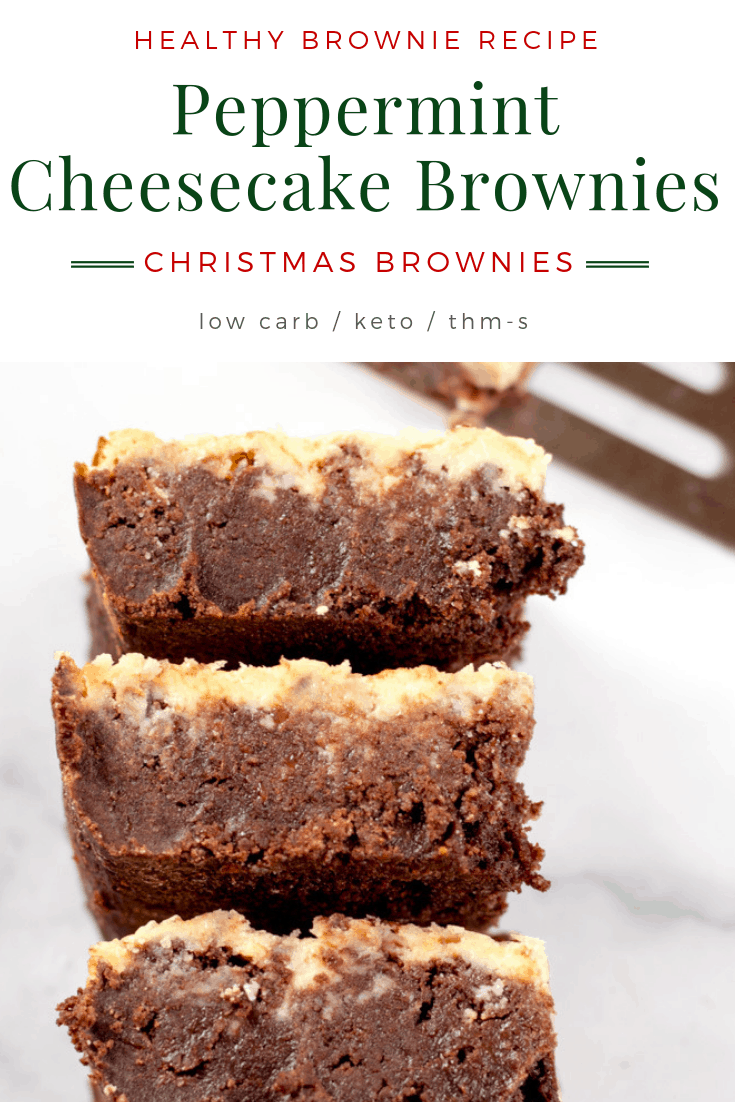 Peppermint Cheesecake Brownies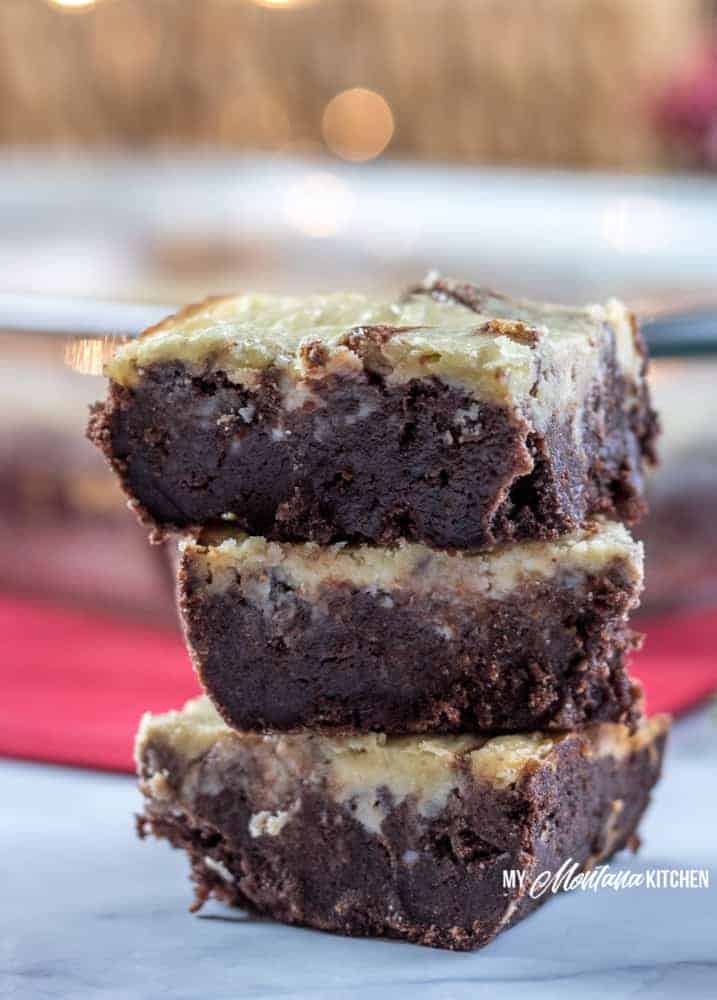 Dense, fudgy brownies topped with a creamy layer of peppermint cheesecake. This is the perfect blend of chocolate and peppermint.
Ingredients
Double Recipe Low Carb Brownies
1 (8 ounces​) Block Cream Cheese, Softened
1/4 Cup Gentle Sweet
1 Egg
1/4 Cup Heavy Cream
1 Teaspoon Vanilla Extract
3 Drops Peppermint Essential Oil (or use peppermint extract - amounts may vary, but I would begin with 1 teaspoon, then adjust from there to use more if needed)​
Instructions
Preheat oven to 350.

Mix up low carb brownie batter and pour batter into greased 9x13 pan.

In a separate bowl, beat softened cream cheese with Gentle Sweet.

Add egg and mix well.

Add heavy cream, vanilla, and peppermint oil (or extract). Mix well.

Pour cheesecake mix over brownie batter. Use a knife to create a swirled effect.

Bake for 30-35 minutes, or until center of brownies are set.

Tastes best after refrigerated overnight - store leftovers in the refrigerator.