We may earn money from the products/companies mentioned in this post. As an Amazon Associate I earn from qualifying purchases.
Sugar-Free Peppermint Mocha Coffee Creamer
Peppermint Coffee Creamer is a delicious, festive drink to enjoy during the holidays.
This Sugar-Free Peppermint Mocha Coffee Creamer is perfect for anyone who loves coffee but doesn't want all of the sugar or calories.
Everyone can enjoy this Sugar-Free Peppermint Mocha Coffee Creamer whether they're staying away from sugar or not! Its creamy, minty flavor can brighten anyone's day.
It's easy to make and you can get creative with the ingredients such as using flavored collagen powders, different sweeteners, or adding extra cocoa for a more powerful flavor.
It's all the flavors you love in one delicious homemade creamer!
This peppermint creamer is also a Trim Healthy Mama S Fuel.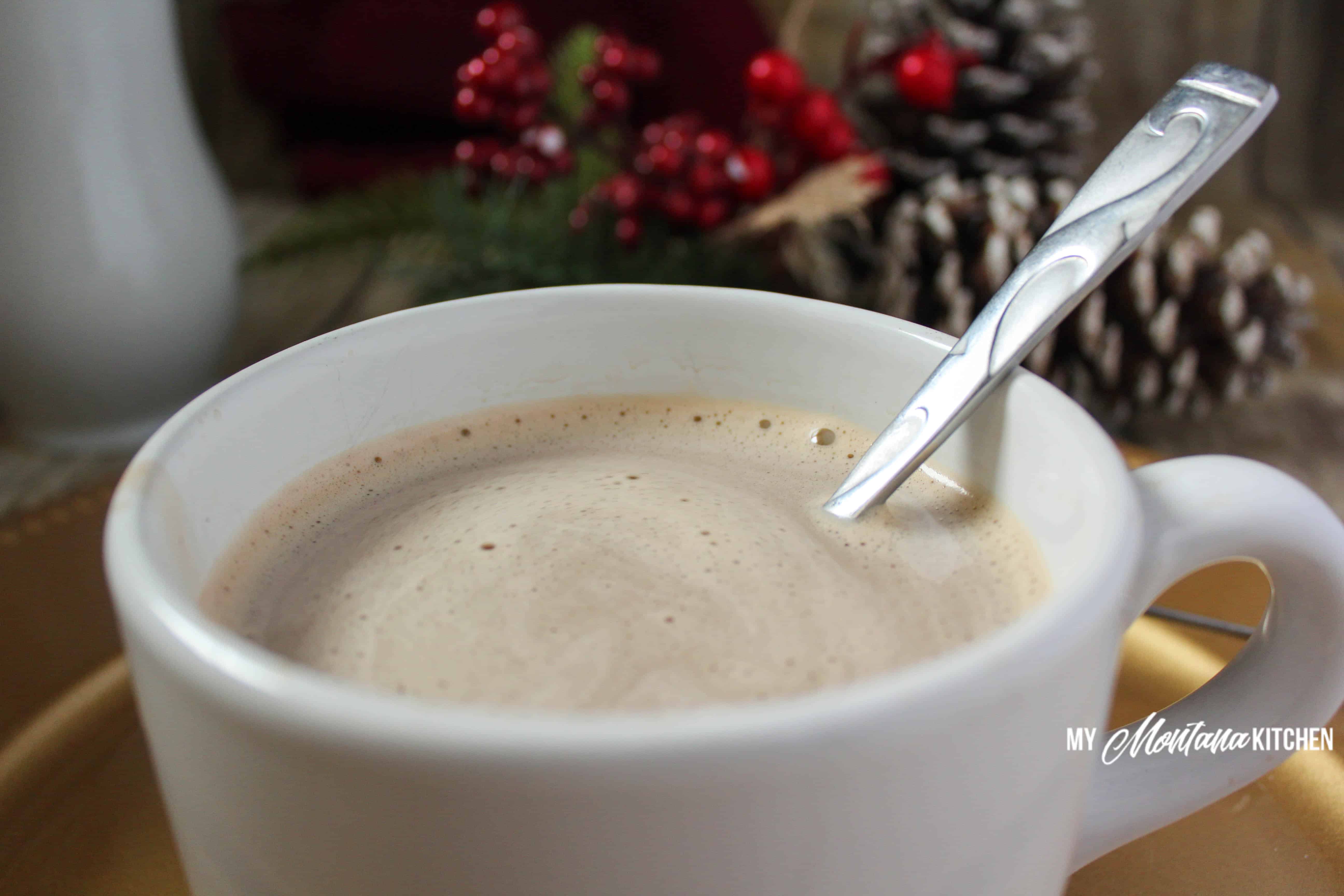 Once upon a time . . . a long time ago, I was addicted to coffee creamer.
Seriously.
At any given time I would have four or five different flavors in my refrigerator. I looked forward to coffee because of the creamer (true story)!
Then, my husband and I abruptly quit sugar for about 2 months or so, and that seemed to break my addiction!
Now I much prefer to just have a splash of half and half in my coffee. I even drink it black . . . . on rare occasions.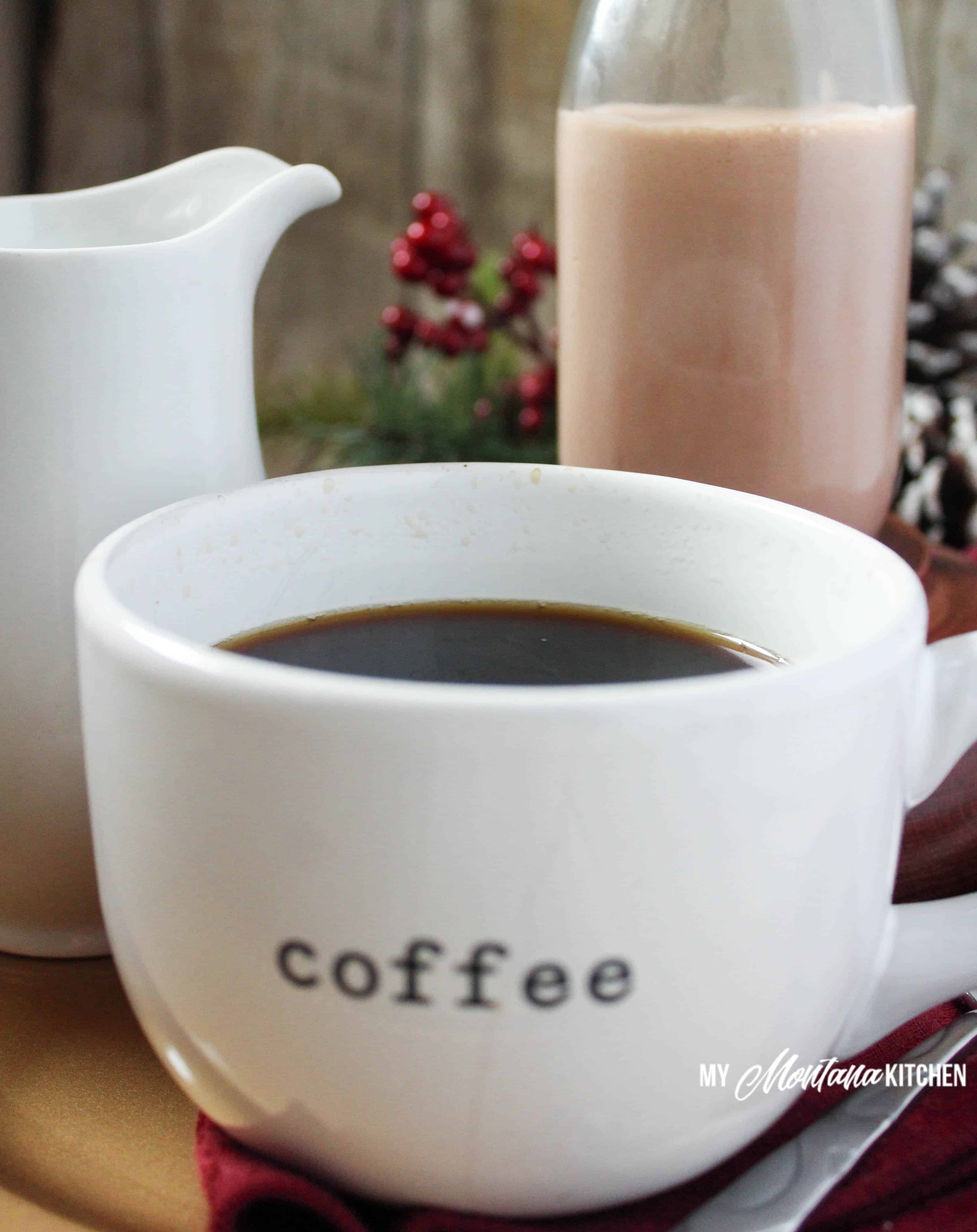 A lot of my readers have said that coffee is one of the hardest things to make sugar-free.
And I hear you! I've been there.
There is no shame in wanting something more than half and half in your morning drink.
Now I will admit, this flavor was not my first choice when I was buying the store-bought varieties.
I was much more into chocolate and caramel. (Coming soon!)
But, I've been working on a seasonal recipe . . . this Peppermint Mocha Coffee Creamer.
HAS PEPPERMINT MOCHA CREAMER BEEN DISCONTINUED?
Nope, not at all!
But this is a seasonal creamer, so it only comes out near the end of the year, when it's approaching Christmas.
And wouldn't you agree that peppermint goes hand-in-hand with Christmas?
Oh, yeah! You can even make an amazing keto coffee frappe if you blend this peppermint mocha creamer with cold coffee and ice in your blender.
I love my "Starbucks" at-home treat!
IS COFFEE-MATE PEPPERMINT MOCHA CREAMER SEASONAL?
Yes.
There are only a few months out of the year when peppermint mocha coffee creamer is available in stores, so I wanted to make it deliciously available all year round!
It's perfect for the holidays too!
If you like peppermint mocha year-round, you can use these ideas to make your own.
-Make peppermint mocha coffee creamer recipe below
-Add a few drops of peppermint extract to plain iced coffee
-Make iced peppermint mocha coffee by stirring the homemade peppermint mocha creamer into cold brew iced coffee.
-Make a peppermint mocha latte by frothing the creamer, then adding it to espresso. Top it with homemade whipped cream for an extra special treat!
In fact, your whole family can enjoy this creamer – children can easily enjoy it in sugar-free hot chocolate!
IS THERE COFFEE IN PEPPERMINT MOCHA CREAMER?
There is no coffee in this Peppermint Mocha creamer.
But you can certainly use this delicious peppermint mocha creamer IN your coffee!
And no, there is no actual coffee in the original Coffee-Mate version, either.
WHAT IS IN STORE-BOUGHT PEPPERMINT MOCHA CREAMER?
These are the ingredients in Coffee-Mate Peppermint Mocha Creamer:
Ingredients: Water, Sugar, Vegetable Oil (High Oleic Soybean and/or High Oleic Canola), and Less than 2% of Micellar Casein (a Milk Derivative) (Not a Source of Lactose) Natural and Artificial Flavor, Mono- and Diglycerides, Dipotassium Phosphate, Cellulose Gel, Cellulose Gum, Carrageenan.
Eeek! Not particularly something I want to put into my body!
But I sure do feel good about this sugar-free version for the holiday season!
Plus, making your own coffee creamer is a snap and it only takes a few minutes!
Simply put all the ingredients in your blender and blend for a few seconds!
You can alternatively just combine all the ingredients in a mason jar or other glass container with a lid and shake well.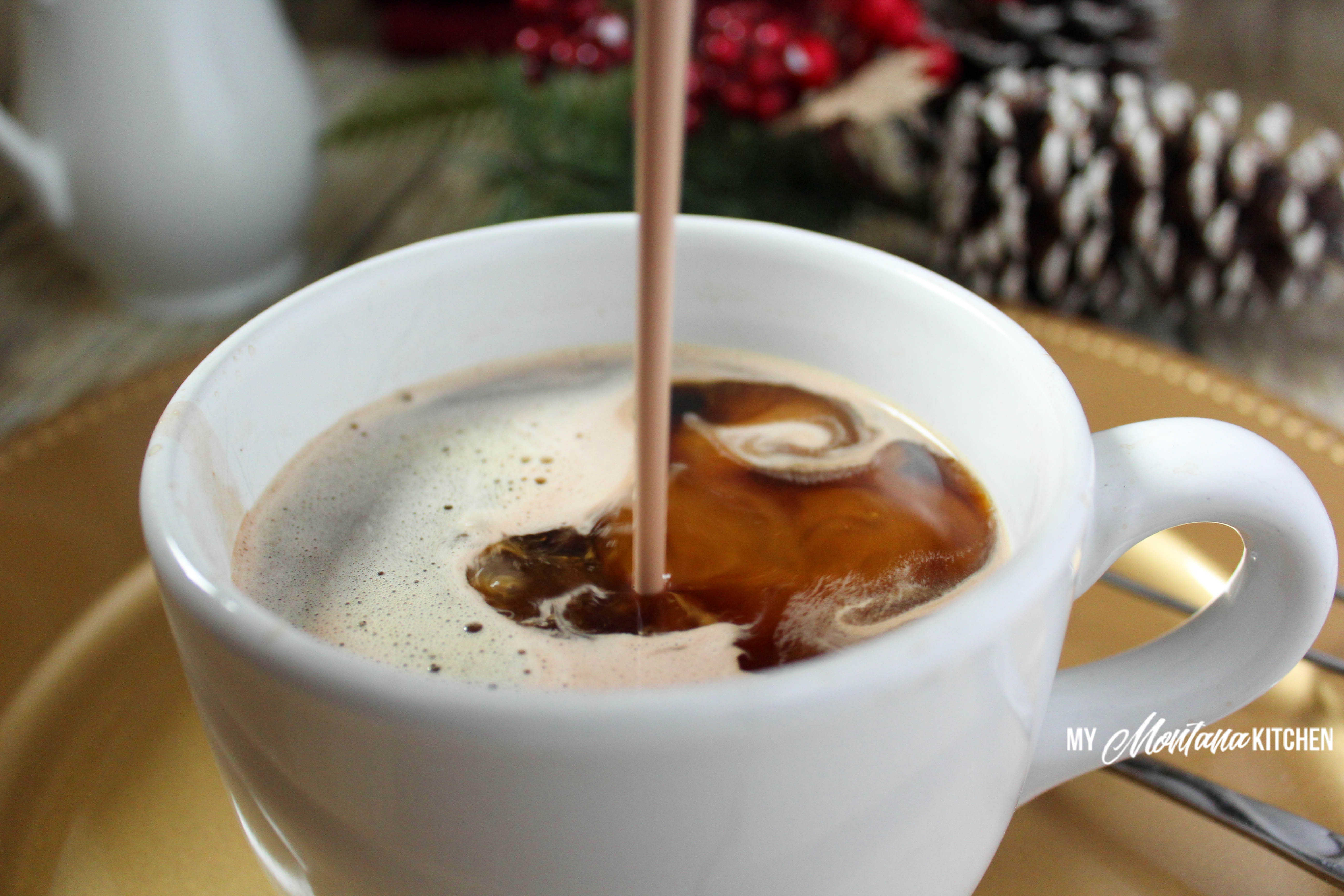 How to Make Homemade Coffee Creamer
The first time I made it, I used some of my Sweetened Condensed Milk (which is also low carb and sugar-free).
It tasted great, but it turned out a bit strange after sitting in the refrigerator for a while.
So the next time, I omitted the (sugar-free) sweetened condensed milk and just used Gentle Sweet to sweeten it. Perfect!
It was so good that I (briefly) considered sticking a straw in and drinking it!
It transformed my afternoon cup of coffee into a delightful treat!
Ingredients Needed for Homemade Sugar Free Coffee Creamer
Heavy Whipping Cream
Half & Half
Unsweetened Almond Milk
Cocoa Powder
Gentle Sweet (or your favorite powdered low carb sweetener)
Vanilla
1 Drop Peppermint Oil (See notes below in the recipe card for how to use peppermint extract in place of the oil.)
CAN I MAKE THIS PEPPERMINT MOCHA CREAMER RECIPE DAIRY-FREE?
Yes, you can!
Just replace the heavy whipping cream with full-fat coconut milk (the kind in the can), and replace the half & half with unsweetened almond milk (or your favorite nut milk).
Add all ingredients to a blender and blend until smooth.
BAM – dairy-free homemade peppermint mocha creamer!
CAN I ADD COLLAGEN TO THIS PEPPERMINT MOCHA CREAMER RECIPE?
You can easily substitute the cocoa powder and sweetener with 3 Tablespoons of this awesome Chocolate Collagen. It has all the flavor of cocoa powder, but with the added benefits of collagen and MCT oils.
This transforms your "normal" cup of coffee into a healthy drink!
I have been using this Chocolate collagen for months, and I still love it.
It is also sweetened with stevia, so you can feel confident about using it around your pets. (Xylitol, which is used in Gentle Sweet, is considered poisonous to dogs.)
And as a special treat for you, use the code "mymontanakitchen" to get 15% off your first order of Chocolate collagen (they also have Vanilla and Salted Caramel flavors).
CAN YOU PUT A PEPPERMINT CANDY IN COFFEE?
The short answer is yes!
But you can also use peppermint extract (which you can find in the baking aisle).
You don't want to use a sweetened peppermint candy because it will not be sugar-free.
If you like the thought of just plopping a peppermint candy in your coffee, you can try these sugar-free peppermints!
CAN I BUY SUGAR-FREE PEPPERMINT MOCHA COFFEE CREAMER AT THE GROCERY STORE?
Well, technically yes, but it is full of artificial flavorings and sweeteners that are not good for your body, so I wouldn't recommend it.
If you really want a Peppermint Mocha Creamer that you don't have to make at home, consider purchasing from NutPods!
They have fantastic flavors, and all of their products are completely dairy-free!
I don't think I've ever seen the Peppermint flavor in Wal-Mart or other grocery stores, but you can order them online here! (When they are in season at least.)
OTHER HOMEMADE COFFEE CREAMERS YOU MAY LIKE
Protein-Filled Sugar-free Coffee Creamer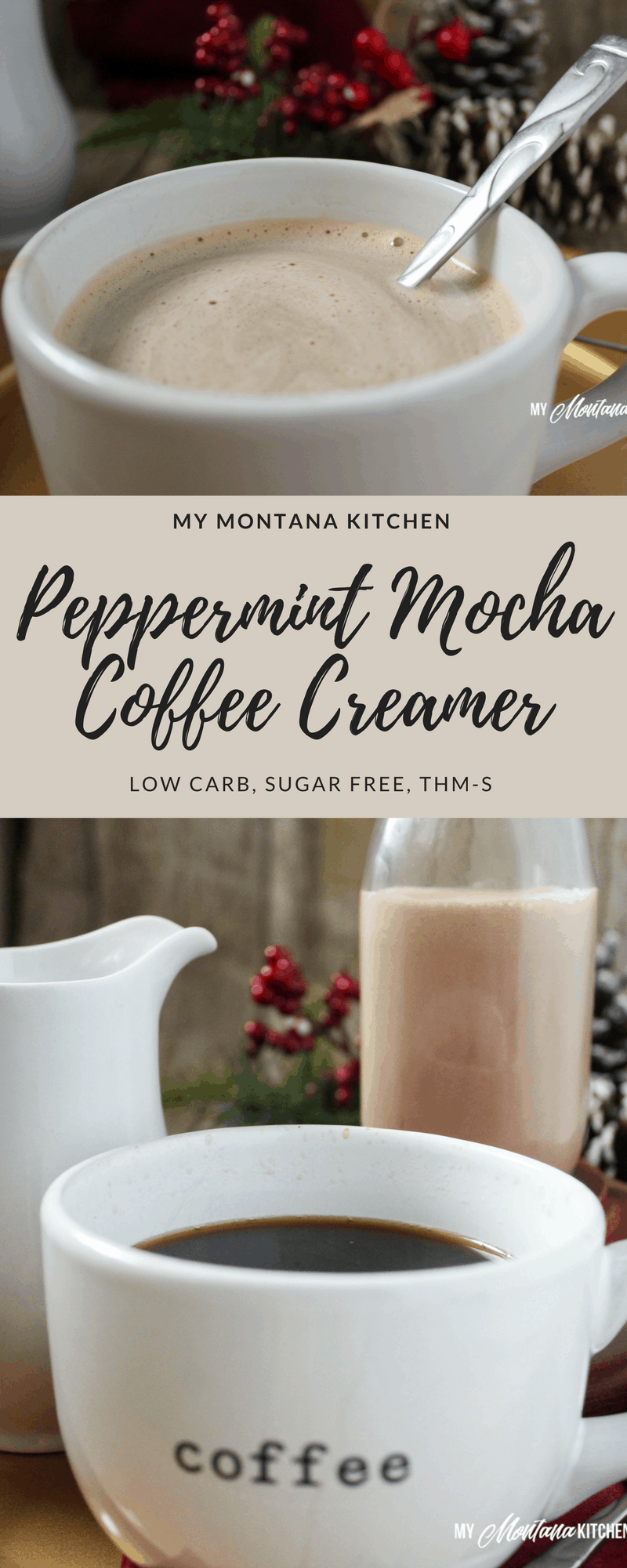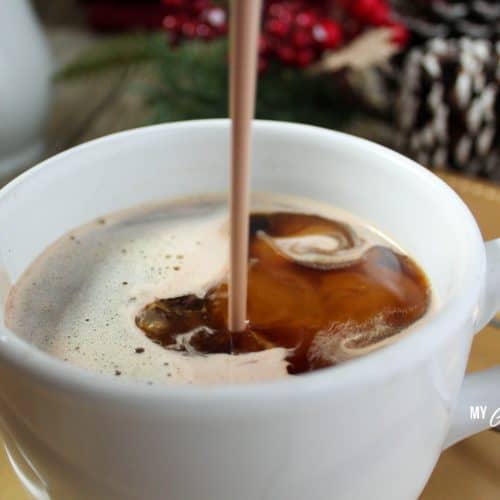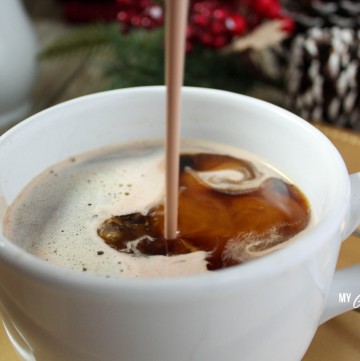 Peppermint Mocha Coffee Creamer
A rich and creamy peppermint mocha coffee creamer that is low carb, sugar free, and a Trim Healthy Mama S Fuel!
Print
Pin
Rate
Ingredients
1/2

Cup

Heavy Whipping Cream

3/4

Cup

Half & Half

1/4

Cup

Unsweetened Almond Milk

3

Tablespoons

Cocoa Powder

1/4

Cup

Gentle Sweet

2

Teaspoons

Vanilla

1

Drop

Peppermint Essential Oil

(See notes below for how to use mint extract in place of essential oil.)
OR
3

Tablespoons

Chocolate Collagen

(in place of the cocoa powder and sweetener)
Instructions
In a blender, add all ingredients and blend for 10-15 seconds to mix all ingredients together well.
Notes
If you do not have Gentle Sweet, you can use this DIY version.
You may notice a bit of foam on top of your creamer after blending. I just strained the foam off and stored the liquid creamer in my refrigerator.
If you do not have essential oil, or do not feel comfortable ingesting oils internally, I suggest using mint extract. I would start with 1/4 – 1/2 Teaspoon, then taste and adjust as necessary.
Nutrition
Serving:
2
Tablespoons
|
Calories:
78
kcal
|
Protein:
1
g
|
Fat:
7
g
|
Fiber:
1
g
|
Sugar:
1
g