We may earn money from the products/companies mentioned in this post. As an Amazon Associate I earn from qualifying purchases.
A simple side dish of tender, roasted cabbage steaks, topped with ranch dressing and bacon. This recipe is low carb, gluten free, and a Trim Healthy Mama S Recipe.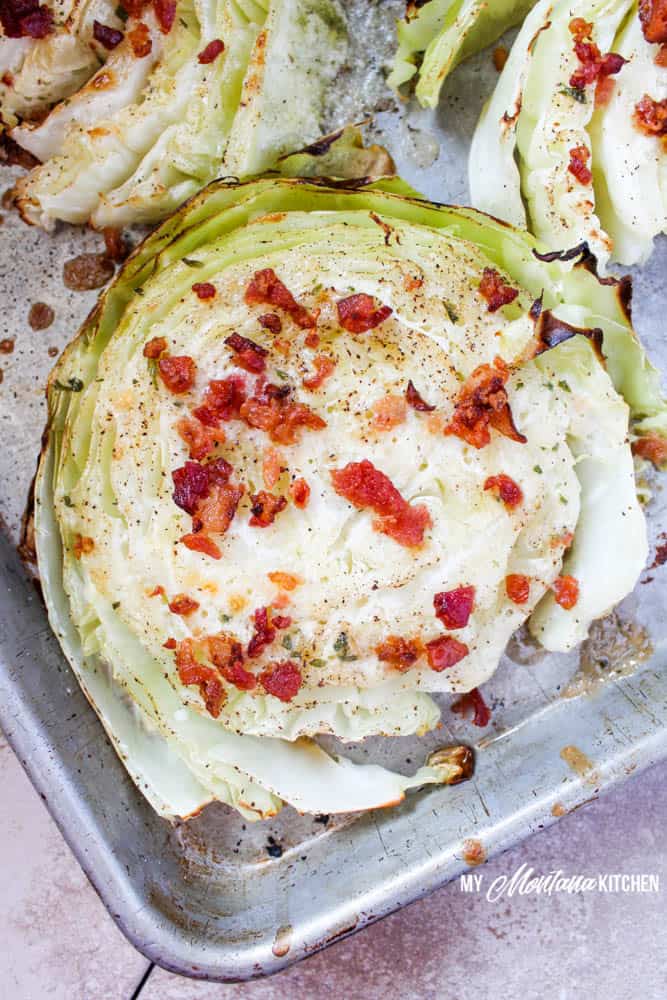 I've had this idea in my head for a long time, but today I finally got around to putting it into action.
I've seen various recipes for cabbage "steaks" on Pinterest and Facebook. Until now, I had never tried any of them! But seriously, they are so easy to make! Not to mention delicious!
Truly, the most daunting part is cutting the cabbage into "steaks."
As long as you have a solid cutting board and a good, sharp knife, even that part is not difficult.
Now, I realize that the only similarity to these and a "steak" is perhaps that it is a slice? I don't know.
But I do know that these are delicious. I ate them for lunch today with a rotisserie chicken breast. Tasty and filling!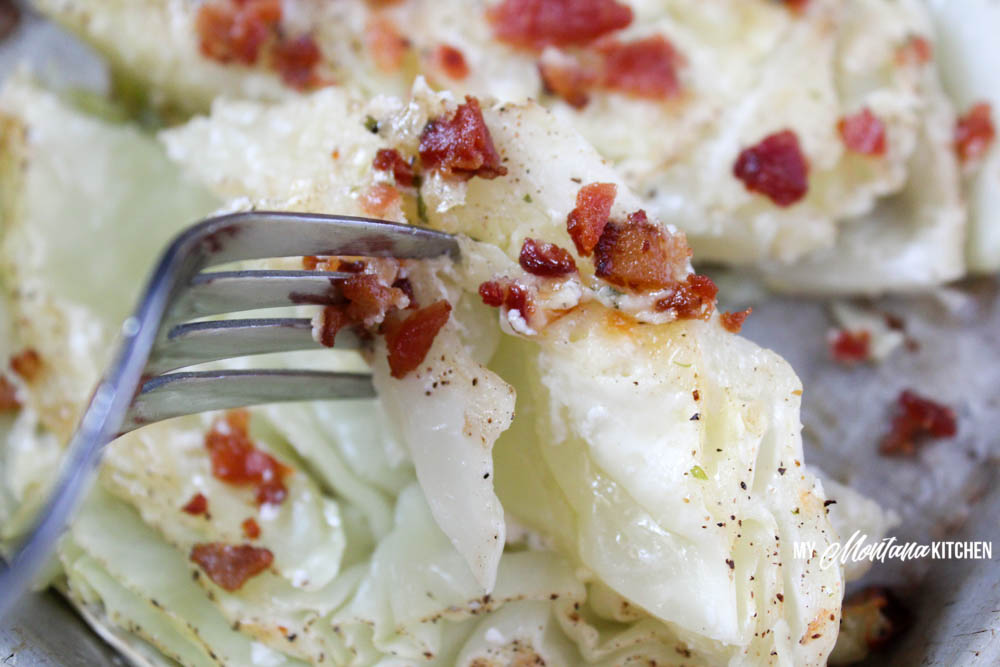 Broiling the cabbage at the very end gives you a delightful "candied" edge on the outer edges of the cabbage steaks.
When they turn brown and crispy, it somehow sweetens the cabbage, and I think it tastes like candy. (My husband said I was going too far - but it was pretty sweet to my no sugar tastebuds!)
The amount this recipe makes will vary depending on the size of your head of cabbage.
I used a rather small head, and got about six decent sized slices. (The nutritional information will be calculated for a small head of cabbage resulting in six servings.)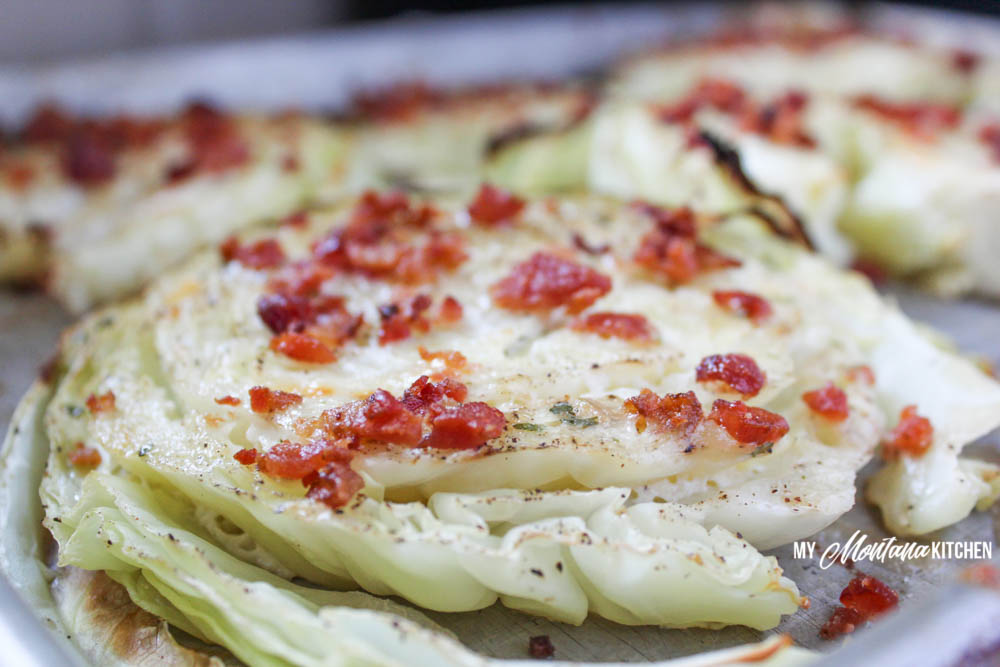 You can use any Ranch Dressing you like for these bacon and ranch cabbage steaks, but my all time favorite is Rohnda's Ranch Dressing. (You can also find it in the Trim Healthy Mama Cookbook.)
I used to be a Hidden Valley only girl (I know -- blech!), but it would not be a stretch to say that Rohnda's Ranch rocked my world! Ok, maybe a bit of a stretch, but it is GOOD! Try it!
So, what do you need for this recipe?
1 Small Head of Cabbage
¼ Cup + 2 Tablespoons Refined Coconut Oil
¾ Cup Ranch Dressing
¼ Cup + 2 Tablespoons Real Bacon Pieces (or crumbled cooked bacon)
Salt and Pepper to Taste
Be sure to sign up with your email address so you can receive all my new recipes delivered right to your inbox! (Look for the sign-up box at the top of this post.) Also, be sure to follow me on Facebook, Pinterest, Instagram, and Twitter!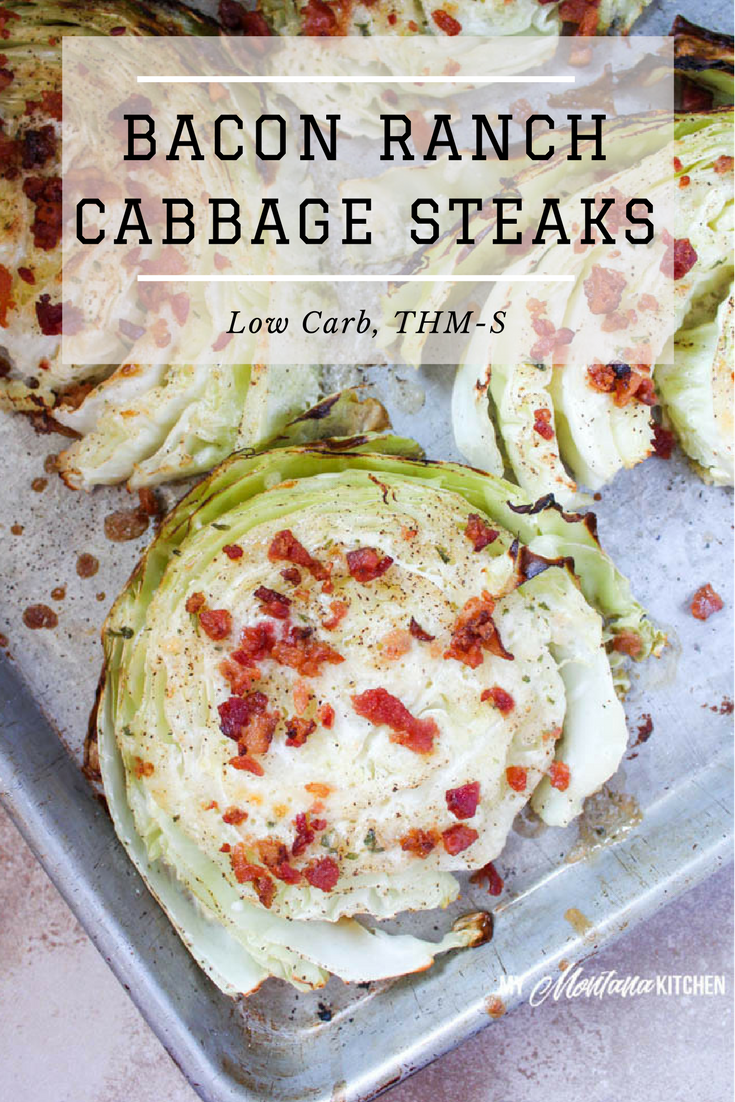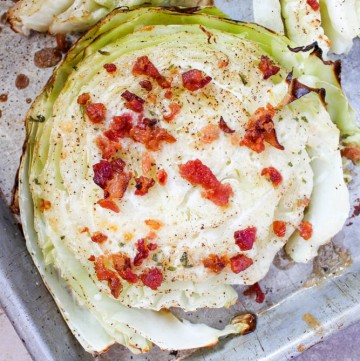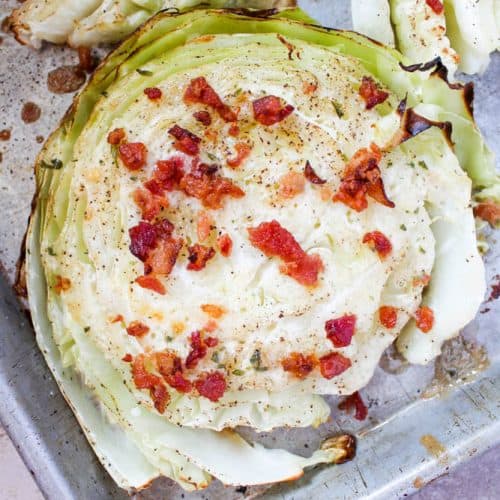 Ingredients
1

Small Head of Cabbage

¼

Cup

+ 2 Tablespoons Refined Coconut Oil

¾

Cup

Ranch Dressing

¼

Cup

+ 2 Tablespoons Real Bacon Pieces

or crumbled cooked bacon

Salt and Pepper to Taste
Instructions
Preheat oven to 400.

Cut the bottom off of the cabbage, and slice into "steaks."

Lightly spray a baking sheet with coconut oil spray.

Arrange cabbage on baking sheet.

Brush each piece of cabbage with 1 Tablespoon of coconut oil.

Sprinkle with salt and pepper.

Bake for 15 minutes.

Remove from oven and drizzle 1 Tablespoon of ranch dressing over each piece.

Sprinkle 1 Tablespoon of bacon pieces over each piece of cabbage.

Return to oven and bake for 15 more minutes.

Broil for 2 minutes, or until edges of cabbage begin to brown and caramelize.
Nutrition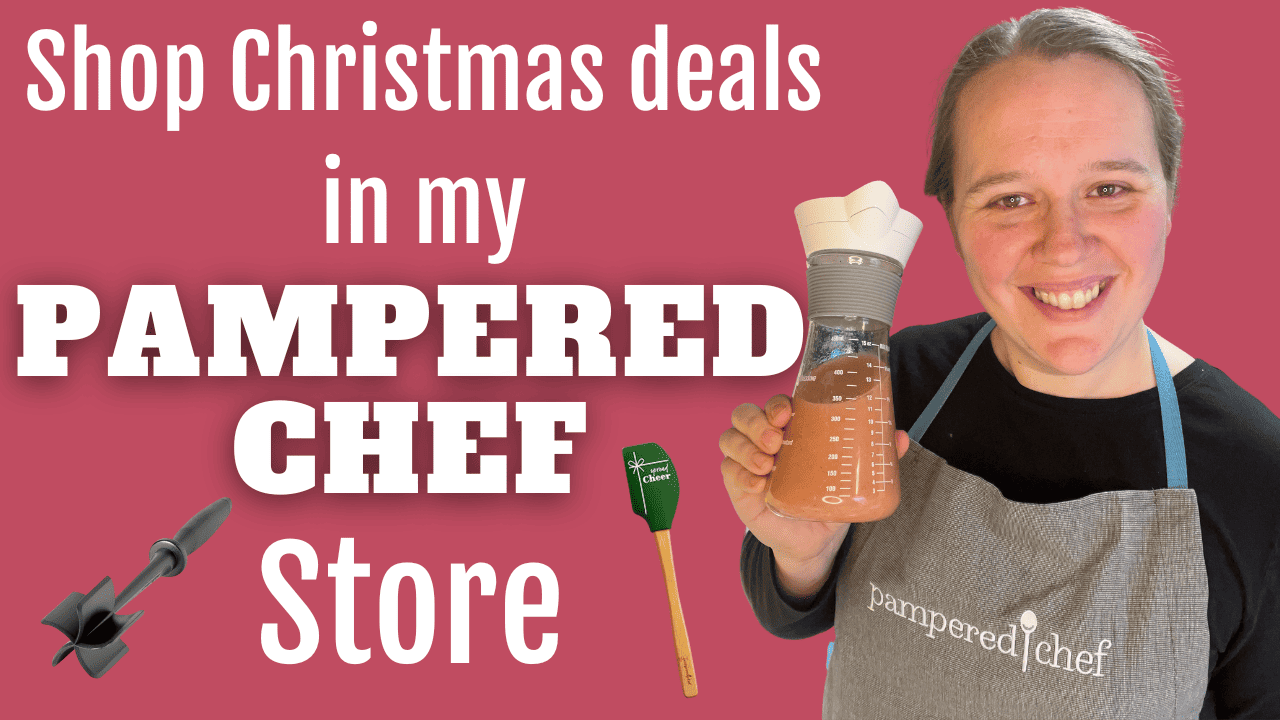 Servings 6.0
Amount Per Serving
calories 239
Total Fat 19 g
Saturated Fat 15 g
Monounsaturated Fat 3 g
Polyunsaturated Fat 0 g
Trans Fat 0 g
Cholesterol 7 mg
Sodium 218 mg
Potassium 354 mg
Total Carbohydrate 0 g
Dietary Fiber 3 g
Sugars 0 g
Protein 4 g
Reader Interactions