We may earn money from the products/companies mentioned in this post. As an Amazon Associate I earn from qualifying purchases.
Easy cheesy cauliflower rice is the perfect keto side dish, but it can also make for a fabulous one-bowl low carb dinner. This cauliflower rice recipe is creamy, rich, low carb comfort food at its finest!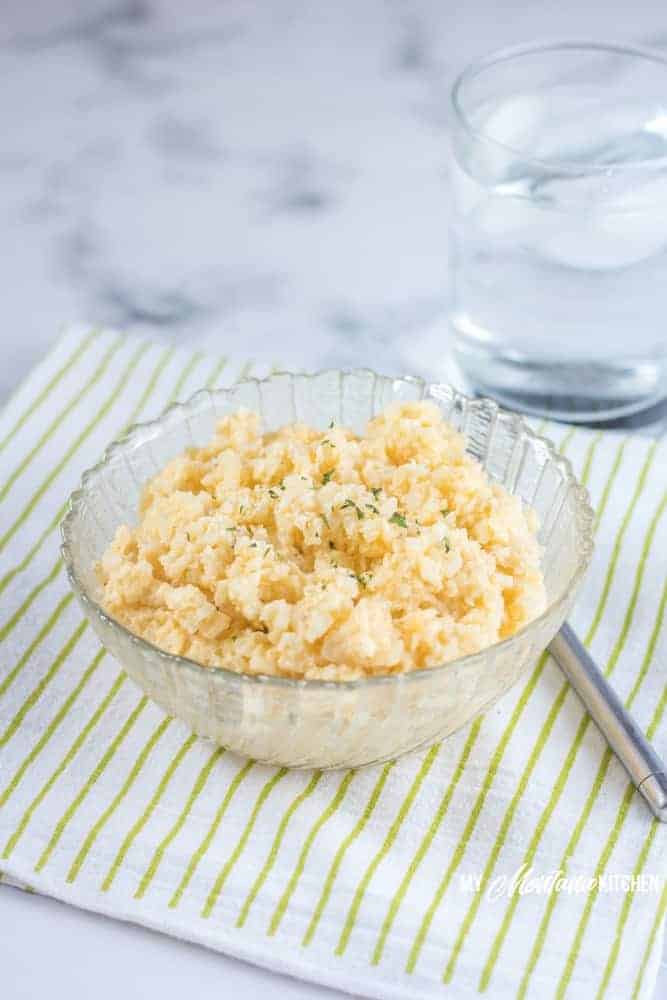 Cheesy cauliflower rice is one of those recipes you'll make over and over and over again..and never grow tired of. Seriously, this is one of the simplest -yet tastiest- cauliflower rice recipes you've ever tried!
What's the secret? This recipe calls for frozen cauliflower rice, so there's no need to rice it yourself. Simply buy a bag of your favorite frozen low carb cauliflower rice and get cooking!
Why Cauliflower Rice Recipes Are So Awesome
Cauliflower rice is fabulous for healthy eaters and works for those eating Trim Healthy Mama, low carb, keto, paleo, Whole 30, or just about any other healthy eating lifestyle. This versatile addition to your menu will give you so many options!
Is Cauliflower Rice Low Carb?
Yes! It's the perfect low carb side dish or meal foundation. Simply add some protein and you're all set!
One cup of cauliflower has only 5 grams of carbs, whereas a cup of brown rice has 46 grams and pasta ranges from 26 grams and higher. Plus, it's high in fiber.
In this particular recipe all but 2 of the carbs are from the cauliflower itself, so it really is a very adaptable low carb dish.
Is Cauliflower Healthy?
Cauliflower is practically a super food, friend. It's loaded with antioxidants and vitamins, making a very nutritious addition to your diet.
What Does Cauliflower Rice Taste Like?
Cauliflower rice isn't as bland as rice or pasta, but it still has a fairly neutral flavor that will be enhanced and directed by the spices and toppings you add to it.
In this cheesy cauliflower rice recipe, the cheeses and spices will give it a creamy, savory goodness reminiscent of homemade Mac and Cheese. And while I won't claim that it tastes "just like it," I'll certainly suggest that it's delicious in its own right!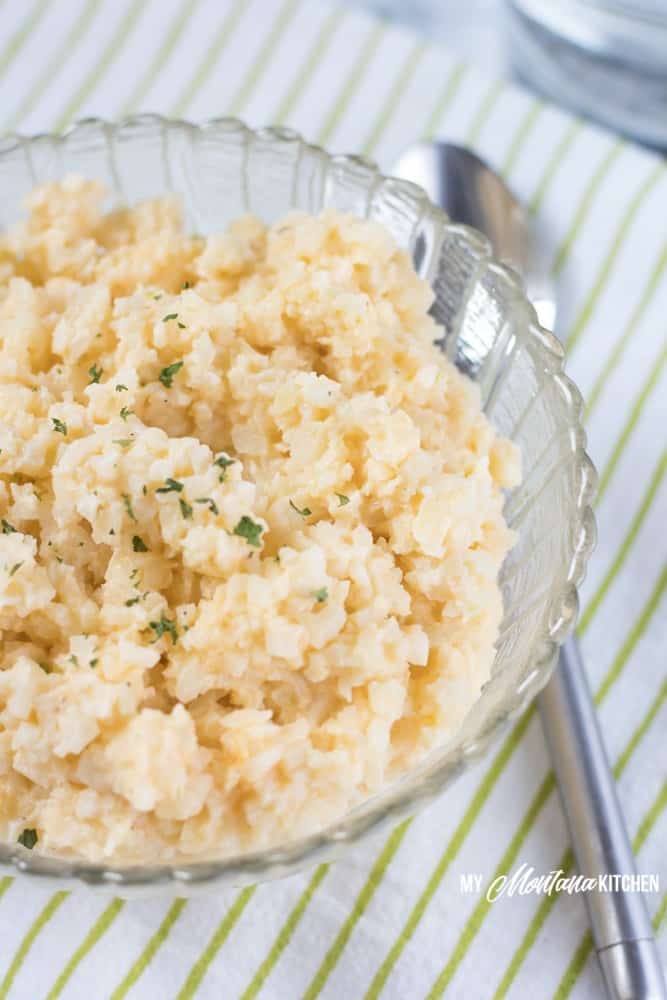 Making Easy Cheesy Cauliflower Rice At Home
This cheesy riced cauliflower is so simple to make that you're going to find yourself adding it to your menu often. It's a low carb staple that is unbelievably simple.
The first step is to steam your frozen cauliflower rice in the microwave according to the package directions (or, if you need to make it from scratch, check out this easy tutorial for homemade riced cauliflower).
Move it to a saucepan and add in the rest of the ingredients, stirring over medium heat until it's all creamy and mixed well.
Told you it was super simple! But don't stop there...you can jazz it up and really make it something extra special if you want to turn your simple Keto cauliflower rice side dish into an awesome, easy low carb meal.
Keep reading for my absolute favorite ways to make this easy cheesy cauliflower rice a creamy, satisfying bowl of yumminess that is perfect for a fast low carb lunch or dinner.
The Best Cheesy Cauliflower Rice Recipe Variations
As it is, this frozen cauliflower rice recipe makes a marvelous side dish. But what if you want to have it for lunch or dinner?
Simple! Just add some protein and maybe some extra seasoning with fresh herbs or more veggies, and you're good to go. You can get as fancy as you'd like or keep it really simple by just sprinkling your favorite meat (or leftovers) on top.
If you want a delicious side dish, you can try this low carb Mushroom & Spinach Cauliflower Rice.
Smoked Sausage
Consider searing some smoked sausage in your favorite skillet and adding it to your cheesy riced cauliflower. This would be so yummy with just a few rings of sautéed onions added in, too.
Chicken
Add some shredded chicken or leftovers or even chopped up rotisserie chicken to the cheesy goodness for some protein to make a full meal.
This would be great with a drizzle of ranch and some bacon crumbles for a Chicken Bacon Ranch meal. Sprinkle on some scallions or fresh parsley for some color and more flavor.
Ground Beef
American cheese and ground beef are a match made in heaven. Think of this like a gooey cheeseburger with a cauliflower bun of sorts. You could top with diced onion and tomato, some shredded lettuce, and some bacon crumbles if you wanted.
Steak
Or if you wanted to really jazz up your easy cheesy cauliflower rice, you could add in some steak bites and some sautéed peppers and onions for a cheesesteak type flavor. Philly cheesesteak style, anyone?
Or you can just add some roasted garlic and steak. Mmmm.
Bacon
Obviously, bacon. I've saved the best for last here, friends. In our home, the favorite way to enjoy cheesy cauliflower rice with with crispy, crumbled bacon and green onions sprinkled on top.
You can never go wrong with bacon (just check out all my bacon recipes here...you'll see what I mean!).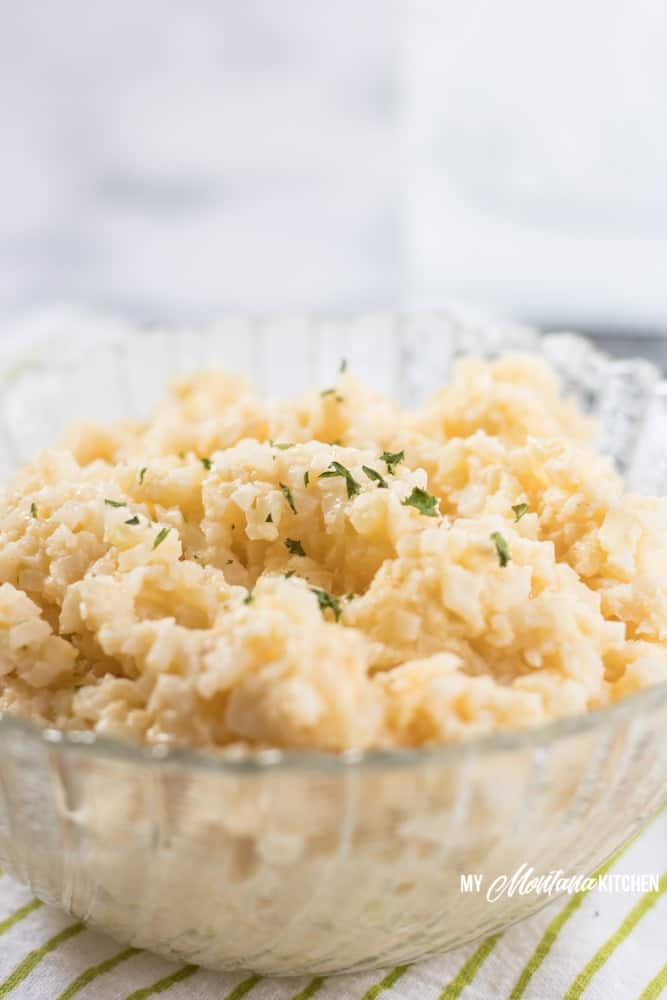 Frozen Cauliflower Rice Recipes
This easy cheesy cauliflower rice recipe is one of my favorites and probably one of yours, too, since it's so versatile.
If you've enjoyed it and want to find more low carb cauliflower rice recipes to try, here are some more to check out: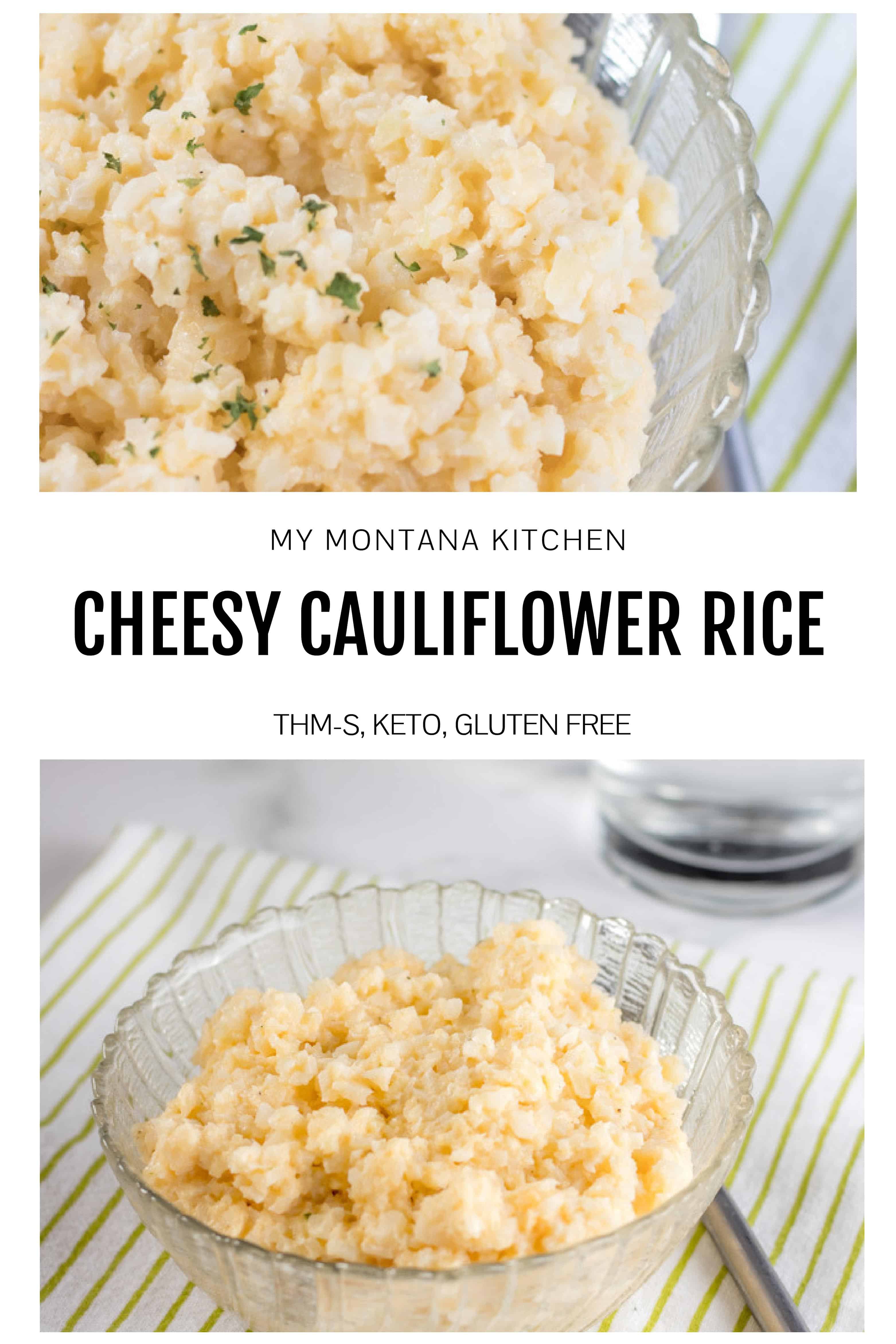 Yield: Single Serving
Cheesy Cauliflower Rice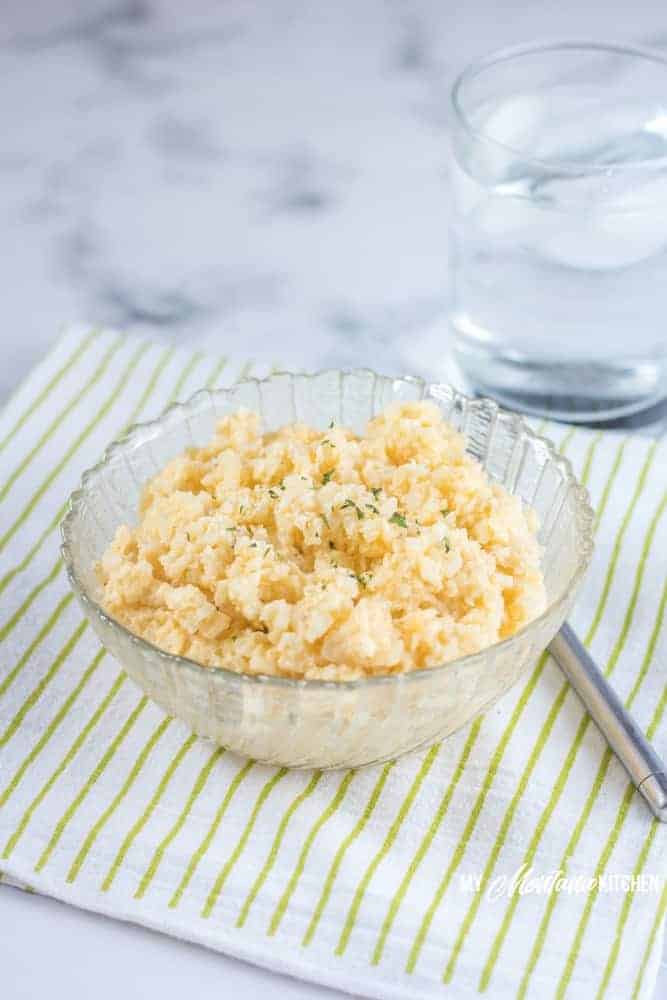 Easy cheesy cauliflower rice is the perfect keto side dish, but it can also make for a fabulous one-bowl low carb dinner. This cauliflower rice recipe is creamy, rich, low carb comfort food at its finest!
Ingredients
1 12 oz. Bag Frozen Cauliflower Rice
2 Slices American Cheese
2 Tablespoons Unsweetened Almond Milk
2 Tablespoons Parmesan Cheese (I use the green can variety)
Dash of Garlic Salt
Dash of Pepper
Instructions
Steam Cauliflower Rice in microwave according to package directions. (Or you can steam in a saucepan.)

Move Cauliflower Rice to a saucepan and add remaining ingredients.

Heat together over medium heat until cheese has melted.
Notes
You can add smoked sausage, chicken, beef, bacon, whatever you want.
This makes a quick and easy lunch if you add more protein.
Or it makes a delicious and easy side dish for dinner!
Makes a single serving if using as a meal, but could easily serve 4 if using it as a side dish.
If you do not wish to use the Sliced American Cheese, you can use 1/3 cup shredded cheese. (It may not be quite as smooth, but will still be delicious!)

Recommended Products
As an Amazon Associate and member of other affiliate programs, I earn from qualifying purchases.
Nutrition Information
Yield
1
Serving Size
Single Serving
Amount Per Serving
Calories

335
Total Fat

21g
Carbohydrates

18g
Fiber

8g
Protein

22g