We may earn money from the products/companies mentioned in this post. As an Amazon Associate I earn from qualifying purchases.
If you love chicken tacos, you'll love this easy-to-make Taco Chicken Casserole recipe. The best part is that it's low-carb, so you can enjoy it without guilt! Plus, it's full of flavor and hearty enough that you won't miss the carbs. Give it a try and see for yourself!
It's so easy to throw the ingredients together, then enjoy with all your favorite delicious toppings like shredded lettuce, fresh salsa, chopped cilantro, sliced black olives, green chiles, diced tomatoes, and green onions! A true crowd-pleasing casserole!
TACO CHICKEN CASSEROLE
This is a low-carb Mexican casserole with fantastic flavor that the whole family is sure to enjoy!
And you can sit back and relax knowing you're feeding your family a wholesome meal on Mexican night! It just may soon become one of your favorite recipes!
This easy chicken recipe is low carb, keto-friendly, gluten-free, and a Trim Healthy Mama S Fuel.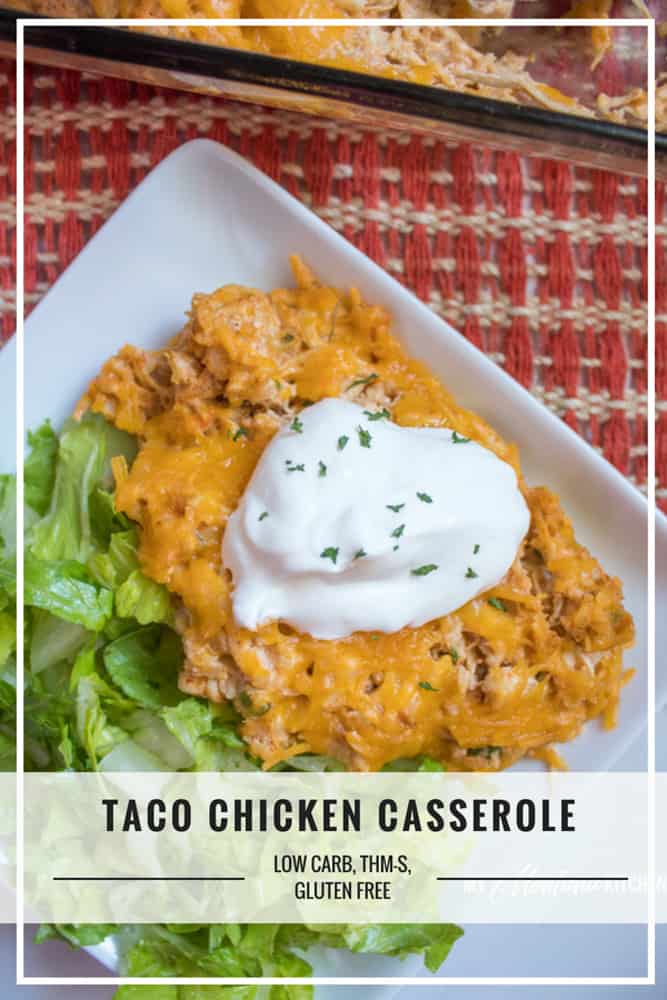 Chicken Taco Casserole – the Easy Way!
Tacos are among the most widely popular foods around the world.
They can be prepared with either ground beef or chicken (or even pork, black beans, or refried beans).
Today, I'm sharing the recipe for a Chicken Taco Casserole that is very easy to make.
With only 8 basic ingredients and several toppings, your casserole will come together in minutes!
I love casseroles because they are such fast and easy recipes!
Most casseroles are simply made with one bowl, mix it well, then pour into your prepared casserole dish and bake.
Serve with another vegetable and a side salad, and you have an awesome 30-minute meal, perfect for weeknights!
Serving suggestions
This Chicken taco casserole can be served as a meal in itself.
Be sure to add all your favorite taco fixings!
Light Sour Cream
Plain Greek Yogurt
Green Onion
Chopped tomato
Fresh Cilantro
Green chilis or diced tomatoes and green chiles
If you are not watching carbs, you can serve this casserole with prepared Mexican rice, refried beans, or black beans, too!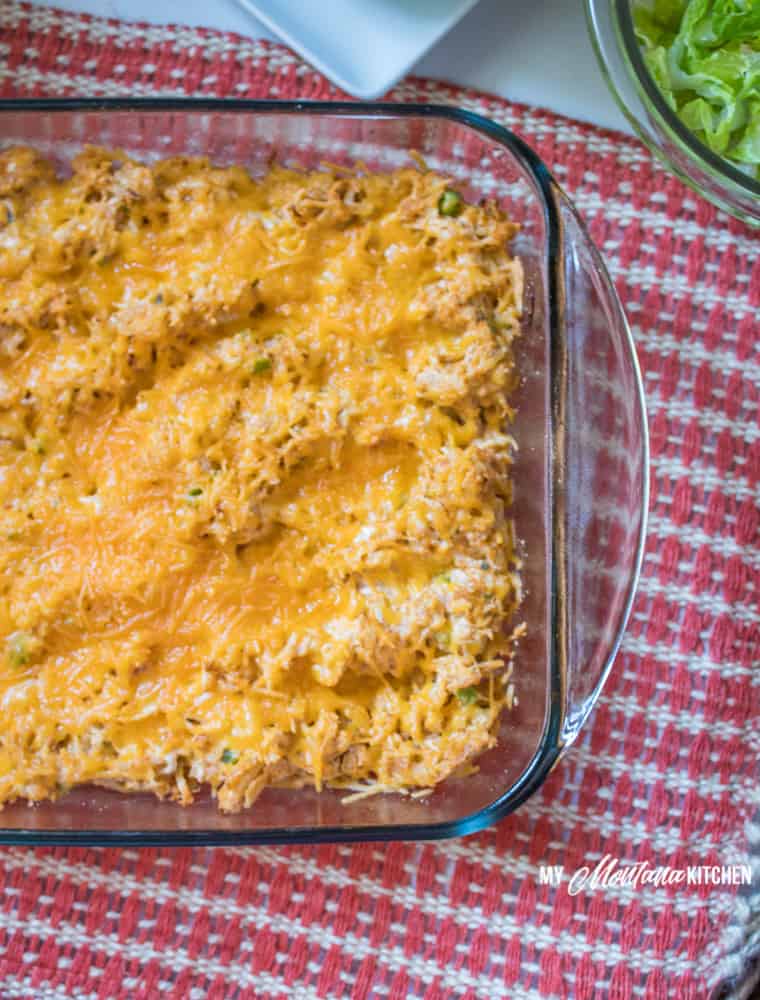 Directions for Taco Chicken Casserole
Heat the oven to 350 f.
Lightly grease an ovenproof 9x13 baking dish with cooking spray.
In a large bowl, combine chicken, cauliflower, onion, jalapeno, sour cream, salsa, and taco seasoning mix.
Stir well, then spread the chicken mixture into a 9x13 baking dish or casserole dish.
Top with shredded cheddar cheese.
Bake for 30-35 minutes, broiling the last minute or two to brown the cheese on top a bit.
Find the full instructions in the recipe card below.
More easy casserole recipes
I have several casseroles that are popular besides this chicken taco casserole, but my chicken casseroles are by far the most popular recipes!
Cheesy Chicken and Broccoli Casserole
Cheesy Vegetable Chicken Casserole
Chicken Taco Casserole Leftovers
The leftovers after you make taco casserole can be stored for up to 5 days.
I like to store leftover taco casserole in individual servings in an airtight container.
I can easily reheat them throughout the week for my lunches!
Top with a little fresh cilantro, shredded lettuce, and pico de Gallo, and I have a delicious lunch!
What to serve with Chicken Taco Casserole?
This easy casserole can be served on its own, however, if you are serving it at a party or you have a large number of visitors, you can serve it with any of the following:
Cilantro Lime Cauliflower Rice
You can also serve it with a side salad.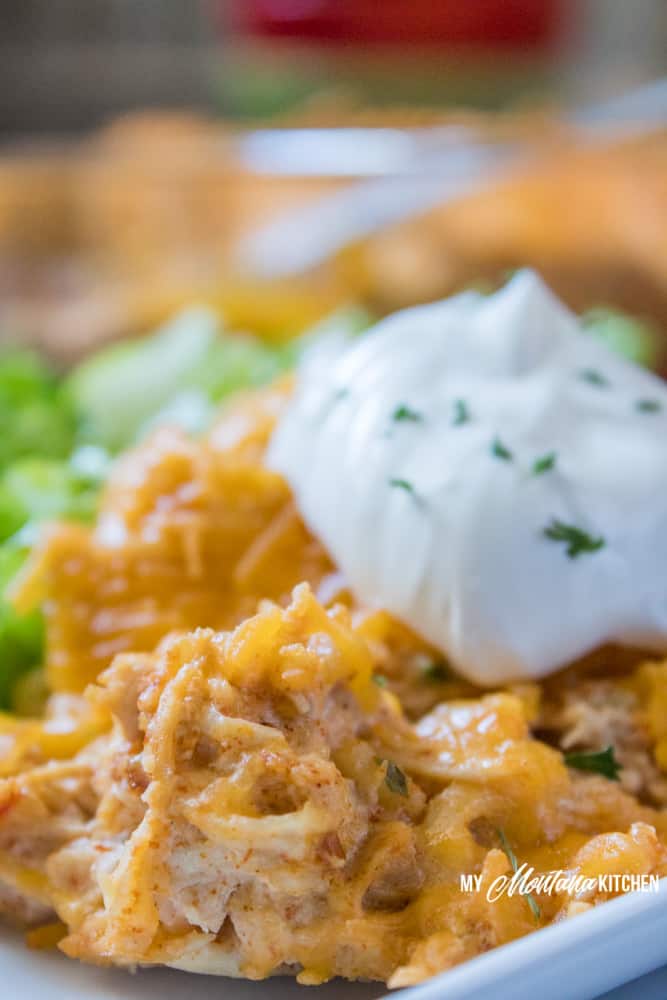 Dietary considerations
Dairy-Free
Use mayonnaise in place of the sour cream and replace the shredded cheese with your favorite dairy-free variety.
Low Carb
If you are trying to stay low carb - good news!
This casserole is already low-carb, just as written!
Recipe notes
If you don't want to cook your own chicken mixture for this recipe, you can easily use a rotisserie chicken!
You'll need about 5 cups shredded cooked chicken.
Chicken Taco Casserole with Rice
This dish already has cauliflower rice in it, to keep it low-carb.
If you wanted a Trim Healthy Mama Crossover, or you don't mind adding some carbs to your chicken taco casserole, you can use pre-cooked brown rice in place of the cauliflower rice.
What is the best way to cook chicken to shred it?
I absolutely LOVE my Instant Pot for cooking the chicken.
I've chosen to use pre-cooked chicken in this casserole recipe, and using my Instant Pot makes that so much easier!
In fact, if I'm honest, I hardly ever thaw out my chicken breasts anymore.
When I need to cook them, I throw the whole section into my Instant Pot with about a cup of water.
Season with salt and pepper, then process at manual pressure for 30-40 minutes. The time will vary a bit depending on how big they are.
Boom - in less than an hour you have cooked chicken (from frozen)!
I drain the water/broth off (and usually save to use later), then shred the chicken with my hand mixer.
It's possible to cook and shred chicken in many ways.
My favorite way to cook chicken is in an Instant Pot, but you can also prepare it in a slow cooker, or even just in your oven!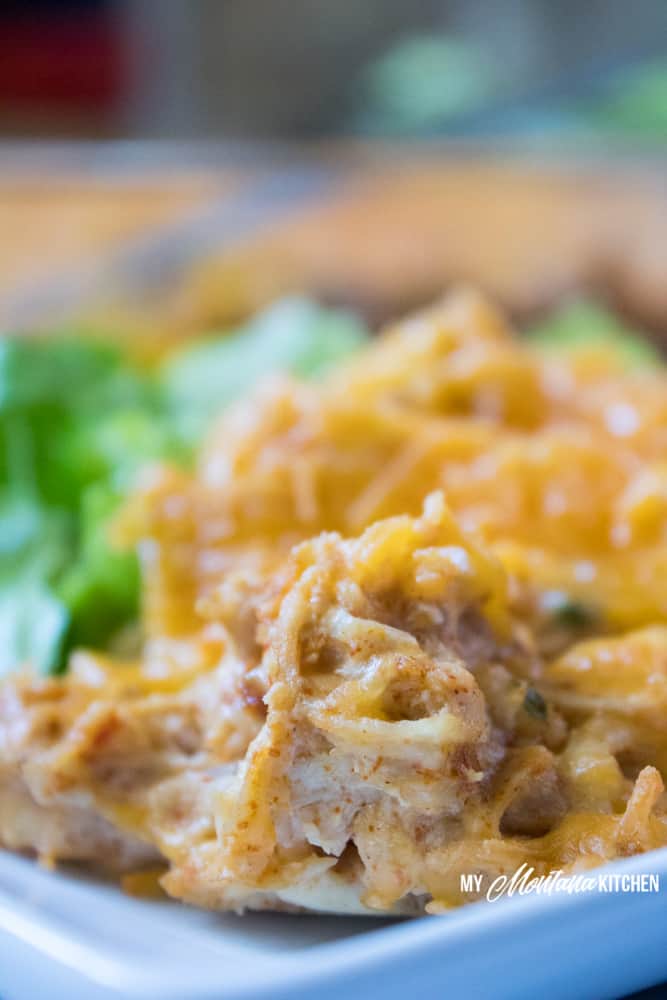 EASY MEAL PREP
You could even cook a large batch of chicken breasts this way, shred it, then freeze it for later use.
On the day you want to use your chicken, just take it out of the freezer and allow it to thaw for a couple of hours on the countertop, or place it in your refrigerator overnight to thaw.
So easy, and a great way to prep ahead for meals throughout the week or month.
Is it easier to shred chicken hot or cold?
It's completely up to you — I've found neither way is particularly more advantageous than the other.
Should the casserole be covered when baking?
Not necessarily. If you find that your oven tends to dry things out, it wouldn't hurt to cover the entire dish with aluminum foil before you place it in the oven.
You may want to remove the aluminum foil for the last five minutes or so to make sure the cheese is melted.
Recipe variations
These tips can be helpful if you enjoy this recipe, just like we do!
I chose to add a bag of frozen riced cauliflower to this casserole, as it helps to bulk it up a bit and adds some extra nutrition.
Seriously, I can't seem to get enough of that riced cauliflower! Having it available in the freezer section of my grocery store has been a game-changer for me!
If you really love jalapeños, and spicy foods, feel free to add more than 1 jalapeño. I didn't really think you could taste it too much, but the heat can vary so much from pepper to pepper.
Also, you can use any kind of salsa you want. I used a Cantina Style Salsa from Walmart, but you could even use a salsa verde if you wished!
Customize it to your own preferences. I used shredded cheddar cheese, but you could easily use a blend of Monterey Jack and Colby cheeses.
If you like, you can use half the cheese in the chicken mixture, then use the remaining cheese on top.
Medium Heat Chicken Taco Casserole
Use a milder heat salsa, and omit the jalapeno.
Extra Hot Chicken Taco Casserole
Be sure to include the seeds of the jalapeno, and use hot jarred salsa.
Add additional chili powder. Smoked chili powder would really take it up a notch!
Taco Shredded Pork Casserole
Using a slow cooker, set it to cook on low.
Add a pork shoulder roast, a jar of salsa, and a can of green chilies to the slow cooker.
Cook for 8 hours or more.
Use this mixture in the casserole in place of the chicken mixture.
Taco Shredded Chicken Casserole
This chicken taco casserole is super easy and tasty!
If shredded chicken isn't your thing, feel free to cube the chicken instead.
Grilled or smoked chicken breast would really take this taco casserole to the next level!
Can I use beef taco seasoning for chicken?
Yes, you can use beef taco seasoning instead of chicken taco seasoning if desired.
What is the difference between chicken taco seasoning and taco seasoning?
While regular taco seasoning and chicken taco seasoning are similar, chicken taco seasoning is usually a bit milder with less cumin.
As for the regular beef taco seasoning, most seasoning packets are full of fillers, starch, and sometimes even sugar!
I have used this Homemade Taco Seasoning Mix from Darcie's Dish and it is spot-on for flavor!
(And as a bonus, you probably already have all of the ingredients in your spice cabinet!)
For the toppings to go on top of your casserole, you can add extra salsa, shredded cheese, sour cream, pickled jalapeños, diced onions, cilantro, tomatoes, or even diced avocado!
And if ground beef is more your thing, be sure to check out this Easy Taco Casserole from my friend Taryn, at Joy Filled Eats. She also has a Mexican Chicken Casserole that uses a smoky chipotle powder (and some tips on how to make cheese taco shells)!
You may also enjoy my Chicken Taco Soup!
There's no need to feel deprived on Mexican night with this great chicken taco casserole!
SO, WHAT DO YOU NEED FOR THIS CHICKEN TACO CASSEROLE?
Cooked Chicken Breast (I used Boneless, Skinless) - shredded chicken or cubed chicken is fine
Frozen Riced Cauliflower
Chopped Onion
Chopped Jalapeno
Sour Cream (you can use light sour cream if you like)
Salsa
Taco Seasoning
Shredded Cheddar Cheese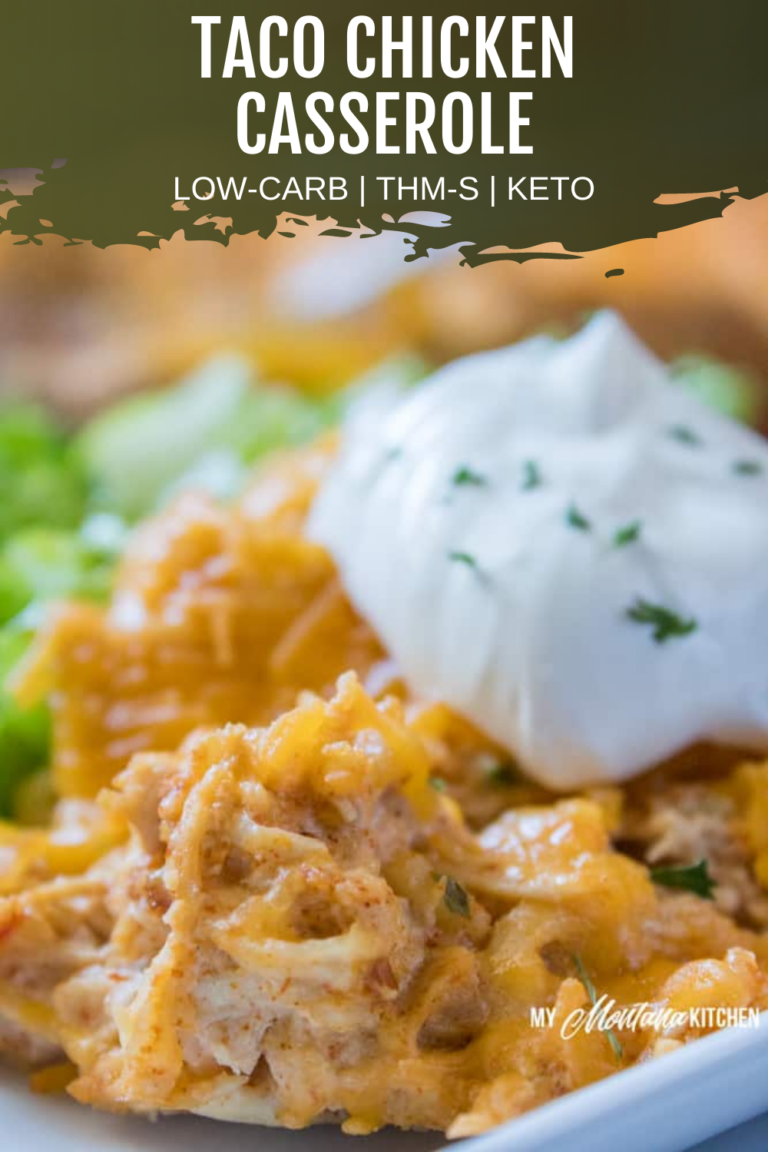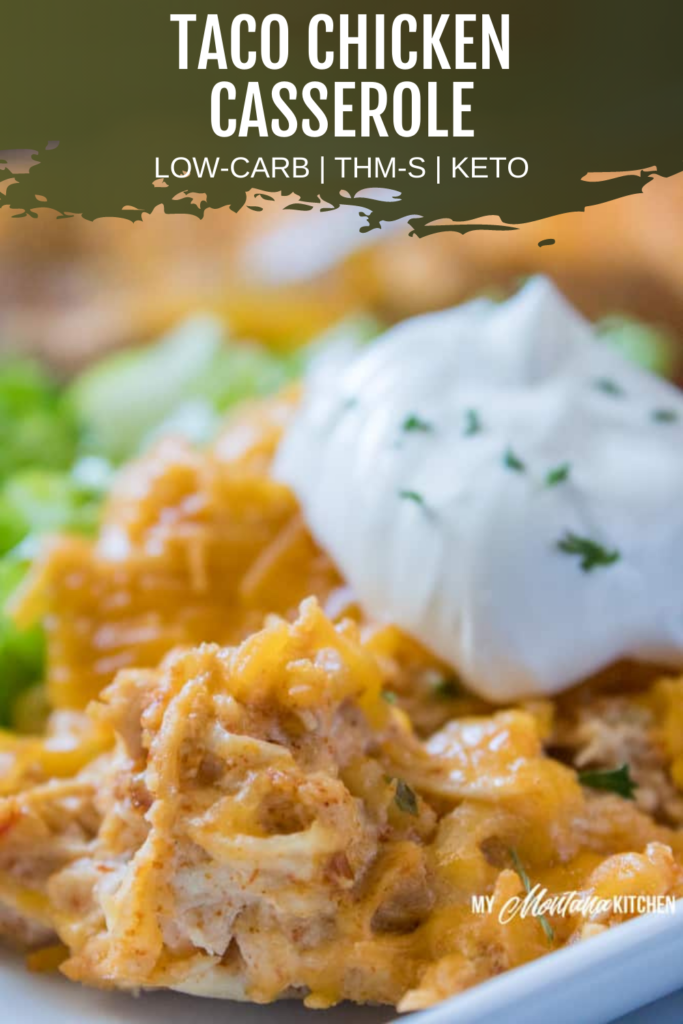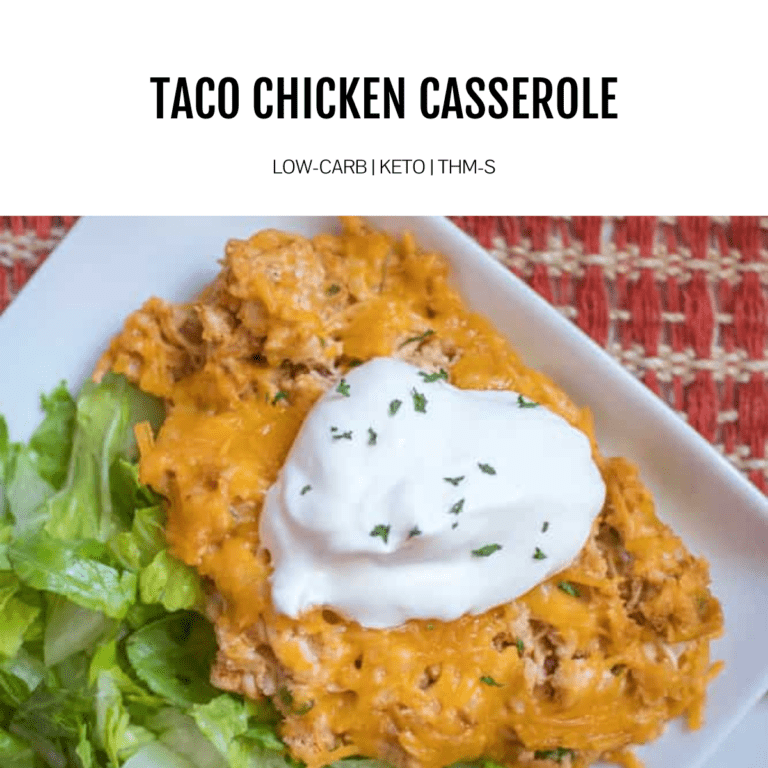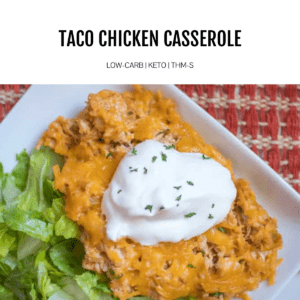 Taco Chicken Casserole
This easy-to-make chicken taco casserole is perfect for a healthy weeknight meal. It's low-carb, so you can enjoy it without guilt! Plus, it's full of flavor and hearty enough that you won't miss the carbs. Give it a try and see for yourself!
Print
Pin
Rate
Ingredients
5

Cups

Diced

Cooked Chicken Breast (I used Boneless, Skinless) (About 2 pounds of chicken)

1

12 Ounce

Bag Frozen Riced Cauliflower

½

Cup

Chopped Onion

¼

Cup

Chopped Jalapeno

about 1, chopped

1 ½

Cups

Sour Cream

1

Cup

Salsa

4

Tablespoons

Taco Seasoning

1

Cup

Shredded Cheddar Cheese
Instructions
Preheat oven to 350.

In a large bowl, combine chicken, cauliflower, onion, jalapeno, sour cream, salsa, and taco seasoning.

Stir well, then spread into a 9x13 dish.

Top with shredded cheddar cheese.

Bake for 30-35 minutes, broiling the last minute or two to brown the cheese on top a bit.
Nutrition
Calories:
476
kcal
|
Carbohydrates:
6
g
|
Protein:
50
g
|
Fat:
23
g
|
Fiber:
3
g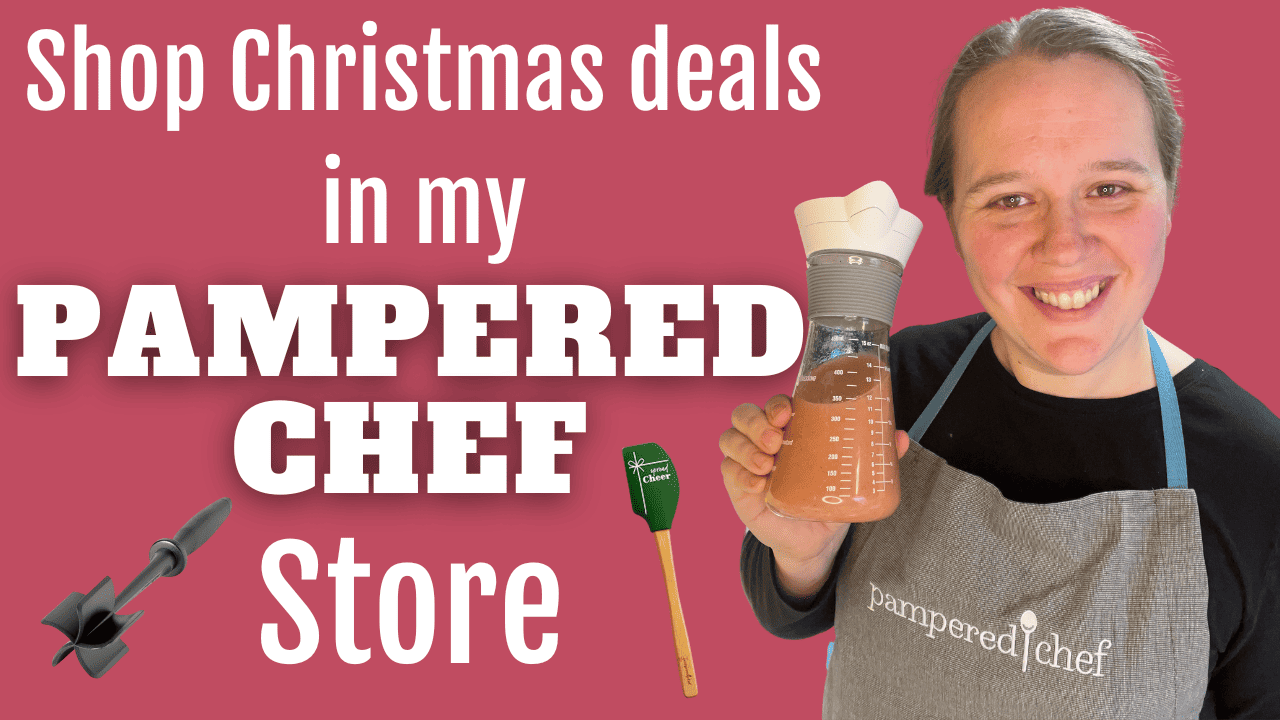 Reader Interactions