We may earn money from the products/companies mentioned in this post. As an Amazon Associate I earn from qualifying purchases.
If you're on the hunt for a mouthwatering oven-baked chicken breast recipe that will tantalize your taste buds, look no further.
Our Cheesy Provolone Baked Chicken is not only incredibly delicious but also a low-carb option for a hearty dinner.
Get ready to savor the flavors and aromas that will fill your kitchen!
Perfect for a delicious and hearty dinner while keeping the carb count low as well!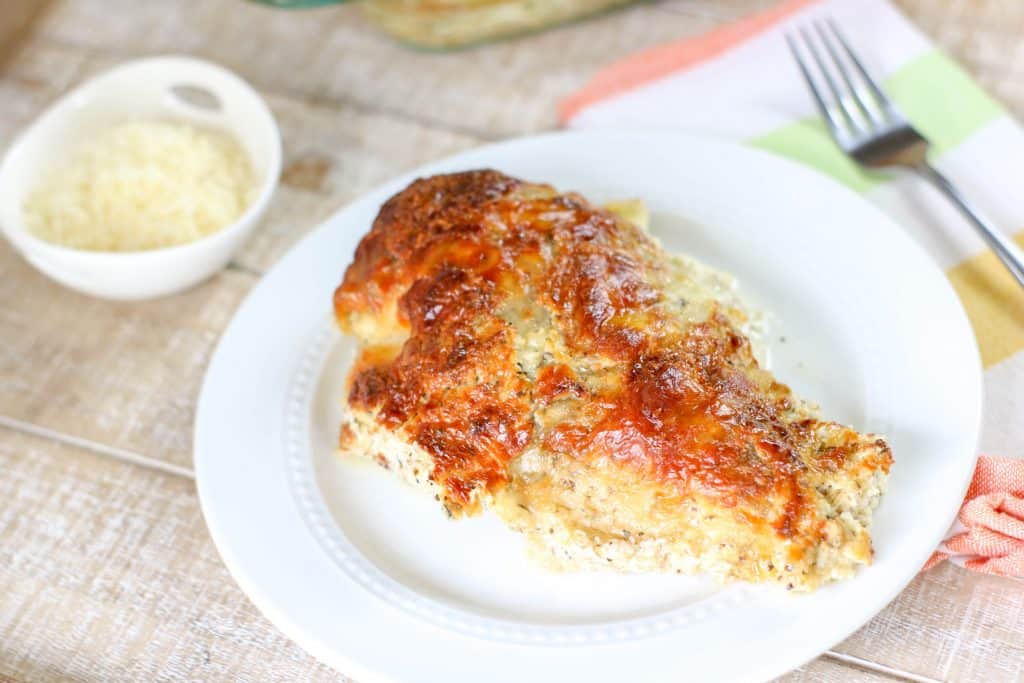 Cheesy Provolone Baked Chicken - Oven Baked Chicken Breast Recipes
There's something undeniably appealing about oven baked chicken breast recipes.
The combination of flavors, the comforting aroma filling your home, and the anticipation of that first bite make them a favorite for many.
Whether you're craving a warm, hearty meal during winter or a tasty summer dish, this recipe is versatile enough to satisfy your taste buds year-round.
Plus, it's just as delightful when enjoyed as leftovers! 
I love how easy it is to cook chicken breast in the oven - it's an easy to make dish for any night of the week!
If you're looking for a super simple healthy baked chicken recipe, look no further than this Cheesy Provolone Baked Chicken! It's the perfect juicy chicken breast recipe!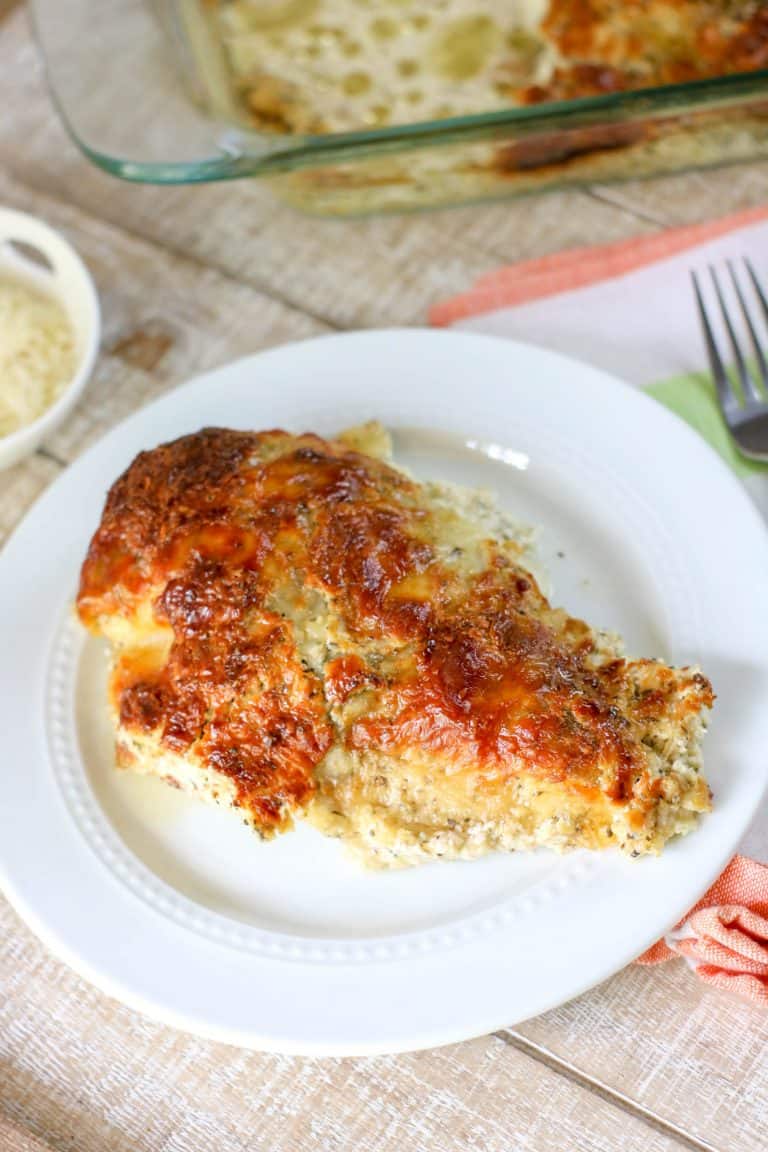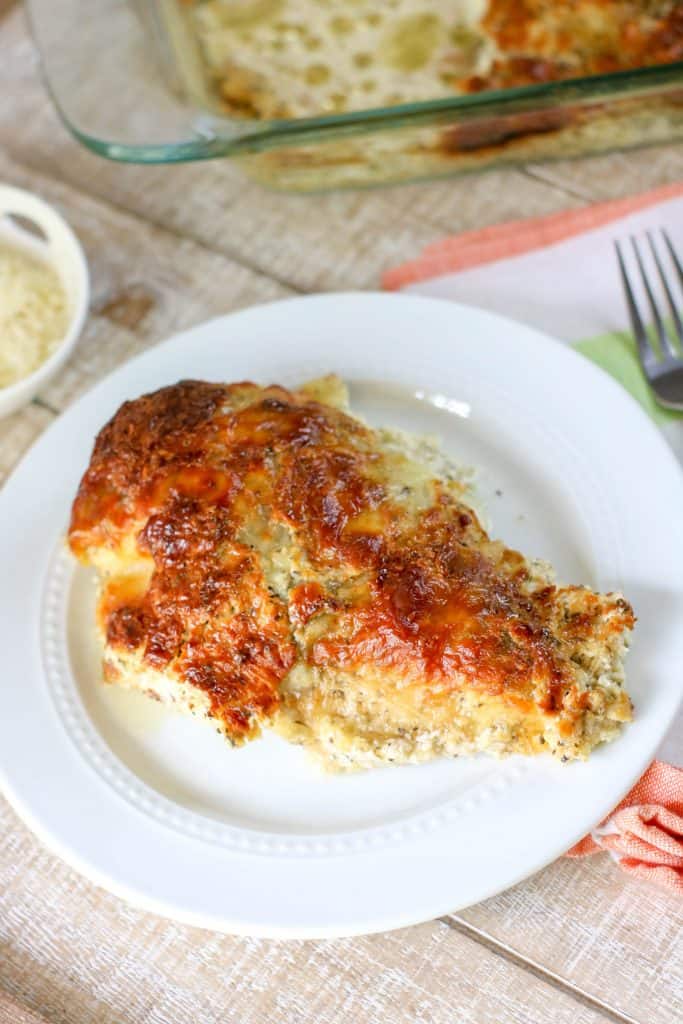 How would you store the leftover chicken from this oven baked chicken recipe?
Great question. If you happen to have any leftovers, I would put them in a sealable bag or container and place them in the fridge.
I always like to have my leftovers eaten up within 5-6 days of when I cooked them to ensure the best taste and flavor.
What could you make with the leftover baked chicken?
Don't limit yourself to plain oven baked chicken breast leftovers.
Get creative! You can tear the chicken from the bone (if not using boneless) and toss it into a salad.
Alternatively, whip up a delightful chicken salad recipe by adding boiled eggs and dill pickles.
The possibilities are endless when it comes to repurposing chicken leftovers!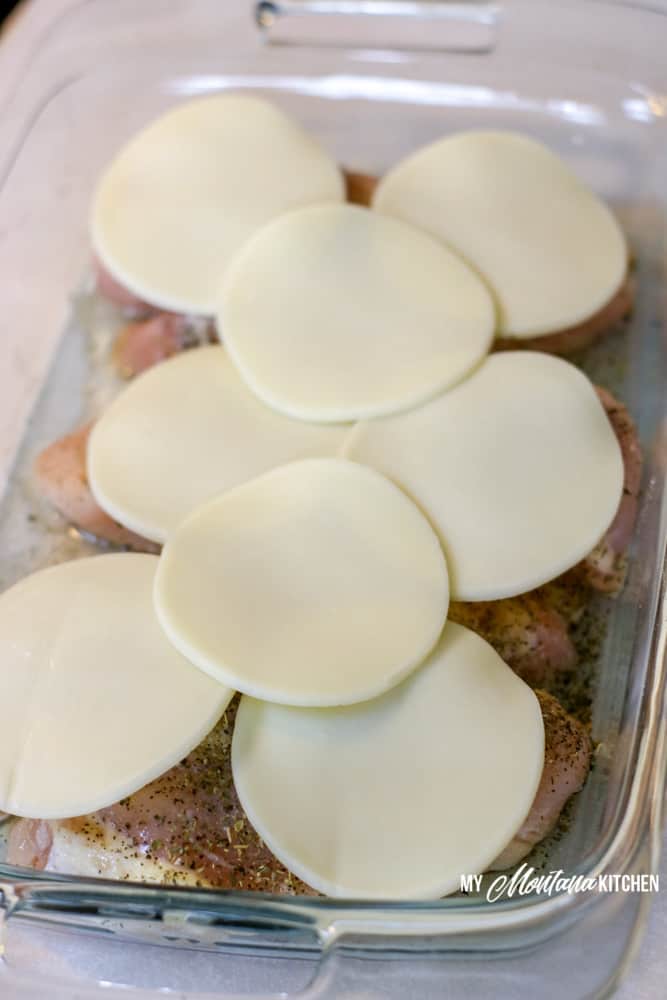 What is the best way to make certain that the chicken is cooked all the way through?
Properly cooked chicken is crucial for food safety. To ensure your chicken is fully cooked, invest in a meat thermometer—it's a kitchen essential.
I highly recommend investing in a meat thermometer for all your meat cooking needs.
Why take the risk when your meat thermometer will be able to tell you exactly when it's done and if it's at the right temp?
A meat thermometer will provide an accurate reading, letting you know when your chicken reaches the safe temperature of 165 degrees Fahrenheit.
Remember to insert it into the thickest part of the meat, avoiding contact with the bone if you're not using boneless chicken.
At what temperature is chicken considered fully cooked?
When your meat thermometer reads 165 degrees Fahrenheit, you know that your chicken is done and safe for consumption.
However, it's important that you insert it into the thickest part of the meat and also make certain that it's not touching the bone (if not using boneless chicken).
You don't want to get a false reading because it's touching the hot inner bone of the chicken. 
How long to bake chicken breast in the oven?
To achieve perfectly cooked chicken, you need to bake it at 375 degrees Fahrenheit for approximately 45 to 55 minutes.
This cooking time is based on using boneless, skinless chicken breasts that are about 6 to 8 ounces in size.
However, it's important to keep in mind that the actual cooking time may vary depending on the thickness of the chicken breast and type of chicken you are using.
Can you use another cheese besides provolone for this cheesy chicken recipe?
Of course. You can switch it up and use whatever cheese you would like. Or, if you want to, you can eliminate it altogether!
When you're cooking, you ultimately get to decide what you want to put in the recipe or not.
Cheese Variations:
Mozzarella and Parmesan: Create a classic Italian flavor profile by using mozzarella cheese along with grated Parmesan. This combination will give your chicken a rich, gooey texture.
Cheddar and Bacon: Add a touch of smokiness and richness by using sharp cheddar cheese and topping the chicken with crispy bacon bits before baking. This combination is perfect for those who love a savory, indulgent dish.
Feta and Spinach: For a Mediterranean-inspired twist, stuff the chicken breasts with a mixture of crumbled feta cheese and sautéed spinach. Season with garlic, oregano, and lemon zest for a burst of bright flavors.
Blue Cheese and Buffalo Sauce: If you enjoy a bit of heat, try smothering your chicken with blue cheese crumbles and a drizzle of buffalo sauce. It's a spicy and tangy variation that's sure to excite your taste buds.
Spice and Seasoning Variations:
Cajun Spice: For a spicy kick, rub the chicken breasts with Cajun seasoning before baking. This will infuse the dish with a bold and zesty flavor.
Lemon and Herb: Season the chicken with a blend of fresh or dried herbs like rosemary, thyme, and parsley, along with a generous squeeze of lemon juice. This combination is bright and refreshing.
Garlic and Paprika: Combine minced garlic and smoked paprika for a smoky, garlic-infused flavor. It's a simple yet incredibly tasty option.
Remember to adjust the seasonings and cooking times accordingly to complement your chosen cheese and spice combinations. With these ideas, you can transform your Cheesy Provolone Baked Chicken into a diverse array of mouthwatering dishes that cater to your preferences and cravings.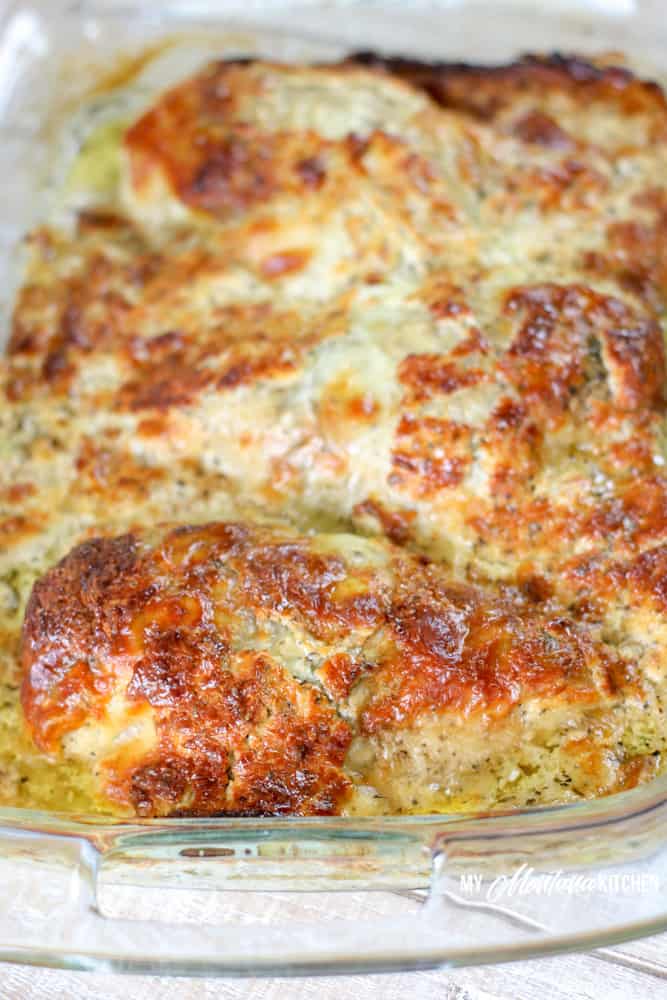 What would be a good side dish to serve with this meal?
Side dishes are just the best! And when it comes to finding a good one, it can seriously be hard to narrow it down. Here are a few of my favorites that I know are good!
And those are just a few! A nice salad is always a great choice as well!
And if you are really into easy chicken dishes, you may like this Easy Cashew Chicken Recipe! (You may want to substitute xantham for the cornstarch, and serve it with cauliflower rice.)
Ingredients needed to make this cheesy provolone dish:
3 to 4 boneless, skinless chicken breasts

½ teaspoon salt

½ teaspoon pepper

1 teaspoon garlic powder

1 teaspoon Italian seasoning

8 slices provolone

½ cup mayonnaise

½ cup sour cream

¾ cup shredded or grated parmesan cheese
See how simple this recipe is?! Most of the ingredients are adding seasonings and condiments that just add to the flavor and taste!
Ready for the recipe?!
How to make Cheesy Provolone Baked Chicken - Oven Baked Chicken Breast Recipes
There's no time like now to make this homemade chicken dinner! When your family members are craving something delicious and tasty, this is a super simple recipe that everyone will love!
Plus, if you do happen to have any leftovers, the entire family will happily eat them and enjoy!
Please pin this Cheesy Provolone Baked Chicken recipe for later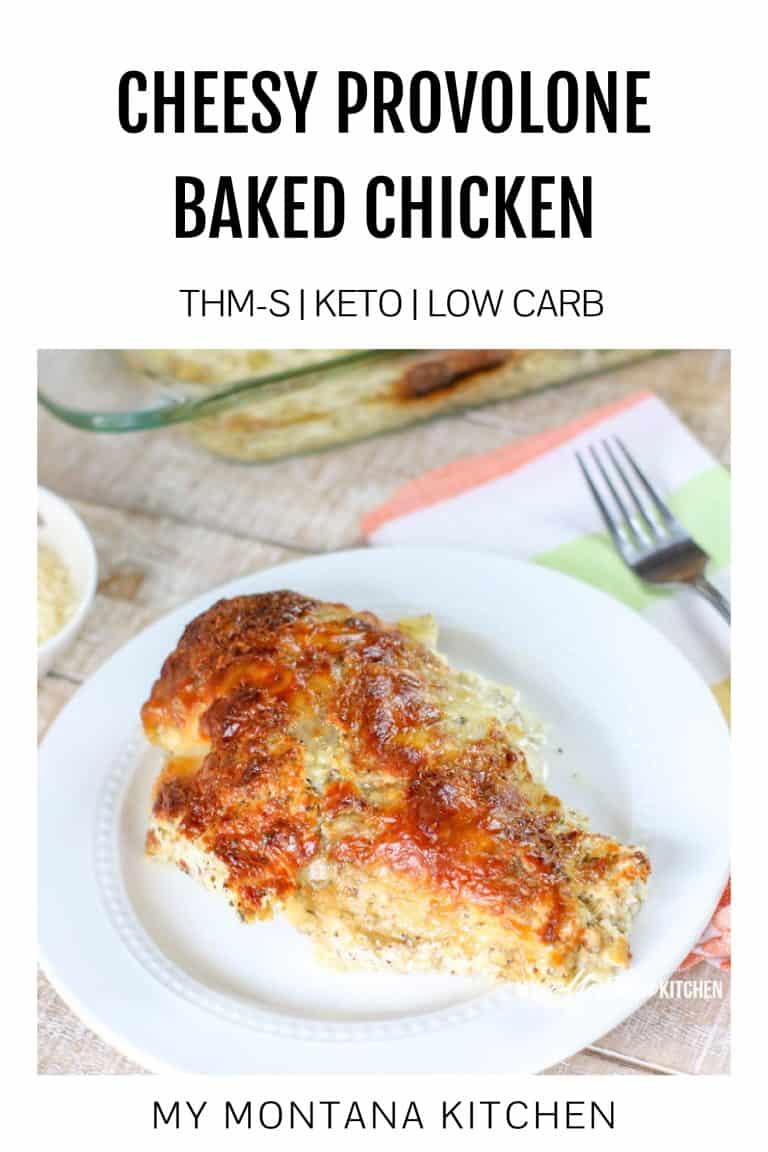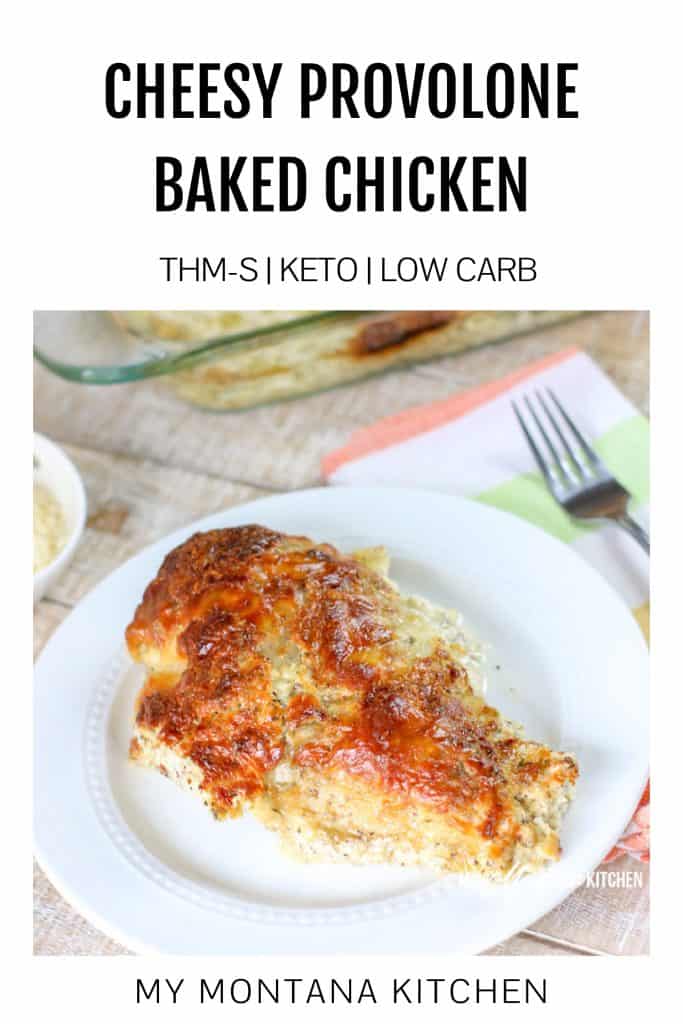 Yield: 4
Cheesy Provolone Baked Chicken - Oven Baked Chicken Breast Recipes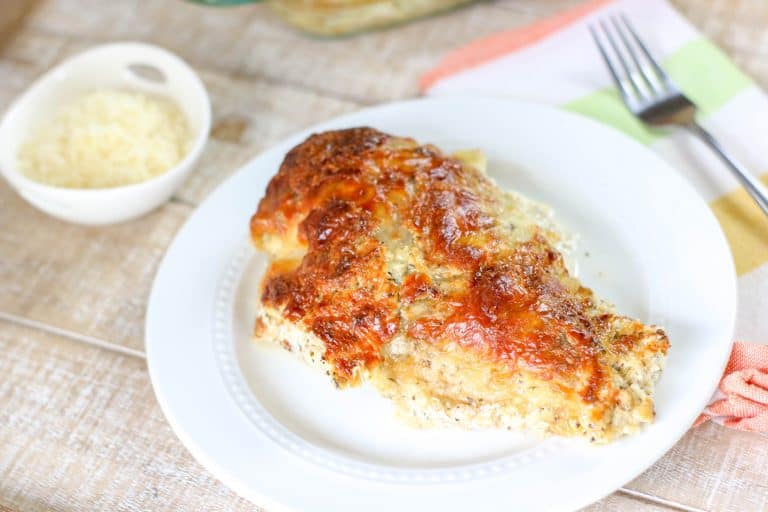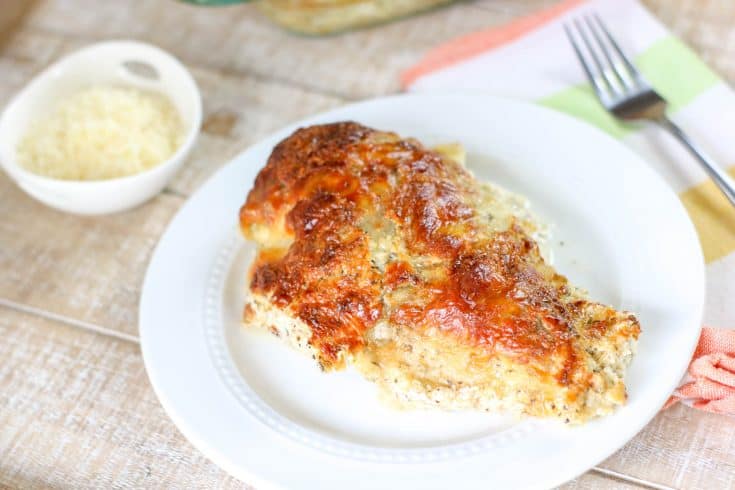 You'll love how simple this oven baked chicken breast recipe is!
Total Time
1 hour
10 minutes
Ingredients
4 Boneless, Skinless Chicken Breasts
½ Teaspoon Salt
½ Teaspoon Pepper
8 Slices Provolone Cheese
½ Cup Sour Cream
Instructions
Preheat oven to 375 degrees. Spray a 9x13 baking dish with non-stick cooking spray. Place chicken in baking dish.

Mix together salt, pepper, garlic, and Italian seasoning. Sprinkle a small amount over chicken breasts. Top with sliced provolone cheese.

In a medium bowl, blend together the remaining seasonings with mayonnaise, sour cream, and parmesan. Spread over provolone.

Bake for 45 minutes to 1 hour, or until chicken reaches an internal temperature of 165 degrees.
Notes
Recommended Products
As an Amazon Associate and member of other affiliate programs, I earn from qualifying purchases.
Nutrition Information
Yield
8
Serving Size
1 Chicken Breast
Amount Per Serving
Calories

361
Total Fat

25g
Saturated Fat

10g
Trans Fat

0g
Unsaturated Fat

14g
Cholesterol

93mg
Sodium

683mg
Carbohydrates

3g
Fiber

0g
Sugar

1g
Protein

29g