We may earn money from the products/companies mentioned in this post. As an Amazon Associate I earn from qualifying purchases.
How to Roast Broccoli in the Oven
A quick and easy side dish, this Oven Roasted Broccoli Recipe only uses a handful of ingredients, but is delicious enough to become your new favorite low carb side dish!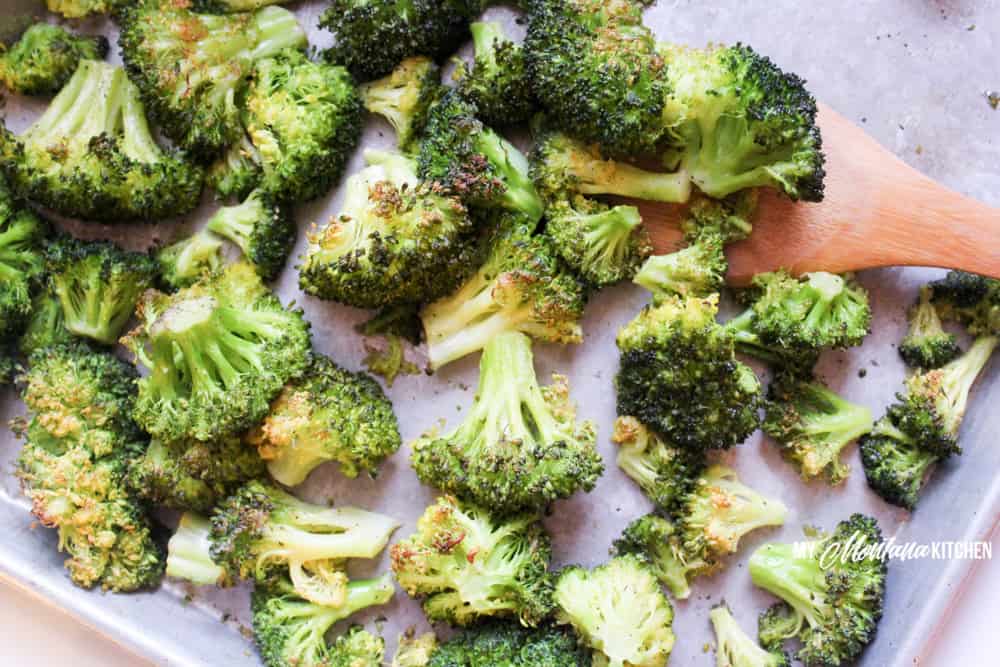 Is Roasting Broccoli Healthy?
Roasting vegetables is my preferred method of cooking.
Research shows that "drier" methods of cooking help to retain more nutrients and vitamins than boiling. So roasting broccoli in the oven is a great way to retain some of those important nutrients found in broccoli. You could also grill your vegetables or stir-fry them!
I love oven roasting the broccoli because it really brings out the flavor, and gives it a delightful texture!
I like my broccoli still crisp-tender, with the tips just barely crispy. Mmmmmm! I actually crave broccoli (call me weird if you want), but I have always loved it!
Oven roasting your vegetables does not have to be limited to broccoli!
You can roast cauliflower, zucchini, green beans, parsnips, and even carrots. (Carrots would be an "E" fuel if you are a Trim Healthy Mama, so you would not want to use more than a teaspoon of oil. Garnish amounts of carrots are ok when cooked, but if eating very many, it is best kept to an E setting.)
Roasted Broccoli in the Oven
You may wonder, how can I cook broccoli without a steamer? The easy answer is roast it in the oven!
Baking broccoli in the oven couldn't be more simple. (And we all need more simple in our life, am I right?)
All you need to do is grab a large Ziplock bag, add your vegetables, oil and spices. Then seal the bag and shake well to coat all of the broccoli.
You don't even have to use a bag. You could simply pour out the broccoli on the baking sheet, drizzle with oil, sprinkle with spices, then use your hands to mix them well.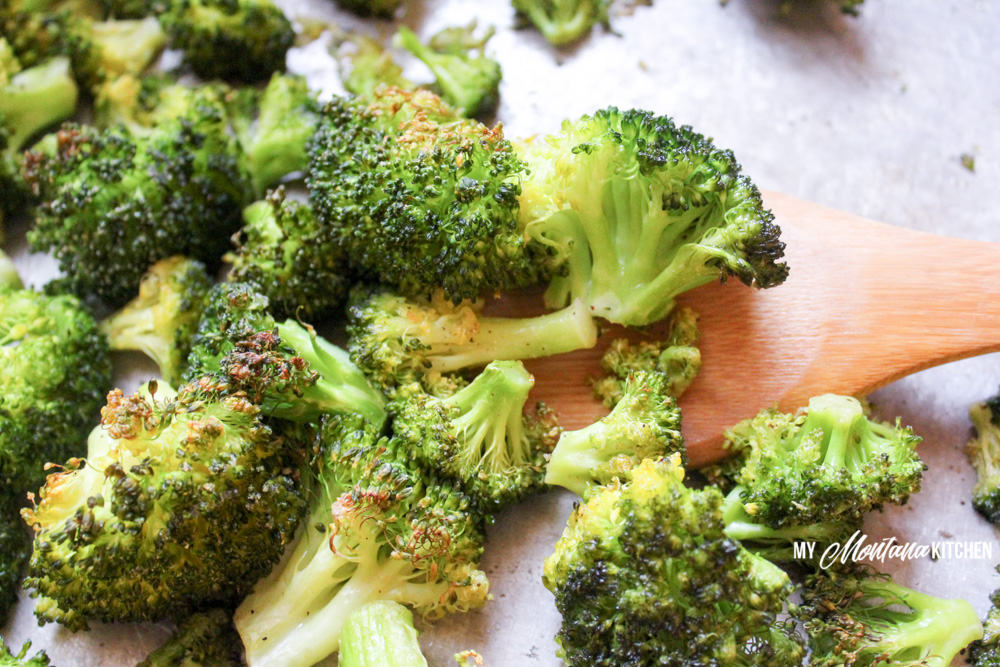 Can You Roast Frozen Broccoli?
Yes, you can absolutely roast frozen broccoli in the oven. I prefer using fresh broccoli for this recipe (I like it a bit crisp-tender), but you can certainly roast frozen broccoli.
And as a bonus, frozen broccoli is usually less expensive than fresh (but still retains the good vitamins and minerals).
[clickToTweet tweet="Check out this easy oven roasted broccoli recipe!" quote="A super easy week-night side dish."]
How Can I Make Broccoli Taste Better?
If your children (or you) do not enjoy the flavor of broccoli, you may be asking, "How can I make broccoli taste good?"
My favorite way is to use an all-natural spice blend to "spice" things up a bit.
My sister introduced me to Peptaste, an all-natural blend of herbs and spices that is MSG-free!
Her husband often uses this spice blend to make a homemade salad dressing, and I love to sprinkle it on everything!
Unfortunately, it is only available in Buffalo, NY, where it is produced. (If you are interested in ordering a bottle, you can place an order here).
But you can use any all-purpose seasoning - Mrs. Dash would be a good place to start!
You can also squeeze fresh lemon on your broccoli after it has roasted, and right before you serve it.
Sometimes I enjoy sprinkling my broccoli with grated Parmesan Cheese before I roast it in the oven.
But if you do not have PepTaste or Mrs. Dash, that's ok. Simply sprinkle your broccoli generously with mineral salt and fresh ground pepper. It is scrumptious!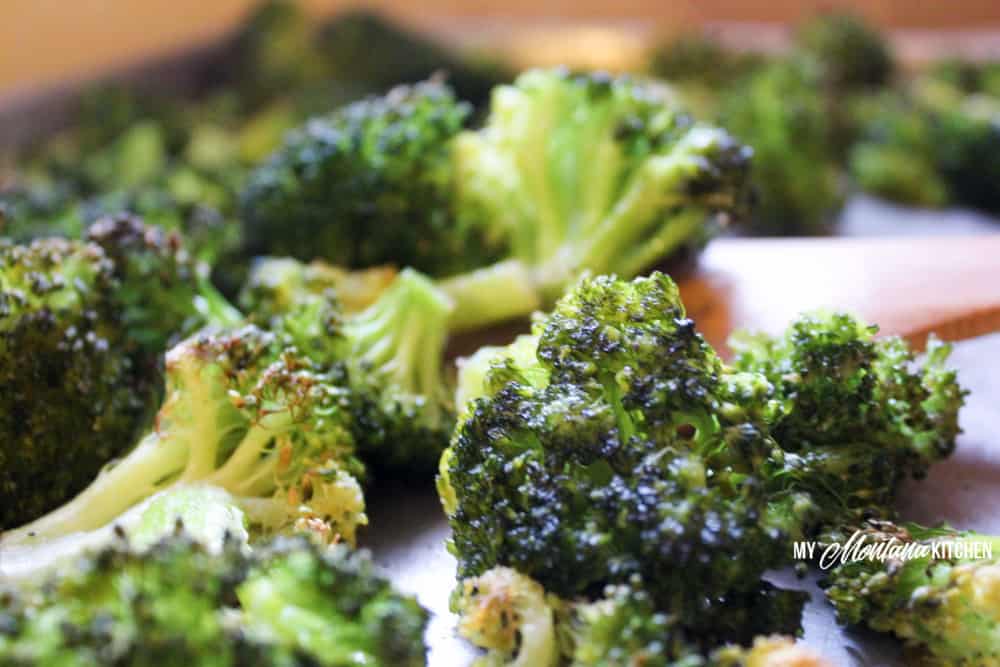 How Many Calories are in Broccoli?
There are only about 31 calories per cup of broccoli, making this delicious vegetable a great choice for everyone!
Broccoli also contains a great number of vitamins and minerals, as well as fiber - and even protein!
1 Cup of Broccoli contains about three grams of protein. That is relatively high for a vegetable!
Low Carb Broccoli Recipes
Here are some other delicious ways you can enjoy broccoli!
Cheesy Chicken & Broccoli Casserole
Creamy Ham & Broccoli Casserole
Broccoli Alfredo Soup with Sausage
Broccoli Fritters with Cheddar Cheese
Creamy & Crunchy Broccoli Salad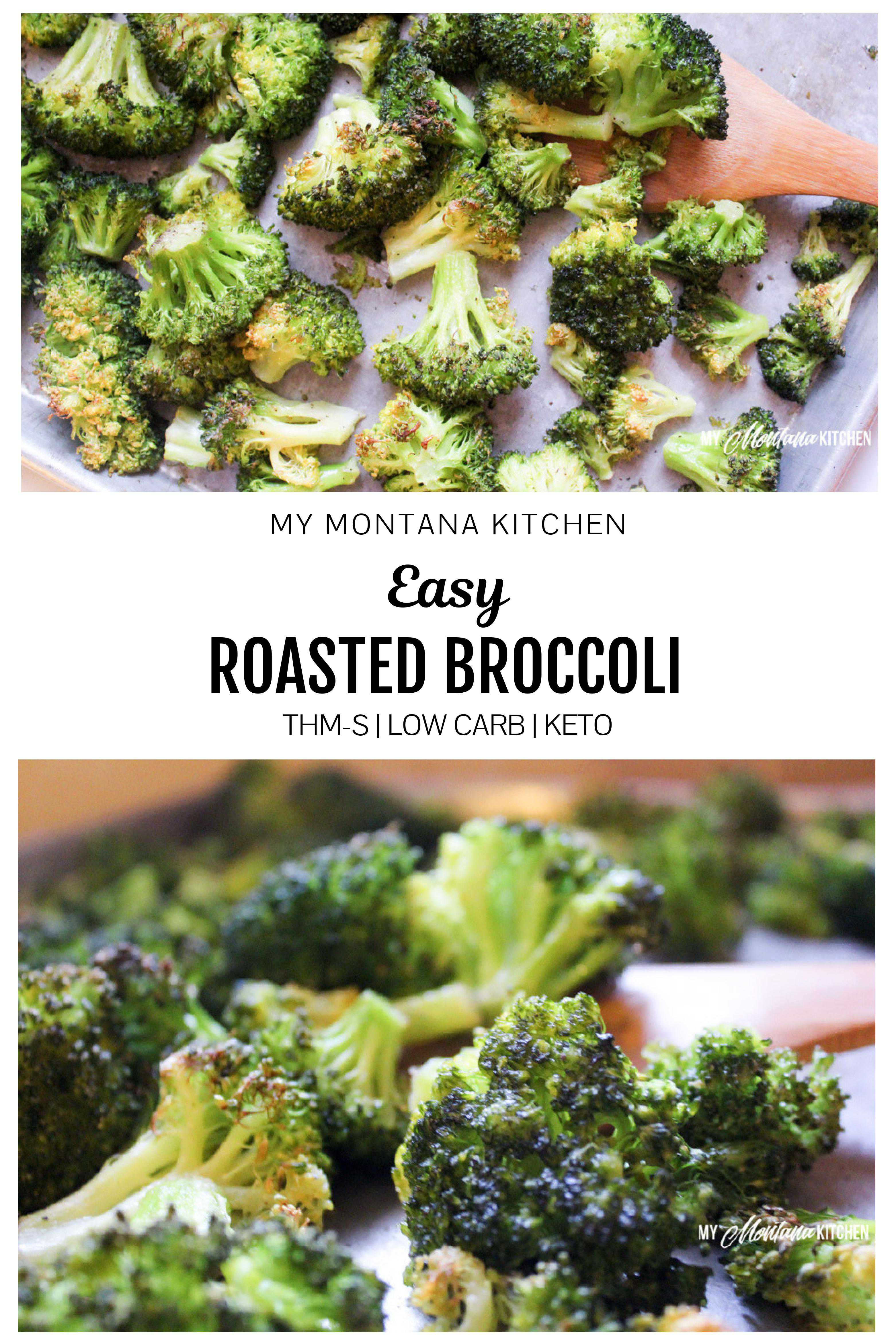 Yield: 4 Cups
Easy Oven Roasted Broccoli Recipe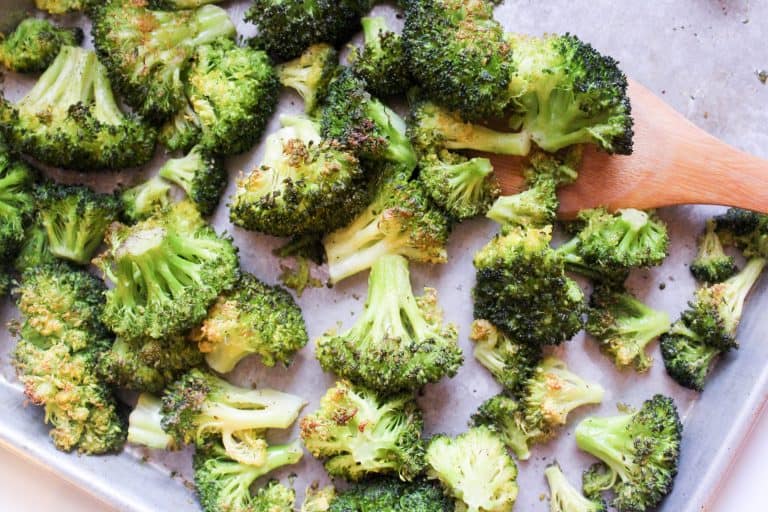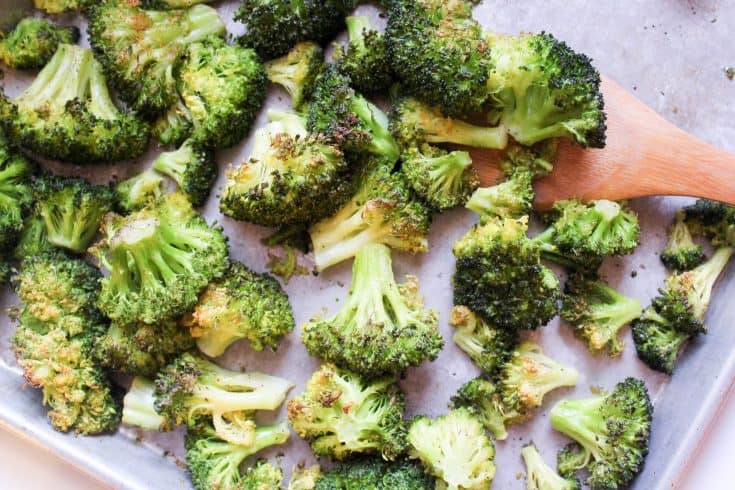 A quick and easy side dish, this Oven Roasted Broccoli Recipe only uses a handful of ingredients, but is delicious enough to become your new favorite low carb side dish!
Ingredients
4 Cups Fresh Broccoli Florets
Instructions
Preheat oven to 425.

Place broccoli in a large gallon-size Ziplock bag, then add refined coconut oil, salt and pepper, and shake bag to coat the broccoli with the oil and spices.

Pour out onto a baking tray and roast for 20-25 minutes or until slightly crisped on the top.
Notes
Recommended Products
As an Amazon Associate and member of other affiliate programs, I earn from qualifying purchases.
Nutrition Information
Yield
4
Serving Size
1 Cup
Amount Per Serving
Calories

121
Total Fat

11g
Carbohydrates

6g
Fiber

2g
Protein

3g