We may earn money from the products/companies mentioned in this post. As an Amazon Associate I earn from qualifying purchases.
This low carb Chicken Alfredo Pizza recipe is a satisfying (and delicious!) gluten free pizza that you're going to want to make again and again.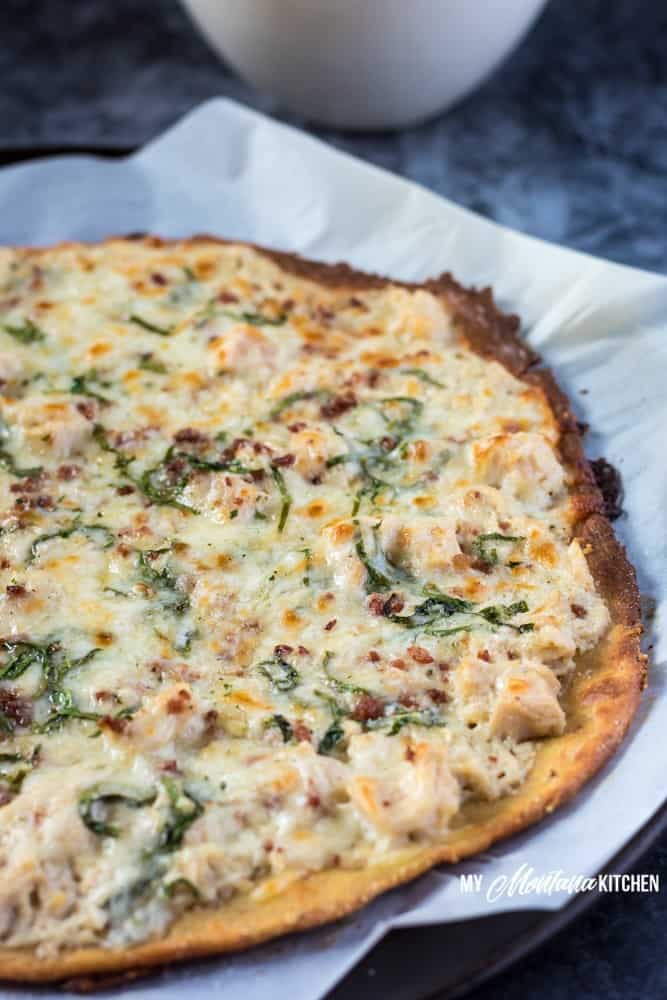 Just because you're eating low carb, doesn't mean you have to sacrifice your favorite foods. Not even a little. This low carb Chicken Alfredo Pizza recipe is proof of that!
With both the crust and creamy parmesan garlic sauce being low carb and gluten free, here's a treat you can enjoy guilt-free.
Every great pizza has four components that come together to make it perfect: the dough, the sauce, the cheese, and the toppings.
So to make the best low carb pizza you've ever had, you need a great crust recipe, delicious sauce, cheese, and your favorite toppings. Simple enough...let's get started!
The Best Low Carb Pizza Crust
To make this (or any!) low carb pizza is very simple. Really, it's the crust that makes it so good! So many times, "diet" crusts end up tasting like cardboard or have an odd texture that leaves you missing your "real" pizza. Oh, I get it, friend!
But that's one reason this Chicken Alfredo Pizza recipe is so good. The crust is filling, satisfying, and just right.
To make it, start with a batch of low carb Stromboli dough . Then, roll out your dough ball between two pieces of parchment paper, until you get a 12-14" crust.
Place the dough on a pizza pan lined with parchment paper or a baking stone and prick all over with a fork. If you skip the pricking, the dough will bubble up and mess up your beautiful pizza...so take a second here and make sure to do that.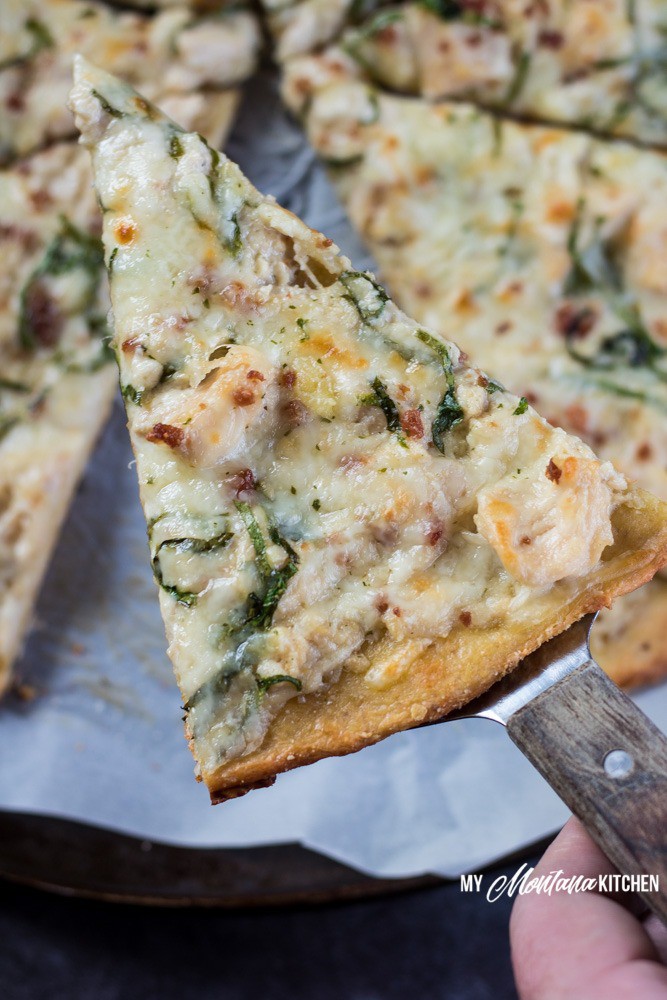 Then, bake the empty low carb pizza crust for 10-11 minutes. You'll know it's done when the crust is just starting to turn a golden brown.
This is seriously one of my favorite pizza crusts of all time. The fact that it's a low carb, gluten free pizza crust is a bonus.
Low Carb Pizza Sauce: Alfredo style
You've got the best low carb pizza crust in your oven, so it's time to whip up some Alfredo Sauce for your pizza.
In a medium sized skillet, melt your butter and sauté freshly minced garlic cloves for 1-2 minutes. They'll get lightly browned and very fragrant. Next, add in your heavy cream and stir well; you want the butter, garlic, and cream to become one even sauce. Then sprinkle in the parmesan cheese and continue to stir so it's all blended.
Then simmer the sauce for 5-10 minutes, while it thickens.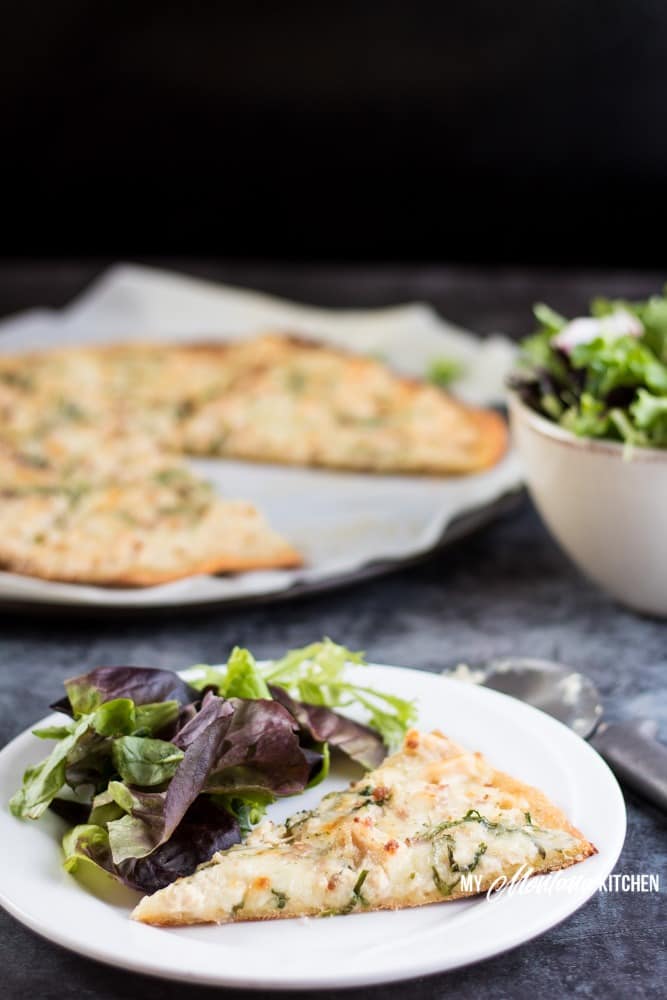 The result is a creamy parmesan garlic sauce that is going to take this Chicken Alfredo Pizza recipe right to the top of your list of favorite foods!
Spread it on top of your baked crust and now you are ready to finish it off with the melt in your mouth toppings that are going to absolutely knock your socks off.
Chicken Alfredo Pizza Recipe Toppings
Some people like to put the cheese on first and then load on the toppings. Others like to put some vegetables on the sauce and then add the cheese and the rest of the toppings. You're the chef here, friend, so you choose!
If you like artichokes, they are great to layer in the creamy garlic parmesan sauce before you sprinkle on the mozzarella cheese.
Once you've added your cheese, you'll top with with crispy bacon pieces, shredded chicken, and baby spinach leaves. As a last bonus before baking it, sprinkle some garlic salt on top.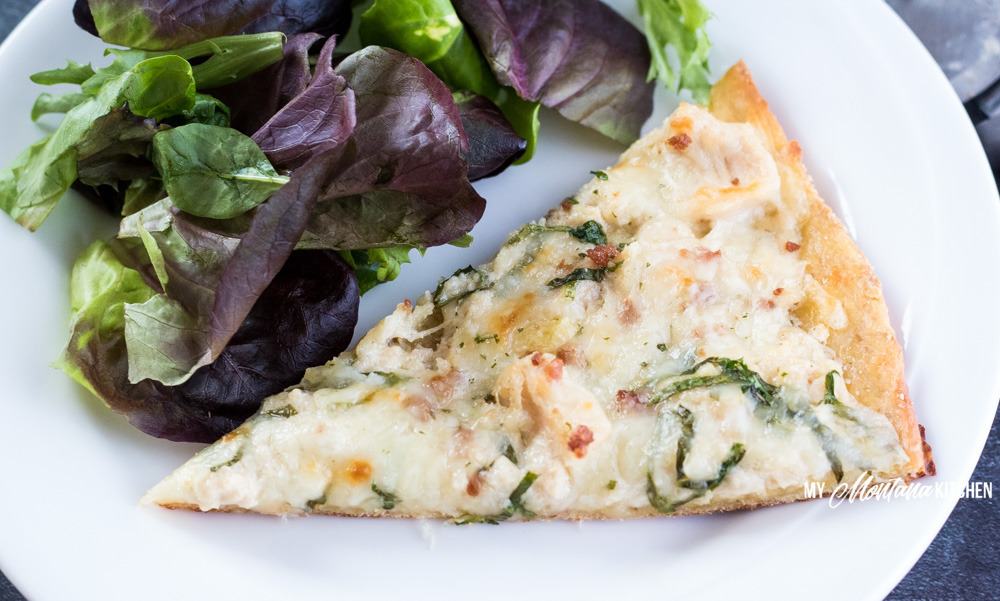 Aren't all those colors beautiful together? I love a vibrant plate. It just looks so appetizing to me.
Toss the pizza back into your oven for 10-12 minutes until your cheese is melted and started to get that golden tint that you see on mouth-watering pizza.
Other Topping Ideas
If you want some more toppings on there, you've got plenty of options.
In the mood for a spicy chicken Alfredo pizza? Dice up some hot peppers and sprinkle across the top, or add some dried crushed red chili pepper to the Alfredo Sauce. (Remember that spicy food gets even hotter when cooked.)
Freshly diced tomatoes would also be delicious sprinkled on top of the pizza. Some lightly caramelized onions would also be amazing. A few black olives would taste great, as well.
Serving Healthy Chicken Alfredo Pizza
So how do you serve up your healthy, low carb, gluten free chicken Alfredo pizza recipe?
Any way you want.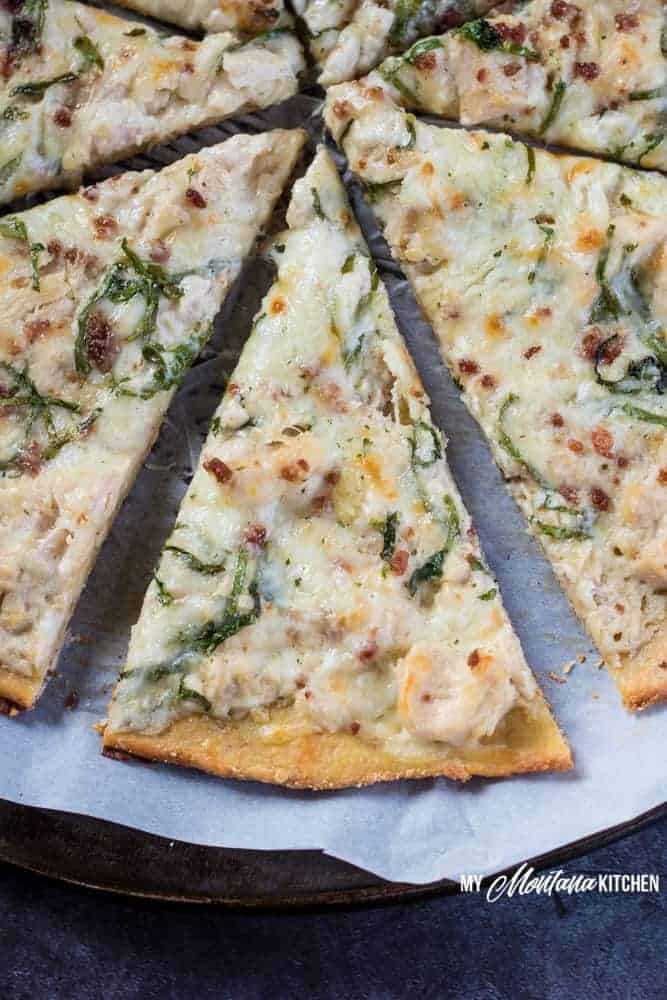 Honestly, this is so filling because of all the cheese in the dough on the toppings on it that one or two slices is plenty. It pairs beautifully with a Caesar side salad (especially if you use this homemade Caesar dressing).
You can share it with your family (even husbands and kids love it!), of course, or you can make it up to use for your low carb lunches throughout the week. It's great cold or re-heated.
Other Alfredo Recipes You'll Enjoy
If you love this chicken Alfredo pizza recipe, you'll also enjoy these other Alfredo recipes. Our family is a huge fan of creamy garlic and parmesan together, so we have a long list of meals we like and think you will, too. Here are our favorites meals that are made with low carb Alfredo Sauce.
This is hands down one of the most popular recipes here at My Montana Kitchen. Alfredo chicken casserole is an overwhelming favorite for my readers...and my family. And really, why wouldn't it be? It's easy, creamy, savory, satisfying goodness in one dish.
This pasta dish is a one-skillet meal and uses zoodles for the pasta and a healthy smoked sausage. If you haven't yet tried this sausage Alfredo recipe, you should seriously think about adding it to your meal plan.
This is an awesome date night meal or family favorite. Succulent shrimp tossed with creamy garlic Alfredo atop your favorite pasta or pasta substitute...what's not to love about it?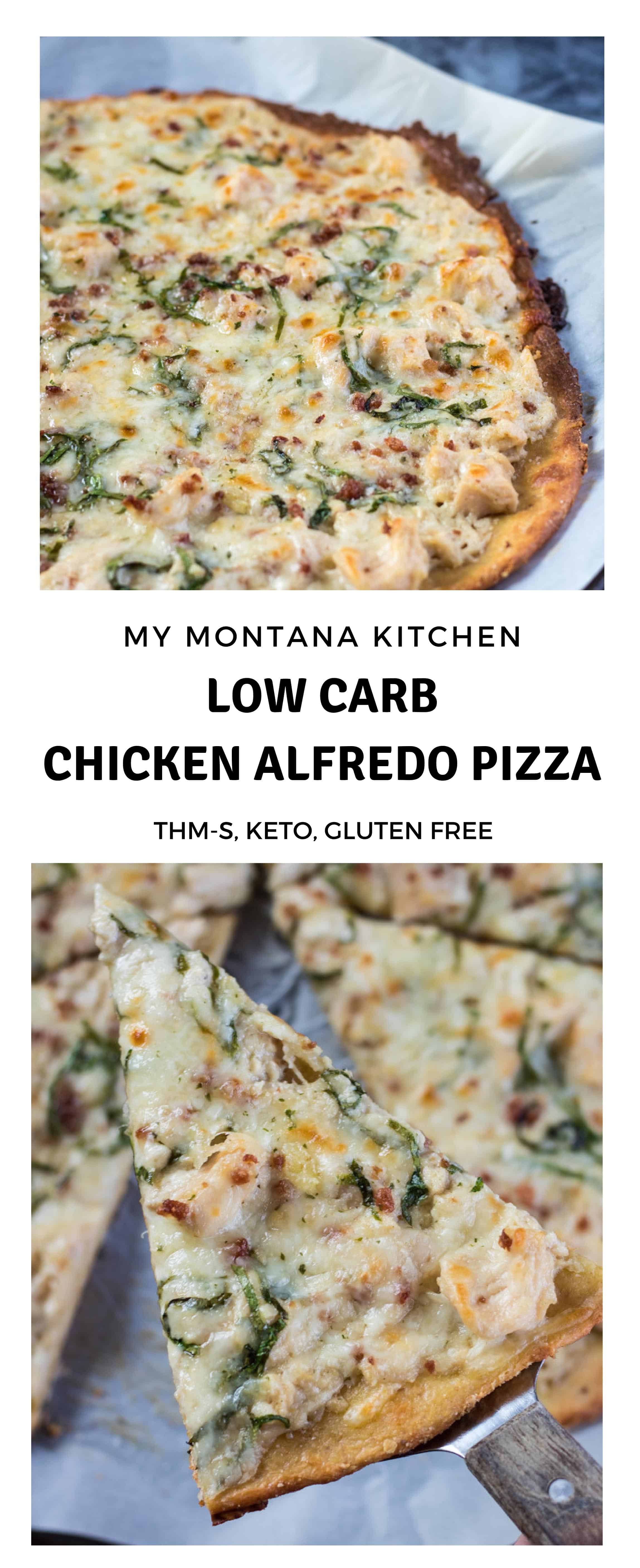 Low Carb Chicken Alfredo Pizza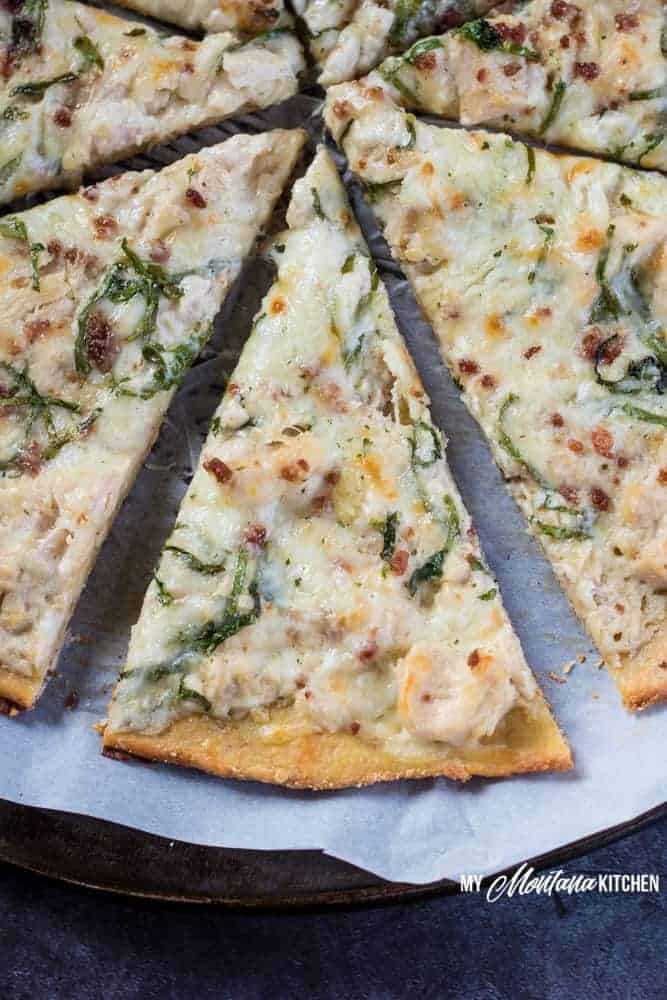 This low carb Chicken Alfredo Pizza recipe is a satisfying (and delicious!) gluten free pizza that you're going to want to make again and again.
Ingredients
1 Recipe Low Carb Stromboli Dough
2 Tablespoons Butter
3 Garlic Cloves, crushed/minced
1 Cup Heavy Whipping Cream
½ Cup Grated Parmesan Cheese (I use the green-can variety)
FOR PIZZA:
1 Cup Shredded Cooked Chicken
¼ Cup Fresh Spinach, chopped
2 Tablespoons Real Bacon Pieces
¾ Cup Shredded Mozzarella Cheese
Garlic Salt, to taste
Instructions
Make the Crust

Preheat oven to 400.

Make the Low Carb Stromboli Dough.

Roll dough out between two sheets of parchment paper until you have a large 12-14 inch circle.

Place the dough on a pizza pan lined with parchment paper.

Prick all over with a fork (this will reduce bubbling).

Bake for 10-11 minutes, or until crust begins to turn golden brown.

Make the Alfredo Sauce

In a medium skillet, melt butter and sautee garlic for 1-2 minutes.

Add heavy cream and stir well.

Add Parmesan and stir again.

Reduce heat and simmer for 5-10 minutes, or until sauce begins to thicken.

Assemble Pizza

Add chicken to the sauce, mixing well.

Spread sauce mixture on cooked crust.

Top with spinach, bacon, shredded mozzarella cheese, and sprinkle with garlic salt.

Bake for 10-11 minutes, or until cheese is melted and beginning to turn golden.