We may earn money from the products/companies mentioned in this post. As an Amazon Associate I earn from qualifying purchases.
A comforting take on a classic favorite Italian dish, this creamy keto shrimp alfredo recipe is sure to please your entire family!
Super creamy, rich, and satisfying, this Shrimp Alfredo recipe is both low-carb and keto, as well as a Trim Healthy Mama S Fuel!
This is a dinner that is nice enough to serve to company, and easy enough to make on a busy weeknight!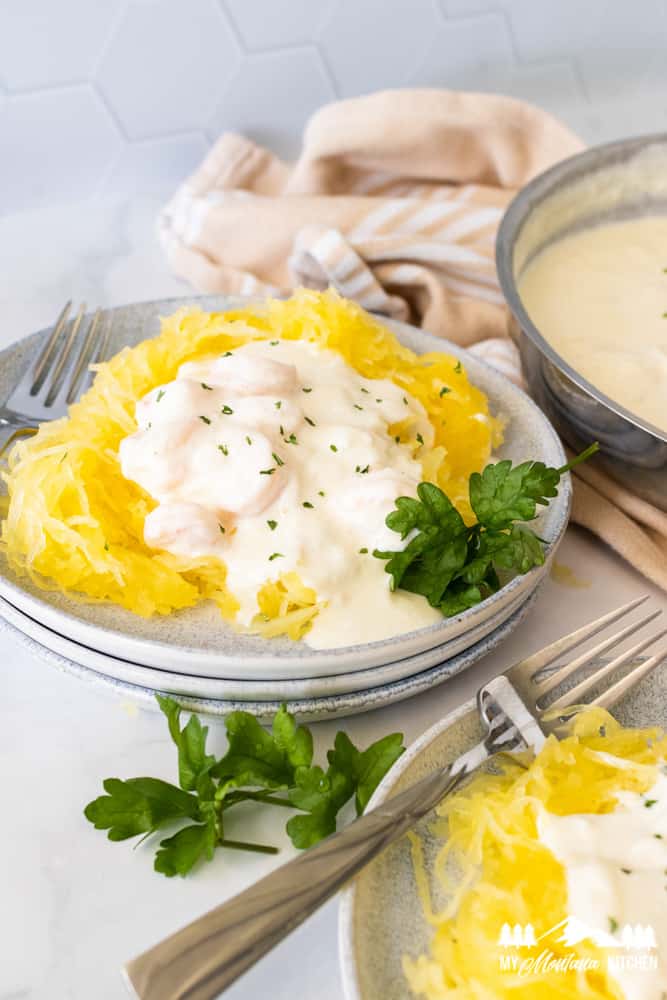 Is Shrimp Alfredo keto-friendly?
Most Shrimp Alfredo dishes that you would order at a restaurant are served over traditional pasta.
Those pasta dishes are not keto-friendly (or Trim Healthy Mama friendly), but this Creamy Shrimp Alfredo Recipe uses spaghetti squash in place of the traditional pasta, so this particular recipe is keto-friendly! (And this recipe is a Trim Healthy Mama S fuel.)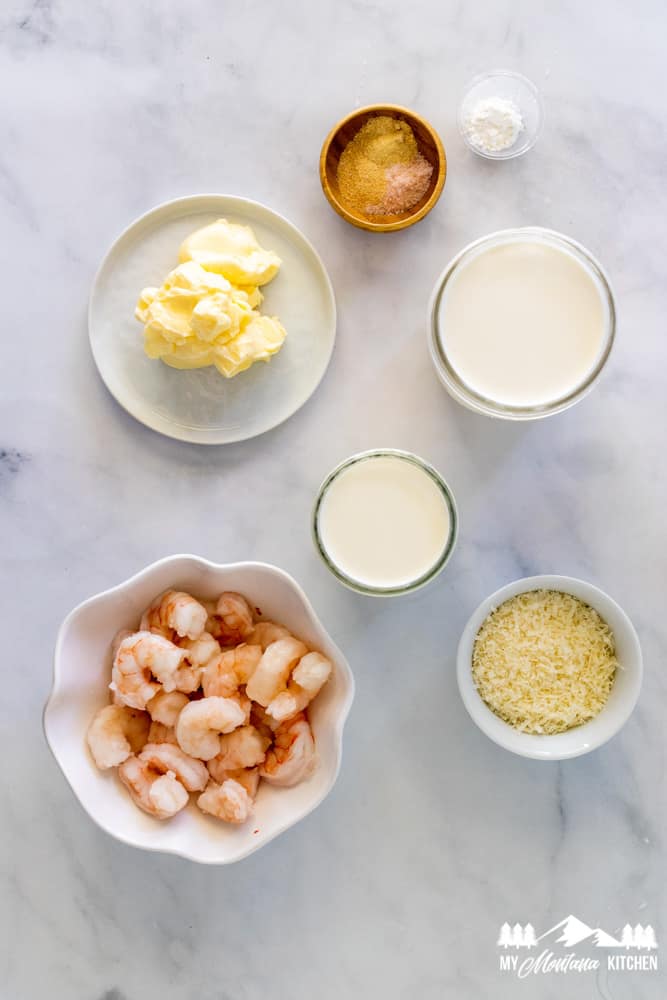 Is shrimp expensive?
I know shrimp can sound like an expensive entree, but truly it can be an economical choice.
I can purchase a large bag of small pre-cooked shrimp at Walmart for less than $10.
I only used half for this recipe, so we can get two meals out of one bag. That sounds like a decent deal for me, but I still tend to reserve shrimp for special occasions (I guess it's just all in my head)!
My family really enjoyed this dinner, and the first time I served it, I served it over Dreamfields Pasta.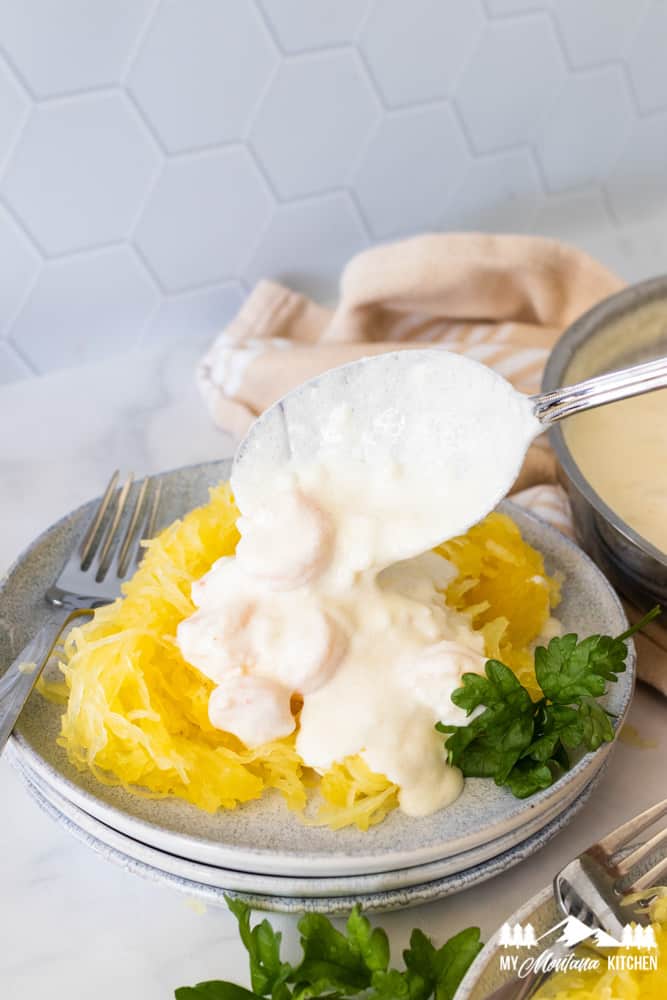 Is Dreamfields Pasta Trim Healthy Mama friendly?
I know there are mixed feelings about Dreamfields, but the official THM stance is that it is okay as a personal choice item once per week
Dreamfields pasta has a special coating on it that keeps your body from digesting it as a carb.
This is what THM's call a "frankenfood" because it is not a whole complete food. Some people can eat it every week and do fine, while others cannot.
It's best to learn what your body will do and adjust accordingly.
I haven't had any problems using it, but if you are uncomfortable with it, serve this Creamy Shrimp Alfredo over zoodles (zucchini noodles) or spaghetti squash.
I love using spaghetti squash as a substitute for pasta!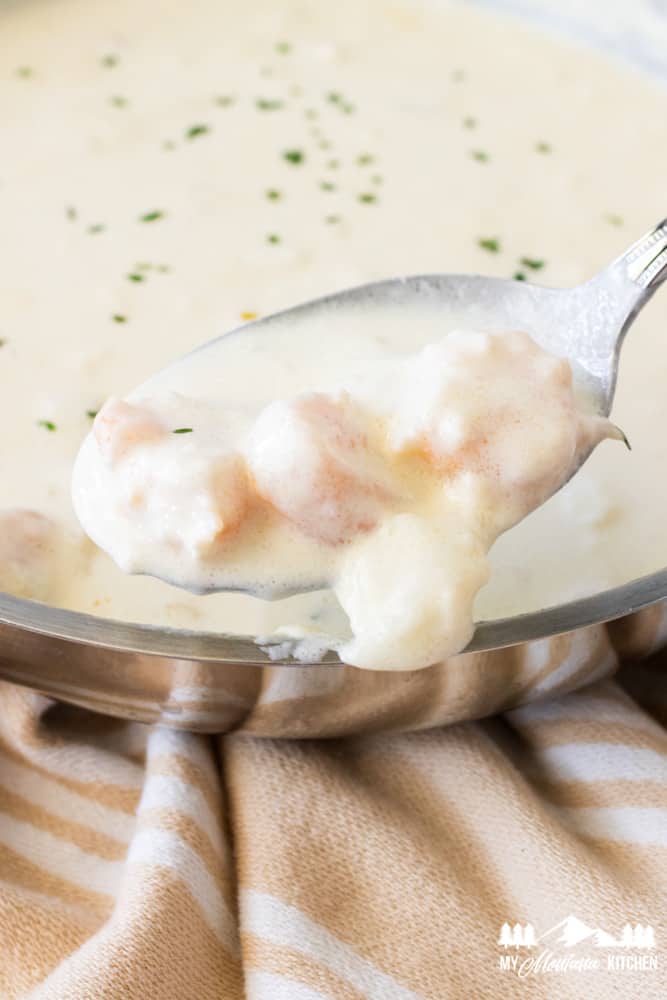 Is spaghetti squash keto?
Yes, spaghetti squash is keto-friendly! One cup of spaghetti squash has 42 calories, 10 grams of carbs, and 2 grams of fiber for a total of 8 net carbs per cup.
For a pasta substitute, that is pretty great!
Plus, spaghetti squash is a good source of Vitamin C and Vitamin B6!
This makes cooked spaghetti squash the perfect choice for Spaghetti Squash Shrimp Alfredo!
How to Make Keto Shrimp Alfredo
You'll begin by melting the butter in a skillet over medium heat.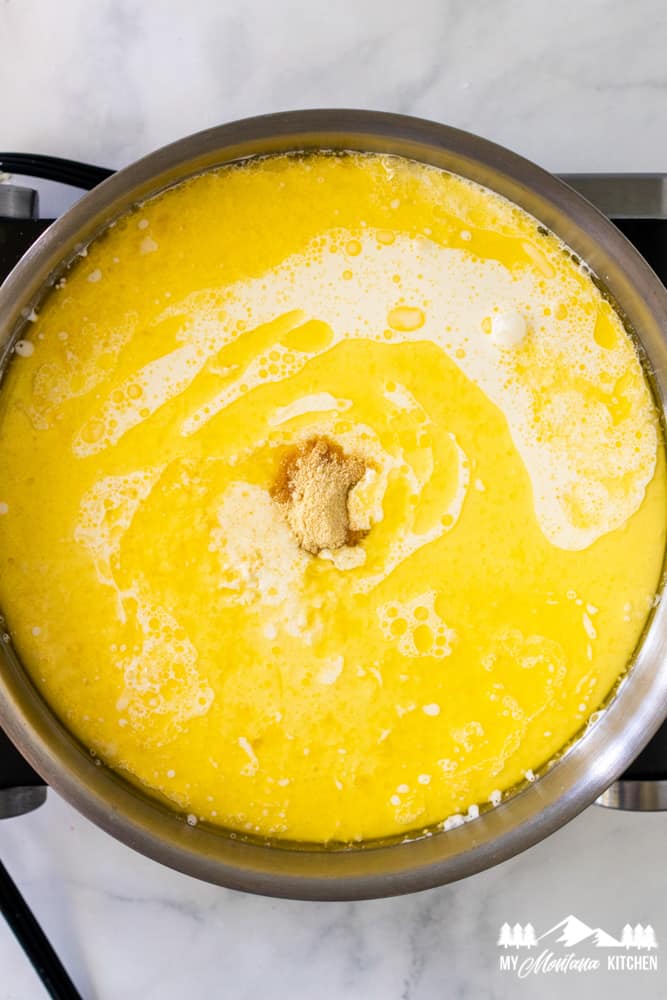 Then add the half & half, heavy cream, and salt and onion, and garlic powders.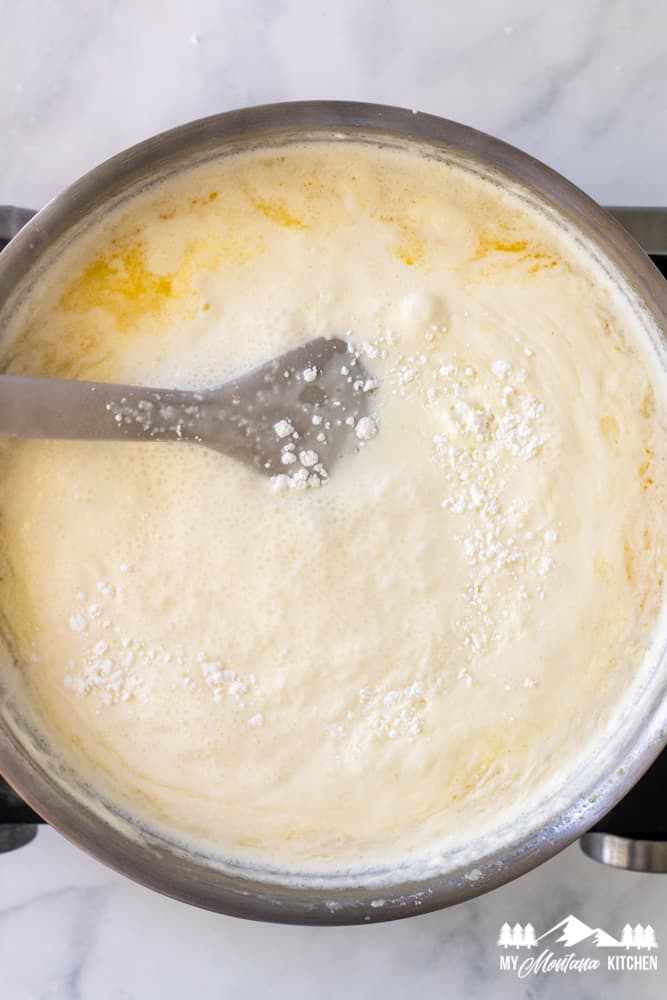 Heat this until it just begins to simmer, then add the grated parmesan and sprinkle the glucomannan powder over the mixture, while whisking it well.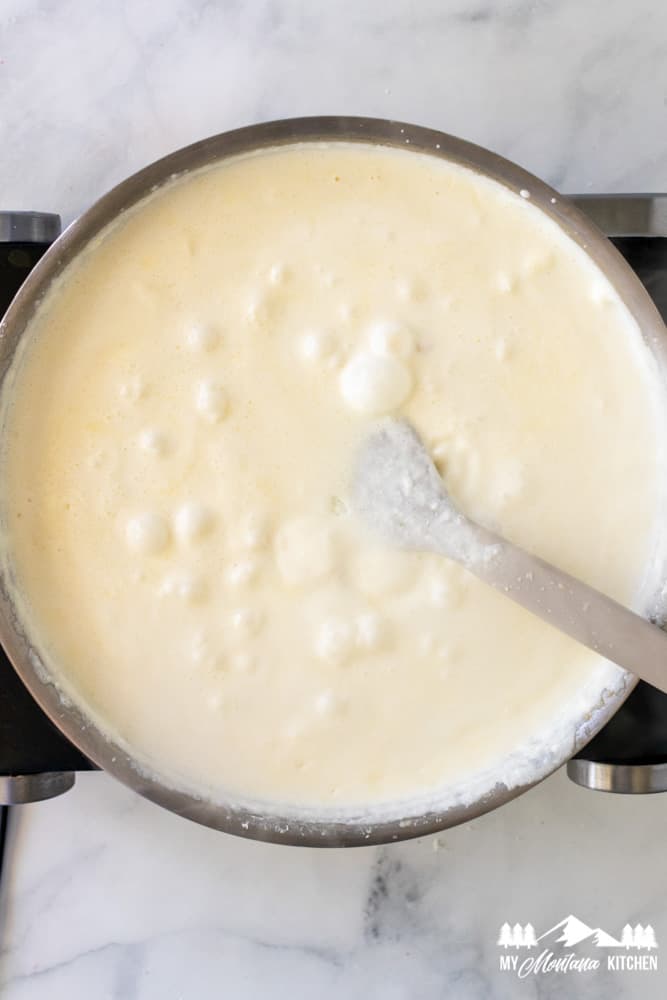 Then add the shrimp and let simmer until the alfredo sauce thickens.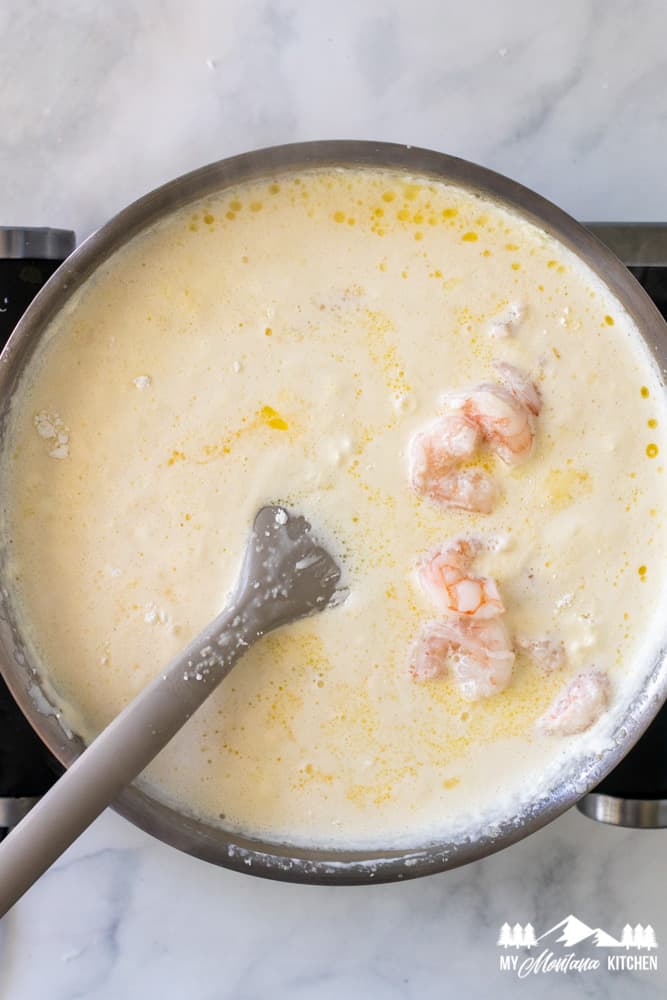 Can I use Xanthan Gum to replace glucomannan?
While xanthan gum is not always a 1:1 substitute for glucomannan, it should work in this case. Xanthan can tend to be a little slimy, so you could start with a little less, then add more if you need it.
Can I use powdered Parmesan Cheese instead of grated cheese to make Alfredo Sauce?
Yes, I do not use freshly grated parmesan in this recipe, although you certainly could if it's what you have on hand!
I typically use the powdered Parmesan (you know, the kind in a green can).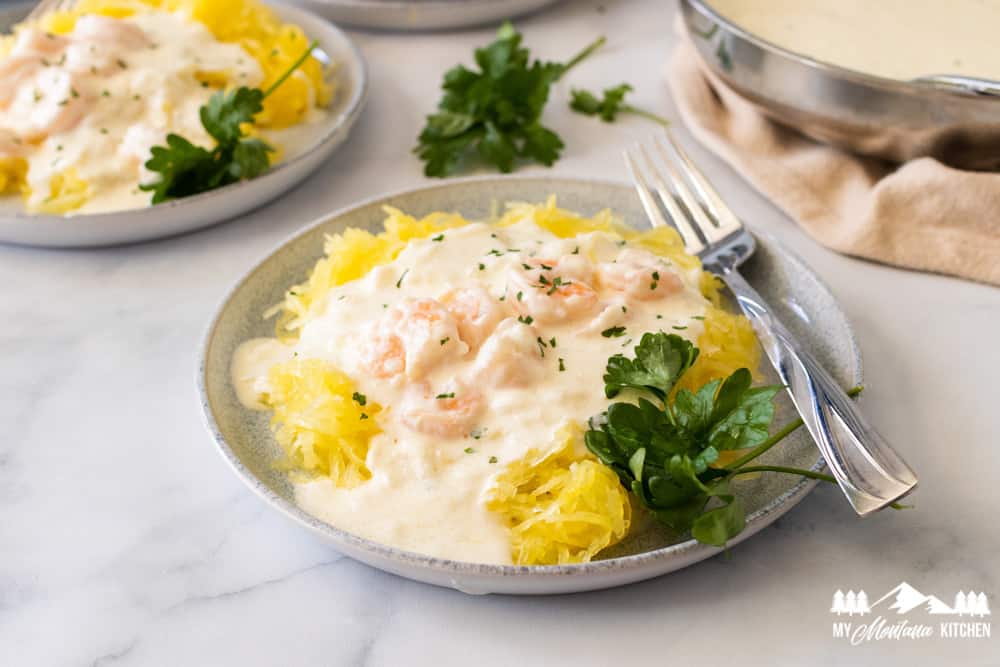 Can I make this into a Shrimp Alfredo Bake?
Absolutely! To make this Keto Shrimp Alfredo into a baked dish, simply combine the alfredo mixture with 1-2 cups of shredded spaghetti squash and place it in a 2 quart casserole dish.
Top with a sprinkle of parmesan cheese and bake at 350 until hot and bubbly!
Can I make this into Keto Shrimp and Broccoli?
Sure! Simply add steamed broccoli to your alfredo mixture before you serve it! Broccoli is my favorite vegetable to add to keto alfredo sauce!
More Keto Shrimp Recipes
Keto Shrimp Taco Lettuce Wraps
More Keto Alfredo Recipes
Homemade Keto Alfredo Sauce in 15 Minutes
The Best Low Carb Chicken Alfredo Pizza
Low Carb Alfredo Chicken Casserole
Broccoli Alfredo Soup with Sausage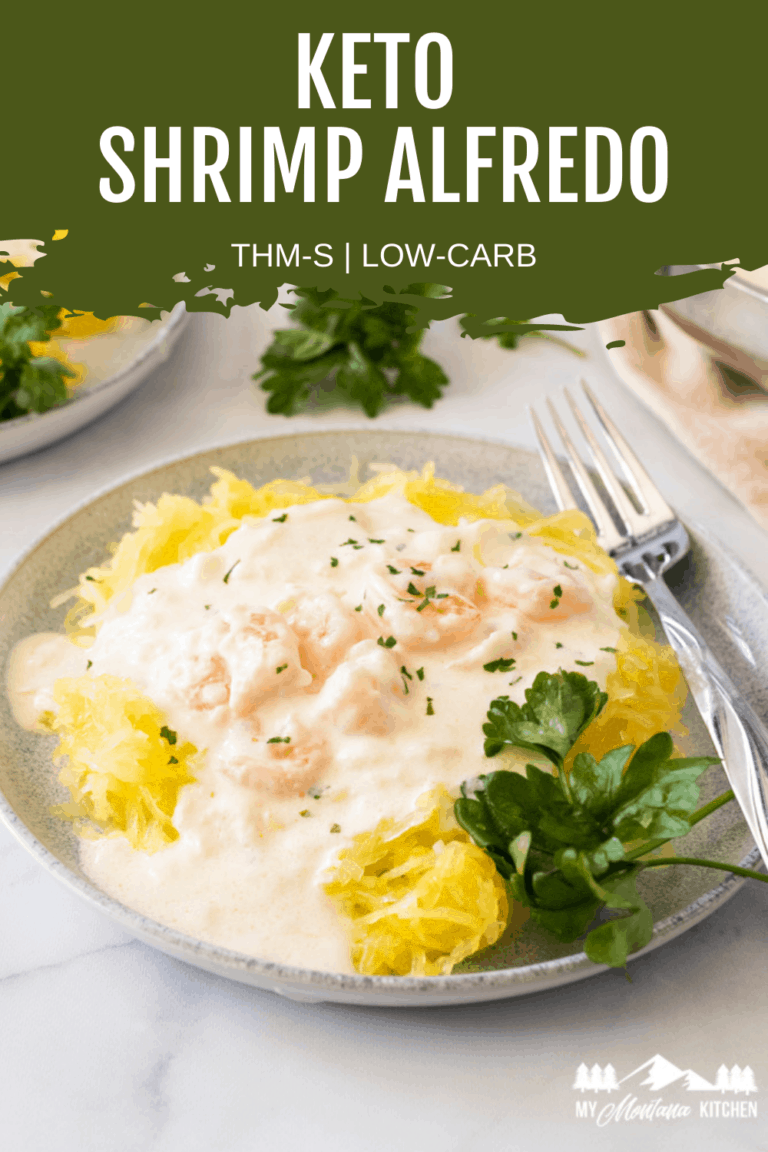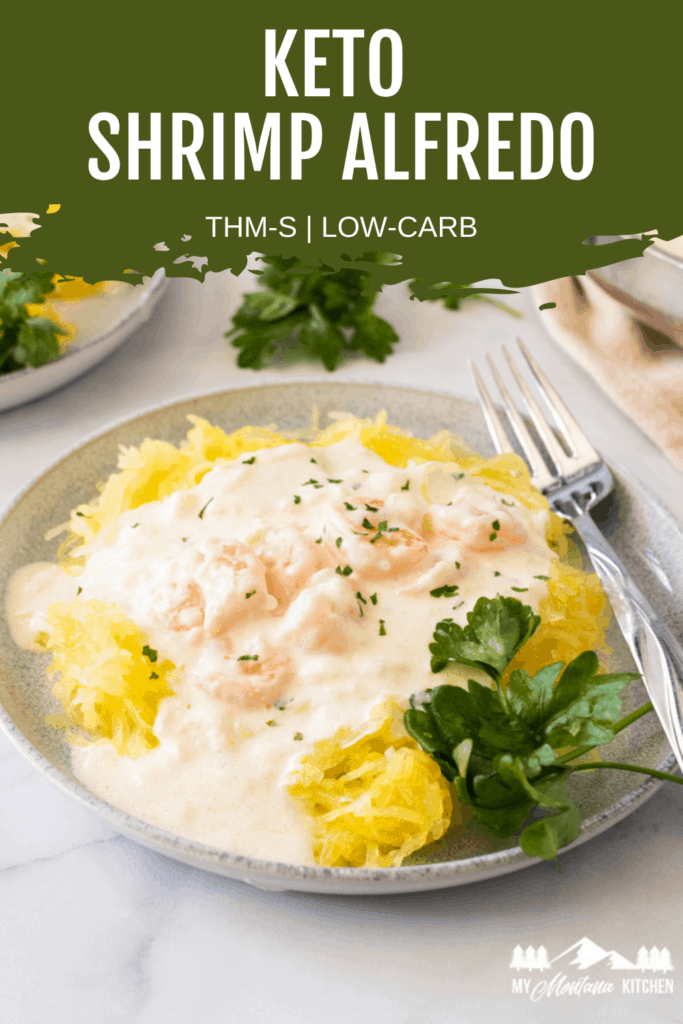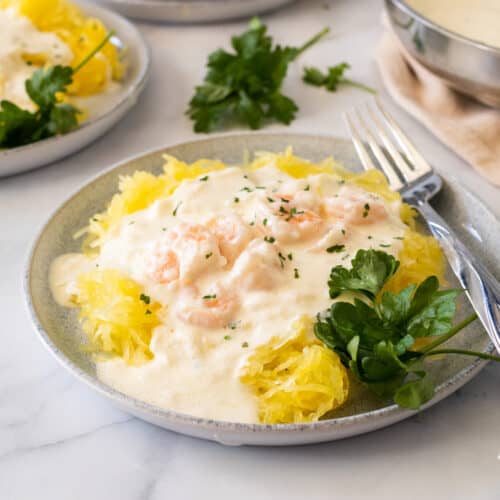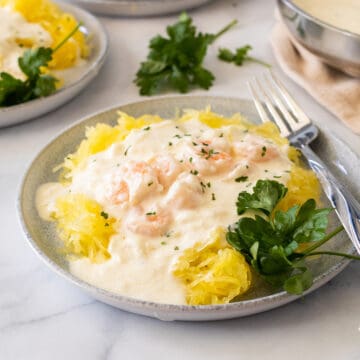 Keto Shrimp Alfredo
A comforting take on a classic favorite Italian dish, this creamy keto shrimp alfredo recipe is sure to please your entire family!
Print
Pin
Rate
Instructions
In a large skillet, melt butter over medium heat.

Add Half & Half, spices, and Heavy Cream.

Heat until almost simmering, then add Parmesan.

Heat until simmering, then slowly sprinkle Glucommannan Powder over the Alfredo mixture, whisking well to keep from clumping.

Add shrimp and continue to simmer until mixture thickens.

Serve over Dreamfields Pasta, zucchini noodles, or spaghetti squash.
Notes
The Glucomannan will cause this to thicken more and more the longer it sits. Simply re-heat it to thin it out a bit.
The nutritional information is for 4 servings, without spaghetti squash.
To lower the calorie and fat count, you could use one cup of unsweetened almond milk in place of one of the cups of half and half.
Nutrition
Calories:
594
kcal
|
Carbohydrates:
6
g
|
Protein:
12
g
|
Fat:
52
g
|
Fiber:
1
g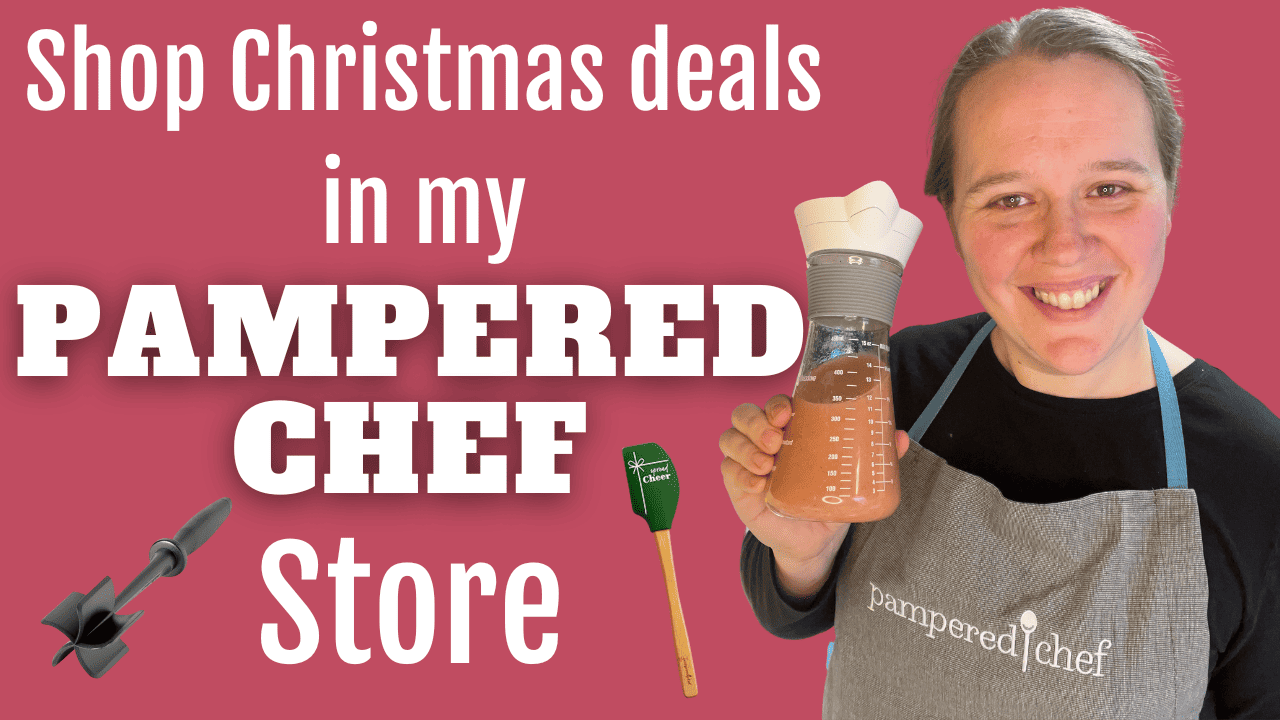 Reader Interactions