We may earn money from the products/companies mentioned in this post. As an Amazon Associate I earn from qualifying purchases.
Low Carb Meatballs – tender, juicy, and packed with flavor! This is a basic low carb meatball recipe, perfect for using in all your appetizers and casseroles!
This recipe is low carb, gluten free, and a Trim Healthy Mama S Fuel.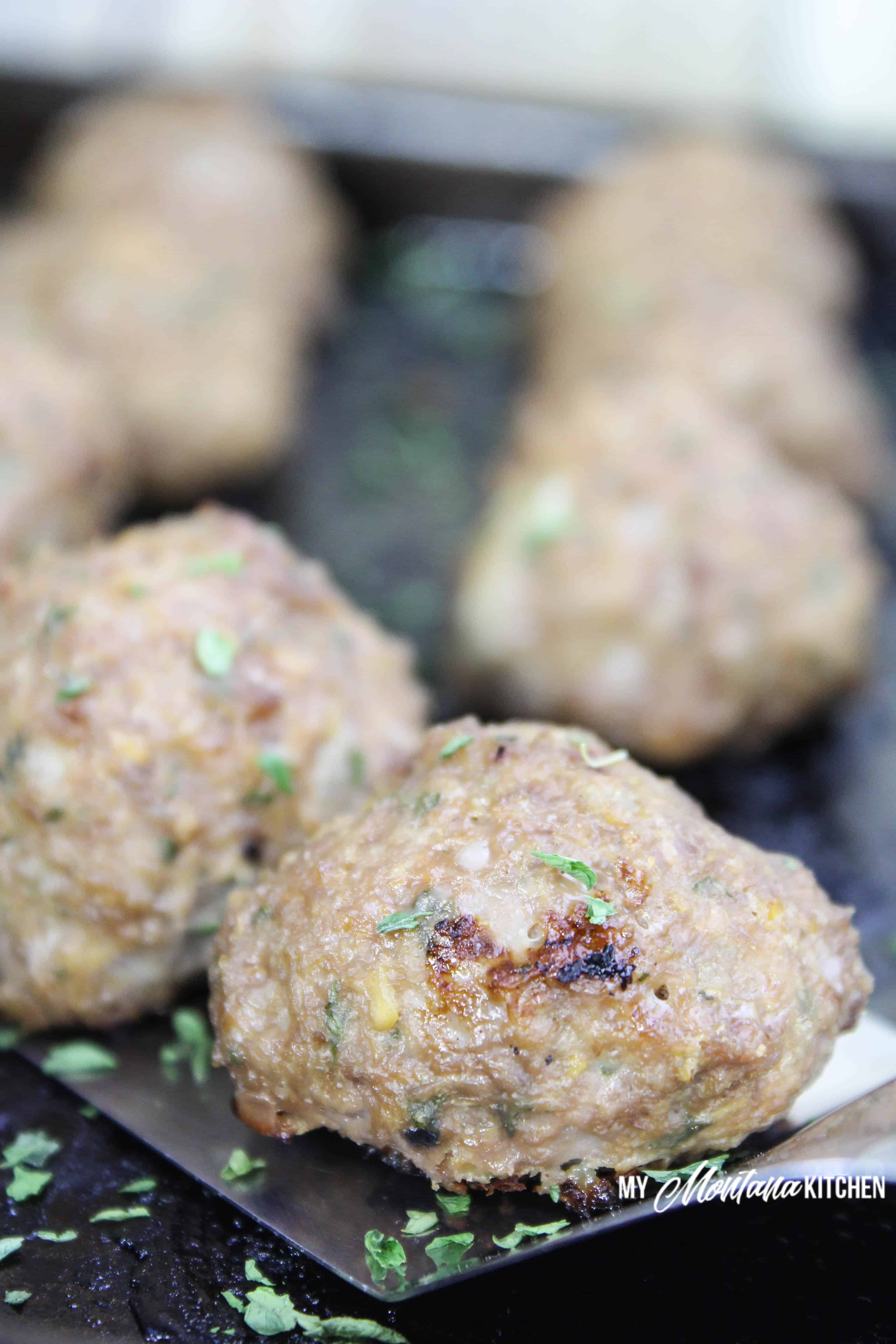 EASY LOW CARB MEATBALLS
Everyone loves a good meatball recipe – am I right? Like these Sweet and sour meatballs or pizza meatball casserole ?
Baked Meatballs
These low carb meatballs do not have to be reserved for dinner.
They make an excellent snack, as well! As a bonus, I would consider them a finger food (shhh . . . you don't have to tell my Mother)!
But honestly, meatballs without sauce allows these meatballs to be versatile. Eat alone or pair with a sauce or dipping sauce for an appetizer.
How to Make Meatballs Without Breadcrumbs
Breadcrumbs are high in carbs, so I chose to use golden flax meal to help bind these meatballs together instead. Not only does the flax meal help the meatballs secure, but it is a powerhouse of nutrients as well!
3 Tablespoons of flax meal have 6,338 mg of Omega-3 (ALA)!
Flaxseeds are also full of fiber, contain a decent amount of protein, and are gluten free!
Flaxseeds are also very high in antioxidants and magnesium.
I tested these meatballs with ground venison. I rarely use ground beef anymore, as my freezer is usually full of the venison my husband, son, and dorm boys provide for us! This has been a huge money saver for us!
However, you can certainly use ground beef in this recipe. But I would recommend using leaner ground beef.
Why Are My Meatballs Tough
One of the biggest tips I can't recommend enough is working over your meat mixture lightly. If you overwork the meat, it will become tough.
Another factor is if your measurements are not correctly measured. Too much dry ingredients can leave your meatballs feeling tougher in texture.
Check Out These Other Dinner Options
What Do Eggs Do In Meatballs
You would think eggs are a source of moisture for your meatballs, but they are actually used to help bind your ingredients together.
As the eggs cook, it will also help to keep them formed and offer a lovely light texture to your meatballs.

Do You Turn Meatballs When Baking
Some recipes recommend that you turn the meatballs halfway through the cooking process for a more even cooking.
You will also find if you do not turn the meatballs they might be more brown on the bottom side of your meatballs.
If you want to turn just halfway through the baking process use a spatula to flip the meatballs over.
Can I Refrigerate Raw Meatballs
If you want to prep your meatballs in advance, I don't see why you couldn't prep your meatballs and place them raw in the fridge for up to 24 hours in advance.
Then toss in the oven and bake, this will take a bit longer to cook since your pan is chilled. Take that into account.
I haven't personally done this, but I don't see why it wouldn't work to prep your meatballs the night before you want to serve them.
Can I Freeze These Low Carb Meatballs?
Absolutely! Feel free to make them as directed and then allow them to cool.
Once cooled place them in a sealable freezer bag or container and toss in the freezer for up to three months.
To serve, thaw in the fridge the night before, and warm up in the oven or microwave.
Or pull straight from freezer and place in a pan and wrap tightly with aluminum foil. Then heat at 350 degrees or until the meatballs are warmed through. (So Easy!)
Be sure to watch the video below to see just how easy it is to make these low carb meatballs!
What to Pair With Meatballs
The sky is the limit on what you can pair with these tasty meatballs. Find what fits your families palates and cook according to that.
How to Make Low Carb Meatballs
You want to make sure that your meat is completely thawed before mixing up your meatballs.
Add all the ingredients to your thawed burger and mix well! (We all know that the best way to do this is with your hands, but you could also just use a wooden spoon. Just do not overmix!)
I like to use a cookie scoop to make my meatballs a perfect ball!
How do you serve your low carb meatballs?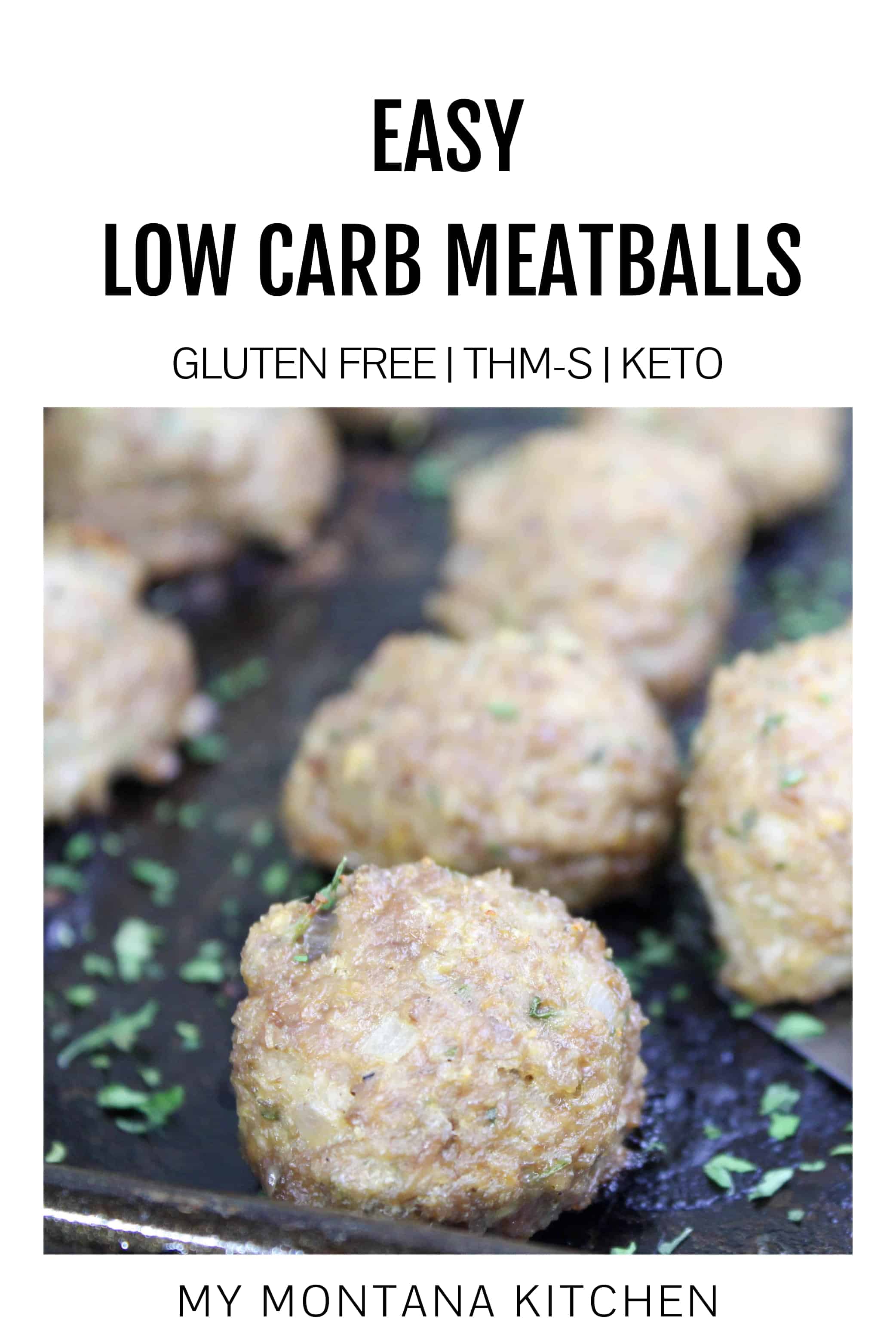 Yield: 8 Servings
Easy Low Carb Meatballs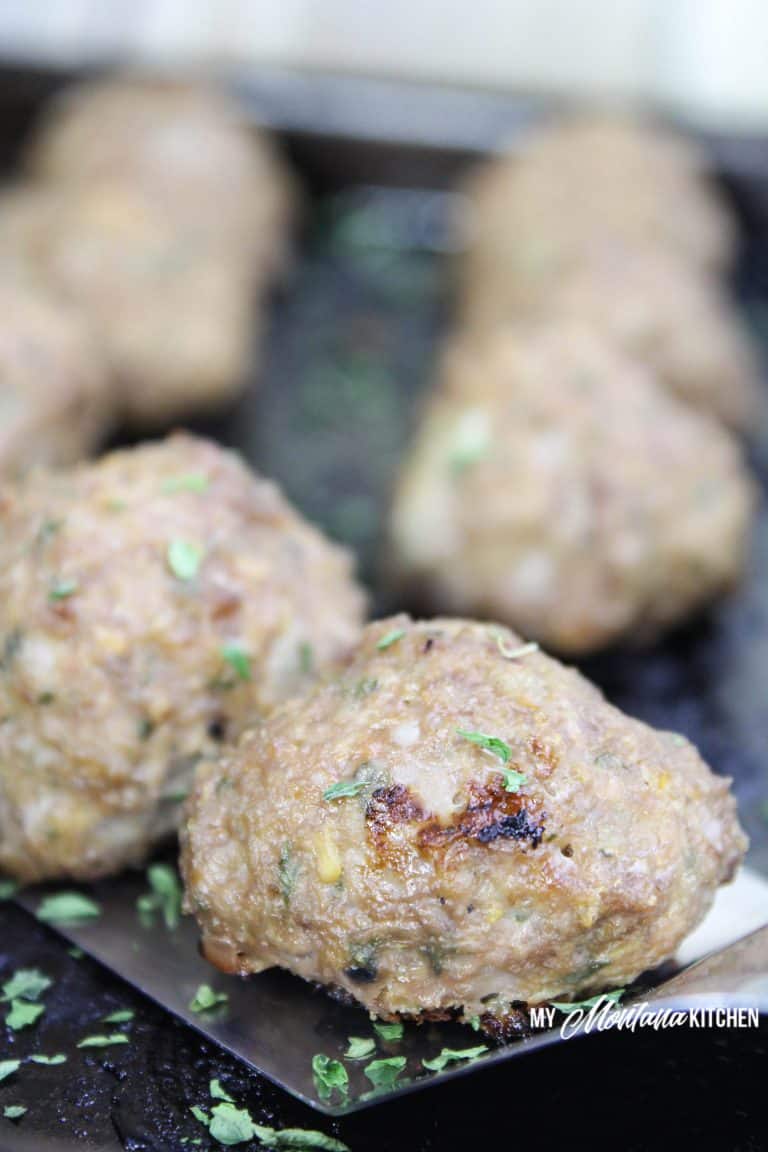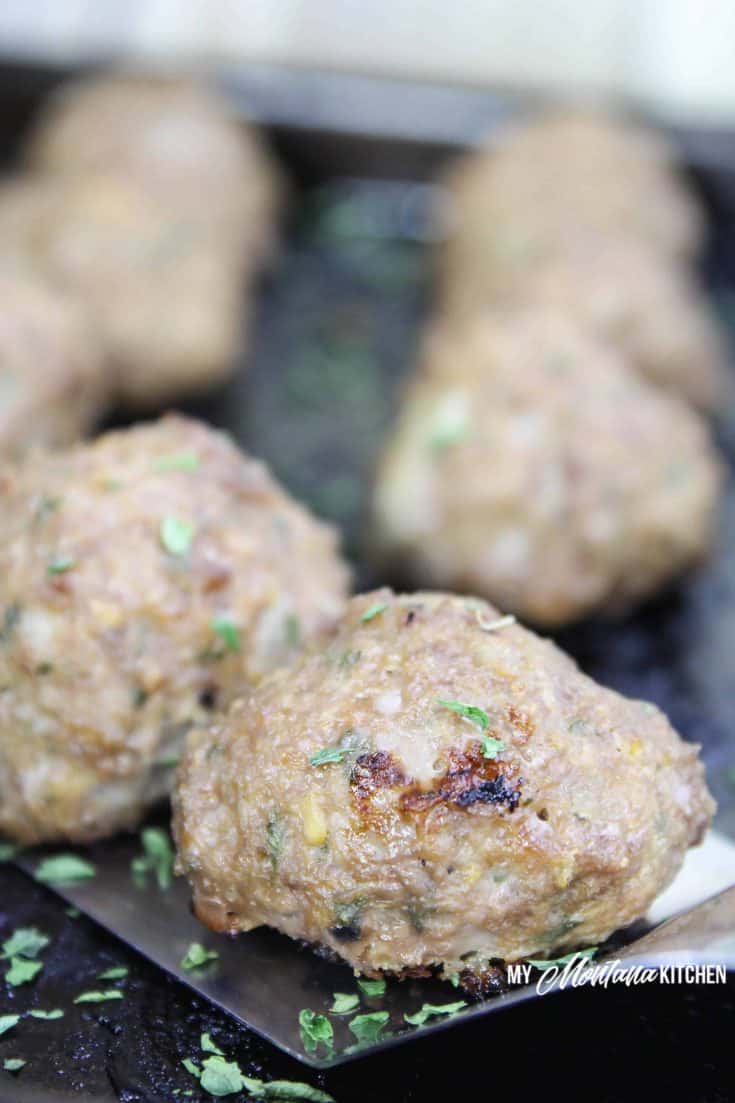 These Low Carb Meatballs are tender, juicy, and packed with flavor! This is a basic meatball recipe, perfect for using in all your appetizers and casseroles! Low carb, gluten free, and a Trim Healthy Mama S Fuel.
Ingredients
1.5 Pounds Ground Venison, or lean ground beef
¼   Cup Finely Chopped Onion
2 Eggs
3 Tablespoons Heavy Cream, or unsweetened Almond Milk
1 Teaspoon Salt
¼ Teaspoon Black Pepper
Instructions
Preheat oven to 375.
In a large bowl, mix all ingredients well.
Using a cookie scoop (or your hands) form meat mixture into golf ball sized balls.
Place on cookie sheet and bake for 18-20 minutes.
Recommended Products
As an Amazon Associate and member of other affiliate programs, I earn from qualifying purchases.
Nutrition Information
Yield
8
Serving Size
4 Meatballs
Amount Per Serving
Calories

199
Total Fat

7g
Carbohydrates

3g
Fiber

2g
Protein

29g