We may earn money from the products/companies mentioned in this post. As an Amazon Associate I earn from qualifying purchases.
Just because you're living the healthy low carb life doesn't mean you need to sacrifice pizza. In fact, you can enjoy it guilt free and more than you ever realized as soon as you learn the 4 steps to the best low carb pizza. This Ultimate Guide To The Best Low Carb Pizza will teach you everything you need to know.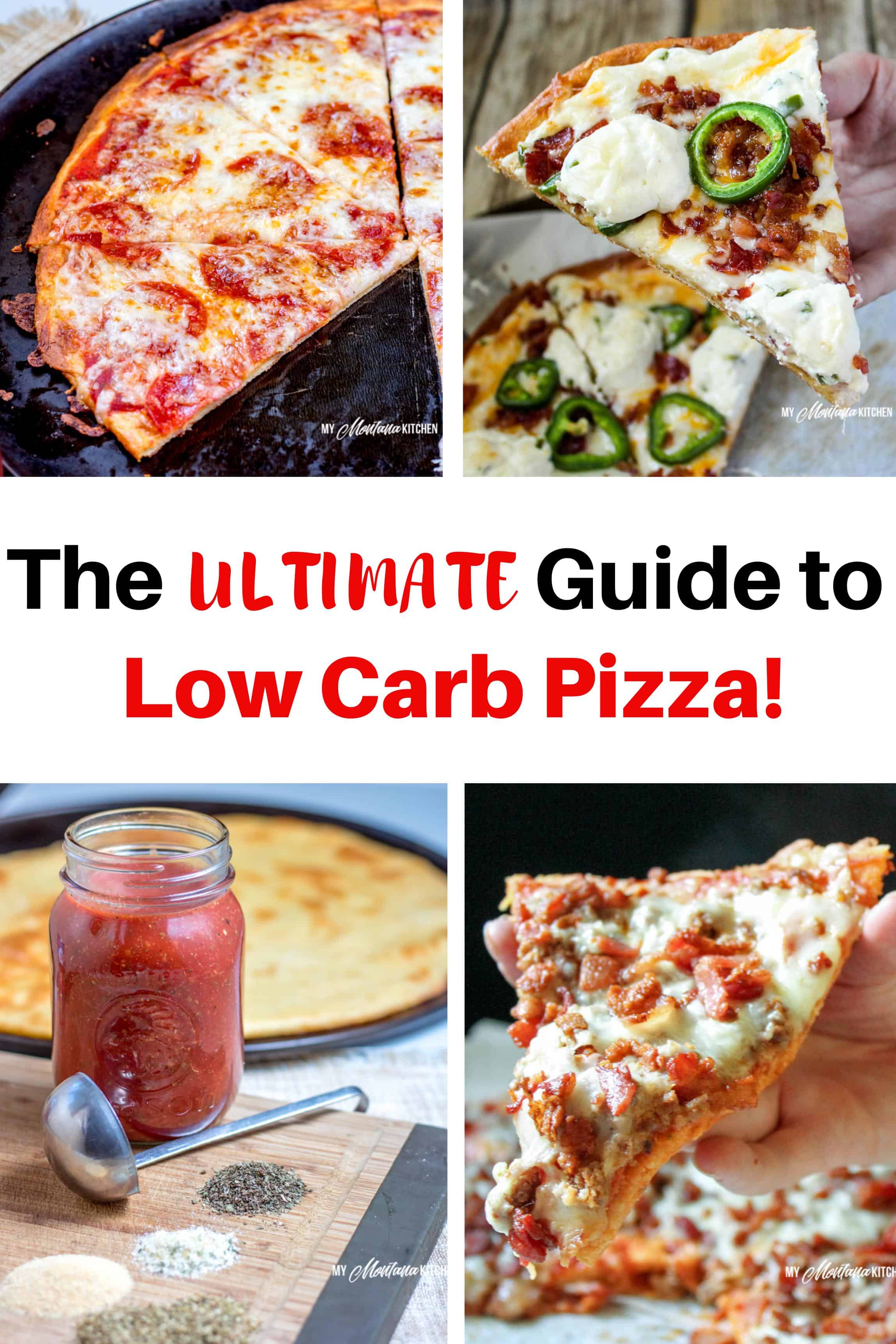 It's no secret that pizza is considered a big deal here at My Montana Kitchen. We enjoy it for breakfast, lunch, dinner, and even snacks. Pizza is just so yummy, it shouldn't be relegated to only one meal, you know?
And making the perfect healthy pizza doesn't have to be a giant mystery. In fact, there are 4 key components to making the best low carb pizza, and I'm about to share them with you.
Choosing The Best Low Carb Pizza Crust
Crust is the foundation of you pizza. There are so many types out there, too. Some people like thin and crispy, others soft and doughy, still other nice and thick. Knowing what you like gives you a good starting point.
There are quite a few options out there when it comes to low carb gluten free pizza crusts, but here are my favorites.
Classic low carb dough
My personal favorite low carb pizza crust recipe is made from this Stromboli dough. To me, it's got the most classic pizza dough taste and texture. It's the closest to 'New York style' pizza in the low-carb world.
Simply make the dough and roll it out between two pieces of wax paper. Bake it on your favorite pizza pan or stone (on some parchment paper so it doesn't stick) for 10-12 minutes and it's ready to top.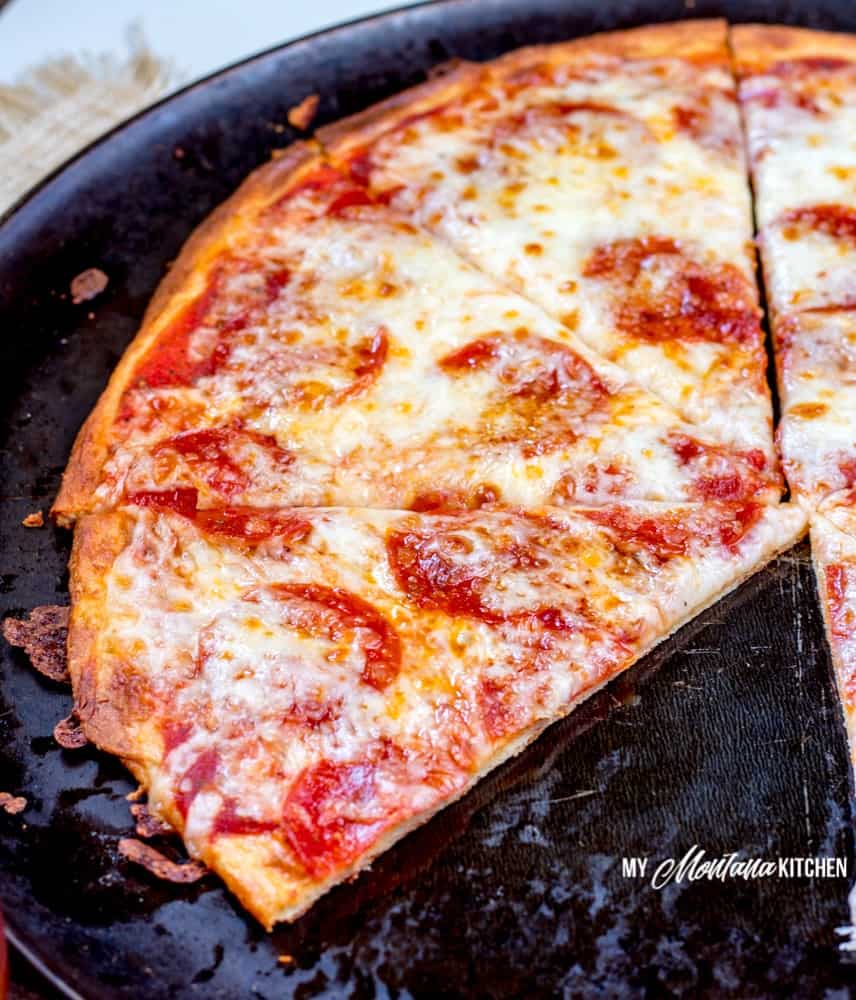 Cauliflower crust
You can also use egg, cheese, and riced cauliflower to make a crust. This cauli-crust recipe is very simple, if that's your favorite type. You can make this one thin and crispy, too, which is great for those who like a little crunch with their dough.
And if you want to be sneaky, this is a great way to get some vegetables into your kids!
Cheese-free crust
But what if you want to make a pizza crust without cheese? It does seem that most low carb pizza crusts these days call for cheese in them because it helps with the flavor, but there are some without, too.
This gluten free paleo pizza crust is cheese-free if you are looking for that option.
Nut-free crust
Need a pizza crust without any nuts in it? This keto pizza crust uses coconut flour instead and has a great pizza dough texture to it that you'll enjoy.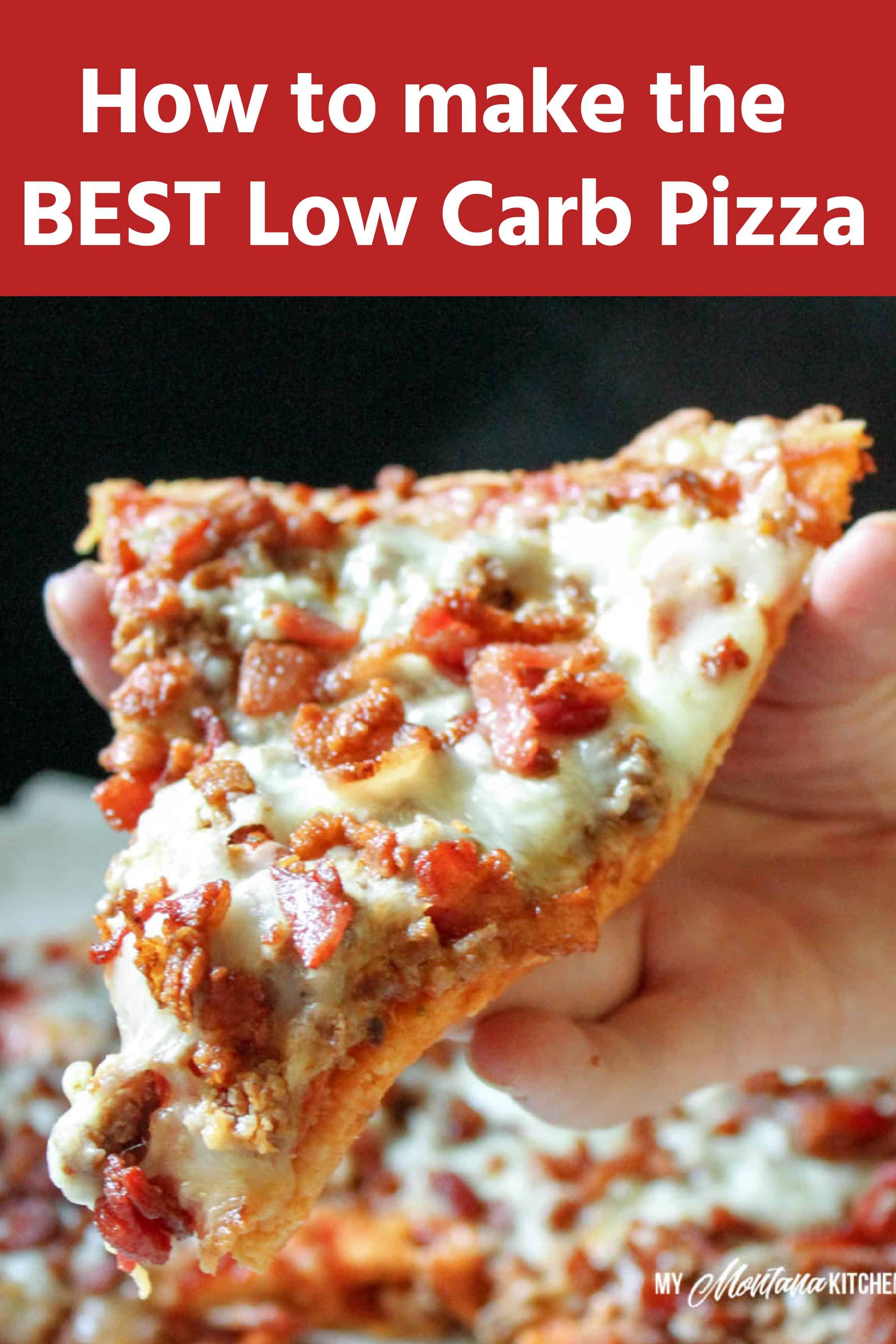 Choosing The Best Low Carb Pizza Sauce
Now, some people may think pizza sauce isn't that big of a deal, but the right sauce is essential to making the best low carb pizza. And you're not limited to a traditional tomato based sauce here, either, as you're about to see.
Super Simple Sugar-Free Traditional Pizza Sauce
My go-to sauce is a simple, sugar-free pizza sauce that my mom and I came up with. You can't get any easier than this, and it's perfect for that traditional pizza taste, especially paired with my low carb dough.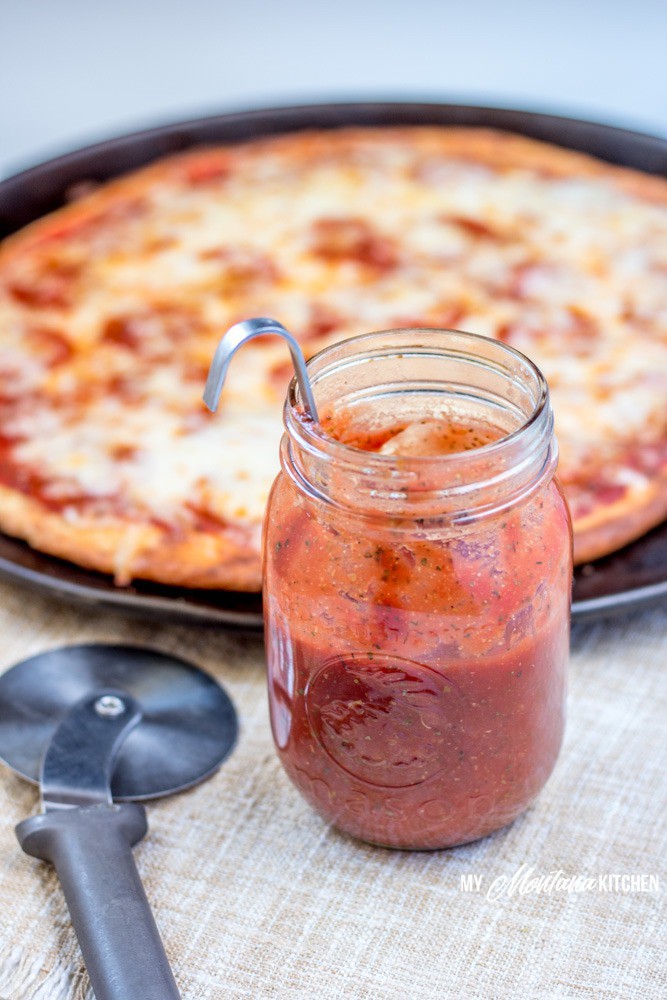 BBQ Sauce
Another great, but often overlooked, pizza sauce option is BBQ sauce. There are several low carb options out there. This low carb BBQ sauce has a southern, smoky flavor to it and is great for a BBQ chicken pizza.
Alfredo Sauce
If you've been around My Montana Kitchen for any length of time, you know we love our Alfredo around here. In fact, we have a lot of Alfredo recipes to choose from. So it's no surprise that I'm going to suggest to you that this creamy parmesan garlic sauce would make a marvelous pizza sauce!
Cream Cheese
Yup, you read that right. Cream cheese. It's not an obvious choice at all, but it's actually quite delicious. Check out this Low Carb Bacon Jalapeño Popper Pizza recipe that uses it.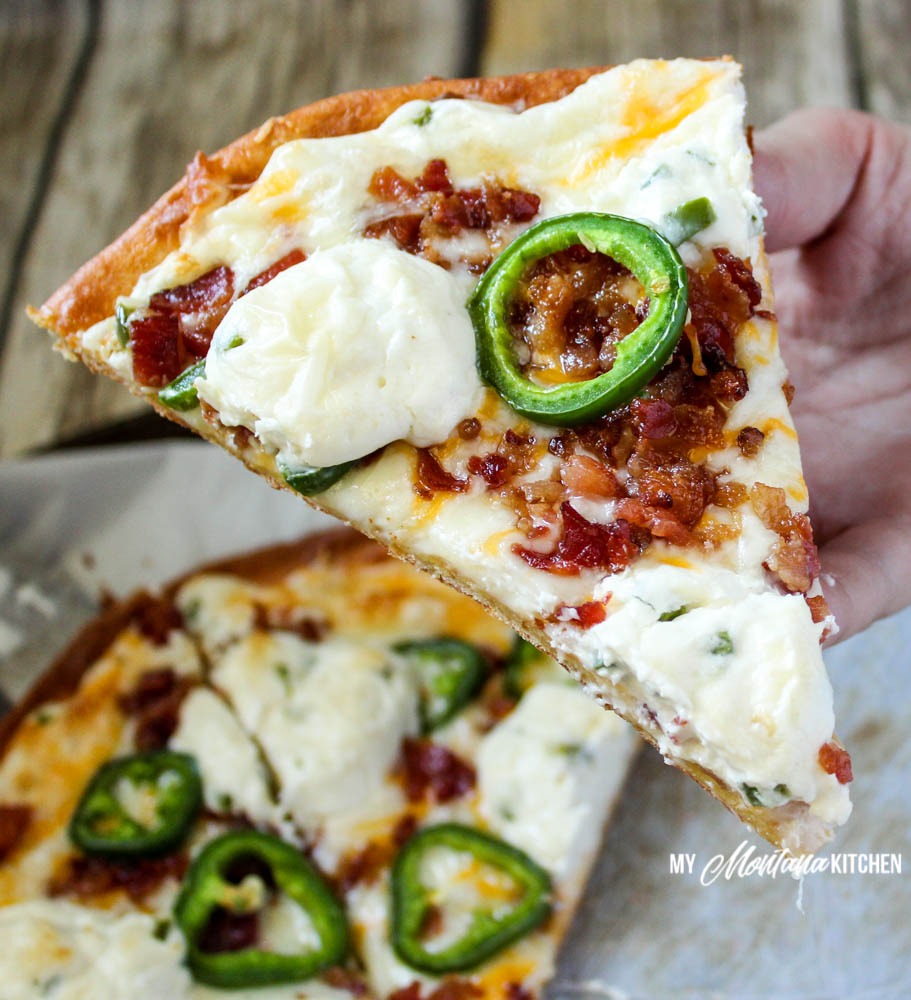 Which Cheese Is Best For Pizza?
Now I know, I know, the answer is glaringly obvious...or is it? Let's explore...
Using Mozzarella Cheese For Low Carb Pizza
Yes, most pizza is made with mozzarella cheese, and for good reason. It's got that traditional pizza flavor, melts beautifully, and is all gooey and delicious. I'm with you, friend, and you can't go wrong with it.
Cheddar Cheese
If you wanted to make a taco pizza or cheeseburger pizza, then cheddar cheese is going to be a marvelous choice!
It's a harder cheese than mozzarella so it won't get as stringy, but the flavor is nice and strong and enhances the other ingredients you are using. It's also great with BBQ Chicken pizza.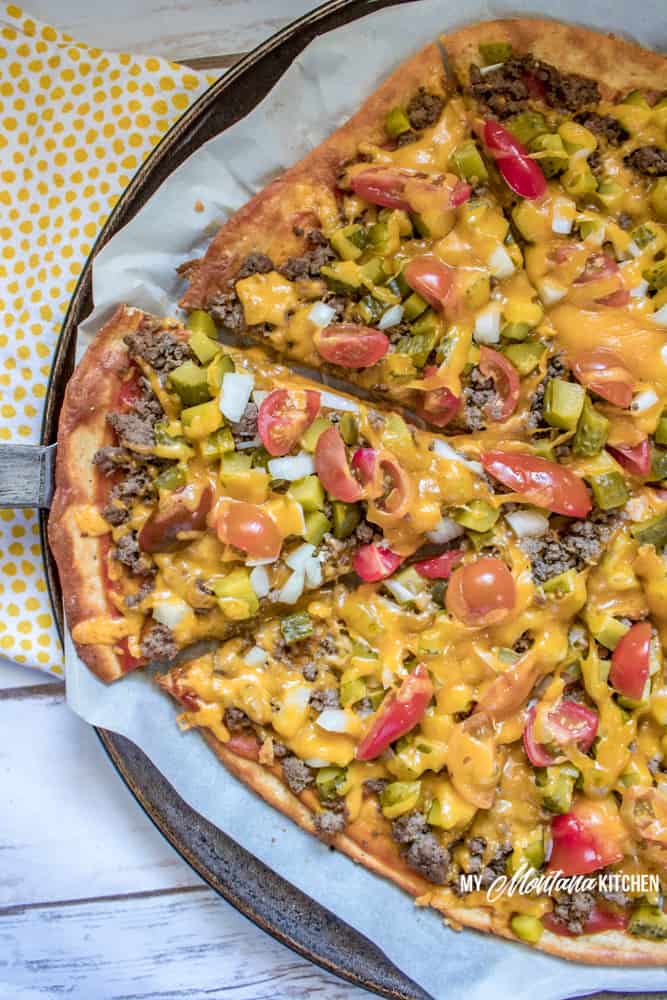 Specialty Cheese For Blends Or Accents
And here's where cheese really gets fun.
You could use a monterrey jack and cheddar blend for this breakfast pizza or a taco cheese blend for taco pizza. You could sprinkle bleu cheese crumbles on this low carb buffalo chicken pizza for some extra bite.
What about a specialty 4-cheese pizza? Use the creamy Alfredo Sauce base or cream cheese, top with mozzarella, and dot with feta and ricotta. Or, as they do in Europe, feta and gorgonzola!
The Best Low Carb Pizza Toppings
The sky is the limit here. Really. I mean, it's pizza. But here are some ideas for you.
Mediterranean: traditional pizza topped with spinach, sun dried tomatoes, black olives, chicken, and feta
Southern BBQ: BBQ sauce, jack and cheddar blend, pulled pork or smoked chicken, and your choice of vegetables (jalapeños would be awesome!)
Chicken Bacon Ranch: use Alfredo and sprinkle on some ranch seasoning, add your cheese, and top with shredded chicken and crispy bacon. You could also add some diced tomatoes.
Taco: use traditional sauce or even enchilada sauce, cheddar cheese or a taco blend, and top with taco seasoned beef or chicken, diced tomatoes, black olives, jalapeños, and a garnish amount of corn. Once it's baked, but before you serve, you could add some shredded lettuce and drizzle with sour cream.
For even more ideas, check out this Low Carb Pizza Cookbook.
Things you may need for Low Carb Pizza:
And just for fun . . .