We may earn money from the products/companies mentioned in this post. As an Amazon Associate I earn from qualifying purchases.
Egg roll in a bowl is an easy, popular low carb meal. Also called low carb crack slaw, it's a staple for many people on THM, low carb, and keto diet plans because it's a one skillet meal ready in 20 minutes or less that tastes great. This easy low carb egg roll recipe is frugal and fast, making it perfect for make ahead low carb lunches as well as dinners.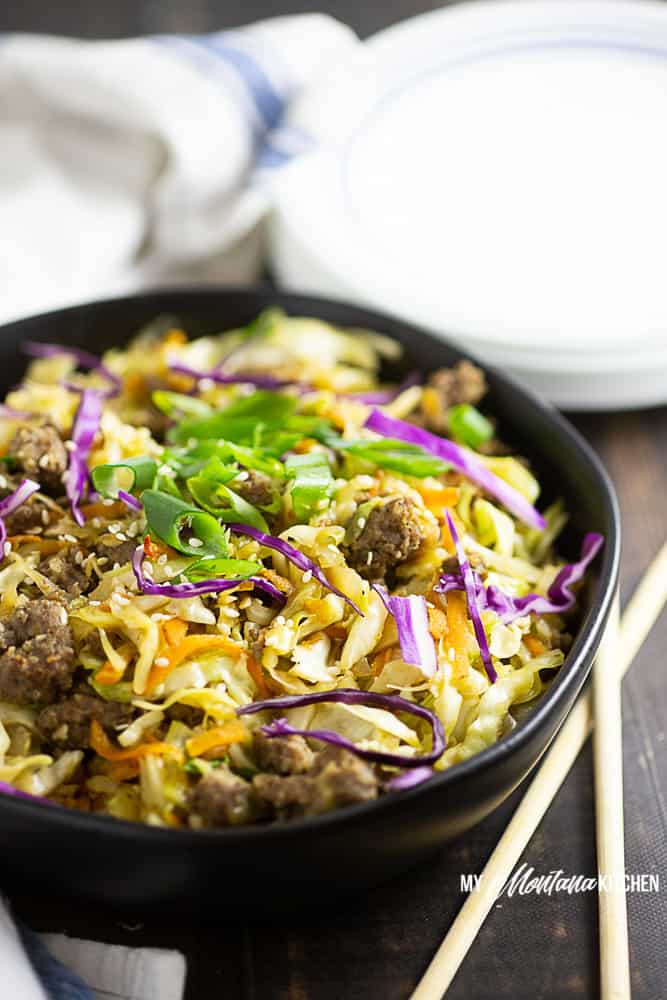 Making homemade egg rolls is time consuming and a bit challenging. And it leaves your kitchen a mess. Plus, they're not low carb. So what do you do when you just have to have your favorite Chinese takeout indulgence?
You whip up this easy egg roll in a bowl recipe!
You really can make your pork egg roll in a bowl quickly, with a minimum of fuss or mess, and enjoy the Chinese flavors you've been craving. It's so simple.
What Are Egg Rolls Made Of?
Traditional egg rolls are made from filling a wheat flour dough with shredded cabbage and chopped pork and then deep frying it. They are served with a sauce for dipping and many people add other veggies or even meat to the filling for a unique twist on this classic takeout favorite.
Oddly enough, there are no eggs in egg rolls and no one seems to know where the name from.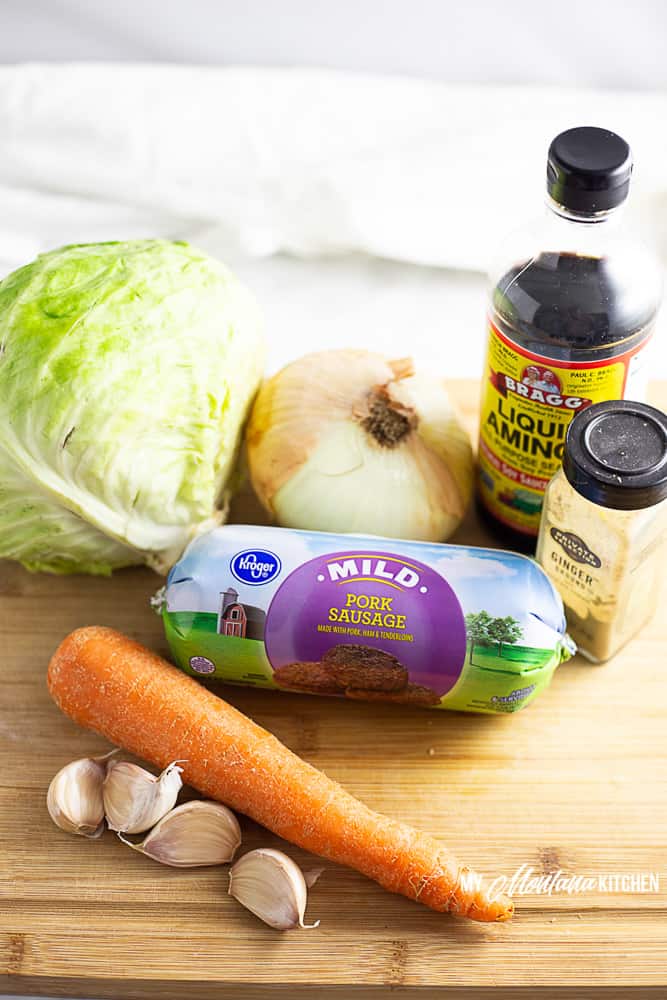 Can You Make Low Carb Egg Rolls?
In a word: no. But you can make low carb egg roll in a bowl.
You get all the flavors without the flour wrapping and it's healthy for you, too. Because egg rolls are traditionally filled with cabbage, meat, and aromatics, the fillings are naturally low in carbohydrates and perfect to serve up in a bowl, absent of the flour shell.
What's In A Low Carb Egg Roll In A Bowl Recipe?
Just like carb-laden, deep fried egg rolls, the key ingredients in your low carb egg roll meal are shredded cabbage and pork. You're going to get all the yummy flavors and just leave out the unhealthy wrap. Voila! Low carb egg roll goodness.
You can use ground pork, or for a unique and slightly spicier flavor, ground sausage. It's really good both ways, so use whatever you have in your freezer or that you find on sale.
Also, to save time shredding your cabbage, you can also use a cole slaw mix that is already prepped for you. This really takes all the prep out of the dish and allows you to put the whole meal together in about 15 minutes.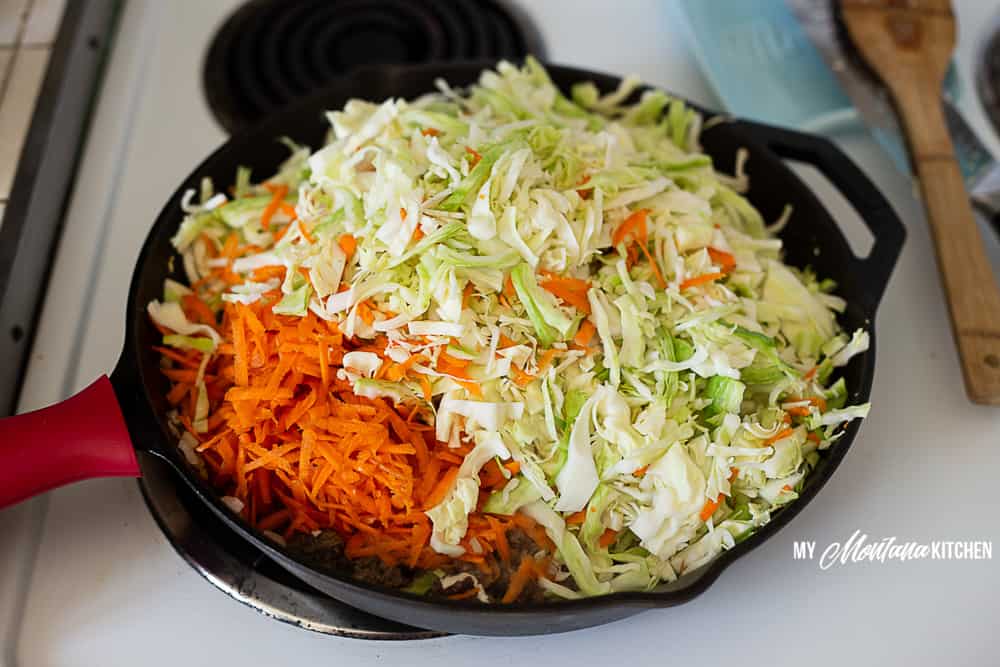 However, if you prefer to use fresh cabbage and cut it yourself, this plastic knife helps avoid any browning so you can cut it ahead of time still.
Onions, garlic, and carrots are also added for their health benefits...and because they taste really good added to this cabbage skillet recipe.
Their slightly sweet flavors will come out as you sauté them gently and they'll blend beautifully with the spices you add.
You'll also be adding Bragg's liquid aminos (or soy sauce), salt and pepper, and ginger.
Garnishing with toasted sesame seeds and green onions will just put your already delicious Asian inspired cabbage stir fry into a whole new category of yum...so don't skip the garnish.
Those little touches are what make your at home dinner taste like a chef prepared meal at your favorite restaurant.
And if you want a bonus pinch of flavor? Add some Chinese 5-spice powder to your skillet as it cooks. That will really punch it up!
For a fun twist, you can also try Cajun Chicken Egg Roll In A Bowl.
How To Make Low Carb Pork Egg Roll In A Bowl
Making your pork egg roll in a bowl is very easy.
Start out with your favorite skillet (this cast iron skillet works beautifully for all your favorite stir fry meals or skillet dinners). Get it warmed over medium heat and add your ground pork (or sausage), diced onion, and minced garlic.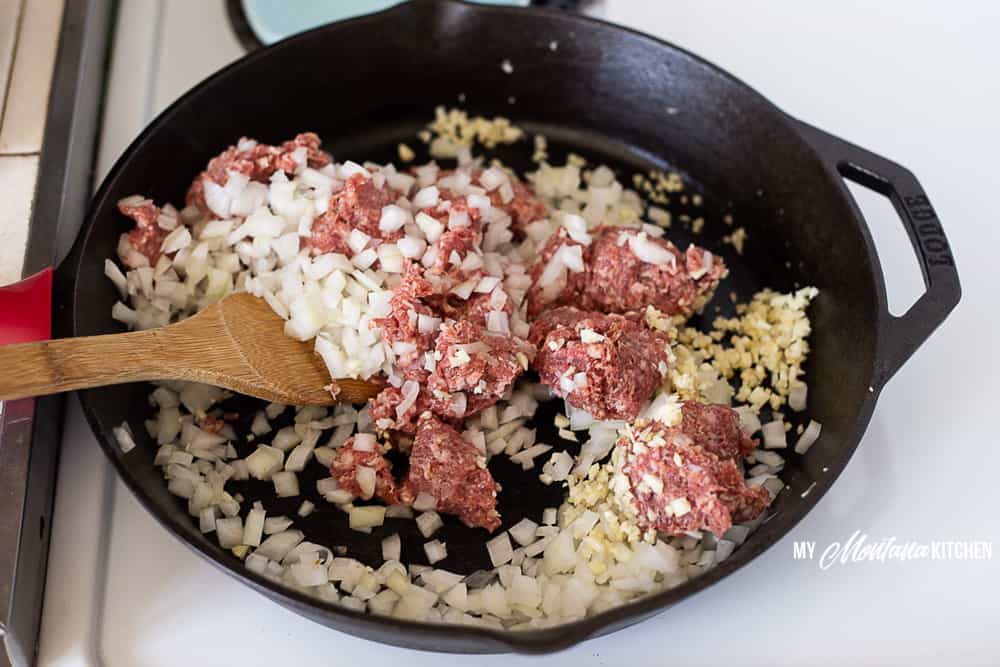 Make sure you cook the meat all the way through, leaving no pink at all. Once it's cooked all the way, drain the pork fat out of the skillet, but keep the ingredients in there.
Add the ginger, liquid aminos (or soy sauce), and shredded cabbage (or cole slaw mix) to your skillet.
Cook it for 5-7 minutes, until the cabbage is just wilted and then serve. Don't forget to sprinkle on your scallions and sesame seeds. So easy!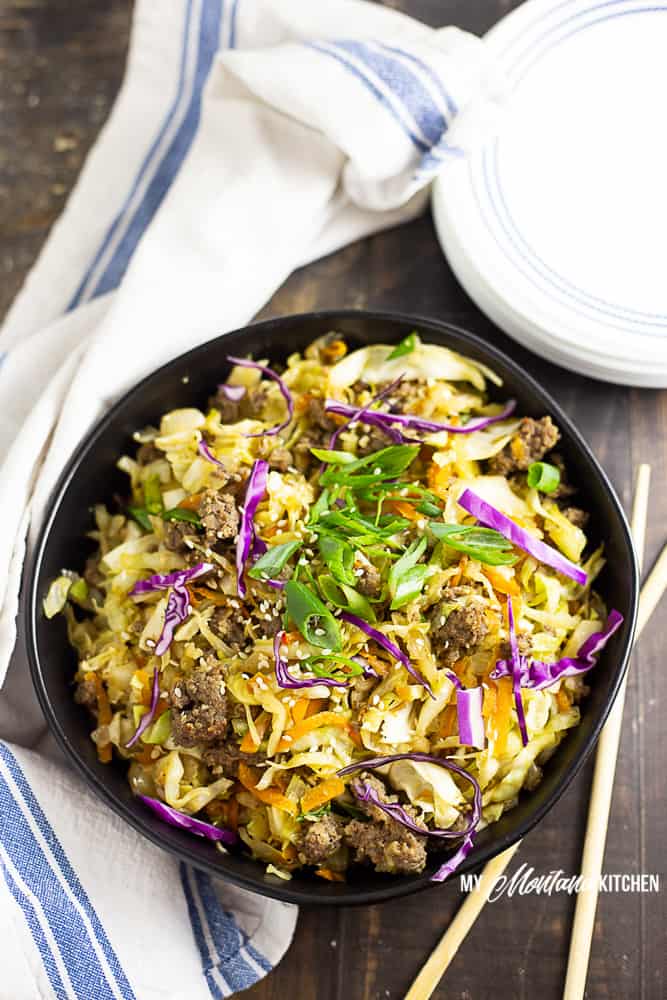 How To Store Egg Roll In A Bowl
You can even make this ahead for on-the-go lunches if you'd like. You can eat it cold out of the fridge or warmed in a microwave. This is a very versatile make-ahead low-carb meal idea.
To meal prep in advance, simply follow the directions above. Then let it cool and portion it out into your favorite meal prep containers.
Your low-carb pork egg roll in a bowl will keep for up to 5 days in the fridge as long as it is stored in an airtight container.
Looking for more Low-Carb Chinese food? You'll enjoy my Keto Copycat PF Chang's Asian Lettuce Wraps and my Keto Chinese Chicken and Broccoli Recipe!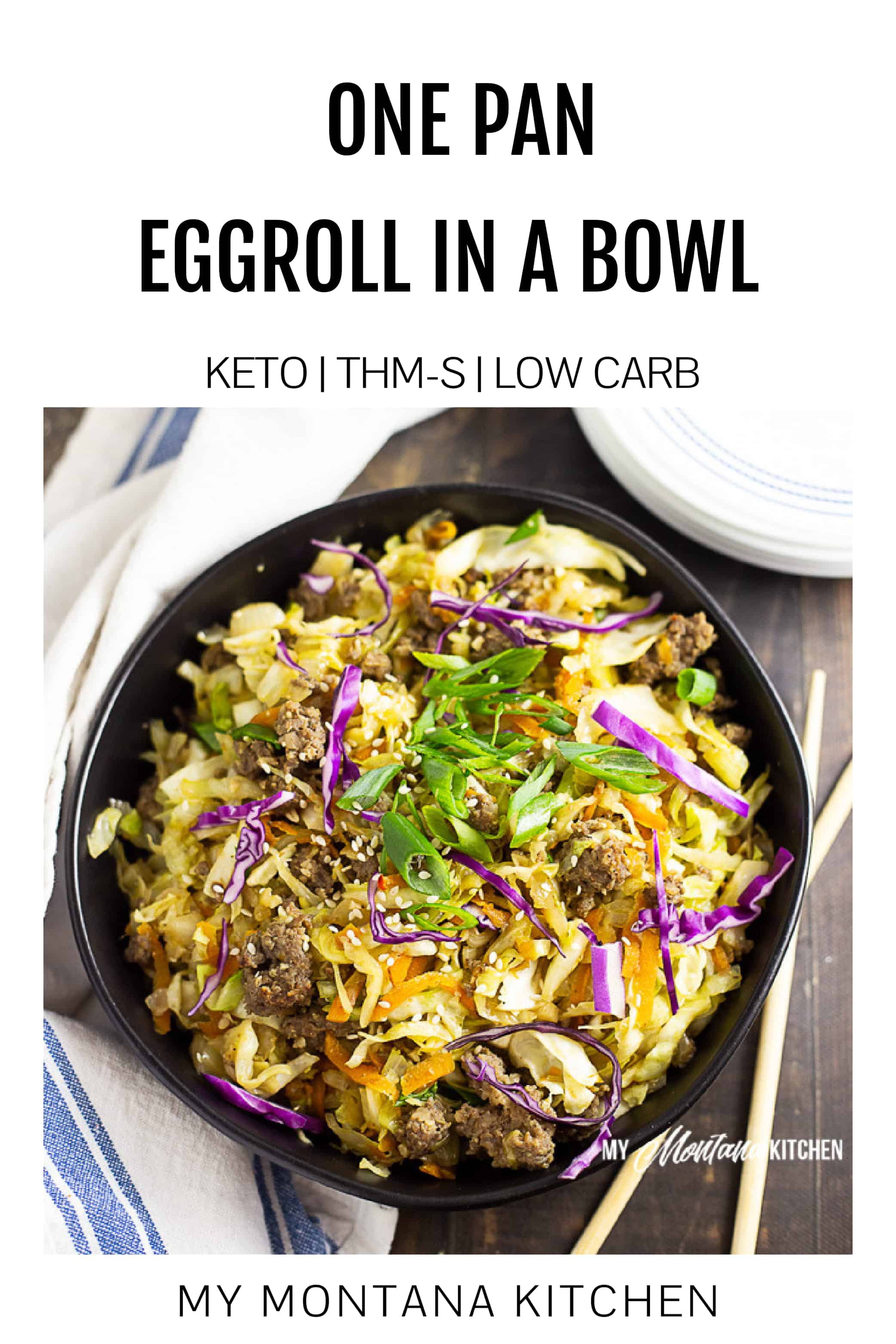 Yield: 4
Eggroll in a Bowl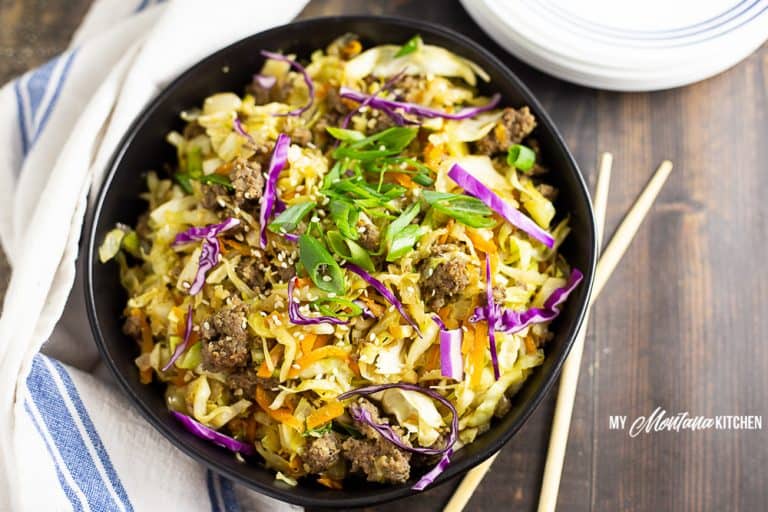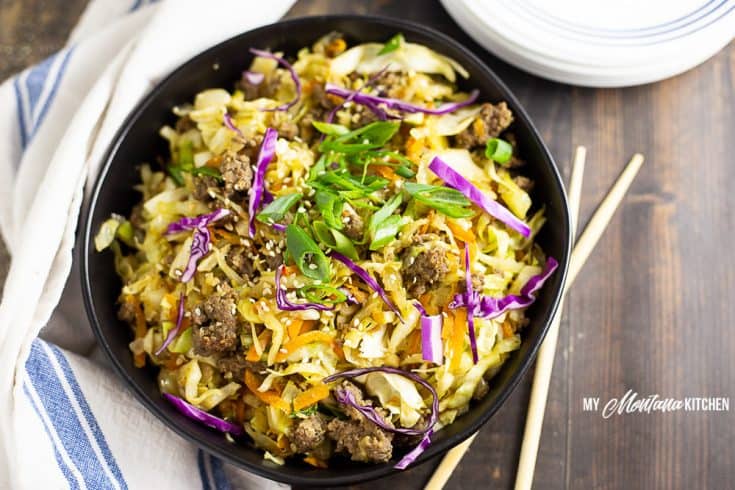 Egg roll in a bowl is an easy, popular low carb meal. Also called low carb crack slaw, it's a staple for many people on THM, low carb, and keto diet plans because it's a one skillet meal ready in 20 minutes or less that tastes great.
Ingredients
1 Pound Ground Pork or Pork Sausage
1 Sweet Onion, sliced thin
4-5 Garlic Cloves, Minced
1 (16 ounce) Package Coleslaw OR 1 Medium Green Cabbage Shredded (about 3-5 cups)
1 Large Carrot, grated
Salt and Pepper to taste
Green Onions and Sesame Seeds for garnish, optional
Instructions
Heat a large skillet over medium heat. Add sausage or ground pork, onion, and garlic. Cook until browned and no longer pink. Drain. Return to skillet.

Add ginger, soy sauce, cabbage/coleslaw mix, and carrots. Cook, stirring for 5-7 more minutes, until cabbage is wilted.

Remove skillet from heat. Top with sliced green onions and sesame seeds. Serve warm.
Nutrition Information
Yield
4
Serving Size
1/4 of Recipe
Amount Per Serving
Calories

394
Total Fat

24g
Carbohydrates

10g
Fiber

2g
Protein

34g