We may earn money from the products/companies mentioned in this post. As an Amazon Associate I earn from qualifying purchases.
All the flavors of your favorite cake in a quick, decadent muffin in a mug. Chocolate cake with chocolate chips, pecans, and coconut (caramel and whipped topping optional)! This recipe is sugar free, low carb, and a THM-S.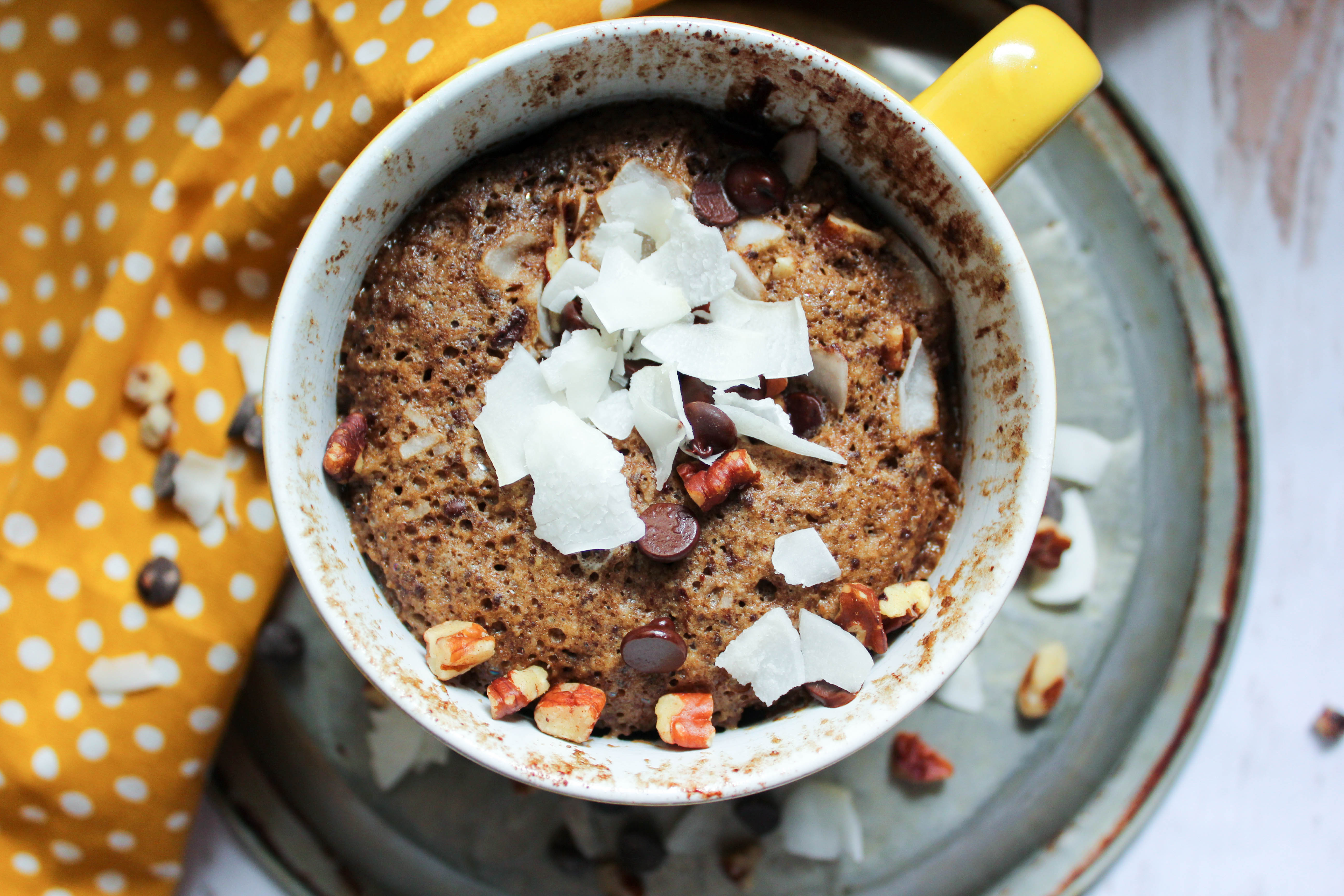 (This post contains affiliate links, which provide me with a small compensation when you purchase your products through my links. Thank you for your support!)
I love muffins and cakes that you can make in mugs. Truly, they are such a fast and convenient option for busy mornings! And chocolate makes everything better, of course!
I grew up eating German Chocolate Cake. My Mom would make the cake and the frosting from scratch, and the taste was just beyond compare. It is still my Dad's favorite cake, and she makes it for him on special occasions. I wanted a chocolate muffin in a mug, and then decided it would be fun to add the chocolate chips, pecans, and coconut. The result is this delicious muffin (or maybe we should call it cake?)!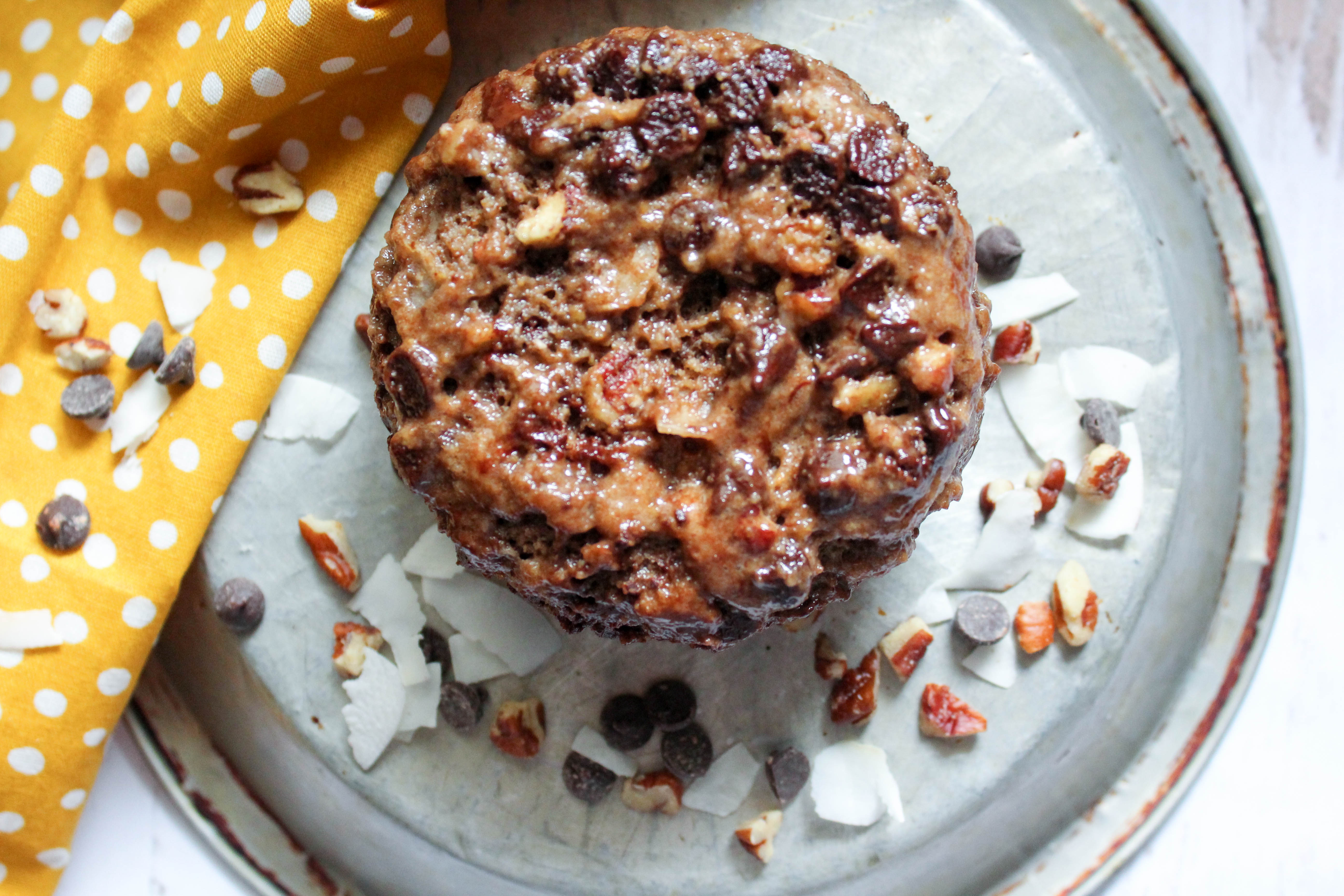 Of course, you can eat it straight out of the mug (which I do most of the time), or you can turn it out onto a plate. If I am feeling especially decadent, I top it with caramel sauce (just omit the maple flavoring in this recipe) and homemade sweetened whipped cream. It is surely a decadent treat, but totally on plan!
You should have seen my kids while I was trying to photograph this recipe. They were like vultures standing over my shoulders. "Mom, can we have a bite now?" "Now, Mom?" "Can we eat it yet?" As soon as I said "yes" it was devoured!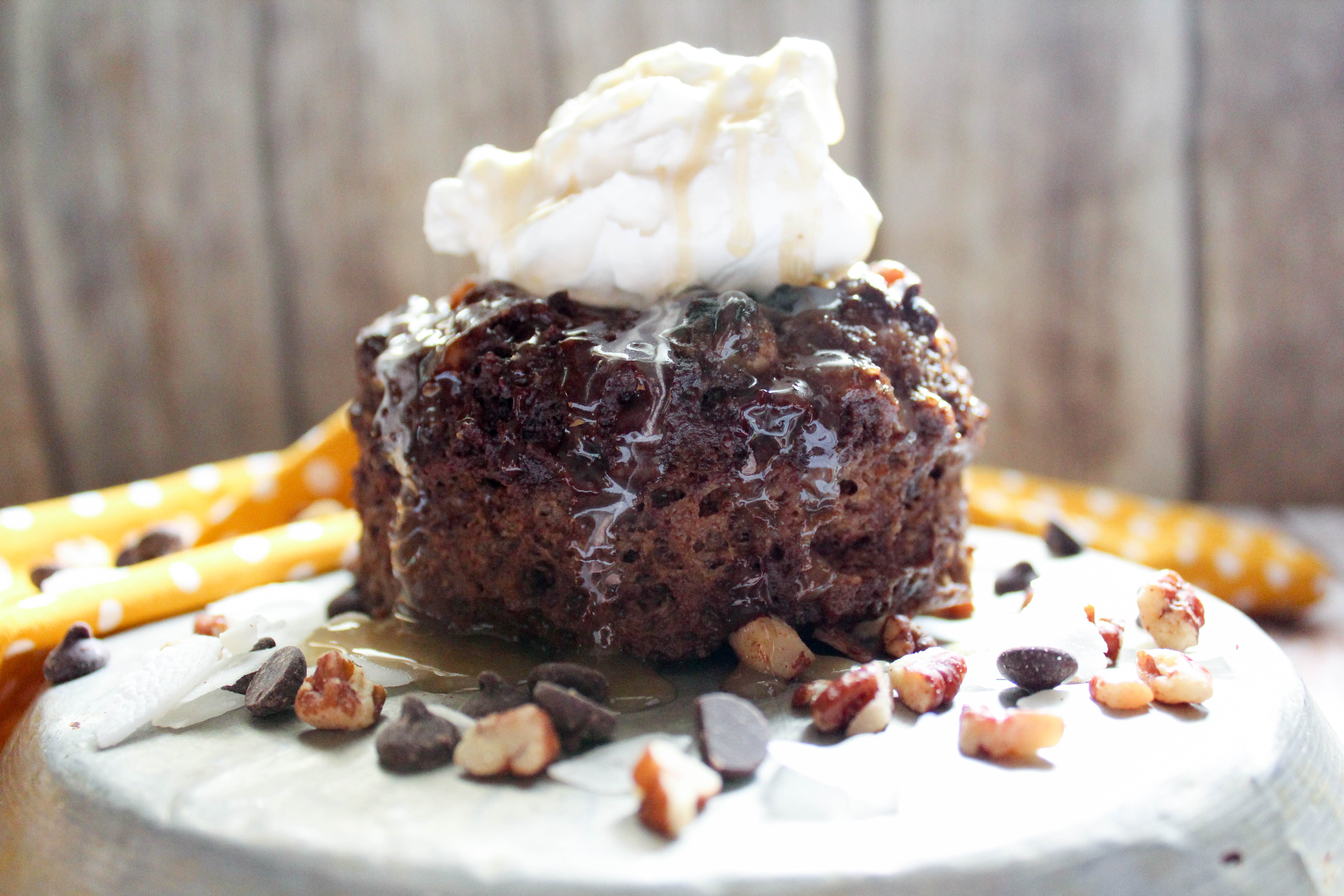 So, what do you need for this recipe?
2 Tablespoons Trim Healthy Mama Baking Blend
1 Tablespoon Cocoa Powder
1 – 1.5 Tablespoons Gentle Sweet (you can use the 1.5 Tablespoon if you really like things sweet)
1/2 Teaspoon Baking Powder
2 Tablespoons Unsweetened Almond Milk
1 Tablespoon Coconut Oil
1 Teaspoon Vanilla Extract
1 Egg
1 Tablespoon Flaked Unsweetened Coconut
1 Tablespoon Lilly's Chocolate Chips
1 Tablespoon Chopped Pecans
If you like muffins in mugs, be sure to check out my Pumpkin Chocolate Chip Muffin in a Mug!
Be sure to sign up with your email address so you can receive all my new recipes delivered right to your inbox! (Look for the sign-up box on the right sidebar if you are on a desktop, or at the very bottom of this post if you are using a mobile device.) Also, be sure to follow me on Facebook, Pinterest, Instagram, and Twitter!
Instructions
Spray a large microwavable mug with coconut oil cooking spray.

Add egg to mug and whisk egg until frothy.

Add baking blend, cocoa powder, gentle sweet, baking powder, almond milk, coconut oil, and vanilla and mix well.

In a small bowl, combine chocolate chips, pecans, and coconut.

Add half the mixture to the batter and mix well.

Sprinkle remaining mixture on top of batter.

Microwave for 1 minute.

Top with whipped cream and caramel sauce if desired.