We may earn money from the products/companies mentioned in this post. As an Amazon Associate I earn from qualifying purchases.
Gyro Salad Recipe
This Gyro Salad is filled with savory flavors, feta cheese, homemade gyro meat, and a delicious tzatziki dressing.
This recipe is a Trim Healthy Mama S recipe, but is also low carb, keto friendly, and gluten free!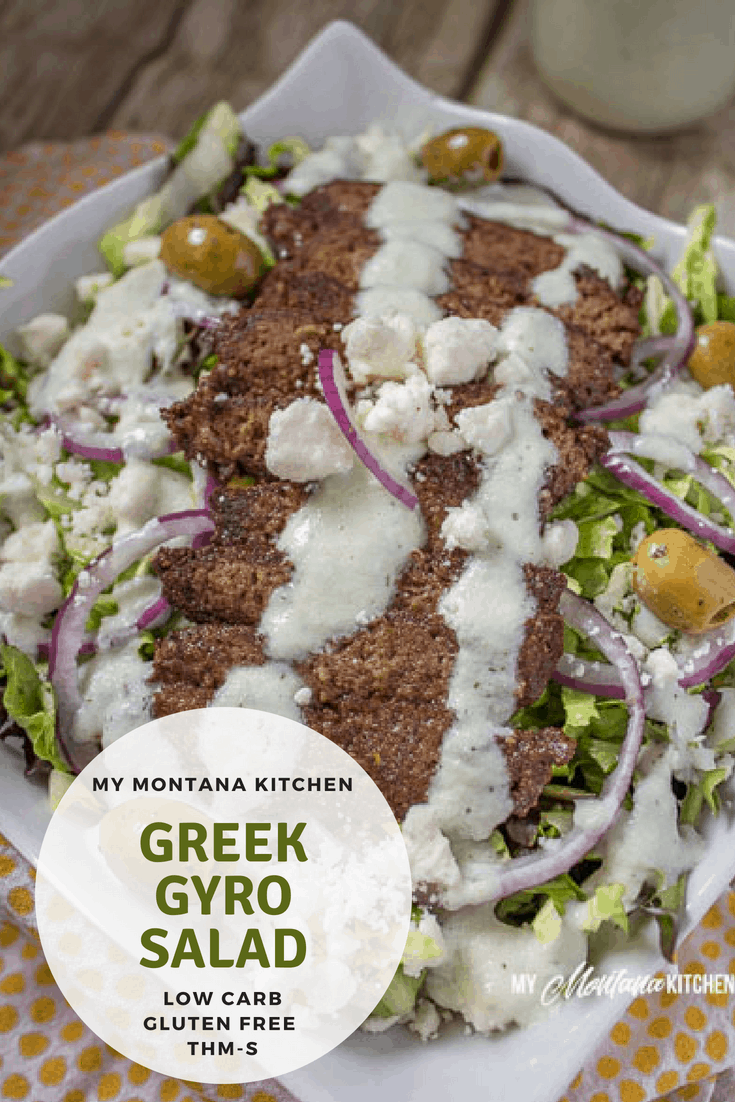 (We are a participant in the Amazon Services LLC Associates Program, an affiliate advertising program designed to provide a means for us to earn fees by linking to Amazon.com and affiliated sites. I am also an affiliate with Trim Healthy Mama. There are affiliate links used in this post.)
This is a recipe my husband has been wanting to develop for well over a year.
Gyros are kind of his thing. (I had never even heard of gyros until I met him!)
I've never even eaten a 100% authentic Greek gyro, but he has, and declares they are one of his favorite things!
Of course, following the Trim Healthy Mama plan, traditional gyro flatbreads are not on plan. (Check out the ideas below for a more traditional gyro.)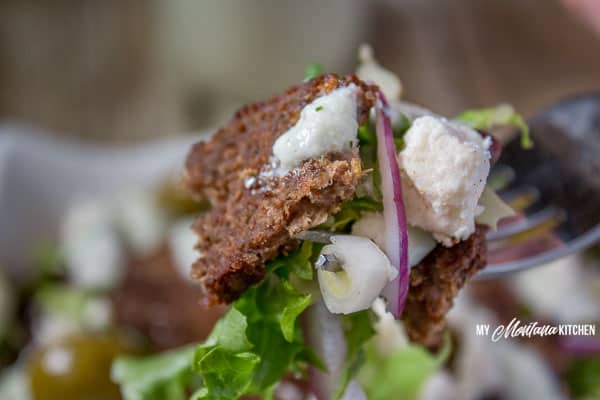 How to make your own Gyro meat
The idea of a gyro salad was very appealing to my husband, and he began to do research on how to make his own gyro meat.
The methods vary a bit, but pretty much everyone agrees that you need to process the meat in a food processor so the meat thoroughly mixed.


Most methods also recommend placing a heavy object on the meat after it comes out of the oven, to compress it.
Then after the meat has baked, it must rest for an hour or two, then you thinly slice the meat and pan-fry it in a bit of oil.
This makes the edges of the meat perfectly crispy.
The steps may be a bit involved, but it makes a good amount of meat, and the meat keeps well in the fridge.
I love making this for supper, then I have leftover gyro meat and tzatziki sauce for lunches during the week.
For our testing, we used 1 ½ Pounds of burger (we actually used elk, but hamburger is fine) and ½ Pound of ground lamb. More traditional meat would use all lamb.
But if lamb is not in your budget, you can use all burger, or perhaps even use some turkey burger!
All of that to say, the gyro meat part of this recipe is my husband's creation. The tzatziki sauce/dressing is my creation.
You could add whatever additional toppings you want for your salad. I used feta, onions, and olives, but cherry tomatoes would be a great addition as well.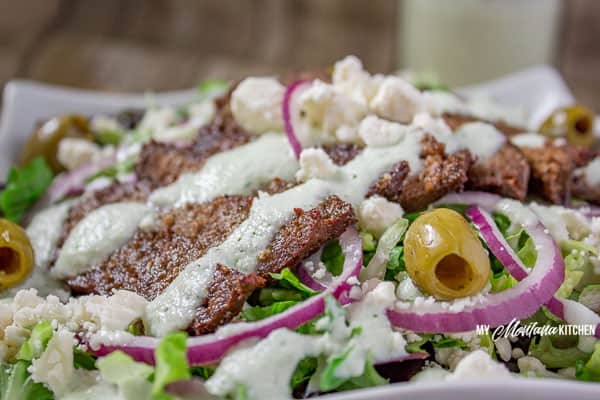 How to make Greek Tzatziki Dressing
The tzatziki sauce is more of a dressing, because it is much thinner than traditional tzatziki.
If you wanted it to be thick, you could place your grated cucumbers in a cheesecloth and squeeze all of the water out of them. Then, instead of blending in a blender, you can just mix all the ingredients with a spoon.
This would give you more of a traditional tzatziki sauce, which is very thick.
If you are a Trim Healthy Mama, you could also have a more traditional style gyro using the Joseph's Pitas, or you could try this keto naan.
Simply layer the lettuce, gyro meat and toppings, then drizzle with the tzatziki sauce.
I have eaten them that way a couple of times, and it was amazing!
Even my children loved this salad, so it is family approved!
Ingredients needed for Greek Gyro Salad
Gyro Meat:
2 Pounds Burger (we used 1.5 pounds elk and ½ pound lamb)
5 Slices Bacon (raw)
¾ of a Large Onion
1 Tablespoon Minced Garlic
1 Tablespoon Ground Rosemary
1 Tablespoon Marjoram
1 Teaspoon Smoked Paprika
1 Teaspoon Cumin
1 Teaspoon Dried Dill Weed
2 Teaspoons Mineral Salt
1 Teaspoon Black Pepper
Coconut oil, for frying the gyro meat
Tzatziki Sauce:
1 Large English Cucumber
1 Cup Plain Greek Yogurt
1 Teaspoon Garlic, Minced
½ Teaspoon Dried Dill Weed
½ Teaspoon Mineral Salt
2 ½ Tablespoons Fresh Lemon Juice
Salad Ingredients:
Lettuce of choice
Red onions, sliced
Feta Cheese
Olives
Cherry Tomatoes
Be sure to sign up with your email address so you can receive all my new recipes delivered right to your inbox!

Also, be sure to follow me on Facebook, Pinterest, Instagram, and Twitter! If you make a recipe and love it, please leave a comment on my Facebook Page or tag me on Instagram (my_montana_kitchen_thm)!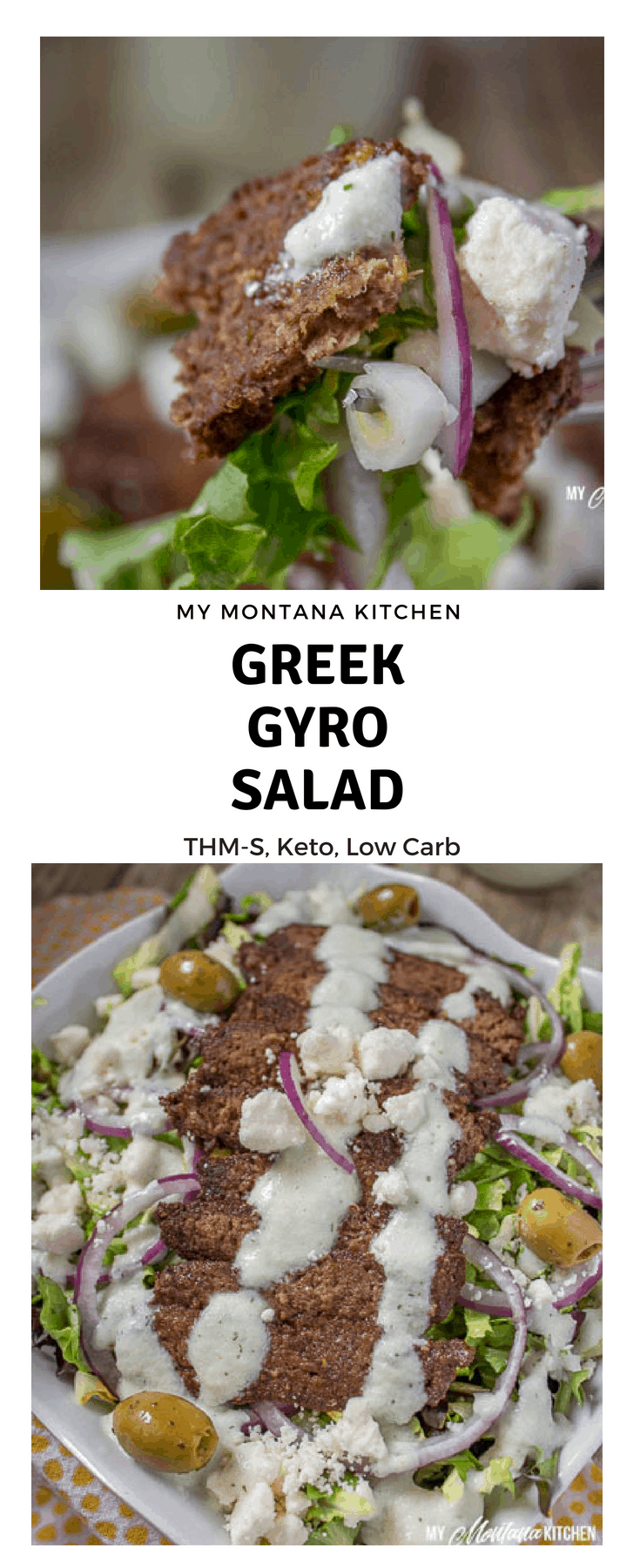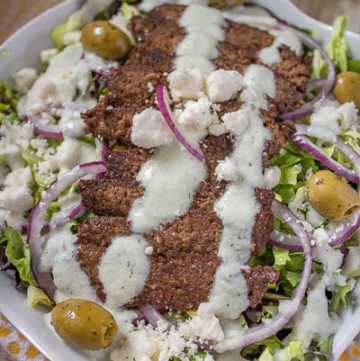 Greek Gyro Salad
This Gyro Salad is filled with savory flavors, feta cheese, homemade gyro meat, and a delicious tzatziki dressing.
Print
Pin
Rate
Ingredients
Tzatziki Dressing:
1

Large English Cucumber

1

Cup

Plain Greek Yogurt

1

Teaspoon

Garlic,

Minced

½

Teaspoon

Dried Dill Weed

½

Teaspoon

Mineral Salt

2 ½

Tablespoons

Fresh Lemon Juice
Salad Ingredients:
Lettuce of choice

Red onions,

sliced

Feta Cheese

Kalamata Olives

Cherry Tomatoes
Instructions
Make the Gyro Meat:
Preheat oven to 325.

In a food processor, process the onion until completely broken down.

Add bacon and process again until the bacon is mixed with the onion.

Add burger (or lamb) and spices and process for about two minutes, until everything is completely mixed. (It will look like a paste of sorts.)

Divide meat mixture between two loaf pans.

Place loaf pans into a 9x13 dish and fill dish halfway with water. (This creates a water bath for the meat mixture.)

Bake for 60 minutes, or until internal temperature reaches 165 degrees.

As soon as you remove the meat from the oven, cover with a bit of parchment paper, and set something heavy on top of the meat (think cans of vegetables, glass jars of peanut butter . . . ).

Let rest for 30 minutes, then move to the refrigerator and refrigerate for 45 minutes to an hour.

Place chilled gyro meat on a cutting board and slice as thinly as possible.

Place 1 - 2 Tablespoons of coconut oil in a skillet and heat over medium heat. Fry gyro meat in hot oil until browned and a bit crispy around the edges, flipping meat part way through. (This only takes a moment or two.)

Remove meat from skillet and drain on paper towels.

Continue frying meat in batches, adding more coconut oil as needed.
Make the Dressing:
Place all the ingredients in a blender and process until well blended.

(Peeling the cucumber is optional. I do not, but if the skin seems tough, you would want to peel it. Processing in the blender makes this a very thin dressing. If you want your dressing to be a little thicker, grate the cucumber, place it in a cheesecloth and squeeze to remove all the excess water. Then stir ingredients together with a wooden spoon, instead of processing in the blender.)
For the Salad:
Assemble salads as desired (with added toppings), then top with fried gyro meat and dressing.
Notes
This recipe makes enough for 8 servings. A little of the meat goes a long way, as it is so savory.
This would give you approximately 7 - 8 slices of meat and a little over ⅓ cup of dressing per serving. Of course, if you would like more than that, that is fine as well!
Nutritional information is calculated for ⅛ of the meat and ⅓ cup of dressing. Optional toppings are not included.
Nutrition
Calories:
383
kcal
|
Carbohydrates:
6
g
|
Protein:
28
g
|
Fat:
29
g
|
Fiber:
1
g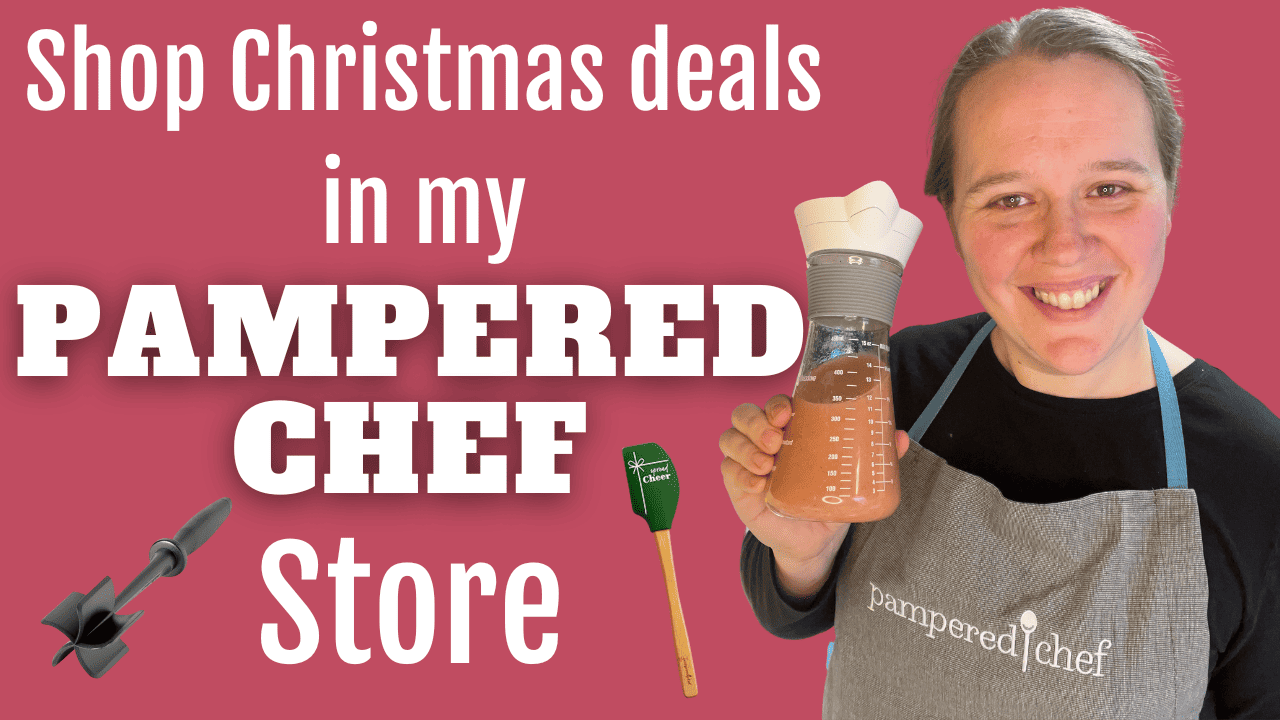 Reader Interactions