We may earn money from the products/companies mentioned in this post. As an Amazon Associate I earn from qualifying purchases.
A handful of ingredients, and 15 minutes is all it takes to make these low carb Holiday Praline No-Bake Cookies.
Filled with coconut, pecans, and a low carb sweetened condensed milk, these keto Christmas cookies are perfect!
These sugar free cookies are great for keto Christmas Cookie trays, and they are also a Trim Healthy Mama S Fuel!
Holiday Praline No-Bake Cookies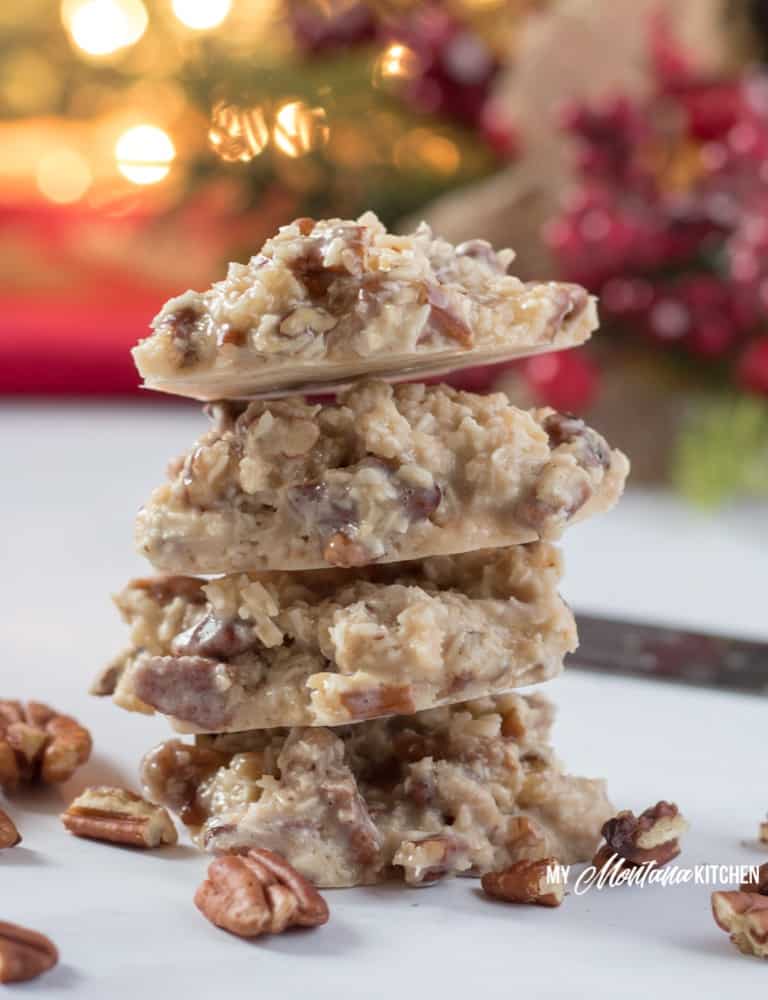 Christmas is no doubt a favorite time of the year for many people. And we have so many traditions associated with food and Holidays.
This cookie recipe is so quick and easy - you can be back to your celebrating in less than 20 minutes!
I especially love the fact that these cookies are made on the stovetop. This gives you room in your oven to make even more low carb Christmas cookies (like these Soft Gingersnap Cookies)!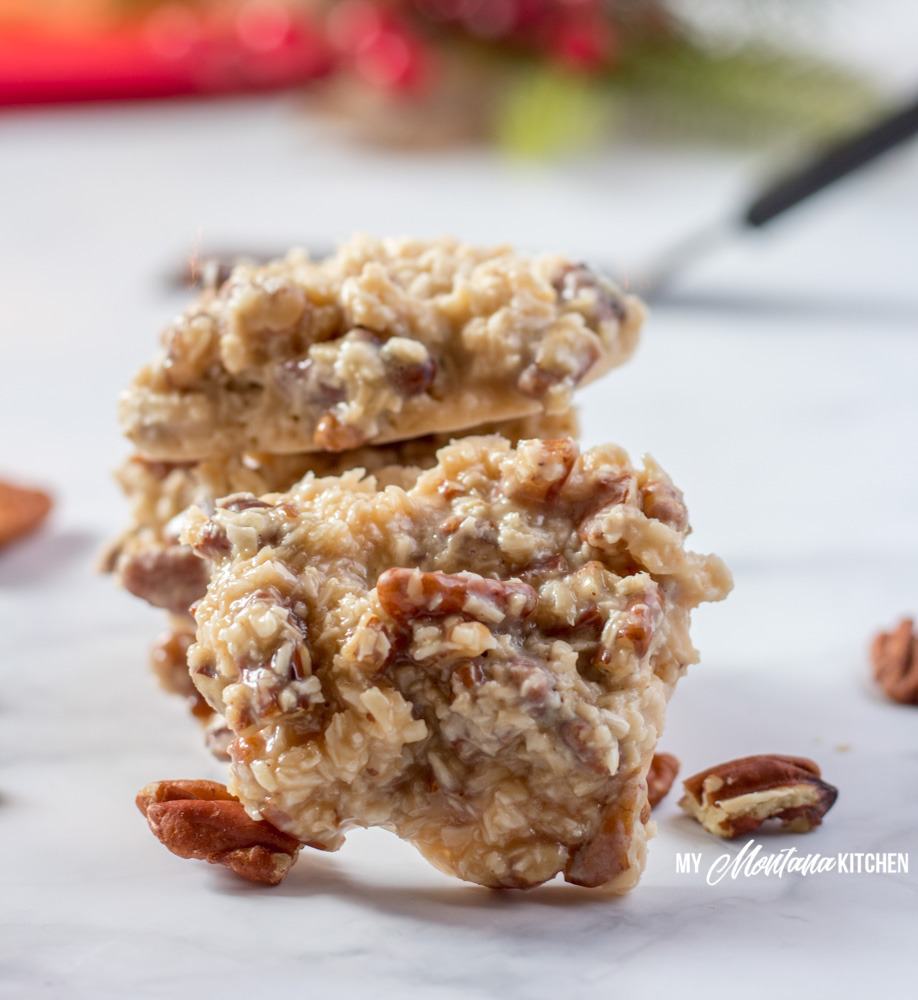 I saw the original idea for this recipe from Confessions of a Cookbook Queen, and I immediately knew I wanted to try to tweak it to be Trim Healthy Mama friendly, low carb, and sugar free. (See original recipe here.)
I decided to use a tweak on my 3 Ingredient Sweetened Condensed Milk as the base for these cookies.
If you already have a batch of the Low Carb Sweetened Condensed Milk made up, I believe you could substitute ½ cup of that in place of the heavy cream, butter, and sweetener.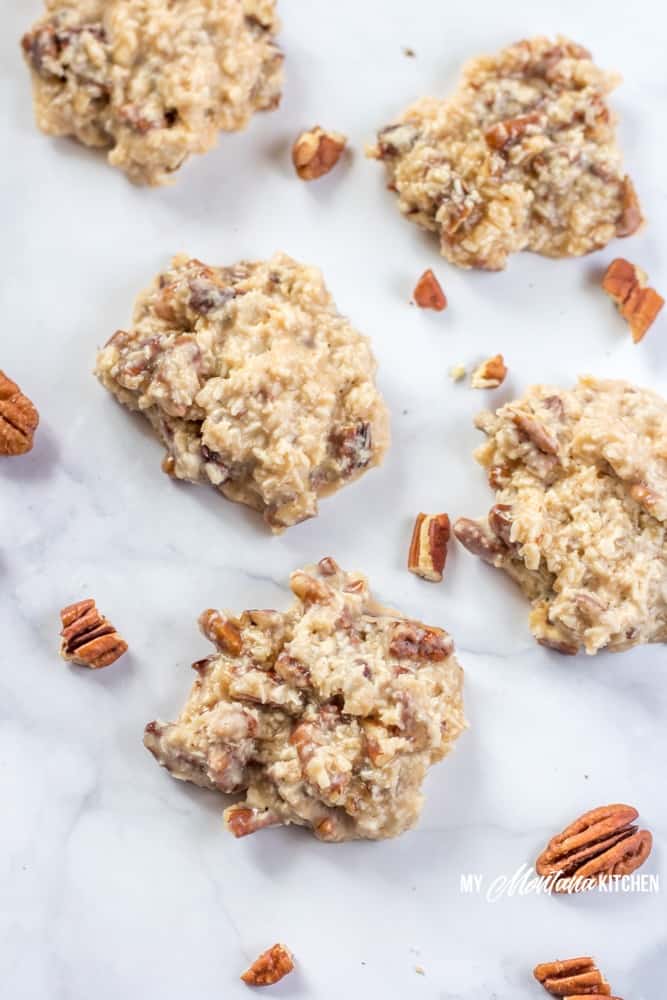 Ingredients needed to make Low Carb Praline Cookies
These delicious sugar free praline cookies only take a handful of ingredients (and you probably already have most of them on hand)!
All you need is heavy whipping cream, unsalted butter, xylitol (or sweetener of your choice), coconut oil, vanilla extract, shredded coconut, and chopped pecans.
Simply, wholesome, real food ingredients. You will be amazed at how easily these simple ingredients transform into an amazing Christmas treat!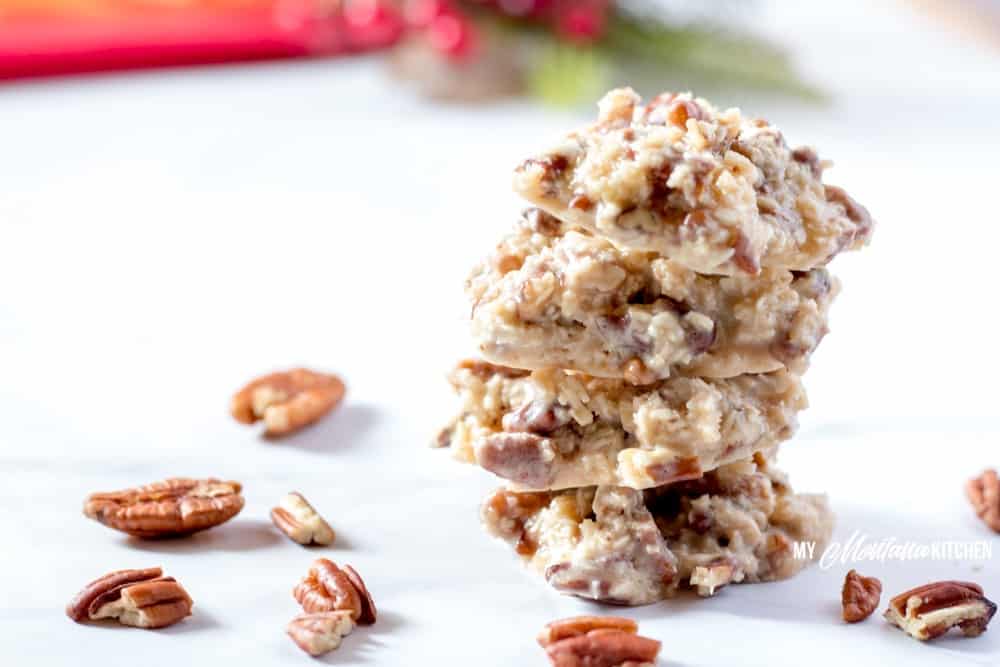 Steps for making Holiday Praline No-Bake Cookies
The steps for making these cookies are as easy as 1, 2, 3.
First of all, you want to place the heavy cream, butter, and sweetener in a medium saucepan and bring to a gentle boil. Then turn the heat down to a slow simmer.
Let the cream work its magic (it turns into a low carb condensed milk) for about 10 minutes or so.
Remove from the heat and add the vanilla extract. (Everything is better with vanilla, don't you agree?)
Add the shredded, unsweetened coconut and the chopped pecans, then give the mixture a good stir.
Drop the cookie mixture in mounds onto a parchment lined cookie sheet (I like to use my cookie scoop, then flatten them slightly).
Now comes the hardest part - allowing the cookies to chill until they are set! (It should only take 10-15 minutes in the freezer.)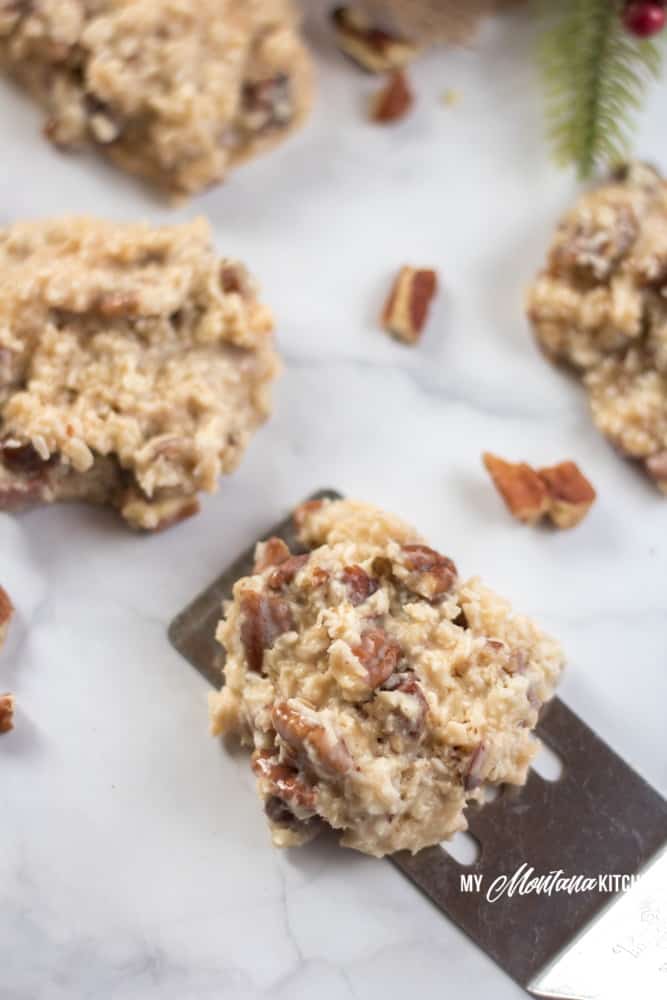 If your freezer is full, you could even place them outside on your porch (out of the reach of little critters), if the weather is cool enough.
And if you are impatient, and must eat them right away, I have eaten them while they are warm and gooey.
But . . . that does not even compare with the texture and flavor after they have solidified. Melt in your mouth goodness! (It's worth the 15 minute wait, promise!)
Substitutions for making Praline Cookies
Make sure that you use the finely shredded unsweetened coconut for the best results. In a pinch you could use the larger flaked coconut, but the results will not be the same.
If you have an allergy to pecans, you could easily replace them with any other nut, or simply omit the nuts if you like. This would give you a delicious coconut cookie - you could drizzle melted Lily's chocolate over the top for an extra special treat! (Similar to these 3 Ingredient Coconut Macaroons.)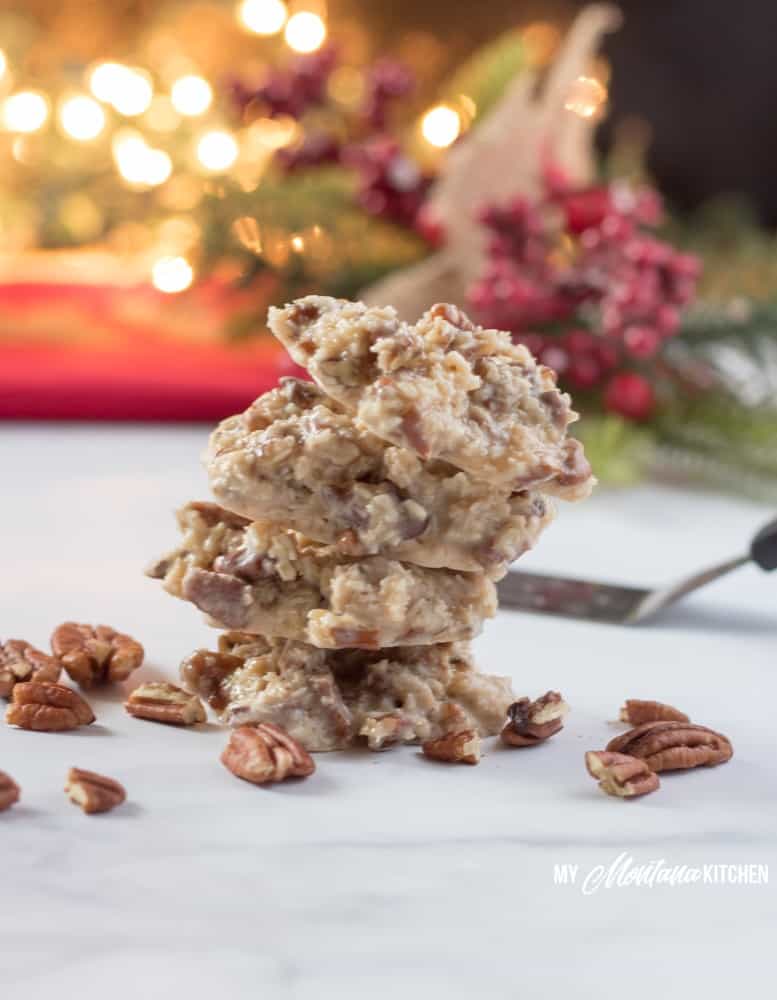 Low Carb Christmas Cookies
These Low Carb Holiday Praline Cookies work great for Christmas Cookie Trays, too!
Once they have solidified, you do not need to keep them in the freezer or refrigerator. I let mine set out at room temperature, and they are fine for about a week.
They also freeze extremely well. This makes them an ideal Low Carb Christmas Cookie! You can make up a batch (or two) whenever you have the time, then keep them on hand for when you need to take a healthy treat to a party!
If you enjoy these cookies, you may like some of my other cookie recipes, like Almond Joy Cookies, German Chocolate Cookies, or Soft Gingersnap Cookies - all low carb, sugar free, and Trim Healthy Mama Friendly!
And if you need more ideas for Low Carb Holiday recipes, check out my Ultimate Holiday Recipes Ebook!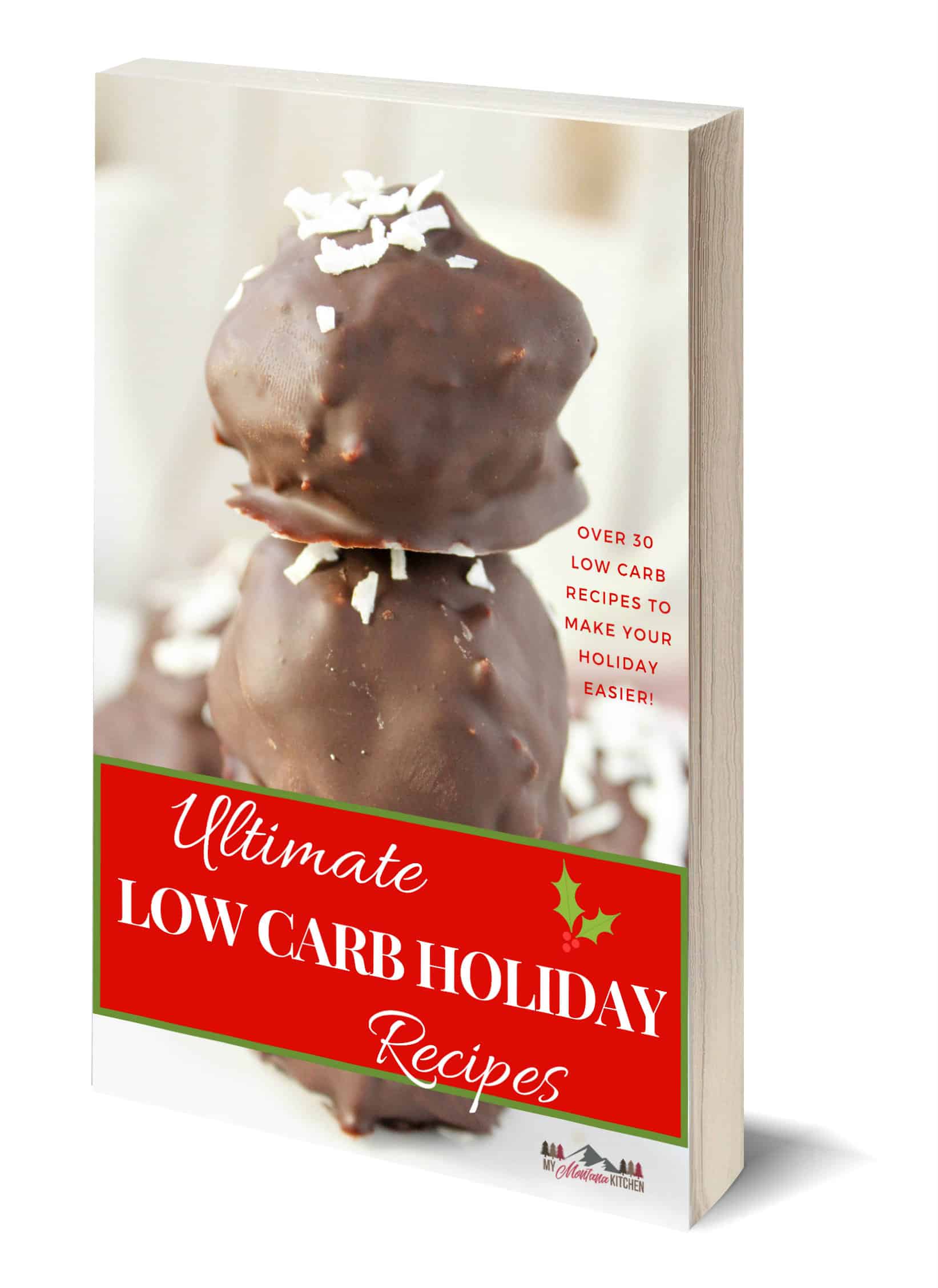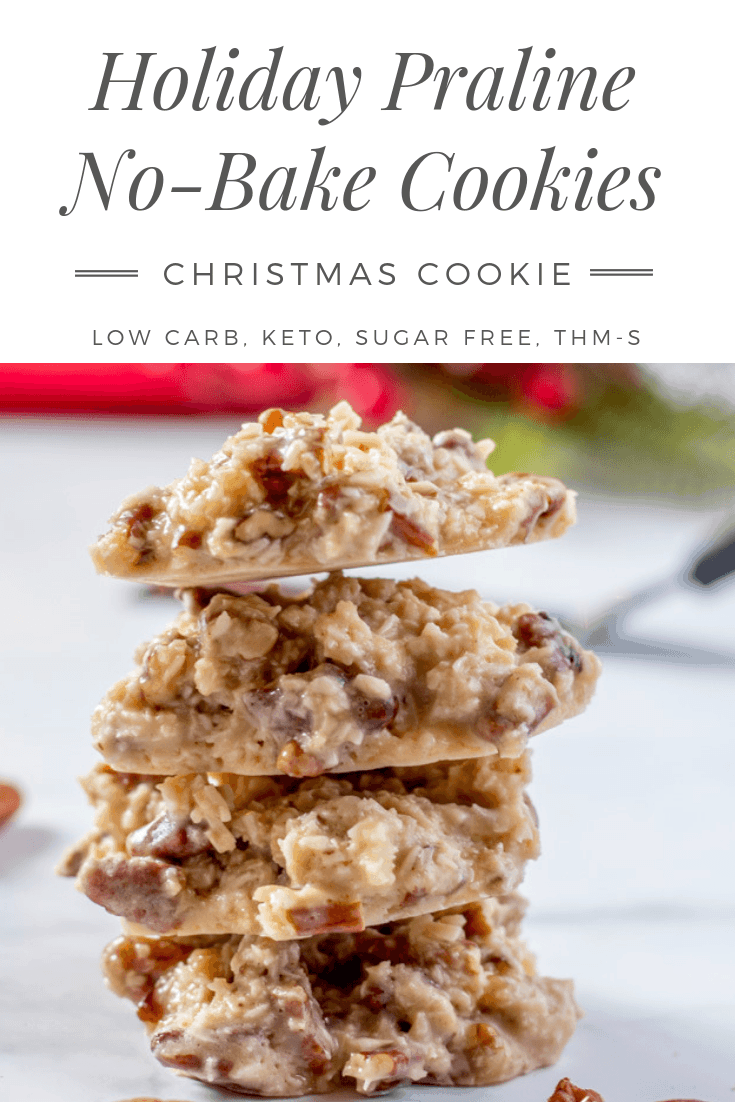 Holiday Praline No-Bake Cookies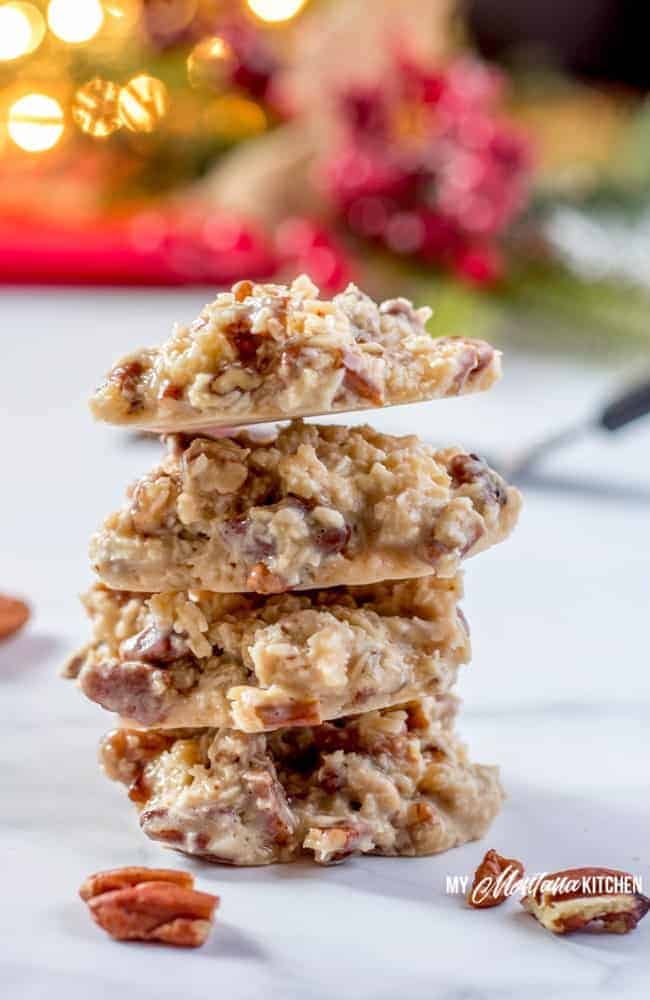 A handful of ingredients, and 15 minutes is all it takes to make these low carb Holiday Praline No-Bake Cookies. 
Ingredients
½ Cup Heavy Whipping Cream
4 Tablespoons Unsalted Butter
½ Cup Xylitol (or the equivalent of your favorite sweetener)
1 Tablespoon Coconut Oil
1 Teaspoon Vanilla Extract
1 Cup Unsweetened Shredded Coconut (you want finely shredded, not the large flakes)
1 Cup Chopped Pecans
Instructions
In a large saucepan, melt Heavy Whipping Cream, Butter, Xylitol and Coconut Oil.

Bring to a low boil and simmer for 10 minutes.

Remove from heat and add Vanilla, Shredded Coconut, and Chopped Pecans.

Scoop onto a parchment lined cookie sheet, and chill in freezer until firmly set.