We may earn money from the products/companies mentioned in this post. As an Amazon Associate I earn from qualifying purchases.
Instant Pot Pumpkin Spice Oatmeal is the perfect way to kickstart your morning. This Instant Pot Oatmeal recipe uses steel-cut oats and pumpkin puree for incredible creamy flavor. The perfect warm flavors of fall spice in every single bite, PLUS this is a great Trim Healthy Mama E Fuel!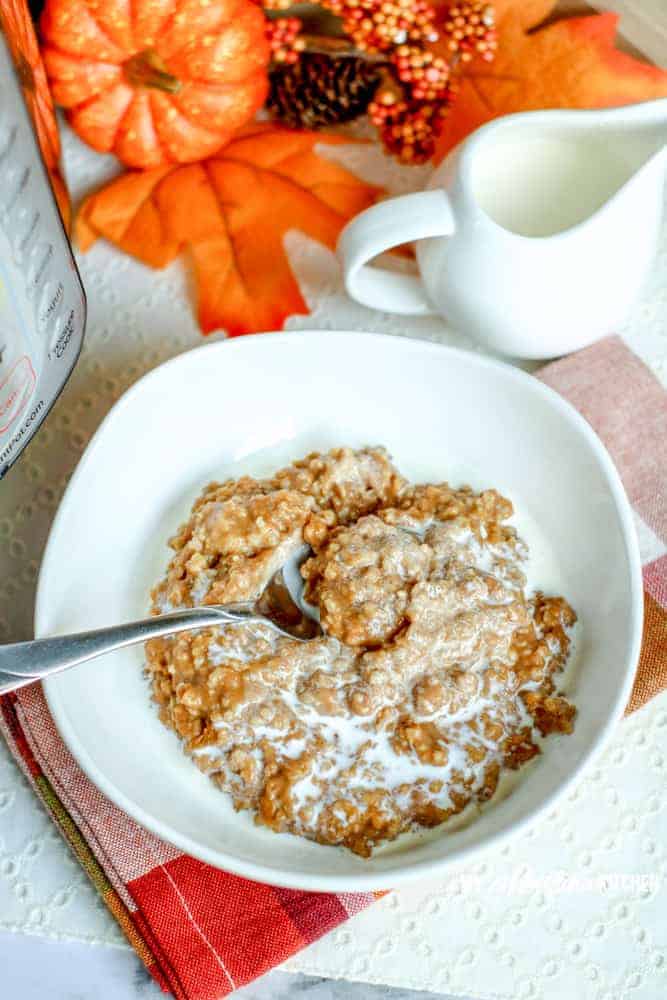 I am a huge oatmeal fan, and this pumpkin oatmeal is a true delight. You have pumpkin puree which adds a creamy texture, almond milk, and of course you can't forget the spices to give you that pumpkin pie flavor.
Pumpkin Spice Oatmeal
This pumpkin spice oatmeal is made right in the Instant Pot for a simple hands-off breakfast. While the steel cut oats cook, you can be getting ready for your day.
Then once it is done, dish it up and devour the incredible creamy pumpkin oatmeal! This is a nut-free, gluten-free, and dairy-free recipe!
Looking for More Oatmeal Recipes
Pineapple Upside Down Oatmeal | Love pineapple upside-down cake? Well this healthy carb version gives you that tropical flavor but mixed in with your morning oatmeal. It is such a refreshing flavor, a must-make recipe!
Maple Apple Oatmeal | This is another great recipe for the fall and winter months. The apple paired with the maple is just delightful!
Upside Down Peach Oatmeal Bake | Now this oatmeal bake is unique in that you bake the oatmeal in the oven. This feels almost like a dessert it is so incredibly delicious. You will want to make this recipe over and over again.
Pumpkin Oatmeal
Here is a pumpkin oatmeal that you can enjoy without feeling guilty.
I made my own low carb brown sugar, and it worked great at sweetening the oatmeal without adding empty carbs. However, this recipe is not intended to be super sweet. (Read the full instructions and tips in the recipe card for other options.)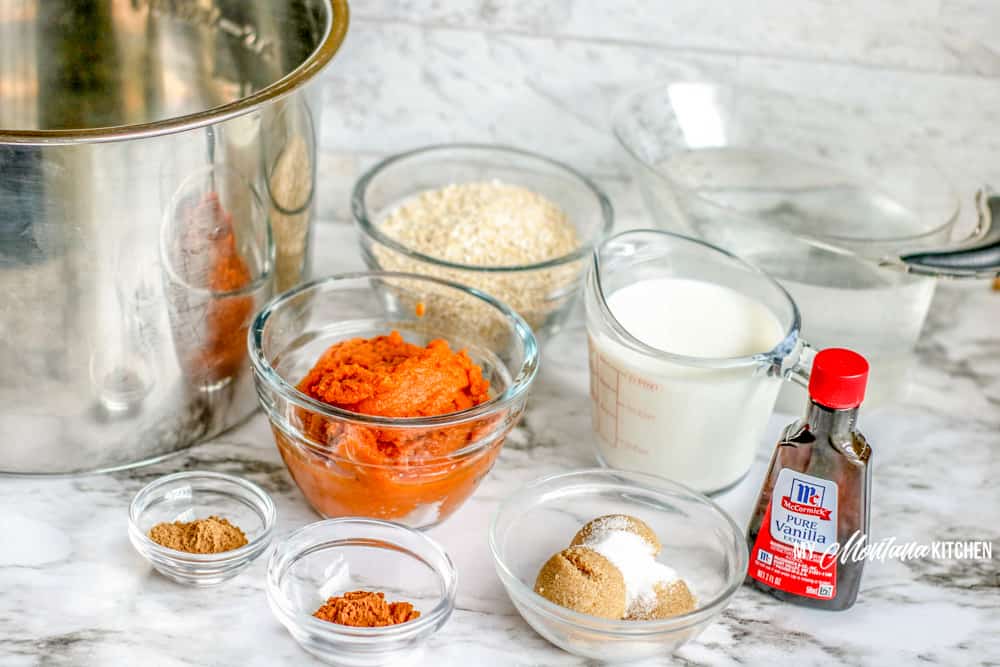 How Long Does It Take Steel Cut Oats To Cook In The Instant Pot
The cook time for my Instant Pot steel cut oats is 6 minutes.
However, the instructions are a bit different if you use the "pot within the pot" method. Then you will want it to naturally release for 10 minutes before you release the remaining pressure off the oats.
This is needed to help finish cooking the oats. If you skip naturally releasing the oats, the recipe will not turn out.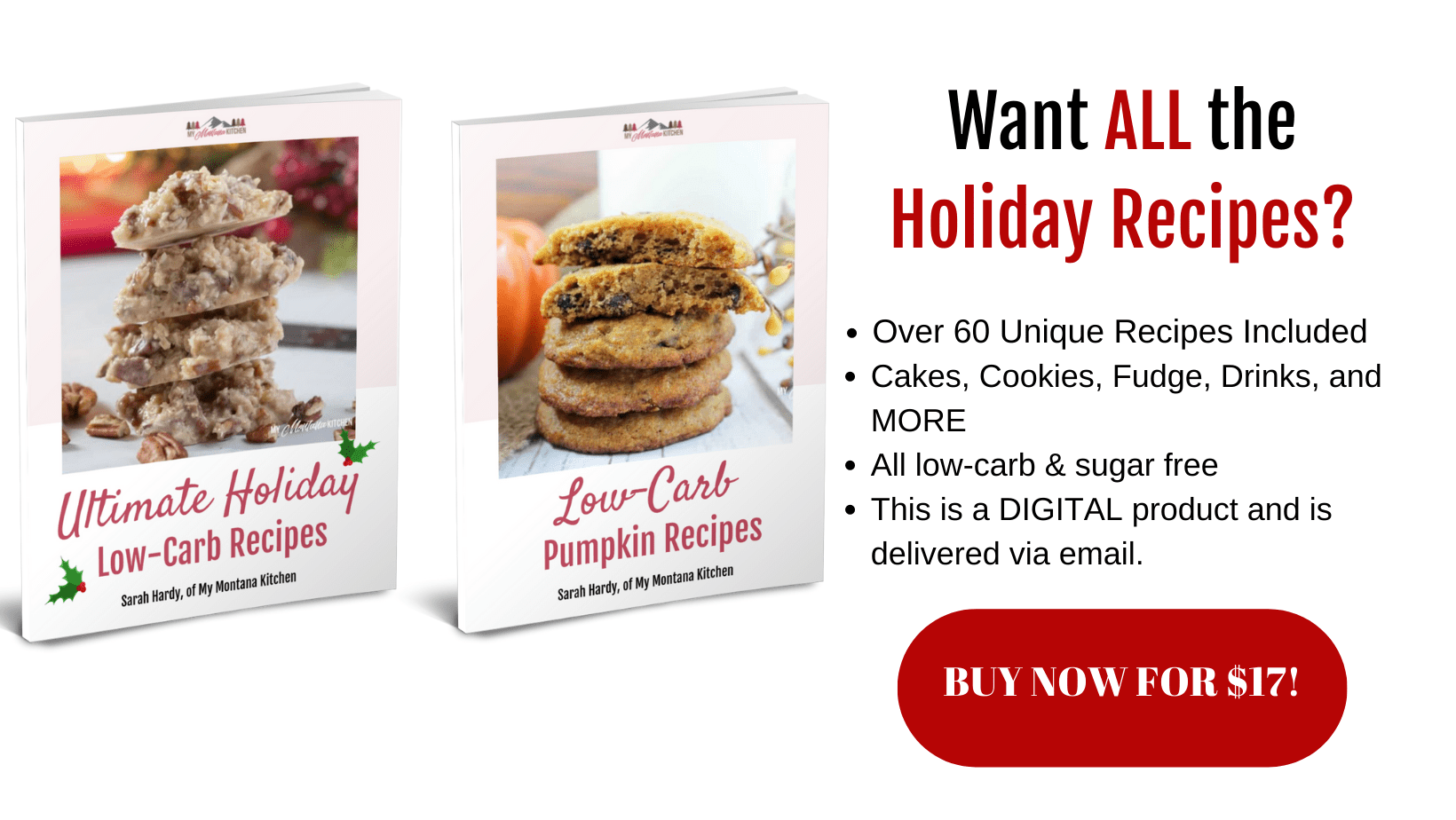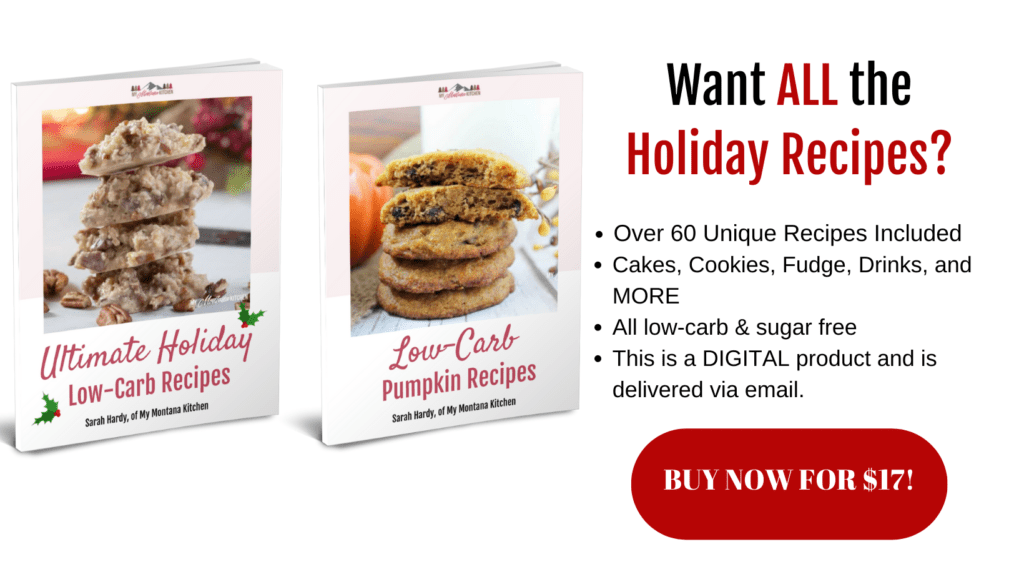 Now, remember, you have to account for the Instant Pot to reach pressure, so it can begin cooking. Sometimes people forget you have to add that time on. It can take anywhere from 10-20 minutes for it to reach pressure.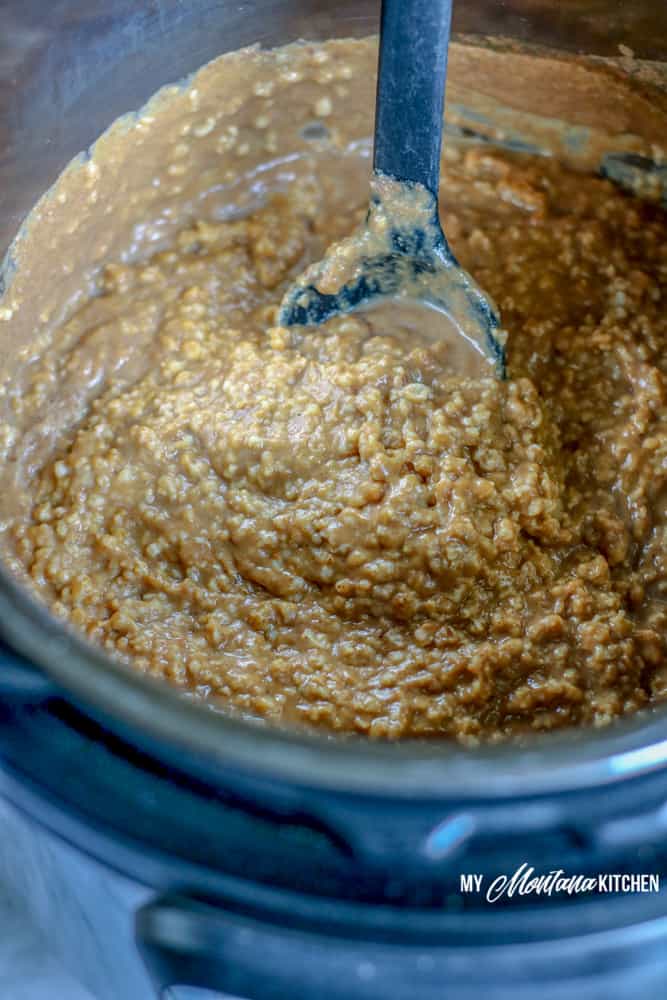 How Do You Prevent Burn Notice When Cooking Oats in Instant Pot
I have found cooking your oats in a pot within the Instant Pot, will help prevent you from getting that unwanted burn notice.
Oats are notorious for giving you a burn notice, so if you put a pot within the pot, it is a no-fail method that will set you up for success!
How To Make Instant Pot Steel Cut Oatmeal
I offer two methods, the classic recipe or a pot within the pot method.
For the pot within the pot, you will take a bowl or pot that is safe to use in the Instant Pot. Then you will add all your ingredients for the oatmeal, stir well and set aside.
Then you want to add your trivet in, along with the minimum amount of water the pressure cooker calls for.
Place your bowl with oats inside the pot on top of the trivet. Cover and cook accordingly as directed below. Once done, allow to natural release for ten minutes, followed by releasing the rest of the pressure.
Stir oatmeal, and then dish up, and top sugar free maple syrup, almond milk, or even more pumpkin pie spice! (See the full recipe card and instructions below!)
How to Use Rolled Oats for Pumpkin Oatmeal
If you do not have steel cut oats, feel free to use old fashioned rolled oats, instead. You will need to reduce the cooking time by one minute, and do a quick release. (No need to let it natural release for 10 minutes!) Be sure to see the recipe card below for all the tips!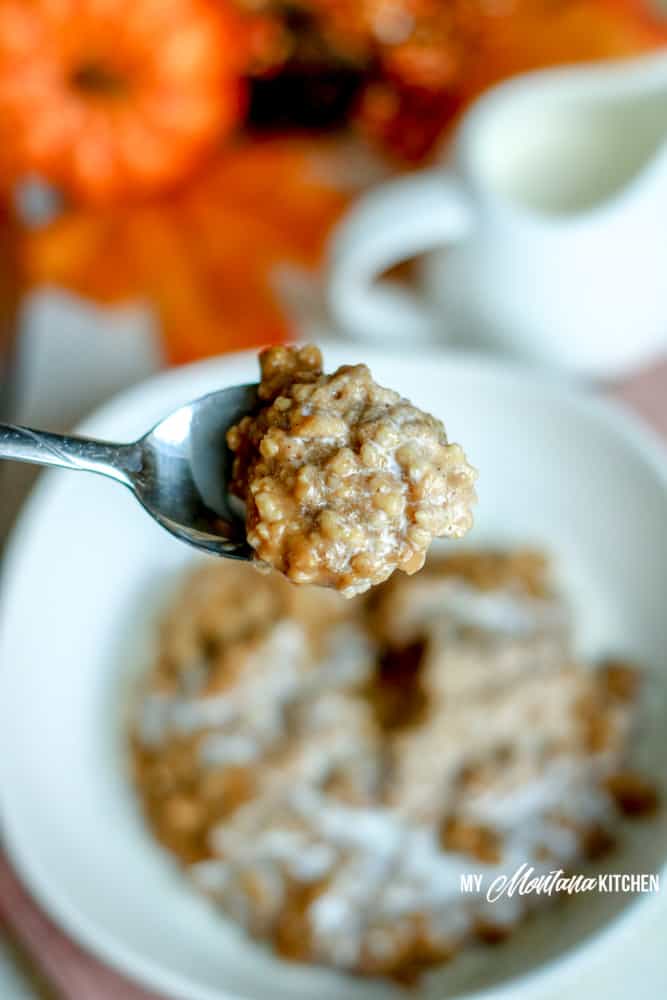 How to Make Pumpkin Oatmeal on the Stovetop
If you don't have an Instant Pot, there is no need to fear. You can easily make this recipe on the stovetop as well. Place all the ingredients in a medium pot and bring to a simmer.
For steel cut oats, you will need to simmer the pumpkin oatmeal for 30-40 minutes. For old fashioned rolled oats, you will only need about 7-10 minutes.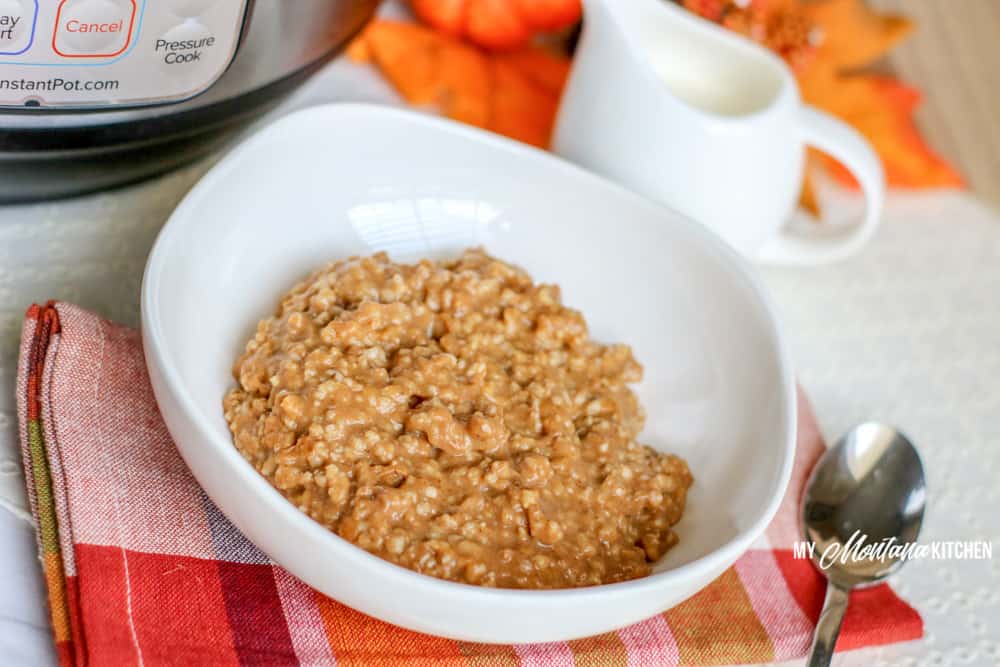 How To Store Leftover Instant Pot Oatmeal
You can allow your oatmeal to cool down a bit and then place in an airtight container and store in the fridge. You can put it all in one large container, or to simplify your mornings you can use these single-serve containers.
That way you can grab, reheat, and head out the door on days you may not have time to sit. Or the single-serve containers are great for that mid-day snack.
I hope you enjoy this Instant Pot oatmeal recipe. I like to drizzle it with some sugar free maple syrup, and top with a few Bake Believe White Chocolate Chips!
Give it a try, then let me know in the comments what you think!
Yield: 4 Cups
Instant Pot Pumpkin Spice Oatmeal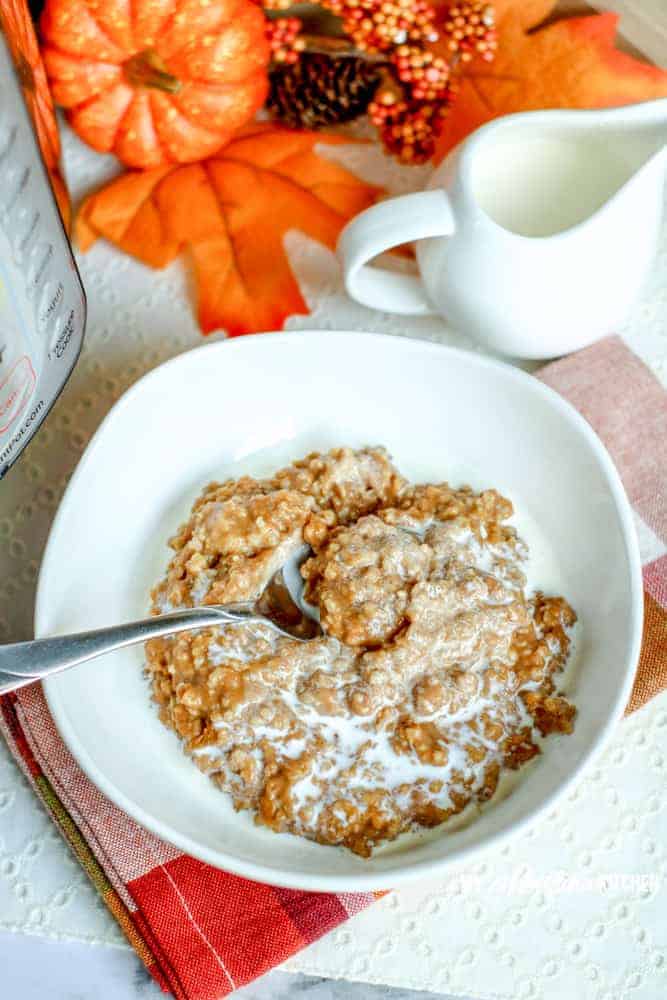 Additional Time
20 minutes
Ingredients
3 Cups Water
1 ½ Cups Unsweetened Vanilla Almond Milk
Instructions
Regular Method
Pour water into liner of electric pressure cooker.
Whisk in low carb brown sugar, pumpkin spice blend, cinnamon, and salt.
Sprinkle oats over the top. Do not stir.
Cover and turn the valve to sealing. Set pressure cooker to manual for 6 minutes.
After cooking cycle is complete, release the pressure completely and remove the lid.
Stir in remaining ingredients. Replace lid and allow to "keep warm" until the milk is absorbed.
Pot in Pot Method
Place all ingredients in a bowl or pot that will fit inside the electric pressure cooker liner. Stir well.
Place trivet in the liner and pour the minimum required amount of water (as noted by the manufacturer) into the bottom of the pressure cooker liner.
Put the bowl or pot containing the oatmeal mixture on the trivet.
Cover and turn the valve to sealing. Set pressure cooker to manual for 6 minutes.
After cooking cycle is complete, allow to naturally release for 10 minutes before releasing the remaining pressure.
Carefully remove the bowl or pot from the pressure cooker liner. Stir oatmeal well.
Notes
Can I use Old Fashioned Rolled Oats?
To use rolled oats in place of the steel cut oats, simply reduce the cooking time by one minute, and do a quick release as soon as the 5 minutes are done.
Can I make this oatmeal sweeter?
This recipe is not super sweet as written. If you like sweet oatmeal, stir in an additional 2 Tablespoons of Gentle Sweet (or 1 Tablespoon Pyure).
Recommended Products
As an Amazon Associate and member of other affiliate programs, I earn from qualifying purchases.
Nutrition Information
Yield
4
Serving Size
1
Amount Per Serving
Calories

260
Total Fat

4g
Saturated Fat

1g
Trans Fat

0g
Unsaturated Fat

3g
Cholesterol

0mg
Sodium

414mg
Carbohydrates

49g
Net Carbohydrates

41g
Fiber

8g
Protein

8g
Nutritional information may vary depending on the products used.